For the most part, survey and reward sites seem to be the "hot new thing" online.
Today I am doing my American Consumer Opinion Panel review, which is one of the most known, most talked about survey sites out there.
In this review, I'll be explaining:
What American Consumer Opinion Panel is
How does it work
What do you need to do to make money with it
Some pros & cons (which I strongly suggest you do not skip)
+ Some few better alternatives to making money online.
Are you interested in joining the American Consumer Opinion Panel?
Be sure to read this entire review to learn what it's all about and see how you can make money with it.
Let's get started…
What Is American Consumer Opinion Panel?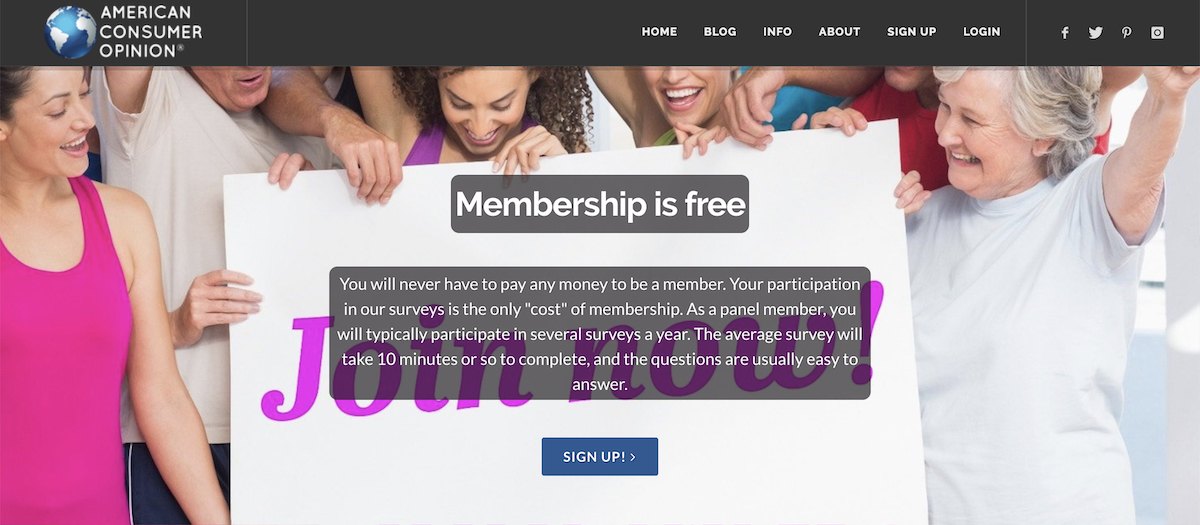 The American Consumer Panel is a survey panel operated by a market research company called Decision Analyst, Inc.
It's an opportunity that allows you and many others to make money doing something many of us do free of charge on a daily basis, giving your opinions.
Decision Analyst works on behalf of other third-party businesses by gathering up views and opinions of different products, brands, and services from consumers and then passing that information on.
These businesses who have come up with the surveys will then pay money to both American Consumer Panel and Decision Analyst, which from there survey participants will get a small cut.
How Do You Get Started With American Consumer Opinion Panel?
Despite the name this site is by no means exclusive to US residents, in fact, the American Consumer Opinion Panel is available worldwide and also is free to sign up too.
This may sound great however what opportunities available to you will still depend on your location. So if you are American you will most likely benefit the most as that's where most of the companies are seeking opinions from.
I understand this more than anyone as someone who has taken plenty of surveys and being from the UK where there isn't a ton of opportunities available to you.
They do have a simple registration process in place and while most survey sites are easy to sign up to this one will take you around 5 minutes to complete.
You will need to press the sign up button on the main page and fill out your email address and password that you would like to sign up with.
You do also have the option to register with your Facebook or Google account, whichever is your preference.
Once you have signed up you will start being notified on new survey updates through your email.
What's Available and How Much Can You Get Paid?

There are a few opportunities that members of ACOP can take advantage of and start earning points on the site.
For every study/survey you complete you will be paid in points and what is good is the system is easy to follow.
For every point you earn you will get a cent, so let's say you earn 100 points – that's $1 earned. With that explained let me talk about how you can go about earning points.
Surveys
First on the list is obviously the main way which is completing surveys. Now there are two different types of surveys, you have your standard survey and a screener.
Standard surveys will take 10 to 20 minutes to complete and pay between $0.50 and $5 (50 – 500 points). Screeners on the other hands take roughly 5 to 10 minutes and pay between $0.05 and $0.50 (5 – 50 points).
If you are common with surveys these aren't to be confused with being screened out as the name is the same. When you are screened out which could happen with these surveys you are ultimately booted from the survey.
This can be a number of reasons but normally it's because the user is either not a good fit for the survey or as rushed the survey.
Referral Program
Another way to make money with ACOP is by referring others to the panel.
This gives you a good way to make money passively by just inviting others and is arguably the most profitable way to make money over surveys.
Product Testing
Another way to make money however not so common is through Product Testing. Just like it sounds you will get paid to test out products.
As this is market research many companies as well as hearing opinions through surveys like to hear feedback on products by letting consumers try them out first.
Anyway onto the payouts and for this you can expect to get between $50 and $200. However, if you have any experience with product testing like I do then you may know that it can be really hard to qualify for these.
How Does The Payment System Work?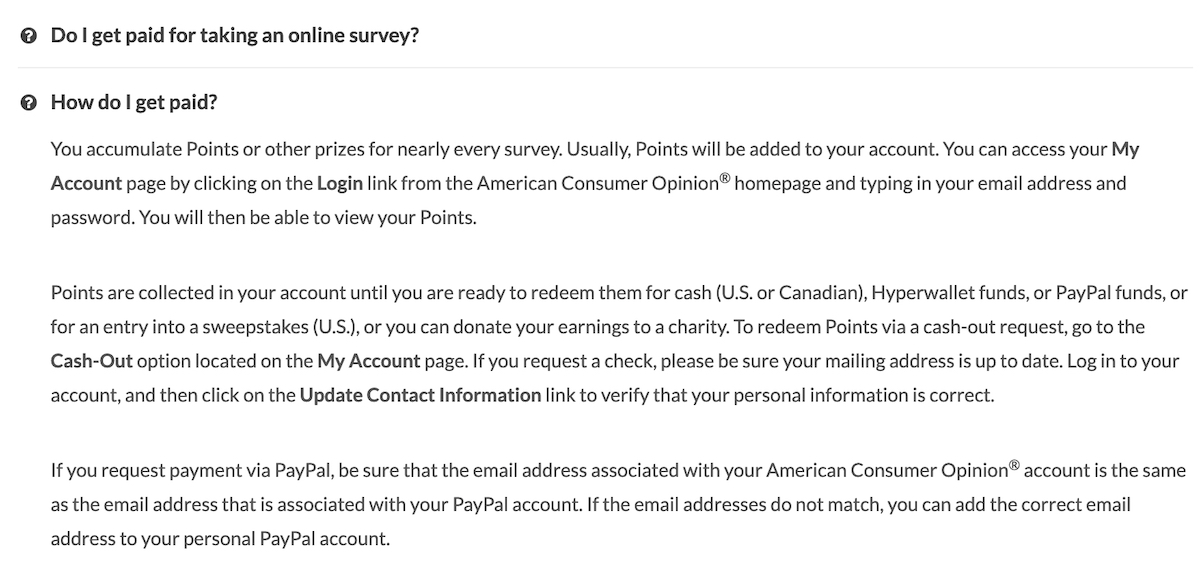 In order to get paid, you will need to reach the threshold of $10 which is 1000 points. You do have a few options to choose from consisting of PayPal and Hyperwallet Cash.
These payouts should come through within 8 to 12 weeks
You also have the option to enter into the monthly draw for the chance to win 5000 points ($50), however, that is quite low and it would probably be much better to just withdraw for actual rewards.
On top of this and this is something I like is the added option of donating to charity.
Pros And Cons With American Consumer Opinion Panel?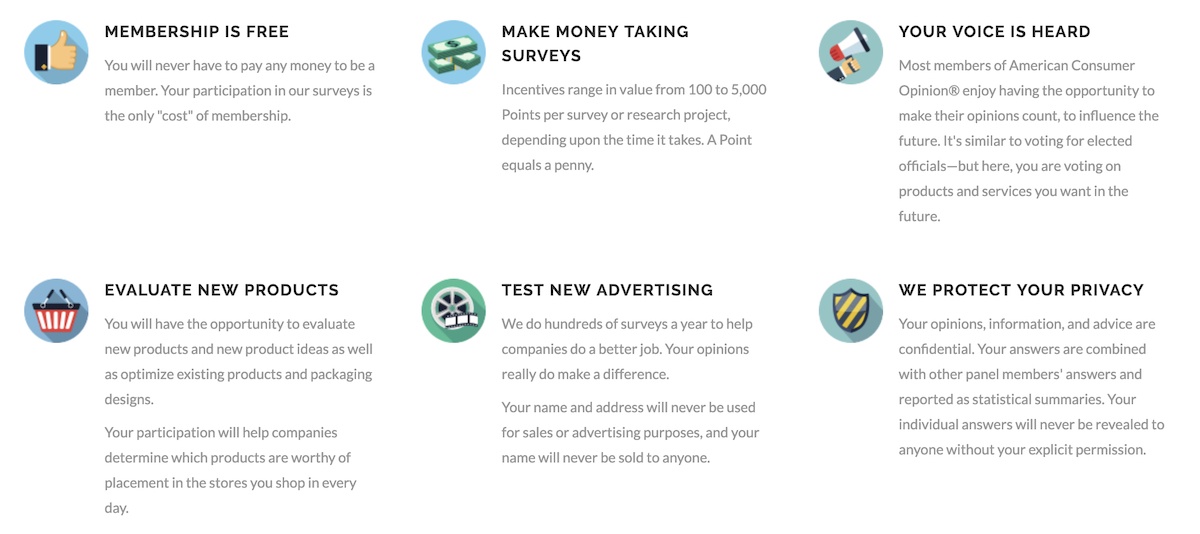 Pro: Available To Anyone Anywhere
It's not unusual for a survey panel to have flexible registration terms but this is an area which is quite good with ACOP.
Not only can anyone sign up but they also allow teens who are above 14 join the panel.
This is good if you are a teenager and looking to make a bit of pocket money online doing a few surveys.
It may not be the most efficient way to make money but from my experience taking surveys, it is possible to make $100+ a month.
Pro: Pays In Cash
It may be my preference but personally, I always go for the option to receive survey earnings in cash as this means you can use these earnings towards anything.
With gift cards, you are more restricted and while I see many people like receiving them at the end of the day gift cards won't go towards paying the bills.
Con: Long Processing Times
This is something I can't get my head around as to why it would take 8 to 12 weeks for payments to come through, especially considering they pay out through e-wallets such as PayPal.
This means you could end up waiting 3 months just for a $10 PayPal payment which is quite crazy.
I'm also mentioning this within the cons because this is unusual within the survey industry as you will find the majority of survey sites payout within a week or two tops.
Con: Low Earning Potential
Unfortunately with an opportunity that only requires your opinions you aren't going to be paid too much, and certainly not enough to quit your job or make a full-time income online.
There are believe or not some exclusive survey panels that I am not a member of that pay $100+ a survey, but this is a rarity and are also extremely targeted (meaning they are looking for a very specific audience).
In this case, you will most likely be getting $1 or $2 a survey which is not only small pay but not worth your time also.
With survey sites, in general, the pay is low unfortunately and there is no exception with the American Consumer Panel.
If you consider the fact that most of the surveys I got to sent payout $1 for a 20-minute survey, this means you are getting paid $3 an hour
Can You Make Money With American Consumer Opinion Panel?

The American Consumer Opinion Panel is an established survey panel that will make you money if you have the patience to stick with it.
That is because the earning potential like I have already mentioned is low.
You are just too limited in many departments, surveys only pay a dollar mostly, surveys take time and also there isn't an infinite amount of surveys all the time.
This means there's only something money you can make.
If you are looking for a job replacement my advice is to look elsewhere as there are better and more long term opportunities out there that will provide a more efficient way to make a passive income.
A Better Way To Make Money Online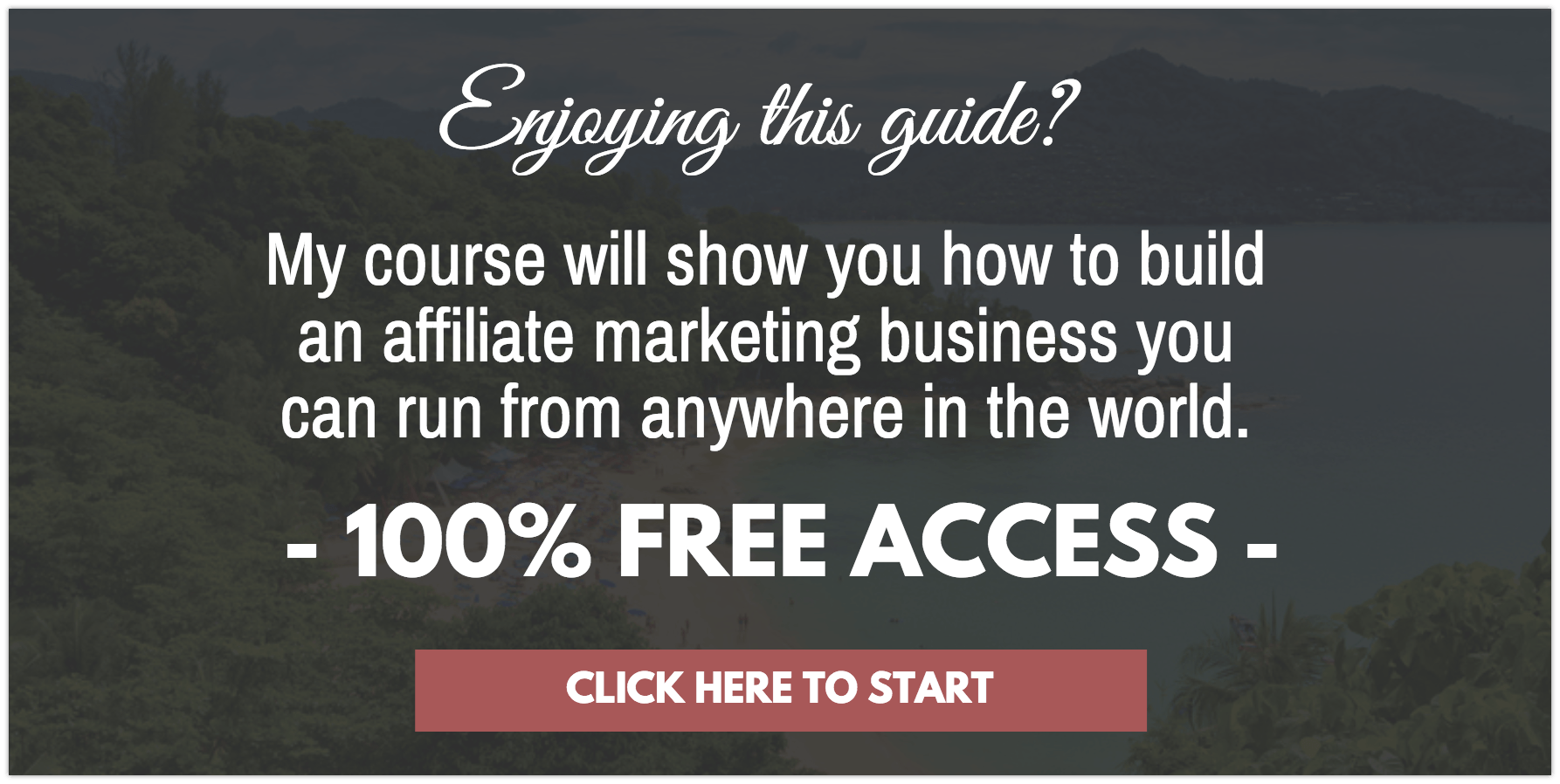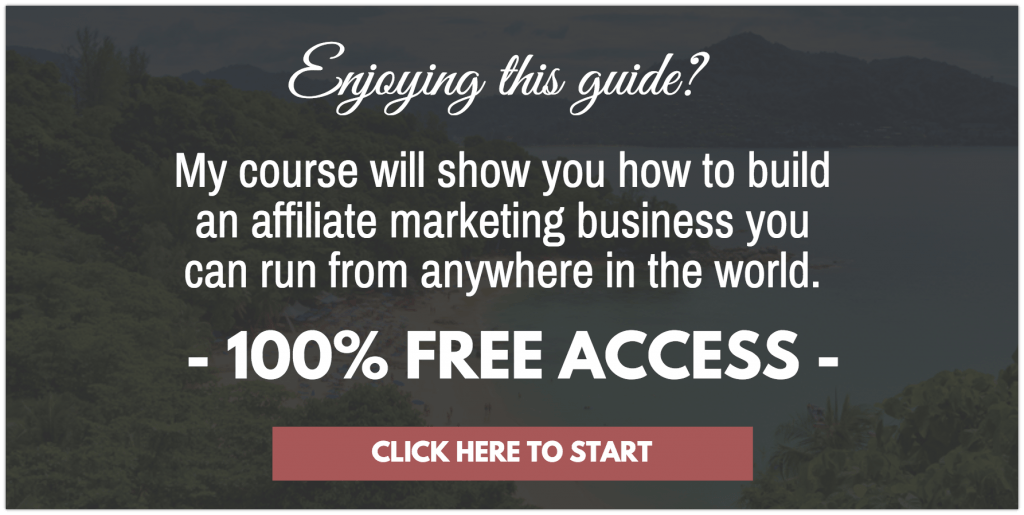 While I do like the idea of doing surveys in exchange for a few pennies, I have to say that this is not the best way to make money online.
The best way to make money online – from my own experience – is by building up your very own affiliate marketing business, which is how I am able to do this "online bidnezz" thing full time now.
If you want to move away from making pennies and go into more lucrative endeavours online, be sure to check out my affiliate marketing guide here.
I also have a free 10-day getting started course for you here if you'd like to take a look at that.
ACOP Review: Final Words
Thank you for reading my American Consumer Opinion Panel review.
I hope this has answered your questions and also pointed you towards other possible ventures you can try to start making money online.
If you have any questions, be sure to let me know.
Talk soon.