Welcome to my long-awaited, Awol Academy Review.
In this review, we're going to take a look at Awol's many different courses and find out if this is something you should invest in to learn how to build an online business.
In this review, I will be going through;
What is the Awol Academy
How does it work
The different "modules" and "academies"
The prices of each course (and what you get for it)
Some pros and cons (which I think you should know about) and;
I'll also give you a few other recommendations which you may be interested in if you want to learn how to make money online.
Ready to get started?
Here's what you need to know about the infamous AWOL Academy.
What is Awol Academy?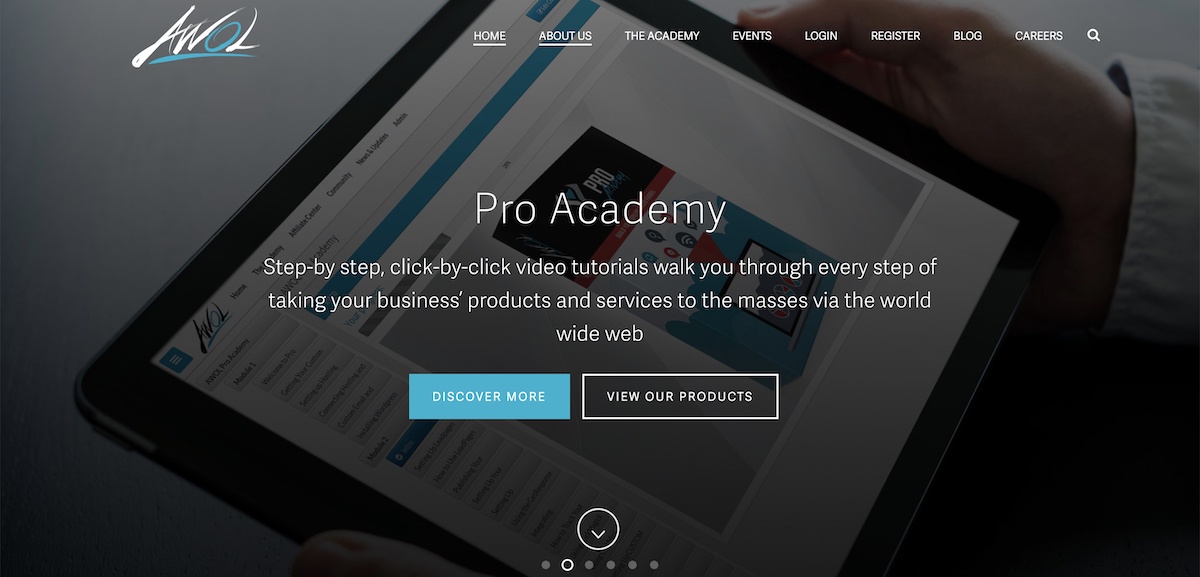 The Awol Academy is a company started up by entrepreneurs called Kameron George and Kaela Kanne who's aim is to teach people how to succeed in affiliate marketing.
They founded Awol which by the way stands for 'Another Way Of Life' back in 2013,
From reading up on them it seems like they have good intentions and have good goals to teach the new generation of affiliate marketers.
There are some questionable aspects that I will talk about though.
You can see Awol's About Page here.
How Does The Awol Academy Work?
Now there are different tiers and upsells at Awol Academy which will get you access to different features and training.
I will go into how each one works and what you can gain from them, I will probably give you some of my thoughts on them as we go through.
I must warn you in advance though that the money required each time increases to quite a substantial amount.
Pro Academy: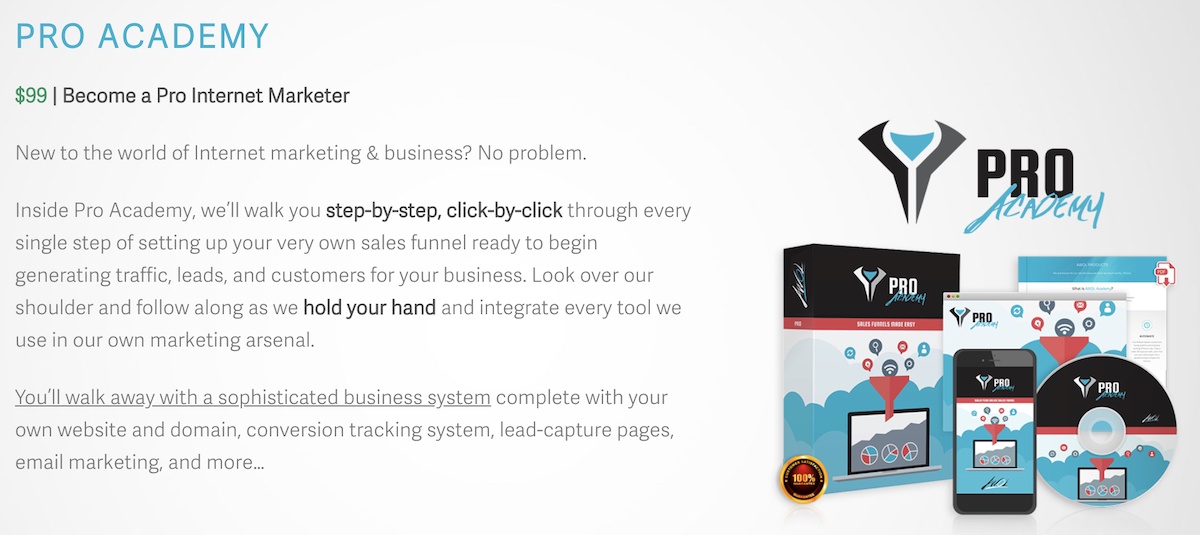 Awol Academy likes to start off quite expensive with their range of products starting with the Pro Academy product at $99.
This one will teach you the basics for those who are new to the online affiliate world.
Here you will be taught how to start your own website all the way through to using that site to getting potential leads.
You will be shown how to monetize the site with a sales funnel and strategies to getting leads.
This is the cheapest product so as you can imagine it will cover basics and if you want to take it to the next level you will need to buy further training, these next few courses all concentrate on certain areas within affiliate marketing.
To sum it up though Pro Academy offers not that bad value and good for those who are newbies.
Inbox Academy: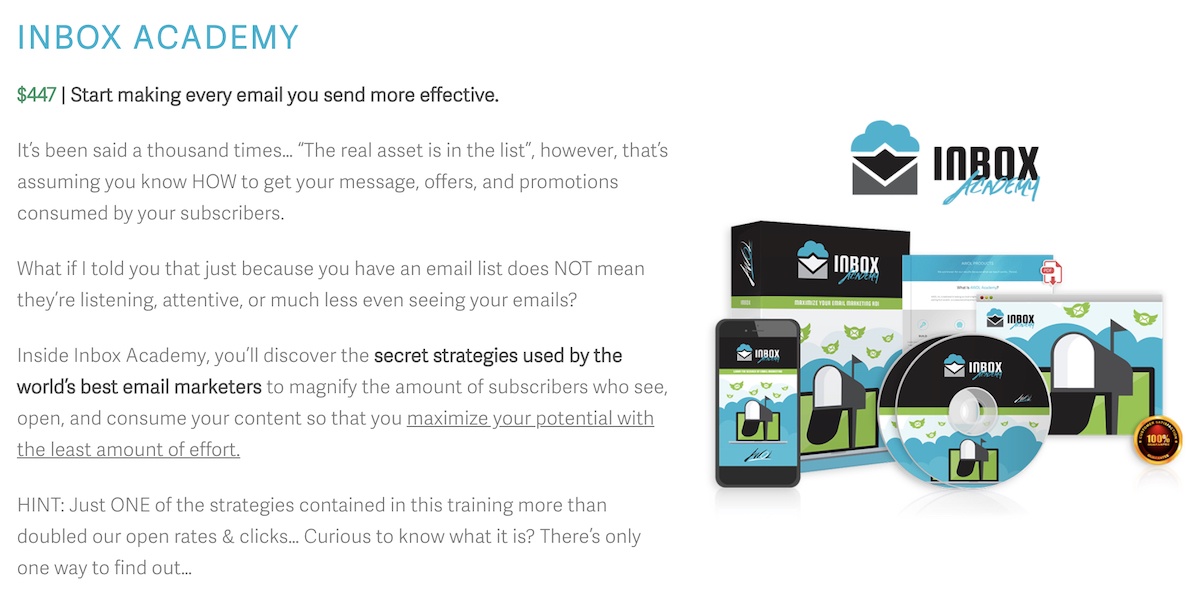 This training concentrates on the email marketing sides of things and costs an extra $297 to acquire this product which is already quite steep.
Anyway, in this program you will be taught the ins and outs of email marketing, so things like setting up email campaigns that convert into sales.
Conversion Academy: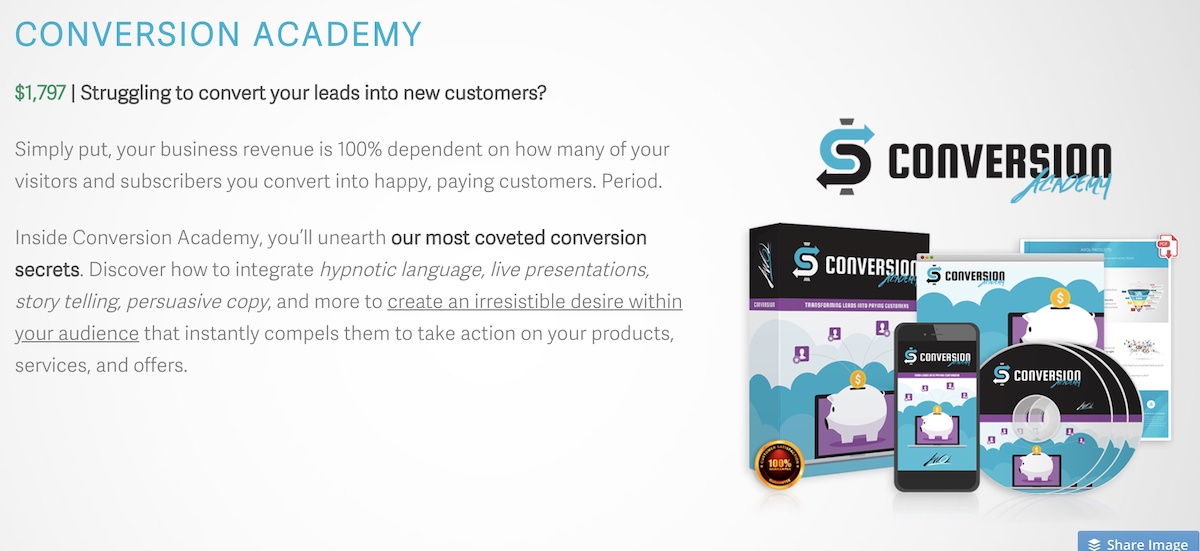 Next up is Conversion Academy at a whopping $997.
With this course they claim is a must for those looking to convert traffic (potential buyers) into sales, through what they call persuasive language.
You will be shown how to scale up your conversions and how to essentially get people to buy whatever you are promoting on your website.
Traffic Academy: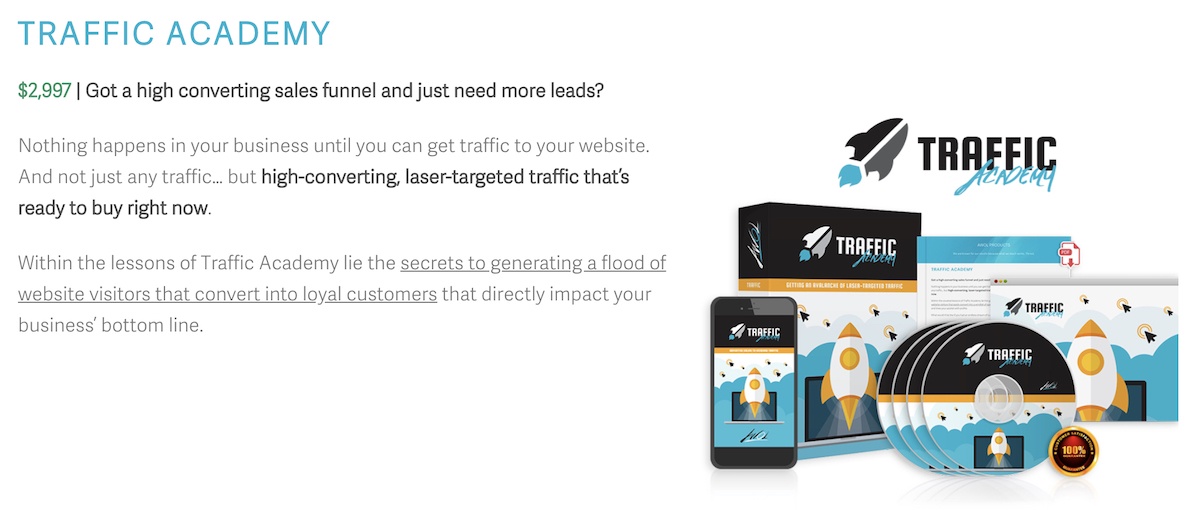 Traffic Academy costs $997 and in this product, you will be taught everything you need to know about getting traffic to your site and the best strategies for doing so.
They will also share their 'secret strategies'.  This training and what is taught throughout the others is 'paid traffic'.
Now there are many ways to get traffic to your website, you can get 'free' traffic through social media and organically through search engines.
But the traffic they talk about and what the training is around is Paid Traffic through Ad's, as you may be aware from me using the word 'Paid' that you will need to pay further amounts for this.
Masters Academy: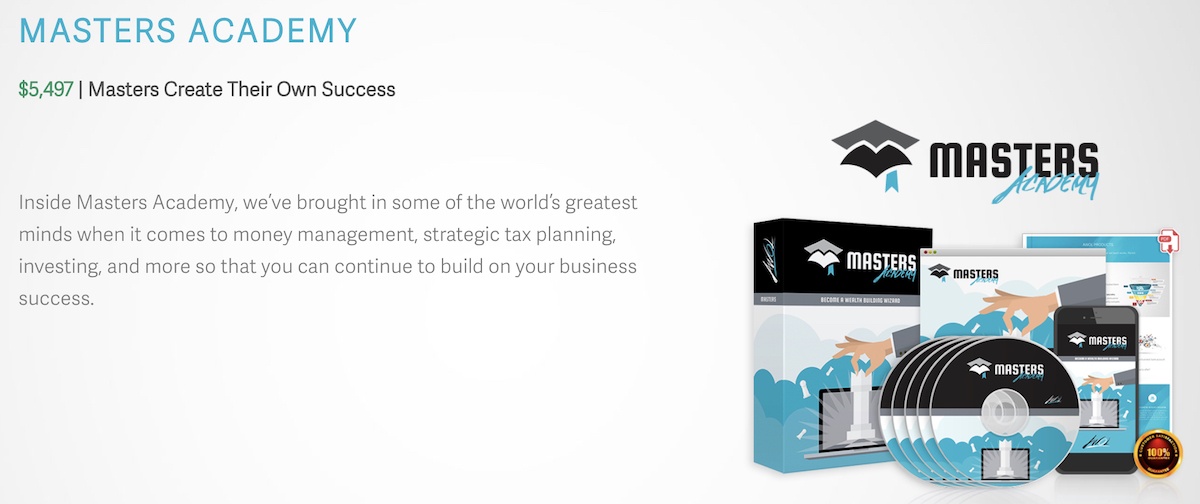 For Masters Academy, we are going up to another price range and another one of Awols upsells with a product costing $3,497.
This training is different from the others and concentrates on the mental side of running a business.
You will be taught how to overcome obstacles that may slow your progress and how to prepare yourself for long term financial freedom.
I would be interested in checking out the specific areas covered in this training as it costs more than the first 4 programs put together with change left over.
AWOL Elite:

I'm not sure if you're ready for this one or maybe you have already made money with the previous training but the last product they offer comes in at a massive $9,997.
I can think of a lot of things I could spend that on and sure AWOL Elite is of course at the top of that list (I'm only joking!).
With that said though they do claim that this is the training to take your business to the next level, you will get access to webinars each way that will teach you new things.
Not only that but you will be getting access to there top training which they say is much better and in more detail compared to the other products they offer.
I guess with that amount you can only assume you are getting the absolute top quality of training.
With all the joking aside I want to end this part of the review saying that the amounts here are a lot more expensive compared to other courses out there.
So unless you are financially stable enough to experiment and try their products out I would advise you don't.
Pros Of The Awol Academy
Detailed Training Through Successful Entrepreneurs:
If there's one thing you are guaranteed is in-depth training that teaches you what you need to know by people who know their stuff.
Now I have tried products like this in the past, not as steep with the pricing here but programs that charged big for average training that I could've found elsewhere by simply typing it into Google, but that's not the case with Awol Academy
While I am on that there is a lot of successful entrepreneurs out there that share a lot of their knowledge for free.
So aside from my recommendation (you will find this at the end of this review), there are other sources of information online that you can get access for free.
For example:
This post I was reading earlier from Neil Patel shows beginners how to drive traffic to their blogs with no experience.
Now this kind of information comes from someone who is very successful and the same audience that would gain from AWOL would gain from reading a post like that, the only difference is it's free.
Cons Of The Awol Academy
Program Revolves Solely On Money:
Let's say you want to start an affiliate marketing business, but have no money to get started, if that's the case you will get nowhere with Awol Academy as the amount of money and upsells involved is very high.
Getting started in affiliate marketing isn't the most costliest of investments and if you wanted to you could get started for less than $10 a year as all you need is a website/domain, that wouldn't include training but there are other training courses out there that are of good quality and you can get much cheaper.
Just take the Awol Elite product they have, it will cost you almost $10'000 which is a massive investment and with no guarantees that you will make it back, it's a lot of money to send down the drain.
Obviously, you are getting quality training but even then, in my opinion, no training justifies the amounts that Awol Academy charge.
The sums are ridiculous and with all the upsells you could be paying for a year of university fees (Approximately $16,000), however, in this case, there are no student loans you will have to pay it in full, which I don't recommend
No Guarantees:
Now Awol could help you make money and they may not, the thing is there is no guarantee that you will make any money when following this training and appropriately they make sure to mention this within their terms.
It goes for creating any business, nothing is guaranteed to work, there are things you can do to help increase your chances such as hard work, persistence, and consistency to name a few.
But getting back to Awol and the reason why I have this down in the cons is that there are no guarantees you can make money but at the same time you could end up spending lots of money and basically losing it.
Can You Make Money WIth The Awol Academy?
There's no doubt that Awol Academy is legit as the owners are sharing valuable information that can really help when it comes to starting your own affiliate marketing business.
You aren't guaranteed to make money and that goes for most programs out there, but if you follow the training on offer you will have a good chance at succeeding.
Now here comes the big but that I must mention and that is even with all the positive aspects of AWOL never would I recommend a program that charges so much.
With all the upsells you could end up spending a lot of money and in this case, we are talking thousands.
Now while you could make a successful business out of what you learn there are in fact other programs that will teach you the ropes of affiliate marketing will out breaking the bank.
Actually, there are programs did you know that teach you all the areas AWOL cover and more for only $15 a month.
I'm not going to go to much in detail here as this is supposed to be a section talking about Awol but if you hang around to the end I will talk about how you can make money through my favorite and trusted affiliate marketing training platform…
Actually, why wait?
Here's how I learned how to make money online.
The Best Training Course I Have Found To Make Money Online
LOOKING FOR A LEGIT, SCAM-FREE WAY TO MAKING MONEY ONLINE?
GET MY FREE 10-DAY "GETTING STARTED" COURSE - NO CREDIT CARD REQUIRED
The best training course that I have found and used myself to build up my affiliate marketing business – which now allows me to live life on my own terms – is called Wealthy Affiliate.
I won't go through this much here as I've written an incredibly detailed review about it to tell you what to expect so if you are serious about making money online, I suggest you take a look at that course (it's free to get started).
Awol Academy Review: Final Words
Thank you for reading my Awol Academy review, I hope this review has answered any (or all) questions you may have had about Awol and hopefully guided you in the right direction.
Learning how to make money online is one of the best skills you can learn in my opinion, and if you really want to do it; don't let anything stop you as it's sure as hell worth it.
Talk soon.
PS: If you have any questions please leave them below and I will get to them asap.
PSS: Don't forget to sign up to my email list, this is where I send out my best tips and strategies I am using to get my affiliate marketing business to the next level.
Awol Academy Final Rating
Price

Features

Training

Value For Money