With most of the "make money online" methods I often write about on this blog, you'll often notice that many require creating content.
This, unfortunately, scares a lot of people off as many find it hard to believe they are a good enough writer to be able to publish content online for the world to read.
In today's post, I'm going to review a possible solution for this and that's because I've just finished going through Jake Nomada's new writing course;
Content 2 Cash: How To Become A Better Writer For Fun & Profit
Before I get into this review, let me just emphasise one more time that if you are looking to make money online, you have to learn a bit of content writing and this course (Content 2 Cash) is by far the best writing course I have found.
Anyways, let's get into this review…
Here's What You Will Be Learning In Content 2 Cash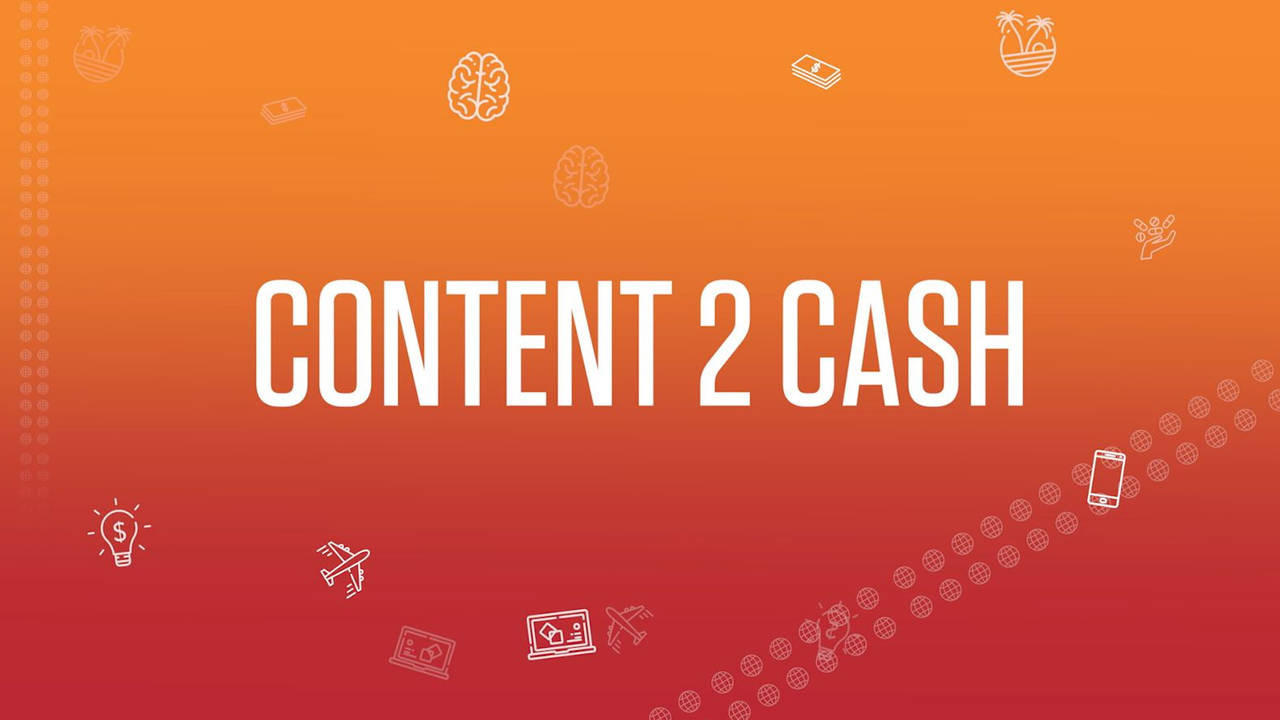 Now that we've got that out of the way, let me just tell you exactly what you will be learning about inside Content 2 Cash:
Part 01: How To Rapidly Become a Better Writer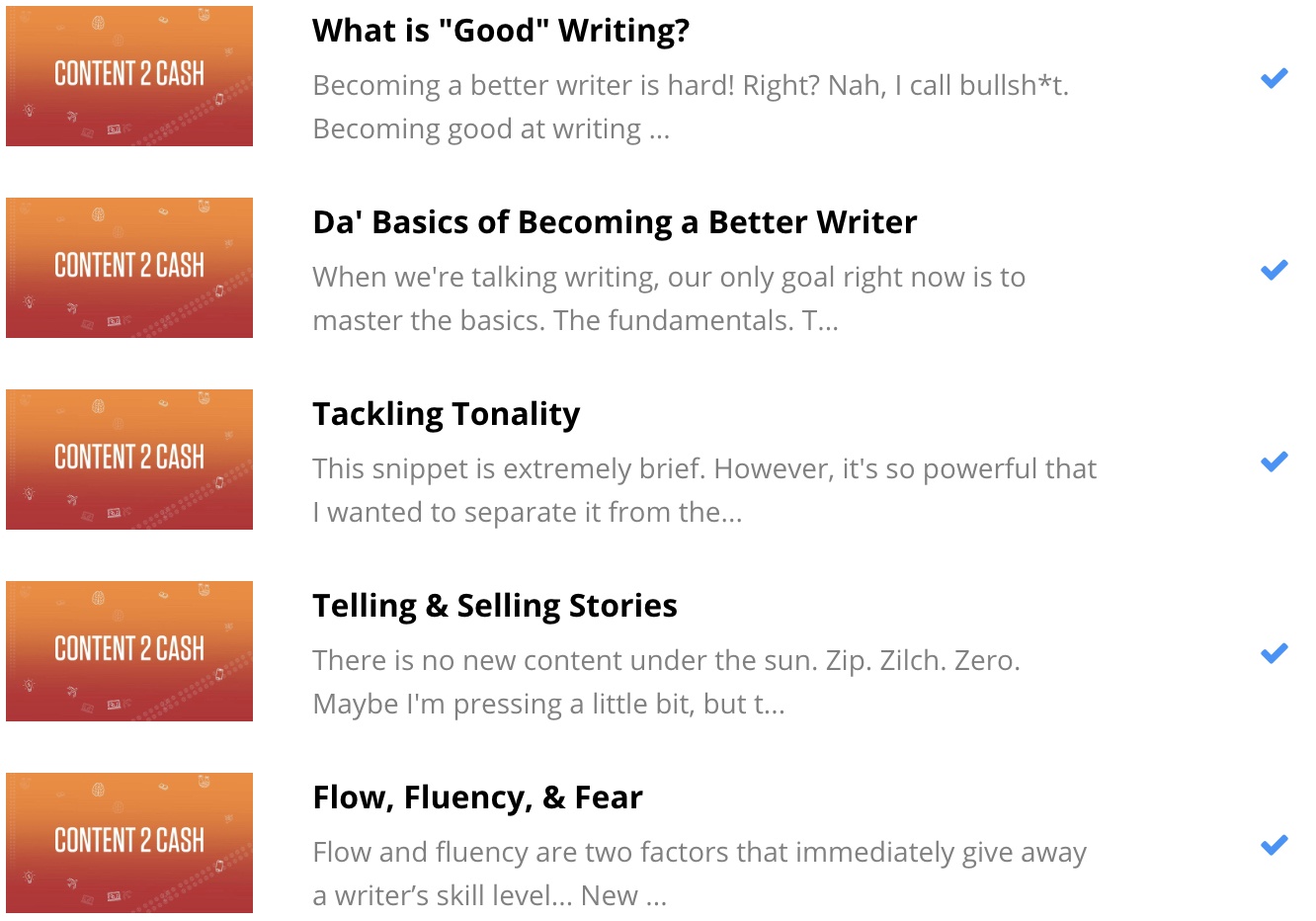 After a few introductory lessons about getting your mindset right when it comes to making money online, Jake jumps straight into the nitty-gritty lessons of this course.
In this first part, he covers how to "rapidly" become a better writer giving you tips, ideas and his own tried-and-proven methods to:
Master the basics of becoming a better writer.
Conquer tonality and the art of telling stories.
How to create a "flow" to your content that people love.
How to edit (and re-edit) your content for best results.
Mastering the "fear" of writing.
and a whole lot more…
Although I've been writing content online for the past 6 years learning a lot of lessons along the way, I still managed to take a lot of insights and eye-opening "golden nuggets" in this module which were previously unknown to me.
If you're brand new to writing, I am pretty sure this will be incredibly valuable information for you.
But we're just beginning to scratch the surface here;
Part 02: How To Use Words To Sell & Persuade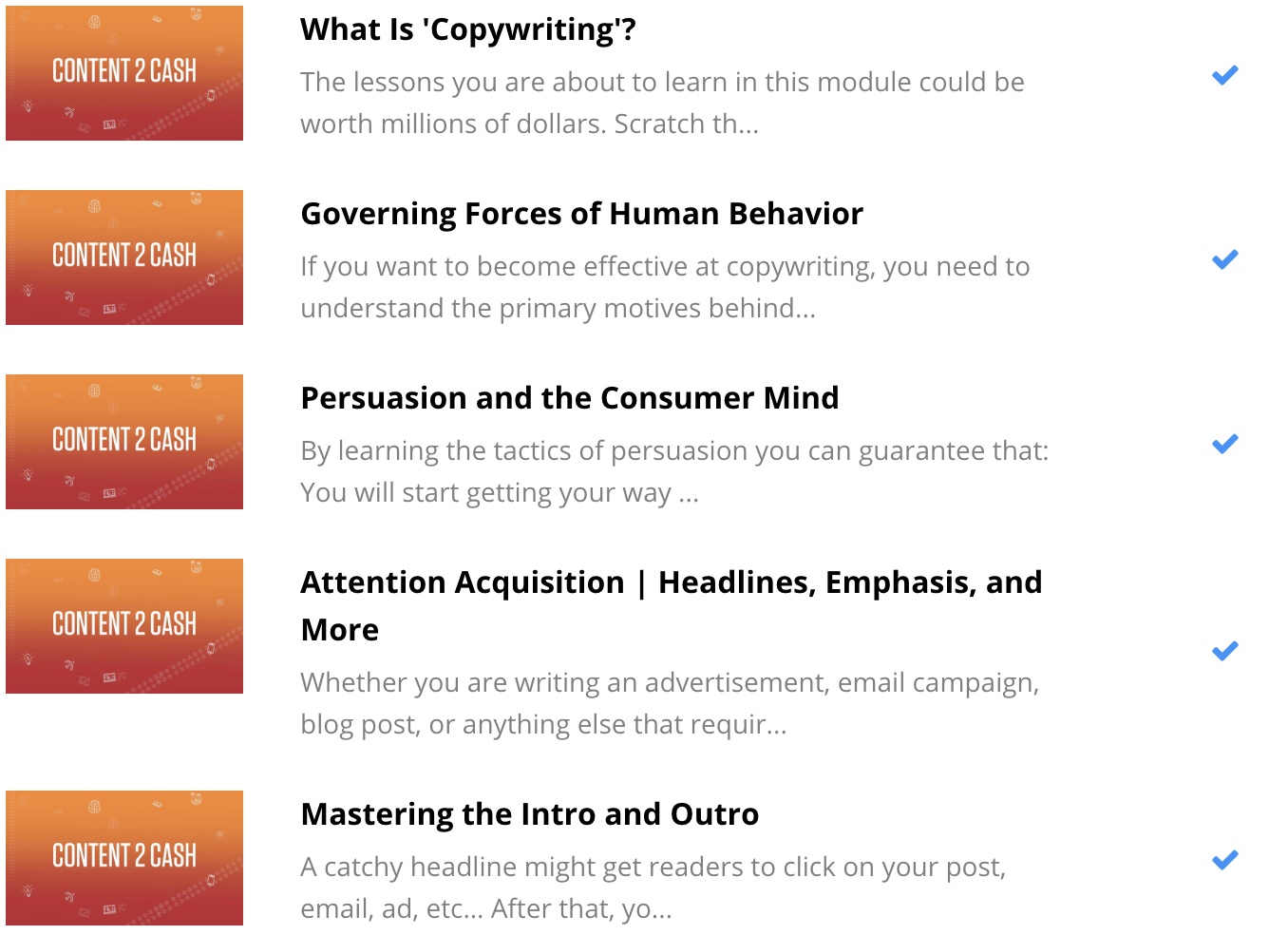 This is quite embarrassing for me to admit but;
After having been in the "online business" space for literally half a decade plus, I've only learned (or better yet; understood) the power of copywriting in the past 6 months or so.
See, when you decide to start writing content online (with the hopes of making money) you need to learn how to craft words that sell, i.e. copywriting.
(NB: Copywriting is not to be confused by content-writing or worse: copyrighting)
I'd even add here that if you're brand new to the "make money online" world, one of the best skills you can learn first – especially as a writer – is the skill of selling with words.
Now luckily for you, Jake has an entire section dedicated to this, and in this module, you will learn:
The basics of copywriting (writing words that sell).
What points you need to hit in the human psyche for maximum profits.
How to persuade with words (powerful lesson indeed).
How to craft titles that get attention.
The incredible power of story-telling (how to make money with them)
Jake also throws in a little cheat sheet in the bonus section of this module which you can follow to create stellar content that makes you money each and every time you sit down to write.
Moving on…
Part 03: Profitable Business Models For Writers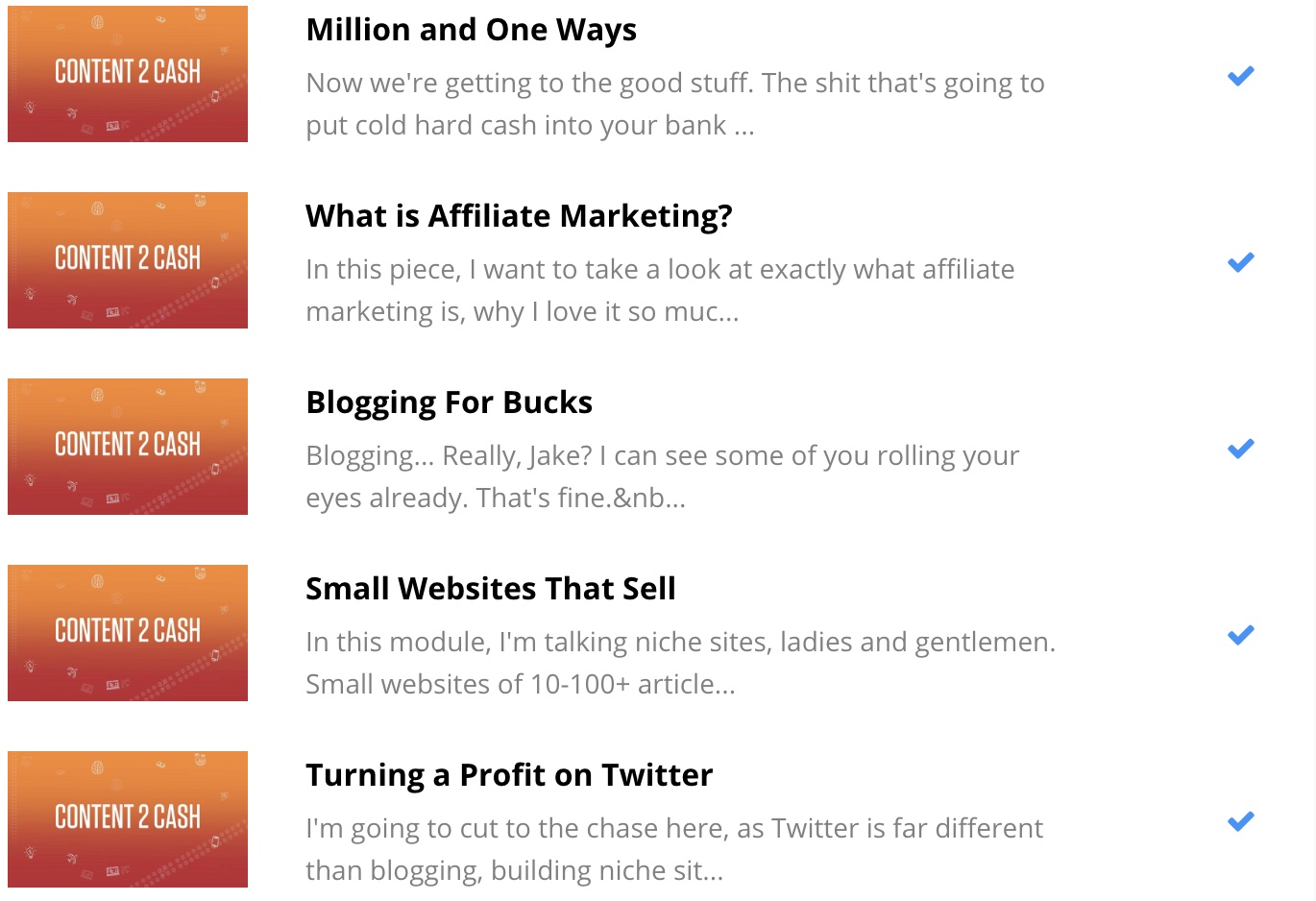 Now that you've got everything you needed to learn how to become a writer covered, it's time to put those skills to work (and make money).
In part 3 of Content 2 Cash, Jake breaks down his methods of how he managed to make an income online solely through the written word.
Here you will get an introduction (and an understanding) to popular "money-making methods" such as:
Affiliate marketing.
Building a "personal blog".
Building niche websites.
Building your very own Twitter personality.
Email marketing.
Freelancing as a writer/copywriter and…
Creating your own info-products (bonus lesson).
Basically, all that you need to put your new found writing skills to the test and make money can be found in this section.
Of course, the lessons won't go into too much detail since this is, after all, a "writing course", but you should at least know what to do, and how to get started doing it.
Part 04: Finding Your Niche As A Writer (& Making Money)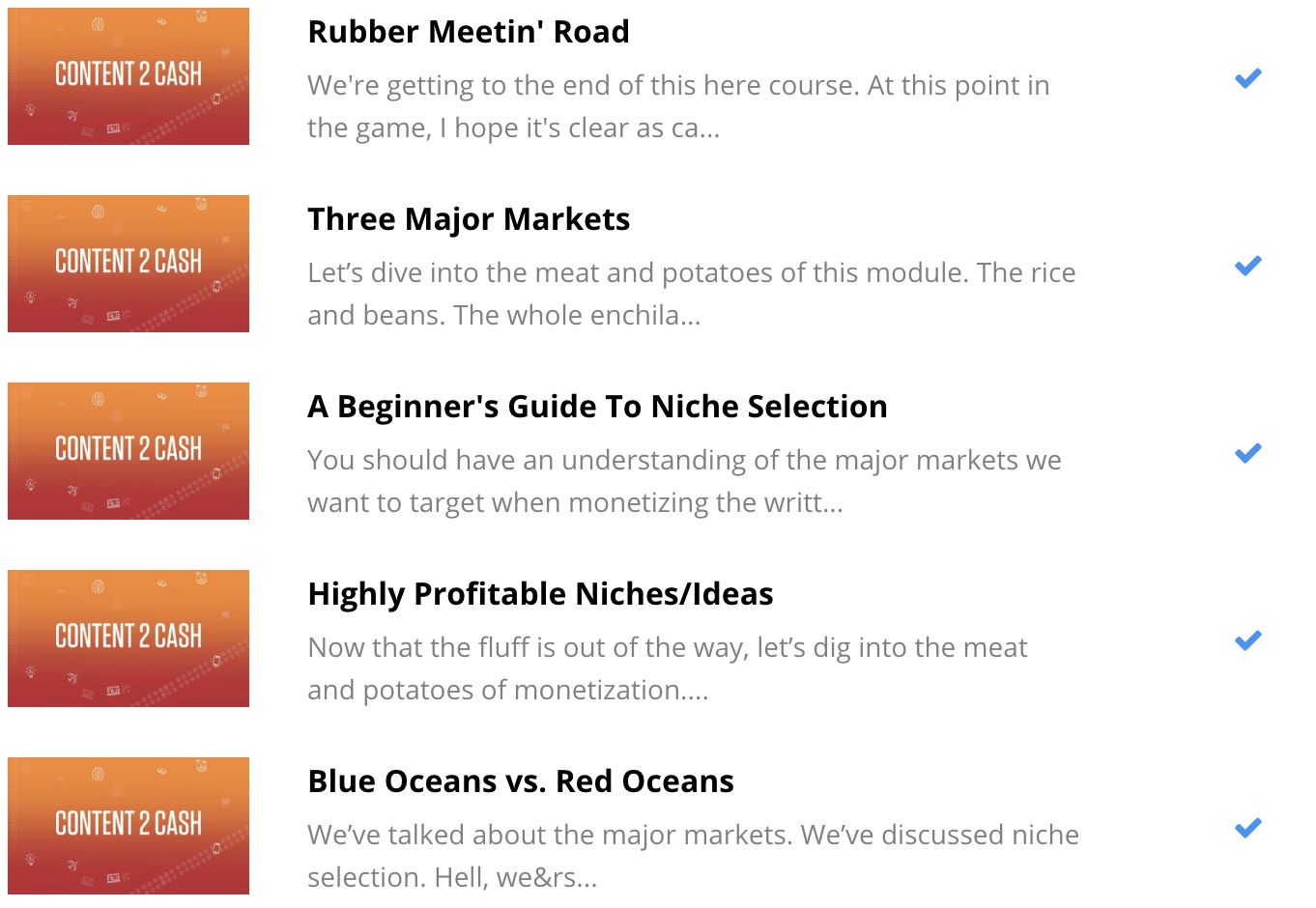 In the fourth part, which you can count as the last main module (not including the bonus section) you will learn:
How to find your niche online.
The three major markets that ALWAYS make money online.
Highly profitable niche ideas (list).
How to value your online assets.
How to build a website (basic introductory guide).
In the last part, i.e the bonus section, you also get:
A list of recommended tools and resources.
How to correctly optimise and format a blog post.
How to write fast (getting good at speed writing) and, last but not least;
One-on-one coaching with Jake (more on this later).
What I Liked About Content 2 Cash
Now that we've covered what you will be learning in this course, let me just tell you about my own experiences with this course and what I enjoyed about it.
Jake Knows His Stuff
The man knows his words.
It's clearly evident that Jake has earned his dues and can teach a course about writing because as it is self-apparent, Jake's writing style in the course itself is clear proof he knows what he's talking writing about.
It's An All-Encompassing Course
Another great thing about this course is that you get an all-encompassing guide that will teach you what you need to know (and do) to become a money-making writer online.
This is not some "this is what you need to do and good luck with it" type of course;
You get everything you need to make your dream of making money online come true.
Of course, and as was previously noted as well, this course does not go in-depth on stuff such as building a website, SEO and such, but;
It does give you what you need to know about each different business model to get you started.
Get One-On-One Access To Jake Himself
Last but not least, with your enrollment inside Content 2 Cash, you also get one-on-one access with Jake himself.
You can ask him your questions via his email and he will respond in due time.
As always, I suggest you do not ask questions that have already been answered in the course or questions that can be quickly answered with a Google search.
Some Things You Should Know About This Course

It's Text Based
This may just be my personal opinion, but I personally like courses which are text-based rather than videos.
Even my own course – the Affiliate SEO Mastery course – is 100% text-based.
Although you do get an introduction video with each module from Jake, the majority of the course is text-based.
I'm letting you know of this because I know some would prefer video-only content to learn from.
It's A Lengthy Course
I've bought courses which were just an hour-long "webinar-style" video and although quantity is often NOT a sign of quality, I was met with disappointment, to say the least.
The same can not be said about the Content 2 Cash course as it's one lengthy course.
It took me well over a week to go through it and digest all the information, and as I said; I do have some experience with writing so not everything was "new" to me.
Price Will Be Increasing Soon
The current price of the Content 2 Cash course is $97.
I'm telling you this because I believe that the current price tag is just the introductory price.
Pretty soon, the course will go up in price (I believe it will be around $147 once the launch-offer is over) so if you'd like to get this course, be sure to do so right now.
Should You Enroll In Content 2 Cash?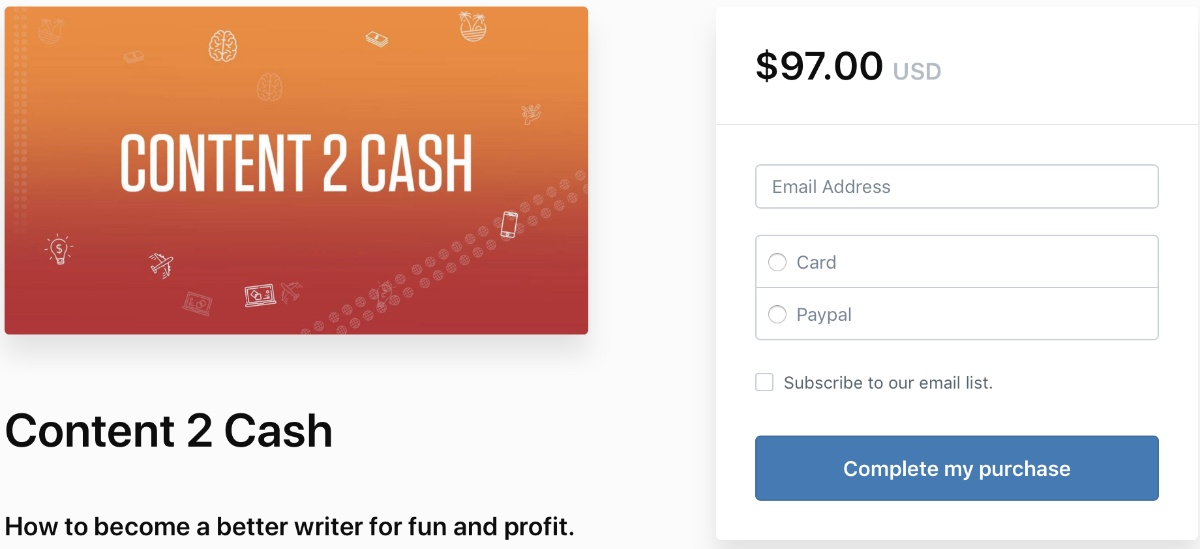 100% – yes.
I knew Jake would not disappoint as I have been following him for months now and I have seen first hand how he uses words to incite emotion in people and get them to do a desired action.
If you're brand new to online marketing with no idea how to get started and no idea how you can come up with content that people love (and that makes money);
Then this is definitely a worthwhile course for you and I would highly recommend you get it before the inevitable price hike mentioned above.
It's an all-around great course and probably one of the best I have purchased from the Twitter-sphere of online gurus.
You can sign up for Content 2 Cash here.
In Closing
Thank you for reading my Content 2 Cash review.
I hope this quick review has answered any questions you may have had about the course.
If you do have any questions which I did not cover, be sure to drop me a comment down below or reach out to Jake himself on Twitter – I'm sure he's more than willing to answer any Qs you may have.
I'll leave you to it. Talk soon.
Christian Lee.
Content 2 Cash Final Rating
Price

Features

Training

Value For Money