Welcome to my CryptoSuite review.
As you may know by now, I am a big fan of cryptocurrencies and I have been slowly and steadily stacking and loading up them bags since around mid-2017.
Having been in it since then, I have seen crypto go to its crazy ATHs (all-time-highs) and back to where it is now, approximately 70-80% down.
Regardless of that, I am still a big believer in crypto, and yes, I am still putting money in right now (just bought a thousand ZRX two days ago).
This is why I have decided to do my CryptoSuite review today as this tool/software showed up this morning as the #1 best selling product on JVZoo which means that people are definitely excited about this and I wanted to see what all the hype is all about.
Name: CryptoSuite
Product Website: CryptoSuite.com
CryptoSuite Price: (see below)
Final Rating: 4.5/5.0

What Is CryptoSuite?
CryptoSuite is an all-in-one tool that will help you organize your cryptocurrency trading while also giving you alerts on which are the movers and shakers in the industry and which coins and token you need to be on the lookout for.
Now the whole CryptoSuite software is sold and marketed as a way to make money with cryptocurrencies, and I honestly think there is a better selling point to it rather than the "make money' angle.
From my short experience using CryptoSuite, I can tell you that it is much more than that.
It actually automates a lot of the manual labor a lot of traders go through to find and research coins that can be valuable in the future.
Now I also have to add here that I am by far not a cryptocurrency expert. I have made some earnings in the massive bull run, but that is about it. I do not consider myself an expert or even a trader per se — I'm more of the HODLER.
If you do know how what that is and why the typo is there, then you really are a crypto newbie, which is great as a tool like CryptoSuite is what you probably need to help get you started.


Can CryptoSuite Make You Money With Crypto?
Apologies to burst your bubble, but no, I do not think CryptoSuite can make you money, and I will explain shortly why.
Can cryptocurrencies make you money?
Yes, I'm pretty sure of that (or at least as sure as one can be considering the volatility and infancy of cryptos).
However, CryptoSuite can help you earn more money with crypto by educating you on all that is happening in the industry, which coins to buy and look out for, what ICOs are coming up and so forth.
So no, CryptoSuite is not a "money making tool" but rather an all-in-one cryptocurrency tool which yes, I believe can be beneficial to a lot of cryptocurrency enthusiasts out there looking to get into cryptocurrencies.
What Do You Get With CryptoSuite?
CryptoSuite is a robust platform, and there's plenty of tools and trinkets which I believe can help you understand cryptocurrencies better than you do now.
Let me go through what you get with your CryptoSuite purchase briefly, but you can watch the introductory (sales video) to better see the tool and software in action and how it can be used.
The Daily Coin Picker
This nifty little tool gives you the daily movers and shakers from the staggering 1800 different coins and tokens to give you a quick look as to which ones are up, and which coins are down.
You'll also get the biggest gainers and loser of the day, and you can use this information to help you make better decisions and keep track of the coins you are interested in.
Myself, I do not use this feature much as I tend to stick to the top 10 coins, as I said I'm more of a holder than a trader, so I do not look for these low-cap high-risk, high reward coins.
if you do, however, then you will enjoy this tool in CryptoSuite.
Live Notifications
Want to know what's happening or be alerted when a coin reaches a price level you are interested in?
The Live notification tool will send you a notification when your coins are on the move.
Again, I tend to avoid this as with such volatility happening all the time (especially with the low cap coins), this can get pretty damn wild, and the notifications do more to stress me out than give me peace of mind).
Again, if you're trading, his tool is for you.
ICO Selection / Calendar
Want to know which next ICO is going to hit the market soon?
This is where the ICO calendar in CryptoSuite comes into play, and it will give you a long list of upcoming ICOs with links to their website, whitepaper and more to find out more about them and help you decided if you want to get in on the action.
Cryptocurrency Arbitrage Opportunities
Crypto arbitrage is a system where you buy a token from one exchange and sell it to an exchange that is offering a better rate on it.
For example, Coinbase is selling Bitcoin at $8100, but Bitfinex is buying it for $8150.
The margins are not huge, but if you are quick with it (which is what CrptoSuite can help you with) you do have the opportunity of making some extra income this way.
This is the only way I see CryptoSuite directly making you money, but as I said, the margins here are pretty low, and you need to act fast on it.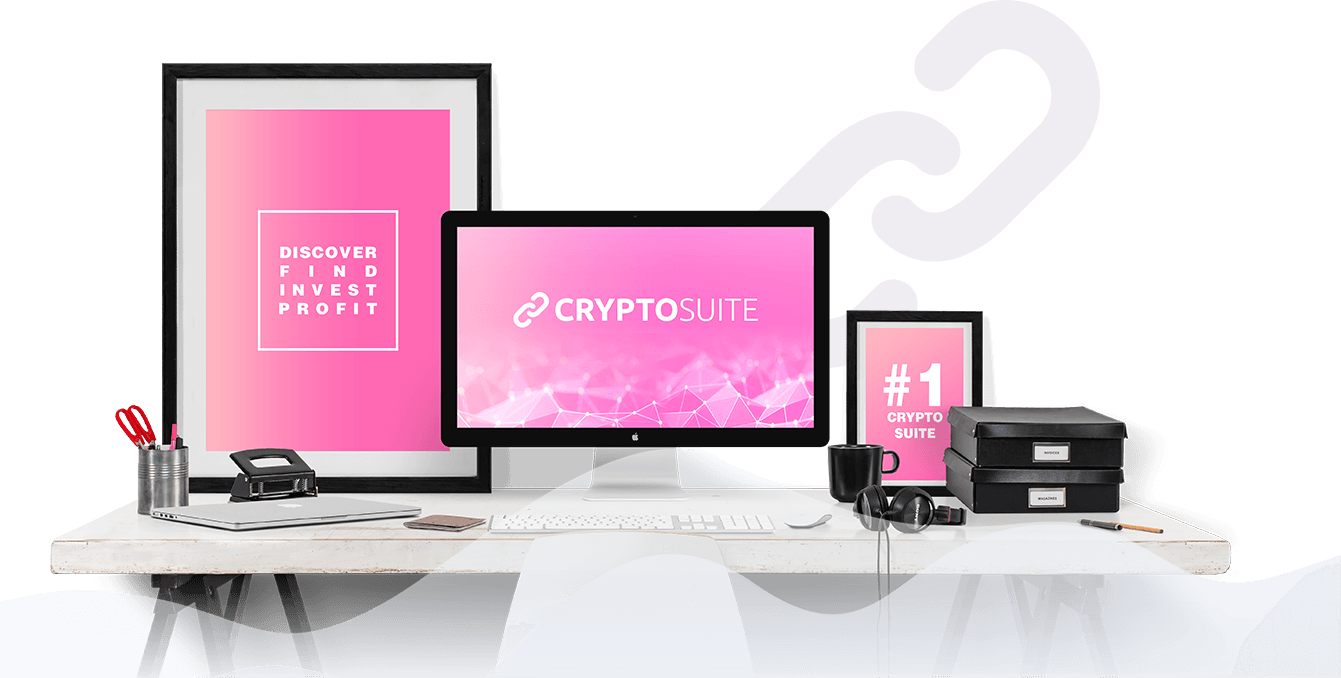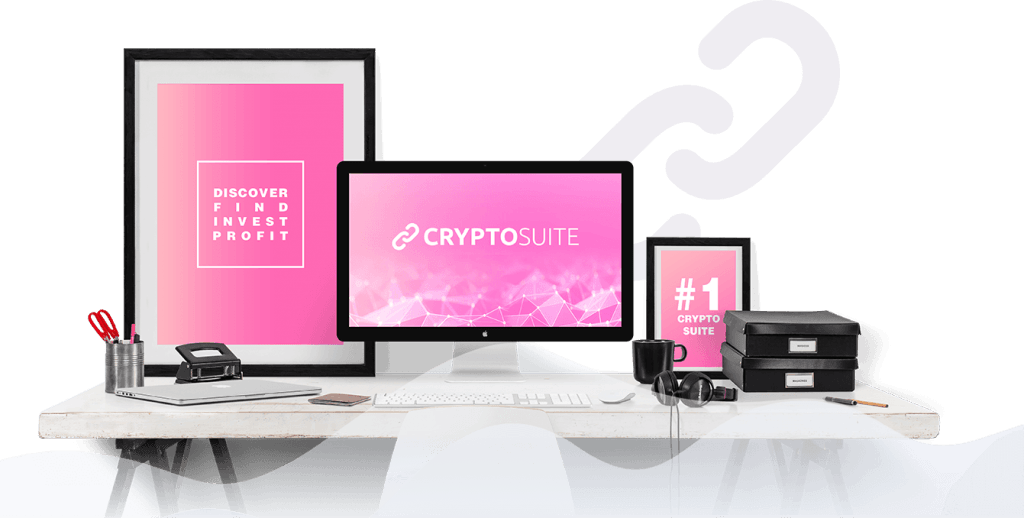 CryptoWatch Analyzer Module
This widget does the same job as the popular website CoinMarketCap does giving you a full list with all the past data of the coins and what is happening to them / with them.
useful to have in an all-in-one tool, but it's something you can find literally on CoinMarketCap.com.
Portfolio Tracker
I love this tool and believe it or not; I have been having troubles with the tracking of my portfolio.
This is a great portfolio tracker as it also allows you to insert your buy-in price, thus knowing exactly which of your bags are in profit loss and how much your portfolio is increasing (or decreasing).
Training Module
If you are a beginner in the cryptocurrency world, this is by far the best value-for-money you will get from CryptoSuite as the training goes through all you need to know about cryptos, how they work, what are ICOs, and so forth.,
It's safe to assume that after you are done with this training, you will have a much better understanding about the crypto world and where it is heading than you do right now.
The CryptoSuite Facebook Group
As with every tool out there, CryptoSuite also offers a VIP Facebook Group where you will get access to once you have bought the software.
In there you will find other members of CryptoSuite all discussing their chosen coins, why they picked that and share their stories and their progress in the cryptocurrency world.
How Much Does CryptoSuite Cost?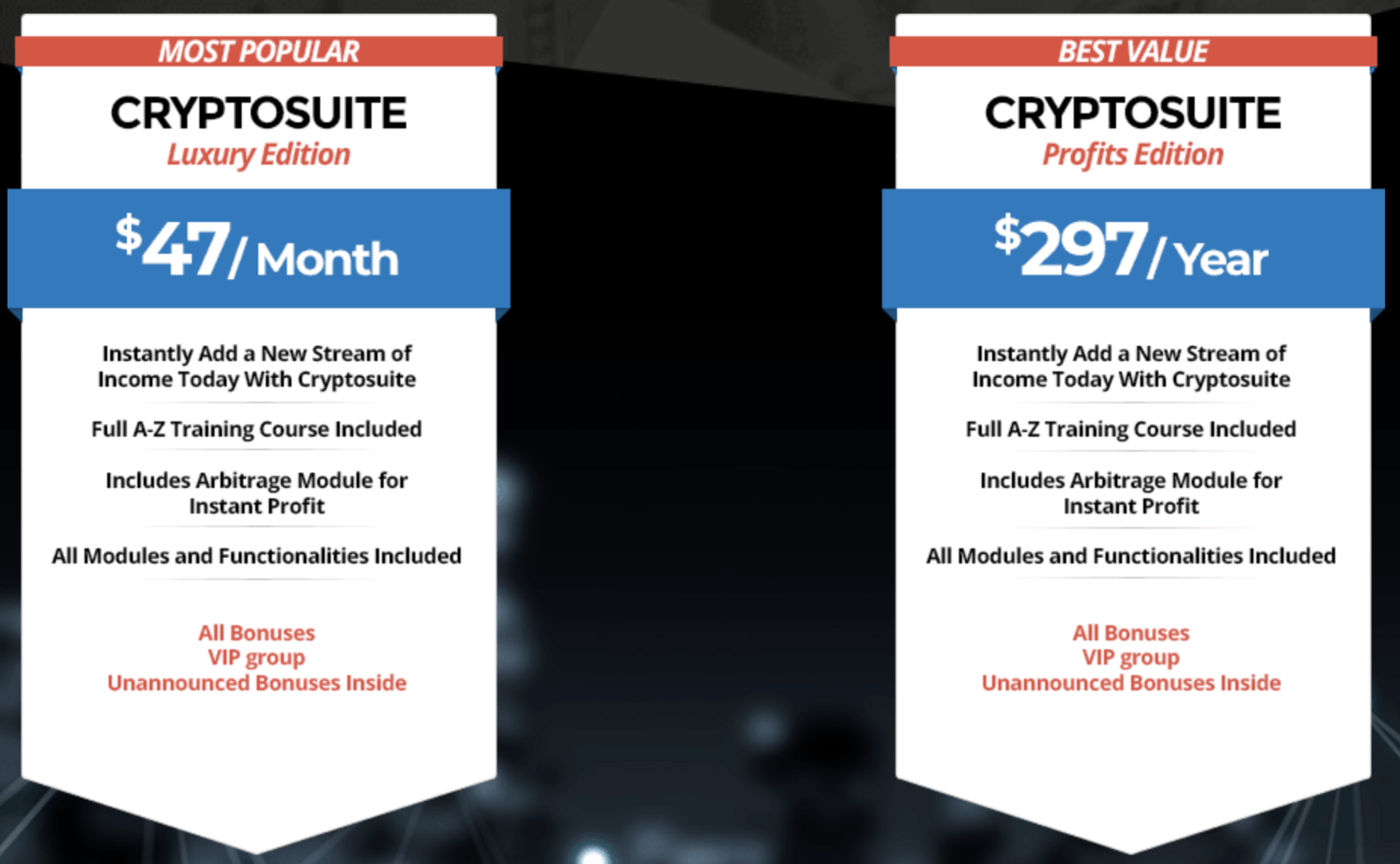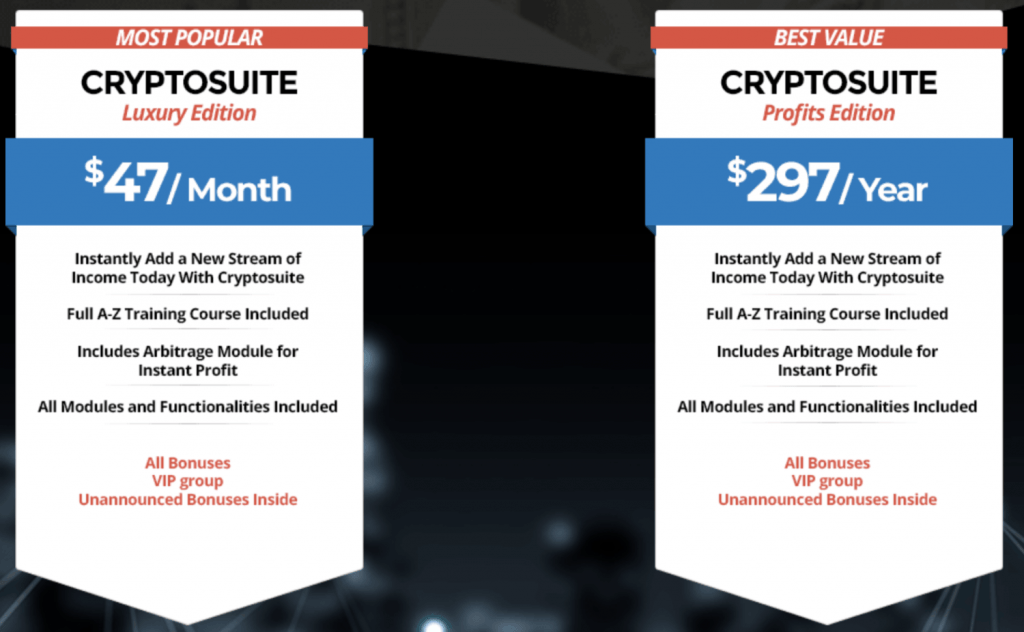 Right, let's get to the bottom of the question I know many of you may be wondering.
How much does this all cost?
Well, there are two types of CryptoSuite you can purchase, and those are:
// CryptoSuite Luxury Edition (monthly fee of $47)
// CryptoSuite Profits Edition (yearly fee of $297).
There is nothing different about these two programs. You would still get access to all the tools, trinkets, widgets, training and same Facebook group but one is obviously better value for money.
If you decided to go for the yearly fee, you would be saving approximately $267 as 12 monthly payments will come to 564 yearly while getting the one year deal from the get-go will only cost $297.
That's very close to buying one year and getting the second one for free.
If you are interested in getting either one, you can visit CryptoSuite here and find out more details about it.
Are There Any Better Alternatives?
As an all in one tool such as this, no I do not think there are any better alternatives to CryptoSuite.
All the tools combined + the low price to access it ($0.81c a day) make this a great tool to use in your daily crypto trading.
User-Reviews Of CryptoSuite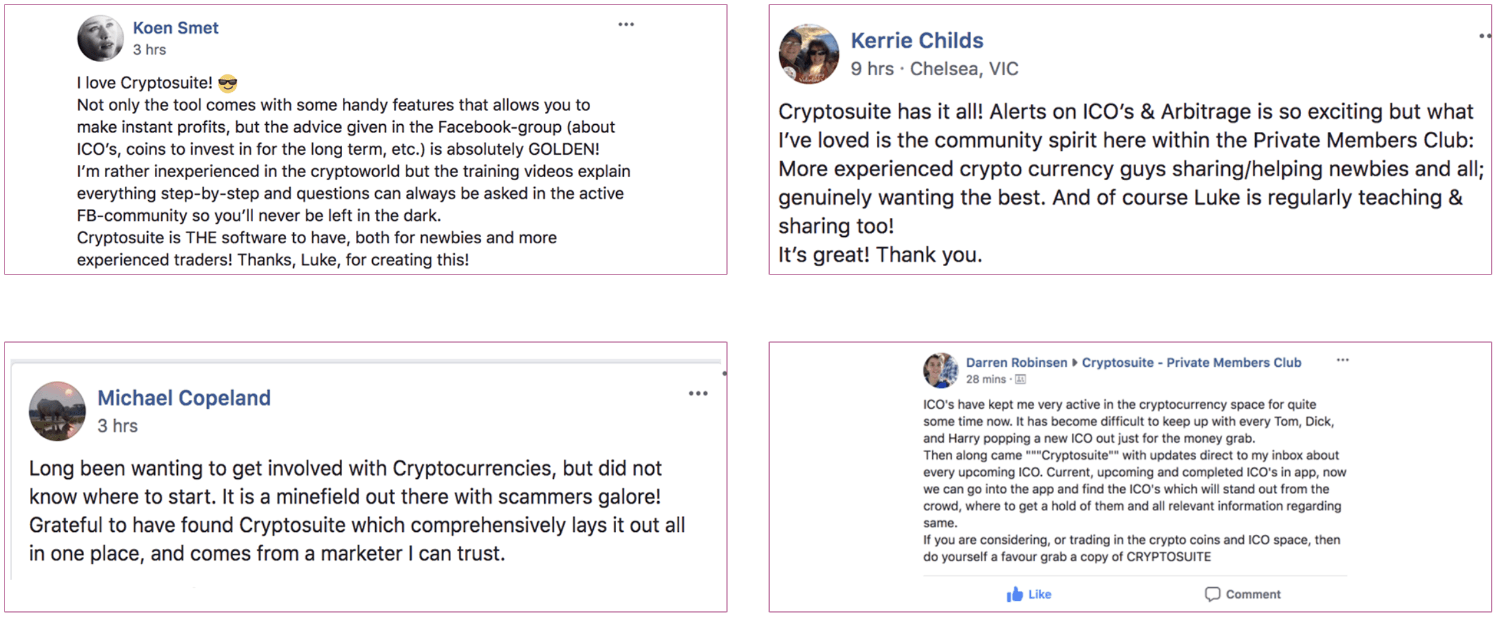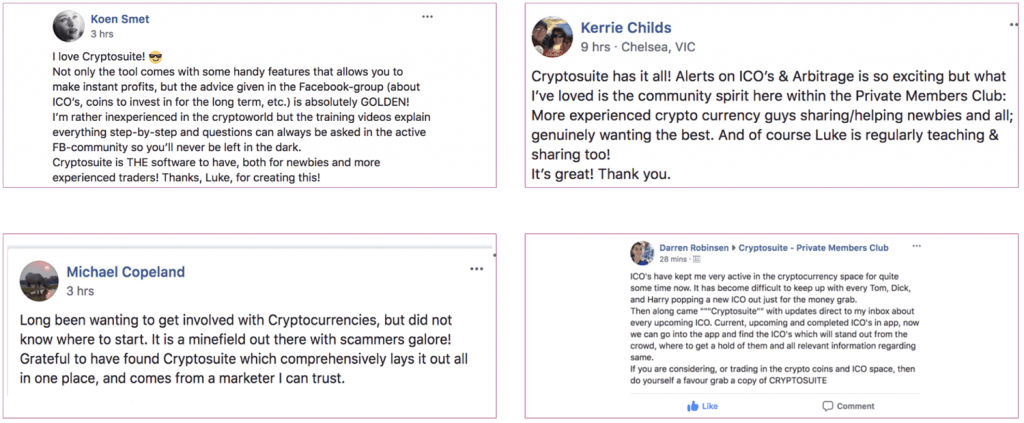 While I did my research on this product before doing my review, I have to say I found 0 complaints so far on the entire internet. Maybe because it's a brand new product but so far, all the people who have bought it and used it all give it a thumbs up rating.
Do I Recommend CryptoSuite?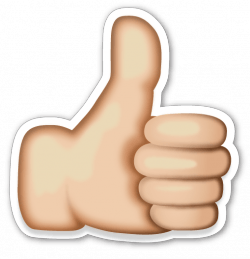 Yes, if you are serious about cryptocurrencies, then go for it.
Just remember though, this tool would not make you money. It's more how you use the tool than the tool itself that will make you the money.
Also, this applies if you are active in crypto, if you only want to buy a few bitcoins and altcoins and hold them for years, you do not need this tool.
As I said, this tool is more for the day-trader and crypto freaks than it is for the average Joe just looking to buy and HODL some coins.
Final Thoughts
Thank you for reading my CryptoSuite review. I hope this post has been of value to you and I wish you all the best in your crypto trading.
Do not let the markets or the media scare you, we will be reaching ATHs again one day soon, and from then on, we're going to go straight to the moon (this is not financial advice – just wishful thinking).
Anyways, go check out CryptoSuite here and see if it's something that can help you and your new crypto lifestyle.
CryptoSuite Final Rating:
Price

Features

Training

Value For Money