After the rise of "mainstream dropshipping" in 2017 and seeing it slowly fizzle away in 2018, in 2019 – Dropshipping seems to be making a comeback.
My "dropshipping ultimate guide" also seems to be getting new interest lately so the interest is definitely there.
I too jumped on the "dropshipping bandwagon" in 2016 and have held onto my store since then, turning it into one of my most profitable online assets.
One tip I can give you if you really want to make dropshipping a success is to find a legit course to follow.
You no longer can "wing it" with free YouTube videos from (increasingly annoying) teenagers telling you what you should do, but never how to actually do it.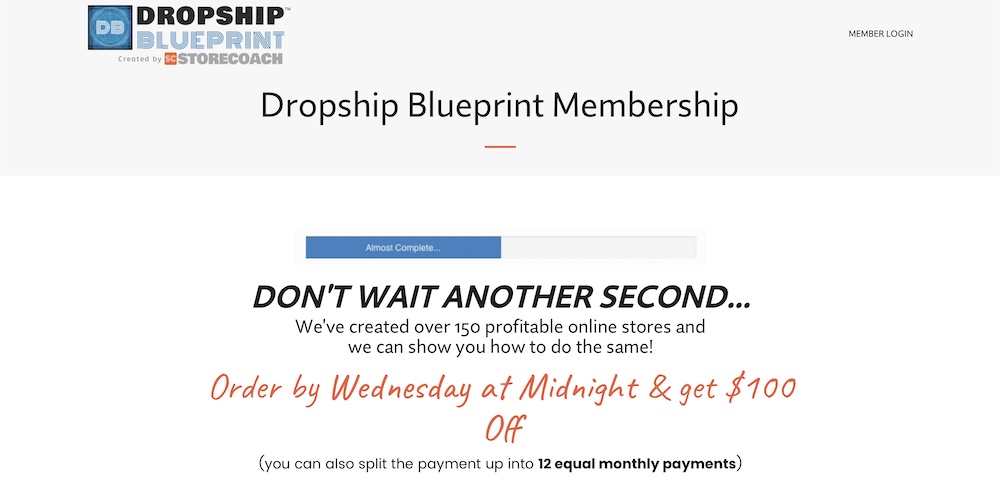 Today, I am doing my DropShip Blueprint review, a "new" course I had the pleasure of going through and right off the bat I can tell you; this course is as legit as it gets.
If you're interested in the DropShip Blueprint (from the StoreCoach team), keep reading this review as I am about to share with you:
What this course is all about
What you will be learning from it
How to become successful with dropshipping and also;
A few things which I think you should know about the DropShip Blueprint (before you buy it).
Before I get into it, here's a quick "review summary" so you can see if this course is for you or not.
The Dropship Blueprint Course Review
$397 One Time Fee (or $33 per month)
Price

Training Quality

Value For Money
Dropship BluePrint Review Summary
13+ Chapters (Lessons)
Great for beginners just starting out
Private Facebook Group
Not your typical "fluffy" course
You can pay monthly (or a one-time fee)
A true "Blueprint" for starting a dropshipping business.
What Is The Dropship Blueprint?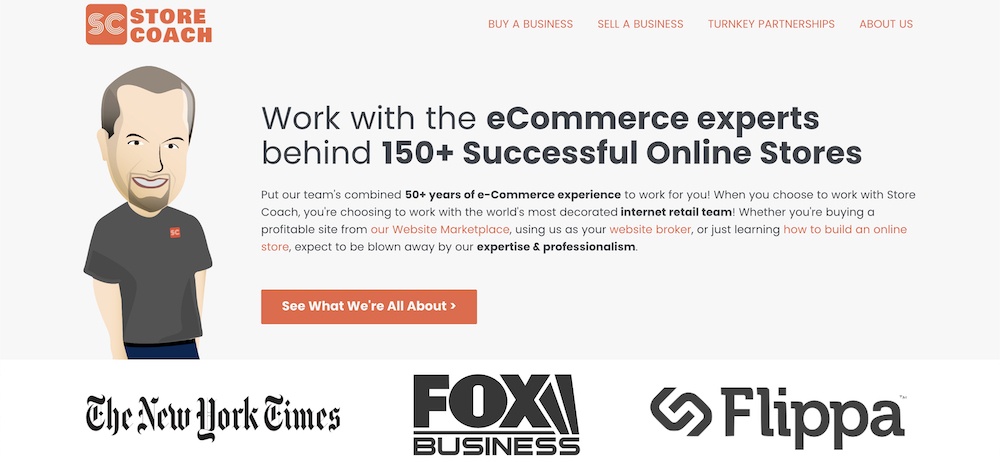 The DropShip Blueprint is a course brought you by the good folks of SmartCoach.com, an online marketplace where anyone can buy and sell their online stores.
The DropShipping Blueprint encompasses all the lessons – and all the secrets – you'd ever need to be able to build a successful dropshipping business, including of course;
hHw to build (and then sell) a profitable store for maximum profit.
Without any further delay, let me now share with you what you will be learning once inside the DropShip Blueprint course.
What Will You Be Learning?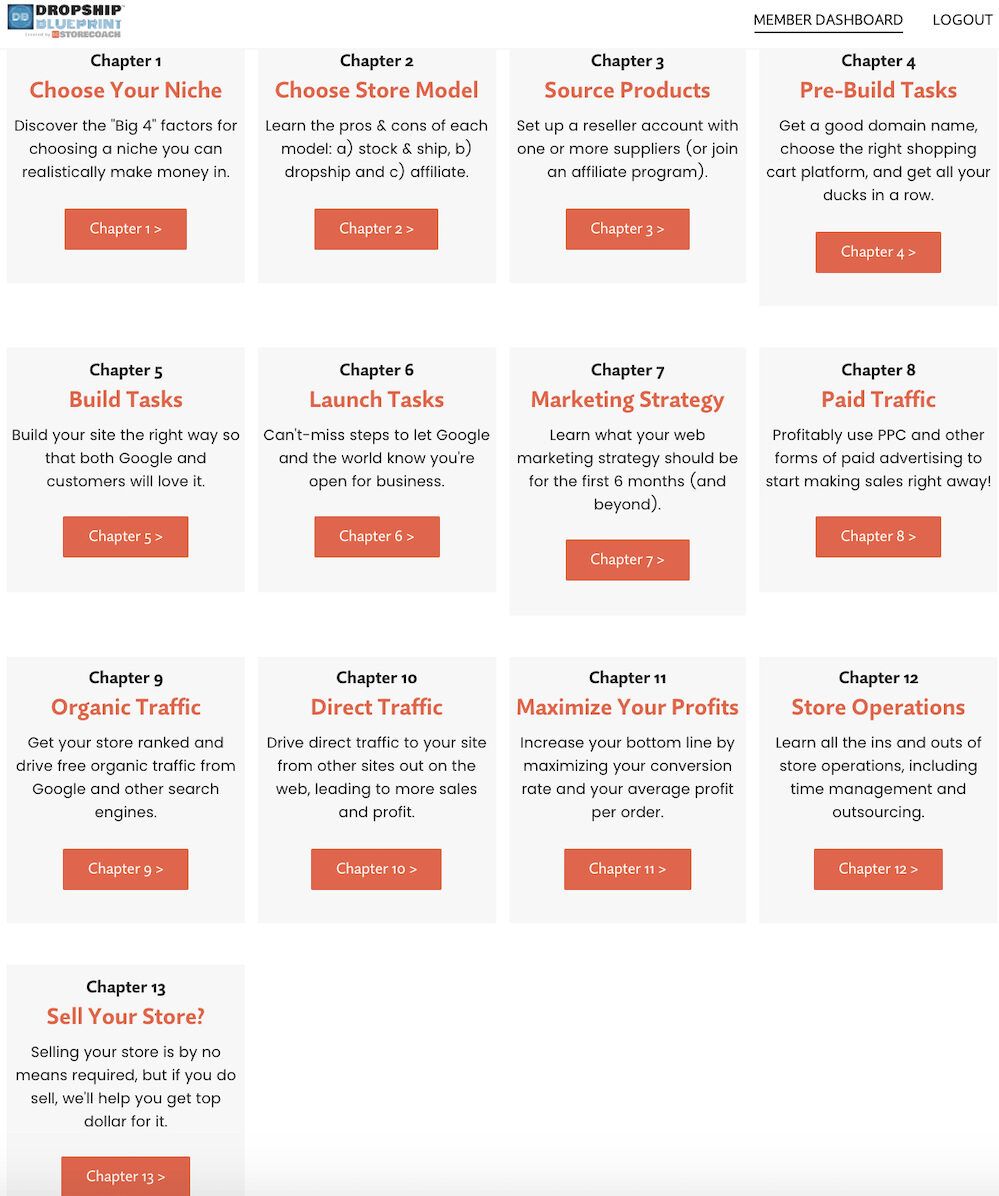 The above screenshot is from inside the member's dashboard with a total of 13 lessons (Chapters) in there that will teach you;
Chapter 01: Choosing Your Niche
The first and obvious thing you need to decide on when starting any online business is your niche.
What are you going to sell, and to who?
Both questions need to be answered and you should have a firm hold on that idea.
Now it may be a bit confusing for beginners to wrap their head around what makes a great niche, but the first lessons will show you all you need to know to quickly pick a profitable ecom niche.
Chapter 02: Choosing A Store Model
Next up is your store model.
Is it going to be a dropshipping store or a store that uses affiliate marketing to sell products?
I also do affiliate marketing for my business (and to this day it's still my best income) but I never really looked into the idea of creating an ecom store and monetising it as an affiliate (through Amazon for example).
Highly interesting lessons and very helpful to anyone who is looking for the pros and cons of each business model.
Chapter 03: How To Source Products
Where will you be outsourcing your products from?
In case you don't know (and if you don't I highly suggest you read my dropshipping guide here), dropshipping is the business model where you never touch the product yourself.
You simply collect the sale, and then a supplier will send it to your customer – leaving you only with the profits.
This question tackles one of the most important "moving parts" of the dropshipping business and that is; where and how are you going to get the products.
I typically use Oberlo (or Spocket) to fulfil my orders and those two methods are one of the most popular ways to do it, but in this Chapter, you will get a step-by-step guide on how to approach suppliers and get them to want to work with you.
Highly recommended and a big eye-opener (at least it was for me).
Chapter 04: Pre-Build Tasks
Once you have your products and your supplier ready, you need to start building your store, but before you do that, there are a few things that you need to make sure you have in hand before you even start building.
For example, you need a domain name, you need hosting, you need a PayPal account and so forth.
The DropShip Blueprint course gives you all you need to have in hand before you ever start spending money to get visitors and sales.
These are lessons not many courses will cover as they're not "fun & exciting" but; it's important that you know these things as without them, you do not have a business.
Chapter 05: Build Tasks
Ok, now it's building time.
How do you build out your store?
How do you add products to your store?
How can you edit the store to make it more appealing to customers?
All this is covered in one huge Chapter, and that is; the "build tasks" lesson.
Chapter 06: Launch Tasks
Your store is ready for launch?
Great – well done!
Are you sure though?
Is everything set up right?
Are the payment gateways working?
Are there any missing items?
In this lesson, you will find all you need to "mark off" before you attempt launching.
You do not want to be sending customers to a broken page, or having people wanting to buy but the payment processor is not working.
This will not only cost you money, but it also makes you look highly unprofessional.
Chapter 07: Marketing Strategy
Just like with every business, you need customers.
In this Chapter, you will get introduced to 3 very different (yet equally profitable) marketing strategies and those are paid, organic and direct.
You will be learning about each method in more detail in the preceding lessons starting with "paid traffic".
Chapter 08: Paid Traffic
Paid traffic is how (and where) the big gains you see people showing off are made.
It's by far the best and quickest way to make BIG money with ecom stores – but ONLY if done right.
Many – including myself – have lost money using paid traffic as a source of traffic but that should not scare you.
It will take a few tries to understand how paid traffic engages with your products but the lessons covered in this Chapter should help you avoid a few of them.
It's scary spending money on Facebook Ads and not seeing a result but that's just the nature of the business of paid ads – you need to give it time to optimise itself for best the conversion.
Sounds complicated I know – and you're right; it is, but you will learn more about this in Chapter 8 of the DropShip Blueprint course.
Chapter 09: Organic Traffic
Now, this is interesting and just like with other topics mentioned above, not too many courses will focus on teaching you how to get free organic traffic to your store.
Since I have an SEO background, I also do SEO for my dropshipping store and it works incredibly well (although not with as much volume as paid ads).
What you need to keep in mind here is that SEO will take time to grow but once you do grow it, it's free traffic that converts just as good (even better) as paid traffic.
Definitely make an effort to utilize the lessons laid out here as it will help you make your store an unshakable profit machine.
Chapter 10: Direct Traffic
Facebook Groups, Forums, Blogs, etc…
Direct traffic, although not as effective as organic or paid, is not something you should disregard completely.
While you wait for your organic traffic to mature, and for your paid ads to optimise for the best conversions, it'd be wise to promote your products (in a smart non-spammy way) in a variety of different platforms and social networks.
Chapter 10 of the DropShip BluePrint will teach you all about how to get free traffic from sites such as Quora, Yahoo Answers and others.
Chapter 11: Maximise Your Profits
Let me tell you a quick little secret about ecom business;
If it's all about getting a customer once, you'll never be successful.
Even giants such as Amazon focus on repeat customers for revenue and you should too since without it, you do not have a business.
In this chapter, you will learn how to maximise profits with your store, customer retention, upsells and downsells and all the other (slightly advanced) methods to make even more money from your store, without having to spend more money on advertising.
Chapter 12: Store Operations
The reason why I love online business is that it doesn't hold me down to a location and it gives me the freedom to work when I want, how I want and for as long as I want.
If you plan on building a "big business" within the ecom game, you do need to learn how to manage your time and also how to free up your time by outsourcing tasks so you can have more time to focus on what works; the marketing.
You do not want to be stuck fulfilling orders, issuing refunds and worrying about the simplest things.
Your time needs to be spent wisely, this is why you will never see Jeff Bezos in an Amazon warehouse – his time is better spent overseeing the "bigger picture".
Huge lessons in this Chapter.
Chapter 13: Selling Your Store
Last but not least, we have the final lessons and that is; how to sell your store.
Now you may not want to sell your store, in which case; good for you.
However, ecom stores (built the way it is explained inside the DropShip Blueprint course) are in high demand and there are many buyers (with deep pockets) looking to buy ready-made profitable stores.
If you'd eventually like to sell your store with a huge exit, do make sure to go through this final lesson as you will be surprised as to how much money can be made – simply by selling your store – on top of all the profits you will be making.
Things To Know Before You Buy

Now, of course, all that is mentioned above does not come for free – and I will tell you about the DropShip BluePrint pricing structure soon (which is reasonable), but first;
Let me tell you about a few things that you need to know before buying.
The Course Is Text-Based
One thing you should know is that this course is text-based, not video.
Personally, I prefer text-based courses as I tend to learn better by reading than just watching, but I do know many who prefer watching videos so if that's you, this course may not be for you.
(You may want to see my alternatives down below for great video-based dropshipping courses).
You Still Need To Spend Money
Apart from the course fee, you also need to have a decent budget to start your store.
You need to buy a domain & hosting.
You need to buy a few plugins to help you with conversions.
You need to have money to fulfil orders once you get them.
You also need to have an Ads budget for your paid marketing.
It takes money to make money.
Some people say you should not attempt dropshipping with anything less than a $1000, and I think that's a fair estimation and it will probably give you better odds for success.
Just something to keep in mind.
Can You Make Money With The Dropship Blueprint?
Yes – you can.
Making money online, affiliate marketing, dropshipping and just about every other online business model you can think of can make money so no, not all are scams.
However, you do need to follow the "blueprint".
If you do not act on the information provided, you will not make money – it's easy as that.
As mentioned above, you also need to not fear spending (and losing) money to get started.
Any business can make money if you give it enough time and work and yes; with the DropShip Blueprint, you do have "the blueprint" to build a profitable online business.
How Much Does This Course Cost?

The DropShip BlueProint course sells for lifetime access of $397 (down from $497 with the exclusive discount offered to my readers).
You can also get a monthly subscription, which will run you just over $33 per month.
Personally, I hate monthly subscriptions as they're a huge waste of time and eventually always end up costing more so just see what works for you and do that.
As a reminder, you can also get your first lesson for free here just so you know what you are getting yourself into.
Dropship Blueprint Alternatives
As you may have realised, the DropShip BluePrint is not the only "dropshipping course" in existence – there are plenty of other courses out there.
As an alternative, you may also want to check out Franklin Hatchett's Ecom Elites.
It's the same course I've gone through that showed me all I needed to know to build my dropshipping business to $4,000+ a month.
Since publishing my review about it, it has also helped 100s of other students achieve the same results – you can see read about Ecom Elites here.
DropShip BluePrint Review: Final Words
Thank you very much for reading my DropShip Blueprint review.
It has been a long read but I hope this guide has answered any and all questions you may have had about this course.
if you have any questions, be sure to let me know in the comment section below and I look forward to seeing you inside the DropShip Blueprint Facebook Private Group.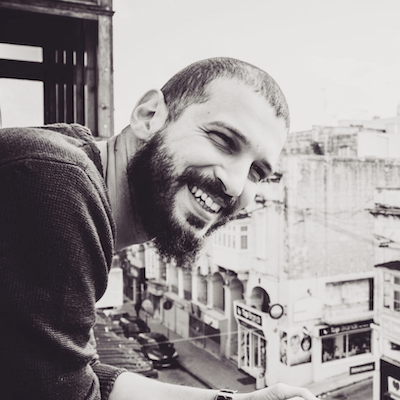 Since 2011, I've been learning how to make money online with affiliate marketing. This website is where I share everything I know and all I will learn along until I reach my next income goal of $30,000 p/month.