I'm not usually a fan of "survey" and "get-paid-to" sites but every once in awhile, I find a company that is worth me mentioning in a blog post.
Today, I am doing my EarnHoney review, a "get-paid-to" website that allows you to "earn money in your spare time" by filling out surveys, watching entertaining videos and even play games.
In case you're wondering whether this is a platform I can get behind and recommend with full-confidence, then here's your answer.
Yes – EarnHoney is one of the best get-paid-to websites I have come across in the past 5 years reviewing various "make money online" opportunities.
Here's what you will learn in this EarnHoney review:
What EarnHoney Is
How it works
What you need to do to "earn money"
How to get started with it and
A few other bits which I think you should need to know about.
I'll also share with you how I've been making a full-time income online for the past 6 years so if that's what you're looking for, stay tuned till the very end.
EarnHoney Review Summary
Offers Available

Website Functionality

Earning Potential

Payment Methods
Review Summary
Multiple payout options.
Low payout threshold.
Plenty of offers available.
Quick, hassle-free payment.
What Is EarnHoney?
EarnHoney is a website that pays you to complete certain tasks online.
It's one of the many sites that offer these kinds of services, but it's one of the best ones out there and one that is often regarded as the highest paying survey website available.
I've reviewed other similar sites and yes – I can confirm that EarnHoney is one of the best that are currently out there.
Here are some of the previous sites similar to EarnHoney which I've reviewed that you may want to check out: 
How To Make Money With EarnHoney?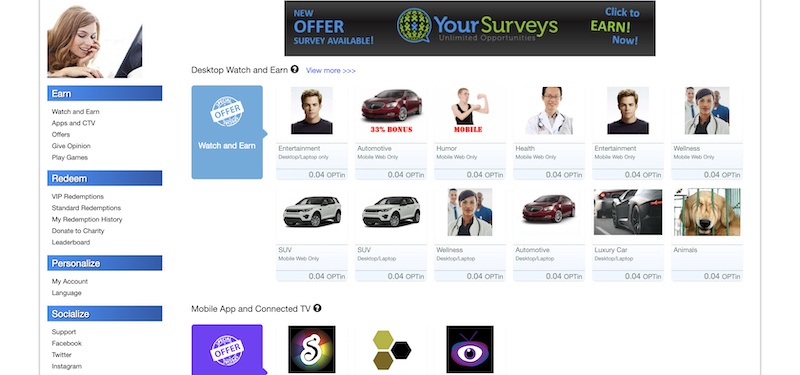 There are 3 primary ways to make money with EarnHoney. These are:
Paid Surveys
Watching videos and even;
Playing online games.
When completing any of the above tasks you will earn HoneyDollar$, which you can redeem for gifts card, PayPal credit and (surprisingly) even cryptocurrencies.
How To Cash Out Your EarnHoney Gift Cards
Once you have racked up enough points and HoneyDollar$, you can redeem this token and coins into a form of payment.
You can choose from:
PayPal
Visa
Bitcoin & Ethereum
Amazon Gift Cards
I really like the fact that you can earn Bitcoin here as I'm a big fan of cryptocurrencies. In case you were wondering whether you can still make money with Bitcoin, you can.
UPDATE: HoneyDollar$ is no longer.

Instead, they moved over to OPTin Tokens, which is an Ethereuem token that you can trade for anything else through an Exchange.
You can read about that new announcement here.
How Long Does It Take To Payout?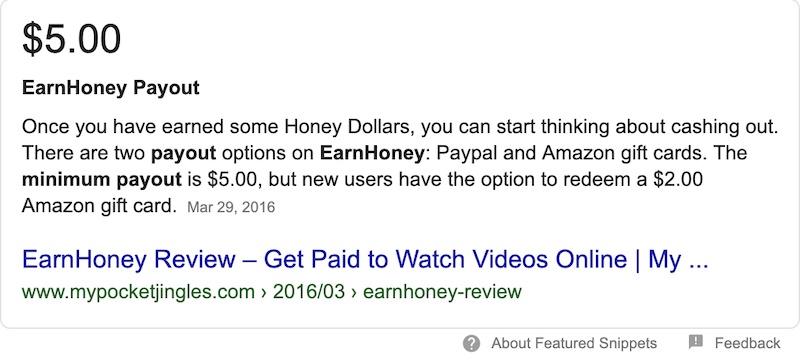 EarnHoney pays out each and every month, given you have earned the minimum redeem-threshold of $5.
This is not too hard to do if you dedicate at least an hour each day to watching videos and playing games online, you can even earn that in about an hour or so.
How To Get Started With Earn Honey
If you like how all the above sounds, you can go ahead and create your account at EarnHoney, which is 100% free to do.
Here's how you do that.
Step 01: Visit The EarnHoney Website
The first step is to visit the official EarnHoney website: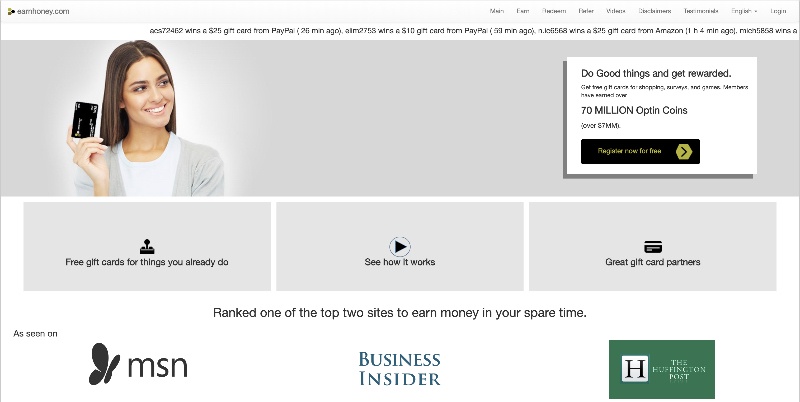 Step 02: Click the 'Register Now For Free" Button
Once on the homepage, you will see a button that says "Register Now For Free":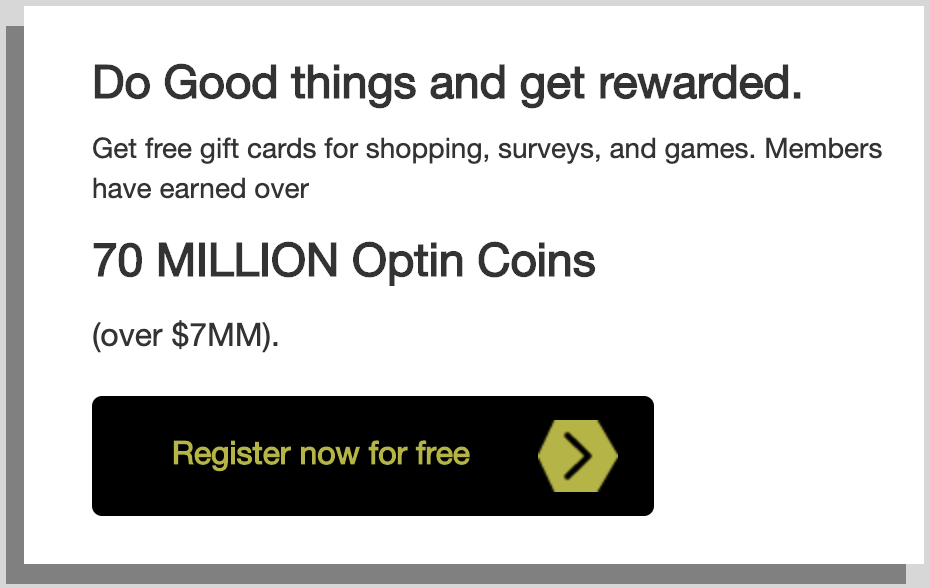 Step 03: Confirm Your Registration
Once you've created your account, you then need to confirm your subscription.
There should be an email in your inbox that looks something like to this: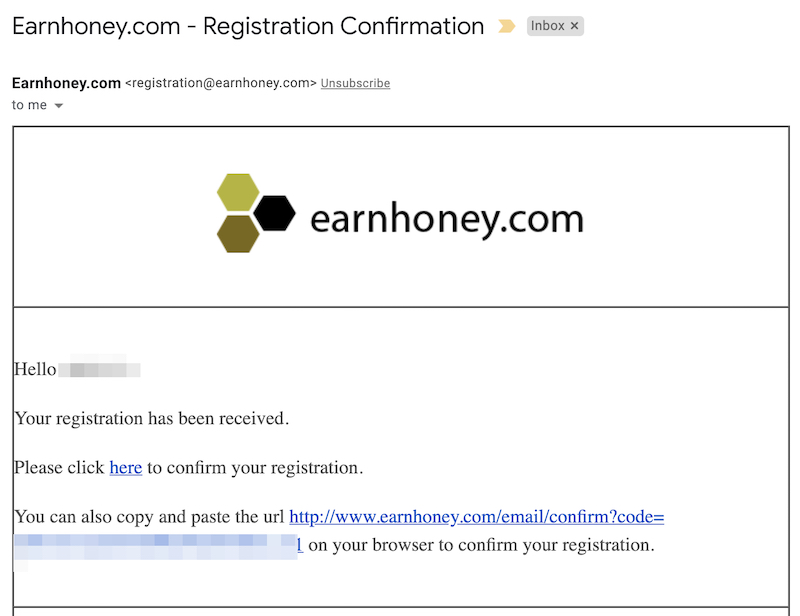 Step 04: Answer A Short Survey
Get-paid-to websites work by delivering you targeted offers that match your current interests and demographic.
To be able to survey you the high paying offers (that you will enjoy the most) you need to answer a quick survey first (and you even get paid some tokens just for answering).
Make sure you answer this quick survey when you have a minute to spare: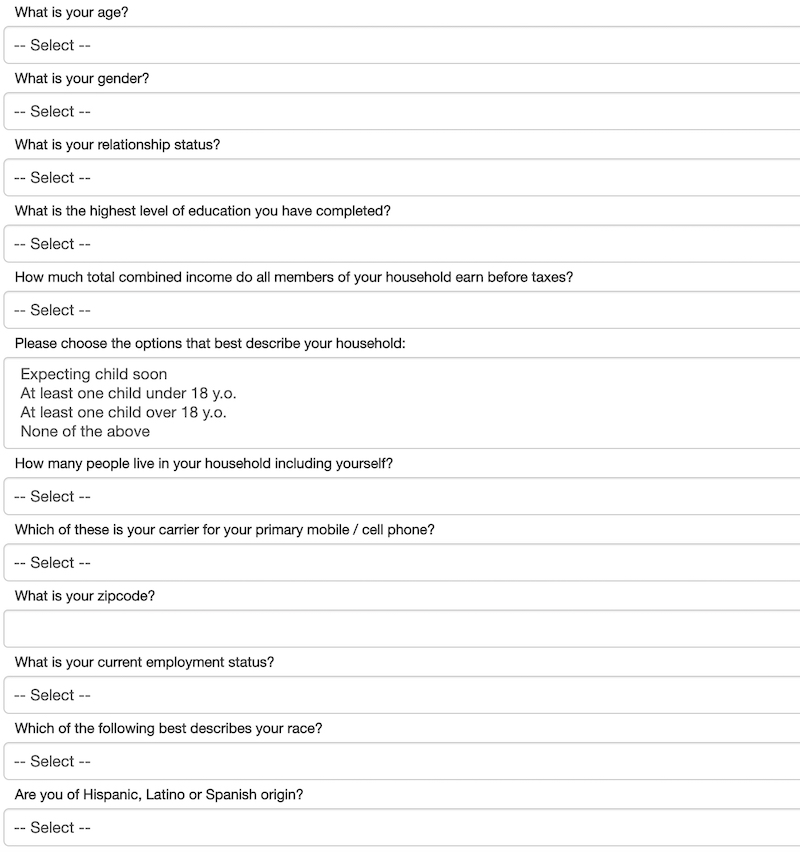 Step 05: Start Earning Tokens:
& that's all there is to it.
You can now start earning HoneyDollar$ OPTIn token and you're good to go.
Can You Join From Outside The US?
No – unfortunately, at the time of writing this review, EarnHoney only accepts members from the United States.
However, they are looking into expanding into the UK and Canadian markets soon and you can sign up and register as a user if you're from these countries.
You might be limited to just a few specific surveys, thus lowering your chances of actually earning tokens, but at least you'd be in and you can look forward to more jobs and offers to come as they increase new partners and open up new markets.
Can You Make A Full-Time "Income" With EarnHoney?
While it is possible if you spend every waking second glued to the EarnHoney website, I would highly advise you not to rely on this as "full-time" employment.
Average users report earnings of about $80 per month when they work on this one to two hours a day.
EarnHoney was not mean to be a full-time job and the company itself makes no claim that you can rely on income from EarnHoney to feed your family.
Down below I share with you a few ways you can get started making money online (I even have a free ebook for you) so stay tuned for that.
What EarnHoney Members Are Saying
I've had a look around some of the popular "make money online" forums and the good news is, everyone seems to enjoy working with EarnHoney.
Not all are happy with the recent shift from HoeyDollar$ to OPTIn tokens, but once you understand how this works, it's actually a much better payout and quicker to redeem your credits to real dollars.
What's A Better Way To Make Money Online?
I've been making money online for the past 6 years and I have reviewed many of these get-paid-to sites such as EarnHoney.
While I do not have a single bad thing to say about EarnHoney (it really does deliver what it promises) I really do not see these type of sites as a reliable income source.
The reason I got into the make money online business is that I wanted a business.
While EarnHoney does provide you with a lot of ways to earn money, it can't be considered as a business since you still have to be "on the clock" to get paid.
You can think of this more of a digital job which yes, is perfect if you want to make money online in your spare time.
However, there is another – better – way to make money (actually there's more than one) but the one I have found best is through building websites such as this one that keeps on paying me for months, and even years on end without me ever having to do much work.
I am currently working on a brand new ebook which will be released soon called "31 Days To Building A Passive Income Website".
If you'd like to gain free access, check out the linked page, sign up for the ebook and I will send it to you once it's been released.
If you're not willing to wait that long, you can also sign up to this free getting started training course, which will show you how to build up a website and make money with affiliate marketing.
If you do not know what that is, I recommend you either see my "Get Started With Affiliate Marketing" page or you go ahead and sign up for the free video course here – no credit card required.
EarnHoney Review: Final Words
Thank you for checking out my EarnHoney review.
I really enjoyed this platform and after thorough research, there's not a single bad thing I found that would make me suggest to you to look elsewhere.
EarnHoney is very much legit, it's not a scam and yes; you can make a decent income with your spare time playing games, answering surveys and watching entertainment shows.
You can get started with EarnHoney here >>
I'll leave you to it.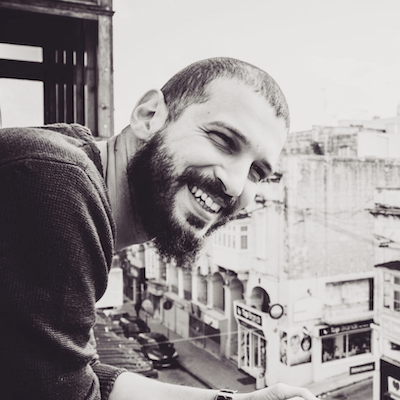 Since 2011, I've been learning how to make money online with affiliate marketing. This website is where I share everything I know and all I will learn along until I reach my next income goal of $30,000 p/month.