10

min read
As we approach the end of the 2016 and the start of the new year, I find myself looking back at all the work I've done in the past 12 months and documenting, in dedicated blog posts like this year and how it went.
For those that do not know, I run multiple blogs and I have been doing this little exercise for all my blogs but today' I would like to take a step back and look at just how much progress this site has made and where I plan to go with it next.
The 3HUNDRD End Of Year Review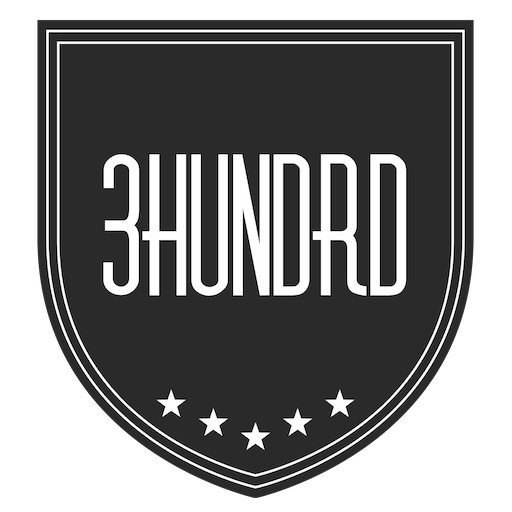 The Start Of 3HUNDRD
This blog started in February, February 18th to be exact, and I launched it as I do most other of my blog business, on the fly.
My primary thought process of this year was "get the idea and run with it" and surprisingly, these type of ideas are the ones that usually work the best.
I have no idea why I started another project in the same space as my other one (aBlogOnBlogging.com).
Well, that is not entirely true – I did plan to dedicate this website mostly to review online tools for online entrepreneurs, and I have been doing that, but I have also since introduced a new "online business advice" section which I was not planning on doing.
Overall, I can look back at this project after nearly 11 months, but we'll call it a year for the sake of this article, and I can honestly say this is one of my favourite projects that I have launched this year.
As you will see below from the work and progress I made on this site, it has been relatively worth it, and I am looking forward to the next 12 months to see where this site takes me.
I have a lot of plans in mind for it but as you can imagine, running five business and also holding down an executive role at a digital agency I also joined this year is pretty tight and my time is already pretty stretched.
*Not complaining, just saying*
Why "3HUNDRD"?
A lot have asked me about the name and the obvious misspelling of the name and domain name which if you have been following my tips, I always recommend you do not buy a domain (or launch a business) that has a weird, misspelt name.
So why did I go ahead with it?
I just liked it – I wish I had an inspirational story to share with you but I just like the number 300, the movie 300, and it sounded cool – and it still does (I tend to start hating the names I pick after a while).
Why Do I Sign Off As Mr 3HUNDRD
Much confusion was also caused by me choosing the pen name Mr 3HUNDRD instead of my real name (which is Chris in case you were wondering).
Again; there is no mind-blowing reasoning behind this – I just wanted to see if I can build a project from scratch without utilising my name to get it up and going.
Ok, that was a brief intro of what 3HUNDRD is. I will now explain to you the work I have put into this website and the results I got from it.
Goals Achieved This Year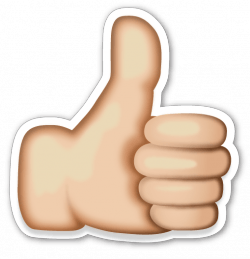 Wrote A Lot Of Reviews
This site was dedicated to doing product reviews that promote ways to make money online. When I launched this website back in February, I went all in doing trying and reviewing these types of products which led to some great traffic from the get-go of the launch.
Yes, reviews work amazingly well to get traffic so give it a try – here is how.
Launched The Aforementioned "Advice" Column
As I said already, I have also introduced an "online business information" colour that was not planned, but I am happy to see that people like my tips on how I do what I do.
I know I could have done more and provided more details, but obviously; reviews are my primary focus right now. You can see more tips about blogging and online business on my other blog.
Published A Total Of 63 Posts In 1 Year
My main goal was to do one post a week, so we are looking at around 52 posts. I am happy to report that I have surpassed that number with a bit more to spare.
Usually, I prefer to publish two new pieces of content a week but as I have said; my time is very limited, so I had to make do with doing 1 a week (I did more than that because I did a bunch of product reviews when I was launching to get momentum going).
In case you are wondering, yes I do plan on upping the content schedule to 2 a week for 2017, but that requires loads of planning and I have not yet made a strategy to properly tackle this goal.
Made (Some) Sales
Most of the products I review on this website all promise to make you rich in a few week, and that could not be further than the truth.
Building a website that gets visitors and makes money is a slow drawn out process, and that is why the majority of the people that try end up failing. Simply put; they do not have the heart for it.
Now, I did make some sales with this website but unfortunately, I can not tell you how much since I promote the same products as I do on my other blog and (like an idiot) I did not set up a tracking link to know where my sales are coming from until about 2 months ago.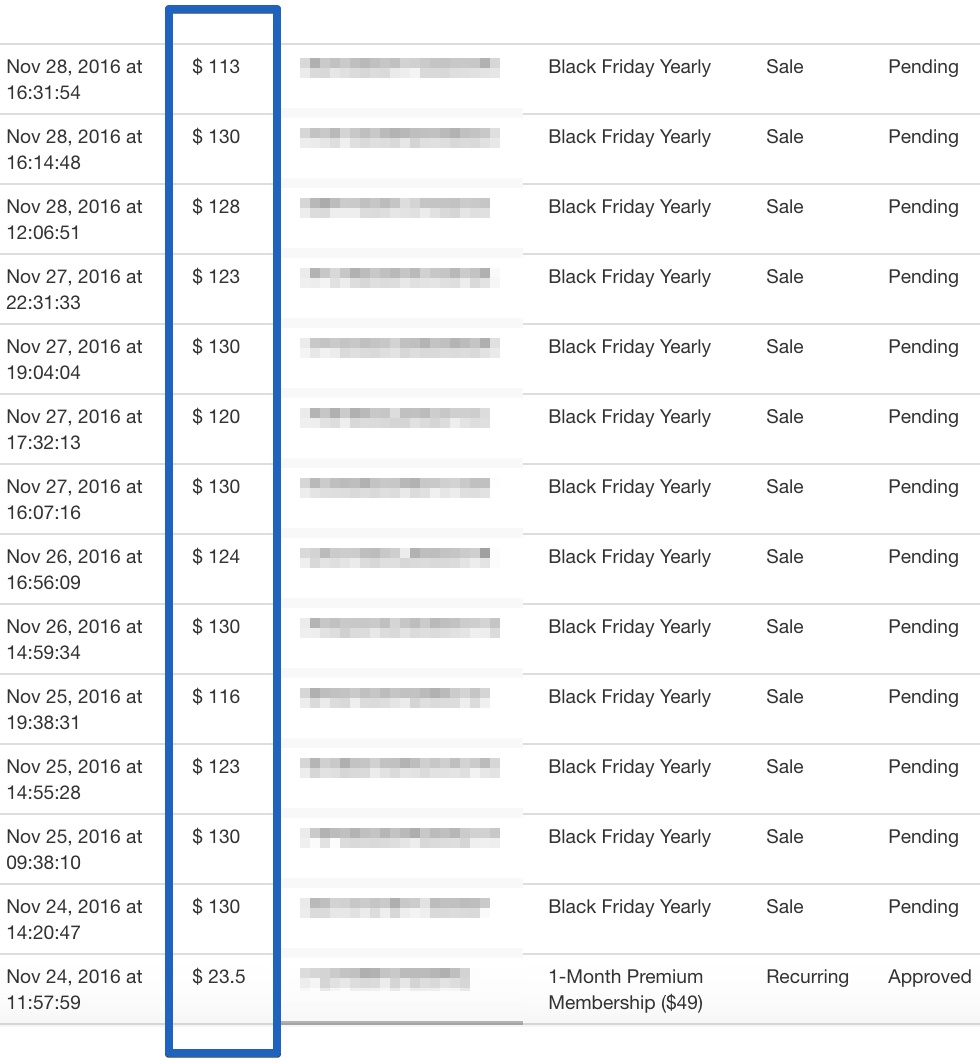 However, what I can say is that this website contributed greatly to my record-breaking weekend I had during the Black Friday / Cyber Monday weekend.
You can see my Black Friday income report here.
Got A Respectable Number Of Comments
Usually, new sites struggle with getting comments and more so than ever as time goes by seeing as how people tend not to leave comments on website much nowadays and instead comment on Facebook and other social gatherings.
This blog managed to accumulate (to this day) 160 comments on 63 posts which means around 2.5 comments on each post (on average) – which is not great, but not too shabby either.
Ranked For Some Amazing Keywords
After five years of trying to build websites that get traffic, this site has surprised me with how much traffic it was able to generate rather quickly.
In its entire "lifetime", this site has so far generated 14,127 page views.
To give you a brief comparison, when it comes to organ traffic (SEO) this site (which remember is 11 months old) gets as much traffic as my other blog which is four years old!
You can see how my traffic continues to steadily grow in this Analytics screenshot below.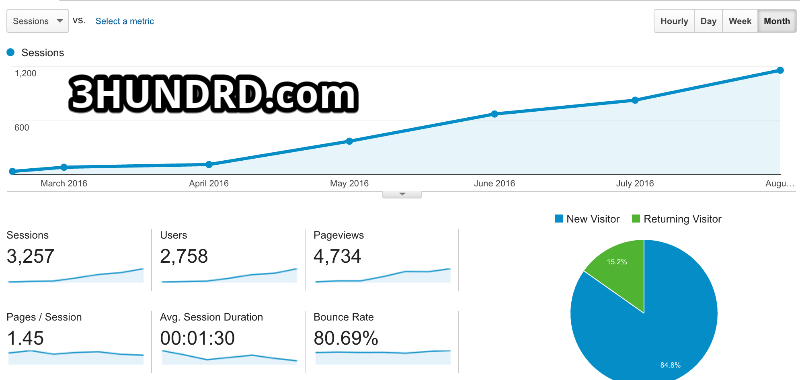 Obviously, and this is why I again recommend you start considering doing reviews, all this organic traffic came from me being able to rank for some great keywords.
Here are the top 10 keywords, their impressions, CTR and how much traffic they are generating for this site (I can only give you the data from the past 90 days as that is how far Webmaster Tools can go).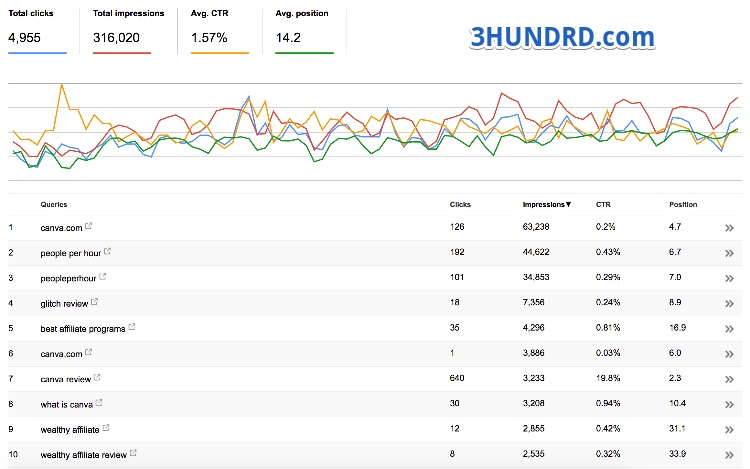 Started My Email List
As always, I never launch a site without having an email sign up form ready to collect emails, and this is no different.
if you look to your right of the screen or right below this post, you will see my sign up form (which you are most welcome to join).
This allowed me to gradually build my email list, but unfortunately; I did not manage to achieve the number I wanted to.
Goals I Did Not Manage To Achieve Yet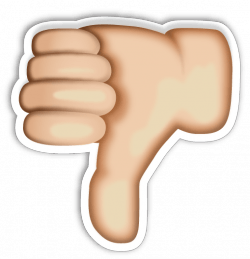 Get 1000 Email Subscribers
This may have been a bit of an overreach, but I do like to set big goals sometimes. My goal for this year was to collect 1,000 subscribers on my email list but unfortunately; I only managed an embarrassing 37 sign ups!
*red face*
Of course, I am the one to blame for this enormous loss, and that is because I also failed to…
Launch A Free Sign Up Incentive
A free incentive to an email list still works like a charm and while I did have plans on releasing something of the sort; I totally did not get around to it.
This is on my list to be done sometime in 2017 though as I am sure I would easily hit my 1000 goal if I just had something to offer.
Get 1000 Daily Traffic
My biggest day of traffic this year was 120 in one day which is not bad for a new website but not anywhere close to my 1000 goal that I had set before launching.
Ah well. I guess you can't win them all.
Grow An Instagram Following
My initial strategy to promote this website was an Instagram account to share inspirational quotes about entrepreneurship and online business but, seeing as there's already way too much of these profiles, I decided to back out and focus on other areas of promotion.
This may have been a blessing in disguise because if I had not pulled out from Instagram and focused entirely on Google search traffic, then I doubt I would have made so much progress this year.
Make $1,000 A Month
Even though I pulled over $2,000 on Black Friday, I am confident this website contributed just a fraction of it so my goal of making $1,000 a month (consistently) is still a bit too far at this moment.
My Plans Moving Forward In 2017
My plans going forward is to continue with the work that has brought in these great results and also push harder to achieve the goals I did not achieve this year.
In December 2017, I would like to re-visit this blog post and see that I have accomplished:
A consistent content schedule posting two times a week (I will be hiring writers probably).
I would have had my 1,0000 readers in a day goal 9even if it is just once).
Start making $1,000 a month (at least) from this blog – tough, but possible.
Continue ranking for competitive keywords.
Keep growing my traffic with the same consistency as this year.
Launch my email sign up initiative and
Have my 1,000 subscribers.
Also, I would likely be visiting the Wealthy Affiliate Conference in Las Vegas seeing as how (with the combined help of this blog), and aBlogOnBlogging, I was just shy of making it this year.
You can see more about the Wealthy Affiliate Las Vegas conference here.
What Is Next For 3HUNDRD Brand
In 2017, I am planning on forming my digital company under the name of 3HUNDRD bringing all under one roof all the online businesses I have. This goal has been a long time coming, and although I am not totally committed to it, I do hope I would be able to pull it off.
The only thing I have holding back is knowing the hassle I would have to go through to set up all the peripherals of the company.
However, we will see about that.
Closing Thoughts Of The Year
Thank you very much for reading my end of year post. I hope you liked it and got some ideas out of it to build your own online business in 2017.
As always, I appreciate you for being a reader and for supporting the 3HUNDRD brand. I look forward to hearing more from you in the coming months.
Happy Holidays & a Happy New Year
Mr 3HUNDRD