I have been a fan of Grant Cardone ever since I stumbled across his old YouTube series "Grant Rant" and bought his best-selling book, the 10X Rule: The Only Difference Between Success and Failure.
If you've never heard of Grant Cardone before, I suggest you research his videos on YouTube and start learning as there's a lot you can learn from this guy about money, finances, and sales.
Grant has a lot of knowledge on real estate as well (he did build a 700,000,000 dollar business) and with real estate being something I want to get into in the next year or so, I have decided to try his latest Money and Finance Training course which I came across from his Instagram story.
Today, I will be doing a review of this course and hopefully answer some questions you may have about the product and whether or not it is a viable purchase for you as well.
But first, let give some homage to the man himself, Mr Grant Cardone.
Who Is Grant Cardone?
As briefly said above, Grant Cardone is an entrepreneur-extraordinaire.
If you've been reading my blog for a while, you would know that I don't say that lightly.
I review many products from many "online entrepreneurs" on this site and none of them can compare to what Grant Cardone has achieved in his life.
A beautiful family, a massive social following, real estate across the United States and a sales training course that is said to be THE best in the world.
Grant also hosts his own podcasts and reality shows showing his life on his YouTube channel and also on the Grant Cardone TV network where you will find a lot of free content as well
Anyways, Grant Cardone is the real deal, and that is why I pounced on the opportunity to buy and publish Grant Cardone's Money & Finance Training Course review.
What Do You Get In Cardone's Money & Finance Training Program?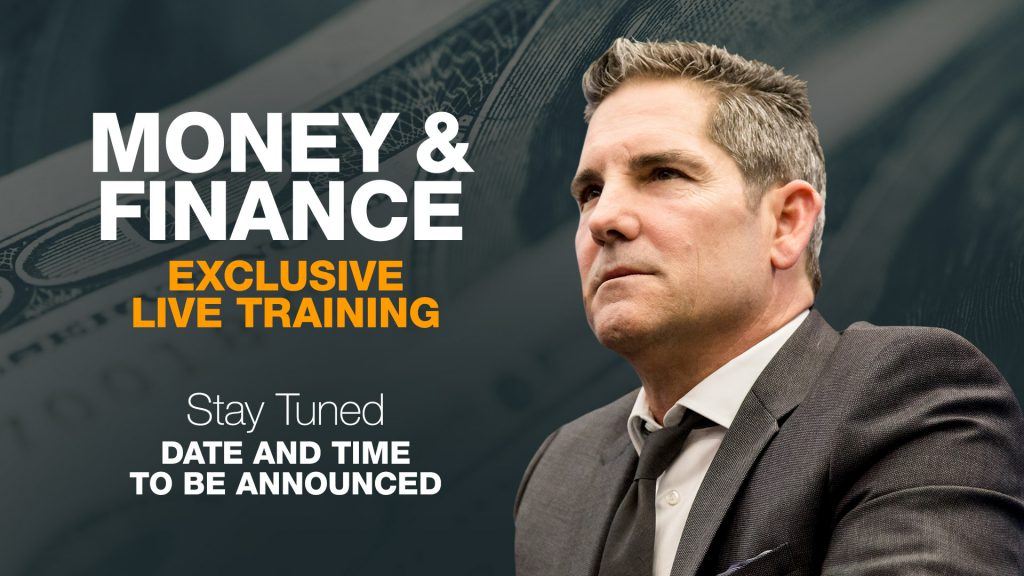 A Live Training Session With Grant Cardone Himself
Unfortunately, this is yet to be released and there is no indication as to when the live call will e happening and I can't give you my thoughts and feedback on this.
Hopefully, it will happen soon and hopefully, it will also have a Q&A section – but I am not yet sure of this.
I will update this review once the call happens and give my feedback here for you.
Grant Cardone's Wealthy Creation Formula Video Series
This is the exciting part and to e honest, this is what I signed up for.
I want to know from the man himself how to create money and more importantly how to grow it to 10X levels.
I won't be sharing the details of this course here as that would not be fair to do, but I will give you the video titles here:
Video 01: How to create income
Video 02: How to increase your income
Video 03: How to save your income
Video 04: How to invest wisely
Video 05: How to create multiple flows of income
Video 06: How to increase the above flows of income
Video 07: How to save (some more)
Video 08: How to invest in a BIG deal
Video 09: How to increase the number of income flows
+ Some Bonuses:
As a bonus, you also get Grant's ebooks 'Wealth Creation Formula" both as a pdf and also as an mp3 value.
Just these bonuses are worth the $49 I paid for this course and I have to say, I look forward to reading these books since I was well impressed with Grant's most famous work, the 10X Rule.
That's it? No, not even close. There are more training series to dive into:
If You're Not First, You're Last
This is another part of Grant Cardone's Money & Finance training course and it covers the meaning and the practicality of Grant's mantra of 'if you're not first, you're last.
You can see Grant explaining briefly his point in this video below:
Before you start the video course, there's also the quick read pdf book that you can check out.
This is a MASSIVE course, so again, I won't be giving you all the details but I will give you the lessons (or rather chapters) of what you can expect from this module:
Chapter 01: Four Responses To Economic Contraction
Chapter 02: Power base Reactivation
Chapter 03: Past Client Reactivation
Chapter 04: The Most Effective Call to Advance & Conquer
Chapter 05: Converting The UnSold
Chapter 06: Multiplying By Existing Clients
Chapter 07: Delivering at "Wow" levels
Chapter 08: The Importance of Price
Chapter 09: Activate Second Sales To Boost Profits
Chapter 10: The Value Added proposition
Chapter 11: Act Hungry
Chapter 12: Expand Acceptable Client Profile
Chapter 13: Effective Marketing Campaigns
Chapter 14: Repackaging For Increased Profits
Chapter 15: The Power Schedule TO Advance & Conquer
Chapter 16: An Advance & Conquer Attitude
Chapter 17: Your Freedom Financial Plan
Chapter 18: The Most Important Skill Needed To Advance & Conquer
Chapter 19: The Unreasonable Attitude.
Wow, that was a lot to write, let alone take in, understand and apply in everyday life and business.
The Millionaire Booklet By Grant Cardone
To close off this training, you also get access to another book from Grant Cardone and that is "The Millionaire Booklet".
With this course, you also get the audio .mp03 file which you can download and listen to when you are out and about.
At the point, you might have already reached your decision to whether this product is a good fit for you or not, but, for clarity, let me explain who this product is really intended to:
Who Can Use Grant Cardone's Money & Finance Training?
(Online) Entrepreneurs!
I myself am an online business owner so seeing how powerful Grant's online marketing side of the business is, I am a fan of his work by default.
if you're also into online business, then this is a must for you yes as you are going to understand sales, which is the most important skill you can have in any business, bot just online.
Offline entrepreneurs can also learn a lot from this course.
As I said, Grant has a deep understanding and experience in business so this course applies to everyone out there who is will to improve their lives and business.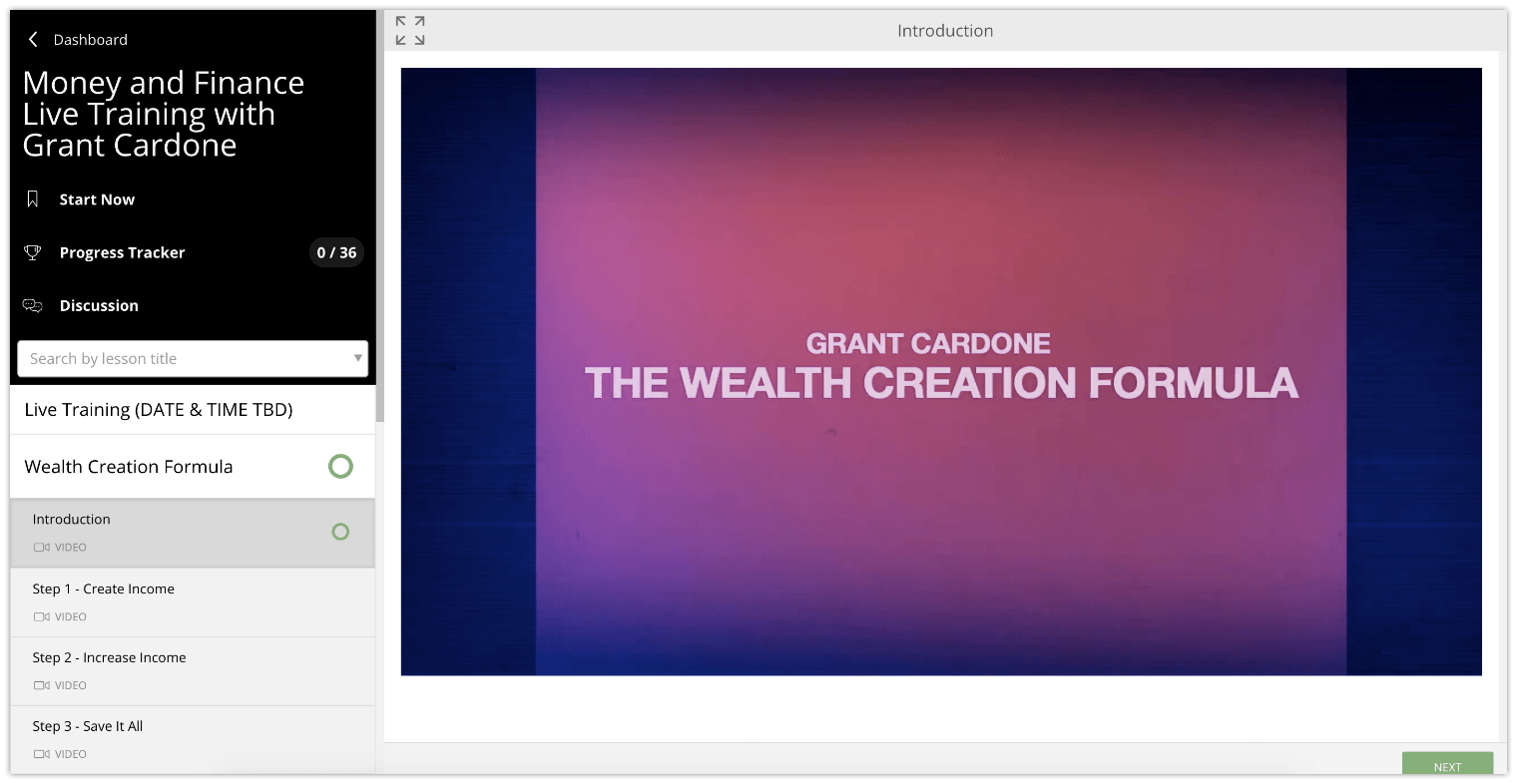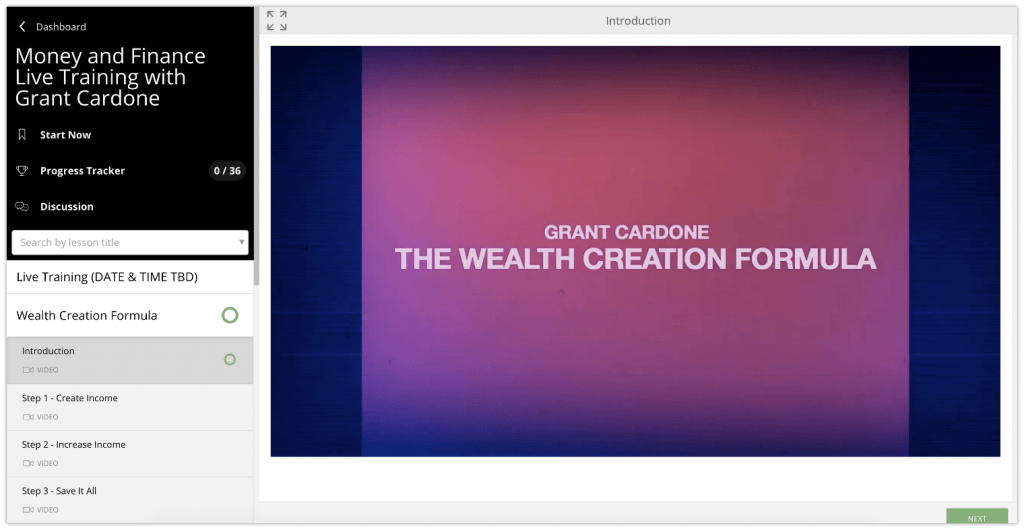 Why You
Need

This Course

Apart from the vast knowledge that is laid out for you here in the course, you also get to see the mind of a true businessman at play.

This course is not only about business and investing, it's about taking control of your life and making the decision right now to get off your ass and make something happen that you can be proud of.

After just going through some of the material of this course, I am already experiencing a mental shift if you will in how I approach my business and my life and I have to say, I like it.
Is It Worth The Price?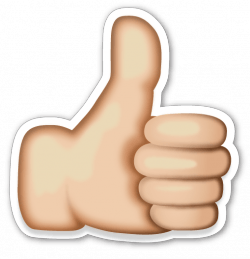 Yes, 100% recommended.
I got mine for $49 so I can't complain. I am not sure of the price will be changing in the coming days but that is how Grant's products usually go.
They launch with an incredible discount, then they start increasing in price.
I guess it's Grant's way of "punishing" the lazy non-action takers.
How To Get On The Grant Cardone Training Program
All you have to do is visit the Grant Cardone TV sales page and register for the course.
Hopefully, depending on when you are reading this, you have not missed the live training video call yet.
Are There Any Alternatives?
This training course covers how to invest your money wisely and become a BEAST of an entrepreneur.
I am sure there are others out there that do the same, but I have not yet come across one that made me believe in it as much as I believe in Grant's.
The closest thing I can think of similar to this training would be Tai Lopez's 67 Steps.
In Closing
Thank you very much for reading my review of Grant Cardone's Money & Finance Training Course.
I hope this has given you some insight into what the course is, what to expect and how to use it to get the results we both know you deserve.
Enjoy the training and good luck.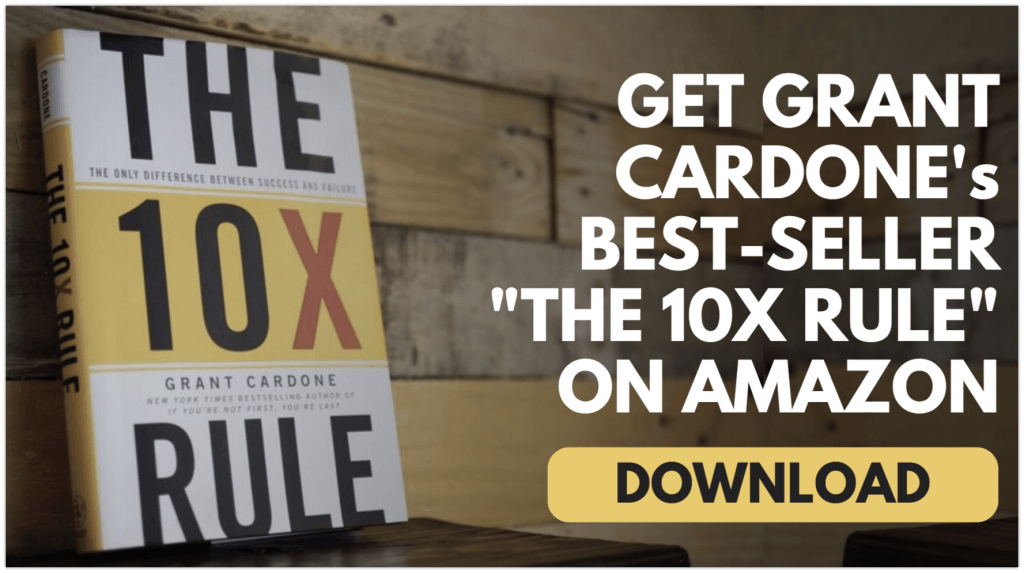 Money & Finance Live Training Final Rating
Price

Features

Training

Value For Money