I've become a bit of a harsh online survey site critic lately. The more I review these types of survey sites, the more I realize what a massive gap there is between what they promise you'd make vs what you actually make.
Today I am bringing forth my GreenPanthera review, a platform which is both a survey website and also a rebates website.
Could GreenPanthera (GP) be different from the rest of the "survey sites" I have reviewed? Is this the platform we've all been waiting!?
I'm a fan of making money online, but I'm very dubious of the claims being made by these survey sites, and yes; I'm also suspicious about GreenPanthera.
I've decided to jump into the deep-end here and do some research about the platform to find out if it's an opportunity for me and you to make some extra money online or "just another survey site".
If you're interested in doing online surveys, you're in the right place as we're about to find out what it's all about.
Green Panthera Review Summary (TLDR)
Free To Join
Earning Possibilities

Growth Opportunities

Value For Time

Value For Money
What You Need To Know About GreenPanthera.com
Get paid via PayPal ✔️
100% free to join  & use ✔️
3 ways to make money ✔️
Poor user experience ✖️
Probably not worth the effort ✖️
What is GreenPanthera?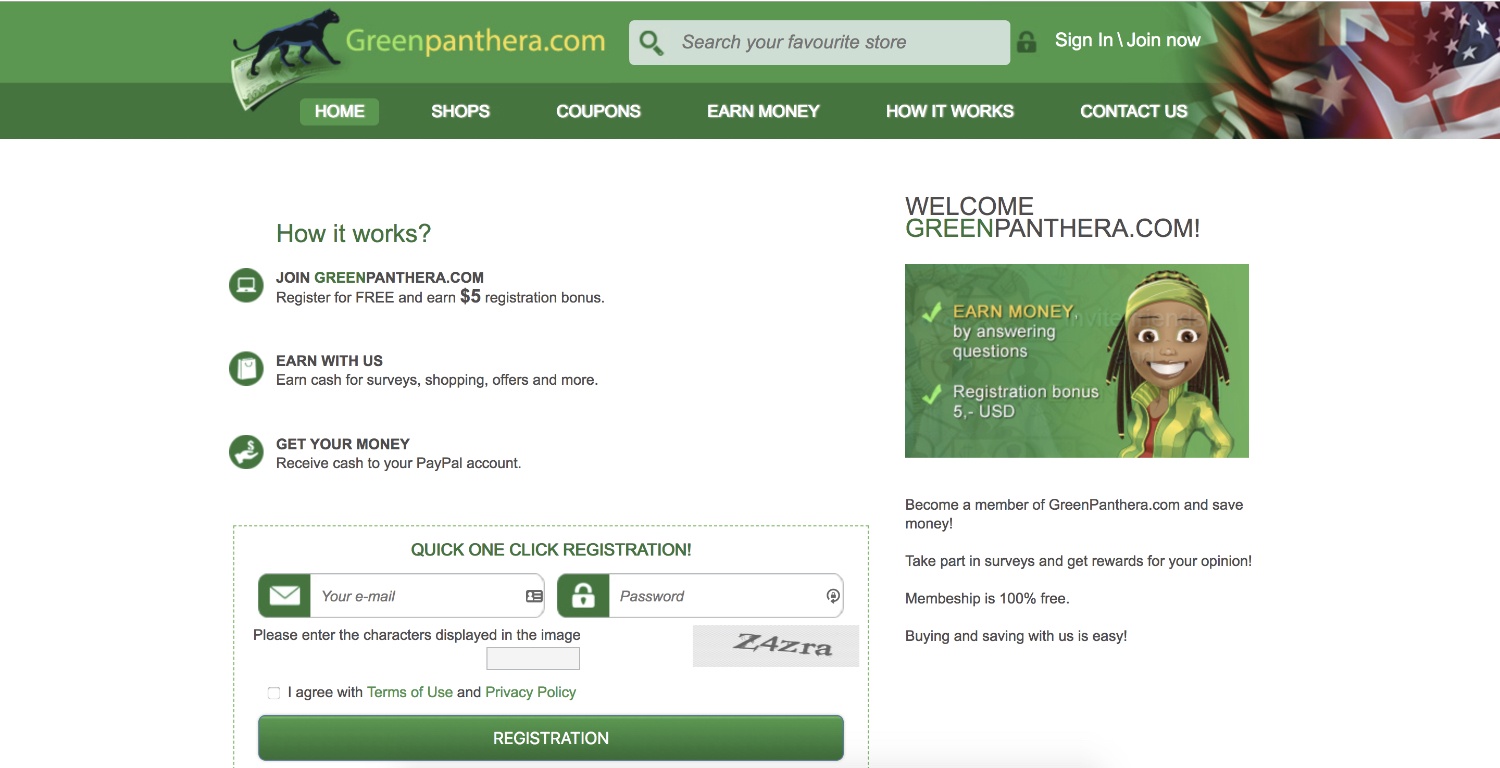 GreenPanthera is a two-fold online platform that allows you to both make money and also save money.
What's unique about this is that you would not find many other sites that offer both, especially in the survey space but GreenPanthera does, and I am going to show you the 3 methods you can use to have more money in your pocket at the end of the week/month.
How Can You Make Money With GreenPanthera?
There are three ways in which you can do this. These are:
Doing online surveys

Getting rebates for purchases you do online

Referring customers to the GreenPanthera website
Let's dig into each one a little bit more:
✔️ Doing Surveys With GreenPanthera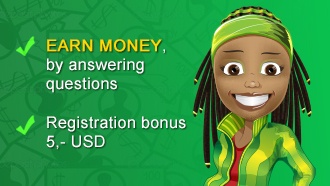 GreenPanthera allows you to do surveys for companies seeking their audience to get feedback about their target market.
Can you make money with online surveys?
With some websites, you definitely can (although I do have my reservations about this – more below).
But; GreenPanthera doesn't seem to have a lot of companies signed up to it that want to run surveys.
Also, the payouts are not great at all.
According to this review, you will be paid about $0.70c per survey which is really not that much and there's definitely better ways to earn money.
However, you do get a $5 sign up bonus when you register so you could say that yes; GreenPanthera makes you money just for signing up.
Of course, there are terms and conditions tied with this bonus but if you plan on making taking surveys a habit (which I don't suggest you do), then this will be a great way to start seeing income from day 1.
✔️ Rebates
GreenPanthera also offers rebates for the shopping you do online.
Of course, you will have to use their stores to make this possible and while there's definitely a considerable range – it's nowhere close to what other massive rebate websites such as eBates.com give you.
They do not have any name brands that you would know – all of the stores listed with Panthera are unknown (at least to me).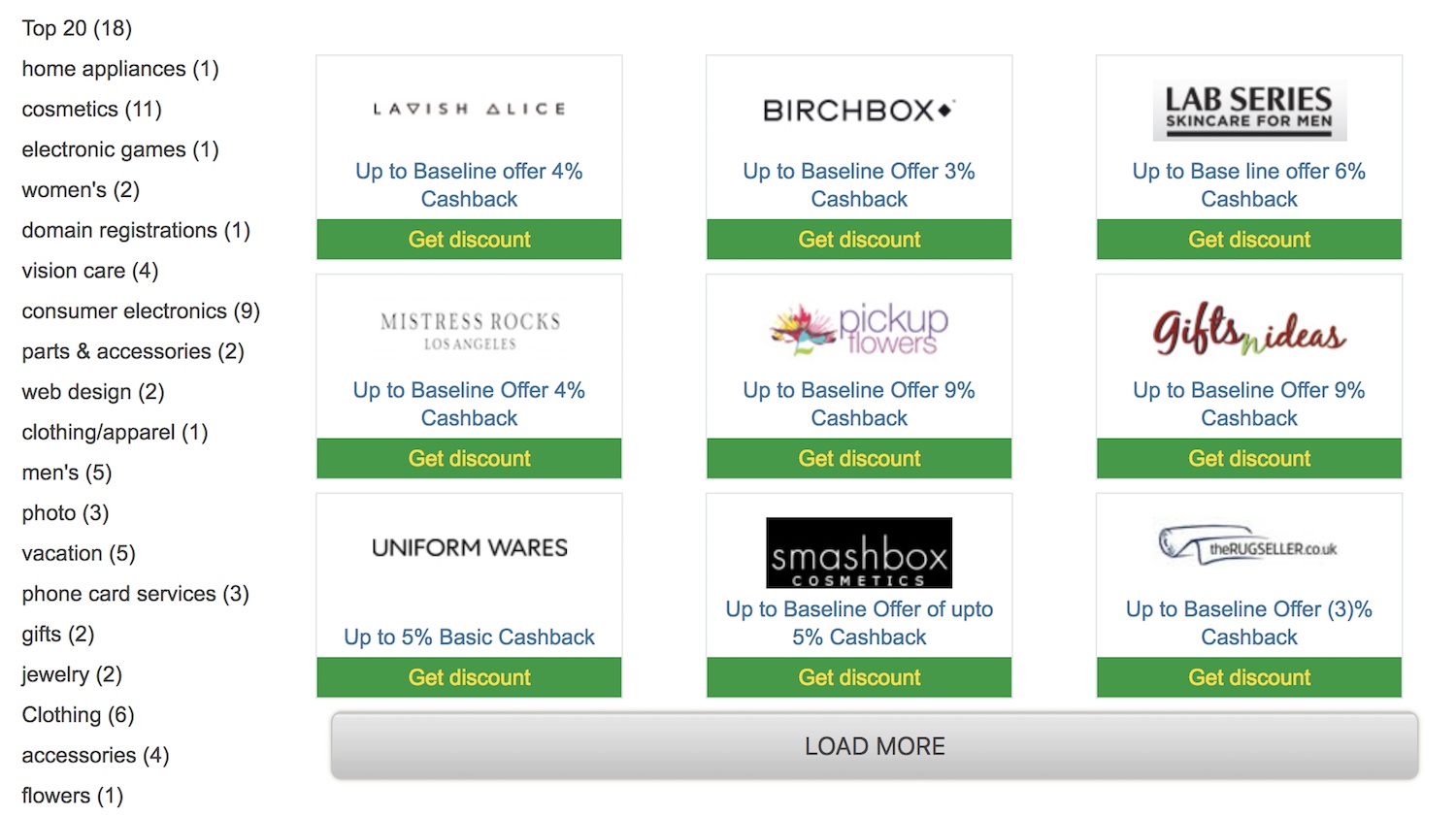 How does this work?
There are two ways a rebates program would work:
GreenPanthera is an affiliate to these sites, meaning they earn money when you purchase from their links stores, and then they give you back a cut of their profits
or;
Companies offer these discounts specifically to Green Panthera to drive traffic and sales to their website.
Either way, you can make use of this to get a little kickback from your monthly spending.
You can see what stores they have available here >>
✔️ The Green Panthera Referral Program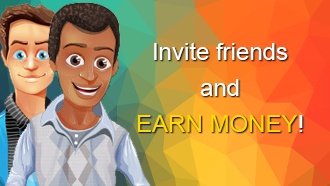 Last but not least, you also get access to the Green Panthera affiliate program which allows you to invite your friend and family over to the site and you make a commission off the people you sign up.
At the time of writing, the commission rate is set at 10% of what your referral earns on the platform.
The Pros Of GreenPanthera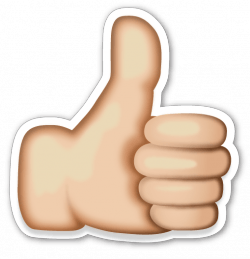 There are two main benefits I see of using this platform.
You Can Get Paid With PayPal
I love getting paid with PayPal and inside GP, it's the only way you can get paid.
If you do not have a PayPal account, unfortunately, you can not use this platform until you create one.
It's Free To Join
This is a given and not unique to GreenPanthera, but you might be interested in knowing that GP is 100% free to join and use.
Apart from investing your time into it, there's literally $0 cost of working with GP.
One Con Of GreenPanthera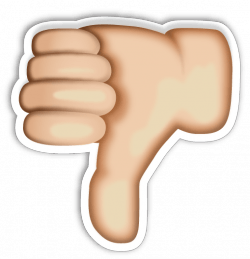 Poor User Experience:
One thing that really sticks out is how primitive the website looks.
It honestly looks like something that was designed in 1998 – I know this does not affect the income possibilities, but if the GreenPanthera team would spend some money on a brand new website, it would make me trust it just a little bit more.
As you can also see on TrustPilot.com, GreenPanthera fails to deliver on many fronts: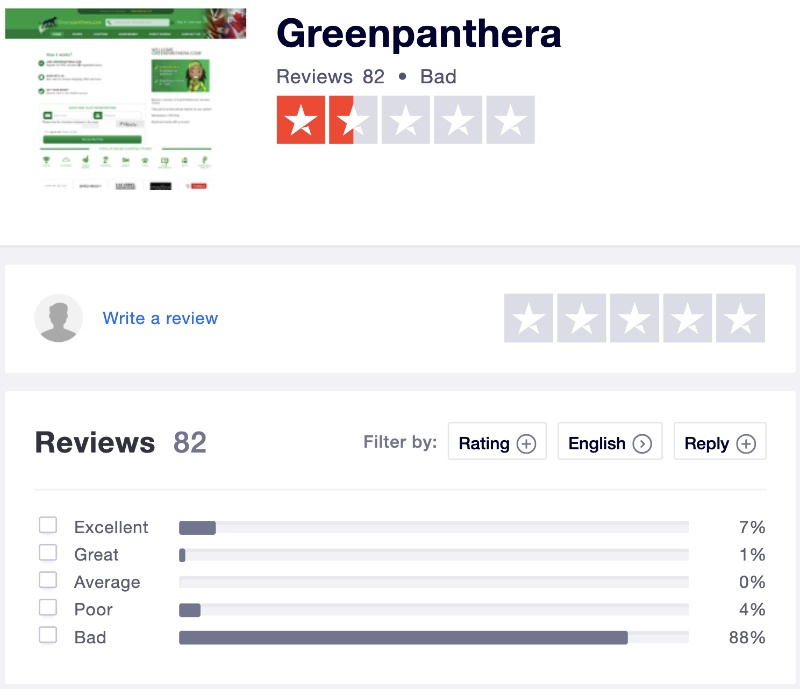 How To Create An Account With GreenPanthera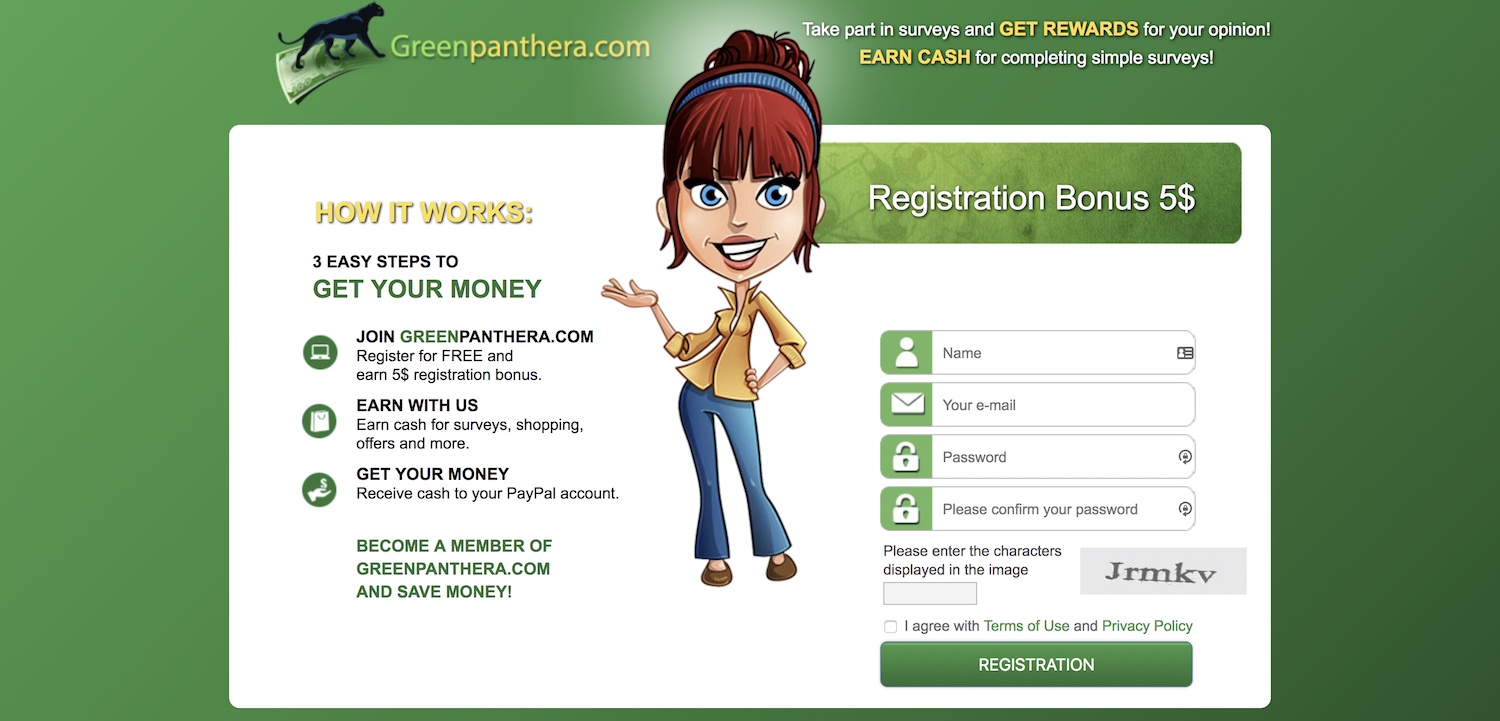 Setting up an account is super easy.
All you have to do is:
Visit the GreenPanthera homepage

Click the "Join Now" Button and

Fill out your details.
Pretty straightforward.
Is GreenPanthera Legit?
Yes, it is and you will make some money using it, but in my opinion, it's worth the time and effort.
Even if you do put in all your effort into working with GP, I honestly see no way you can be earning more than a meager minimum wage.
Overall I do not think GreenPanthera is a scam – far from it – but I do not see it as a way to make money online.
Depending on your situation, it might be for you so please do not take my word for it and instead give GreenPanthera a go if you'd like.
Any Legit GreenPanthera Alternatives?
As I said, I have been trying and reviewing many survey sites recently, and these are some of the ones that I would say would be good alternatives to GreenPanthera:
Just like my thoughts on GP, these are all "legit sites" (no scams here) but ultimately
Making a few dollars a day by spending countless hours answering corporate questionnaires is not my ideal way of making money online.
Is There A Better Way To Make Money Online?
Yes – and I'm going to tell you all about it.
I get why survey sites are popular, especially within the stay-at-home mum Pinterest bloggers that rave about them.
However; there's one fundamental thing that is wrong with survey sites like GreenPanthera and that at the end of the day;
You are still trading your time for money.
Also, once you analyze your income vs the time spent doing these surveys, you'll soon realize that you're much better off working a part-time job as you will be making a lot more money (per hours spent).
Now I know the main benefit of these type of sites is that they allow you to work from home and earn money from anywhere you want, but there are other better alternatives that will enable you to do so without having to continue trading your time for money.
This is why I choose affiliate marketing as my primary business model.
I don't have to trade my time for money

I don't have a "limit" as to how much I can earn

I don't need to fill out surveys

I "own" my business (rather than relying on a third party).
Should You Try Affiliate Marketing?
If you're interested in making money quickly, then I suggest you stick with survey sites for now (and yes; GreenPanthera will be an excellent place to start).
However, if you want to set plans in motion to one day have a thriving online business that earns you an ever-growing passive income without having to trade your time for money, then I suggest you at least consider if affiliate marketing is something you'd want to do.
I have built my entire business – which now funds a life away from rush-hour traffic and pointless meetings – through the help of affiliate marketing, and I owe it all to this free 10-day getting started training course.
What this course will give you is a clear roadmap that will show you how to go from literally $0 with no knowledge or skills to a full-time affiliate marketer (just like what happened to me).
If you're interested in this and want to give it a try; then read my full review of this course (linked above) and see if it's something you want to dedicate the next ten days to.
It's free to join too – no credit card required – so there's really no risk to it; it all depends on how badly you really want it.
In Closing
Thank you very much for reading my GreenPanthera review.
Unfortunately, it's not something that I would spend my time on but if you're keen on creating a new income for yourself with survey websites, then GreenPanthera would be a good place to start to learn how this whole eco-system works.
If you have any questions, be sure to let me know down below and I'd be more than happy to answer them for you.
Talk soon.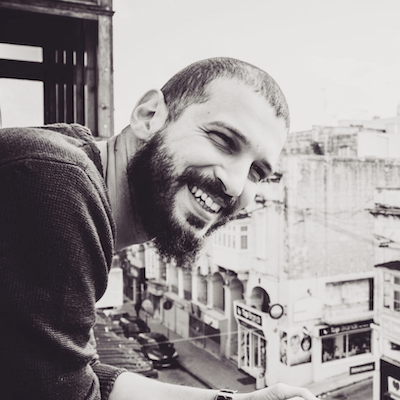 Since 2011, I've been learning how to make money online with affiliate marketing. This website is where I share everything I know and all I will learn along until I reach my next income goal of $30,000 p/month.