I love doing affiliate roundup reviews, but today it's even more special since I will be talking about high paying affiliate programs in the online marketing niche – an industry I know way too well.
I have been in the "online marketing" niche for all of my adult life basically. At around 21 years old, I started learning about affiliate and digital marketing and have since made it literally my business.
I make my money selling high-paying affiliate programs, including some of which I will list below.
Now what you will find here is not affiliate programs that pay $1000+ per sale, but rather low-ticket items that carry with them recurring fees that usually last for a long time so yes, once sale from these affiliate programs listed below can easily make you thousands on the long term.
A perfect example of this would be the Shopify affiliate programs (which I have listed below). The only way I've been promoting Shopify is simply through my Shopify review.
That posts now makes me thousands on repeat as the people I sell a membership to keep their stores for months and even years.
This is the opportunity I want to tell you about today in this post.


NB:
Want to see how I make money with affiliate marketing? My new book reveals my entire process, including my 4-step approach to building affiliate websites.
CLICK HERE to download my book for free
.
What Will You Be Learning
Today you will be learning about some of the most popular high paying affiliate programs in the online marketing niche. As I am sure you know, this industry is probably seeing its biggest boom in recent history and I do believe there is much more to come.
Learning how to promote these programs and which (I will cover both soon) will give you all the information you need to start building a real online business that can keep making money for years to come.
Who Can Use These High Paying Affiliate Programs?
Anyone really. There are no barriers here in the wild wild west of the affiliate / online marketing space.
If you have an interest in digital marketing (which I assume you have since you are reading this), then you need to convince you of how beneficial this type of affiliate offers can be to those willing to do the necessary work.
Instapage Affiliate Program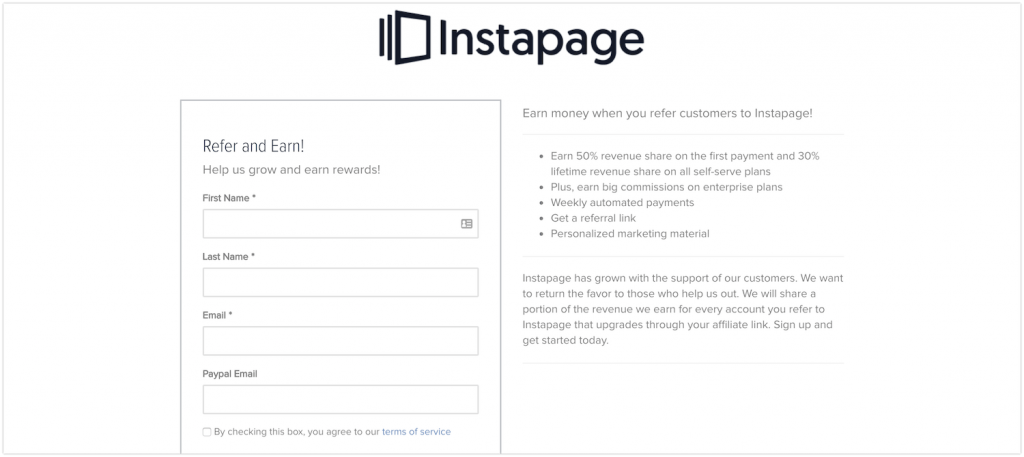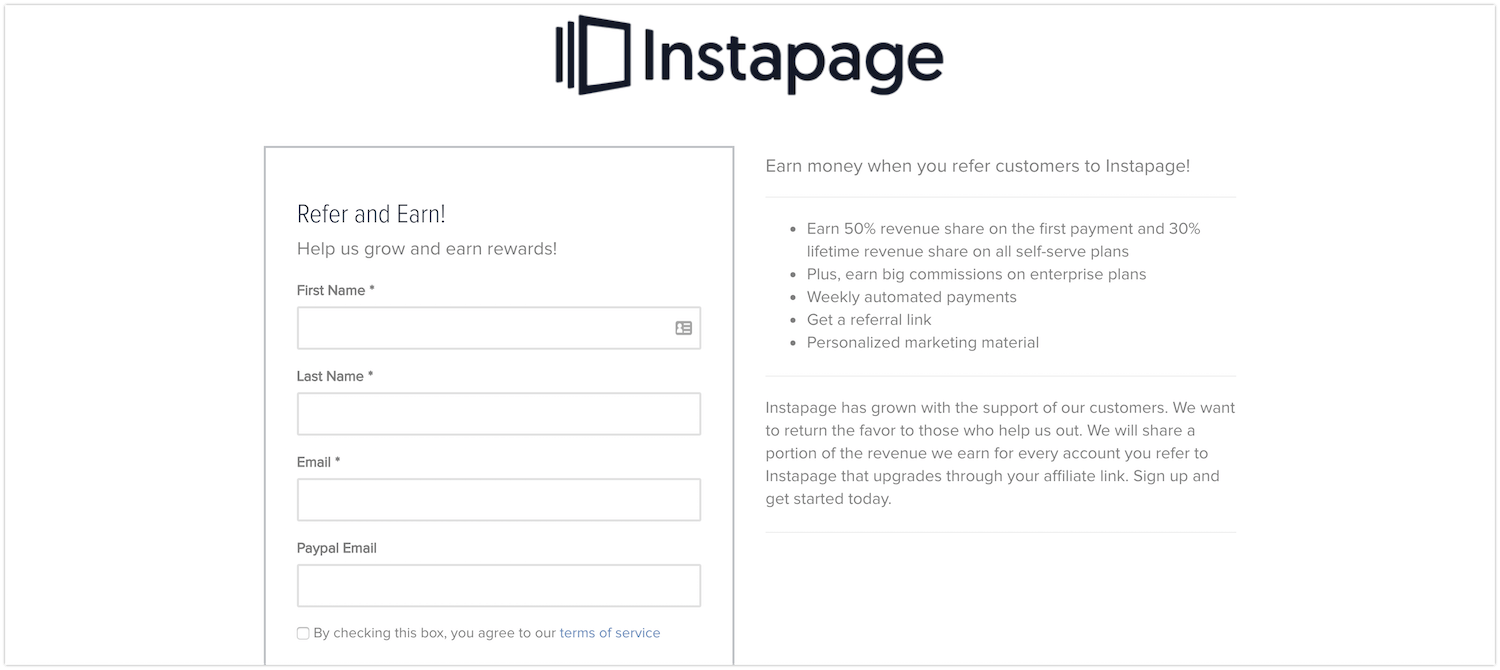 Instapage is one of the leading landing page platform out there which allows a user to increase their conversion rate by designing a high-converting landing page.
Instapage also runs a lucrative affiliate program which allows affiliates to earn recurring commissions.
What can you Sell
You can sell Instapage subscriptions through your website along with other products developed by Instapage.
Commision Rate – 30% to 50%
Instapage gives you a 50% commission on the first payment and a flat 30% on all subsequent recurring subscriptions/renewals.
Benefits
-Reliable and highly accurate tracking software.
-120-day cookies.
-One of the few good quality software as a service or SAAS affiliate programs out there.
-High customer lifetime value.
Disadvantages
-No Second-Tier commissions.
-No High-Ticket Products.
Who can use the Instapage Affiliate Program?
BeRush Affiliate Program


BeRush is the affiliate program run by popular SEO company SEMrush.
For those of you who haven't heard of it, SEMrush is one of the most popular Search Engine Optimization tools available online which offers a user an ability to analyse and improve the rankings of a webpage in a Search Engine Results Page.
What can you Sell
BeRush allows you to sell monthly and annual subscriptions of SEMrush to new users. As a BeRush affiliate, you can sell all SEMrush plans such as Pro, Guru, and Business along with API units.
Commission Rate – 40%
You get a recurring commission of 40% on each monthly payment as SEMrush uses a monthly subscription model. You'll get paid each and every month as long as your referral keeps renewing their subscription.
Benefits
-BeRush offers "the first cookie wins" attribution model and you get a cookie life of 10 years.
-Get paid twice on 10th and 25th of each month once you reach the minimum payment threshold of $50.
-One of the few affiliate programs out there which give you a generous share off the monthly subscriptions paid by your referrals
-Real-time statistics.
Disadvantages
-As an in-house affiliate program, you can only promote a single product.
-Payment methods are a bit limited as you get paid only via Bank Wire or PayPal.
Who can use the BeRush Affiliate Program?
Anyone who is older than 18 years, can join BeRush Affiliate Program.
Although they are quite strict when it comes to the content on your website and your website must not contain pornography, explicit language or content, violence, hate speech, promote illegal activities, gambling, coupons, bargains or discounts, etc…
Liquid Web Affiliate Program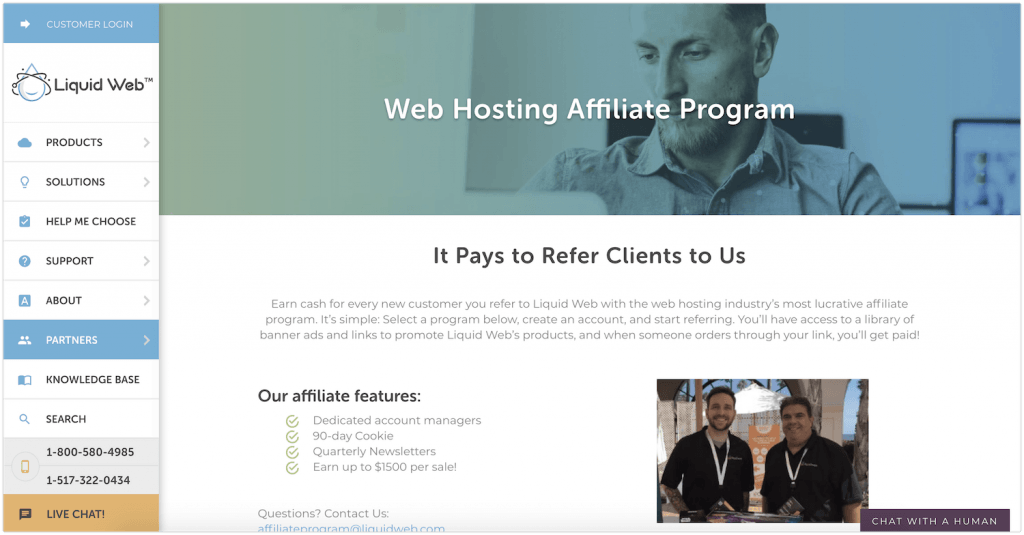 Liquid Web is one of the highest paying affiliate programs out there as they give you an opportunity to earn up to $1,500 per sale. Liquid Web is a web hosting company which also runs its own affiliate program.
They've become a recognizable name in the world of web hosting in past few years.
What can you Sell
You can sell the following products offered by Liquid Web:
Dedicated Servers, Shared Hosting, DDoS Attack Protection, VPS Servers, Hybrid Hosting, Enterprise Class Servers, Linux Hosting, Cloudlinux Hosting, Managed Private Cloud Hosting, Game Server Hosting, Email Hosting, Database Hosting, and Smart Servers.
Commision Rate – Flat commissions ranging from $150 to $1,586
Liquid Web has adopted a simple cost per action model as they pay a fixed fee for each type of product sold. Your final commissions can range anywhere from the lower spectrum of $150 to the higher end of $1,586.
Benefits
-A wide range of products/services which you can sell.
-High priced products which result in higher commissions.
-No complicated revenue sharing model.
-Excellent support system.
Disadvantages
-Not as recognizable in the industry as HostGator or GoDaddy.
Who can use the Liquid Web Affiliate Program?
Liquid Web affiliate program is open to all users.
Shopify Affiliate Program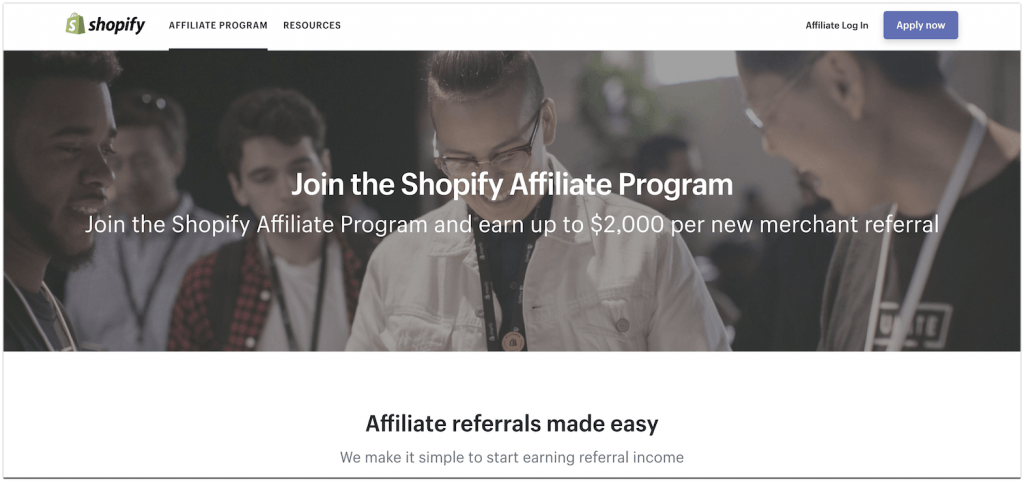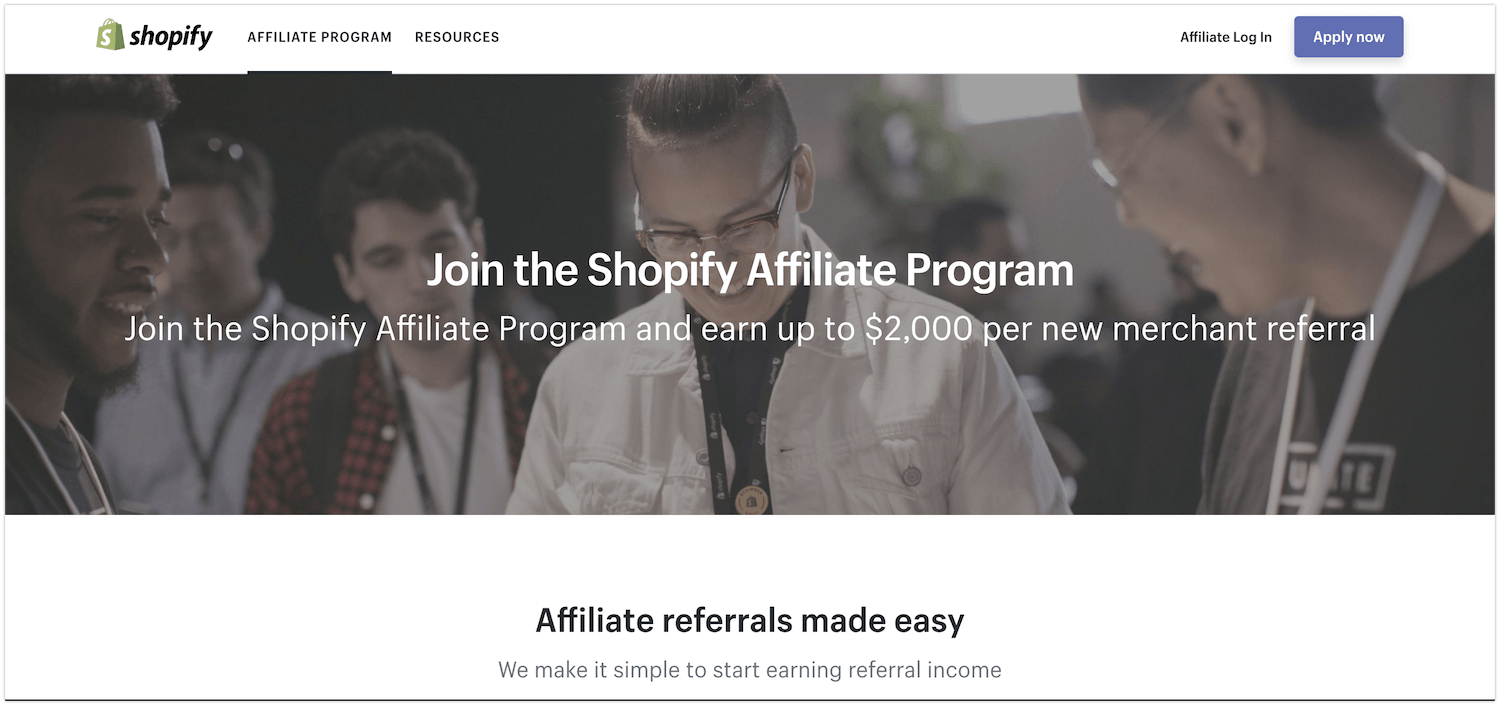 Shopify is the leading eCommerce platform which allows millions of entrepreneurs to run their eCommerce stores using their technology. They also have a well-designed affiliate program which many of you may haven't heard of yet.
What can you Sell
Shopify affiliate program allows you to sell a subscription to the eCommerce platform offered by Shopify and you can also earn money by promoting their themes and mobile apps.
Commision Rate – 200%
Shopify is one of the few programs out there which offer a generous commission more than 100% of the sale value. They can do this because anyone setting up a new eCommerce store is in the game for the long term.
Benefits
-User-friendly interface.
-Real-time tracking.
-Timely payments.
– A quite high pay-out percentage which when combined with the high-priced items can result in commissions for single sales up to $2,000.
Disadvantages
-A lack of payment methods as payments can only be processed via PayPal.
Who can use the Shopify Affiliate Program?
Shopify affiliate program accepts all affiliate marketers although your website must not have spammy, malicious or pornographic content on it.
GetResponse Affiliate Program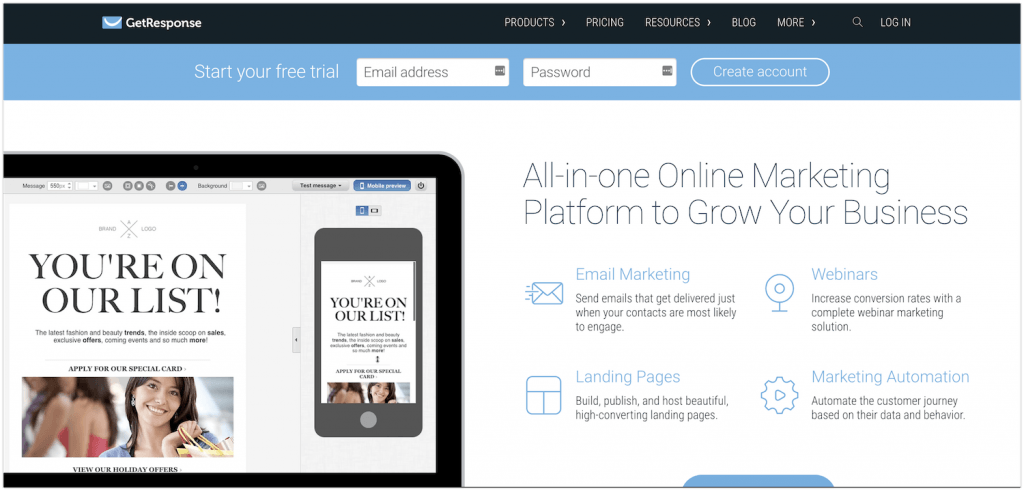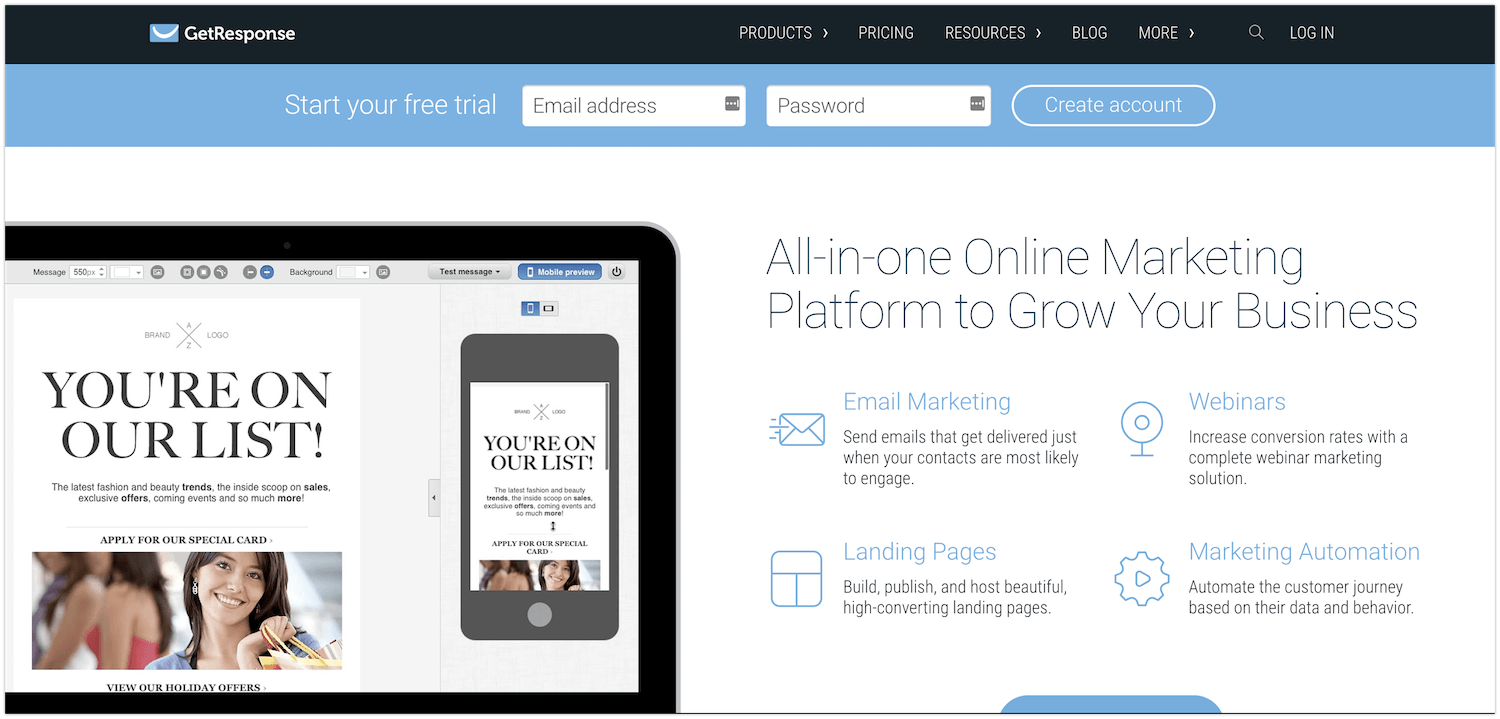 GetResponse is the leading provider of email marketing software and email autoresponders in the world today and has been an indispensable tool for digital marketers for a long time.
GetResponse also has an attractive affiliate program which allows users to earn recurring commissions from their referrals.
What can you Sell
As an all in one tool Get Response subscription Email Marketing, Autoresponders, Landing Pages, and Marketing Automation. You can sell their several plans titles Email, Pro, Max, and Enterprise.
Commision Rate – 33%
Get Response offers a flat commission of 33% across all plans. You'll keep getting 33% of the monthly subscription paid by your referral as long as they continue renewing their subscription.
Benefits
-Dedicated affiliate manager.
-120 days cookie life.
-Real-time tracking and statistics.
-Top rated marketing materials including banners, email copy templates etc.
Disadvantages
–They only pay via Check or PayPal.
Who can use the GetResponse Affiliate Program?
Anyone can sign up and earn money via GetResponse affiliate program.
How To Promote High Paying Affiliate Programs
The best way to promote such products is through the use of organic traffic, i.e SEO.
If you're a bit more advanced, I would also suggest you try to reverse engineer the process of the sale and calculate how much you can spend on ads to get the sale but that is a bit too complicated to explain here.
However, as a beginner without much budget for a paid campaign, your best bet is to do reviews of these affiliate programs (or any other you wish to join).
I have found the most success online promoting such products by simply doing in-depth reviews of how I myself am using the products.
You can learn out how to create a high-converting product review website here for more information.
How To Maximise Your Earning?
As with everything, you just can't go into this blind so if you really are at the beginning stages of your affiliate marketing journey, then my suggestion would be to first forget about finding high-paying affiliate programs and instead find yourself a proper affiliate marketing training course you can follow.
The one I used to create my online business and the reason why you are here reading this post is Wealthy Affiliate.
You can see my Wealthy Affiliate review here or you can get started with a free membership by clicking the banner below.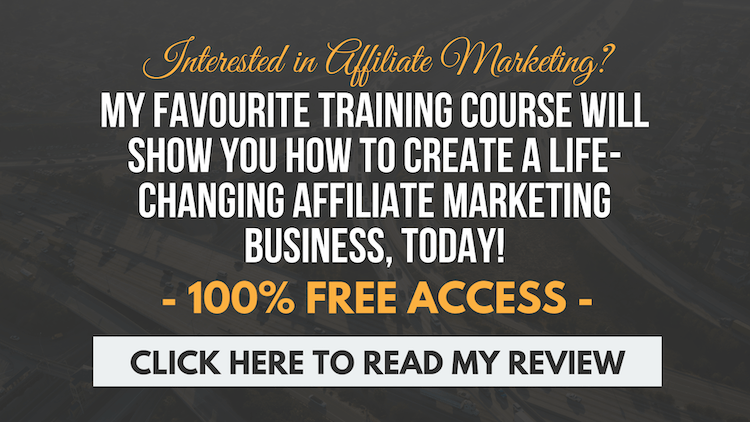 In Closing
I really hope this quick roundup post has given you a clear idea of what to expect when you start promoting affiliate programs in the online marketing space.
The above list is by no means a full one, there are probably hundreds of other high paying affiliate programs out there that are just ready to be promoted so my parting advice to you would be to first get the audience, then figure out what they want and only then look for affiliate programs that carry products for your audience.
Talk soon.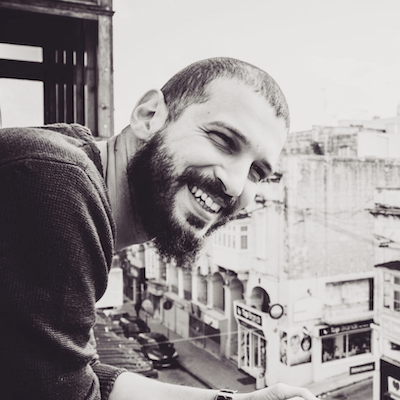 Since 2011, I've been learning how to make money online with affiliate marketing. This website is where I share everything I know and all I will learn along until I reach my next income goal of $30,000 p/month.