11

min read
So, as you may have already realized if you have been visiting my blog lately, is that since October / November of 2016, I have been getting heavily into the whole dropshipping and e-commerce business side of online entrepreneurship.
For the most part in my online business journey, I focused on doing affiliate marketing, which works fantastically well, but dropshipping has now added me an extra income per month that is slowly catching up to my affiliate marketing income.
Today I want to tackle two questions, which are: how to start a dropshipping website and also, how to start a dropshipping website that makes money.
I am sure that you are both interested in the technical side of the building the site /store but you also want to see your work not be in vain and make some money from all the effort, time and money you invest in your new project.
I have written in the past as well how to start an e-commerce store and also how to do drop shipping with AliExpress but today I hope I can go in a bit more detail and really give you the things you need to do to start your drop shipping website, understand how dropshipping works and yes; even make money doing so.
If this is what you came here to read, then I am sure you will find the following pieces of information on how I myself built my dropshipping business useful (although if something is left unclear, please be sure to ask me in the comment section below).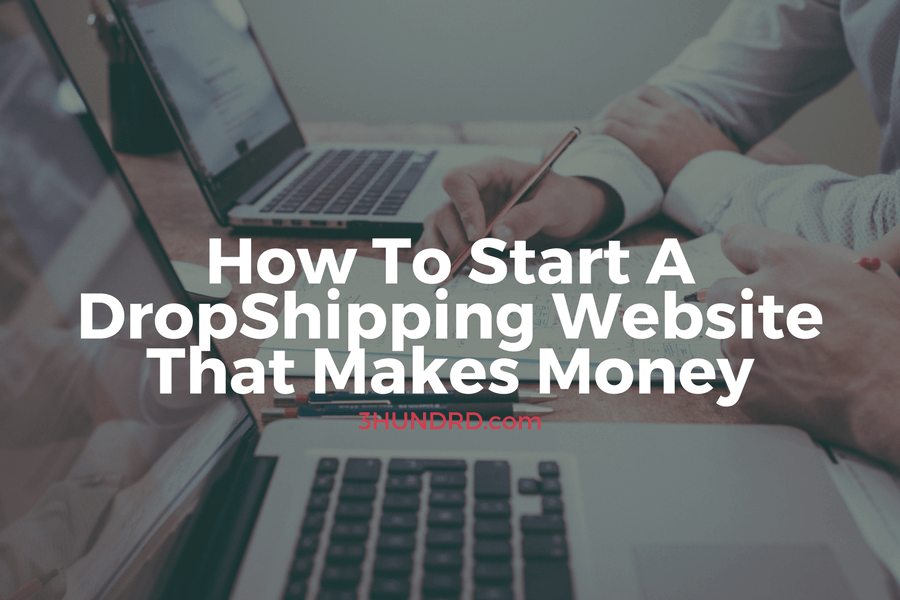 Where Do You Start With Dropshipping?
We start by getting two tools that we really need to be able to start a website for this purpose and the ones I use and now love are:
These two connect to each other and will help you build a "fully automated" website that is capable of selling products to customers worldwide through the phenomenon that is known as dropshipping.
But that is drop shipping?
Dropshipping is the method of selling things online but are shipped from the manufacturer straight to your client without you having to buy and store inventory yourself.
For example, my niche jewelry dropshipping site sells custom rings and other accessories to my customers, but the products come from China and are shipped from China directly to my customers without me ever seeing the item.
Obviously, the profit comes because you are the one that sets the profit margin.
For example, I can sell a wine glass for $10 on my store, but I pay the supplier in China $3. That is a $7 profit for me just being the middleman and getting sales to my store (aka my dropshipping website).
Now the reason why I said we need to have both Shopify and Oberlo is because Shopify is where you will build the store (i.e where people come to buy) and Oberlo will be the tool you need to find products, add them to your store and once a sale comes in, automats the shipping process for you.
Does it sound a bit confusing? Probably yes as I just can't explain in full length the whole process but believe, it's easier than it sounds!
Why Shopify?
There are many web store builders out there, but you just can't deny that Shopify is probably the best option by many, many miles.
The system they have built and the service they offer to customers is unparalleled anywhere online. I never tried others so I can't really say for sure, but Shopify is the best option to start an online store (especially when it's to be used for dropshipping).
Also, Shopify makes the process of starting a dropshipping website incredibly easy and cheap thanks to their many fantastic themes, easy-to-use interface and the other tool which I will talk about soon; Oberlo.
Getting Started With Shopify
How do you get started with Shopify?
Well, unfortunately; Shopify is not free and yes, you are going to have to dish out some money if you want to start your dropshipping business.
You can see the Shopify pricing here, but what you may like is the fact that Shopify offers your first 14 days for free.
14 days may not seem like a lot but you'd be surprised to know how useful these 14 days can be when you are building a project like what we are talking about here.
I'll go into much more detail about this later, but first, let me tell you about the next tool we are going to need (and do not worry; this one is free).
Why Oberlo?
Oberlo is the tool you need to turn your online store into a dropshipping website, and this is a must to have as this tools automates 90% of your work, not to mention it is also free with a Shopify subscription.
What this tool does is that it allows you to pull products from AliExpress, which is what I also use to run my dropshipping business.
For those that do not know, AliExpress is like the Amazon.com of the Asian hemisphere and as you might have guessed; things are amazing cheap on there.
Now what Oberlo does is that once it is connected with your Shopify store, you can import things from AliExpress to your dropshipping store. But that is not just what it does:
Once you have imported your product, inside the Oberlo backend, you will be able to edit the product, change the images, titles and information to be displayed in your store and also; set your profit margin.
Once that is done, all you need to do is to click the "Import To Shop" button (see what I am talking about in my Oberlo review here) and just like that, the item is now on your Shopify store (screenshots to follow).
Now, the magic part is when a customer comes into your store and makes a purchase. With just a click of a button, Oberlo orders the products directly from AliExpress (at the lower price of course) and ships it to your customer.
Your only job here is pocketing the profit margin you have set for yourself.
Sounds cool right? It's more than cool, it's amazing!
Getting Started With Oberlo
Now, as I said; Oberlo is free with a Shopify account.
It's free for your first 500 products which trust me when I say; is more than enough to make some serious, serious money.
My "biggest" store has 70+ items on it, and it makes sales on a daily basis and I don't think I will ever reach the 500 limit mark, so that is a plus. But, if you do reach the 500 product mark, then going for more costs something ridiculous like $5 per month (for more accurate pricing, see Oberlo).
How To Get Products On Your DropShipping Website
Below I want to show you how to import products from AliExpress, to Oberlo and finally on your store although instead of using text, I want to use screenshots to show you how easily I can get products on AliExpress and make put them on my Shopify website.
Step #1: Find The Product On AliExpress
Your first step is to find products that you want to sell on AliExpress. This is fairly simple as there are millions of products on AliExpress and this won't take you much time.
For this example, I found this (very cheap) necklace which I think I can sell. This is the first step: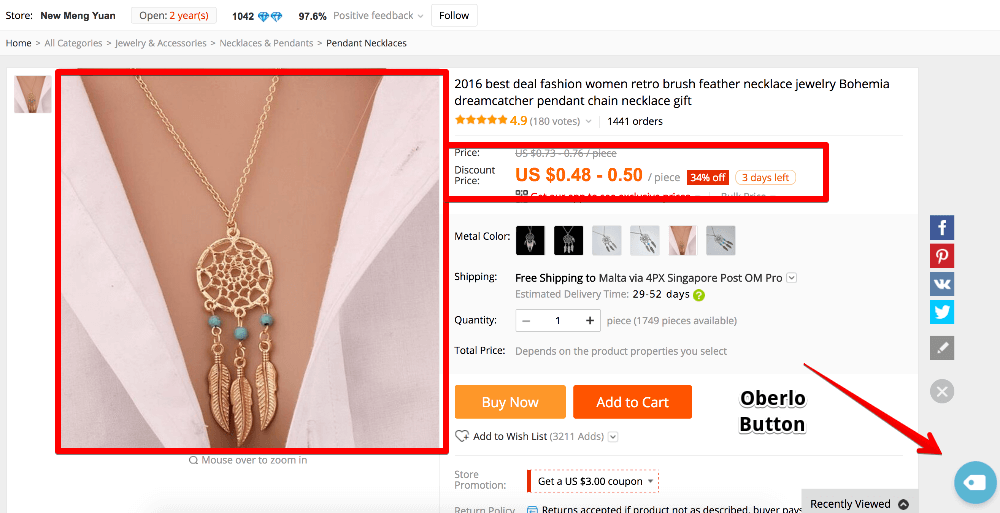 Step #2: Editing The Product On Oberlo
Once I click on the blu button shown above, the product appears in my Oberlo account which is where I can then edit the title, pick the category, and even fix the price and decided my profit margin.
As you can see from the screenshots below, I have decided to sell the $0.48c necklace I found on AliExpress for $9.99 on my store. Seems like a pretty good deal to me.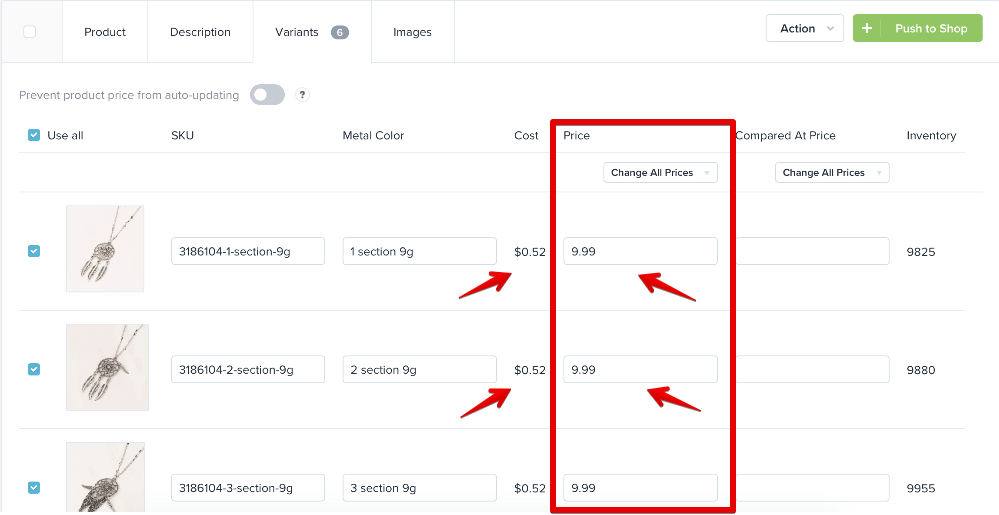 Step #3: Product Goes Live On My Shopify Store:
The last step only involves one click and that is clicking the "Push To Shop" button shown in the above screenshots.
Once you click that, the item will move from Oberlo to your Shopify store ready to be purchased by customers as seen below. All you would need next is traffic.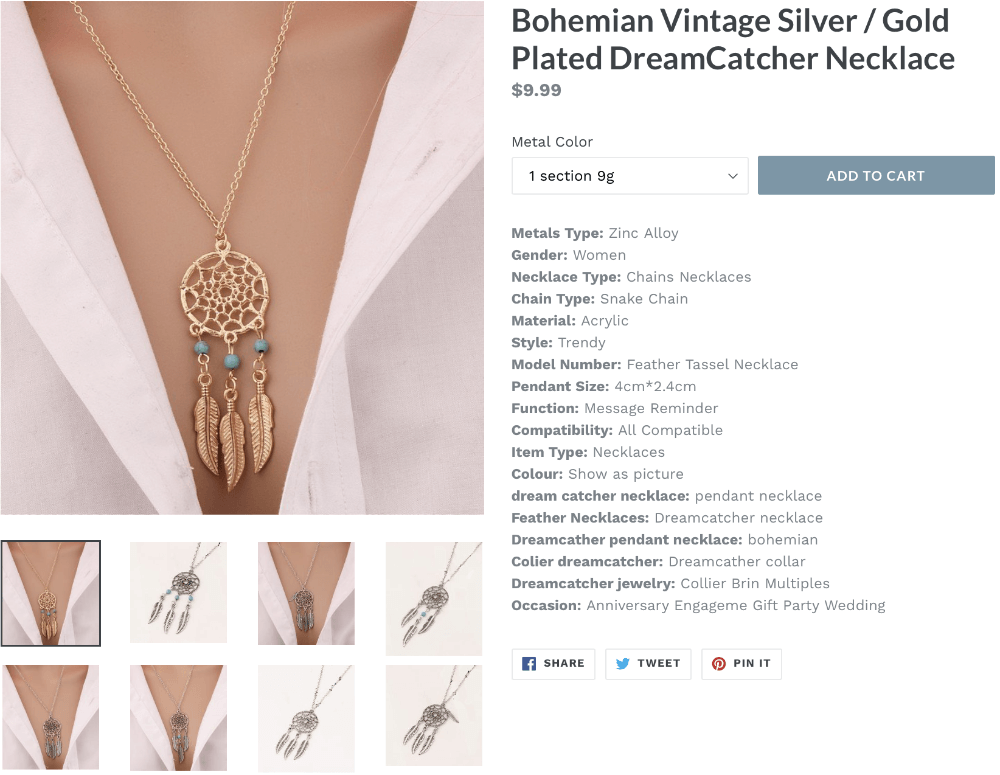 How To Get Traffic For Your Store
Remember I told you how your first 14 days for free offered by Shopify is great? Well, that is because in 14 days you should have set up your site 100% before you even go live.
That is; your products has been properly imported and set up with all information needed and you have populated your store with great products. All is left to do now is to go live with the site and start getting visitors in.
But how do you do that? How can you get traffic to a drop shipping site that sells products?
"Getting traffic" is the hardest thing you are going to need to do and it is going to take some time in mastering this but do not worry as it is doable and can be done quite easily if you know what you are doing.
There's a lot of ways that you can use to get traffic, and I would not go into them here seeing as how that could be a dedicated blog post in itself (or even a complete ebook), so I do not want to keep you reading for long.
However, if you want to learn more about traffic generation – which is something I highly recommend you do, then see a few of the links listed below and start understanding the principles that go into getting traffic.
Making Sales Is
Inevitable
On a positive note, I'd also like to mention that making sales is inevitable if you are getting the right kind of traffic.
Whenever a site has traffic coming in, it's a guarantee that a conversion will happen sooner or later and that is just the pure mathematical.
Now there are ways to increase your conversion rate, meaning you make more sales from the same amount of people, but if you just focus on getting traffic, then the sales will take care of themselves.
What to do after you start making sales?
Keep improving and keep working at it. Keep getting traffic and keep finding out how you can improve your store, your products, your customer relations and many other things.
Just so you know what you're in for; this last and final piece of the puzzle is never ending. It's just a continued work-in-progress for you to get more traffic and more sales.
Want to know some success stories of people that have used this formula and are making a killing with dropshipping? Join the FB group called Dropshipping & eCommerce Mastery.
Additional Tools You May Want To Consider
If you came here to learn how to start a dropshipping site that makes money, then Shopify and Oberlo are the first things I recommend because those are the only two tools you need to create something that has the potential to make you a sizable (and even) life-changing income.
However, there are more tools and more resources you can use to make yourself learn at a faster pace and cut the learning phases in half.
One thing I suggest you do is that you start reading the Shopify blog, which is my personal favorite and also read the Oberlo blog along with the free ebook they have available for you.
I came across this ebook one day and decided to read it and it's what got me started with dropshipping. Fast forward a few months, and here I am writing this post. It all started from this free ebook by Oberlo.
Also, and this is more for getting a more complete online business education, my suggestion would be to take the 10-day getting started course over at Wealthy Affiliate which is a free training platform you can use to understand more the mechanics behind online business and also, how to get traffic to your dropshipping site.
Closing Words
Thank you very much for reading this piece today. I really hope the information provided here have helped you in understanding how to start a dropshipping website and make money from it.
As I said already, if there is something that I have left unclear, please do let me know in the comment section below.
This is a very broad topic, and I can tell you myself that I did not cover all that you need to know so please ask away. You'll also be helping future readers with your questions.
Thanks again for stopping by. I hope you enjoy using Shopify and Oberlo as much as I do and I wish you success on your new journey as a drop shipping mogul.