Last week I was browsing around on ProductHunt and I came across a tool that grabbed my attention both due to its unique features, and also original ideas on how to get promotional emails opened and read.
The tool in question is called Sendy, and it's a service where you can sign up for different promotional newsletters from companies (which you find interesting) and then earn money in the form of gift cards or cryptocurrency.
In this Sendy network review, I will explain to you what Sendy is, how it works and of course, whether you can make money reading emails online, or not.
Of course, you can not expect to make a full-time income reading emails as it just doesn't pay that much, but;
Can it be a good way to earn some extra cash or crypto to hoard for the future?
Let's find out…
What is The Sendy Network?

As ProductHunt describes it; the Sendy Network allows you to get paid to read promotional emails from companies you already love about topics you already follow.
On paper, this sounds like a really good idea since companies want to make sure their emails are read by people who actually want to read them, and it also gives incentives for the readers to pick and choose what they want to read about and get paid for it.
How Does It Work?
It's a relatively very easy process.
You sign up, you pick your subscriptions and you're good to go,
What's surprising about Sendy is that even though they are a relatively new company on the scene, they have already captured some of the biggest digital publishing companies.
Here are just some of the companies that are already using the Sendy network to reach new clients are:
TechCrunch
HackerNews
Seed Weekly
Tim Ferris
The New York Times
and plenty of others.
Here's a quick screenshot of how Sendy looks when you are picking your subscriptions which only shows a small fraction of the newsletters that are available for you to join.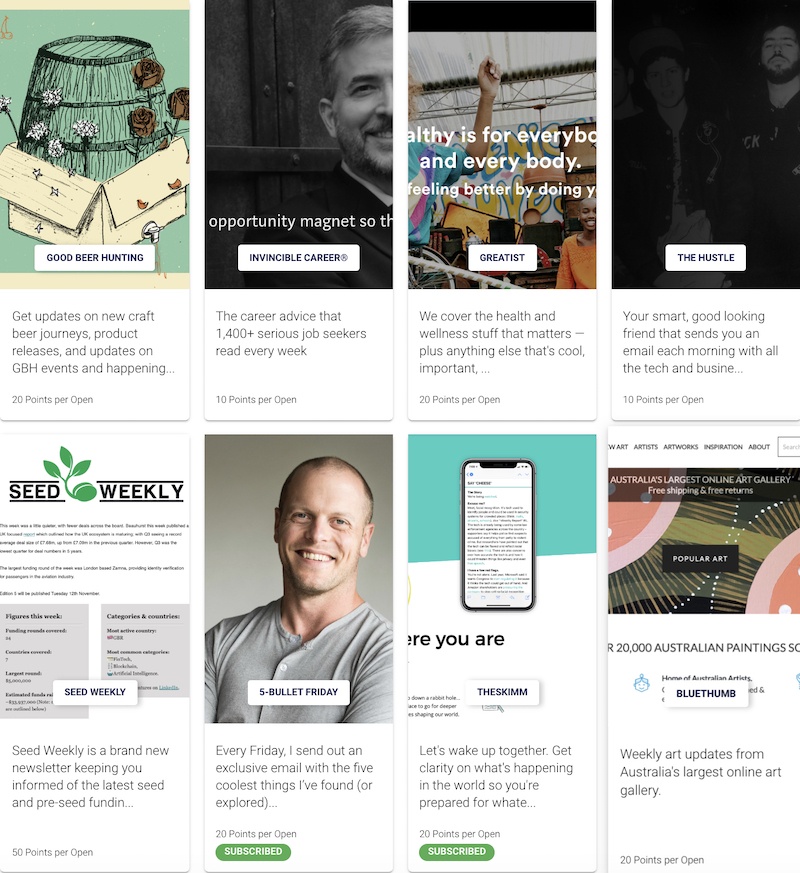 Can You Make Money Reading Emails?
That's the big question here which we're all here to find out & I've decided to address this as soon as possible before I actually show you how to sign up for Sendy.
In theory, Sendy looks like it can be great for people who want to make a few extra bucks, but in reality – from my own experiences – and after having been a subscriber for over a week;
I have not yet received any emails and I have not yet made any money with Sendy.
However, I'm not quite ready to dismiss Sendy altogether.
I have no idea why I am not getting the emails but my adventure so far have produced nothing, as you can see here:

I'm not quite sure what to make of this yet, which is why I will not publish my typical star rating for this review as I do with many other reviews I do.
I will continue waiting on this and see if I eventually start making money (and how much) and will update this review accordingly.
How To Get Started With The Sendy Network
If you're not deterred by the fact that making money with Sendy seems quite impossible (or not yet fully-matured enough to make it worth your time), here's how you can join the Sendy network:
Step One: Visit Sendy
You can use this link here to visit the home page and while there, you can create your account (which is very simple to do).
Step 02: Find The Newsletter You Want To Follow

Once you've accessed your account (which you will be able to after you have confirmed your email address), you will then be asked to pick the subscription you want to follow.
You can pick as many or as little as you want, with of course; the more you pick (the more chances you have of making money).
Step 03: Wait & Hope
There's nothing left for you to do now except wait and hope you get some emails.
Again, I'm not sure why I am not getting these emails (even though they said I can look forward to multiple emails a day) but that's about it.
Once you have picked your subscriptions, log off and wait (and pray) for the emails to come to you.
Step 04: Withdraw Your Money (Just In Case)
Just in case you do end up making some money, the way you can redeem these funds is either by getting gift cards or by getting paid via cryptocurrency.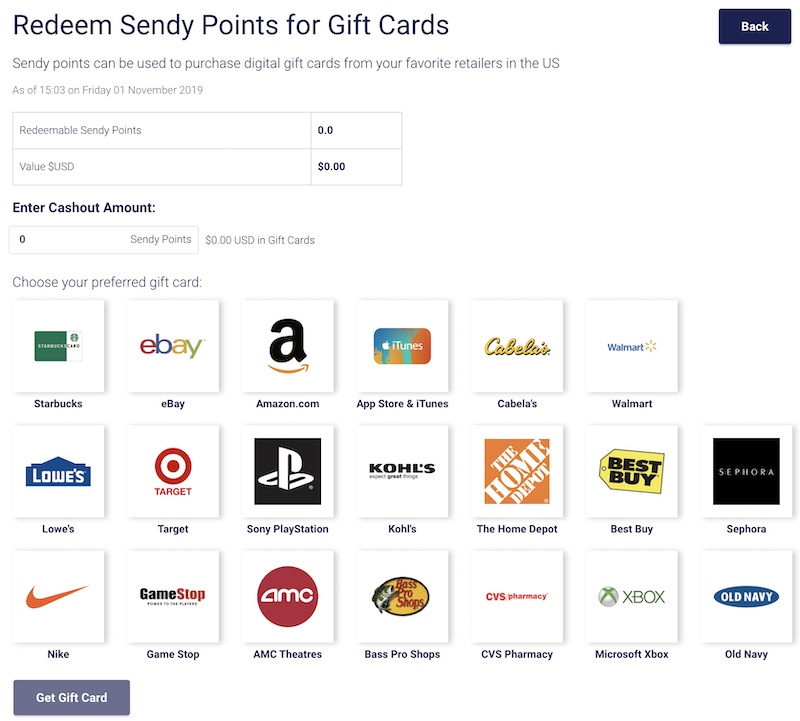 Any Better Alternatives To Sendy?
After doing some research on this topic, I have found that there are many other companies that will pay you to read promotional emails.
Down below I am going to share with you a few alternative (better) ways to make money online but if you'd dead-set on making money reading emails, you can check out some of the listed posts below:
What's A Better Way To Make Money Online?
One thing I try to do with this website is to show people how to use the internet to create a life of freedom, which is why I often find myself reviewing "make money online methods" such as this one, even though I don't really like them myself.
I first got into the "make money online" business I was tired of having to trade my time for money.
I'd much rather work for myself (online) and be able to do what I want when I want.
Now of course, Sendy is not and never have been advertised as a way to make a full-time income online so I can't bash them too much for that, but even if I did manage to make money on Sendy, I already know it is not worth my time, and my guess would be it's not worth your time either.
While you can still make a few pennies here and there (and maybe get a $5 gift card once a month), it's still one of the most boring, time-consuming ways you can make money online.
What I am trying to say here, is that there are many better ways you can make money online.
My absolute favorite way to make money (which is now my full-time business and all that I do) is building small, yet profitable affiliate websites that I build in 30 days (or less) and have them keep paying me for years.
This is called the "affiliate marketing method" and you can learn more about affiliate marketing here and I even have a free training course which you can check out, but that's not only what available.
Here are a few more guides that will teach you about the various (better) ways that exist to making money online:
Can You Make Money Reading Emails? (Final Words)
Unfortunately, that does not seem to be the case for me (but I am not ready to give up on it just yet).
Even though I never made any money with Sendy, I really do like the product, the idea behind it and how it's set up so I won't give my final judgment about it just yet.
If you having nothing better to do, then I suggest you go sign up on Sendy and just spend 5 minutes picking out your subscriptions and hope for the best – however;
If you're serious about making money online, I would highly recommend you look at some of the alternatives mentioned above, especially – affiliate marketing.
I'll leave you to it.
NB:
Want to see how I make money online?
Here's my latest guide
showing you everything I do to earn money with simple, easy-to-build websites.