The FBA part in "Amazon FBA" stands for Fulfillment by Amazon.
The Amazon FBA program gives you the chance to break into the lucrative field of e-commerce without having to build and promote your own online store because you run your store on mighty Amazon.
Anyone who has ever built a niche website knows that it takes a good while to build authority online and generate the kind of traffic that gives you sales.  
By teaming up with Amazon, you get to take advantage of their traffic so that you can bring in sales a lot quicker than you would have if you started from scratch. 
In this article, I am going to share with you:
What is Amazon FBA?
How to get started on Amazon
Amazon FBA fees (& start-up costs)
The benefits of making money with FBA
What you need to do as a successful FBA seller
5 courses to learn Amazon FBA
The top Amazon FBA tips from pro-sellers
An alternative way of making money (online) with Amazon.
But first, let's take a look at the TLDR summary;
Can You Make Money With Amazon FBA?
💲💲
Start Up Costs

Profit Potential

Beginner-Friendly

Time Needed
Summary + My Opinion
The potential for profit is there ✔️
There are many products you can sell ✔️
Much better business model than dropshipping ✔️
Requires quite a bit of capital to get started ✖️
May not be the perfect choice for beginners ✖️
What is Fulfillment by Amazon?
Amazon stores products in their warehouses or fulfillment centers.
Amazon sorts products and takes inventory.
When a customer purchases your product, Amazon handles the transaction on your behalf via an automated process.
They handle picking, packing and shipping to your customer on your behalf.
After delivery, Amazon handles your after-sales service. They follow up with your customer to make sure everything is in order and they handle any returns, complaints and/or damages.
How do I get started on Amazon?
Get started on Amazon FBA here.     
And if you get stuck on any of the steps, check out the videos on the Sell on Amazon YouTube Channel.  
They have a 9-video playlist called Seller University: Fulfillment by Amazon.
What are the Fees to Sell on Amazon?
There are two different options on Amazon FBA.
Individual Accounts

–

Free

, with

higher sales fees

(an additional $1 flat fee per item)

Professional Account

–

$39.95 a month,

with

lower sales fees 
Professional Accounts are recommended if you're planning to sell more than 40 items a month.
Amazon FBA Fees
15% referral fee per sale in most categories

Some categories, e.g. books and DVDs, carry and extra flat fee

Long-term storage fees if your products aren't moving

Picking, packing & shipping fees are lower than it would have cost you to do it yourself
Because of the way Amazon FBA Fees work, choose products that are:
Small and lightweight

Not too many moving parts

Priced between $20 and $70
What are the Benefits of Selling via Amazon FBA?
Amazon has serious clout – they are the leading e-retailer and the biggest name in the industry

Latest stats say Amazon has 310 Million Active Buyers – the opportunity is huge.

55% of all product searches online begin on Amazon.

Most buyers shop on Amazon for convenience, not price.  This is how sellers can make such great profit margins.

FBA products are automatically eligible for Prime

FBA products are more likely to win the sought-after "Buy Box"  (see explanation below)

Customer Service 24/7 via phone, chat or email

No inventory minimums (you can send 1 product)

Unlimited storage space

Effortless (outsourced) picking, packing and shipping

Discounted shipping rates

Speedy delivery

After Sales Service 

Management of returns



Amazon doesn't do it all for you though.  
Owning an online store is not just about sales. You first have to source products to sell.  
So let's get into the nuts and bolts of how Amazon FBA works, discussing the part you'll be playing.
What do Amazon FBA Sellers do?
You have 6 main activities to focus on as an Amazon FBA Seller:
Product Research
Source and Order/Buy Products
Prepare your Products to Send to Amazon
Send Products to Amazon
Maintain Stock Levels
Promote and Advertise
Let's discuss each of these. 
Step 1: Product Research
Start by researching products that are already popular on Amazon (Amazon's Best Sellers).
These free browser extensions will come in handy for analyzing data on Amazon and setting pricing.
Top 3 questions to keep in mind when you're doing your research:
What are the profit margins on these items?

How much demand is there for these products?

How many competitors are selling the same products?
Success in commerce relies on supply and demand.
Step 2: Source Products
Wholesale
You can buy branded products in bulk from wholesalers at discounted rates.
Private Label
You can also order directly from manufacturers or drop shipping suppliers (source them on Alibaba) and then create your own range of private-label products. You take a product with an existing track-record and brand it as your own.
Retail Arbitrage
Alternatively, you can buy products at heavily discounted prices from your local stores. Look for: 
Clearance sales

Liquidation/Surplus stores

Discontinued or limited edition grocery or household items

Off-season candy (after the big holidays)

Yard Sales (look for old board games or old college textbooks)

Thrift stores (for outdated electronics)
Step 3: Preparing Products to Send to Amazon FBA
Packing is a bit of a learning curve so Amazon teaches you on their site exactly how to prepare and package products to send to them. They also provide this helpful video.  https://youtu.be/aKFblPq4EvE
Private Label Products
If you're creating a Private Label product, you'll also need to apply for a barcode (UPC number) and create a new product listing for your product on Amazon. 
How to Create a Product Listing on Amazon
Once you've created your Individual or Professional account, go to the inventory tab.

Click on "Add a Product"

Click "Create a new product listing". 

Choose the most relevant category

Click create new product
This will take you to the details page of your new product. You don't have to fill out all the fields, you only need to fill out these sections. 
Vital Info:
Add Item Name (and your Amazon FBA business brand name)

Recommended Browse node

Product ID (UPC or unique barcode)
Offer:
Selling Price

Condition of item 

Fulfillment Channel for FBA = 'I want Amazon to dispatch and provide customer service for my items if they sell.'
* Stunning images and detailed descriptions are essential if you want your product to be snapped up.
Images:
Add images.  Have professional photos taken of your product or invest in a good camera and get some pointers from a pro so you can take professional photos yourself.
Description:
Write long, detailed descriptions (1000 words+).   
Add as much information as possible, size, color, make, model etc.  
Ideally, get a copywriter to write your description for you as you want to make sure your product really shines.
Keywords:
Enter all the words or phrases that relate to your product and will help customers find your product. Think of what customers might type in when they are searching for your product. 
Look at keywords your competitors are using. 
Consider using a Keyword Research Tool like Jaaxy.
Create Item:
Now click save and finish and voila! Your product is now listed on Amazon.
Step 4: Sending Products to Amazon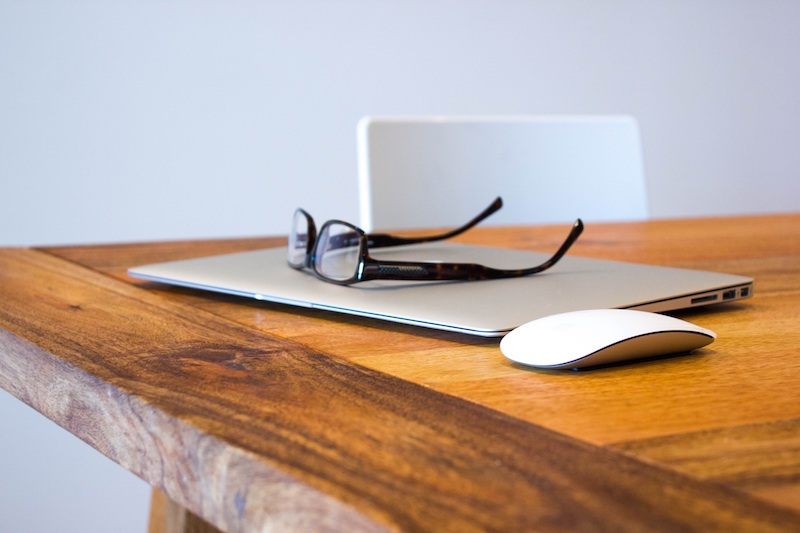 If you're dealing with manufacturers or wholesalers, you'll usually have them label your products for you and send them to directly to Amazon using their own Freight Forwarding and Clearing company.  
Most big manufacturers get good deals with the shipping lines because they send full container loads (FCL) by ship. 
This can be risky, however, in the early stages while you're still building trust with your suppliers. It may be better for you to employ your own Freight Forwarder.  
You can start out sending small parcels ship. This is called an LCL shipment (less than a container load).   
Small, light shipments can also be sent by airfreight.  Remember that airfreight is your most expensive option, so it's best to only airfreight items you need urgently.  
Most Freight Forwarding Agents can advise you on the best option for your shipment.  Always ask for estimates on both LCL and airfreight so you can compare pricing.  
If you're going the Retail Arbitrage route, you'll need to learn how to pack and send items yourself.  As this is usually just local shipments, it's best to shop around for the best courier service and open up an account with them.
Step 4: Maintaining Stock Levels
Amazon will let you know when your stock is running low but you'll need to keep inventory and make sure that your store never runs out of stock.
Step 5: Promoting Your Products on Amazon
When you start out as a new Seller on Amazon FBA, you have no sales, ratings or reviews and therefore no Amazon Seller ranking because you haven't gained any trust yet with Amazon or your customers.
Amazon's algorithm decides which products to display first based on sales, ratings, reviews and momentum.
The quicker you can get as many sales and reviews as possible, the more momentum you will get and the more you'll start showing up organically in Amazon searches.
Here are some ways to get sales and reviews early in the game:
Get as many friends and family as possible to buy your product 

Ask them for honest reviews (positive or negative, having only 5-star reviews is not believable)

If you already have email subscribers, email them asking for a review

Promote your reviews on social media

Host a competition or giveaway

Send free samples to reviewers and influencers

Get your products featured in the press

Make use of Amazon's in-house PPC Advertising
Top 5 Courses on Amazon FBA Selling
You can find a huge amount of information free online (and on Amazon itself) about how to become an Amazon FBA Seller but it can get confusing because there are many different paths to wealth within the Amazon FBA program.
If you want to fast-track your success as an Amazon FBA Seller, these Courses 

A very comprehensive, thorough course covering the 3 main aspects of Amazon FBA Selling, namely: Sourcing & Buying, Shipping and Listing.  All reviews say this course is the best value, offering way more than the price tag.
$499 x 1-time payment

$183 x 3 monthly payments

Look out for sales, e.g. $200 on Cyber Monday

Lifetime Moneyback Guarantee
2. Amazing Selling Machine by Matt Clark and Jason Katzenback

Probably the best-known and most expensive Amazon FBA course. 
8-week online training plus access to mentorship teaching you how to create your own range of private-label products.
$4,997 x 1-time payment, or 

$ 997 x 6 monthly payments

30-Day Moneyback Guarantee

Affiliate Program
3. Marketplace SuperHeroes by Stephen Somers and Robert Rickey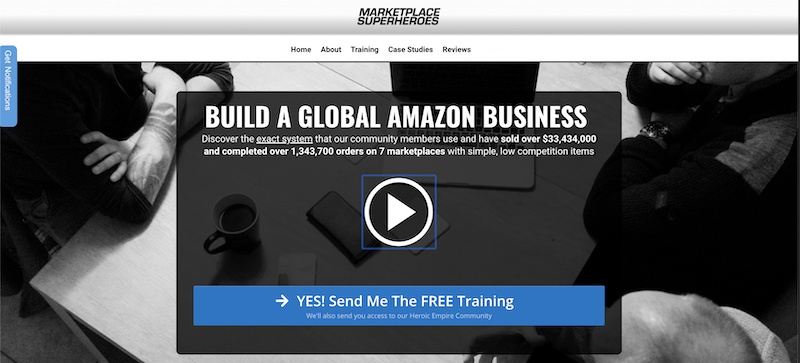 The core course consists of 97 training videos over 12 modules and there are many other add-ons.  This is an easy-to-follow Step-by-Step Training.
$997 x 1-time payment, or

12 x $ 97 monthly
4. Online Selling Experiment by Ryan Grant

Step-by-step training teaching you how to sell on Amazon FBA using Retail Arbitrage (buying from local suppliers) in the USA. 
$199 – 1-time payment, or 

4 x $55 monthly payments
5. Amazon Bootcamp by The Selling Family (Jessica Larrew)

Also a course on Retail Arbitrage and Amazon FBA, also based in the USA.  Nearly 100 video lessons (with closed captions), over 14 modules. 
$495 – One Time Payment, or

$195 x 3 Monthly Payments

Lifetime Access

60-Day Moneyback Guarantee
Why Choose Amazon FBA over Selling on eBay?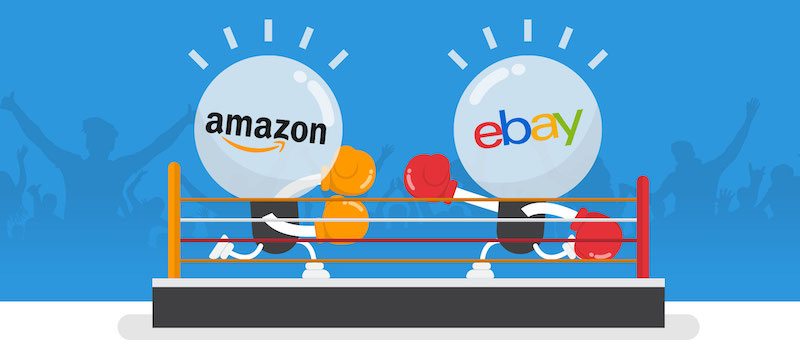 eBay
eBay is like an online Classified Ads or Flea Market.
With eBay, you have full control over everything but that also means you have full responsibility for every part of the sales cycle.  
You handle transactions, payments, shipping etc.  And yet, their fees are higher than Amazon's.
Amazon FBA
Amazon FBA is more like owning a shelf at the world's biggest department store. 
All you need to focus on is making sure your shelf is visible and keeping it stocked.
The store handles all your transactions, payments, shipping etc on your behalf.  And yet their fees are lower than eBay's. 
Top Tips from Successful Amazon FBA Sellers

Get to know and play by Amazon's rules and regulations.
Start slow, with small orders.
Keep your costs as low as possible.
Understand your target market and brand your products accordingly. 
SEO your Product Descriptions by adding as much detail as possible.
Take Professional Photographs.
Add the Pay With Amazon button to your website because Amazon has already built trust with customers and payment is automatic.
✔️ Reviews and Ratings matter
Once you're all set up, reviews and ratings should be your focus.   See section on Promotion Products above (Step 6). 
✔️ Build a loyal customer list  
Add product inserts directing your customers to your Facebook group or product squeeze page (or sales funnel) where you can ask for their email address.
✔️ PPC Advertising
Try out Amazon's suggested pay-per-click Ads.
Headline search ads appear at the top of the search results and help sellers target customers, boosting sales and rankings.
Last but not least.
✔️ Aim to Own the Buy Box
The Buy Box is the section on the right of Amazon where customers can add a product to their cart or make an instant purchase. It's one of the most important tools for increasing your sales.
Factors in winning the Buy Box:
low price

stock availability

Fulfillment options (which is why FBA is such a great choice)

seller ratings

positive customer reviews
✔️  Killer Tip:
If you're selling highly competitive products, bundle products together to create a unique product listing on Amazon.
Unique item bundles win the buy box every time.
Is There A Better Way To Make Money With Amazon (Besides Amazon FBA)?
WANT TO LEARN HOW TO MAKE MONEY WITH AFFILIATE MARKETING?
Join the 3HUNDRD daily affiliate marketing newsletter and get access to my latest ebook and course - ALL FOR FREE! 
If you don't want to get involved with the complicated world that is Amazon FBA, another great 9and much easier) method to make money on Amazon os by becoming an Amazon Affiliate.
If Amazon FBA is not for you. don't worry as there are plenty of other ways you can make money online too.
Thanks for tuning in.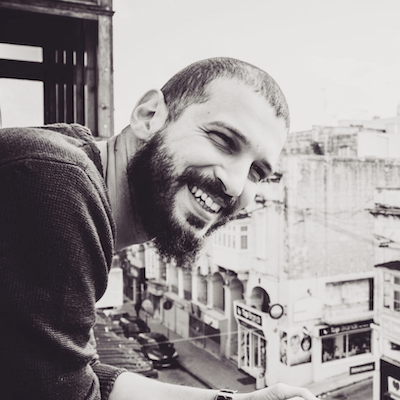 Since 2011, I've been learning how to make money online with affiliate marketing. This website is where I share everything I know and all I will learn along until I reach my next income goal of $30,000 p/month.