5

min read
Continuous buzz for weeks can be exciting when it comes to the launch of a new product.
Today, I will finally be bringing you my Million Dollar affiliate review.
This is a product that I found out about around 2 weeks ago and to be honest, the hype that was surrounding it was something like I have not seen in a while and I could not wait to review.
But as we've all come to understand from the many reviews I've done in the past, "just hype" means nothing.
Does Million Dollar Affiliate deliver on its promises?
Is it really THE product you've been waiting for to help you get a foot in the door of affiliate marketing?
In this review, I tried to dig as deep as I possibly can into Million Dollar Affiliate and see if, after all the buzz, hype and excitement, is something that you should look into.
Ready? Let's roll…
Product Name: Million Dollar Affiliate
Website: MillionDollarAffiliate.com
Product Creator: Sam Bakker
Price: $24.95
Launch Date: February 2018
What You Will Learn: Email / Affiliate Marketing
Do I Recommend It? (See below)
My Final Rating: 4/5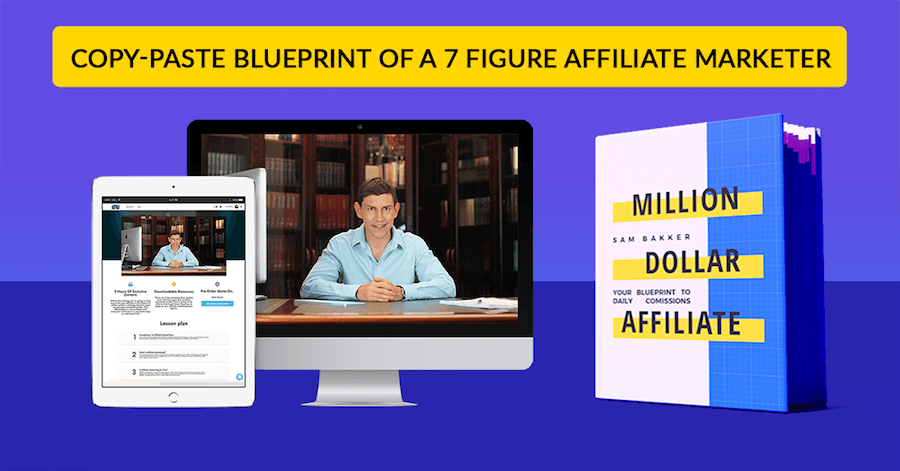 What Is The Million Dollar Affiliate?
Million Dollar Affiliate, (which I will be referring to as MDA for the remainder of this post), is a new training course launched by pro-affiliate marketer Sam Bakker that is designed to help you learn how to make money with affiliate marketing using the highly-talked about (and often doubted) email marketing strategy.
Who Is Sam Bakker?
Sam is an extremely charmful guy and I honestly love how he communicates his message.
He clearly knows what he is talking about and also is a seasoned affiliate marketer himself having grossed over $5,000,000 in commissions for himself and becoming one of the biggest JV Zoo affiliates of all time.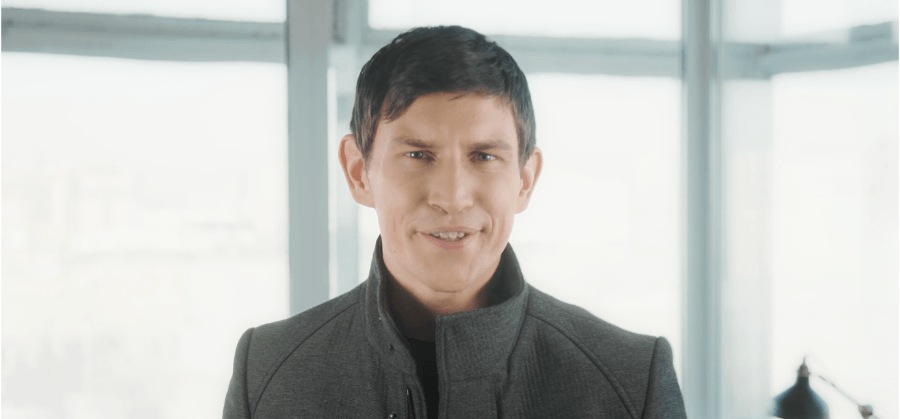 Great, so he's done well for himself, now what about Million Dollar Affiliate?
Million Dollar Affiliate is his latest product launch, and as I said earlier in this review, it will give you Sam's secrets to making commissions using his proven (and tested) email marketing strategies and campaigns.
What You Get Inside Million Dollar Affiliate:
Affiliate tools to help you build your new affiliate marketing business.,
6 of Sam's methods to help get yourself a steady flow of subscribers to your inbox.
How to optimize for conversions (HUGE)
And many more.
You can see the full list here: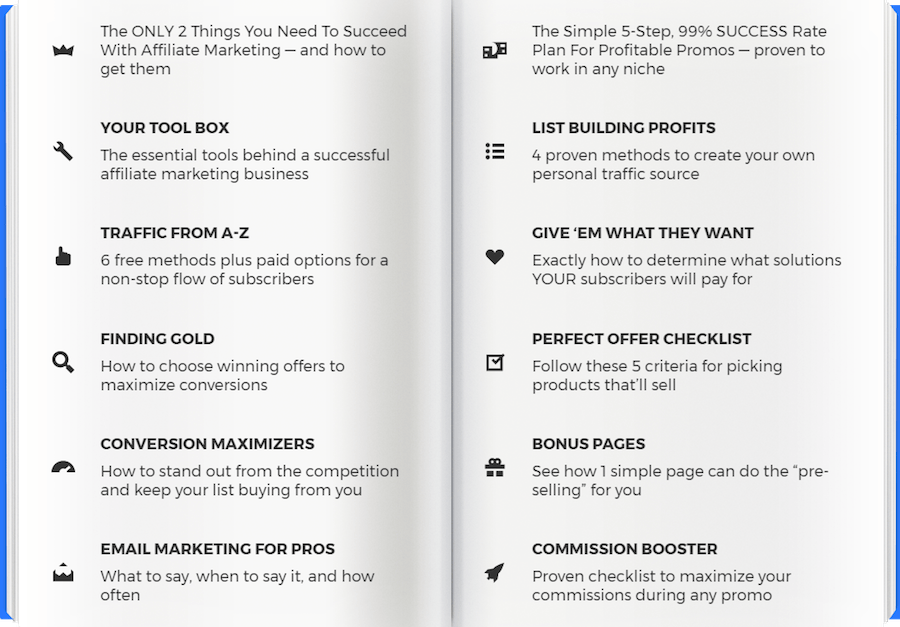 Things I Liked About Million Dollar Affiliate
It's A Very Well Put Together Course
Even simply looking at the Million Dollar Affiliate landing page, it's clear that this product has had a lot of thought put into it (Sam even admits he's been working at it for over a year now).
The landing page is beautiful, the courses and the material are superb and a lot of time was clearly taken making sure the information delivered is top notch.
Mr Sam Bakker Himself
As I said, Sam is a really charming guy and I love how he delivers his content.
Well done Sam.
The "Hard Work" Disclaimer
Affiliate marketing is hard work, forget what anyone has ever told you and if you are thinking of buying into MDA or just affiliate marketing in general, be ready to work long hard hours before you ever have anything to show for it.
The reason I like this product is that although it does brush towards the side of "easy money" on the landing page (it's a given since it's a sales page), it also does not hide the fact that you need to be willing toward hard and put in the hours for this to work for you.
You can see him dispelling one of the affiliate marketing myths of "push button riches" here.
Simple BreakDown Of Training
The training is not too complicated and any beginner can understand (and use) the material provided as it's very practical and to the point.
The 3 steps inside the Million Dollar Affiliate are illustrated here: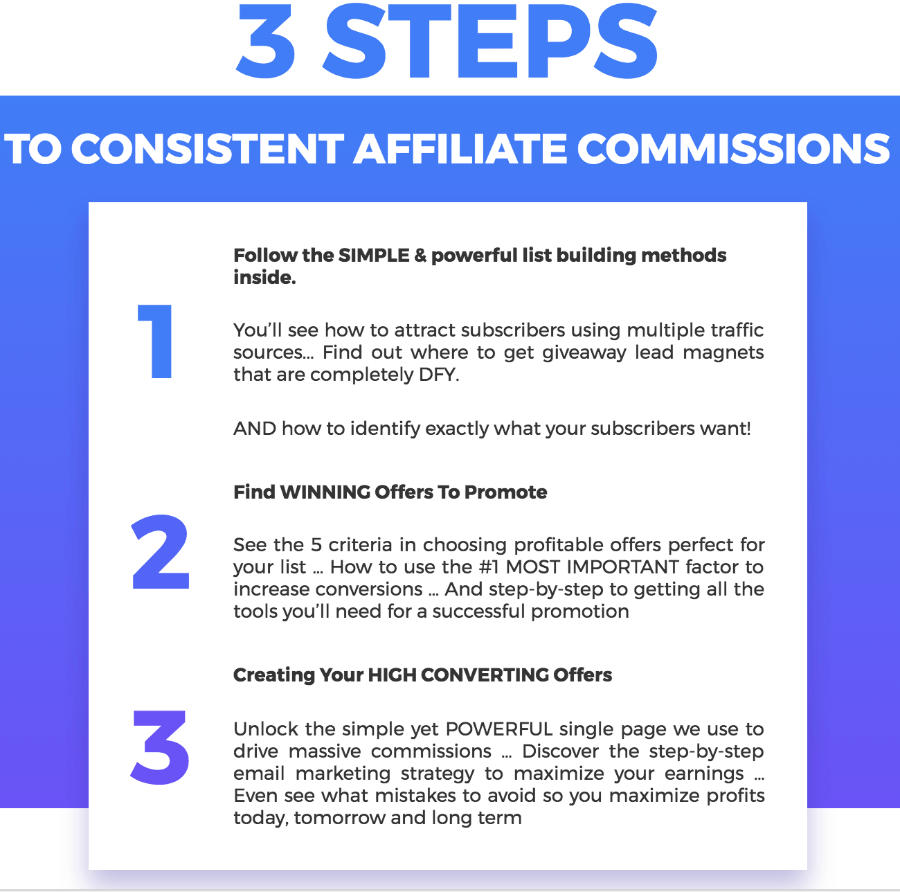 1 Thing I Didn't Like
Fake Reviews?
Unfortunately, there seems to be a bit of a mishap here as somebody seems to have forgotten to update the reviews.
The reviews of the landing page once I managed to get on it were as such: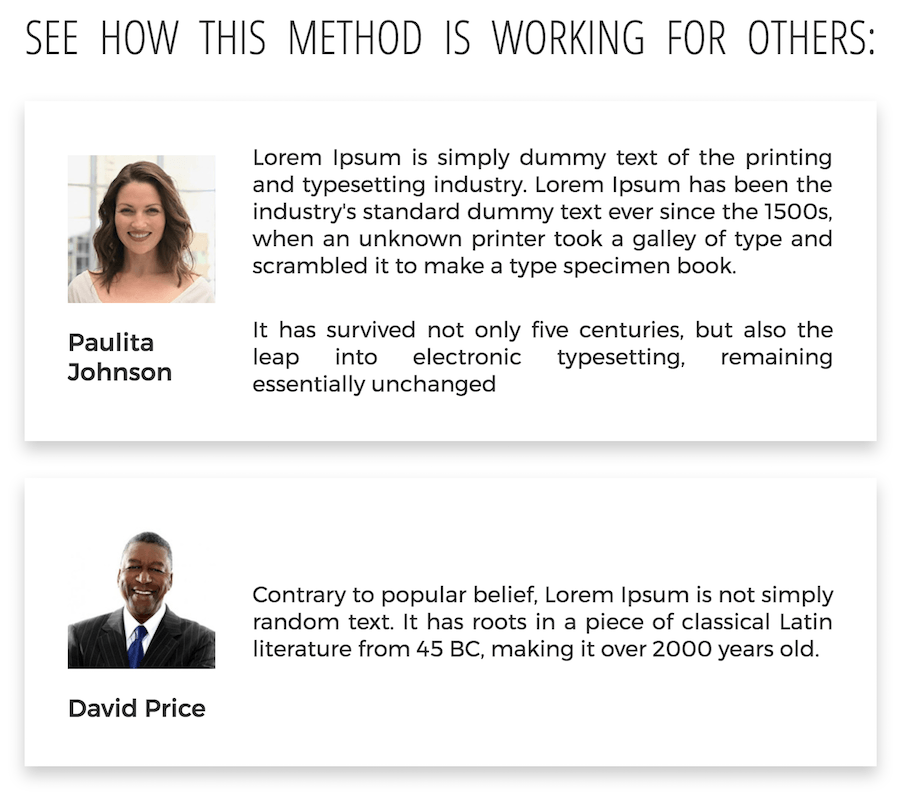 These are clearly not real reviews and have just been placed there as a text filler.
I am not sure what to make of this and I doubt they have any real reviews to put in there to be honest
Might it just be a white lie trying to convince you with social proof or has somebody just made a MAJOR mistake here.
Again not quite sure what to make of this.
Who Is This Product For?
This training program is for all the newbies to mid-level affiliates out there looking for ways to up their email marketing game.
You definitely can't knock Sam for his email skills as he has clearly proven his worth with his illustrious career as an affiliate marketer.
So, if you're thinking of starting a career in email/affiliate marketing or you just want to up your game a little, give this product a look.
Do I Recommend It?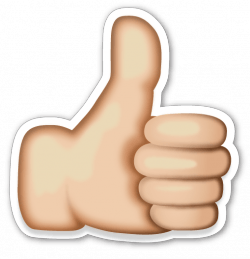 Yes, I do!
I don't often do this as most of the products I review on this site are pure junk, full-blown scams.
However, the Million Dollar affiliate is a great training platform and it's one of the best product I have reviewed since I started this blog.
Definitely the best so far in 2018!
Any (Better) Alternatives?
I would not usually give users any alternatives when I give a product a high rating (and a thumbs up) but see how the Million Dollar Affiliate is mostly on how to do email marketing, I feel I need to give you a couple more alternatives if you happen to want a more "360 experience".
The best platforms I can recommend are:
Final Words
Thank you very much for reading my Million Dollar Affiliate review.
I hope this post has given you a clear step of what you should do next.
If you have any questions about the MDA or any other thing related to affiliate marketing, please leave me a comment down below.
Thank you very much.
Million Dollar Affiliate Final Rating:
Price

Features

Training

Value For Money