So yesterday after a long day of writing, updating and going through a whole lot of numbers, I decided to pour myself a double on the rocks and have a quick look around and see what SEO tools are available that may make my day-to-day processes a little bit easier.
I somehow landed on the ProductHunt website – which if you do not know what that is; it's a popular website which curates online tools and services.
There are a lot of cool SEO products you can check but one that caught my attention was SEOMator and today I am doing this review to explain to you my experiences with it and how to put it to good use.

What Is SEOMator?
SEOMator is an online tool that gives you a complete site audit of your website with regards to its SEO power.
I will explain more about it below but in a nutshell;
It gives you a complete report of your website showing your areas you can improve on to increase your SEO rankings + deep insights into your content, your linking structure, your site speed and many more.
Why Do You Need SEOMator
SEO audits are incredibly important to do from time to time, especially when you are overseeing a website that already has traffic, rankings and a lot of published content.
(I will say you do not need this tool unless you already have a sizeable audience and a website of at least 100 pages or more).
To test this out, I decided to pass my website, this one (3HUNDRD.com) and I can tell you;
I couldn't be happier with the result and the feedback I got from this tool.
If you're reading this review to find out whether SEOMator is worth trying out, let me save you some time reading and tell you that yes; this is a superb SEO tool that I'd advise anyone – with a biggish website – to use.
(You can sign up to SEOMator here).
Now that you know what SEOMater is, before I tell you how to get started with it and any other information you may be wondering, let me first share my report with you all.
I've decided to make my SEO audit report available for you to see here so you can take a look and see all that you will be getting, but let also list down a few notable things that you can expect).
See my SEO Audit report here >>
SEOMator Overview Report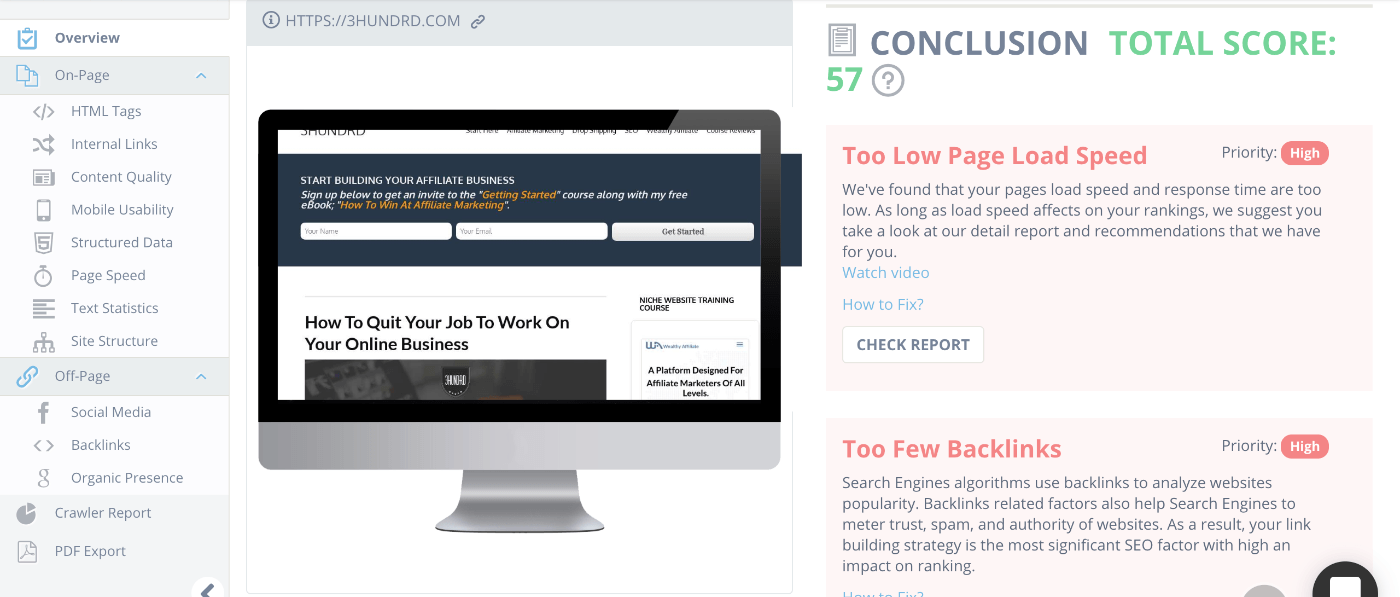 Once the report has been finalized, which if I remember correctly took only about 10 minutes to complete for 100 pages – you will be presented with your SEO Audit overview report
On this page, you will see the following items listed:
Domain Authority Metrics

Page Indexation Metrics

On-Page Research

SEO Friendliness Test

Page Speed Results

Crawling Status

Usability

Off-page research

and others.
I won't go through the deep technicals here as this can get very technical and unnecessarily complicated, but with this report; SEOMator gives you the top priority fixes which you should look into.
Mine were:
Page Speed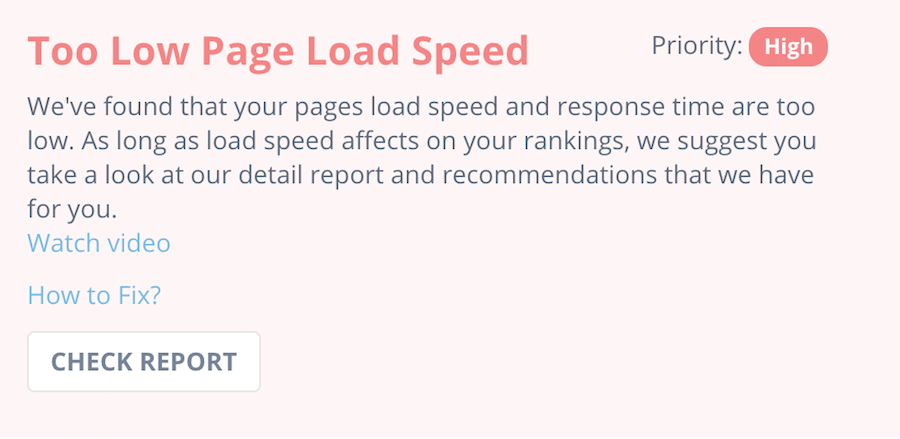 I do have some media-rich pages which are taking too long to load and I need to work on this asap.
In case you were wondering; yes Page Speed is a huge indicator and a fundamental metric in the overall Google algorithm.
Backlinks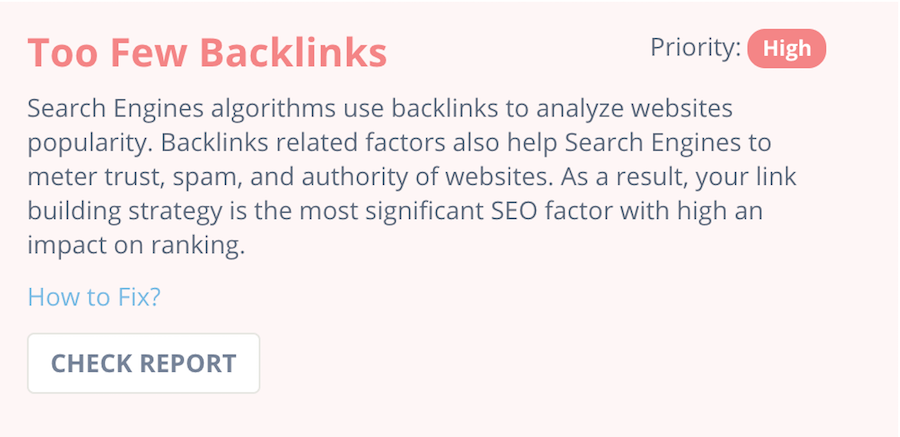 I have a love/hate relationship with backlinks and I admit I never set out to get backlinks myself.
I do collect organic backlinks as my site grows in influence, but I should do more active work in securing a few high authority backlinks from other websites.
* Read: Can You Do SEO Without Backlinks?
* Read: Will Backlinks Become Less Valuable With Time?
Meta Description Analysis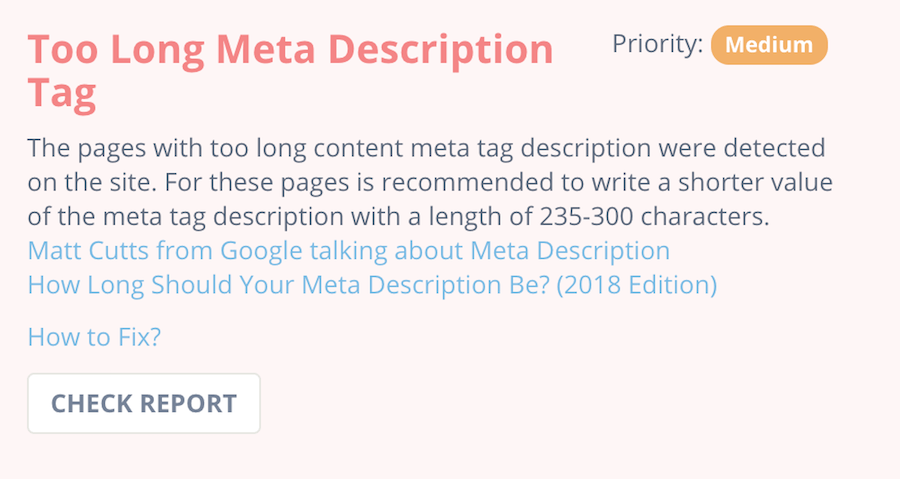 This is telling me that some of my pages have a meta description which is too long for Google to use.
Now, this is not entirely my fault as just last year Google announced that they are increasing the length of meta descriptions to 300+ characters.
On this news, I went and updated all my metas only for Google to retract that statement and going back to the original 160 character limit a few days later.
*sigh*
I will not be going through more of what SEOMator can provide with their SEO audits – if you're interested in seeing what it can do, you can check out my linked pdf report.
Why Do You Need An SEO Audit?
Site Audits are incredibly important and it's shocking how many websites do not go through this process from time to time.
This can be done yearly or even every few months (depending on how much content you publish) but whatever it is; you must do an SEO audit from time to time.
This will give you a direct, bird's eye view of what is happening on your website and how search engines are seeing it.
It will also reveal a lot of issues you likely wouldn't notice when you are working on something day in day out.
You can read more about the benefits of an SEO audit here.
How Much Does SEOMator Cost?
Let's talk about pricing for a second because no; SEOMator is not free.
The cost of running the report for my site cost me $5, which I believe is incredibly worth it considering all the data and feedback that I received from it.
The $5 price tag is for only one project though (and it only crawls 100 pages a time) so if you need more power and more data, you may want to consider going to the higher pricing plans.
These are the current pricing plans available:
Pay As You Go – $5 (once)

Small Business – $19 per month

Professional – $9 per month

Unlimited – $179 per month
You can also see the differences in these pricing plans below or get a more detail description of the SEOMator pricing page:

Which Plan Is Right For You?
Starting out, I would suggest you use the pay as you go plan first to understand what this tool is all about and how it works.
It's only $5, which you can pay through PayPal and it will instantly tell you whether it's a tool that will be beneficial to your SEO strategy (I think it will be).
After you receive and analyze your report, you can then consider going into a monthly plan which gives you auto updates and allows you to crawl more pages on more than one site (you get five projects/sites with a 500 page limit with the $19 small business plan).
Should You Get SEOMator?
Yes; if you are serious about your SEO campaign and want to make sure you're in the best position to win when those SEO crawlers come to visit you, then do yourself and your business a favor and get the $5 one-time report.
I promise you it will open your eyes to a lot more than you are currently seeing and I have no doubt that it will be influential in guiding your SEO strategy forward.
Not Enough Data Yet?
As I said, SEOMator is only best used with webmasters and SEOs who run a site with already existing traffic and also at least 100 pages of content.
This is a data tool so you are going to need to have some data coming into your website for this tool to work and present you the results (and benefits) I am explaining above.
If your site is currently not at that level just yet; then keep on working on it and wait till you have enough data to be able to use SEOMator.
You'd just be wasting money if you try to do an SEO audit on a site with 10 pages and no visitors.
If you are struggling with SEO, I also have my course Affiliate SEO Mastery which you can use to guide you through the trenches of how to get your website off the ground and onto Google's first page.

Any SEOMator Alternatives?
Yes, there are plenty of SEO audit tools such as SEOmator but I doubt they will be as good as SEOMator.
The only tool I would compare it to is Ahrefs, which does most of what SEOMator gives you but that tool costs a hell of a lot more money than $5.
(It's also good to note here that Ahrefs offers a slew of different tools and features you can use besides their SEO reporting).
You can read an incredibly-detailed Ahrefs review here >>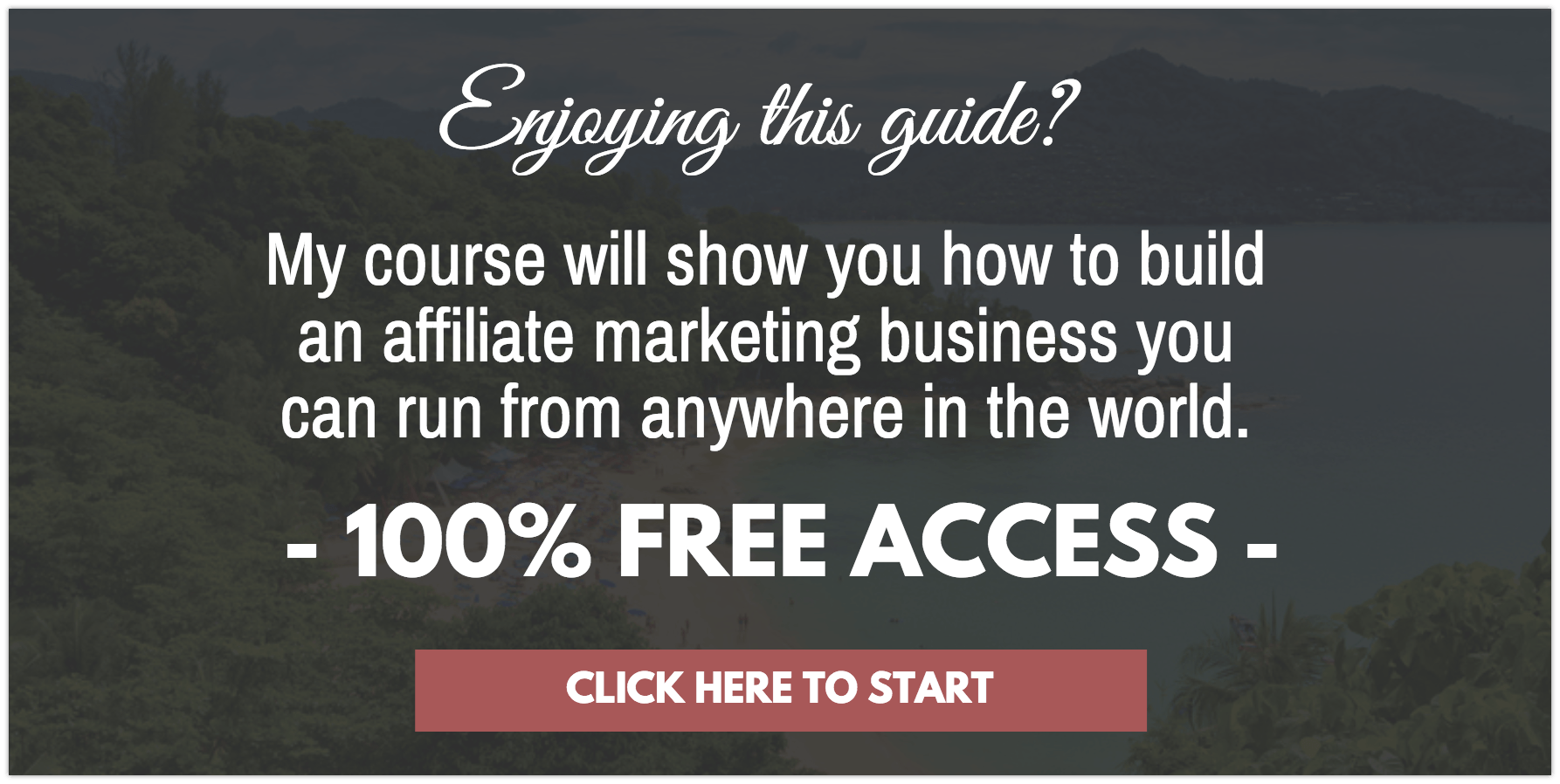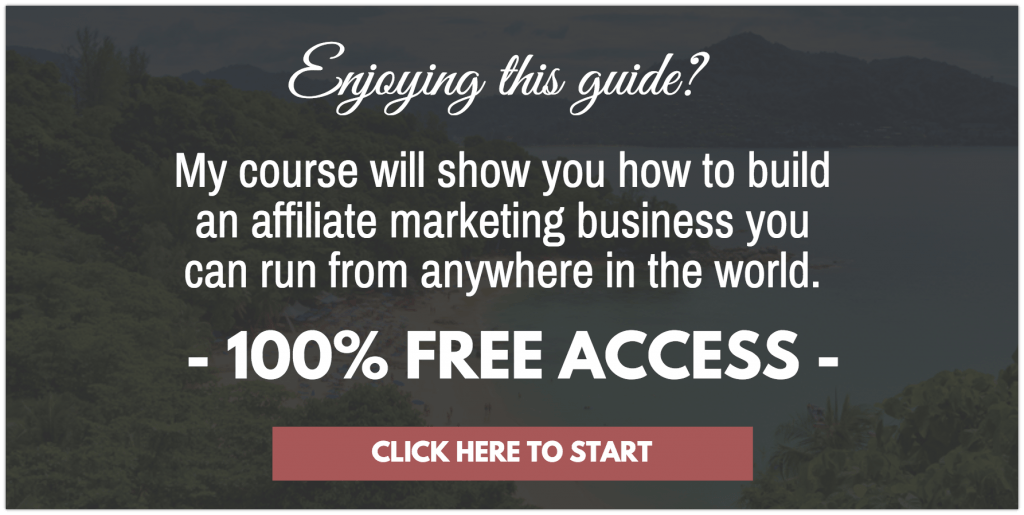 Final Words
Thank you for reading my SEOMator review, I hope this has answered any question you may have about this great SEO tool.
Again; for a clear indication of what you'll get with this site, you can see my linked pdf report here.
As for whether this is a worthwhile tool or not, I already gave you the answer to that and IMO it's a big thumbs up and I highly recommend it.
Thank you for stopping by.
Talk soon.
Christian Lee.