13

min read
Drop shipping is my new found obsession, and I really believe drop shipping is one of the easiest methods one can use to start earning online.
As with everything when it comes to taking advice online, there are so many drop shipping courses, training videos, and gurus that it's getting increasingly hard to determine which tools and which methods will work best for your store.
One thing I can tell you right now is that just leaving your store "as is" without amplifying it for conversions and traffic is not going to get you much, or at least not as much as you are hoping for.
I myself have been doing drop shipping for the past 2 years now and each and every day I am looking for new drop shipping Shopify apps to he to help me increase my sales, traffic, conversions, SEO and many others.
While I did say that "drop shipping is easy" compared to other methods of making money online, it's not a walk in the park, and it does require you to work at it and also to invest in drop shipping tools that help you on your way to thousands of sales each month.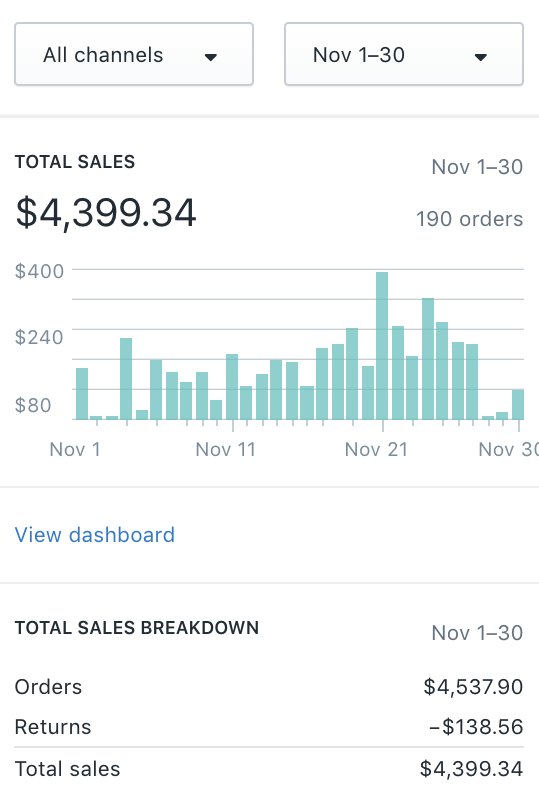 This list below is the tools that I am using to make over $4,000 in sales every month.
That may not seem like a whole lot compared to other income proofs you see from drop shipping, but it's a nice comfy income for me and I thank all of these Shopify apps I'll mention below that got me up to this point.
There are also many other tools and apps, which I may not have liked or may not have even discovered yet (and I'm hunting down drop shipping tools every day) so I am sure there are many others (some maybe better than the ones I will list below) but what I can promise you is that these apps, have in-fact helped me to increase conversions and traffic to my store.
Here's a screenshot of all the Shopify apps and drop shipping tools I have installed on my Shopify store: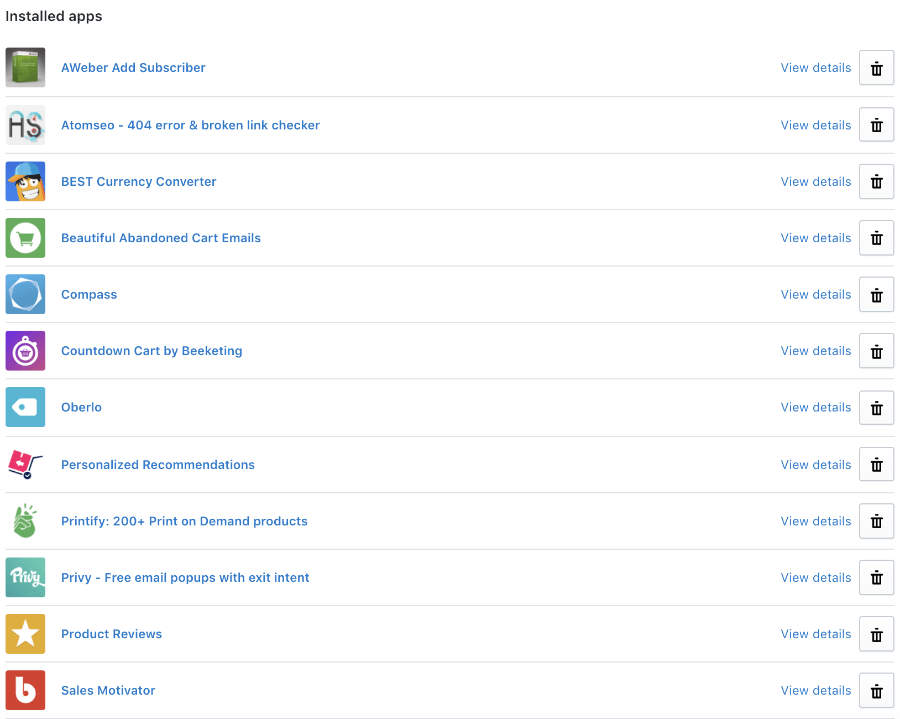 I will explain what each of them are, what they do (and why you need them) below…..
Aweber Add Subscriber
One of the highest converting traffic I have is surprising; email marketing.
I don't say surprisingly because email is worthless as a drop shipping tool, but because my email marketing is not exactly set up as best as it can be.
However, if you are getting into drop shipping, setting up your email marketing is a great thing to focus on.
This tool allows me to capture leads from my Shopify store to my Aweber list.
Shopify does come with an integrated form that you can use on most themes but you would need to sync that list somewhere and for me, that was Aweber.
I have been a customer of Aweber many years so this was the logical choice to keep using it, however; Aweber is a paid tool.
If you are just starting out with email marketing and drop shipping, then I would suggest you also look into MailChimp as they have a great service and I believe it integrates with Shopify much better than Aweber does.
However, I am a very happy with Aweber myself, I just now need to optimize my email marketing flow to capture more emails and make more sales.
Atomseo 404 Link Checker
This plugin is a godsend!
With e-commerce stores, unlike regular blog posts, you will have a lot of products that become available (and unavailable) all the time.
There's also the issue of timed promotions and offers which are time sensitive and would be obsolete after their time comes ago, for example; Black Friday offers.
What this will do to your store is leave a mess and a nightmare of interlinked broken links and 404s everywhere on the site if you are not careful.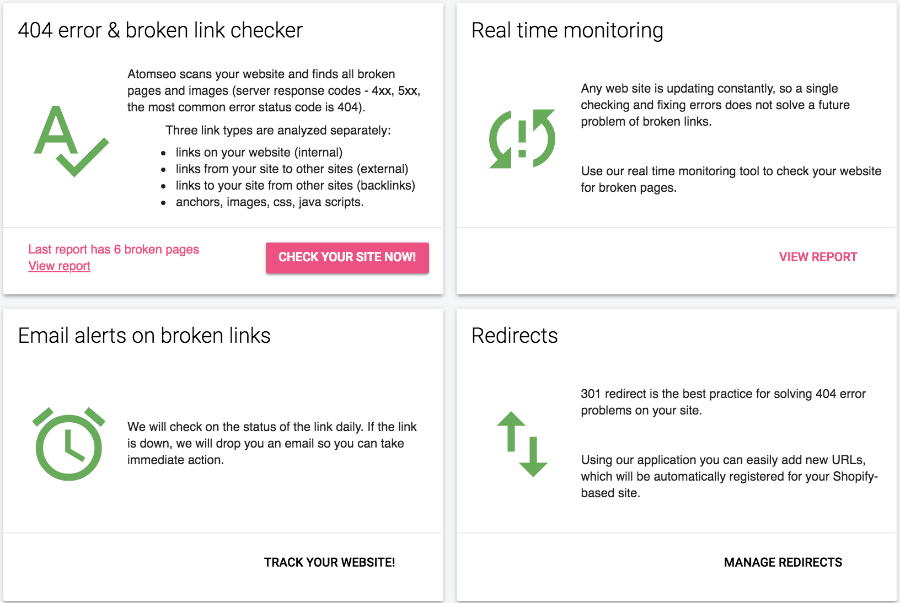 I neglected this problem for a long time but after seeing the warnings on Google Search Console, I had to fix it asap.
This (free) plugin came to the rescue and I now make sure that all links on my store are working 100%all the time.
You can even set it to check and alert you automatically every couple of days or so.
Doesn't really improve conversions, but it helps with user experience and also, SEO.
Doubly: BEST Currency Converter
This one of the drop shipping plugins I have installed and instantly increased my conversion rates.
Although simple in theory, this little tool has been a great asset to me.
What it does is it shows prices in the currency a potential customer uses.
For example, a US visitor will see the price in dollars while a UK visitor will see it in pounds.
What this does is that it creates familiarity with the person. It also helps in convincing them to buy as they already know how much they're going to spend, exactly to the last cent.
Very effective and I would suggest anybody making this one of the first drop shipping tools they deploy on their store, especially if you will be targetting people (with paid ads) in various different countries.
Beautiful Abandoned Cart Emails
Some 80%+ of people who reach the checkout page never end up making a purchase.
That sucks, doesn't it? Just going through your abandoned carts page in Shopify will make you kick yourself as you have 3X your sales which have been lost, at the very last step.
However, this plugin comes to the rescue and have in time has given me back some of the sales I would've lost otherwise.
Now I am sure there are many other abandons cart tools that you can use, but this is the first one I have tried and I've been very happy with so I decided to keep it running.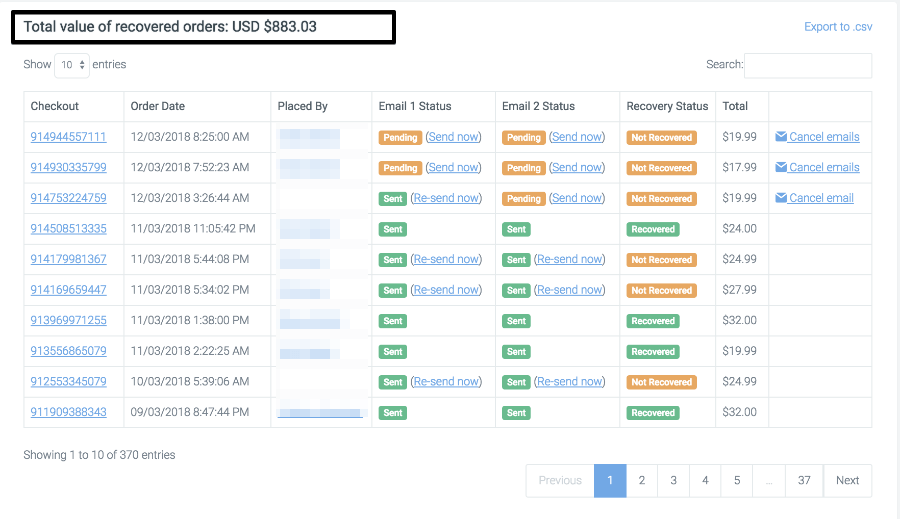 The best thing about this is that you also only pay when an order has been recovered, meaning you only pay when the plugin actually gets you the sale.
What it does is it sends one or two emails (I suggest two) to the customer who has abandoned his checkout process on your store.
I have set up to go out a few hours later, and one to go out 1 days later reminding the person that they still need to checkout.
You can also offer a quick flash checkout to your reader to help them seal the deal and purchase form you.
I offer 20% off to complete the checkout "today" and the results have been wonderful!
Compass
This is an analytical tool for your Shopify store.
While the good old Google Analytics works great if set up properly, Compass will give you a detailed insight into your sales and products making you the sales.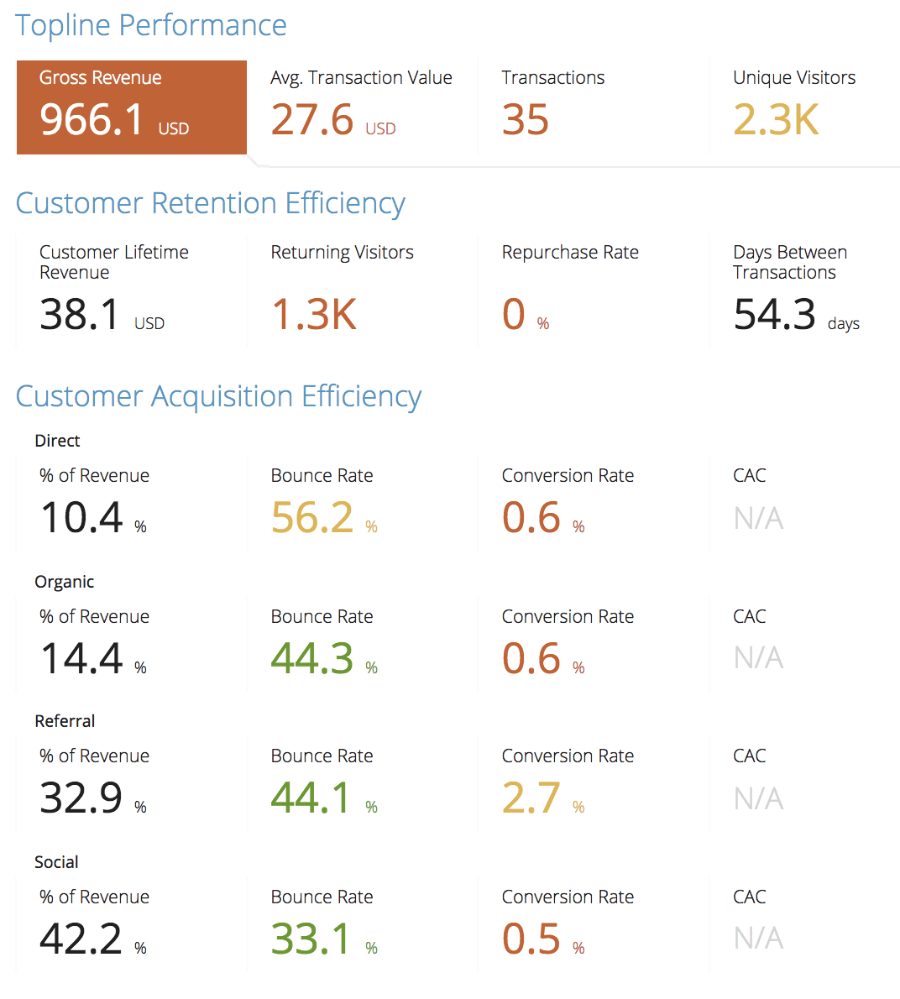 I'm not too analytical in my approach to drop shipping, but this tool does give you some insight that you can work with.
Some metrics you will enjoy seeing with Compass are:
Customer Lifetime revenue
Percentage of revenue from traffic sources
Efficiency of checkout
Conversion rates according to countries ./ geolocation
And much more.
This plugin is a paid tool but its free to use if you are only needed reports for that specific months.
(If you want to keep the older months reports + get more analytical data, then there's a premium version of this drop shipping tools as well).
Countdown Cart by Beeketing
I didn't believe a countdown timer will have such an effect on sales, but boy was I wrong about this.
Countdown Timer (by Dropinngn tools drivers Beekerting) does exactly that, it adds a countdown timer to show how long a sale will last.
I actually have set mine as 'price will increase in…"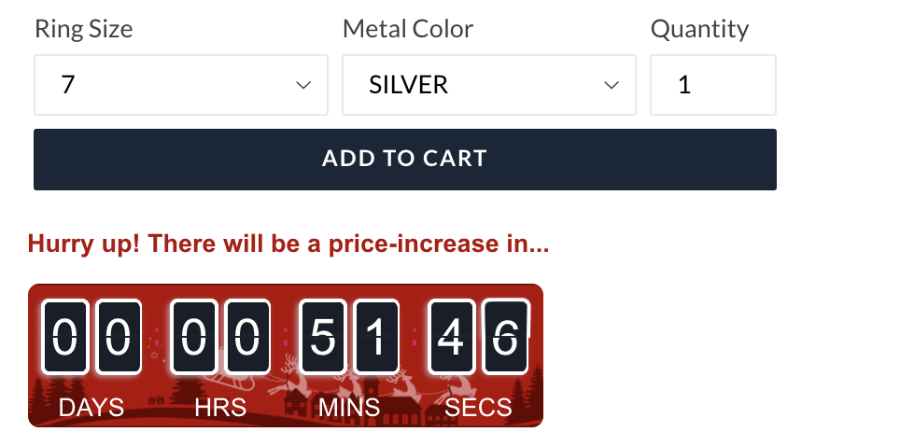 This gives the customer a bit more of an incentive to make the purchase buy there and then instead of waiting and probably never coming back to my store.
It also remembers the customer's information so the timer is set for him/her only and it restarts once it's finished.
A perfect, simple tool that I now have on every product page on my site and will surely use it when I start more drop shipping shoes (which is my goal for 2018).
Oberlo
Oberlo is the main plugin that will allow you to drop ship automatically.
I have covered Oberlo in my review so I won't go into much detail about this here and instead would ask you to see my review about it for more information.

If you are thinking of doing drop shipping with Shopify, Oberlo is a must and should be the first plugin you install when you start your website.
You just can't operate without it.
Again; see my Oberlo review for what exactly it does and why it is a must to have!
Personalized Recommendations (By Beeketing)
"On paper" this tool has generated more money for me than any other drop shipping tool listed in this list.

What this tool does is it show people who are browsing your site recommendations of other products they may like based on what they are looking at.
As you can imagine, the conversion rates shot through the roof when Installed this extension and so did "time on site" which I believed helped greatly my SEO.
The only issue I have with this plugin is that it strips the tagging from the original source of the visitors, thus giving me skewed data.
So, if I have people coming in from Facebook Ads, and they click on one of the recommendations it shows and a person clicks through it and buys, the sale is credited to Beeketing rather than Facebook in my reporting.
This is a bit of a problem, as I then can't properly quantify what traffic is getting me the most sales exactly but I sure as heck can't deny how much (extra) sales this little tool has netted me over the past few months.
Maybe there's another tool that doesn't have this issue but I have yet not discovered it, if you have any suggestions, be sure to leave me a comment down below!
Printify
This is a tool that I use for "print on demand products'.
I have started experimenting with this business model a few weeks ago and have had varied success with it.
Basically, Printify allows you to "print on demand" designs on various different merchandise on your store, once you get a sale, the print gets ordered and shipped directly to the customer.

Great tool for sure but as I said, I've only been experimenting with this for a few weeks, albeit I did get some sales through it.
If you want to look into print on demand drop shipping, then Printify is a good place to start (Printiful is also said to be a good one).
Privy
Remember I told you I need to up my email marketing game?
One of the steps I am taking to do just that is by installing Privy, a sign-up form creator that has given me the best "views to subscriber" rate I have seen in a long time.

No kidding, just the free trial version of this works great and since installing it, I have been enjoying a 6%+ conversion rate on the simple, easy to create pop up.
Works wonderfully well and also has premium features that you can get to get more out of it.
With me using Aweber already, I don't really need the premium feature but as a sign-up creation tool, this has been amazing.
You can see more details about Privy here.
Product Reviews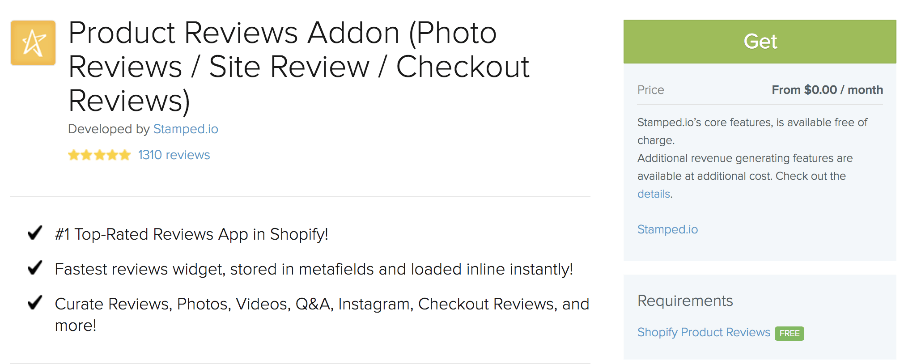 Want more social proof? Add the option to leave a review on the products on your store for people who already bought the product.
Product reviews work great, especially if they are genuine but that would mean that you would then have to ask people for it after they have received your item, which with drop shipping can be a tedious task.
However having that option there won't hurt and you can also create fake reviews with fake names on there to give more of an "active look" to the product.
May not be the most ethical tip, but hey; it works and people tend to read reviews online before they make a purchase as they want to make sure they are getting what they paid for.
If you plan on adding some "fake reviews" which you yourself would write, always have a mix of negative and positive ones for a more balanced tone.
Sales Motivator
Last but not least, is the Sales Motivator tool.
This tool can do a lot of things, but I am only using it for one feature as most of its other fescues are things that the tools mentioned above already do for me.
What this tool does, or to be exact, how I use it, is to incentive people to reach a cart value threshold to get a reward.
What I do is I have an offer where you will get an additional 15% off if you purchase over $50 worth of items.
What does tool does is it shows people how much left they have to reach that goal and once they do reach it, it automatically applied the 15% discount at checkout.
Works great and I have received a lot of extra sales from this tool increasing the overall purchase value of each order on my store.
You can also do upsells and downsides with it with a lot more features as well, I suggest you take a look at it (and install it) by seeing how it works.
Any More Shopify Apps & Drop Shipping Tools?
The above list of Shopify apps are the ones I have installed and am actively using on my own Shopify store, however, there are more tools to look into that you do not need to install on your store.
These are:
Facebook Ads Tool:
This is by far the "industry standard" on how to get traffic to your products.
Learn about Facebook Ads and its many features well and you are bound to have a lot of success with drop shipping.
For a great guide to get you started, take a lookout EComElites.
Facebook Groups:
All the lessons I learned to turn my drop shipping store into a proper profitable business came from joining Facebook groups and asking and engaging with community members.
You would not believe what great resources these places are to learn until you join so go take a look at some drop shipping Facebook groups and get started with it.
AliExpress:
Most of drop shipping stores are built outsourcing products from AliExpress.
I have a guide on drop shipping with AliExpress there so take a look at that for a practical step by step guide to getting started.
Shopify Exchange:
If you want to buy a ready, made turnkey profitable drop shipping store, m then take a look at the Shopify Exchange, here you'll find a wide range of stores (with functioning tools already installed) ready to be bought and optimized for conversions.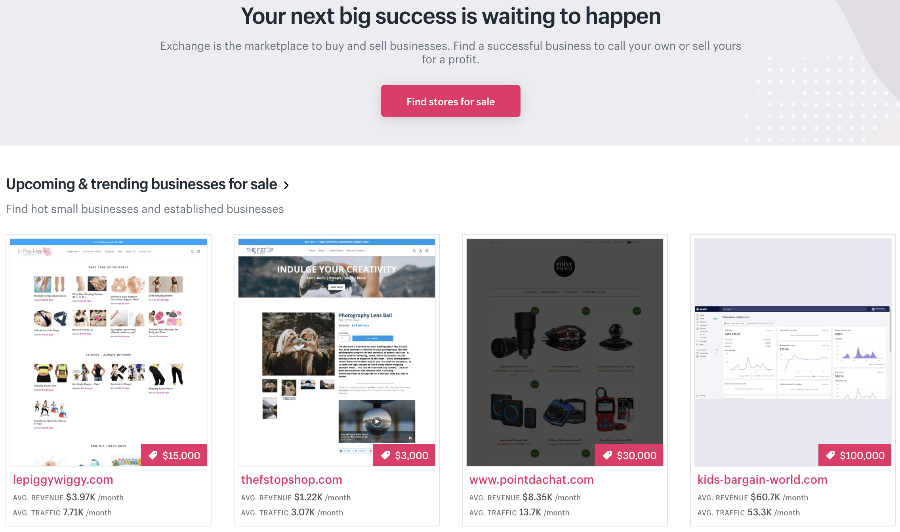 Closing Words
Thank you very much for reading this post about the drop shipping tools I use to get traffic and conversions.
Drop shipping has been one of the biggest earners for me (that and affiliate marketing) and it has taken the least amount of time and effort to get started with.
Hope all is well on your end of the world. Wish you all the best with your drop shipping journey.