Do you like shopping online? I'm sure that is a yes so;
Do you like shopping online and making 10% on every purchase?
Now we're talking!
Today I am doing my Shop Smarter review – a cashback site that pays you 10% back of every purchase you do which of course; sounds great since you'd be making money (back) from purchases you otherwise would've still made.
But how do you do that?
I will explain this all in this following ShopSmarter review.
TLDR: ShopSmarter Review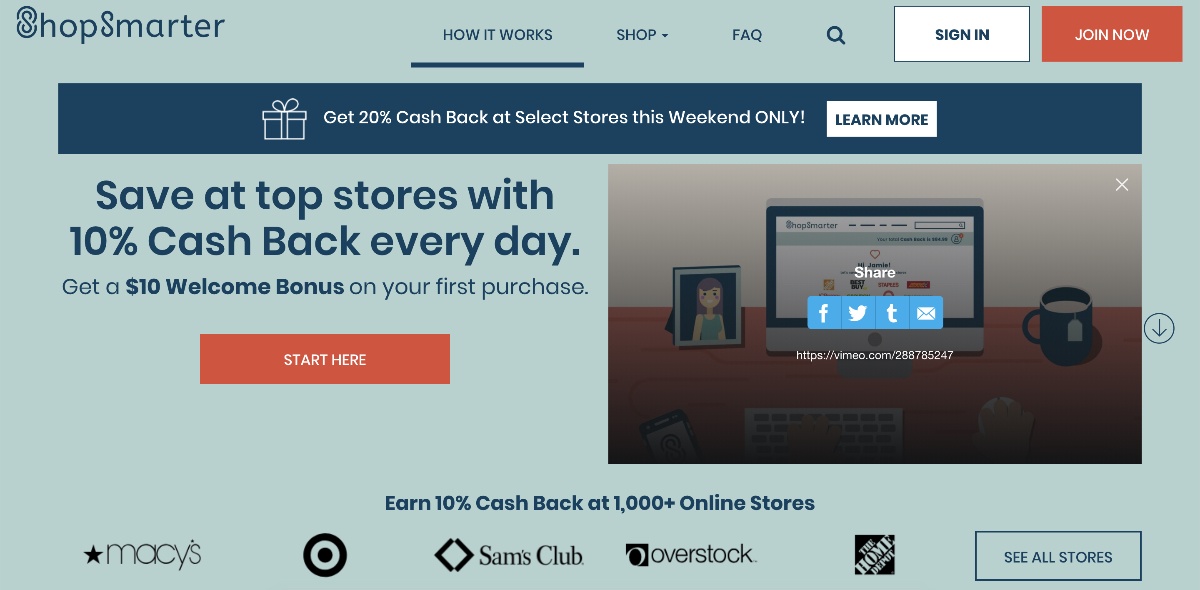 Cashback Site Name: Shop Smarter
Website: www.shopsmarter.com
Membership Price: $1.97 for the first week, $9.97 monthly fee for membership.
Do I Recommend This?👍 (But please read the review)
---
What Is Shop Smarter?
Shop Smarter is a site where you can shop and earn back cash for the things you buy online through their site.
At the time of writing, you can get 10% back on all your purchase.
If you're familiar with cash-back sites, you'd know that 10% is actually a pretty high return, so what is the catch?
Is ShopSmarter a scam?
No; but they do have an unusual feature and that is; a membership fee you need to work around – more on this down below.
First of all, there is a monthly fee for Shop Smarter to get a membership and enjoy all the benefits. Many other cashback sites, even the most popular ones have a free trial.
So, the first "No" for me is the membership fee which I find very unattractive.
Let's do the math. To earn with Shop Smarter you need to spend over $100 through their site just to get back your monthly fee, not even a bonus money to earn.
10% from $100 is $10, so your profit after paying your monthly fee is 0.03$.
Pretty unhandy, right?
If you want to really earn something back with this cash-back site, you need to spend more money there.
On the other hand, Shop Smarter offers the clients great coupons and very good deals.
The 10% cash back of your purchase is good if you are shopping big because to get all the benefits you need to pay the monthly fee first.
As an alternative to ShopSmarter, you can also check out some of my previous reviews of other cash-back sites here:
But now I will dive deeper into Shop Smarter and reveal all the secrets and fine-print details that I've found.
How Does Shop Smarter Work?

This section will explain to you how Shop Smarter really works and how exactly you make your money because no one is giving it for free.
To join you need to get on the 7-day trial which will cost $1.97 and it provides full access like any other member who pays a full monthly fee and yes; you still get 10% off your purchase.
After this one week trial for $1.97, you can be billed differently.
When you join the "Sign up" it shows that the membership costs $9.97, but when you look somewhere else on this site, it shows that the membership costs $12.97 for a month.
As ShopSmarter explained: some members pay $12.97 and some $9.97 because it depends on what membership plan they got.
Not quite sure what is the difference though so you'd be better off starting with the $9.97.
As soon as you sign up for your membership, you will have access to all their online stores which can earn you back the 10%.
& there's a lot of them; 1100+ stores to be exact and they are adding more and more all the time!

The key here is that you need to click the links inside the website and then go to the online shop.
That's how ShopSmarter will track your purchases back to them, so it's very important to do so. Otherwise, you won't get any credit for your purchases.
After you have made your purchase, the 10% cash back will automatically show up in your Shop Smarter account within seven business days (or less).
If everything is approved, you will get paid on the 15th of the following month by a check, so this will be mailed to you.
How can they offer a 10% cashback though?
Not that I am complaining – but that really is high.
My theory is that they can afford this these in two ways:
#1: They make money from their listed stores with affiliate marketing.
You can earn commissions for driving sales for other stores.
For example, if you go through Shop Smarter to buy from BathBath&Beyond, BBB will pay Shop Smarter a small percentage of what was purchased through their site.
The percentage may vary between different retailers but most are not anywhere near 10% (unless they have some kind of special deal in place).
#2: The Membership Fee
I am sure the membership fee is where the majority of their profits come from – that might sound a bit weird since many would likely be making that back – but believe me; not many do.
This is a phenomenon of internet marketing that I just can't explain but many times; people will pay for something that they do not use.
Think of how many people pay to go to the gym, but never do – this is the online version of that.
Another way ShopSmarter can actually turn a profit is by placing limits on how much one can earn back;
The ShopSmarter Limits
You can only earn up to $1,000 per year with this Shop Smarter site.
After that, they will cap you.
Meaning, when you hit the cap, you can't earn more and your in a nutshell; your membership becomes useless.
You will either have to cancel it or keep paying for Shop Smarter coupons and offers.
Let's be real, it's not worth staying on the site if you're not making anything back so if you are one of the few ones that actually reach this limit, it's best if you cancel your membership.
Shop Smarter's Customer Support WIN!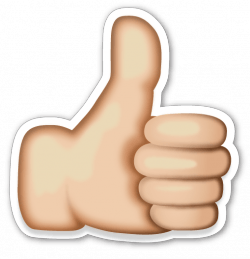 The Customer Support Is Present
As I read in another ShopSmart review, their customer service and their 1-800 number is active, helpful and real!
I think we all can agree, that a good customer service makes the brand feel more welcoming and outgoing. It's a sign of quality and a trustworthy service.
This is quite unique as not many online services have a functioning support line you can call at any time.
2 Cons About Using ShopSmarter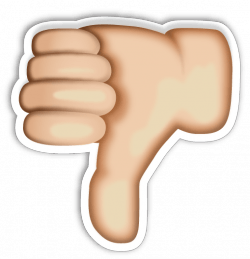 The Monthly Fee
There is one main "con" I don't like about ShopSmart is their monthly fee.
You're going to have to purchase things online every month – even if you do not need them, just to break even on the fees.
Of course, there are benefits to this as well (such as a functioning support line) and this most probably would not be a problem for those who spend a lot of money online – and who doesn't?
Another review pointed out that a lot of people complain that this site shows too many ads and not 100% trustful offers either.
Always read the fine print because headlines are not always correct.
Only Paid By Cheque?
It's incredible to me that ShopSmarter only offers rebates in the form of a mailed cheque – which is very weird in this day and age.
Many send you money back via PayPal or even gift cards for your chosen stores so this is pretty weird and it's a big turn off – at least for me.
Is ShopSmarter A Scam?
Personally, I don't see Shop Smarter as a scam.
It's a good site with many different offers and deals that are benefiting for both parties involved.
If you're a regular shopper online and if you don't mind paying the monthly fee then, it's a great option for you!
If you're smart about this; you can save quite a lot of money with ShopSmarter.
Is Shop Smarter A Good Way To Make Money Online?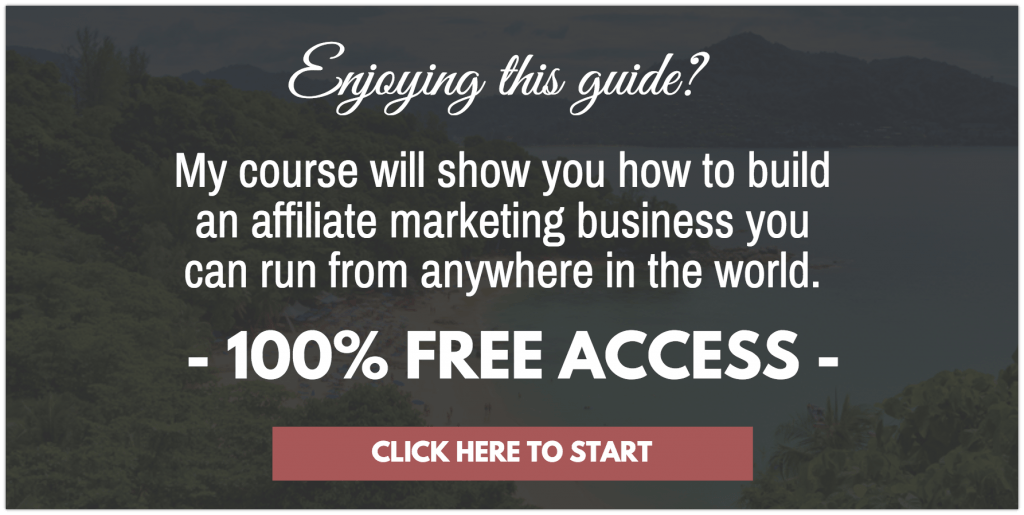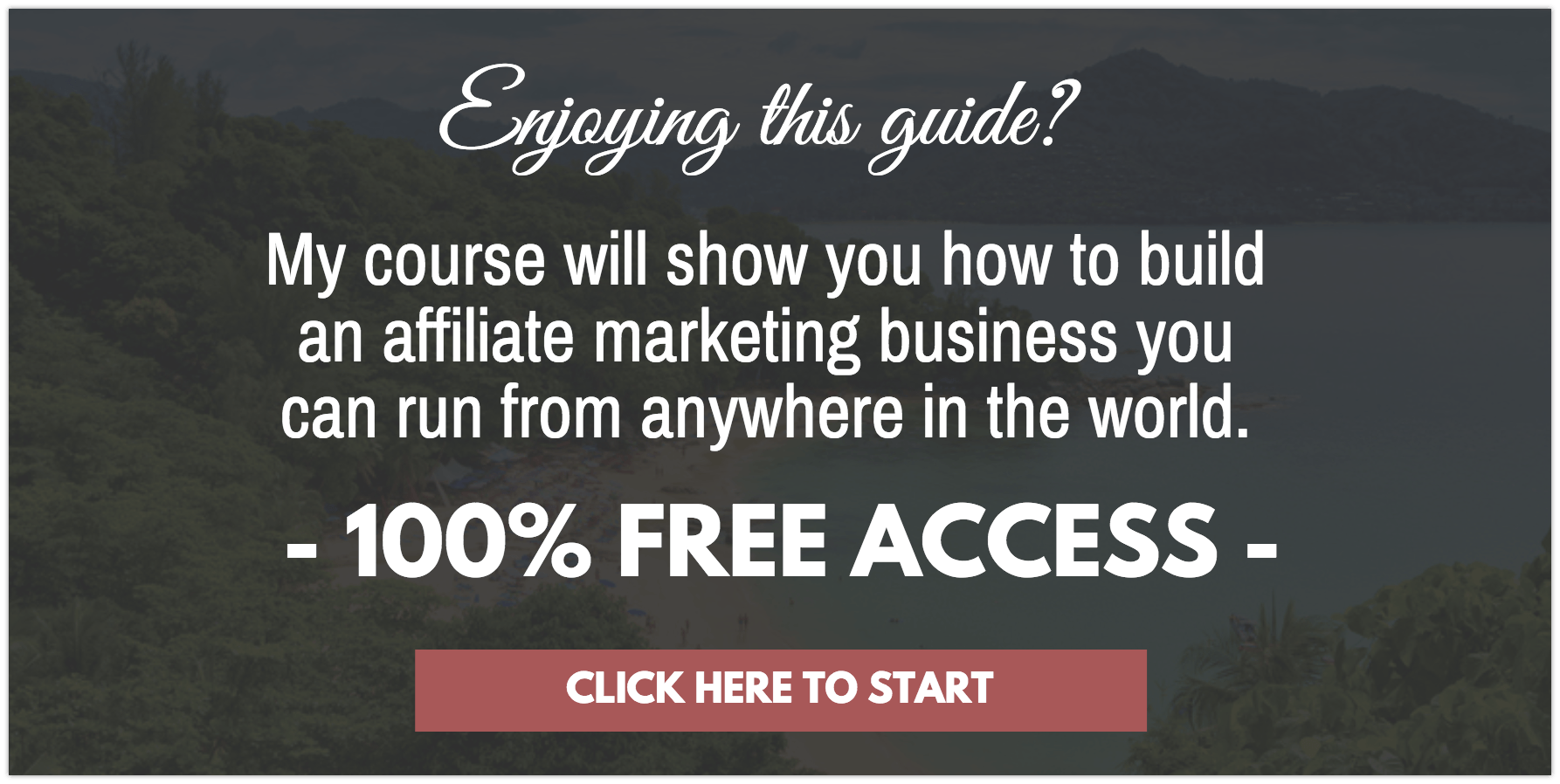 This site is dedicated to showing you how to earn money online and even though the old saying states that a penny saved is a penny earned, there are better ways out there to earn a penny.
If you are looking for ways to make money online, then look into doing online surveys – there's this one which pays you $50 for each video survey you do.
Althernaiorvely, you can do as I did and build yourself a thriving online business with the use of affiliate marketing.
This is my recommended way of making money online and I have been making money this way for years – full-time since January of 2018 actually.
If you'd like to know more about affiliate marketing, then take a look at this 2019 guide I have for you here and also see the getting started page as there's a lot of information on there as well.
Cashback sites such as ShopSmarter are great to make some money back from what you've spent already, but if you want to create a fulfilling business that pays you a heck of a lot more;
I suggest you seriously look into building an online business – it's not as hard as you think it is.
Thank you for reading my ShopSmarter review, I hope you've found this helpful – let me know if you have any questions.
Christian Lee.
ShopSmarter Final Rating
Price

Features

Training

Value For Money