Welcome to yet another "survey site" review.
Today I am bringing you my very own Survey Voices review, a website which claims is a survey website, but in reality; not so much.
In this review, we're going to find out what Survey Voices is all about, how it works, how to get started with it and;
Down below; I'll also include a better way – in my opinion – to make money online.
If you're here to find out whether joining Survey Voices will eventually lead you to some extra cash in the bank, you've come to the right place.
Let's see what Survey Voices is all about.
What is Survey Voices?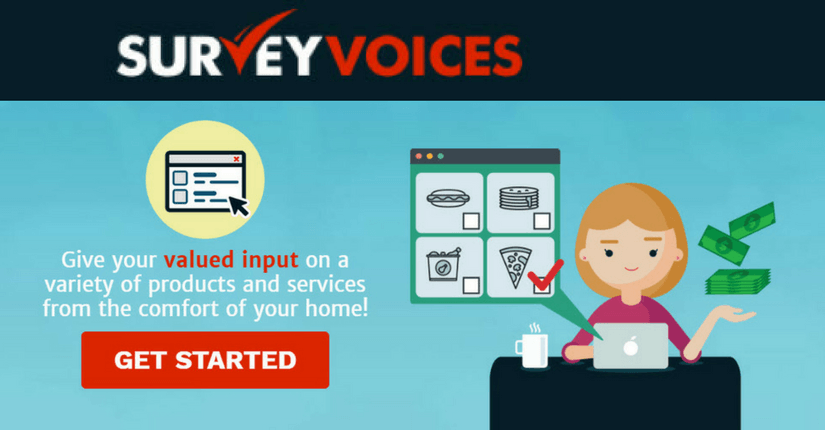 At the face of it Survey Voices looks like a solid survey site to make money doing what they say 'giving your valued inputs'.
However I have reviewed too many of these sites and this is not like your normal survey site that you may have initially believed.
If you scroll down on the home page you will see that they mention they are the top paid survey aggregator, but what is a survey aggregator I hear you ask.
A survey aggregator is basically a company that promotes survey panels to people just like me and you.
The added thing that some people may not realise which is why these sites pop up is for every time someone signs up to one of the sites they recommend they get a commision.
How Does Survey Voices Work?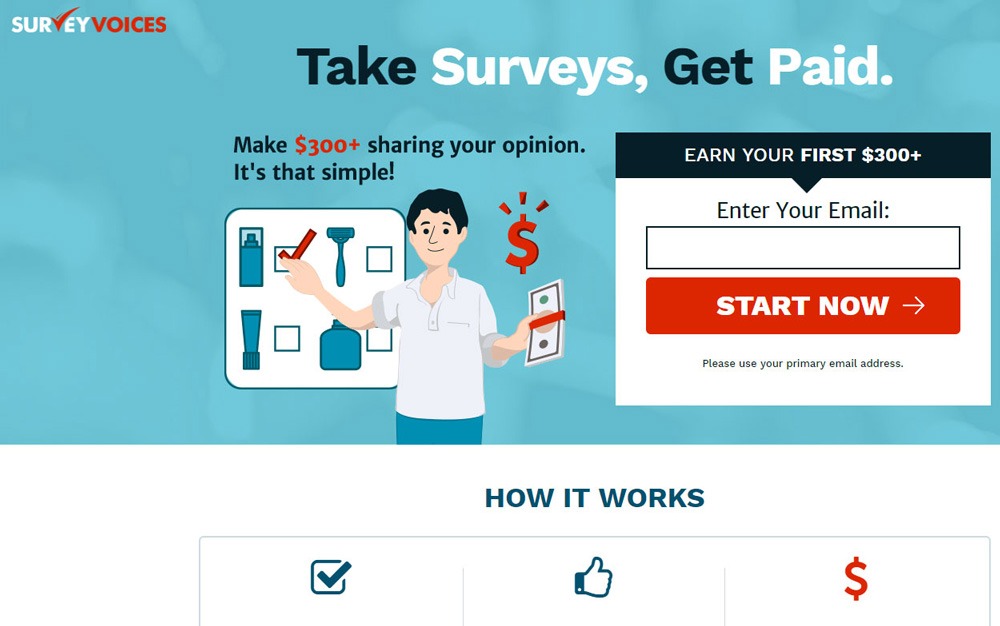 When you first click on the website the first thing Survey Voices tell you to do is get started by pressing the red button.
After that, you will be shown a box where they claim you can make your first $300+ by entering your email address.
Once you have entered your email address you will then be taken through a series of steps to get relevant survey opportunities for you.
These consist of asking for many details such as phone number, address, age, email address, name and more.
This is something I don't like about Survey Voices as they claim that they will match you with relevant opportunities but in fact if you went through this process with 10 different sets of details you will be shown the same survey sites.
Pros & Cons Of The Survey Voices?
PRO 01: Promotes Legit Survey Sites
There aren't too many things to pick out with Survey Voices but one good aspect is the fact that they do promote legit opportunities.
So at least in that respect that you are safe to go ahead and sign up to the survey panels.
The slight issue is that while the panels are legit they are also survey sites I have tried and found to be very average.
CON 01: Not An Actual Survey Site
It's very easy when you come on a site like this to get the impression straight away that Survey Voices is a survey site. However, I would like to clarify that isn't the case.
It can be quite misleading as they talk about surveys and how by entering your detail
CON 02: False Expectations
One thing I hate when it comes to the online world is false expectations and to a certain extent, this is something that Survey Voices do.
Being a survey aggregator they always going to over promote survey sites in order to get you to sign up, but the thing is while they say in bold that you can make $300+ a month, most survey takers earn much less than this.
It is possible to achieve that amount however from my experience you either need some luck to get into high paying surveys or be in a location where there are plenty of opportunities for you to make money.
Is simple to explain why it is not so easy for everyone to take surveys and make that amount.
Let's say every survey pays out $1, which is the standard rate and also takes you roughly 15 minutes to complete which is also the average time.
This means you will need to take 300 surveys a month and spend 75 hours completing them.
You may be thinking that that is achievable however when you add in more factors such as disqualification rates (basically being kicked out mid-survey for not being the right audience) and also that surveys can go up to 60 minutes each then you can already see how making $300+ is I would say a false expectation.
That's not to mention that the average rate is $1 for most surveys that you complete online, in fact, a lot of surveys range all the way down to $0.10.
Can You Make Money With Survey Voices?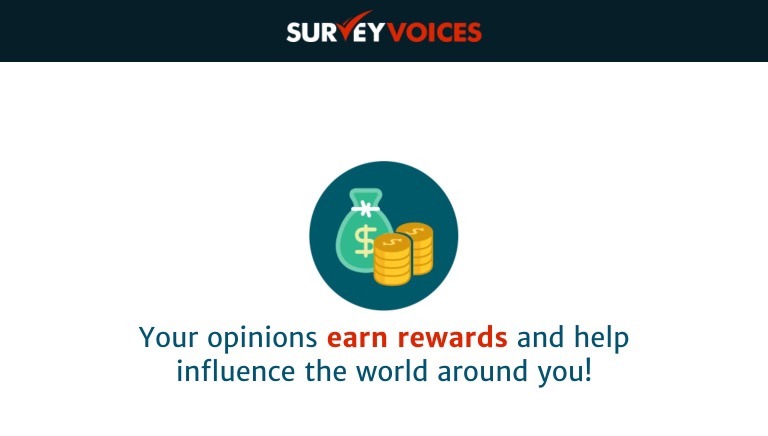 Is Survey Voices A Scam?
As I have mentioned Survey Voices isn't a survey site so with that said you won't be getting paid to complete surveys with them.
Instead, you can make money but that is by signing up to their partners which admittedly are legit and as I have tried some of those sites I know it's possible to make money online
Survey Voices get you to sign up before they show you what's on offer but to be honest, you don't need to go through this process, as this includes giving all your details including your email address, for a list of 4 survey sites.
So to save you the time if you type into search engine terms like survey sites that pay in 2019 for e.g you will find plenty of paying survey sites without the added hassle.
Before I talk about my preferred way to make money online I just want to reiterate that survey sites are great however won't make you large sums of cash.
In some cases, you can make part-time incomes however it's not the best source of income to depend on as you are relying on certain factors to be in your favour in order to make money.
If you are on the hunt for a consistent way to make money and with endless potential then make sure to read until the end as my recommendation could be something interests you.
A Better Way To Make Money Online

Now that you know all you need to know about Survey Voices, let's take a look at a few ways that I know – with 100% certainty – that can make you money online.
I only ever share what has worked for me on this website, so with that said;
The best way I have found to make money online is by setting up my own affiliate marketing business.
Now since that's a vast topic to discuss, I won't get into it here but I do have a dedicated affiliate marketing guide here for you and I also have a free 10-day getting started course which you can sign up for right now.
Survey Voices Review: Final Words
https://www.youtube.com/watch?v=qaQsl2ABkv8
Thank you very much for checking out my Survey Voices review.
If you have any questions about what was discussed in this review or any other question regarding how to make money online;
Be sure to drop it down in the comment section below as I'd love to help you get started making money online.
I'll leave you to it
Talk soon.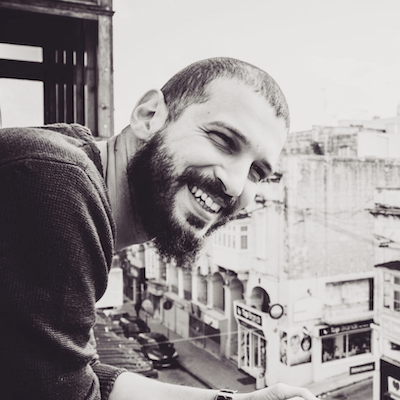 Since 2011, I've been learning how to make money online with affiliate marketing. This website is where I share everything I know and all I will learn along until I reach my next income goal of $30,000 p/month.