How would you like to earn $9 an hour working from home on a full-time (or part-time) basis?
If you're looking for a reliable work-from-home-opportunity, you're in the right place as today I am bringing you my Alpine Access (Sykes Home) review which gives you the opportunity to get a job as a customer support agent from the comfort of your own home.
In this review, I will first explain the difference between Alpine Access & Sykes Home (so we get this confusing detail out of the way) and then I'll also reveal:
What this work-at-home opportunity is about
How to get started (if you so desire)
A few things you need to know before you join and also;
Whether this is a worthwhile opportunity to pursue.
Seeing how you're interested in work-from-home opportunities, I will also share with you a few methods (and other companies) which I have reviewed in the past.
As a bonus for making it all the way to the end, I'll also share with you my own method of how I make $100,000+ a year from home.
Sounds good?
Let's get started…
Alpine Access or Sykes Home? (Which One Is It)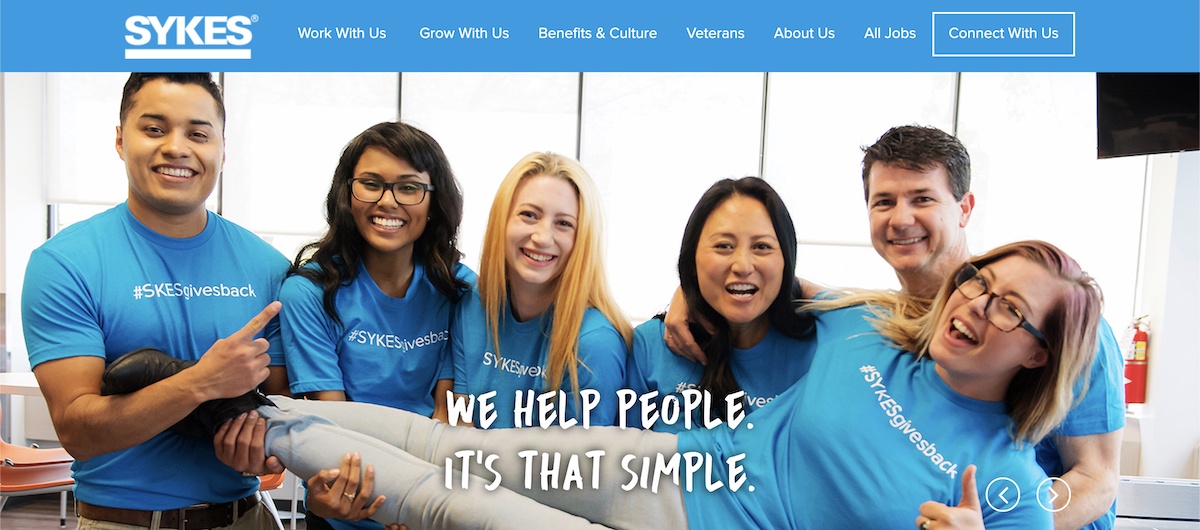 Alpine Access is what this work-at-home opportunity was called in the past, today they have rebranded to Sykes Home.
The reason I'm using the "Alpine Access" keyword is that people still refer to it by its previous name so to help make this post more accessible; it was best to structure the title that way.
However, for the remainder of this review, I will go with their new "brand name" – Sykes Home – as that is what you will be signing up with if you decide to take on this opportunity.
Just to save you some time: You'd need to have a Windows PC to be able to work with Sykes Homes. Unfortunately, if you do not own one, you either need to get one or look for some other work-at-home opportunity.
What Is Sykes Home?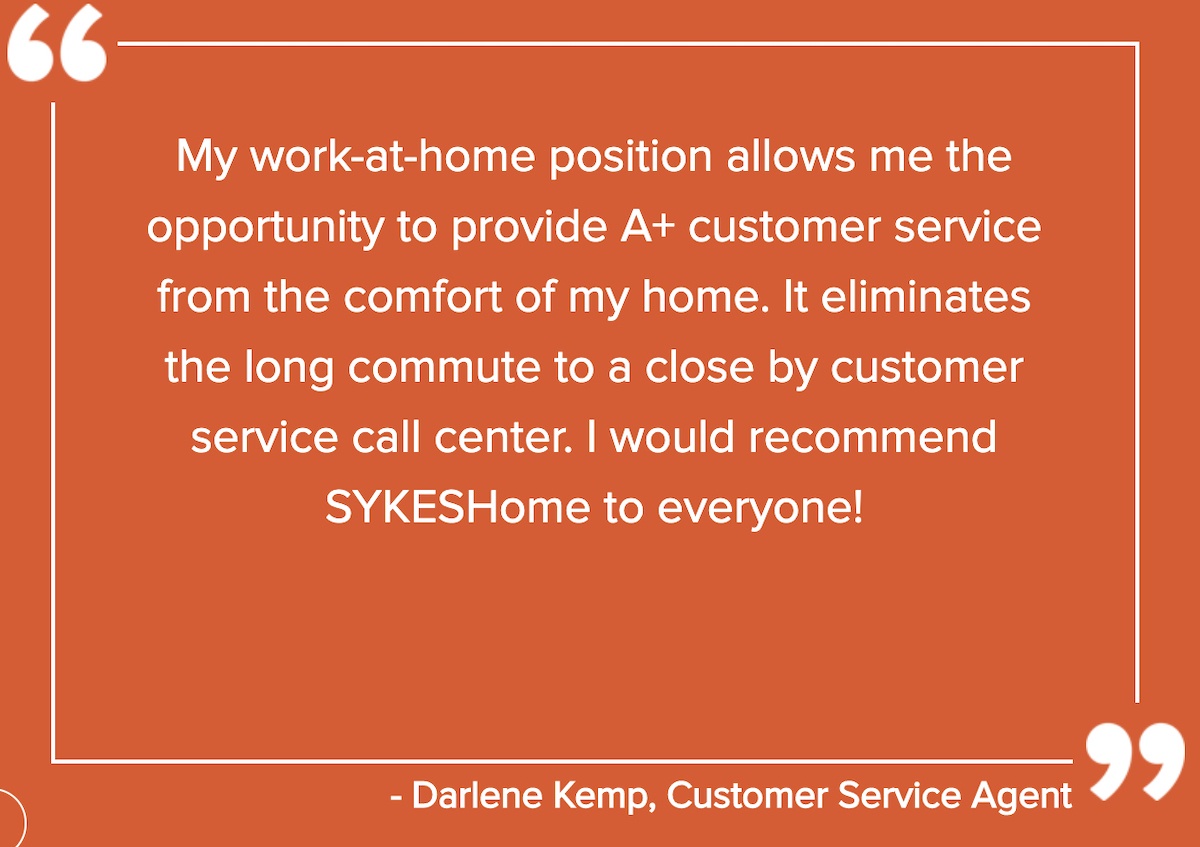 Sykes Home is an online platform that offers you the chance to become a customer-support agent from home.
As you will see below, at the time of writing this review, there are over 500+ jobs currently available (and they keep adding more).
If working from home is something that you're considering (or if you like customer support jobs) then I am sure having a look through the Sykes Homes website will bring up many great opportunities for you to make some money.

What Will Your Job Be?
Your job is a customer support agent.
This means that you will be tasked to handle calls that come in from various different companies that you would then need to solve.
Of course; an in-depth training course will be provided from SYKES giving you all you need to know and do to help them provide great customer service to customers.
If you'd like to know more, I highly suggest you check out this Sykes Home video-review from one of their workers which will give you a better idea of what is expected from you:
Do You Need To Have Special Qualifications?
No, you do not need any specific qualifications but of course; since you'd be working as a customer support agent, skills or experience within the following will surely come in handy:
Problem-Solving skills
(A lot) of Patience
Clear English
Time management skills
Being a "people's person".
Of course, these are not a must, but they would probably help you land a job at Sykes Homes and also make the whole experience that much more enjoyable for you.
Apart from that, you also need to have a Windows PC (as was previously mentioned). This is because you will be working through a software that's only compatible with a Windows operating system.
As SingleMomsIncome.com points out, you'll also need:
High-speed internet,
A headset (with mic),
A distraction-free workspace, and (ideally):
A customer service background.
How Long Do You Have To Work?
There are both full-time and part-time opportunities available for you at Sykes Home.
At the time of writing this review, there are hundreds of positions that need to be filled so whatever it is you'd like to commit to, I am sure Sykes Home can accommodate for that.
You can see a full list of the currently available jobs here.
How Much Money Can You Make With Alpine Access?
The pay varies depending on which job you apply to and on the qualifications that are required.
On average though; you can expect to earn somewhere between $9 and $15 (most probably closer to $9).
It's not a great wage, but it is something and if you can do 8 hours a day, you are looking at $72 a day in income, which is decent.
Apart from that, you will also get paid training, health benefits, incentives to earn more money, career advancement and more.
How will you be paid?
You will get paid every two weeks and the payment method at the time of writing is through direct-deposit into your bank account.
Benefits of Working With Sykes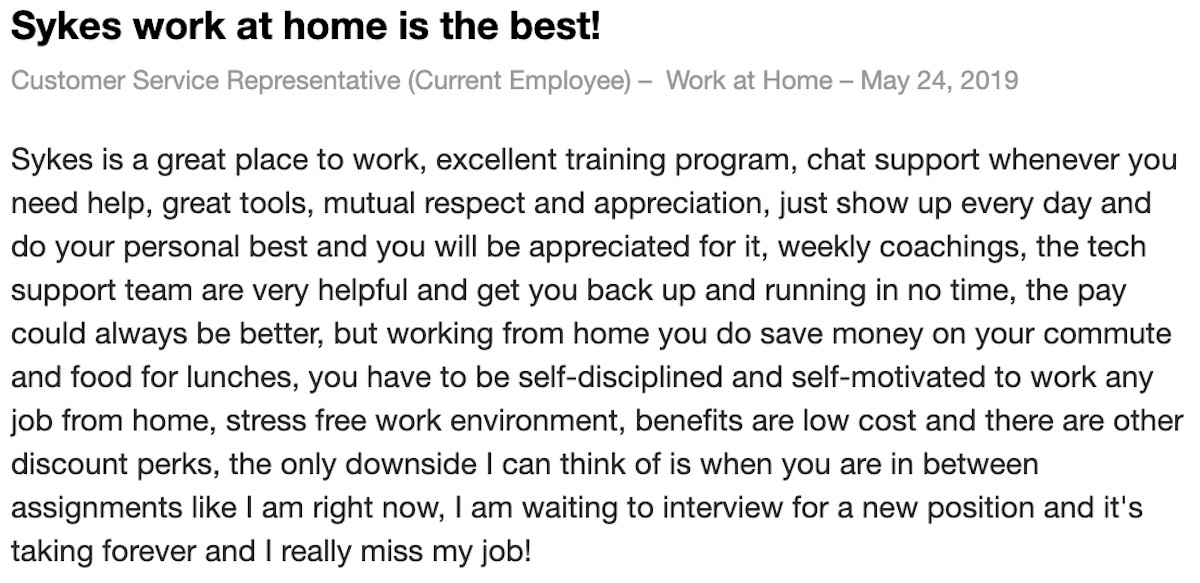 No Commute:
If you're looking for ways to make money from home, then you are probably sick of having to waste your life commuting to and from work.
I don't blame you; it's what also drove me to seek alternative ways to make an income for myself.
Own Your Day:
From experience, I can tell you there's no better benefit out there than having full control over your time. Sure you still "have to work" but Sykes allows for flexible employment so whatever works for you.
A Reputable Company:
Is Sykes Home a scam? Absolutely not!
While I would advise you to stay away from 90% of all these "home business" opportunities that you come across, Sykes Home is a reputable company with decades of experience behind them.
I give this company a big thumbs up from my end.
How To Get A Job With Sykes Home?
If you'd like to start working with Sykes Home, all you need to do is to first visit their website and see what opportunities are available.
If there's something that you think is the perfect fit for you, then all you need to do is to fill out the application form by clicking the red "Apply" button included with each listing.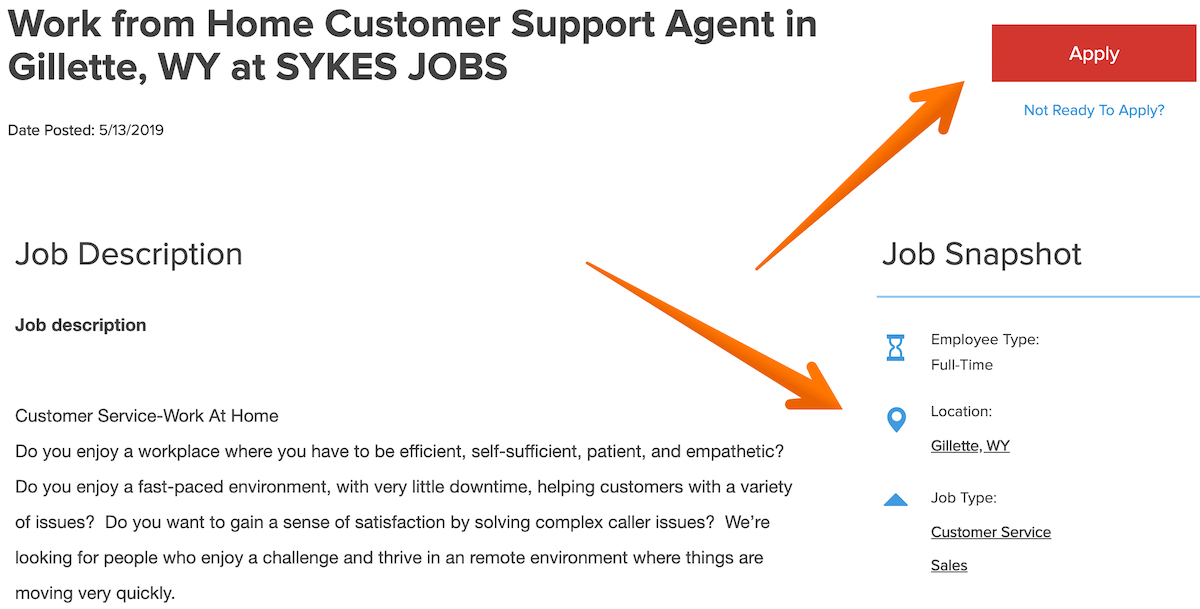 With every job listings you find, you will also see (on the right-hand side of the screen) the job descriptions which will tell you what the job is about, what is required of you, hours you need to commit, special qualifications needed (if any).
How long is the approval process?
The time it takes from when you first find an opportunity for you till the time you actually start working depends on the job, so I can't give you a straight answer just yet.
Depending on how many people applied, your qualifications, the background checks to verify your skills, etc will all take effect on how long it takes to get started.
All that I can say is be patient and just wait it out; whether you've been accepted or not, you will receive an email from Sykes Home to tell you their final decision.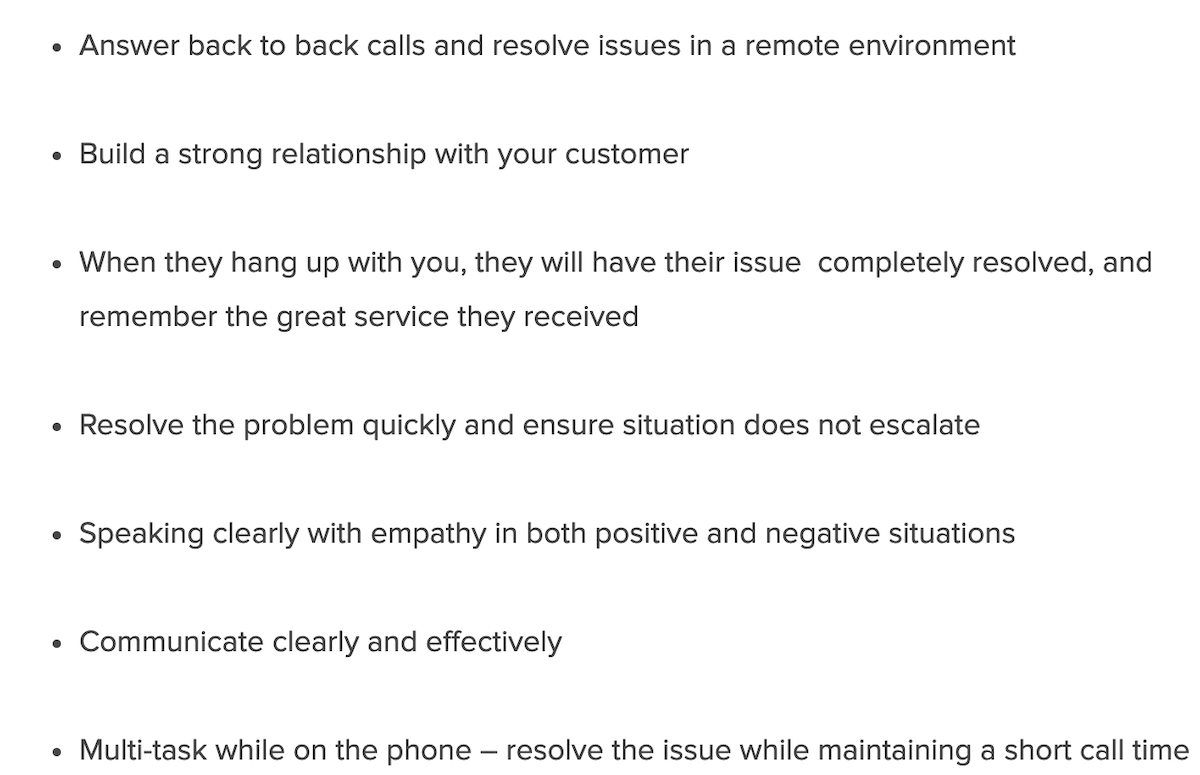 Are There Better Ways To Make Money From Home?
Yes, there are – and I am going to share with you some other work-at-home opportunities which I am sure you will most probably be interested.
Right after, I'll also show you how I managed to rid myself of the 9-5 shackles to be able to make a full-time income from home running my very own online business.
If you're interested in "starting a business" rather than work for somebody else, then you can skip this part and go right ahead to my own "make money" method;
Survey Sites:
Everyone and their pet goldfish seem to be talking about doing online survey lately as a way to make money online.
If you join the right kind of survey site, then yes you can make money but for the most part (at least going from the ones I myself have tried) these are all a big waste of time because even though they claim you make a decent income, most payout pennies per hour.
However – if you are not afraid of getting on camera – Mindswarms does offer you $50 per video survey you submit.
If you want to work from home, this may be one opportunity that you can look into.
Get-Paid-to-Sites:
Get-Paid-To sites are also gaining a lot of traction amongst the "make money from home" community.
Basically, these sites give you a chance to get paid to do certain tasks such as proofreading, transcribing, filling out forms, etc…
I'm not really a fan of these type of websites as there's no guaranteed income, but;
If you can commit to multiple sites and spend time working on each one, then I am sure you'd be able to make a decent ($500-ish per month) income.
Social Media Management:
Just like how companies are outsourcing their customer support through Sykes Home, many are also hiring dedicated social media managers to help them grow on social media.
If you have a knack for social media (especially if you understand paid ads on a social network such as Facebook) then this might be a great opportunity for you as there's a lot of money to be made (dare I say more than Sykes Home).
Bonus: Strange Ways To Make Money Online
Want some very-strange ways that you can earn money from home?
I've compiled a list of very strange and unusual ways to make money online a few days ago, if you're interested in stepping into the dark side, give this post a quick read – you won't regret it, I promise.
How I Make Money Money From Home (Free Training)

Ok, now that we've gone through how Syke Homes work and all the other "make money' alternatives listed above, let me finally tell you how I make a full-time income online.
There are many ways I earn a living using the internet, but the biggest slice of the pie comes from the business model known as affiliate marketing.
I give you an in-depth explanation of what that entails in my beginner's guide for affiliate marketers, but in a nutshell:
I sell other people's products and get paid a commission to do so.
In my opinion, this is the best way to make money online as I do not want to have a "job", I'd much rather create my own business, make my own money, dictate my own hours and be able to do as I please all day, every day.
However, my method does come with a bit of a downside;
See when you have your own business (whether that is affiliate marketing or not) there's no stable income – especially if you are just starting out.
So; with that said – if you are looking for a quick way to make a reliable and consistent income online, then by all means; either join Sykes Homes (or look into the alternatives mentioned above).
However; if you are up for the challenge and you are willing to invest 6-12 months of "work" on your business and then be your own boss quite literally for the rest of your life, then you may want to look into affiliate marketing as a way to get started.
I have a 10-day getting started the course which you can join and use for free so if you like the idea of being your own boss, go ahead and see if affiliate marketing is for you.
Sykes Home Review: Final Words
Thank you very much for reading my Sykes Home (Alpine Access) review.
I really hope this post has cleared up a lot of confusion for you and also put you on the right path forward to making money from the comfort of your home.
If there is anything I can help you with, be sure to let me know.
My goal is to help you get out of the rat race and into a life of freedom and financial security on your own terms so if something doesn't sound quite sure, let me know in the comment section below.
Talk soon.