Just getting started with your new blog?
I know it can seem confusing (even though everyone said it'll be easy) but I promise you;
Once you get the hang of it, you will love blogging and hopefully; you will also start making money with it (more on this later).
One of the first things you should do when creating a blog is to set up your homepage, this is by default the page people land on when they type in your domain.
However, there is a right way and a better way to creating your blog's homepage and today, I want to share with you my method and give you a list of 7 things you need to have on your blog page (and why).
I'm a big believer in the why as there's way too many regurgitated content out there that just tells you to do X, without ever telling you why so with that said, let me walk you through how to create the best "blog homepage" possible (for best results)
First things first;
Should Your Homepage Be Static (Or Just A List Of Your Latest Posts)?

NB:
Want to see how I make money with affiliate marketing? My new book reveals my entire process, including my 4-step approach to building affiliate websites.
CLICK HERE to download my book for free
.
One common question may get confused about is whether your homepage should be a static page, or simply a blog roll page where your newest articles appear.
Going with the non-static approach is enough to get you started, but eventually you'd want to switch over to something more static (with the option of having your latest blog posts appearing as well – more on this later).
The reason for this is that your home page is the "front' of your business and it should be a representation of what your blog is all about, while also showcasing your best work.
How To Create A Static Homepage On WordPress?
As you can probably tell, my approach to building a home page is I like the static approach (you can see how I built my homepage here).
By default, a static homepage is usually not what you get so you actually have to create a new page and then set it up to appear as the "homepage".
You can do this by first creating a new page (using the pages tab inside your WordPress dashboard) and then setting it up in your theme settings or in the Settings dashboard inside WordPress under "General".

Again, this may not be something you'd want to do from the get-go, but setting up a semi-static homepage for your blog is – in my opinion – the best way to do it.
Next up, I'm going to share with you the…
7 Things I Suggest You Have On Your Static Homepage
A Menu Bar (Obvious, But Still Important)
This is obvious, and it should come by default by it's good to mention it here (and mention it first) because it's super important to have.
When it comes to SEO for your blog, your homepage is the most important page you have.
Google sees it as "the page" that holds the most important thus; having links on your homepage is the best thing you can do to pass on some of that "juice" towards your other pages and blog posts.
How to create a menu (on the homepage) in WordPress?
Any theme you get will probably set up your menu by default (it's very rare to come across a theme that doesn't insert a menu by default).
However, if it's not there, or you want to make changes to it, all you have to do is go to your WordPress dashboard >> Appearance >> Menus.
This will allow you to create your menu with whatever it is you like. For tips on what to include in your menu bar, you can check out out this guide here.
What Your Blog Is All About
One other thing you want to include is what your blog is about, what message you're trying to get across and (maybe) a little bit about yourself.
If you take a look at my homepage, it's pretty clear straight away that my website is all about how to make money with affiliate marketing.
You don't have to over-complicate this, you don't have to come up with something fancy. Simple is always better.
The reason you want to do this is that you need to make it a point to tell the reader what your site/blog is all about. This will make sure only your target readers will read it (and how they will benefit from reading it).
Links To Your
Best

Posts

First impressions are important, which is why it's highly advisable to links to your best work on the homepage for people to click on and read.

This does not mean links to your most-well written blog posts (although you can include those too), this means the best blog posts a reader should read first in order to understand what you're offering and your message.

Again, for an example of this, you can see how I structured my homepage: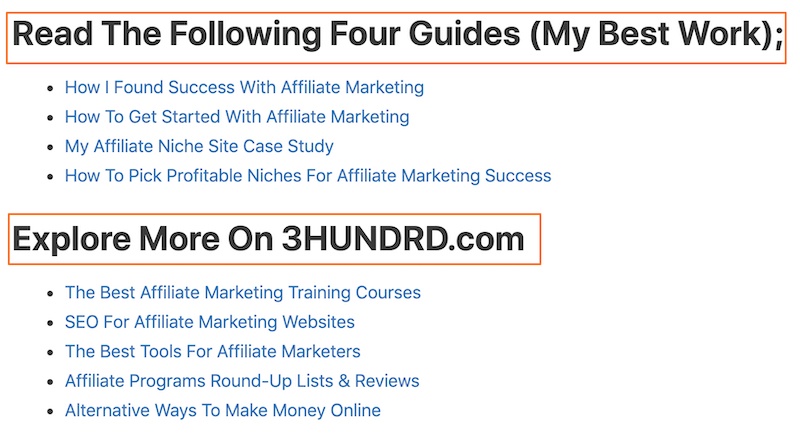 NB: Remember, the homepage has the most "power" in Google's eyes so links to your "best posts" will also help those posts rank better in Google.
Links To All Your Categories
Another good thing to include is your categories.
You may also put these in your menu bar, however; there's no harm in adding them again as "recommended categories" on your homepage.
You don't have to include all your categories but you should include some of the most popular categories you want readers to see.
You can set up your categories by going to Posts >> Categories in your WordPress dashboard.
An Email Sign Up Form
Just like it was in the 90s, building your email list is still one of the best ways to guarantee your blog has readership for the long haul.
The way you build an email list is by getting people to subscribe by giving you their email list and the homepage is one of the best places to put in a form.
Either embed a form directly or create a button with a clear call to action that will lead users to another page where your form is present.
An example of this would be my "start here" page.
One

Product You Are Selling

If your goal is to make money from your blog, then you may also want to mention/link to the product(s) you are selling.

If you are selling your own product (maybe a course or something similar) you really should mention it as soon as possible on your homepage but if you're selling a product as an affiliate;

You can also add a link either to your review – or;

Directly to the product linked with your affiliate link (although I don't recommend you have plenty of affiliate links on the homepage as that may hinder your SEO potential).

NB: Unless you're also running an ecommerce store, only have one product at a time on the page. This will help you drive conversions by eliminating confusion in your readers.
Your Recent Posts (Optional)
Last but not least (and I left this for last because it's a good idea to have it at the bottom), is a list of your recent blog posts.
You can set it up to show the latest 2/4/8 posts and this section will be updated whenever you publish a new blog post.
The reason for this is that whoever is reading your