I have just come across a product online that I am sure many of you would be interested in knowing about. The product in question is the "Freedom Business Bootcamp" by online entrepreneur: Timothy Marc.
I've come across this product by stumbling on a YouTube video from Timothy and me being interested in the "make money online" space,  I obviously liked what I saw and decided to check out his product.
In this review, I will be exploring what "Freedom Business" is all about and how (or if) it can help you start an online business.
I will give you an inside look, what you will get, how much it will cost and also if it is something that I think you should consider joining.
---
UPDATE: Freedom Business has been discontinued as Timothy Marc has opened another training course separate from "Freedom BusineSs". If you are looking for a course that will show you how to build an online business, my recommendations would be to try Wealthy Affiliate".
---
My "Freedom Business" Review (Not What I Expected)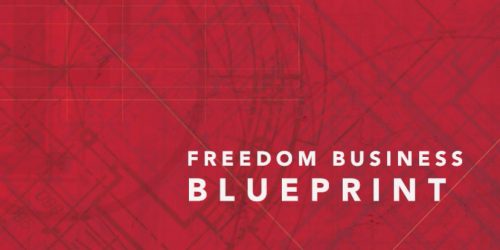 When I say "not what I expected", you might think I am bashing the product but in reality, it's not what I expected because it is not some poorly put together product designed to make a quick buck.
Actually, there is no product at all. Yes, you read that right.
Let me explain…
The 3 Day Freedom Business Bootcamp
I've signed for a 3-day boot camp with Timothy Marc and every day he sent me a 20-30 minute long video explaining what a "freedom business" is, how it is run and how I can use it to create a life of "freedom, fun and adventure".
At the end of the 3-day boot camp (which I will go into detail about further down), I was expecting to be offered a product that I can buy but there was none, which is why this "product" is not what I expected.
Obviously, there is a product tied to it all, but it opens up once a year for selected members.
Timothy says it will open up in summer and here I am writing this in December 2015; so I have some waiting to do till I'll be able to join.
However, with the tutorials, training and value Timothy provided entirely for free (with no upsells and BS claims), I can already see that this product stands above the rest and I would likely be joining once the membership opens.
Having said that, I would still like to go ahead and publish my Freedom Business review, however, it won't be the product itself, but rather I will be explaining to you what the free 3-day boot camp is all about.
If I do join in summer, you can expect another review to go along with this one, which will be also published in the post.
A Closer Look At The 3 Day Bootcamp
You get a series of 3 emails in 3 days. All emails will send you to a link where you will find a 20 to 30 min video by Timothy Marc explaining various topics about the Freedom Business model blueprint.
Let's take a look at each day and see what you will get:
Day 1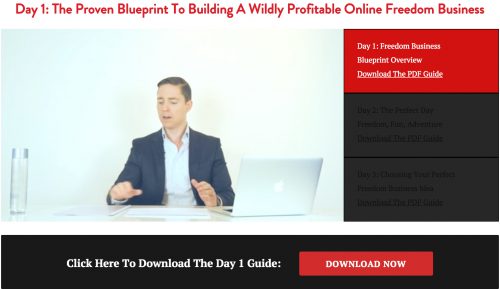 In this vide Timothy talks about what a freedom business is; how they create a successful business online for their students and also how you too can archive your goal of having an online business.
You will also be able to download a free .pdf report to show you exactly what they are all about, what you will be doing and what this company is all about.
Timothy also gives you a walk around their studio/office in Australia and sits you down "one-on-one" and explain to you everything about life as an online business owner.
So far so good.
Day 2
I love day 2 because it shows you the "end result" of what you can achieve with a freedom business.
He will show you what other FB owners are doing with their time and their "new found wealth". It all sounds good and it seems to be legit.
You will also be given an exercise to imagine (and write down) your perfect day how it would be if you had a great online business that frees up your time.
I like this kind of "reverse engineering / positive visualisation" process. It may be too "wishy-wishy" for you but I do like these type of things.
You also get a free .pdf worksheet to help you with your exercise.
Day 3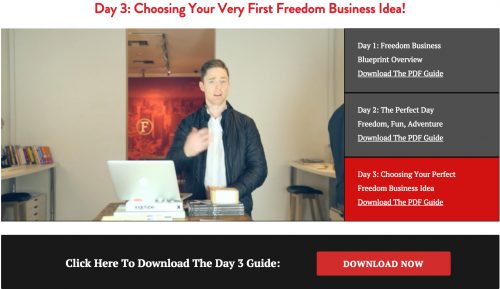 The last day of the Bootcamp will show you and teach you how to select the right business model for you. He will explain all the different ways you can choose to start and run your own freedom business.
This is great if you would like to see what you want your business to sell and how to go about achieving it.
You again get a free .pdf worksheet to help you choose the best business model for you based on your "perfect day" designed on day 2.
You will see how much your "perfect day" costs and shows you the 3 business models that can help you achieve the financial goal so you can live to make it a reality.
And that is it.
I would like to offer more insights but it would be hard explaining hours worth of video worth of content in 1 short blog post.
Feel free to sign up for the Bootcamp yourself so you can see what this so-called "Freedom Business" is all about.
It's free and you would get a lot of useful information to get you motivated and inspired to start on creating a life "outside of the daily grind".
My Final Thoughts On The Freedom Business Bootcamp
As I said, I really do like this product but unfortunately, I have not yet seen it's full potential to be able to give a solid, fact-based review.
I like their business model (especially since I wasn't guilted or pressured into buying a product) and I like Timothy Marc. He seems like an honest guy dedicated to helping people achieve their online business goals.
How Does "Freedom Business" Compare To Other Products?
Again, I don't know what the entire process really is here but I was able to achieve and create a "freedom business" with the help of other training companies.
I am a big fan of Wealthy Affiliate and it is what showed me and my others how to create a business online that is both fun and profitable to run.
Also, you do not have to wait months to get started. Here is my review of Wealthy Affiliate if you want to learn more about it.

In Closing
Thank you for reading my review. I will be updating this as soon as I join the program and I will then be able to make a much-informed review.
In the meantime; feel free to sign up for the free 3-day boot camp and also check out the many other options available.
Let me know if you have any questions about what we talked about today, I would love to help you out.
Also if you are (or were) a member of the Freedom Business mastermind group, be sure to leave us a comment with your experience down below. I'd love to get a mini-review from somebody "on the inside".
All the best to you.