This is my first post of the year – of the decade actually – so it's fitting to start the year off with a few ideas on how to invest in yourself, which, in my opinion, is;
The absolute best investment you can make.
My motto for the year is "high standards and profit" and it's with this goal in mind that I present to you;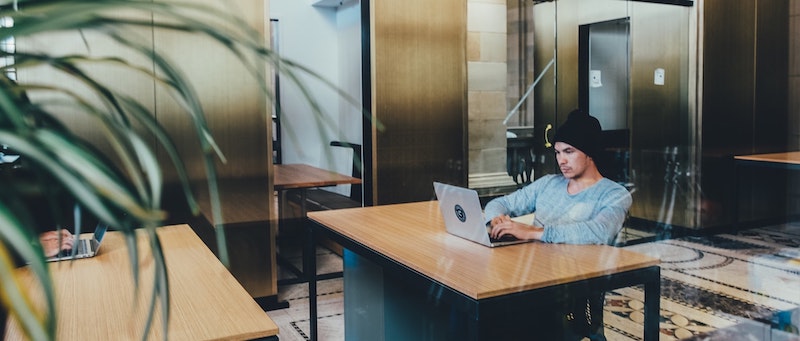 The
5 BEST ways to invest in yourself in 2020 & Beyond
 (
Overview
):
Invest in Your Health
Invest in Your Mind
Invest in The Financial World
Invest in Your Own Business
Invest In Your Own Online Business (My Favourite)
Let's get started…
Invest in Your Health
I'm no fitness guru and I don't pretend to be. However – there is some truth (obviously) to the dogma that taking better care of yourself will help you tremendously in the future.
The greatest pleasure in life is waking up fit, healthy and ready to take over the world so the first thing we should all do, is invest in our health and well-being.
I learned this all throughout 2019.
I went from never working out, to working out 5 times a week (2 times with a personal trainer).
The result of this simple change has been life-changing:
My body is leaner
My mind is sharper – and
I feel great being inside my body.
This is what you need to try to achieve.
You don't need to become some "fitness freak" either, just be as healthy as you can.
Eat good food, do a few workouts a week and just take better care of yourself.
All the other ways to invest in yourself I will share with you below will be useless if you do not have your health. Remember that!
Invest in Your Mind
Next up, is your beautiful mind & I'm willing to bet, you're underusing it.
It deserves better, and it needs MORE!
If you want to supercharge who you are, get the best out of yourself and have a fighting chance at reaching your true potential in life;
Invest in your mind.
How?
Go on Google, look for information about anything you want to know.
Go on Udemy, take a few courses there.
Learn about a specific skill, with Skillshare.
Get some Kindle books from Amazon – or
Get some real books from BookDepository.com
You can also do some meditation if you're into that sort of thing (I'm not, but to each his own).
Whatever you do, make sure you feed your mind with only the best.
Keep a high standard for your mind, and it will thank you for it.
Of course, being in a healthy state with some proper food and good exercise will also help power your mind.
Invest in The Financial World
Have you ever heard of the saying "Pay yourself first"?
This idea comes from the book "The Richest Man In Babylon" which is a fantastic easy-read book for anyone who's looking to get a grip on their personal finances.
One of the biggest (and simplest) ideas is to put away 10% of your monthly income.
Start doing that. Trust me – it works.
For years you have been getting paid last. In this new decade; you should be paying yourself first.
Keep stacking that 10% a month in a savings account and once you have a decent amount, invest 50% of that into the financial world (while keeping the other 50% for a rainy day).
We currently have a historic record-breaking stock market, and even though that probably won't last for long (in my opinion) if you invest for the long term, it will eventually produce a profit for you.
To give you an idea of how quickly it can grow, let's say for the next 30 years you invest $50 a month into an "investment account".
Over the course of 30 years, your investment (with compounded interest) will be worth $41,000!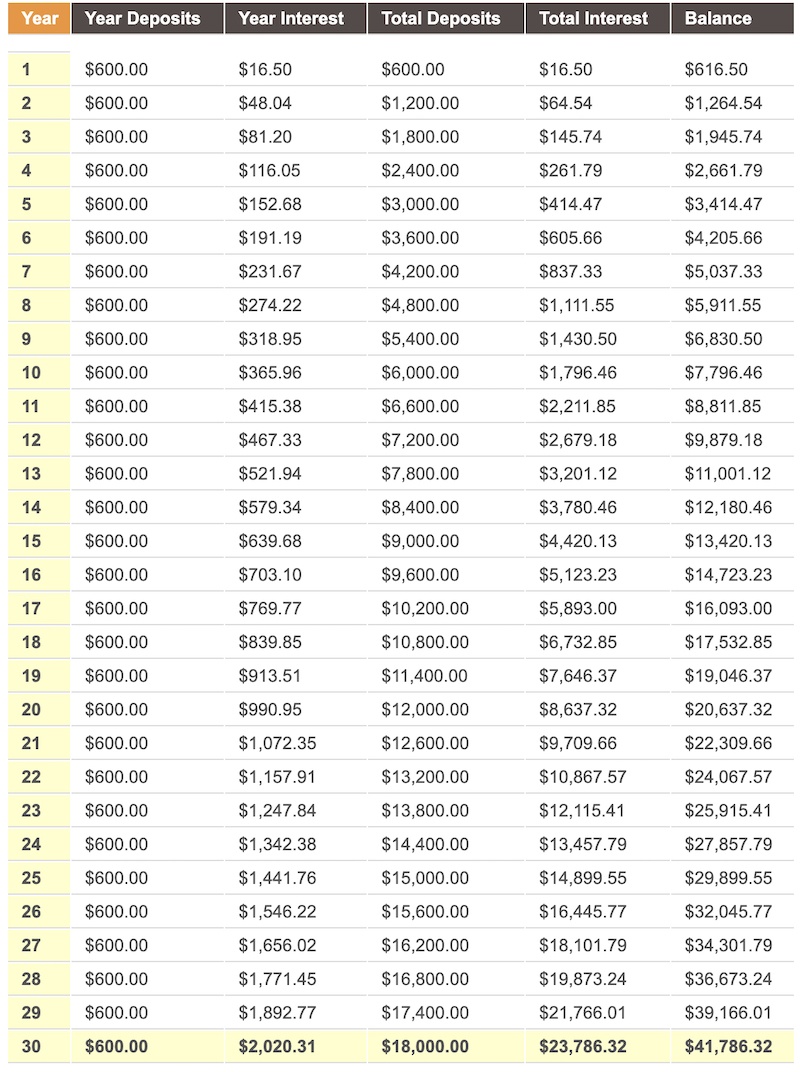 That's not bad, considering a measly $50 investment a month and a very modest 5% annual return.
NB: I'm not a financial advisor so don't take my word for it.
However, you'd do well in looking at some investment opportunities and seeking professional advice about it.
There's also cryptocurrencies which I'm a big fan of and I'm semi-sure will return huge profits in the coming years.
You can read out my guide about how to start investing in Bitcoin & other cryptocurrencies here.
Invest in Your Own Business
I'll admit, running and maintaining a business is damn-hard.
However, it's not impossible to do.
Thanks to all the technology that is available, anyone with half a brain and some dedication can be successful with a business.
You may not become the next Elon Musk or Bezos, but I'm sure you have it in you to start a business doing something you love, and actually making a decent income with it.
The good news is, you don't even need a lot of money to get started with real-world business.
Using the same "pay yourself first" philosophy mentioned above, after a few months; you should have enough to get you started.
Hubspot has a great guide covering 50 small business ideas for anyone who wants to start a business, you'd do well in checking that out.
Invest in Your Own Online Business (My Favourite)
Last but not least, I'd also like to add that one of the best investments you can make in yourself, is building an online business.
YES! I am based here since I make a full-time income online, but it really is one of the best ways to start making some extra money.
There are many ways you can make money online, and I will tell you about some of my favorites below but one thing I want to say first is that;
Online businesses are just like any other type "business":
It takes time,
It takes patience
It takes hustle – and
It takes determination!
My website is dedicated to teaching people how to make money with affiliate marketing and even though it's an amazing opportunity, many people come into it expecting to get rich overnight.
Sadly, that couldn't be further from the truth.
However, if you're willing to work at it, one of the best (and quickest) investments you can make is in an online business.
They're cheap to start, and have unlimited potential for profits.
I have seen many people completely change their life with an online business and it's a beautiful thing to witness.
It gives you back your time, your freedom and your sanity!
Down below I have a free training course that you can check out which will show you how I make money building simple websites but there are other methods you can try out.
Here are some which I know will work:
What Will Be Your First Investment of The New Decade?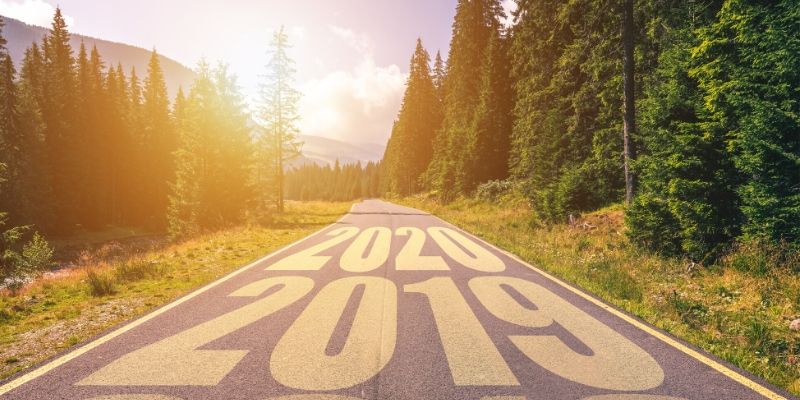 So there you have it; 5 easy ways to invest in yourself.
The question now is
Which one you would go for?
My suggestion would be to do all of them actually.
You can definitely start eating healthier right now,
You can start taking better care of yourself by removing nasty habits and replacing them with good ones.
You can start investing in your mind by reading a few interesting blogs and taking a few courses.
You can start putting away 10% of your income to invest it wisely in the future.
You can look into starting a business, and/or perhaps even;
An online business (which is almost free to get started)
Before you go, I'd also like to offer you a free training course that will show you how to get started making money online.
You can find all the information you need about it on this page here.
That's all from my end today.
I'll leave you to it.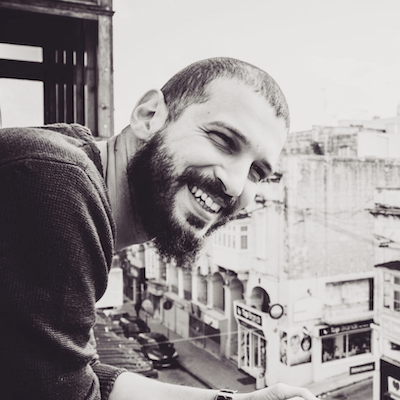 Since 2011, I've been learning how to make money online with affiliate marketing. This website is where I share everything I know and all I will learn along until I reach my next income goal of $30,000 p/month.