8

min read
I do a lot of product reviews on my other blog but most of the products that I come across are usually the typical flash-in-the-pan, over-hyped, overpriced type products that deliver little to no value.
However with Fizzle, I could immediately tell that this product is different.
If you are looking to build an online business, then I suggest you read this Fizzle.co review that I am about to share with you. I am blown away (and honestly surprised) as to how good this product really is.
If you are looking for a quick answer on Fizzle, then I suggest that yes you go for it. Just go ahead and start your free membership now.
However, I really suggest you thoroughly read this review as I will be giving you an inside look into what you can expect and exactly why I think this product is a must-have for online entrepreneurs.
Fizzle.co Review: Is It Really That Good?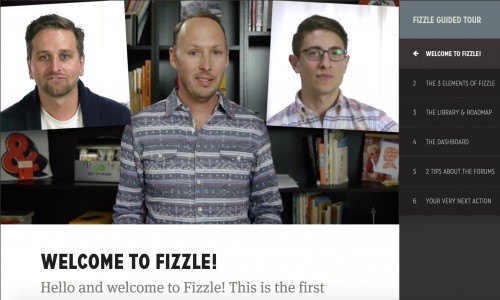 Product name: Fizzle.co
Website: www.Fizzle.co
Price of Fizzle.com: $35 monthly (free 2-week trial)
Product Owners / Creators: Barrett Brooks, Chase Reeves & Corbett Barr
My rating of Fizzle: 8/10
What Is Fizzle And How Can It Help You Become A Better Entrepreneur?
Fizzle as an online training platform that will teach you how to start your own online business.
I've reviewed a lot of these types of products in my life and I am glad to say that Fizzle is one of the best I've ever seen that delivers exactly on what it promises.
The training is split up into digestible, short videos that will teach you everything you need to know in the 3 main phases of training.
*Apart from the 3 main phases, you also have access to other "side-courses" that you can do for no extra charge.
I am positive that Fizzle and the training you get with it will be enough for you to create a solid online business that you can be proud off and even use to support yourself financially.
What Is The Training About And Who Is Fizzle For?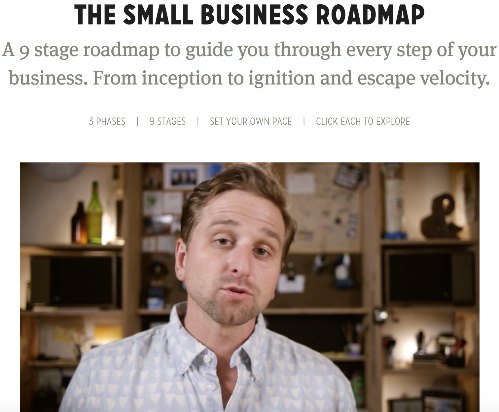 Whether you are a complete n00b or an expert, I honestly think there is something for you in Fizzle that you have not learned yet.
If you are a beginner with no idea where to begin then your will need to start your training from phase 1:
Phase 1: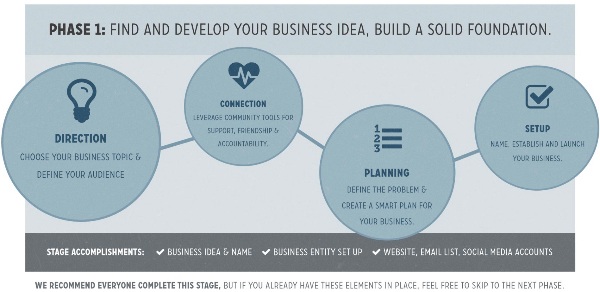 This first phase of training will show you how to come up with your business idea. It also offers tips on how to get in the right mindset and put everything in its place for you to be able to enjoy success without too much failure.
If you are an intermediate online marketer (as in you have a business or website set up already) but you are not seeing the results you want, then phase 2 is where you should begin.
Phase 2: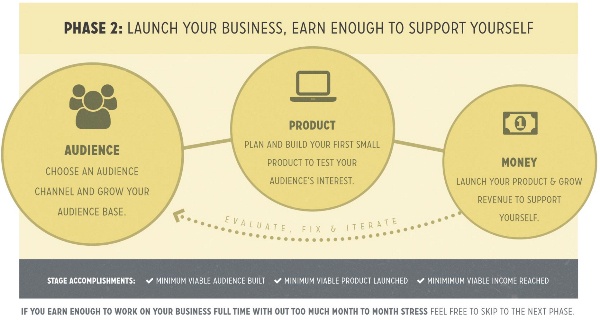 This phase of your training roadmap is where you will actually start your business, learn how to get traffic and customers and make sales. You will also be learning how to create products to sell if you so desire.
Phase 3: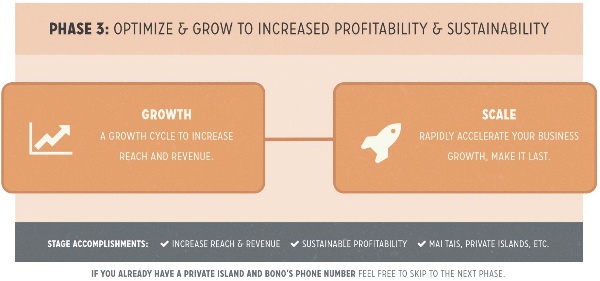 This is where you will learn how to blow up your business to new record incomes and heights.
I'm also at this stage in my business so I really enjoyed phase 3.
It's a bit advanced in terms of training but do not worry; if you are a complete beginner just trying it out, then do phase 1 and 2. If you do those correctly, phase 3 is going to be something you'll really enjoy.
What I Liked About Fizzle.co
The Training
The training is very fresh, updated and easy to follow and there are no over-hyped claims that we are used to seeing in the "make money online" industry.
I can guarantee that if you follow the training provided, you're bound to get results; for sure.
The one thing that I really liked though, is that fact that they emphasize "hard work" as the main ingredient you need to put into your business; which is true.
Most products like this leave this element out but right from the get-go, you are told that this is not a get-rich-quick scheme. It takes time and dedication to build a real, sustainable business online.
Kudos to the product creators for pointing it out, which brings me to my next point:
The Product Creators
The 3 creators behind Fizzle are really cool and friendly guys and they make learning this business fun.
In some cases, it's actually funny to see them interact with each other.
They know what they are doing, they know what works and what doesn't and they actually built businesses themselves.
Most often; "online money gurus" have no idea about this business (as hard as that may be to believe) but these guys are 100% legit.
The Easy-To-Use Platform
The training is all in one website where you can easily get to it with a few clicks.
All your progress is stored into the "roadmap of your success" (as they call it) and you can easily mark lessons as complete when you do them and move on to the next.
I really like this step-by-step, mark-it-as-complete approach to learning. I find it helps me understand the information much better.
The Pricing Offers
Their pricing is amazing, I really like how they've set up their memberships options making it possible for everyone to try it first (I will take about how much Fizzle.co costs later down in my review).
No Upsells Whatsoever
When you buy a product online, you can expect that after you make your initial purchase, you will be bombarded with other offers that will compliment your purchase.
Of course, they do not tell you this beforehand but the upsells usually run upwards of $100 if you decide to buy them all. This means a product that you thought will only cost you $10, is now costing you $100+
The problem with such products is that they try to make you feel "guilty" about not buying them and make you feel like you're missing out on a vital piece of the puzzle.
There is none of that unethical manipulation with Fizzle. There are absolutely no upsells involved which is amazing.
How Much Does Fizzle.co Cost?
Fizzle has 3 membership options for you to try:
The Free 2-Week Trial:
As a new member, you can join Fizzle.co on a free membership trial of two weeks, after those 2 weeks has passed, the product costs $35 per month.
The $35 Monthly Membership:
With this, you are a full-on premium member of Fizzle and you pay $35 a month to access the training and use the courses and the main training course.
This is very reasonable if you can afford it and I am sure the training provided will be enough for you to make that $45 back once you get your business up and running.
The Yearly Membership Plan:
If you liked Fizzle.co, you can become a yearly member for the program and by paying the "yearly fee' up front, you will get a $105 discount on the 12 months 9which means you pay for 9 months and get 3 months for free).
The total cost of a yearly membership is $315 instead of the usual $420 ($35 x 12 months).
(Cancelling your subscription is also very easy to do, all it takes is just a few click in your account settings and you are done).
Do I Recommend Fizzle For Online Entrepreneurs?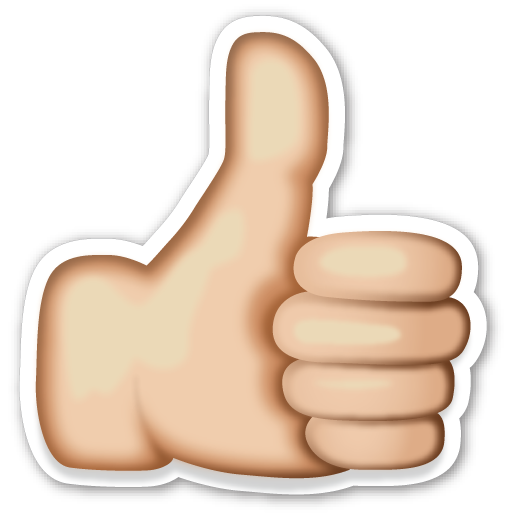 Definitely. This product is a must-see for anybody that is looking to build an online business that they can be proud of.
I'm going to be staying with Fizzle for the time being because even though I spent the last few days reviewing it, I am sure there is still a lot more lessons for me to learn that are available in this program.
The only other program that has impressed me as much so far is Wealthy Affiliate. I won't go into much detail about it here but you can check my full Wealthy Affiliate review here.
How To Join Fizzle.co
If you liked what you saw and would like to join Fizzle.co as a free 2-week membership plan, then you can use this link to create your account and jump into the training.
Get 2 weeks free with Fizzle.co with this link.
Final Words
I really hoped you like my Fizzle.co review. Be sure to check back in often as I do more and more product reviews to tell you which products you need to see and which products you need to stay away from.
I've built this website for online entrepreneurs to learn from and I would really like you to be part of our "3HUNDRD" roundtable:
Thank you very much for reading. Talk soon and see you in Fizzle.co.
Mr 3HUDNRD