With so many "overly-positive reviews" out there and brand new updates to the platform are constantly being released.
Seeing how I'm approaching my 10-year anniversary at Wealthy Affiliate, I figured this will be a good time to come and update my Wealthy Affiliate review for you all.
As I will explain further below, I've been a student for nearly a decade now so it's safe to say I know my way around the platform, I know what it does and I know how it works.
I've also seen thousands of aspiring students just like you come and go with the hopes of learning how to make money online (with affiliate marketing).
In case you've just stumbled on this, Wealthy Affiliate is an online training course/university created to help you understand how to make money with affiliate marketing.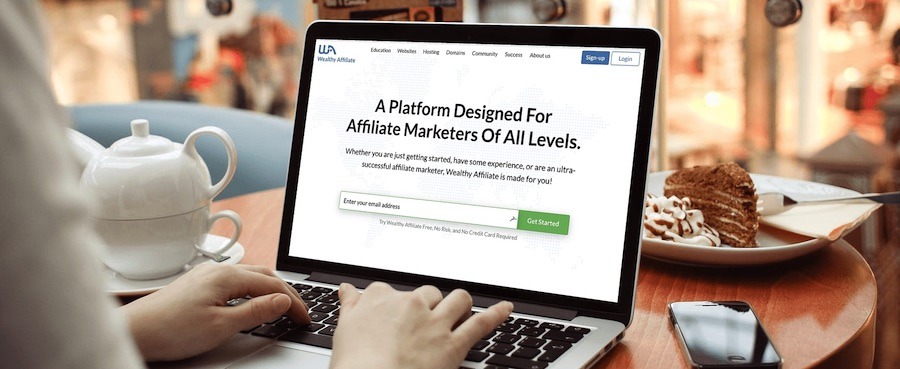 ---
---
If that's what you'd like to do, keep reading this review as you're soon going to see exactly how and why WA has become the much loved (and sometimes hated) training course it is today.
As a teaser of what's to come, here are just some of the FAQs I'll be answering below:
✔️ What is the truth about Wealthy Affiliate?
Is WA a legitimate training course that can help you start an online business or is it just another overly hyped-up biz-op scam shady internet people promote?
✔️ How does Wealthy Affiliate really work?
I hate reviews that tell you all about how great a product is but never tell you WHY it's so great. This review will give you all you need to know about WA.
✔️ How can you make money with Wealthy Affiliate?
This is a very common question and it's understandable. If everyone is talking about how much money they're making, how exactly are they doing it? What does WA teach you how to do?
✔️ What are some "complaints" about Wealthy Affiliate (that you'll never hear about)?
There are some issues with WA (that I don't like) and that I believe you should know about before you join. I will reveal them all to you down below.
But before I get into this review, I do to give you a little bit of a disclaimer here:
As you know already, I have been a member since 2012 so I'm sure you realized I'm a big fan of Wealthy Affiliate, and I'm going to tell you why too.
Thanks to the training and services provided in this University:
I now have a portfolio of affiliate websites earning me money every day.
I've managed to go "full-time" with my business.
I've even hired my girlfriend to work with me.
I've created, launched and sold my own digital products.
I also run a successful e-commerce brand – and;
With everything I learned at WA, I even managed to get a job as an SEO executive at a digital marketing agency (before I quit to go work full-time on my own business).
I guess what I'm trying to say here is: Wealthy Affiliate is as legit as they get, but be sure to read my entire review before you decide to join.
Let's first start with a TLDR summary before we get into the nitty-gritty details.
Wealthy Affiliate University Review (Summary)
$0 Starter Membership
Price

Features

Training

Value For Money
What You Need To Know About Wealthy Affiliate:
2 Main Training Courses (100+ Lessons)
2,000,000 Successful Affiliates
15 Years In Business (& Running)
Rated #1 Affiliate Marketing Training Course
Free To Get Started (No CC Required)
What Is Wealthy Affiliate?
Wealthy Affiliate is an online training course and university which over the past 15 years has evolved into the gold-standard and absolute authority in affiliate marketing training.
The value offered inside Wealthy Affiliate is unmatched – anywhere – and while I will try to do this review as in-depth as humanly possible, I am sure I will have to leave a lot of features out as it's quite literally impossible to cover everything they offer.
The best way to really discover what it's all about is to become a member yourself, but let's first take a look at…
How Does The Wealthy Affiliate Training Work?
Inside Wealthy Affiliate, you will find hundreds (if not thousands by now) of different courses and guides on how to make with affiliate marketing. These are separate courses created by WA community members who simply wanty to share what they've learned running their own (online) business.
However, the two "main" training courses you should follow are:
The "Online Entrepreneur Certification" course – and;
The "Affiliate Bootcamp" course.
Since these are the courses where you need to start, let me explain the differences between the two and WHAT you will be learning in each course:
The "Online Entrepreneur Certification" Course: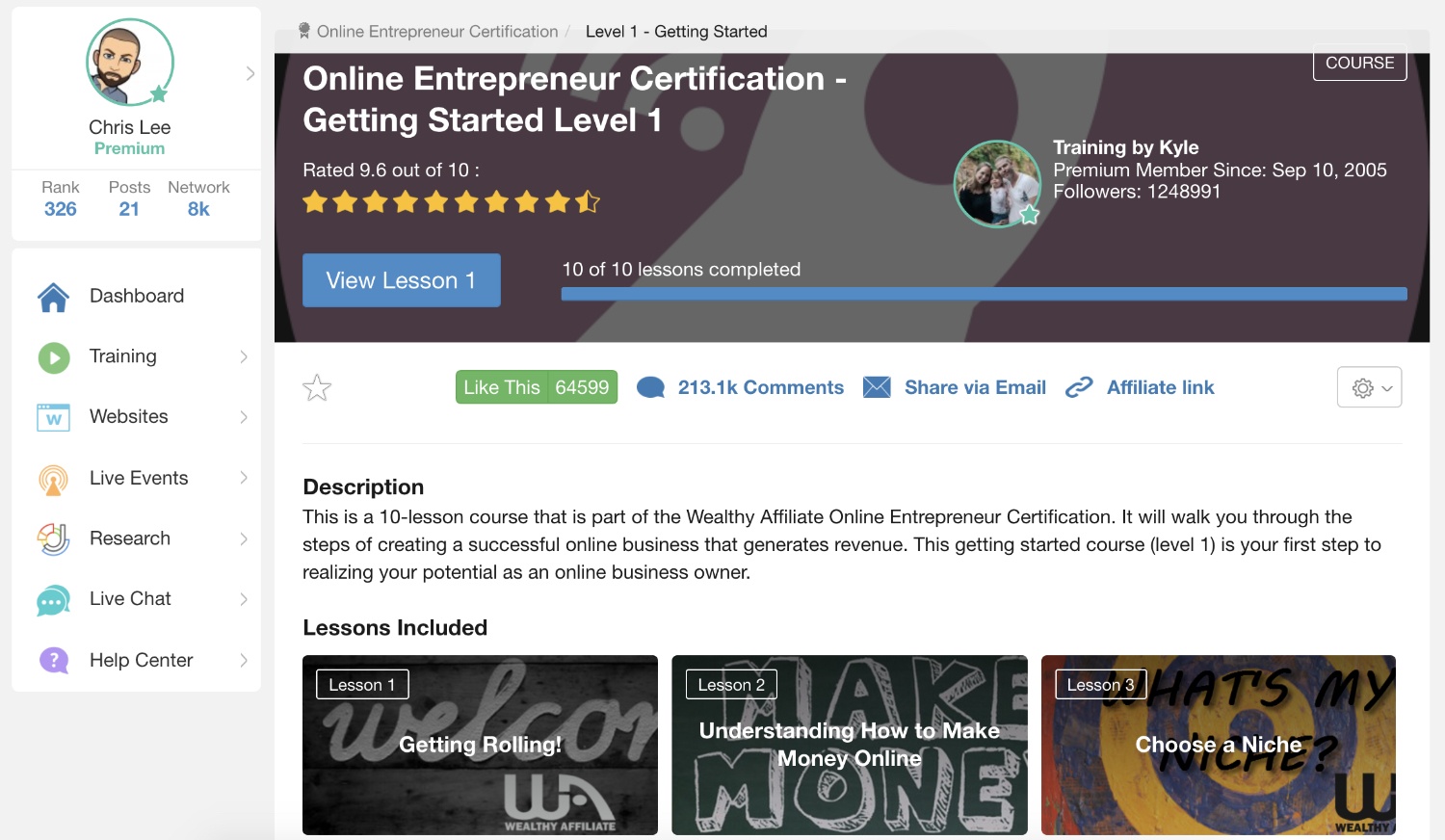 Levels: 5 levels
Lessons: 10 lessons each level (50 lessons in total).
What will you learn? How to build an affiliate marketing business in any niche.
The Online Entrepreneur Certification Course (OEC) is the first stop for all hopeful super-affiliates joining for the first time. This course is where you will learn how to kick-start an online business with the affiliate marketing business model. Its content is split into 5 different levels with 10 lessons each.
There are no restrictions as to how quickly you can go through this course; but the lessons (+ the accompanying tasks) are set up so you go through one lesson every day, meaning you will need ~50 days to complete this course.
NB: Do not skip ahead without completing the tasks for the day.
The courses are laid out in a day-by-day and task-by-task manner for a reason, and that is to help you build on a strong foundation for your online business.
Take as much time as you need with each lesson but make sure you do the steps as they are laid out in the training and do not jump ahead without doing the tasks first. If you don't plan on doing this, you might as well not do it at all.
Now that we've got that covered, let's explore what the OEC course is all about and what you'd be learning:
Level 01: Getting Started Course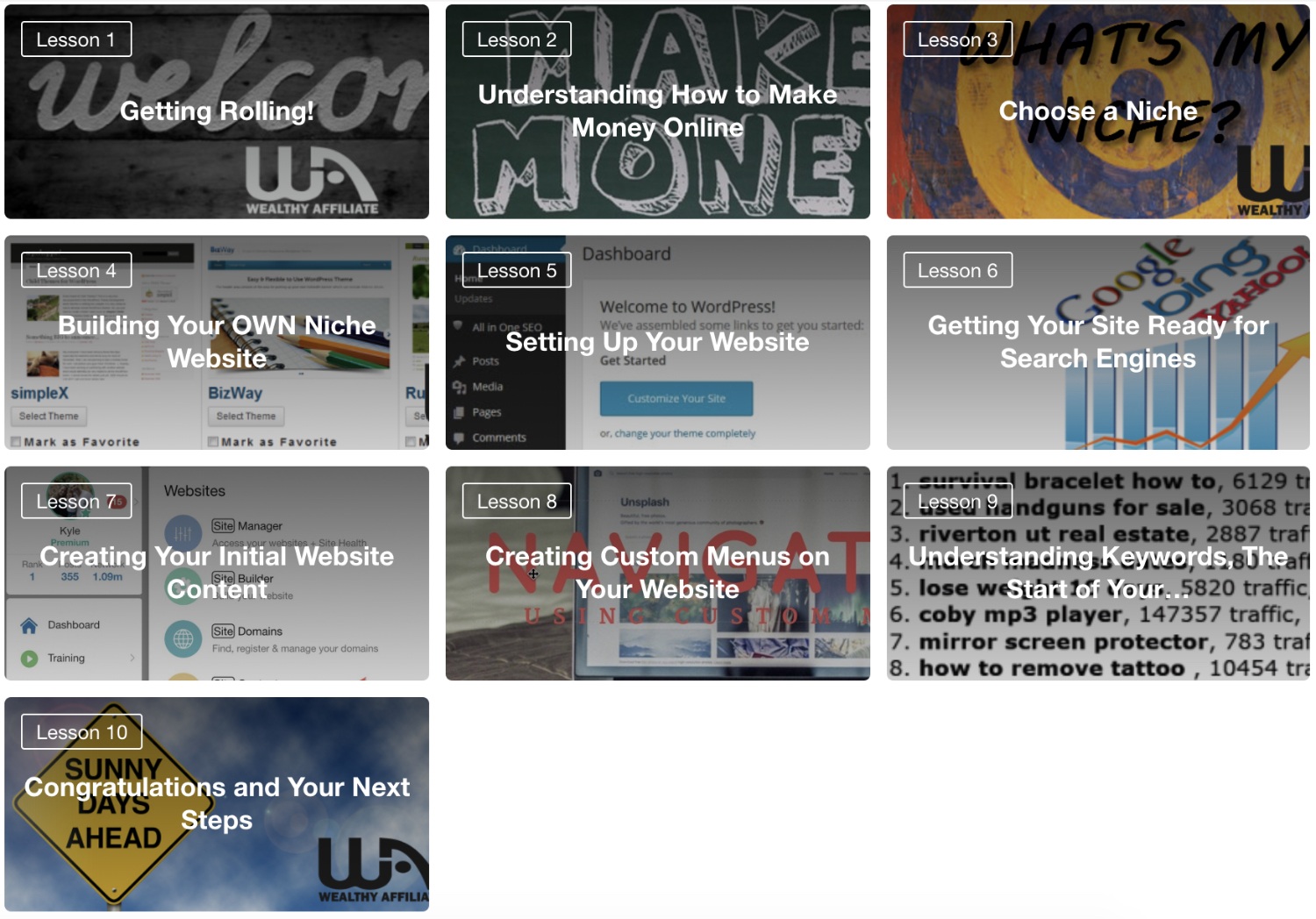 These are the first 10 lessons of the training and they are structured to take you from a complete beginner, all the way to having your own website up and running ready to make money!
Here's what you will be learning in your first 10 (free) lessons:
Getting Rolling
Understanding How To Make Money Online
How to Choose a Niche
Building Your Own Niche Website
Setting Up Your Website
Getting Your Site Ready for Search Engines
Creating Your Initial Content
Creating Menus on Your Website
Understanding Keywords & What They Do
Recap (What's To Come)
Once you have completed all 10 lessons – each of which comes with their own video and daily tasks (about 3 a day) – you are then ready to progress to the second level of training. This time around; you'll already have your website set up and you'll be learning how to apply various monetization methods you can use to make money.
I won't go into the same lessons-by-lesson detail for all the levels as this would keep you here forever, but I'll tell you what the remaining levels are all about:
Level 02: Building Your Own Traffic-Producing Website (10 lessons)
Level 03: Making Money (10 lessons)
Level 04: Mastering Social Engagement (10 lessons)
Level 05: Achieving Maximum Success With You Content (10 lessons)
Online Entrepreneur Certification Course Reviews: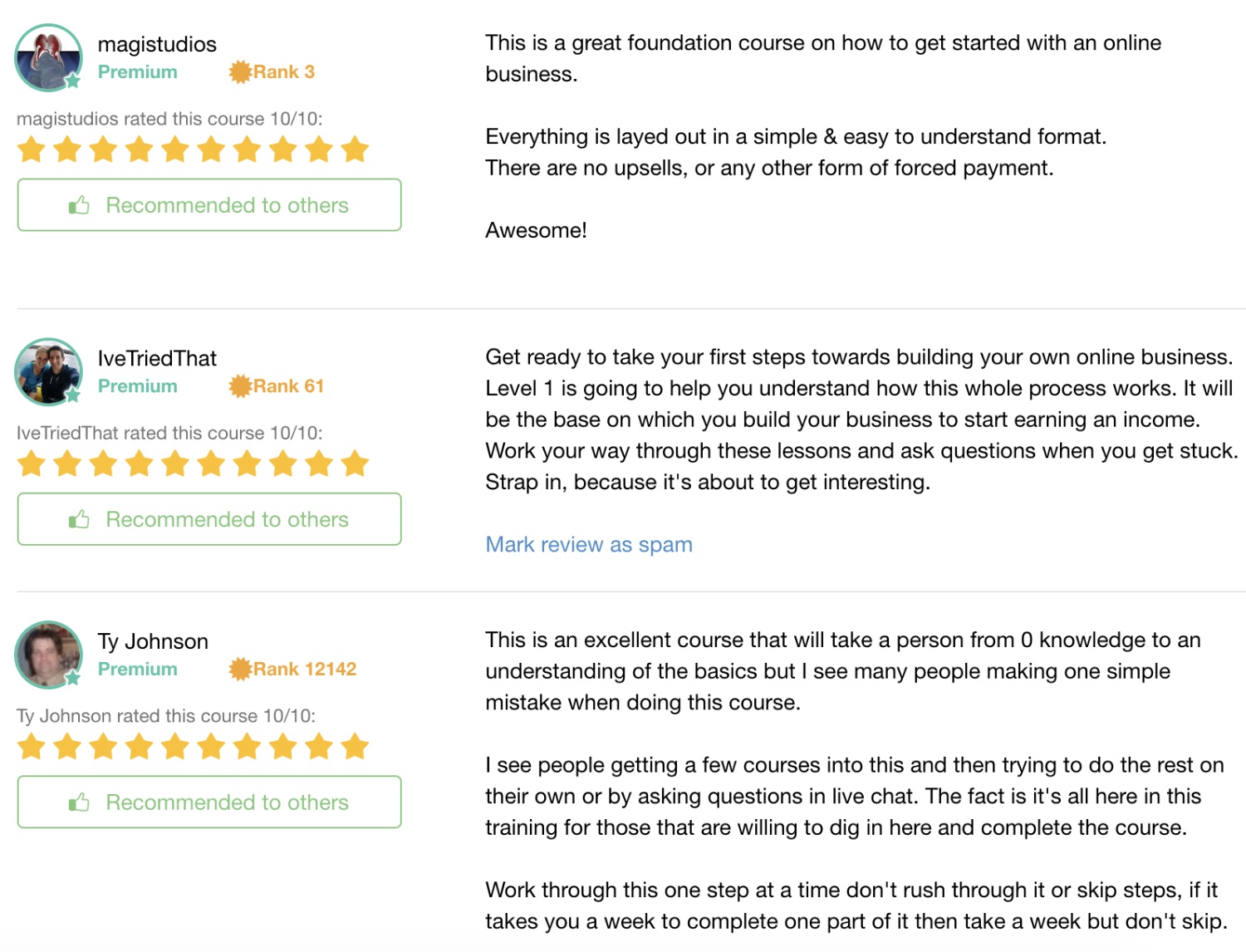 The "Affiliate Bootcamp" Course: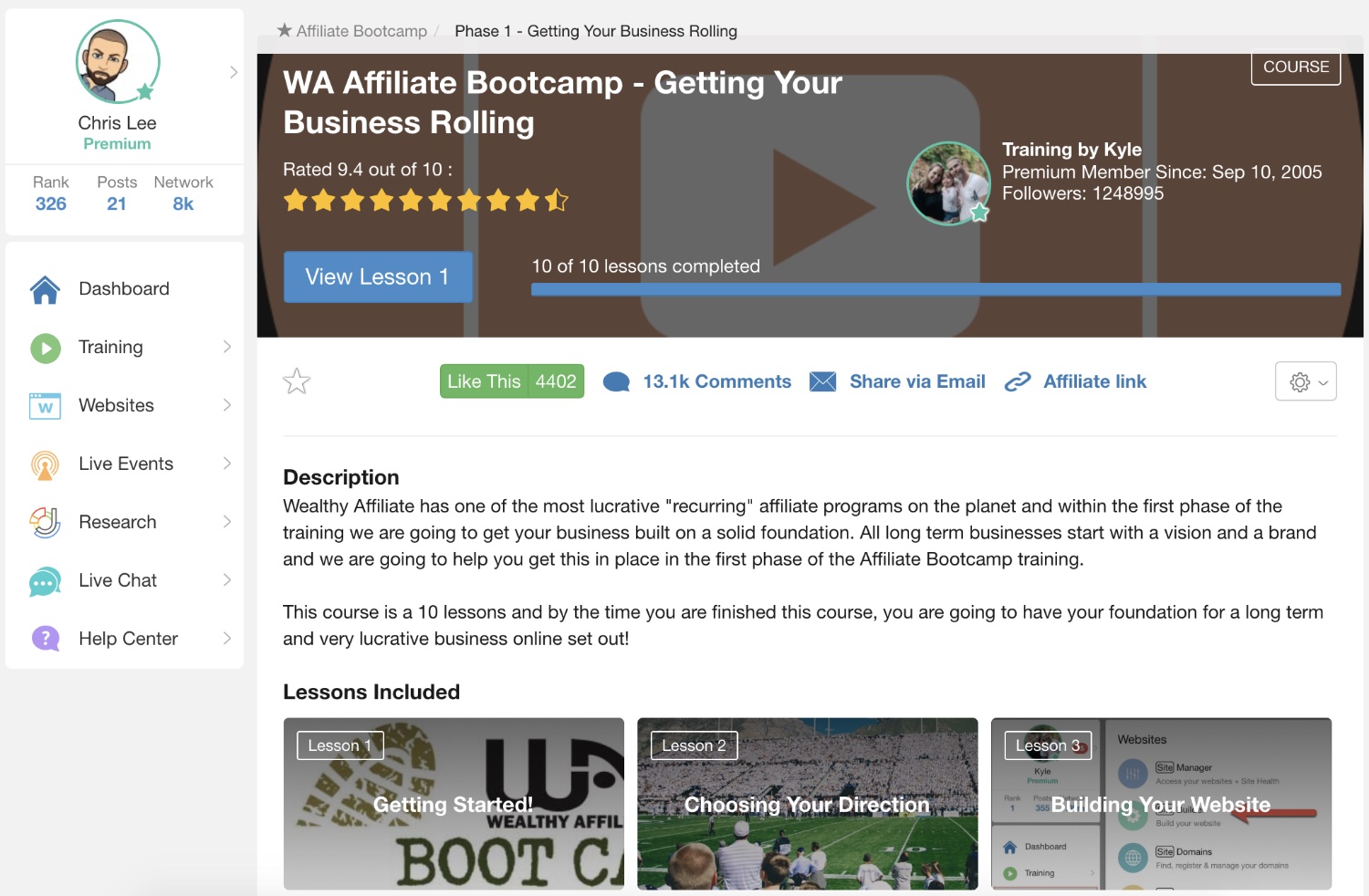 Levels: 7 levels
Lessons: 10 lessons each level (70 lessons in total).
What will you learn? How to make money with Wealthy Affiliate.
This is the second "major" course you'll find inside Wealthy Affiliate and this course will show you how to start your business promoting Wealthy Affiliate (and the make money online niche) itself.
Although this is not required; many members who end up being successful at Wealthy Affiliate will eventually decide to promote the training knowing well enough that what they are promoting actually works (this is also why I've made Wealthy Affiliate my business).
It's good to note that you can also go through this course and apply the methods taught to something else if you wish. Contrary to popular belief: promoting Wealthy Affiliate is not required.
Level 01: Getting Your Business Rolling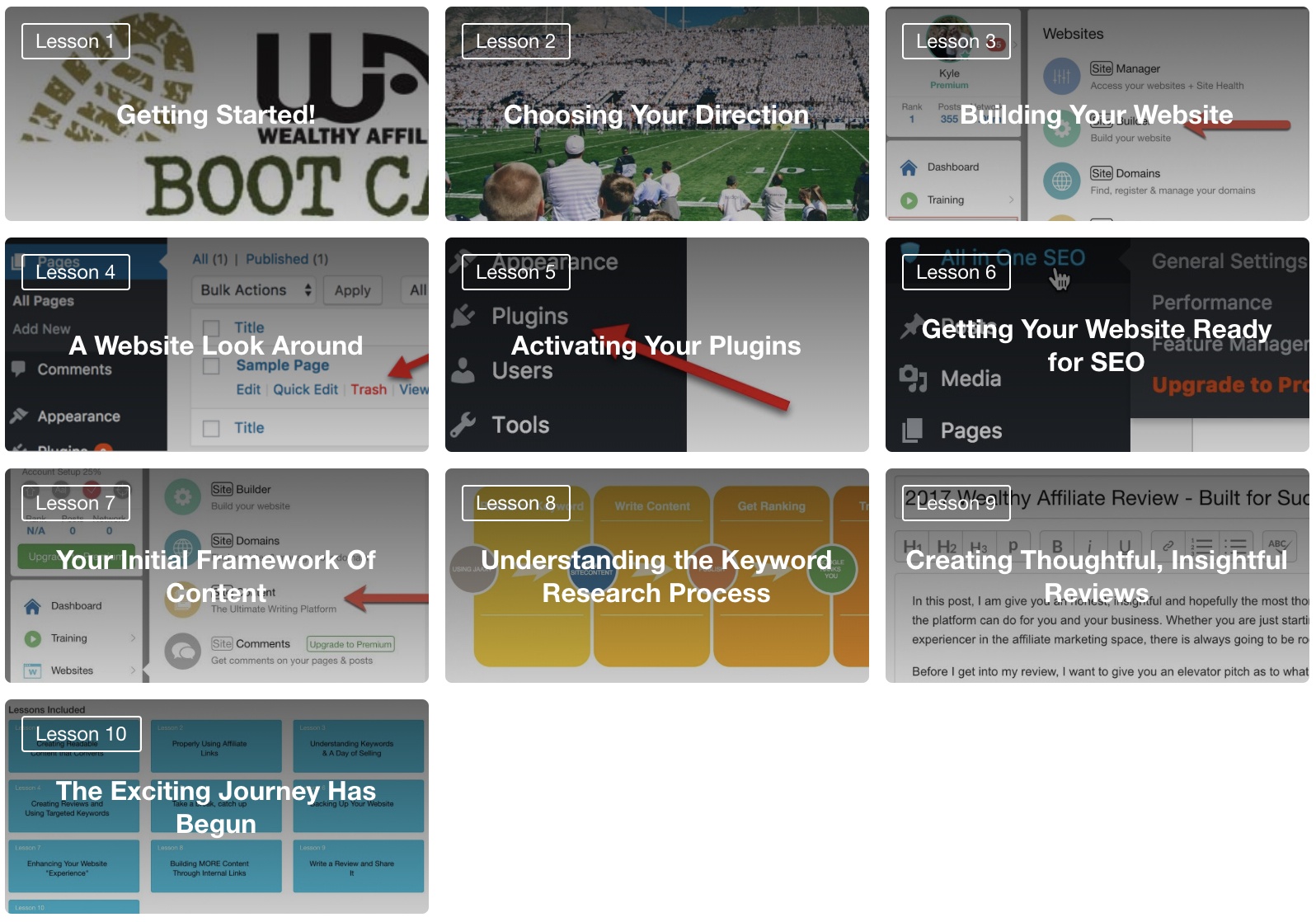 Here are the first 10 lessons of this course:
Getting Started
Choosing Your Direction
Building Your Website
A Website Look Around
Activating Your Plugins
Getting Your Website Ready For SEO
Your Initial Framework Of Content
Understanding Keyword Research
Creating Thoughtful, Insightful Reviews
The Exciting Journey Has Begun
It may look similar to the "Online Entrepreneur" course, and you're right; the first one is but these lessons are much more detailed and direct as you know what you will be promoting.
Of course, once you start going into level 2 and above, things will start taking a different direction.
Here's what you can expect from the remaining 6 levels of the Bootcamp:
Level 02: Content, Keywords & Conversions
Level 03: Giving Your Site Social Value
Level 04: How To Build A Brand Online
Level 05: Knowing & Understanding Your Audience
Level 06: Bing, Yahoo and the Power of PPC
Level 07: How To Scale Successful PPC Campaigns
(Level 08: Coming soon)
"Affiliate Bootcamp" Course Testimonials: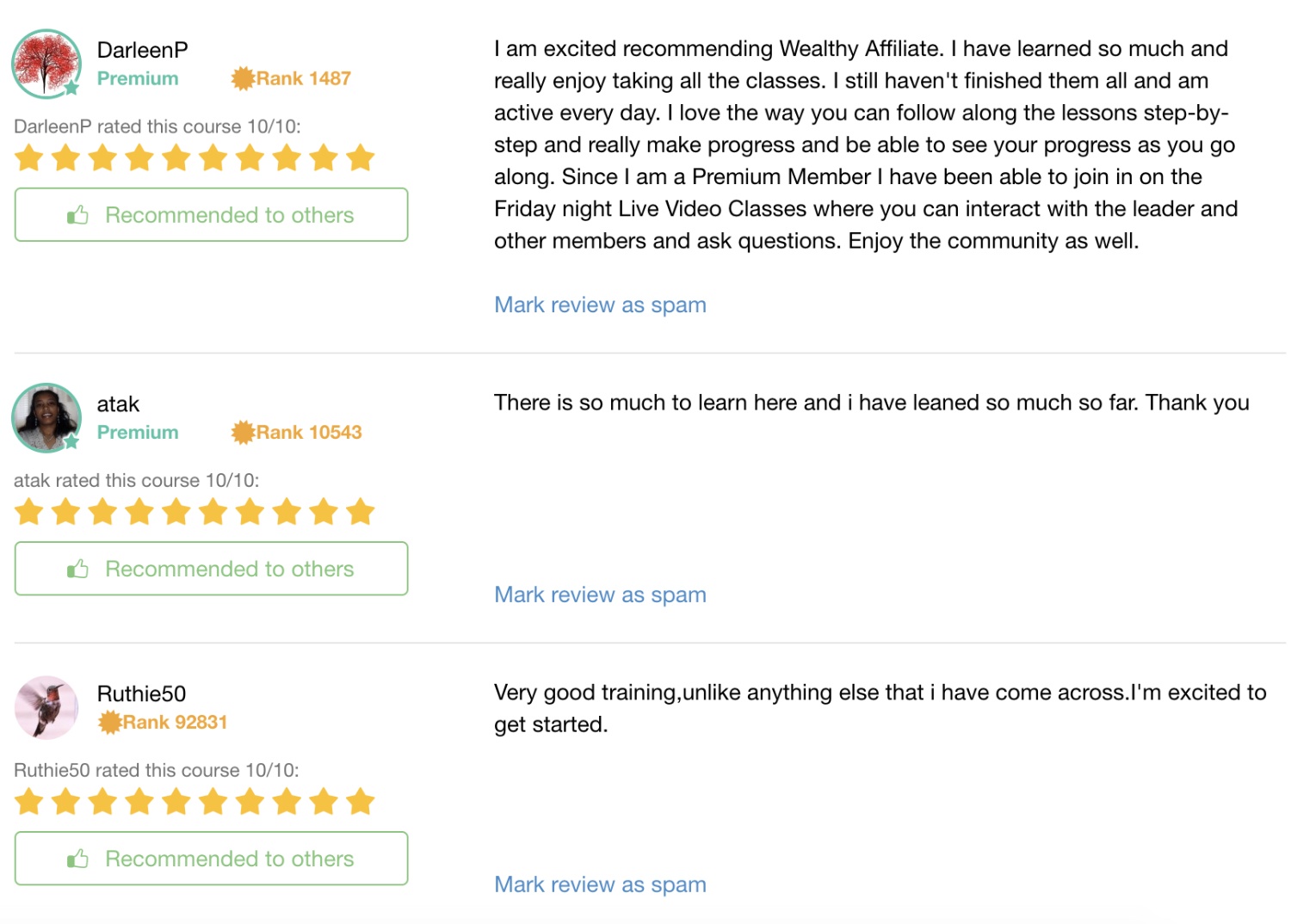 What Else Do You Get At Wealthy Affiliate?
Now that I covered the two main courses offered, it would not be a proper "review" if I just stopped here. As I said, there's plenty more to WA than what I've shared above and no, I still don't plan on going through everything.
However, I will give you share with you a few more features which I think make Wealthy Affiliate the much-loved online training course it is today.
13 Additional Digital Marketing Classrooms To Learn From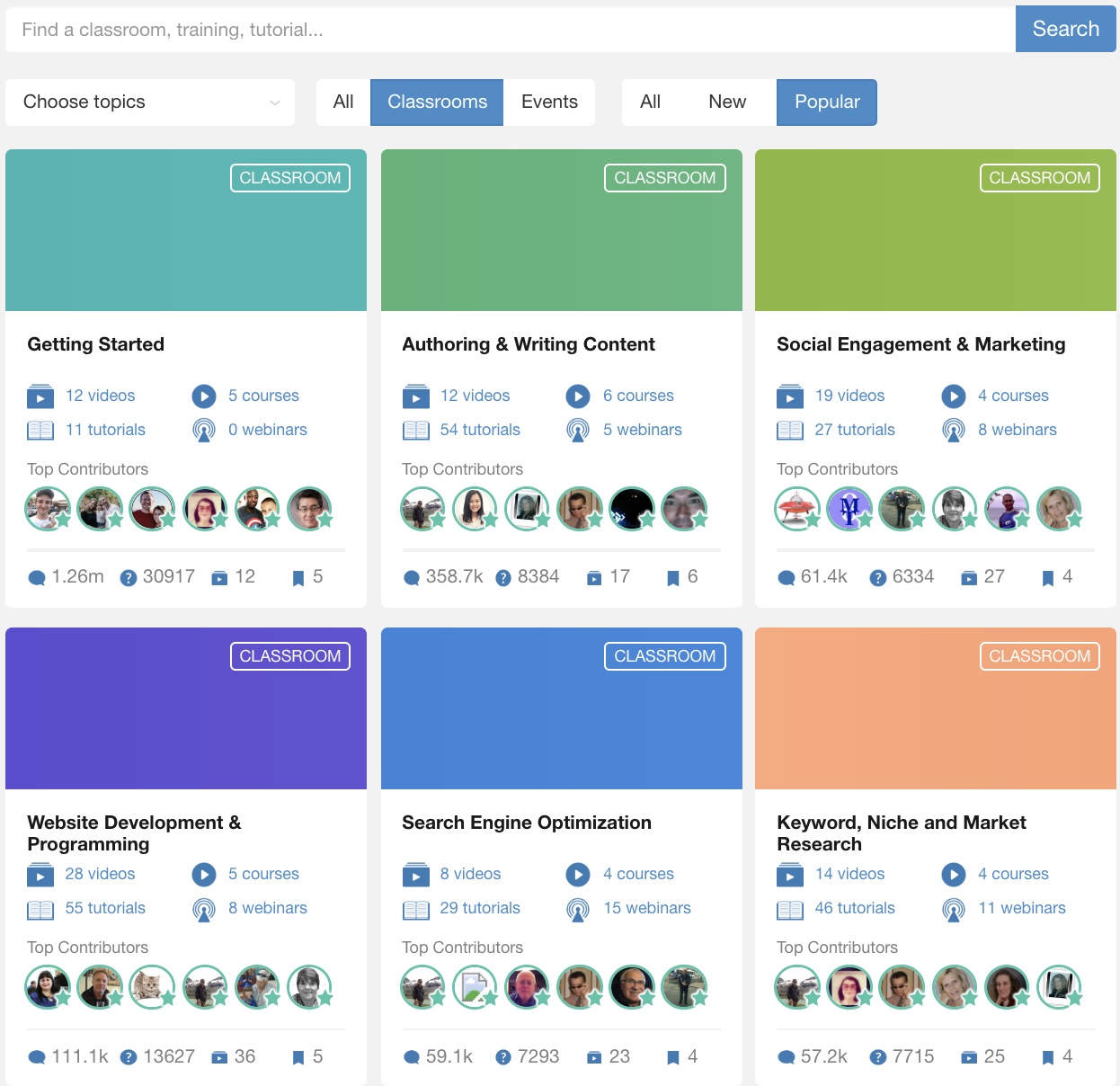 Not that the amount of training offered in the two main courses – 120 lessons in total – isn't enough, but Wealthy Affiliate also has 13 different classrooms with additional courses, guides, and training.
This is where you will find a collection of tips, advice and commonly asked questions regarding specific topics.
As you can see from the image above, you can browse through the classrooms one by one, all focused on a specific topic and you can also see the top contributors, how many guides are in there, etc.
The "Authoring & Writing Content" classroom alone has:
12 videos,
6 mini-courses,
54 tutorials – and
7 webinars.
That's a lot of content you can be learning from.
Here's what all the 13 classrooms are about:
Getting Started
Authoring & Writing Content
Email Marketing
Everything WordPress
Social Engagements & Marketing
Search Engine Optimization (SEO)
The Wealthy Affiliate Affiliate Program
Website Development & Programming
Local Marketing
The Wealthy Affiliate Platform
Pay Per Click Marketing
Video Marketing (YouTube)
Keyword, Niche & Market Research
Just to give you an idea of what to expect in one of these "classrooms", here's a screenshot from inside the SEO classroom: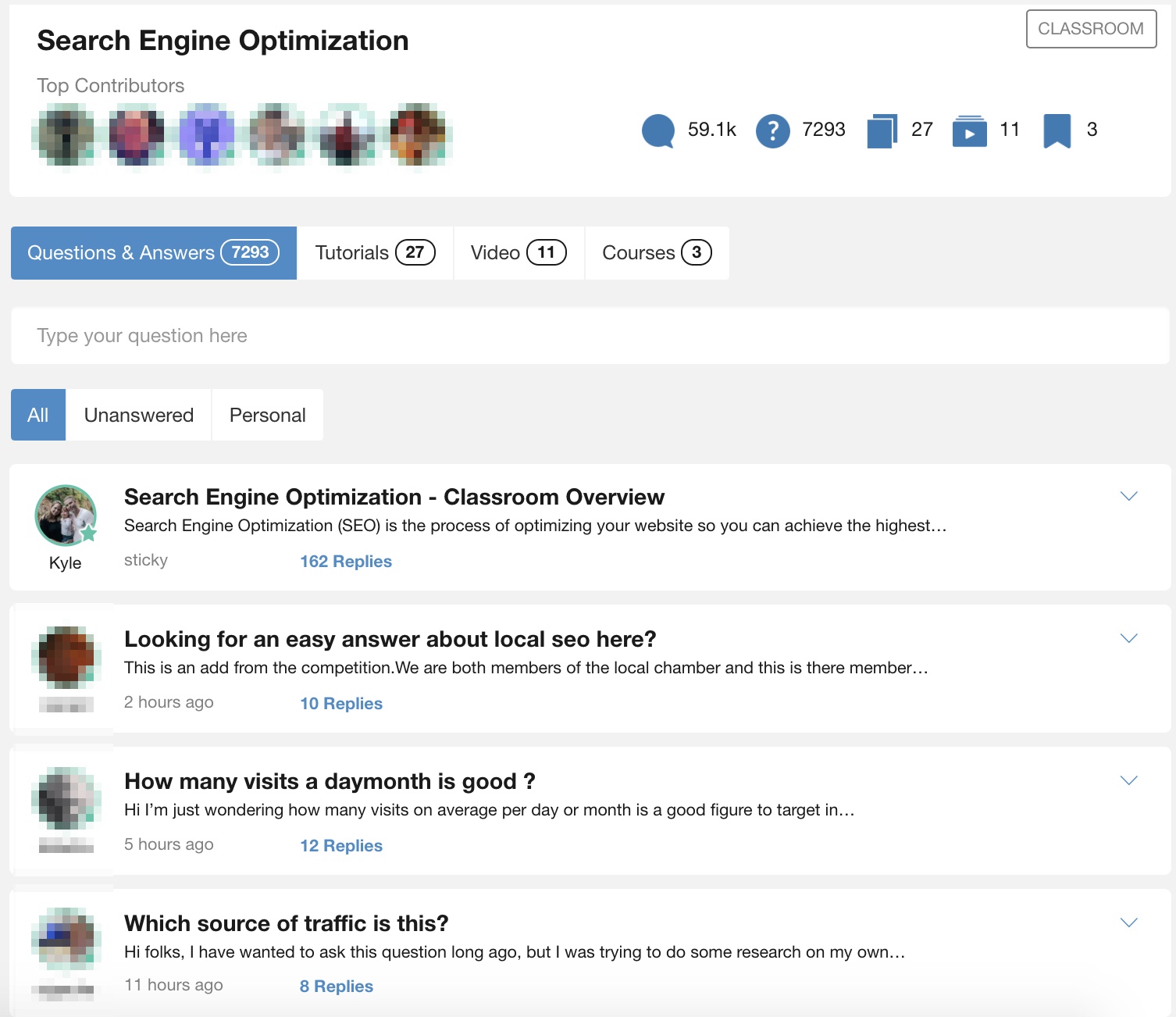 The Weekly Live Webinars (WAbinars)
Now, this is a free weekly webinar, but it's available only for premium members.
Every Saturday evening, Jay (@magistudios) – one of WA's leading members – gives us a "live class"(we call them WAbinars).
These are not your typical "free" webinars you find online either where half the time is spent on the introduction and the other half is spent pitching you a product. These are hour-long information-packed webinars with a live Q&A at the end where you can ask questions to Jay on the topic of the day.
It's also good to note here that the webinars are recorded and available for replay – in the member's area, you will find a collection of webinars that go back years.
If – like me – you're outside the US and the webinar happens at some crazy AM time (mine comes up at 3 am) – don't fret, the replay will be made available the next day.
Here are some of the previous webinars / Live Classes we had: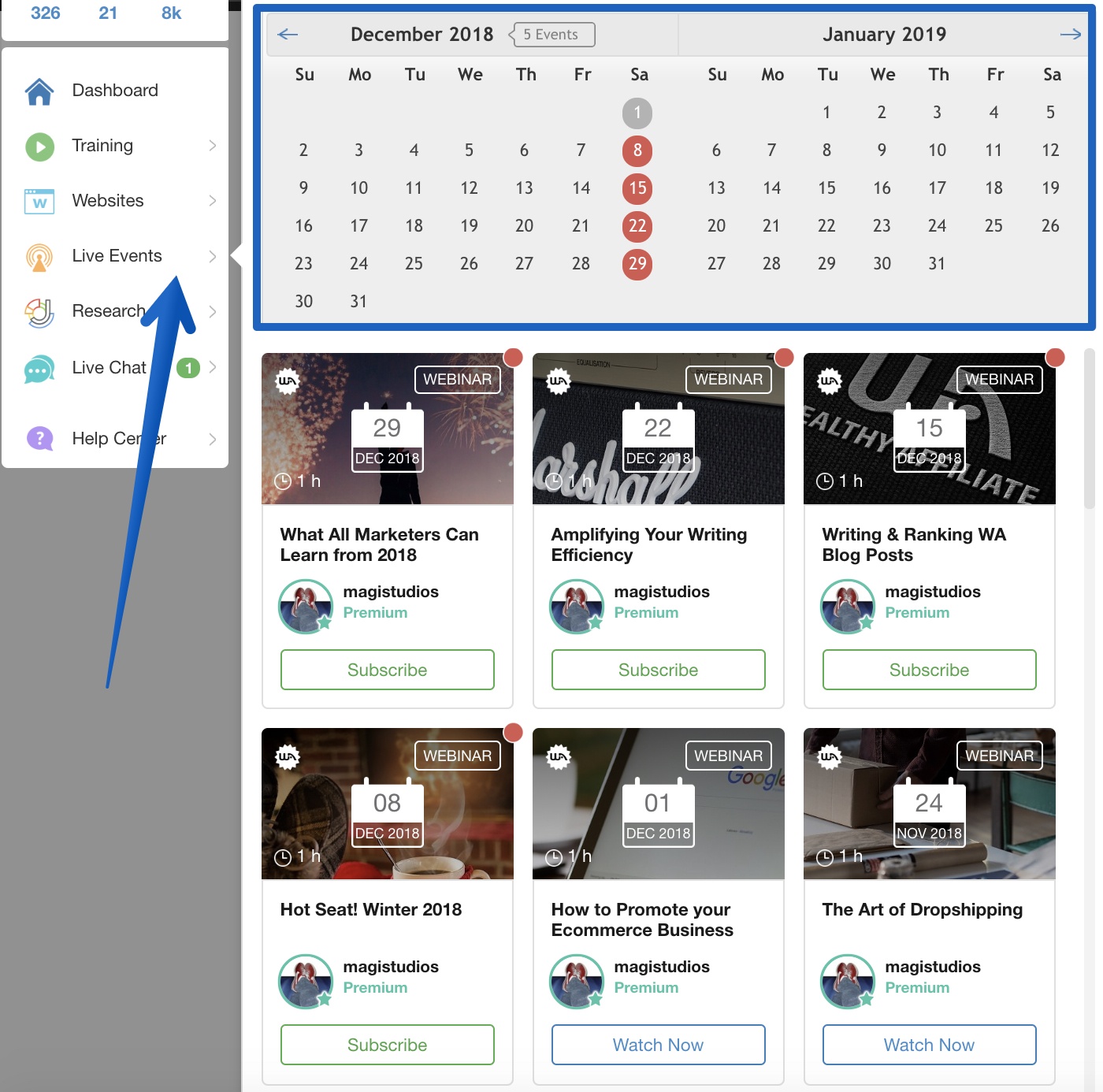 The Powerful Site Building Tools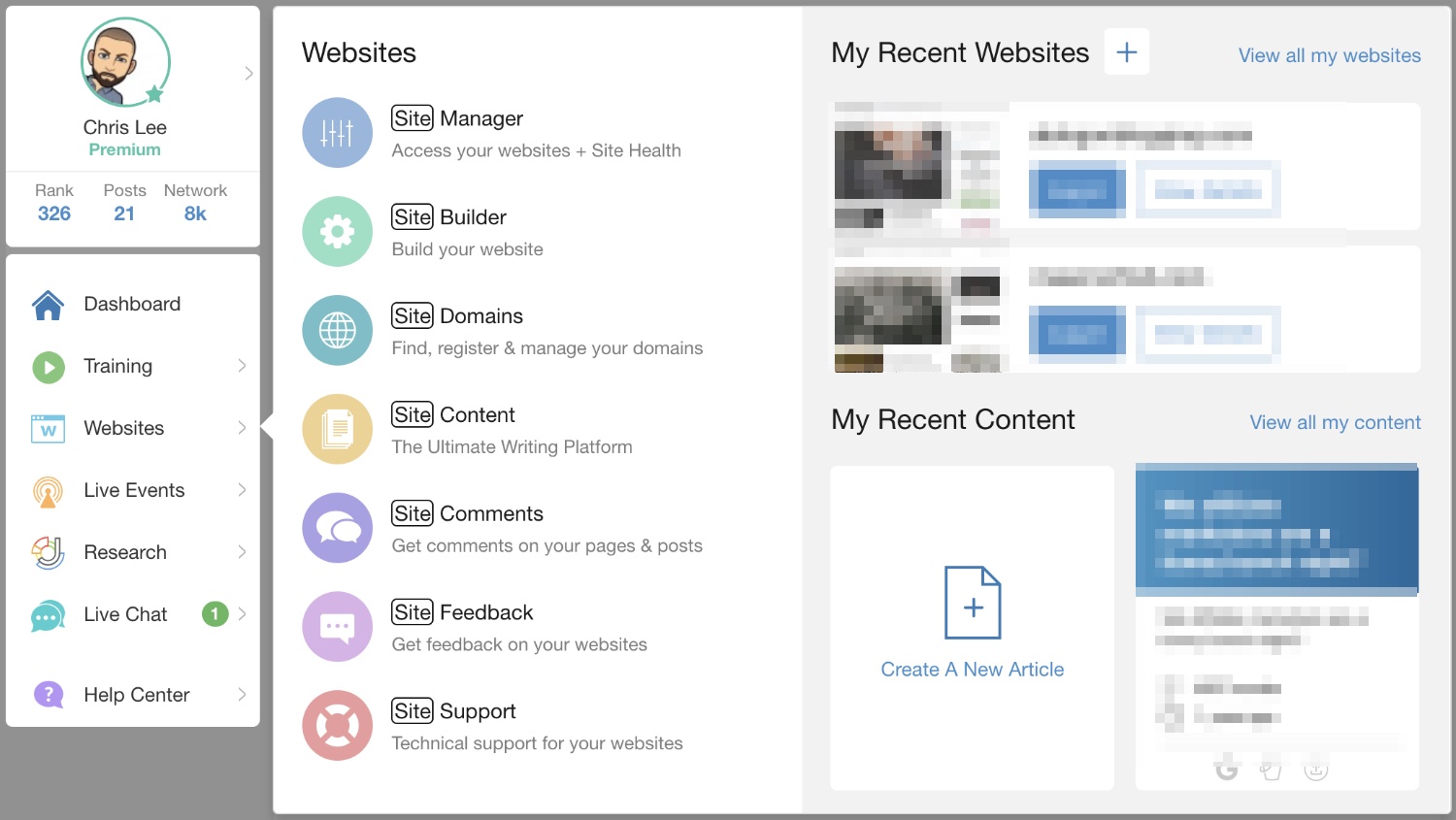 ✔️ The SiteBuilder Platform
Would you be surprised if I told you Wealthy Affiliate offers free websites to all their members?
It may sound too good to be true, but you should still believe it because it's true!
As a free Wealthy Affiliate member, you get 2 free websites.
With a premium Wealthy Affiliate membership; you get 50 free websites.
For the free members, there's the Siterubix platform which is Wealthy Affiliate's own WordPress site builder and for premium members, all you have to do is buy your domain.
As a premium member, I can host up to 50 free websites – (yes I do mean fifty, not five) – which at the minimum of $10 per site, this would save me a total of $500 per month.
Of course, I do not own 50 websites, but I do have 22 websites hosted in there and that means I am already saving $220 per month (with a premium membership that only costs me just ~$29 per month). But wait, that's not all.
The SiteBuilder has 7 main components which are available to you as a premium member and they are:
✔️ SiteManager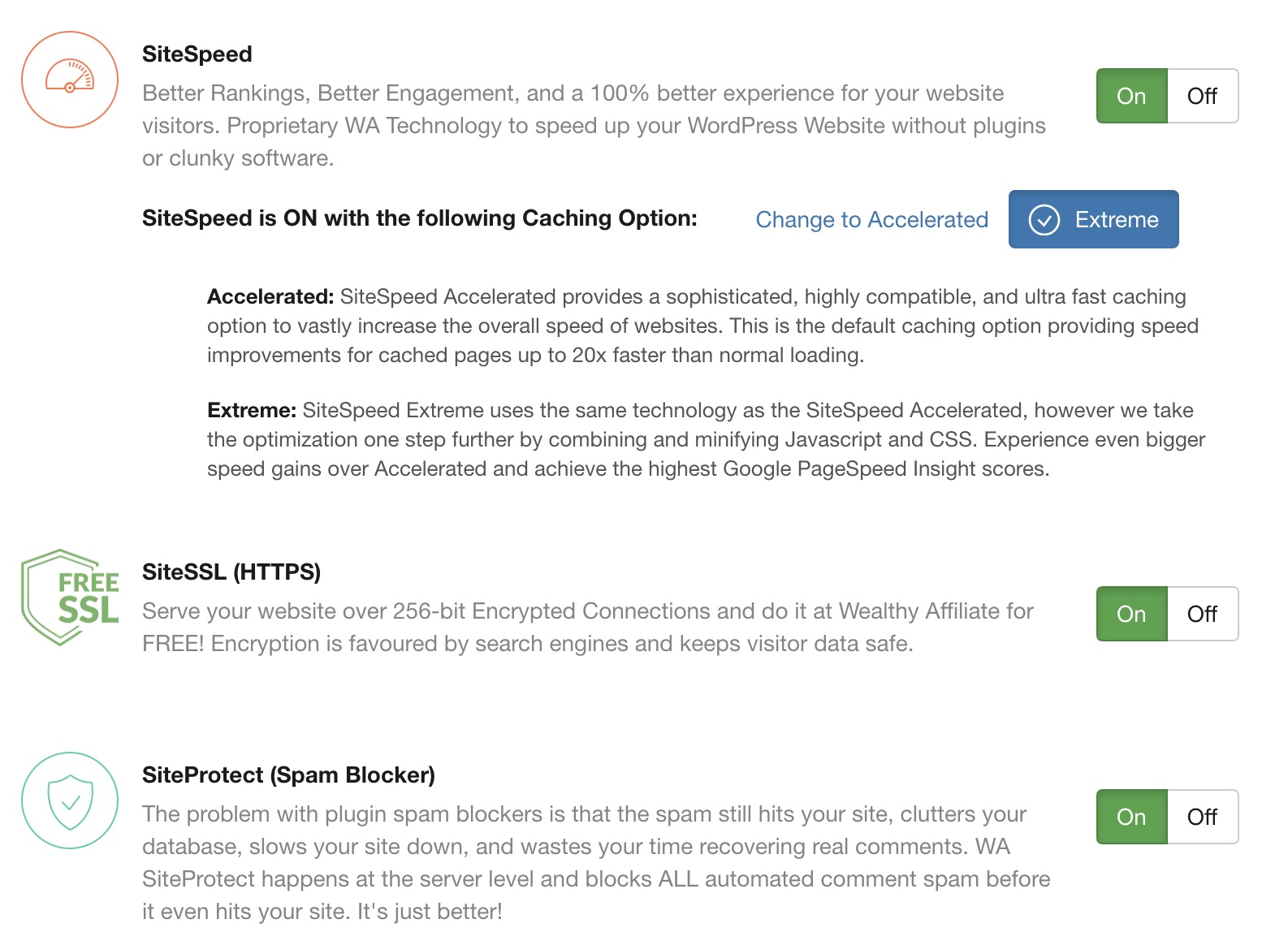 This is where you can see all your websites in one place + other information about them that may be useful.
You'll also get to see your SiteHealth, which gives you a clear and direct indicator as to how your website is performing from a search engine's point of view to plugin status, updates available, etc.
✔️ SiteBuilder
Do you know how long it takes to build a website with the SiteBuilder tool? About 1 minute.
Yep. That's all it takes. You've got to see it to believe it.
✔️ SiteDomains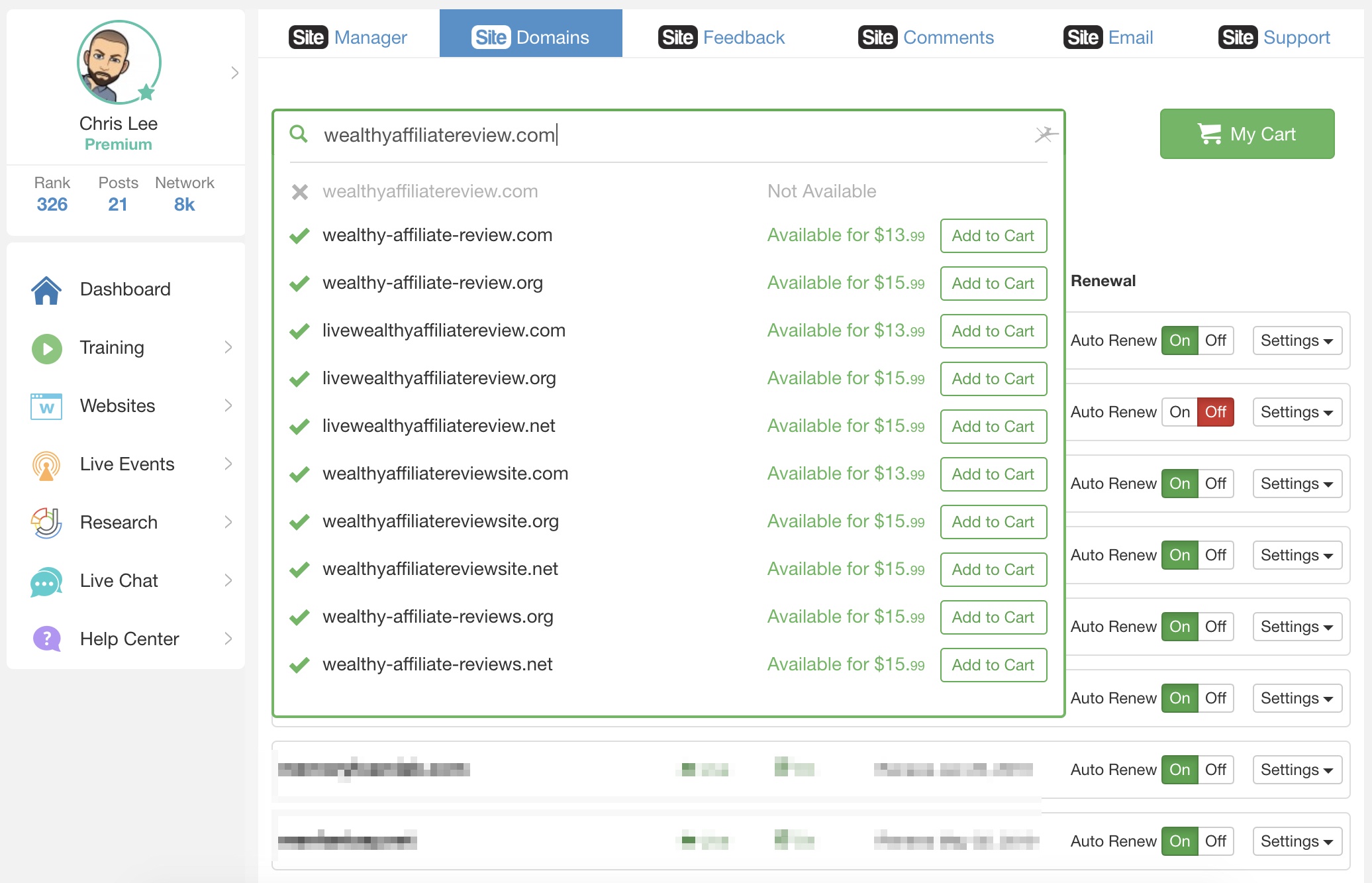 Not too long ago, WA launched its own domain registrar which goes by the name SiteDomains.
What makes SiteDomains better than more household names such as GoDaddy or Namecheap?
Free 100% security and backups,
Free speed boost and even
Free site emails (name@yoursite.com)
Just those few features alone would cost you around $50 per month outside of Wealthy Affiliate but as a premium member, you get all of that for just $13.99 per year!
Again, I know it sounds unbelievable, but Wealthy Affiliate delivers!
✔️ SiteContent
Another great tool (which I don't use often) is the SiteContent tool. This allows you to create content inside Wealthy Affiliate and then – with a click of a button – it gets published on your WordPress site.
This is useful because it gives you instructions as to how your content would likely perform in the search engines by measuring your keyword density, grammar, word-count, etc.
Super useful for many beginners who may not quite yet understand how to write an article for SEO purposes.
✔️ SiteComments
Comments are amazing – both for boosting engagement and also your SEO.
The SiteComments feature allows you to "request" genuine comments from the helpful community.
I'm not talking about the typical "great post bro" comments either.
The comments you will get have to pass through a quality-checklist first before the comment can be submitted for your approval.
This feature is incredibly useful as comments continue adding depth to your blog posts – in the long run, this will help you get more traffic and ultimately; more conversions.
✔️ SiteFeedback
SiteFeedback works very similar to SiteComments but instead of members leaving comments on your website, they are leaving comments about your website.
Want to know how your header looks, how your content is displayed or if your sidebar is "too cluttered or not"?
Just ask! The community would be more than happy to provide feedback for you.
✔️ SiteSupport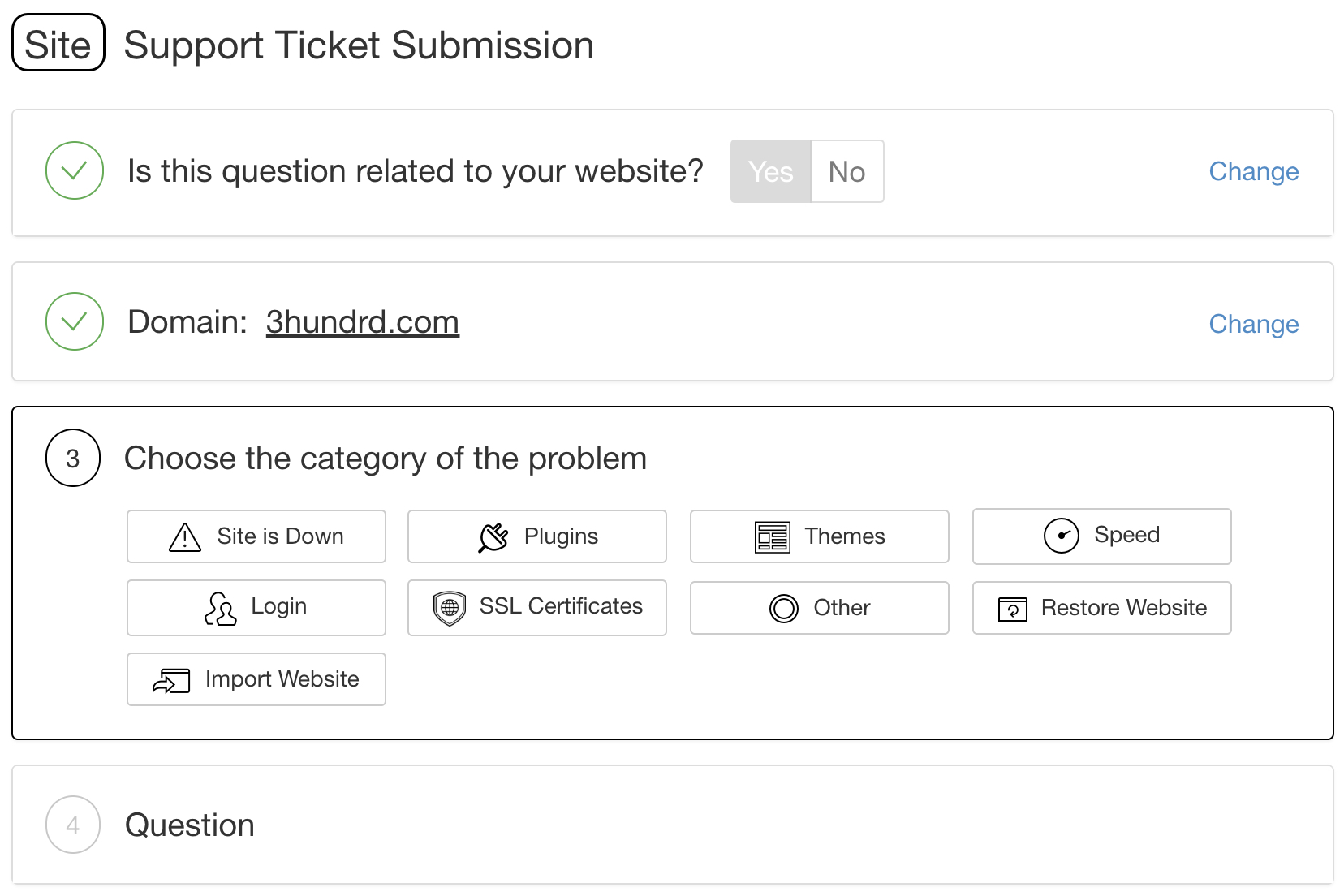 Something misfiring on your website?
It's not common but when it happens, all you have to do is shoot a quick email to SiteSupport and they will fix it for you – & I'm not talking 12 hours later. I'm talking 3 minutes later!
Meet Wealthy Affiliate's Founders: Kyle & Carson!
This may not be important for you to know, but this is what makes Wealthy Affiliate so popular and so loved.
One unique thing about it is that the two people behind Wealthy Affiliate (Kyle & Carson) are still very active in the community providing support, engaging with people, giving advice and answering your questions.
This is not as common as one may think. It's incredibly rare to have direct access to the course creators.
Here are both Kyle's and Carson's profiles inside WA (you can also expect a welcome message from both of them when you join).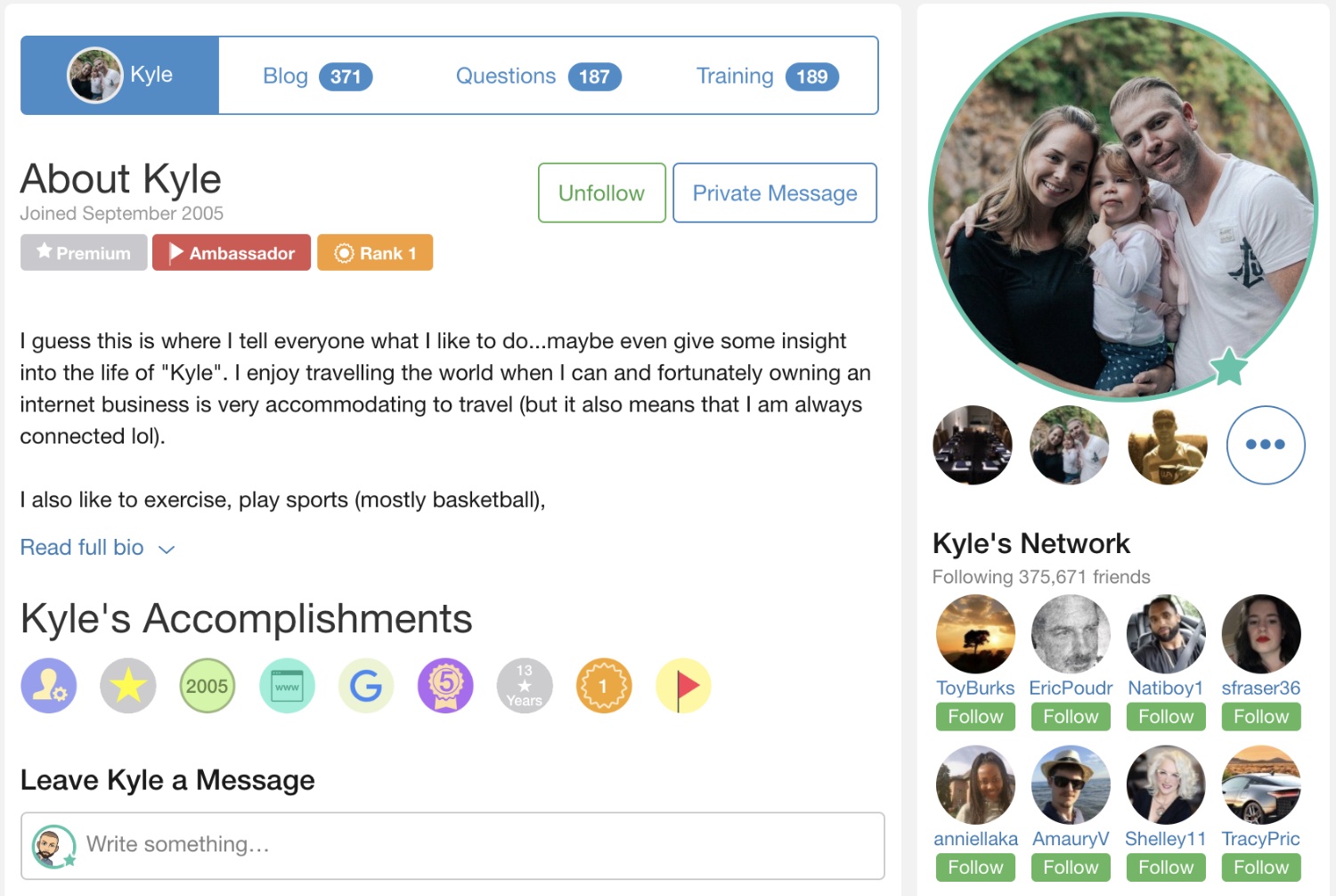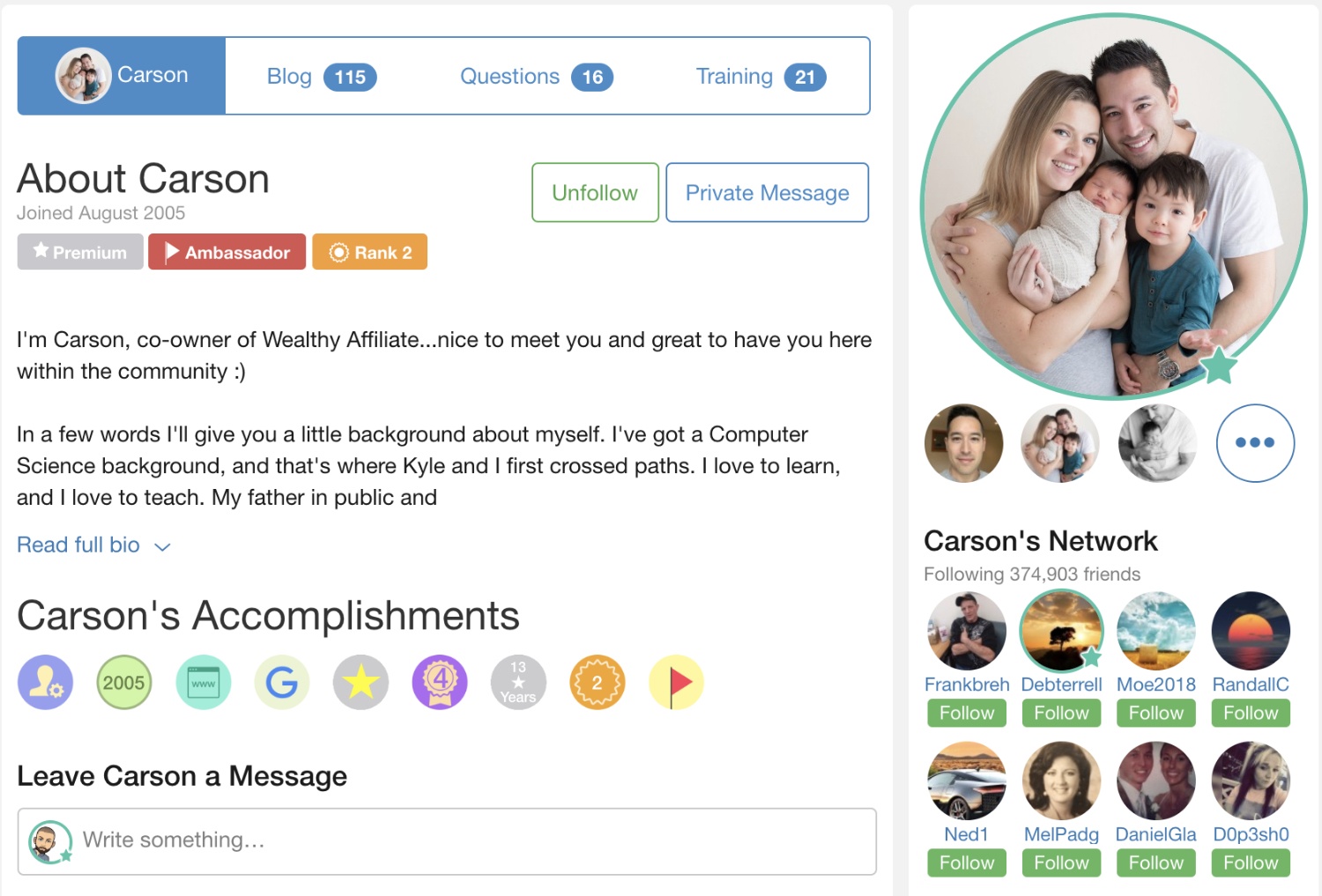 How Much Money Can You Make With Wealthy Affiliate?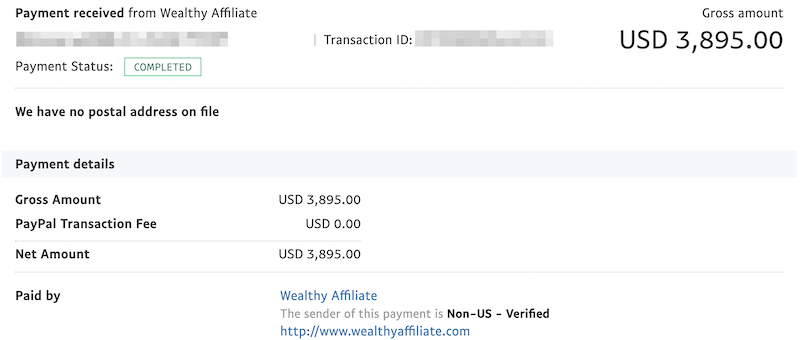 Wealthy Affiliate sounds great right? I'm sure you'd agree, but the question now is;
Can you really make money with Wealthy Affiliate & if so, how much?
Above you can see the last payout I received from Wealthy Affiliate and that's for just one month.
That is my payout for being an affiliate for WA but as I told you already, promoting Wealthy Affiliate is not the only way to make money with Wealthy Affiliate.
You actually make money by following the training provided and building an affiliate website in any niche you desire (using the Online Entrepreneur Certification course).
In fact, that amount you see above is about half of all my earnings as an affiliate. Most of my income comes from separate "small" affiliate websites I've built, some of which you can see here.
So yes, you can make money at Wealthy Affiliate and you can make money with Wealthy Affiliate (or both).
You just need to decide which method you want to choose.
Do you want to build a site in a specific niche – or;
Do you want to build a site that promotes WA (and other MMO opportunities)?
In all honesty, I would tell you it's much better if you go into a niche that you already know about because the "make money online" (MMO) niche is VERY competitive.
Many of WA's most successful students do not promote WA. They simply build websites and then promote products relating to the topic of their website.
Speaking of which, let's now take a look at;
Who Has Been Successful Following Wealthy Affiliate Training?
These are all "blog posts" community members create to share their success (and brag a little) about how well their business is doing.
You too can have these results, and I hope you too then write a blog post telling us how you did it.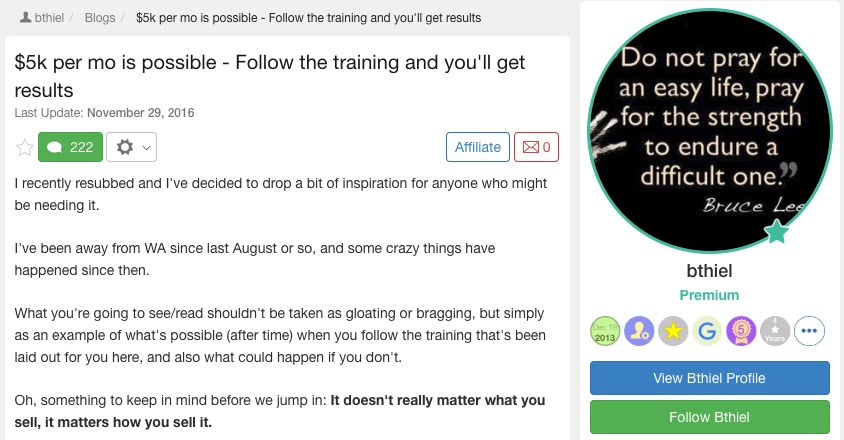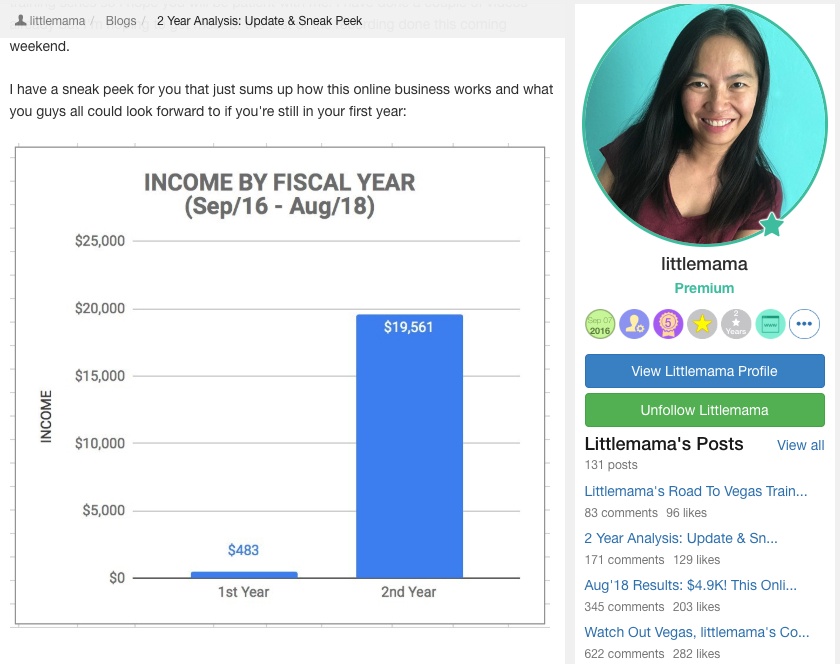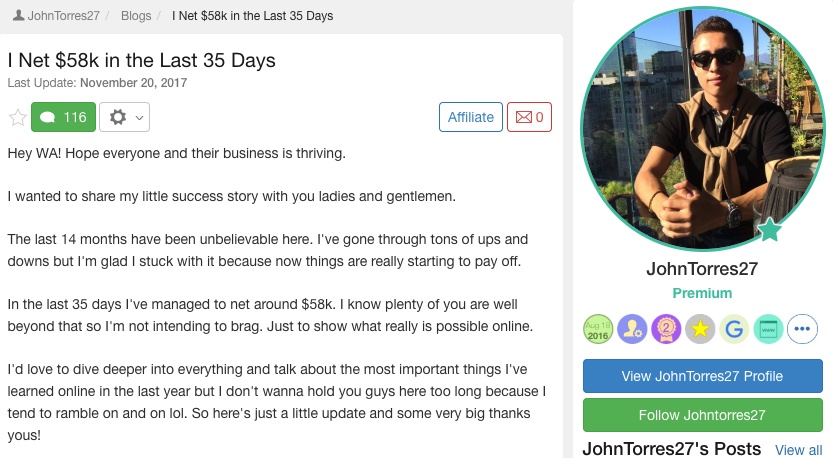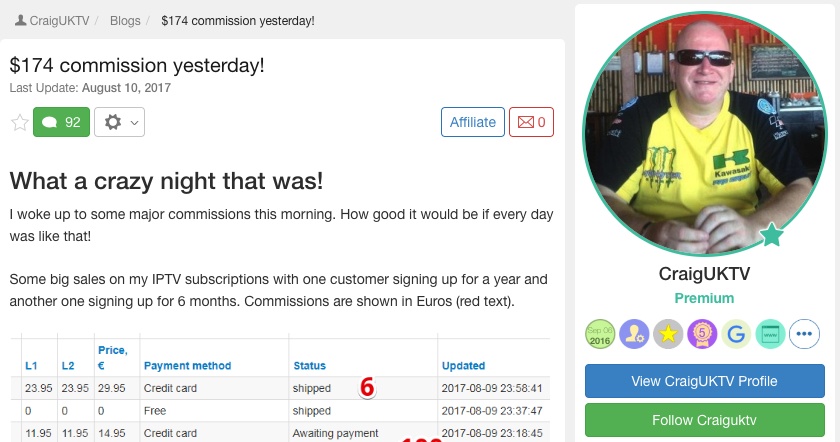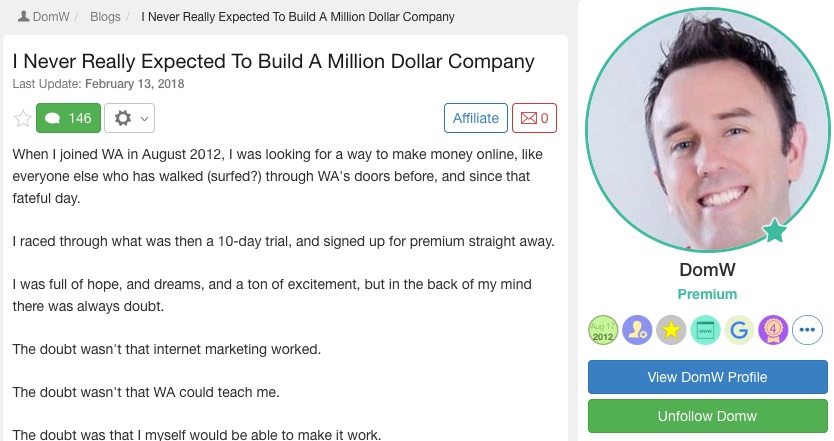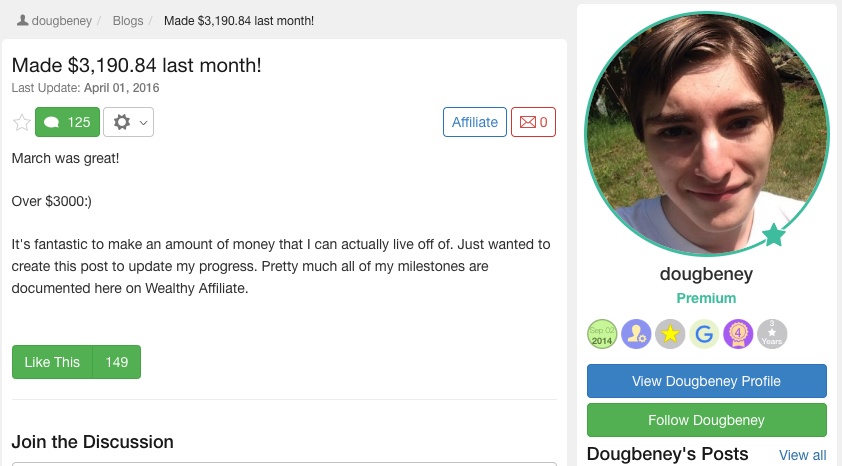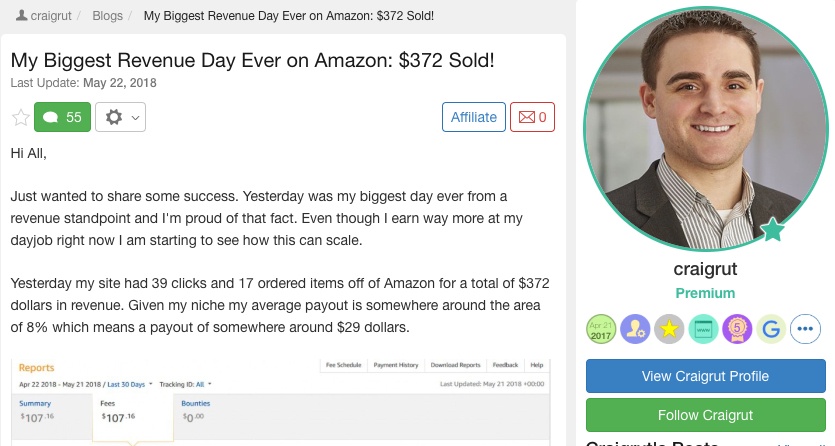 How Long Will It Take To Make Money With Wealthy Affiliate?
Another great question – and one that is often asked by beginner students.
While this is not as easy to answer, I am going to try and give you a close enough approximation based on the experience I had.
What you will be learning inside Wealthy Affiliate are the methods required to build an online business with affiliate marketing. This means you'd be utilizing content marketing i.e SEO.
SEO (search engine optimization) takes time to build up, especially when you're starting with a brand new website. If you do things as Wealthy Affiliate shows you in the training, it's more than likely that within 6-8 months, you'd start earning some money. By the one year mark;
You should have a successful website built up that yes; has the potential for a full-time income.
Again I have to tell you that there is no way I can make a prediction on this as it all depends on many different factors (what niche you pick, how well you execute the tasks, how much effort you put, your consistency, etc).
Some have started making a full-time income in as little as 3 months, some do not get there until the 2-year mark. Whatever it is; just know that it will take some time. If that's not quick enough for you, then it's best to avoid joining.
I know it's not fun to wait 6 months to see a return on your efforts, but trust me; the training works and if you manage to stick with it for the first months, then you are more than likely to see success. In fact; I guarantee you will!
The time will pass anyway so you might as well have an income-producing hobby in a few months rather than sitting and wondering what might've been if you just took the first step.
4 Reasons Why People Succeed With Wealthy Affiliate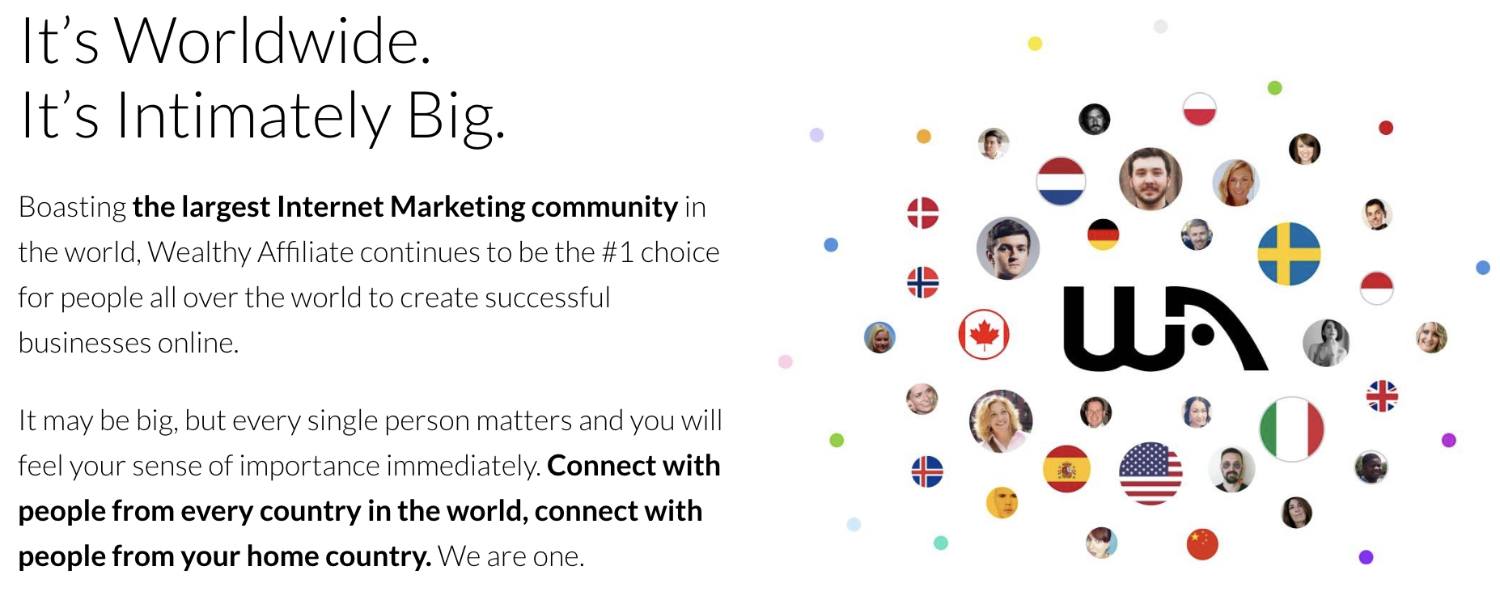 Even though I would boldly claim Wealthy Affiliate is the best affiliate marketing training course you can join, there will always be those who succeed with it and those who fail.
In the 8+ years I have been a member of Wealthy Affiliate, I have seen many people come and go. Many of them were successful but many also failed. Here are the major differenced between those who succeed and those who don't (in case you were wondering).
✔️ They Are Ready To Work Hard
Those who succeed come into Wealthy Affiliate with a mission to make it work. They work hard, they follow the training and they do everything that needs to be done to have a successful online business.
✔️ They Understand A Business Takes Time To Build
I don't know why affiliate marketing is a term that's often associated with "quick ways to make money".
This could not be further from the truth. Those who eventually go on to create a successful online business know this better than anyone else. Any sort of "business' takes time to build. It takes work, it takes patience and it takes time.
Do not go into WA expecting to get rich tomorrow as that will never happen and you'd probably end up failing.
✔️ They Leverage All The Tools Wealthy Affiliate Has To Offer
As I've already covered, apart from "just another course", Wealthy Affiliate also offers a plethora of online tools you can leverage – at no extra cost – to build your online business.
The SiteBuilder, the keyword research tool, the classroom, live webinars, etc…
These are all tools you should be using and those who succeed at making money have put these tools and additional services to work, and you should too.
✔️ They Learn From Other People's Mistakes
One thing that sets apart Wealthy Affiliate from all most other courses is the community factor.
To date, Wealthy Affiliate has had over 2,000,000 people join and each of them left a little clue of what to do, and what not to do to succeed. This gives you – the newbie marketer – an inside look at what works, what doesn't and what you should do to become successful.
Myself and many other members who have been successful at WA have all learned from each other, and it"s now your time to join in.
Let's now look at the…
4 Reasons Why People Fail At Wealthy Affiliate
✖️ They Think It's A Get Rich Quick Thing
One more time for the people in the back;
Affiliate marketing is not a get-rich-quick-thing (and neither is Wealthy Affiliate).
If you're coming into Wealthy Affiliate because you need to make money fast, and you've heard that you can get started today and make money tomorrow, you will fail.
✖️ They Do Not Follow The Training
Another reason I see many students failing is they simply do not follow the training or they do not complete the tasks that come with each lesson. This is a grave, grave mistake.
Just like you need a strong foundation to build a house, you need a strong foundation for your business and if you fail at building a strong foundation (which is what the courses show you how to do) your hopes for an online business will soon come crashing down.
If you plan on joining Wealthy Affiliate today, make sure you do not skip a single lesson or task in the training.
✖️ They Get Caught Up In The "Fluff"
This is deadly for many beginners and I know because I spent 3 years running around in circles myself when I was first getting started online.
Do not focus on the fluff. There are many ways you can make money online, affiliate marketing is just one of these ways. Do not go around jumping from one method to the other thinking this or that will make you rich.
As I said 100 times already, there's no get-rich-quick method you can try to do. Even more so, if you try to do everything all at once, chances are you will never make any of them work.
Take this from my experiences.
✖️ They Realize Affiliate Marketing Is Not For Them
Continuing on from my previous point, some people just do not enjoy the business of affiliate marketing, which is understandable.
It takes quite a bit of effort to get the ball rolling and affiliate marketing does require you to become a "blogger" meaning you have to be creating content for your website at least a few times per week.
Some people do not like the idea of this, and rightfully so – affiliate marketing is not for everyone.
However, if you've done your research and you know what affiliate marketing is and how it works, then again I would tell you Wealthy Affiliate is probably the best place you can learn how to create a business with it.
My Wealthy Affiliate Complaints (Negative Reviews)
I'd be lying to you if I said I love everything about Wealthy Affiliate. This Wealthy Affiliate review is nearly 6000 words long and I did not want to go through all this effort to give you just one side of the story.
With that said, I also want to address some of the most common complaints about Wealthy Affiliate, problems, and also negative reviews. Let's get started…
Wealthy Affiliate Can Be Overwhelming
This is true. Wealthy Affiliate is a MASSIVE website with 2,000,000 users and thousands of pages. To say it's complicated to navigate, would be true.
One thing I suggest you do when you join is to simply follow either-or of the two main courses provided.
If you stick with those, and you follow the lessons in a day-by-day, task-by-task manner as you're supposed to, you should not feel overwhelmed.
I'm Not A Fan Of The Ambassador Program
Inside Wealthy Affiliate, there's also something called "The Ambassador Program".
It's an absolute disaster.
What it does is it ranks Wealthy Affiliate's members by their activity on the platform, which is a good way to see who is an active member, but nothing else.
However, many people who come into Wealthy Affiliate think that the top "ambassadors" are the most successful in making money with affiliate marketing and this could not be further from the truth.
Even though there are some legit uber-successful members in the Ambassador program, most of the people you see on there are only there because they are active inside Wealthy Affiliate all day long.
It does not mean they have a successful business and it does not mean you should follow their advice either.
There's Some Outdated Training That Needs To Go
For 15 years, people have been creating content inside Wealthy Affiliate sharing various strategies with others with the hopes of teaching each other the best way to make money with our websites.
While that's great, and it's part of what makes Wealthy Affiliate an incredibly unique place, there's also plenty of "outdated training" that should be deleted in my opinion.
I am sure many have been deleted already but it's not uncommon to come across a blog post from a member published in 2015, which in most likelihood is outdated and the strategies outlined there simply do not work (anymore).
Is Wealthy Affiliate Legit?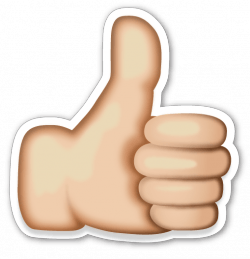 If you've been buying up courses promising to they will teach you how to make money online, you've probably come to the realization that most online courses are over-hyped at best, and pure scams at the worst.
"Is Wealthy Affiliate a scam or what?"
My take on it is that Wealthy Affiliate is NOT a scam and you'd be foolish to think that it is.
The reason for this is that you can start your training inside Wealthy Affiliate for FREE and then upgrade when it's time to do the higher levels of training. This will give you more than enough time to see for yourself all that you get as a member and you will see that the training works.
You don't even need to have a credit card on file to join. You just need to create an account and start exploring all that's there to explore. You can't get scammed if it's free, right?
Once you've seen for yourself how WA works and what it can offer you, then by all means – go for a premium membership (which I assure you it's worth the money – as you will soon see).
I'm not saying I know everything I need to know about affiliate marketing because that would be a lie, but I have been doing it for years now and yet, I still remain a premium member of Wealthy Affiliate due to the fact that you get to learn something new every day.
With over 2,000,000 members, all aspiring to build online businesses, the value you can extract from that kind of activity is unmatched anywhere else.
How Much Is Wealthy Affiliate Premium Membership?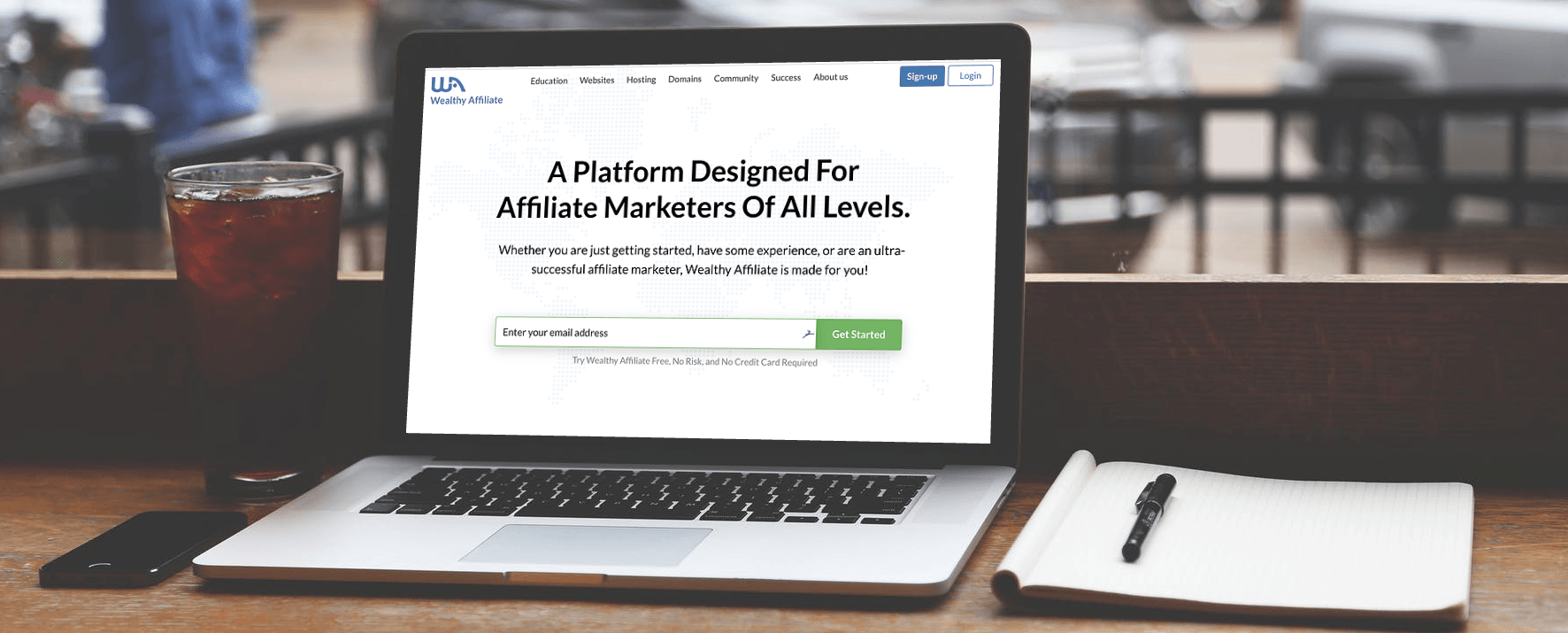 Let's now talk about pricing as there's plenty to be said here. As a member, you have 4 options. These are:
The Free Starter Membership
The First Month Premium Offer
The Monthly Premium Membership
The Yearly Premium Membership
Let me now explain how each membership plan works, and what you get with each one:
The Free Starter Membership ($0 – free forever)
This is the entry-level membership of Wealthy Affiliate and I suggest you start here. Anyone can join WA as a starter member and you can stay on as a free member for as long as you want.
Yes, there may be some restrictions but even as a free member; you should have enough information available to start earning with your new online business. My suggestion would be to first join as a free member and then take advantage of the premium membership 1st-month offer if you like what you see.
You can create your free account here.
The First Month Premium Offer ($19 – for your first month)
If the free membership is not enough to make you believe in the power Wealthy Affiliate and its training, you can take advantage of the first-month premium offer.
This would allow you to enjoy the full unrestricted experience just like a premium member for only $19. Once your first month is up, you will then be automatically be billed $49 per month for as long as you decided to stay on as a member.
Don't worry, canceling your membership only takes a few clicks. I have a small guide on how to do that towards the end of this guide.
The Monthly Premium Membership ($49 p/month)
After your first $19 month is up, you will then be enrolled in the $49 per month membership plan. In your first 30 days, you'll hopefully have seen for yourself what an incredible resource Wealthy Affiliate really is.
As I am sure I have proven to you by now, the $49 per month cost is more than fair for what you will be getting. But wait, you can actually get it for way less…
The Yearly Premium Membership ($359 p/year)
Last but not least, we have the yearly membership plan, which is an absolute bargain!
This is just like the monthly plan, but paid yearly; thus you'll be getting a great discount and saving money a lot of money in the long run. Here's how that goes:
12 months x $49 monthly payment = $588
1 yearly membership = $349
Total savings when you go yearly: $239!
Why would you want to go yearly?
Because the people who do are destined to eventually make money!
Building an online business takes time. The people who commit for a year are usually the ones that manage to stick it out for as long as needed to make it a successful venture.
Correct me if I'm wrong, but $349 a year for everything you need to build an online business sounds like a pretty good deal to me – and it is. If you do not want to invest $349 into your business – an investment that can literally change your life – then maybe starting a business is not the best option for you.
If you're not sure about it, then go ahead and try the free membership first, but if you like it, going on yearly will be the best decision you ever make.
How Does Wealthy Affiliate Compare To Other Courses?
Of course, Wealthy Affiliate is not the only "good" training course there's out there.
Even though I am slightly biased towards WA because that's what allowed me to create my online business, I've also reviewed some other fantastic training course which you may want to know about (if you think Wealthy Affiliate is not for you). These are:
Savage Affiliates is the affiliate marketing course created by Franklin Hatchett and IMO, it's "up there" with some of the best training courses there is.
However, when compared to Wealthy Affiliate University, I would have to claim WA as the winner here since WA is:
Slightly cheaper to access – and
There's more "value for money" inside WA with all the tools/services.
I am a huge fan of the boys from IncomeSchool.com (if you do not know who they are, look them up on YouTube – you will love them).
Not too long ago, they released their Project24 course which (just like Wealthy Affiliate) teaches you how to make money blogging (with affiliate marketing).
Again though, when compared to Wealthy Affiliate, I have to say Wealthy Affiliate comes out on top, mainly due to:
Income School being super expensive (compared to Wealthy Affiliate) – and;
There's much more training, tools, resources and services at WA (offered at a lower price).
How To Cancel Wealthy Affiliate Membership
Not that you'd want to cancel, but if you ever need to take a short-break from Wealthy Affiliate and from the training, all you need to do is to simply cancel your subscription.
As a free member, you do not need to cancel anything since you won't be asked for credit card details when you first sign up.
Simply stop logging in to Wealthy Affiliate and that is it.
Your account will be deactivated and you can jump back in when (or if) you're ready to get back to it.
As a premium member, all you would need to do is to go to your Wealthy Affiliate dashboard, and follow these instructions:
Profile > Account Settings > Membership tab > Stop Billing & Cancel Membership.
Once you do that, your account will remain on premium until your month is up and after that, your account will return to the free membership.
So, Is It True What Everyone Is Saying About Wealthy Affiliate?
This may or may not be the first time you're hearing about Wealthy Affiliate.
If you take a look online, you will see ALL top-ranking reviews are very positive towards WA. So is it true what everyone is saying?
Is Wealthy Affiliate really that good?
YES! There are some issues with it (as mentioned above) but overall, it's by far the best way to learn affiliate marketing. I'll see you on the inside.