If you've been "trying your best" to make money with affiliate marketing but all you've had so far is disappointment, I'm going to reveal something to you that should make you question everything you've ever read on the topic.
The "Affiliate Starter Pack" is something I've created myself to help you (and anyone else) finally understand how this whole "make money online" thing works.
By the time you are finished reading this page, you are going to know exactly what you need to do to build a thriving affiliate website and how to finally start earning the type of "affiliate commissions" you've read so much about.
Don't believe me?
Read on…
If you've been looking into affiliate marketing as a way to make money, then I'm sure you already know about the benefits that come with being able to consistently create profitable affiliate assets that pay you around the clock.
Would you like to have more free time in your life?
Would you like to spend some more time those closest to you?
Would you like to "fire your boss" and never work for anyone ever again?
Would an extra $1,000 / $5,000 / $20,000 a month improve your lifestyle?
While that sounds like a fantasy, it's actually a reality for many affiliates who have finally understood what it's all about and what it takes.
Unfortunately; most aspiring affiliates never achieve this.
In fact; most fail before they ever make their first dollar.
Why is this?
Why can you not succeed (even though you know it's possible)?
Why do so many people fail when there's so much information available?
Why does "the dot-com lifestyle" seem like it's only possible for a select few?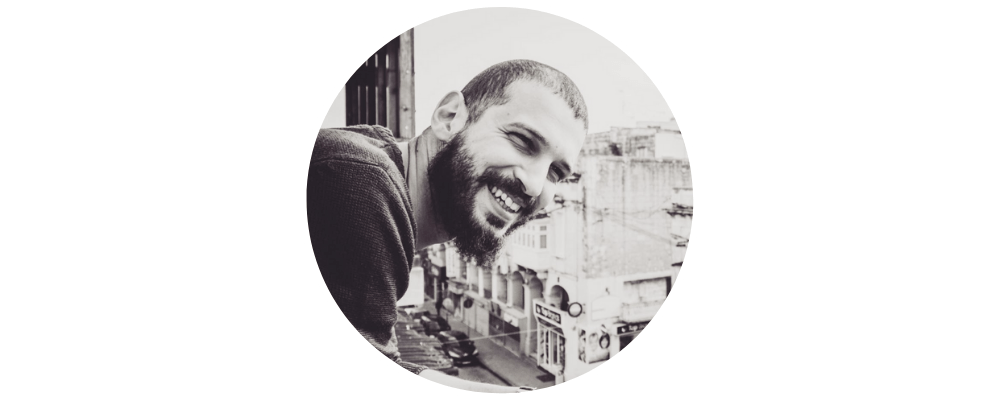 NB:
Want to see how I make money with affiliate marketing? My new book reveals my entire process, including my 4-step approach to building affiliate websites.
CLICK HERE to download my book for free
.
My name is Christian Lee and for the past 6 years, I have been making a full-time income mostly from building very-simple affiliate websites that I build once, and then continue to pay me for many months (and years) after I walk away.
Before I explain to you what the "Affiliate Starter Pack" is all about (& how it can help you finally crack-the-code) let me first tell you about why I got into affiliate marketing and how I overcame all the confusion and disappointments you're currently facing.
From $3,000 A Month To $0 (Literally Overnight)
There I was – a 21-year-old making $3,000 a month on Fiverr.com thinking "I've made it" when all of a sudden, poof – I lose everything. 
Back then, Fiverr was still a novelty and I was one of the first top-rated-sellers on there so I was making BANK doing random tasks such as content writing, translations, video-editing etc…
All was going well – very well actually – until one fine day me and a crucial part of my Fiverr business – break up.
I don't want to get into that story as it's irrelevant at this point, but I literally went from making $3,000 a month to $0 – overnight.
Literally overnight, I find myself with no source of income.
The only option I had was to crawl back to my day job (luckily for me, I worked for my family so it was not difficult to do – but it was still a huge embarrassment).
Sure enough, I hated it – (it's exactly why I started making money online in the first place).
While in the stockroom carrying obnoxiously heavy boxes, heartbroken and broke-as-a joke, I was thinking about giving this "make money online" thing another go – but if I was going to do it again;
This Time I Need To Be The One in Charge
I always hated the idea of exchanging my time for money so this time, I wanted a business, not an "online job" – like Fiverr was.
This is when I stumbled across and started learning about affiliate marketing. 
I bought a few courses, joined some email lists (that only wanted to sell me a few more courses), and I got to work…
The first website was a failure.
The second website had some traffic, but never made any money (so also a failure)
"Shit… am I going to have to keep working here!? Affiliate marketing doesn't seem to be as straight-forward as I thought it was".
I decided to go at it "one last time" with yet another course, and I promised myself (and my parents) that if this is not going to work, I will accept my faith, give up on all my dot-com dreams and that would be the end of it.
So I got to work on my new website. A few weeks go by and nothing.
No traffic, no sales.
I was contemplating giving up, but since I had nothing better to do with my free time, I just kept at it.
If this is going to be my last attempt, I might as well keep trying to make it work.
Then –  *just like that*  – it happened.
I woke up one morning, logged into my Amazon Associates expecting the same old $0.00 and low and behold… I had made $0.84c! 

I'm going to pause the story right here because this has to be said…
There's Nothing Like Making Your First Affiliate Commission!
I don't care if it's $0.84c or $84.
Your "first sale" is the closest thing to "money buying happiness" that you can find – ask anyone who's experienced this and they will tell you the same thing.
Pure, child-like joy!
Making $0.84c does not seem like such a big achievement (and it isn't, especially when you compare it to the thousands I used to make on Fiverr) but those few cents did prove a few things:
I managed to make money while I was asleep (I didn't have to "be on the clock" for it).
I can make much more than $0.84c if I figure out how this whole thing works.
I can definitely make money with this – I had seen PROOF affiliate marketing is real!
Affiliate Marketing Is
Not

Hard!

Get people to your website, entice them to click on your affiliate link, earn a commission when they buy.

That's all there really is to it.

Once you've earned your first sale, you finally get to see the whole "equation" from start to finish and I realised why I had been failing for so long; I was doing it all wrong.

I just did not know what I was doing – but after that first sale, everything became crystal clear.

I had to come to terms that I had just wasted months of work and move on – but since that day; I've kept working on my business and needless to say – I now earn much more than $0.84c a month.

What's the difference between me now vs 6 years ago?

I now have a roadmap that I can follow, a structure, a streamlined process that allows me to quickly build multiple affiliate websites and have them earning me a profit.

I now know WHAT I need to do and HOW to do it.

No more "sounds good but doesn't work" advice.

I've closed the loop and I have successfully replicated the strategy time and time again and I have not had a single site fail on me in two years.

Now back to you…
If you've been struggling to make money with affiliate marketing, then you're probably stuck in the same situation I was…
How many how-to blogs have you read?
How many videos have you watched?
Now tell me, how much money did you make from all of that?
Probably nothing.
If you've had success with affiliate marketing already, then congratulations – you're part of the 4% that do make it – however, what I'm about to share next is NOT for you.
You should only keep reading if you've been running around in circles, taking advice from here and there without knowing what you are doing and WHY you are doing.
If you have not made a single cent with affiliate marketing, pay attention as this needs to stop TODAY!
The Affiliate Starter Pack is a bundle of two courses, one of them being the same course I took a chance on when I said: "I'm only going to try this one more time", and another course which I will tell you about very soon.
Before I reveal them to you, I want you to know that it's not just me who has found success with this course.
Here's What Many "Beginner Affiliates" Who Have Gone Through This Training Are Currently Reporting…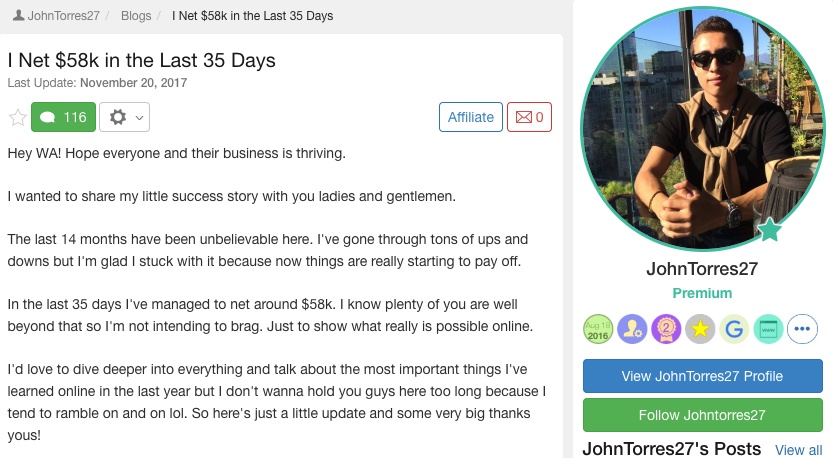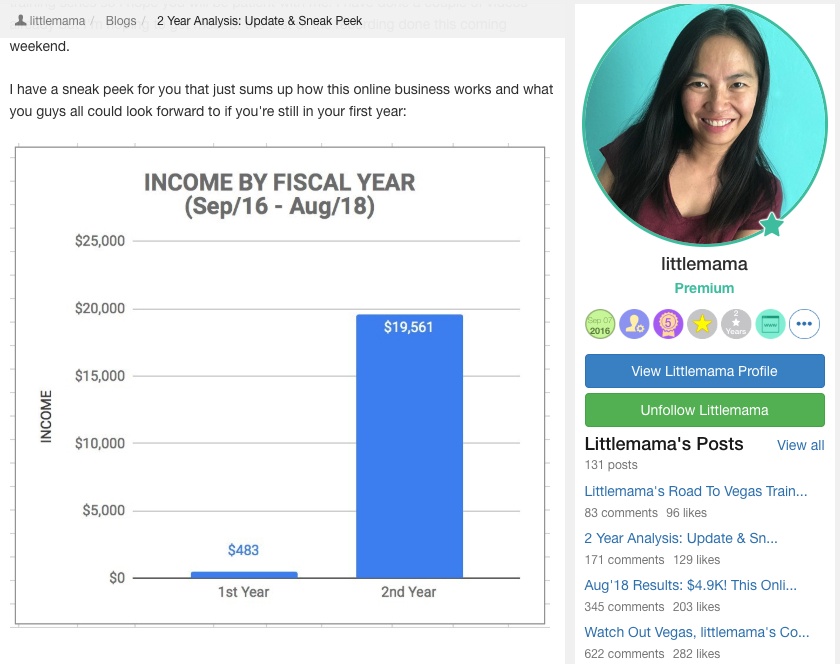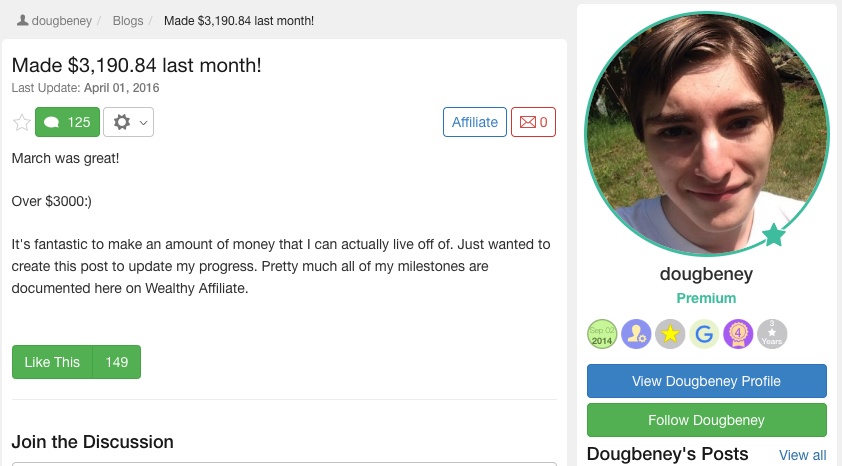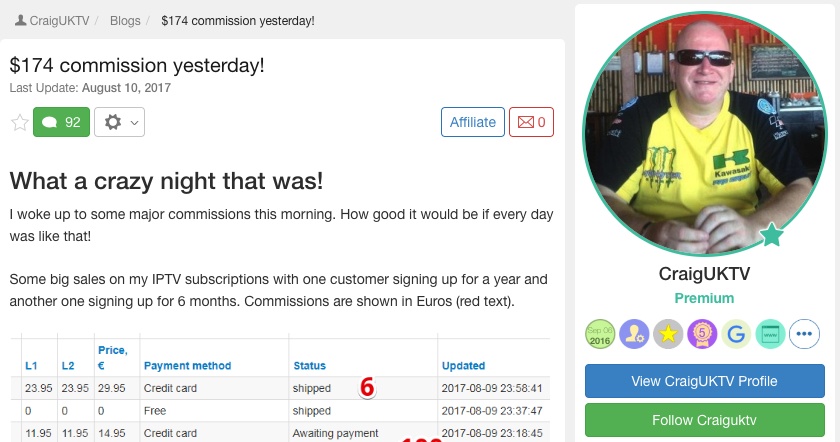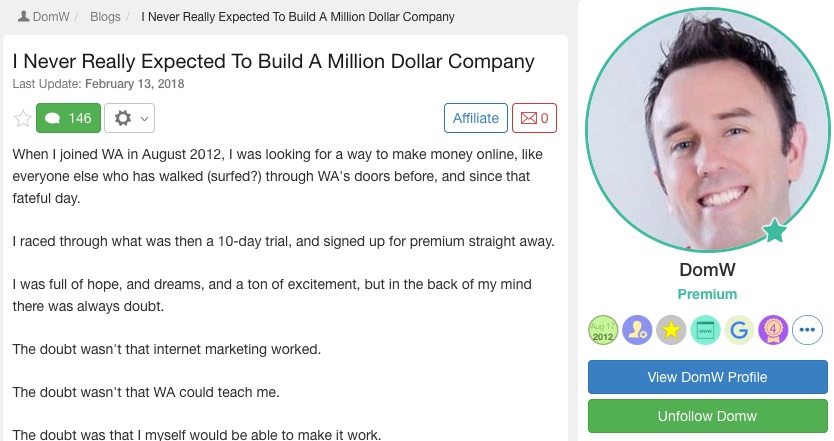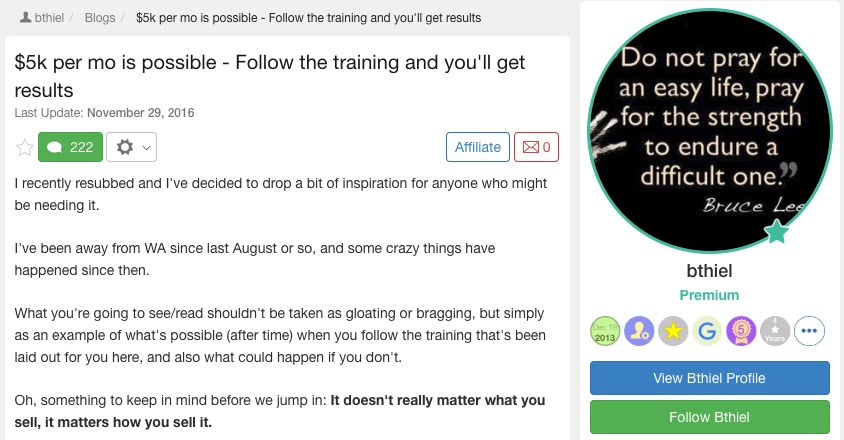 As you can see, pretty much anyone can make money with affiliate marketing – *when you know what you're doing.
I'm no whizz kid (English is not even my first language) and I doubt any of the above students currently killing it with their business have some God-given talent that makes them "naturals" at affiliate marketing.
There's no secret, and no special-talents – the training just works.
Let's now see how you can replicate the same results…
Introducing The Affiliate Starter Pack: Two Courses That Will Change How You See (& Do) Affiliate Marketing, Forever!
This clever little "package" I've put together for you is all you need to build a profitable affiliate website without all the confusion & second-guessing.
This is the same course and strategy that I've followed and helped develop for anyone anywhere to be able to study and make money with.
Here's What You Get…
With the Affiliate Starter Pack, you'll be getting access to the Wealthy Affiliate University and access to my $97 Affiliate SEO Mastery course – for free.
The Wealthy Affiliate University:
Wealthy Affiliate is the same training course I followed to make my dot-com dreams a reality.
It's an online community of affiliate marketers that are all there to do one thing; build affiliate businesses.
To date, Wealthy Affiliate is responsible for over 1,400,000 affiliates.
Yes; one million, four-hundred-thousand affiliates – that is not a typo and not something that should be taken lightly.
The creators of Wealthy Affiliate have made sure you get everything you could possibly need to create, build, run and grow an affiliate marketing business that – without exaggeration; would change your life.
What You're Getting as a Premium Wealthy Affiliate Member:
Two mega in-depth step-by-step video courses (with over 100 hours worth of content).
Instant Help 24/7/365 through the LiveChat feature.
Instant access to the pool of 1,400,000 affiliates inside Wealthy Affiliate's walls.
Private messaging to any of the super affiliates who are active daily in the community.
Live weekly webinar (every Friday) discussing different top-level strategies each week.
Private one-on-one access with the co-founders of Wealthy Affiliate.
Unlimited one-on-one access with me helping you with anything you need to fill in the gaps.
Video walk-throughs for everything you need to get your website earning an income.
A built-in domain registrar to make starting a website as easy as 1,2,3, done.
Easy one-click-installs for all the affiliate websites you want to build.
FREE hosting for up to 25 domains (thus saving you $1000+ in hosting fees).
FREE keyword research tool.
FREE article writing tool with easy publishing to WordPress.
How's that for an affiliate marketing education?
Can this training teach you something you may have never realised before?
Probably, but that's not all you get. This is just half of what the "Affiliate Starter Pack" is all about.
Let me now tell you what makes the bundle super-unique.
If you decide to try out Wealthy Affiliate today, I'll also give you my $97 Affiliate SEO Mastery course for FREE.
The Affiliate SEO Mastery Course ($97 >> FREE)
Designed for beginner affiliate marketers in mind, the Affiliate SEO Mastery course is my own training course which I've created from all the experiences, failures, wins and lessons learned over the years with SEO.
If you don't know what SEO is, it's "search engine optimisation" and it's absolutely critical you get your SEO right with your affiliate website.
If you have no traffic, you have no sales.
(If you've already tried affiliate marketing, then you know what I'm talking about).
The entire strategy is laid out in a simple 3-step process, and it'll give you everything you need to get your affiliate website off the ground, and onto Google's first page.
What You'll Be Learning Inside Affiliate SEO Mastery:
An introduction to keywords (and how to understand the unique intent behind them).
What type of keywords you need to look for to make money (as an affiliate).
How to find and target high-converting "buyer keywords" – a goldmine!
7 ways to find easy-to-rank for keywords (down to the exact metric).
How to create content Google wants to rank (makes things soooo much easier).
How long your content needs to be (without exhausting yourself or the reader).
How to strategically insert keywords in your content.
The two critical things you need to do after you hit publish to guarantee quick page-one rankings.
The 10/10/10 content strategy I use to build a site once, and never touch again.
The secret to 1000%+ increases (this is a mega 4-part lesson).
How to make money with your newly-found SEO skills (I have a student who now works in a marketing agency as an SEO).
The one simple metric that skyrockets rankings (which affiliate marketers never even realise is right in front of their eyes).
How to successfully out-rank the competition, even if they are bigger and smarter than you.
How to get a top 10 result in an hour (an old SEO secret many have forgotten about).
and a whole lot more.
This course currently sells for $97, but I'm going to let you in on a little secret;
I'm working on version 2.0 of this course and once I release it, the price will be going up to $197, however – you can get in for FREE today.
This course took me well over 2 months to put "pen-to-paper" and while many industry-friends told me I'm severely under-charging for it, I didn't want to make it too expensive for those who are just starting out.
(SEO will be your biggest headaches and without it, you're dead in the water).
Now, combine Wealthy Affiliate's training with the strategies that I will teach you inside the Affiliate SEO Mastery course and tell me how it would be possible NOT to find success.
All the lessons, tools, resources, webinars and help you get from both these courses are unmatched by any other course in the world – I will put my reputation on the line with that one.
It gives you everything you need to know,
All the tools to become successful with affiliate marketing (without waiting years),
A clear path forward to success (having a structured roadmap always helps), and
Every single little technical headache has been taken out the equation.
As I shared with you earlier, I used to go from failure to failure. Today, I run a portfolio of 16 affiliate websites and I haven't had a "failure" in 2 years.
Should You Get The Affiliate Starter Pack Bundle?
If you're serious about becoming a passive-income-earning affiliate marketer, then I think the choice is obvious – but you're going to have to make your own decision here.
Let's say you decide to take a leap of faith and take me up on my offer, you will be:
Learning how to build passive income websites that produce monthly income like clockwork.
Learning a complete no-fluff, no BS strategy that you can replicate time and time again for more profits.
Building something that will pay you

forever

, so you can take back control of your time and use it as you wish.
Still Not Convinced This Is For You?
I know the affiliate marketing industry is filled with ballsy claims and hyped-up scams so maybe you'd like to some more proof to go with what I'm telling you.
No worries, I've got plenty to show you…
Here Are Some More Successful Students From Wealthy Affiliate: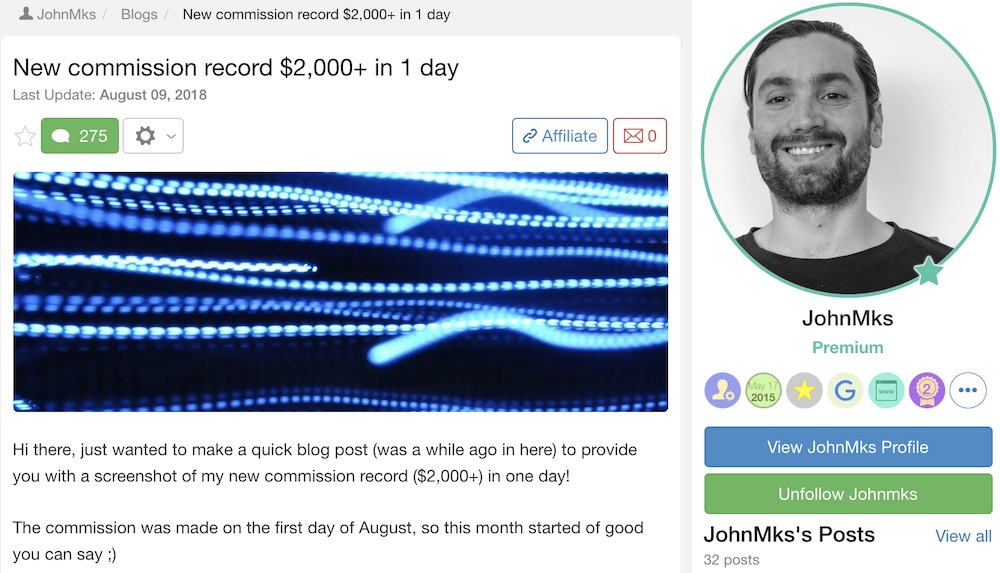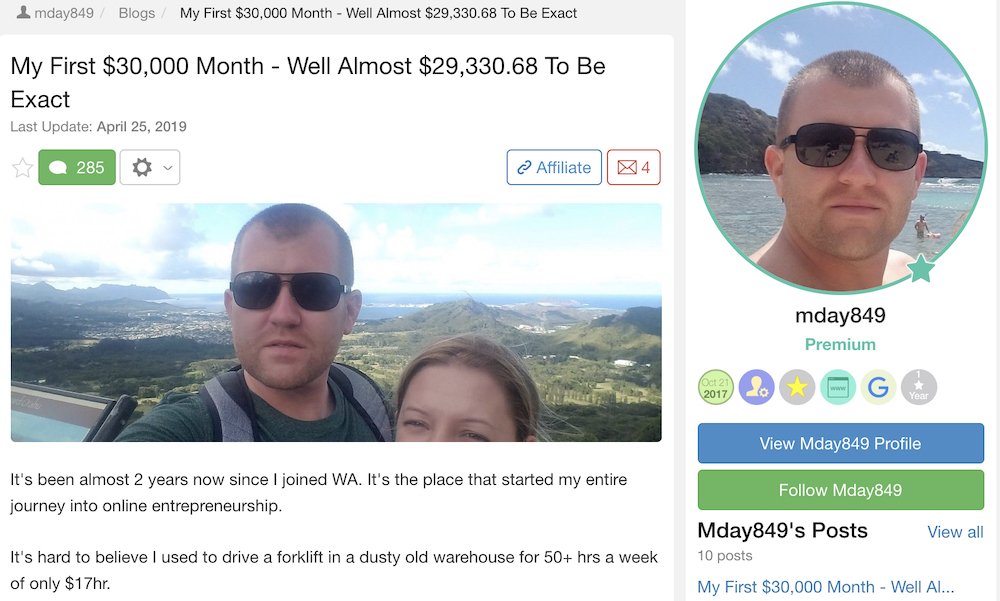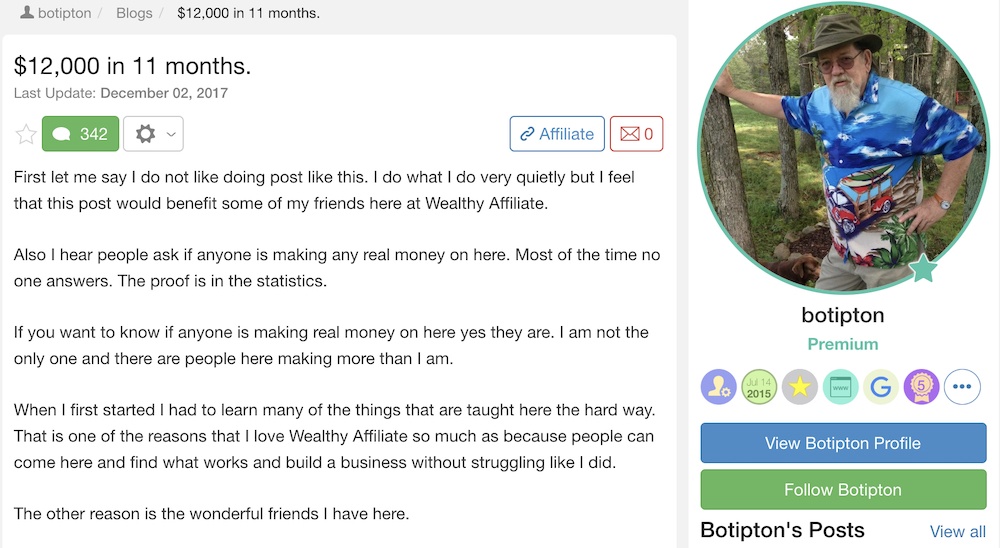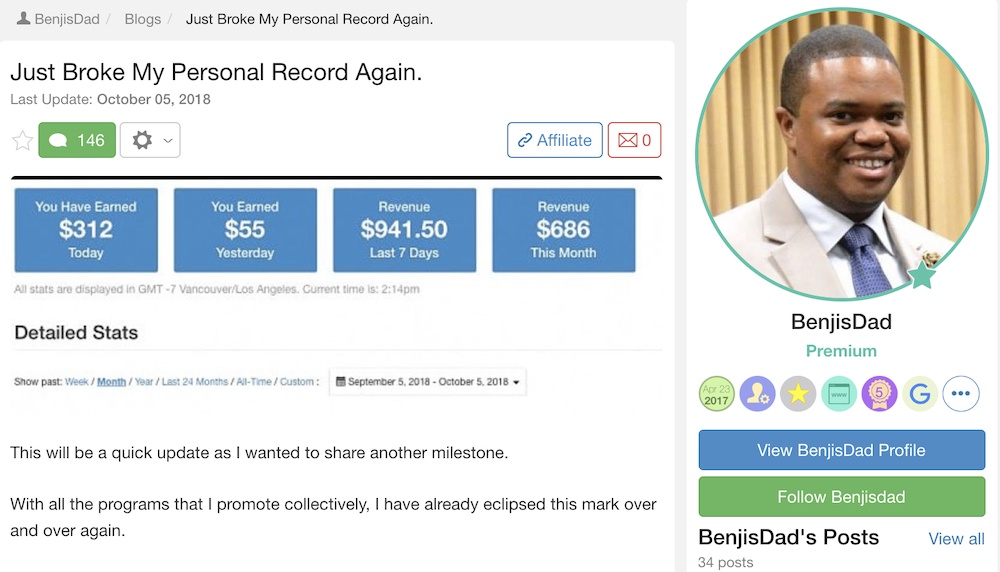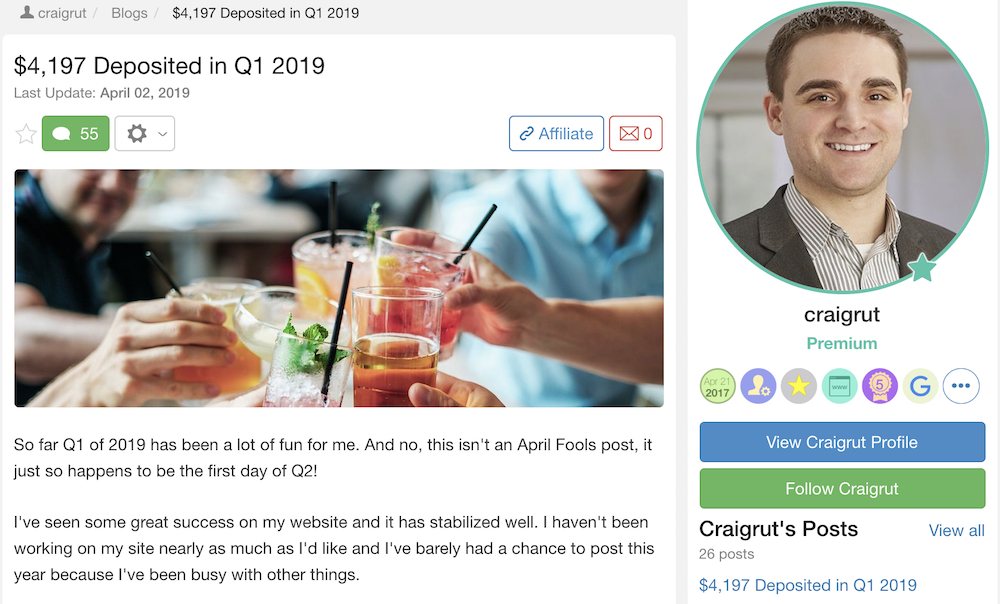 Some More Successful Students From Affiliate SEO Mastery: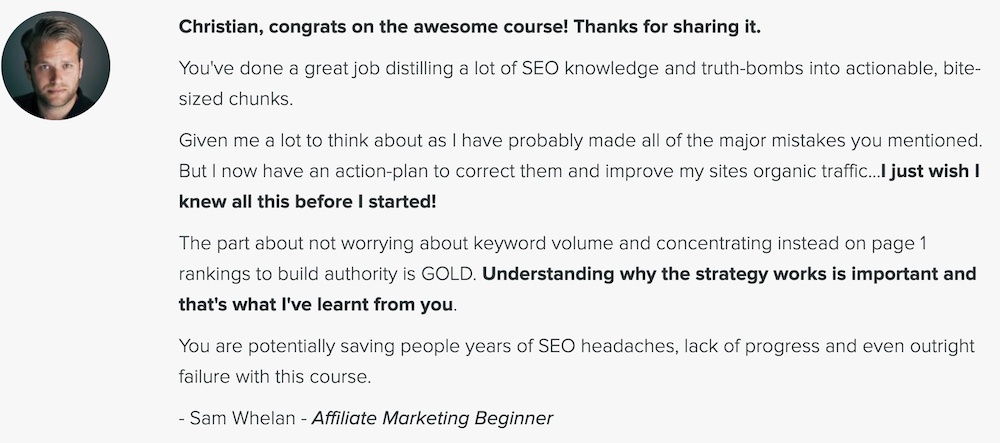 Some Results From Students Inside Affiliate SEO Mastery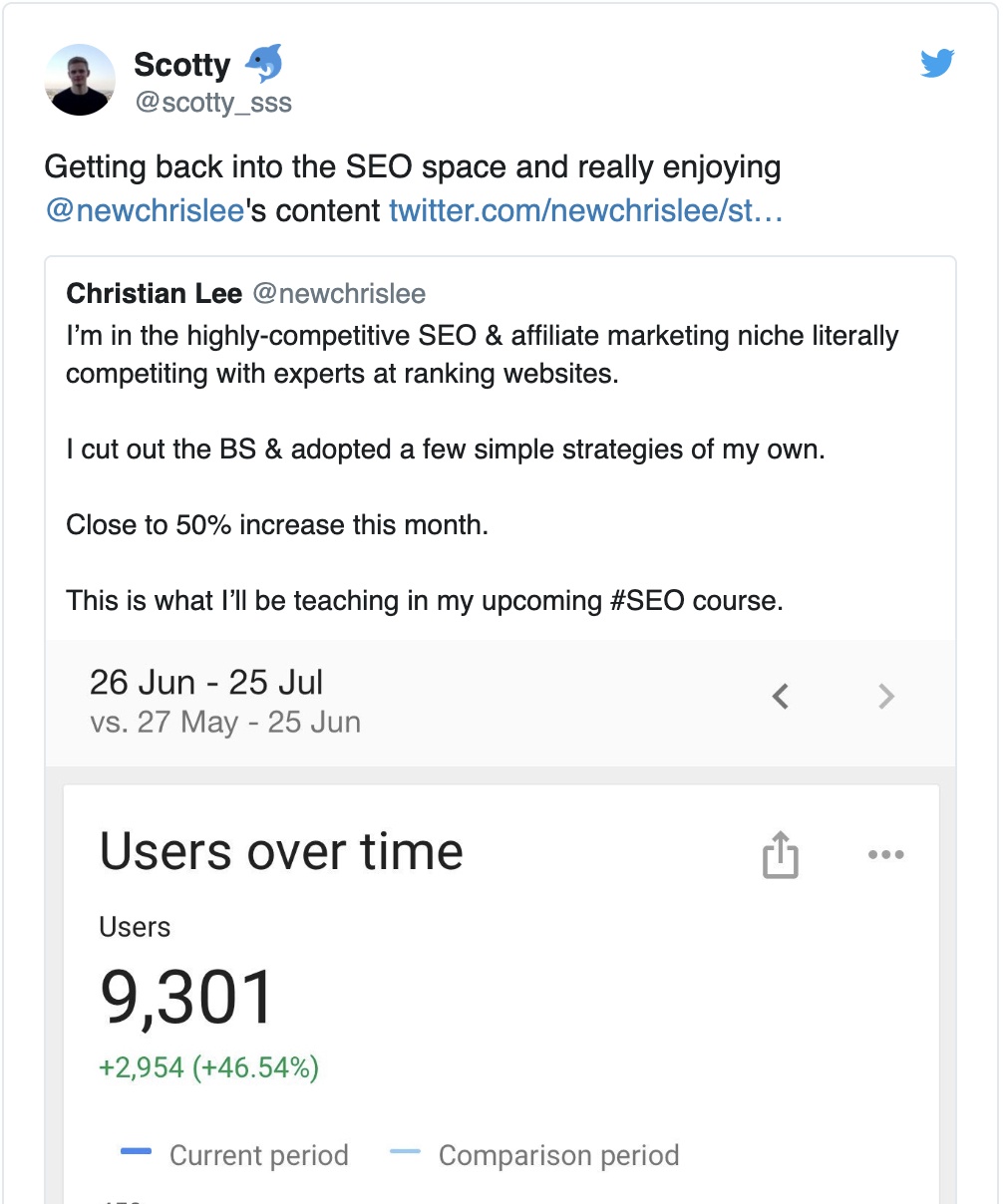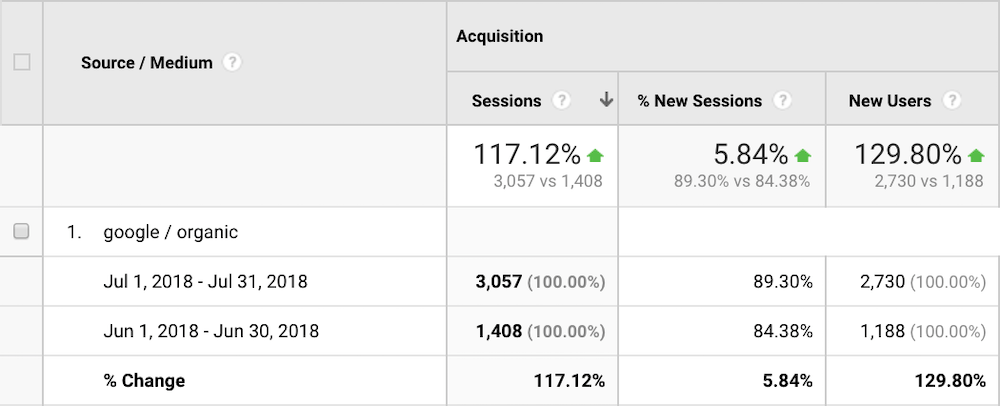 Would You Like To Access To The Affiliate Starter Pack Bundle?
You'd be a fool not to want this – given you've made it this far, I am semi-sure you are serious about affiliate marketing.
For much less than what it would cost you to have a decent cup of coffee, you can get access to everything inside the Affiliate Starter Pack – and more.
While it would be impossible for me to explain all of the benefits that will come your way from taking a chance on yourself, I do want to share with you some things you'll get as soon as you are inside:
Everything you need to know & do to make money with affiliate marketing.
A weekly live webinar by one of Wealthy Affiliate's elite students discussing a different strategy each week (you also get access to replays from past episodes).
Access to 13 classrooms that cover everything from social media marketing to email marketing and beyond.
One-on-one help from me, just send me a private message when needed.
Access to the Diamond Traffic Program – this is a surprise special bonus from one of the co-founders of Wealthy Affiliate (which I don' think I should be revealing here).
Access to the "How To Become An Expert In Any Niche", another bonus video course that will show you how to quickly "make a name for yourself" in any niche you choose.
How Much Does The Affiliate Starter Pack Cost?
If I can guarantee to you that everything mentioned above will eventually help you make $10,000 a month; how much do you think this course bundle would be worth?
$100?
$300?
$4,000?
$10,000?
I'm not even going to put a number on what this bundle could cost because I can't even begin to estimate how much living life on your own terms is worth to you,
What I will tell you is what the two courses mentioned above will cost you if you had to get them separately.
The Wealthy Affiliate course sells for $49 per month for unrestricted access to everything and everyone.
My Affiliate SEO Mastery course costs $97 (and it will be going up to $197 once I release part 2).
The total fair value of this bundle – at the time of writing – is $146 in your first month.
Is all that I've mentioned worth $146 to you?
Is $146 a worth-while investment to finally get your hands on a proven, tried & tested method that has the potential to make you thousands (like the case studies you see above)?
If all this course did was give you a bit of an extra income to enjoy a bit more R&R with your spouse, will that make it worth it?
If all this course did is was show you how to earn an extra humble $100 a month for the rest of your life, would the $146 price tag be fair?
I think so – I doubt anyone with a sensible mind would argue with that.
But – if you don't think it's fair to charge you $146, don't worry; because thanks to the "Affiliate Starter Pack" bundle offer, you're not going to pay anywhere near that.
The "Affiliate Starter Pack" Bundle Can Be Yours For Just $19!
$19 is all you need to invest today to start learning the ropes and building yourself a passive-income online business.
The reason this page is 4,000 words long is because I wanted to weed out the action-takers from the time-wasters.
If you're still here reading these words, then I'm assuming you're in-it-to-win-it and you aren't just wasting our time.
If you're NOT ready to start making money, then this is not for you.
If you're like most others who simply enjoy reading about how others are succeeding – but too scared to make it happen for themselves, this is not for you either.
If you're here to really learn affiliate marketing, then this was created with YOU in mind and I can't wait till you try it out and see for yourself what is really possible.
Can I Guarantee This Will Work?
If you follow the training and put in the work, then;
YES – I can guarantee that this will make you money.
There's a lot that you need to learn, but if you're willing to put in the effort, you will be rewarded.
Is there a money-back guarantee?
Since we're talking about $19 here, and you instantly get lifetime access to my $97 course as a bonus, there are no money-back guarantees.
If a $19 investment is too much of a risk for you, then again; this is not for you. 
However, I will tell you this;
Your $19 goes towards your first premium Wealthy Affiliate monthly membership plan. If you don't like it, you can cancel at any time and never come back.
If you do like Wealthy Affiliate, but you do not want to pay for your second month of membership, you can downgrade to the free membership and continue using the platform (with limited access to the training and community).
Regardless of what happens, you always get to keep access to the Affiliate SEO Mastery course – if you don't find it useful, simply never log in again and that's where we part ways.
The Only Catch With This Offer…
As you can probably tell, I am only an affiliate for Wealthy Affiliate so I have no control over when they decide to increase their prices.
What I do control though is the release of Affiliate SEO Mastery 2.0 and as I said;
I will pull this offer once and for all when I do (it's not fair to those who will join for $197 to just give it out for free like this).
YOU MUST MAKE A DECISION NOW!
$19 in exchange for two industry-leading training courses sound like a fair deal to me.
You'll find a $20 note on the street more often than you come across a deal such as this.
What if this $19 investment does end up changing your life – and you never have to wake up at dark o'clock ever again for a paycheck?
Are you going to disregard it completely and spend the next few months running around in circles, watching YouTube videos and getting nowhere just to avoid paying $19?
I hope not – for your family's sake.
If you'd like to go ahead and claim this bundle, here's how you do it.
How To Get Access To The Affiliate Starter Pack Bundle…
First, Click HERE to go to Wealthy Affiliate Sign Up Page
Step 01: Create Your Account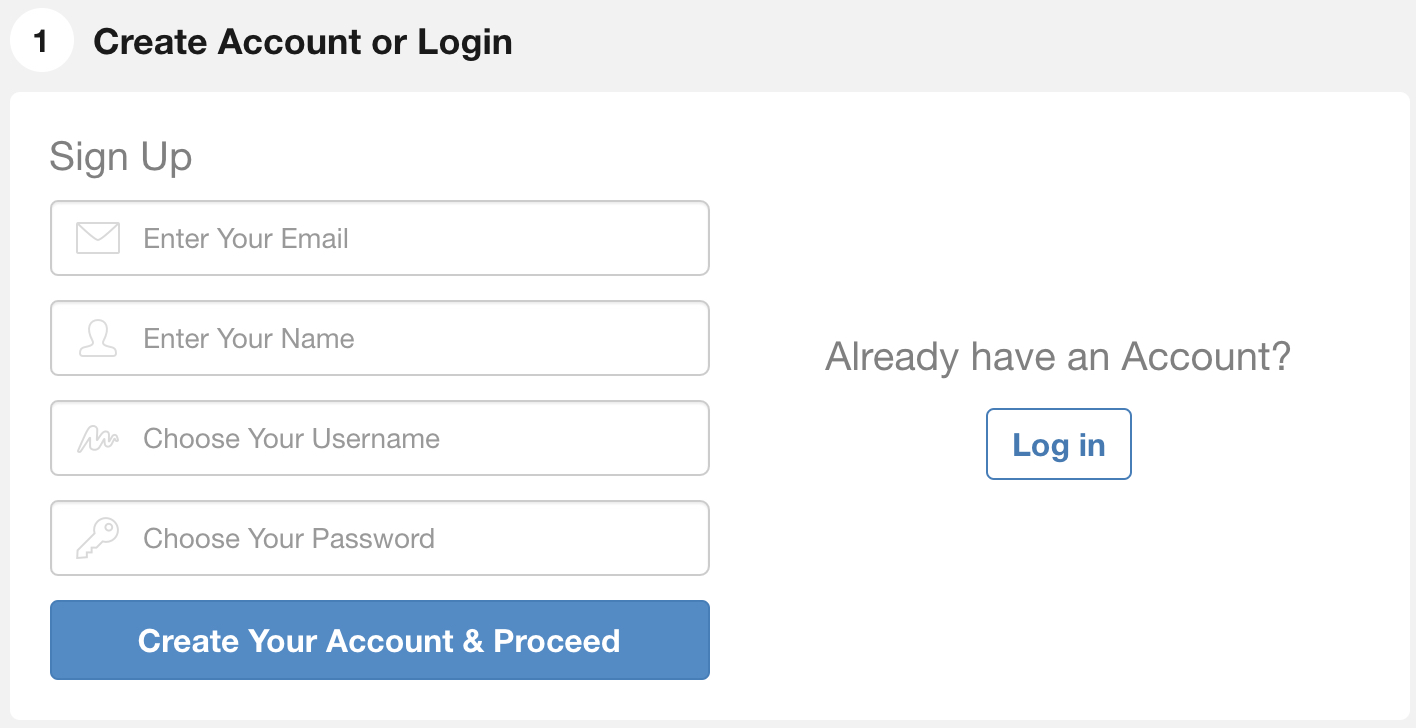 Simply fill out your name, email, username and password
Step 02: Choose Your Membership Billing Option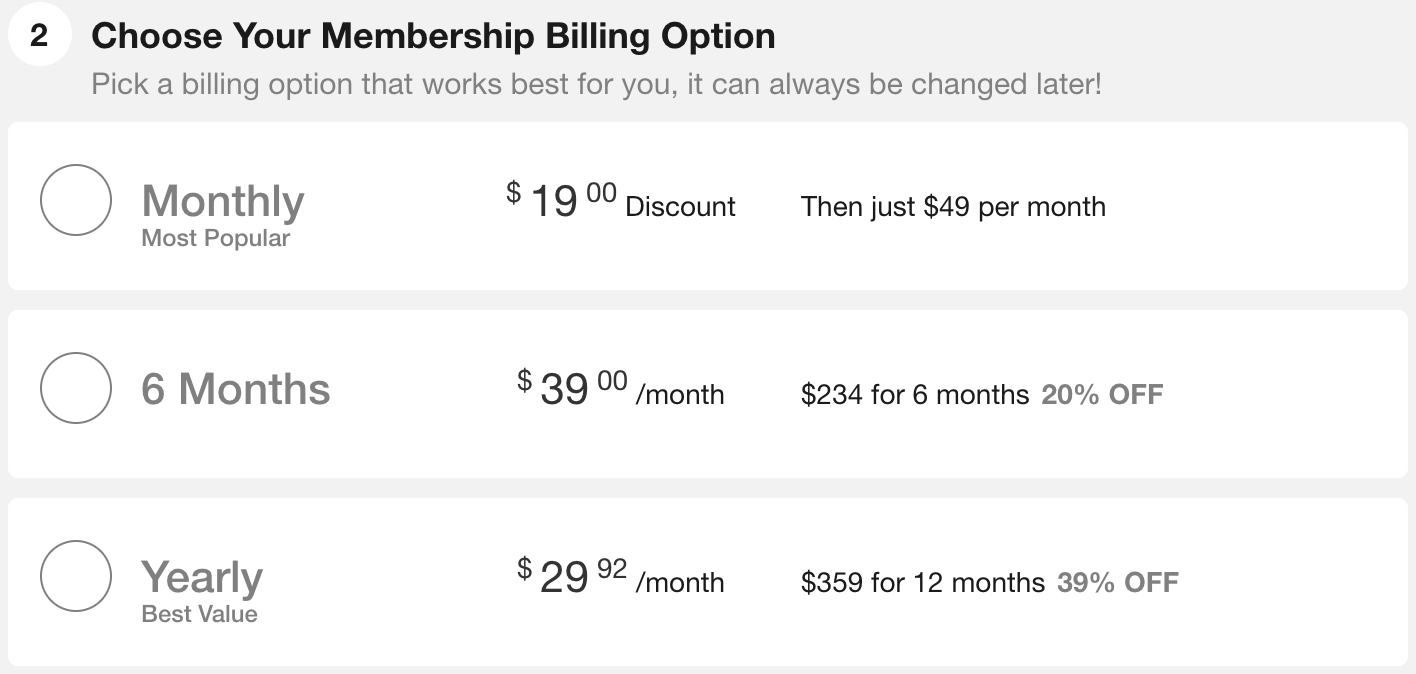 You have 3 options here:
The monthly plan, which costs $47 (but you can get it for $19).
The 6-months plan, which will cost you $234.
The yearly, which will cost you $359 for the whole year.
All three options will give you access to my Affiliate SEO Mastery course – but for your own peace of mind, try the $19 membership plan first.
I really want you to first see if what I am saying here is true.
I want you to see for yourself the live 24/7 action in the LiveChat,
I want you to read the daily success stories being posted,
I want you to experience the training videos to see what affiliate marketing is all about and what it takes.
Go for the $19 offer first, and if you like it, consider going for a higher plan later (which will further reduce the price).
Step 03: Choose How You'd Like To Pay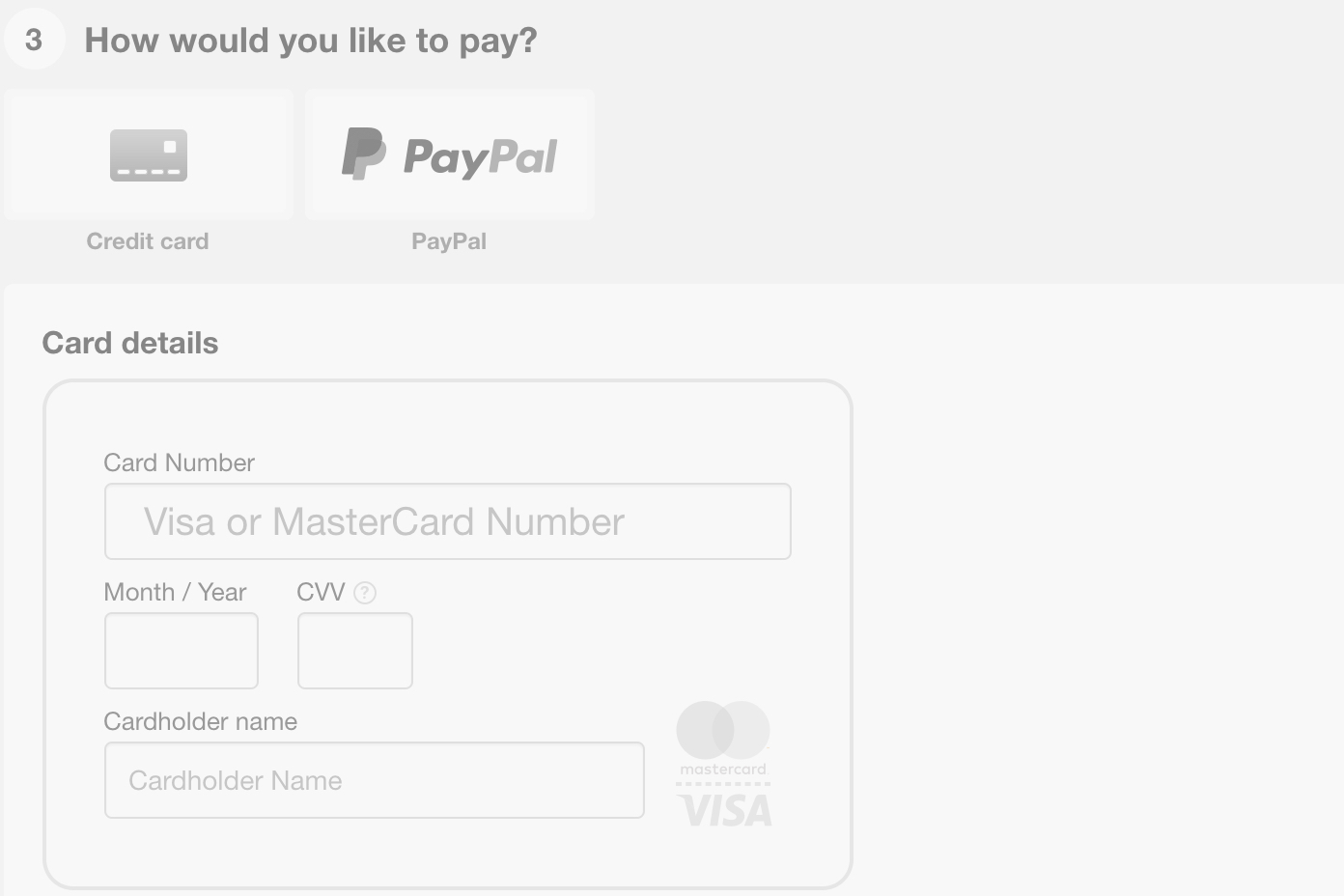 The third and final step is to choose how you want to pay. Wealthy Affiliate currently accepts credit cards and also PayPal.
Step 04: Look Out For A Private Message From Me
Once inside the Wealthy Affiliate premium-only membership area, you will get a message from me with details on how to claim your $97 bonus; the Affiliate SEO Mastery course.
Once that is done, you can start exploring both courses and building your affiliate business on the same day (you even get free websites to learn with).
If you feel overwhelmed with all the information at hand, don't worry – there's me, the co-founders (which you will also hear from) and 1,400,000 other affiliates you can talk to.
You're in good hands, I promise.
>>>>> CLICK HERE to Claim The Affiliate Starter Pack Bundle Offer!
One Last Word Of Advice…
To be totally up-front with you, it really makes no difference to me whether you decide to take this offer, buy these two courses separately or look elsewhere.
My time would've been better spent selling you on the Affiliate SEO Mastery course (and charge you $97 for it) instead of bundling this with Wealthy Affiliate – but I didn't, because I want to to help give you a leg-up and a better chance at success.
But I Do Need Something From You…
I need you to put in the work.
I need you to go through all the lessons provided (don't skip a single one), take notes, ask plenty of questions and do all that you can to make this a reality.
My goal is to help people become financially free online and it's not a mission I take lightly so I'm hoping you'll be my next success story.
Claim The Affiliate Starter Pack Bundle Bonus – I'm sure you're not going to miss that measly $19 fee.
Christian Lee. 
PS: Remember, with the Affiliate Marketing Starter Pack you will be saving a total of $127 from what it would cost you to get each course individually.
PSS: You can cancel at any time, and you get to keep the Affiliate SEO Mastery forever (just don't log into it anymore or ask me to remove you as a student if you don't like it).
PSS: This is a limited time offer. Either make a decision now and in 6 months have a successful affiliate website or; click close, then come back in 6 months only to find the price has doubled and the bundle is no longer being offered.
PSS: If you'd like to know more about Wealthy Affiliate, you can see my full review here.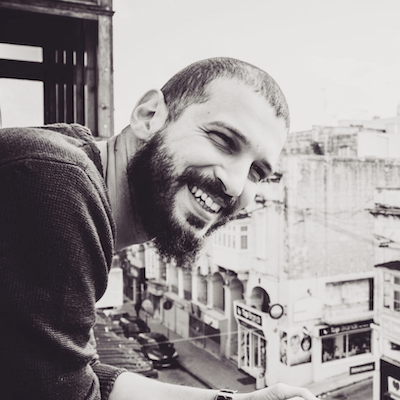 Since 2011, I've been learning how to make money online with affiliate marketing. This website is where I share everything I know and all I will learn along until I reach my next income goal of $30,000 p/month.