I love using free tools to improve my business! I mean who doesn't right? That's why today we are taking a look at how you can use CoSchedule's Headline Analyzer to "master" something is that is very important for your blog's success.
Your blog headlines!
This "Headline Analyzer", is a one-of-a-kind tool that will show you the quality and strength of your blog post title.
Do you ever wonder how some bloggers (in any blog topic) seem to always come up with clever post title ideas that just seem to get your attention enough for you to click on and read the post?
Most probably they are using the CoSchedule Headline Analyzer.
Today in this "quick review" of this tool, I will show you how you can also use it to maximize click-throughs on your titles and also, how to come up with AMAZING blog post titles!
But first, let me give you a quick walk through CoScedule's Headline Analyzer.

What Is The CoSchedule's Headline Analyzer?
This is a 100% free tool that will rate the quality of your post title and give you ideas on how to improve it for the better.
I'll be showing you how it works by using the post title (or idea) "How To Write Blog Headlines" as an example. Let's run it through the tool and see what we get.
Our first blog title idea got us a rating score of 63, which is not that great.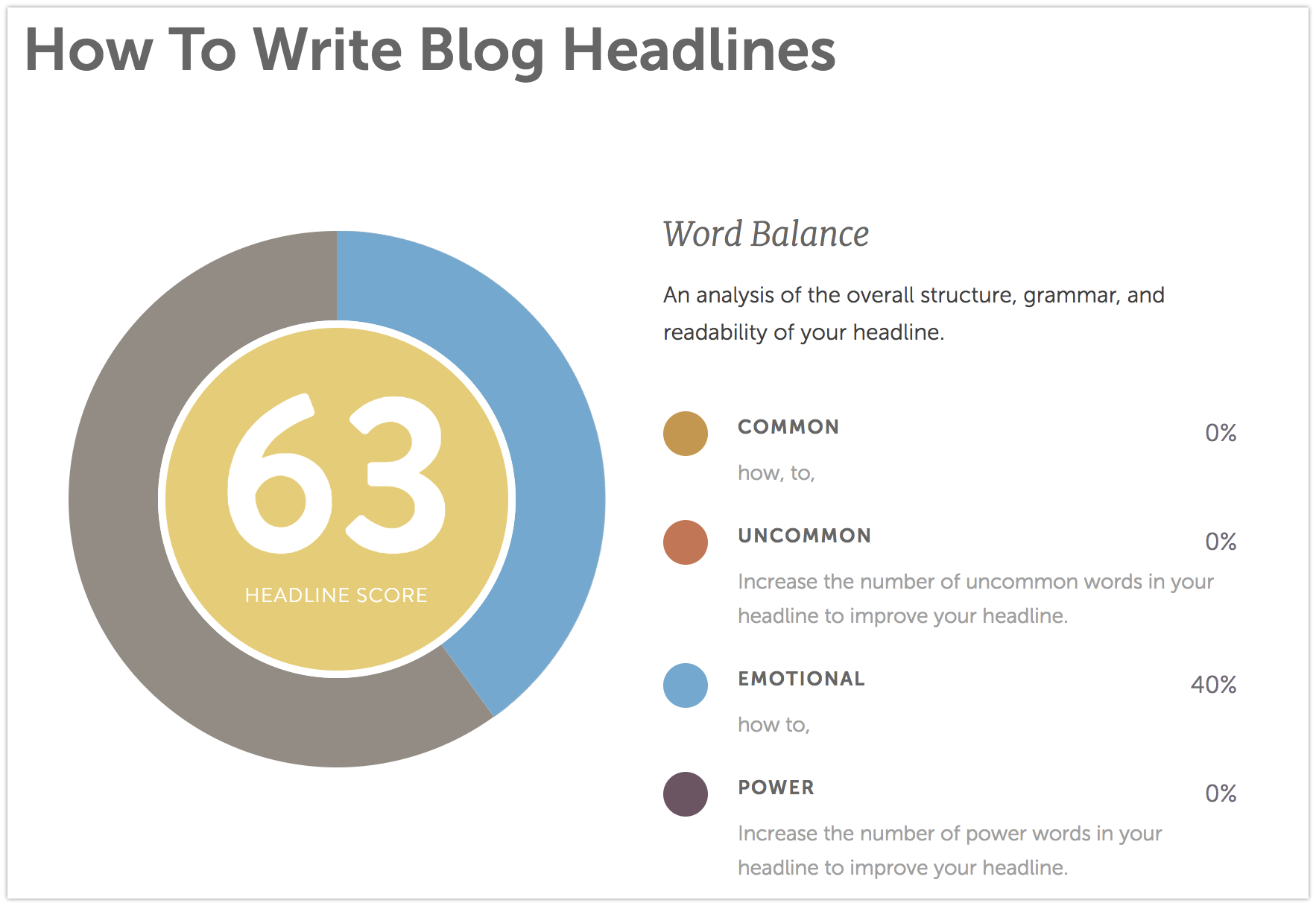 We will find out how we can improve it later but first, let's first take a look at all the data this headline analyzer turned out for us:
Are There Any Words That Provoke Interest?
In this section, Co-schedule's analyzes our choice of words for the title and as you can see, our example keyword is suffering greatly in that area.
The keyword just doesn't have a much emotional impact.
Headline Type / Lenght Analysis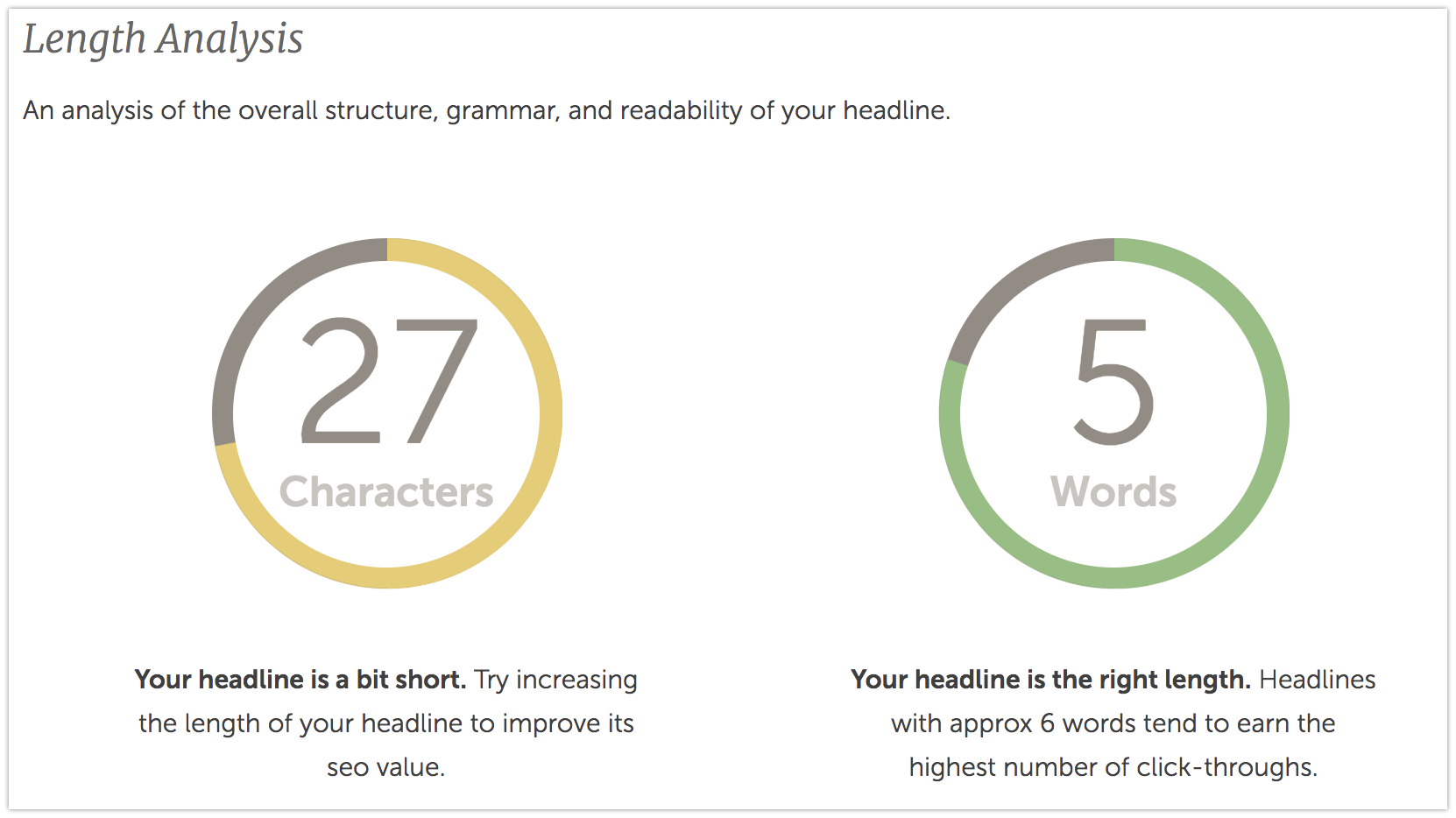 These 2 parts show you what type of headline this is (our example was "how to write blog headlines" so, in this case, it is a "how to" post which is good.
Also, we can see how long the title is word count and character count.
Seems like we hit it right with the word count but we're suffering in character length, no worries. Moving along;
Google Search Preview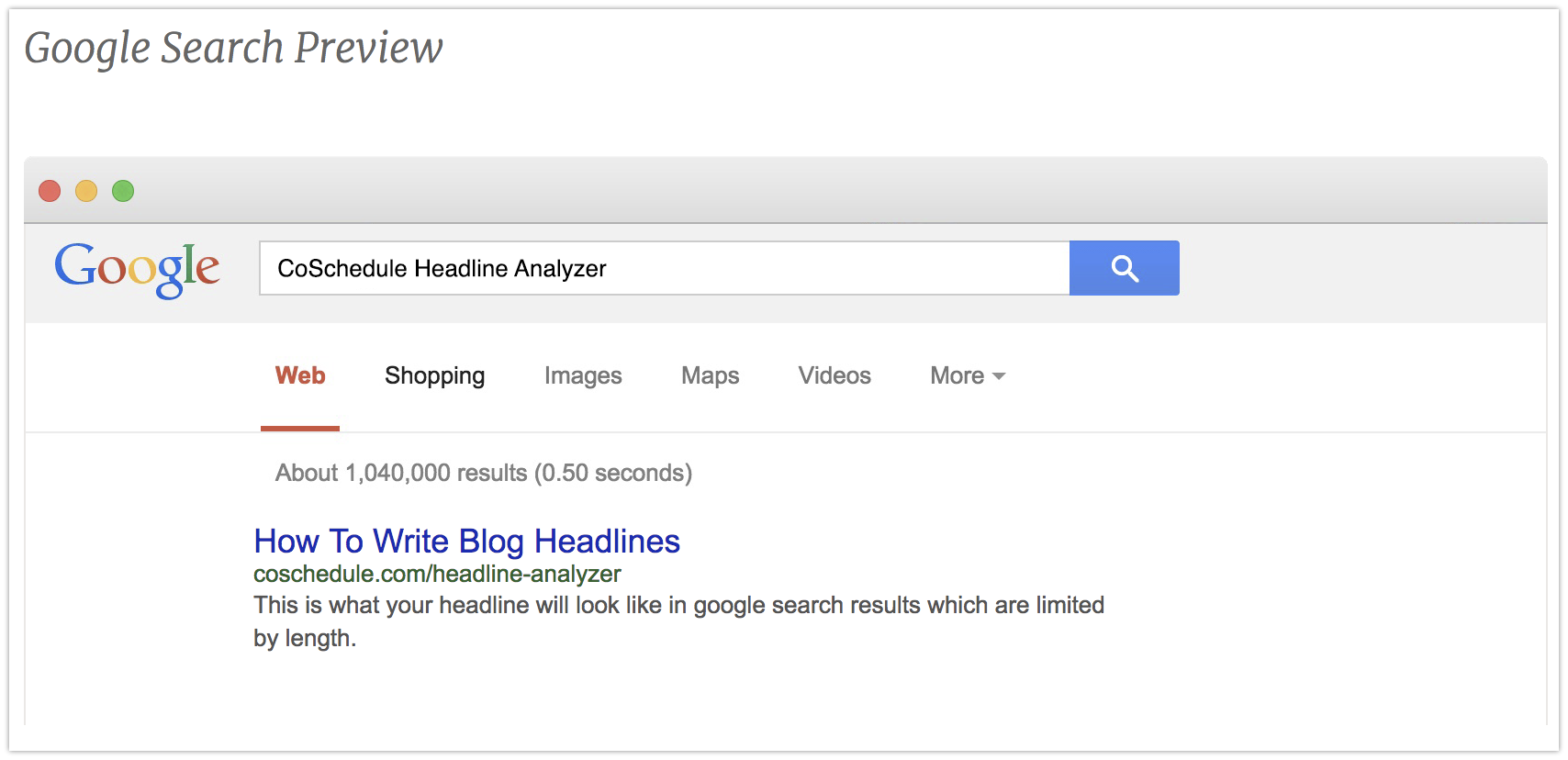 This is how your title would appear in the Google rankings. This will help you pick a title that can be easily read with one look when people come across your content on the search engine rank pages.
You want to avoid writing super long headlines because Google cuts down the title after the first 60 characters (which is not a lot, that is why you have to get creative).
You First And Last Word
This is an interesting metric of the data.
Studies show that people only skip content titles (for some reason) so having powerful beginnings and endings to your post titles are a sure way to get the best results when writing blog titles.
In this case, our example keyword will be read "how to write headlines" which I am quite happy about that because that is one of the keywords I want to target.
However, as the tools suggest, there is no powerful impact with that phrase which means I have to get creative to add some punches to the headline while still keeping the title keyword focused.
Challenge Accepted!
Let's now learn: how to make headlines better with CoSchedule!
How To Improve Your Blog Titles With CoSchedule
The key here is to experiment as much as you can till you get a post title with a high rank.
You can get ideas on how to experiment by reading other post titles that have grabbed attention in the past. I suggest you use BuzzSumo to find titles that are proven to be popular.
You can experiment as much as you want with this tool as it will also keep a record of your past titles, thus, you'll be able to improve on the last one every time. Like so:

As you can see, after a few experimentations our title is now much better and also has a higher rank of 78, which is just great.
I can probably tweak it a bit more but I am quite happy with the 78 ranking.
Let's now take another quick look at the new data:
The word balance is now a bit more "rich". I could probably add some more "common" words but as I've said; I'm happy with my ranking score: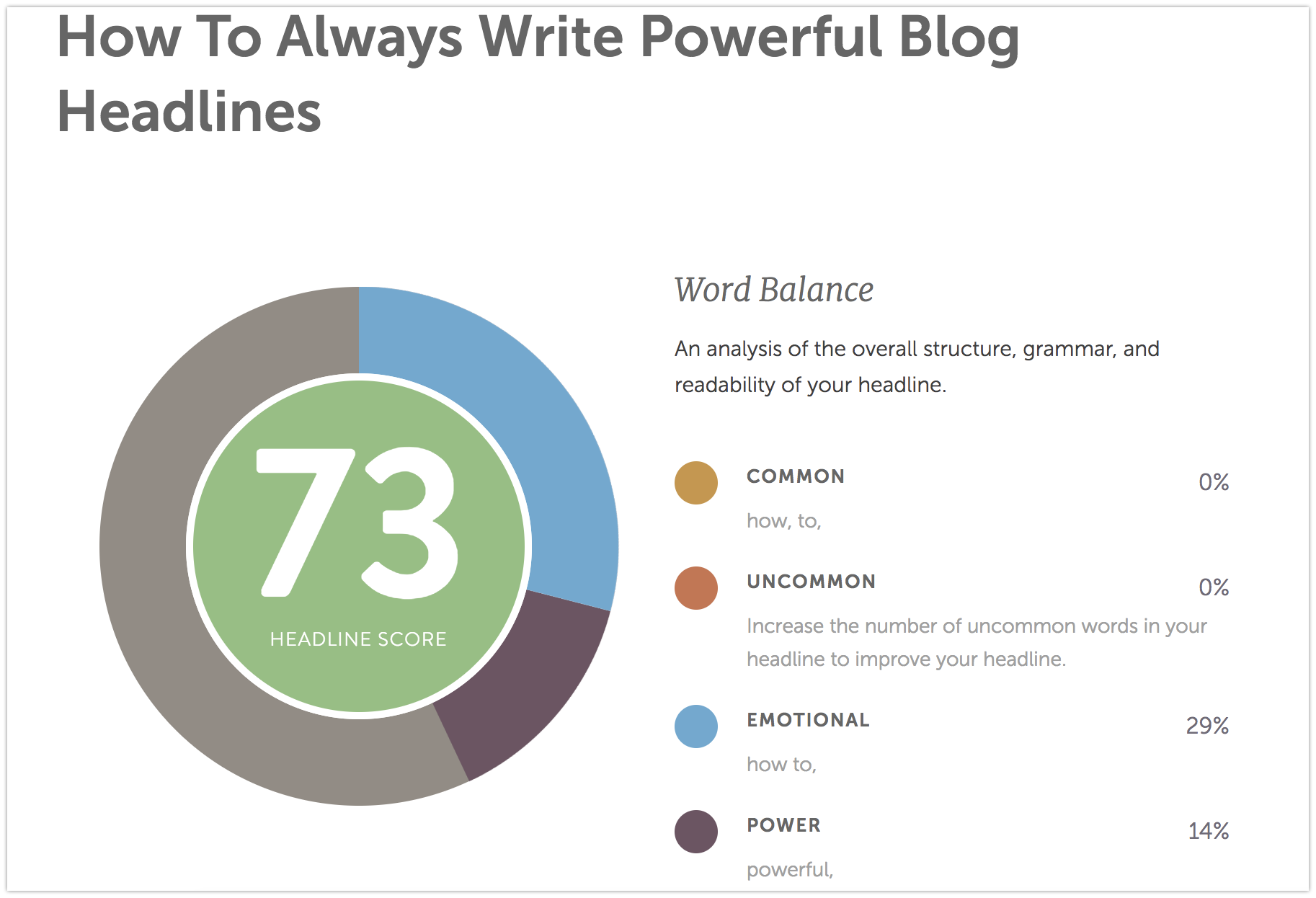 We've hit it right with word length: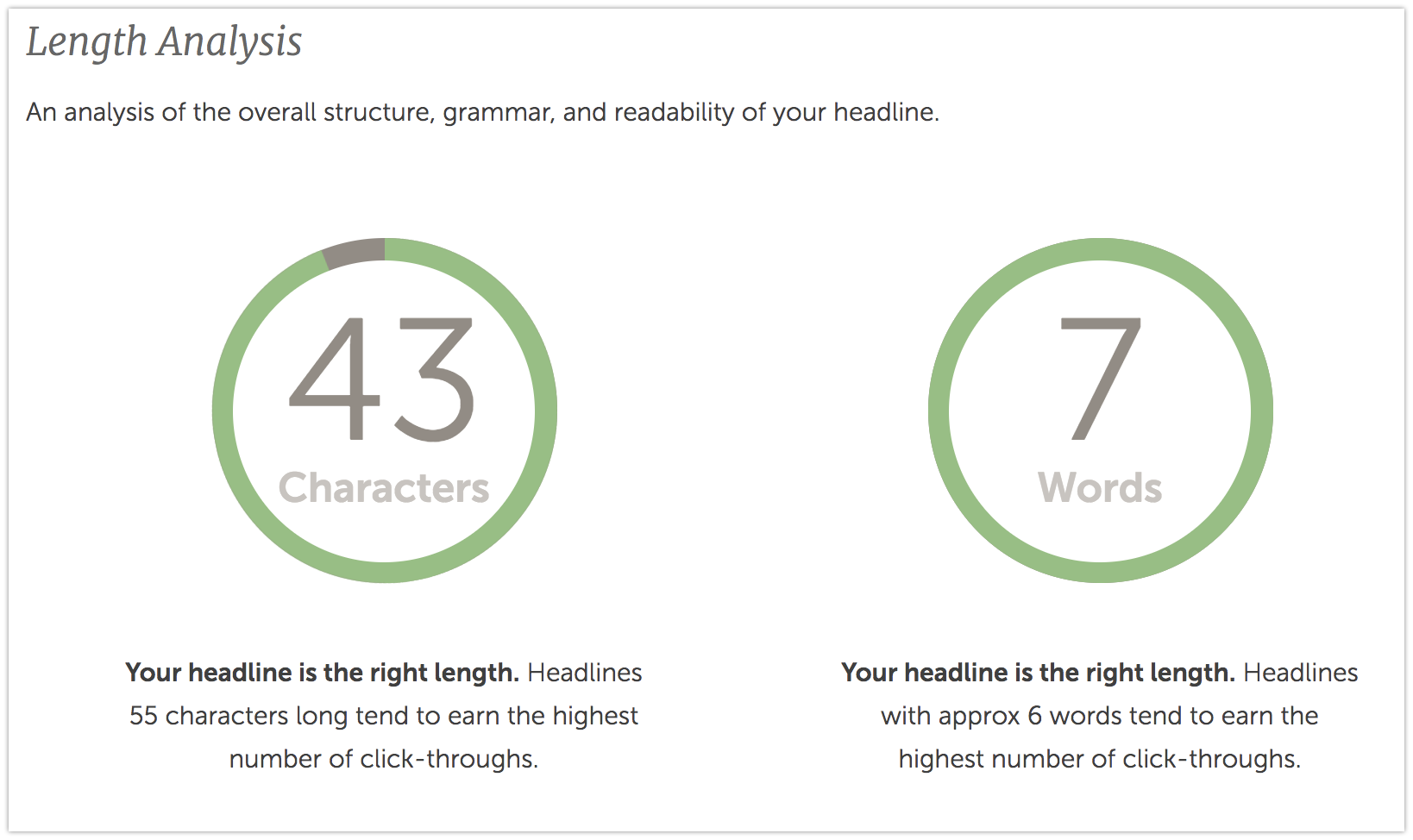 It's also the perfect length for the search engines:

And we hit the sweet spot with keywords and title sentiment:

And that ladies and gentleman, is how you can easily turn a somewhat boring title into a piece of art that will bring in visitors.
Should You Always Use the Headline Analyzer?
I wish I say I do, but I don't. Sometimes I just have a title in mind and just go with it without looking at how I can make it better.
The reason being is that sometimes, I prefer to write post titles that aren't just about getting attention, but ones that are laser-focused on a specific keyword.
Once you start learning more about how keywords work, you will understand what I am saying. If you always run your titles through this tool, you might be losing the focus on that specific keyword you want to target.
Find out what works best for you and use this tool as an "aid" rather than a rule (if you catch my drift).
While there is a huge emphasis on making your headlines rock every single time, it's just not needed for organic SEO (that much).
As I've said; this is my method so make sure you find yours and find out what works best for you.
Final Word On CoScheudle's Headline Analyzer
I really like this tool and I suggest you check it out. It's completely free to use and you can play with it as much as you like.
If you are new to blogging and still struggling with creating high impact post titles, then I suggest you use this tool + other blog post title idea generators (just to get our ideas flowing).
My final thought on this tool is a big thank you for CoSchedule for creating this piece of software.
You can check out their blog for more ideas on how to get more out of blogging with their amazing tips and advice.
Also, since you're here, I'd like to invite you to subscribe to my email newsletter so we can keep in touch easily and I can alert you when I publish a post that I think you would be interested in.
I will also be sending you my free eBook and an invitation to join my affiliate marketing training course for free.
Many thanks for reading. I hope you have a great day and if you have any questions, be sure to leave them down in the comment section below.
Till next time.