When it comes to blogging and making money with it, there is one name that always seems to creep up; John Chow. John Chow is a six-figure pro-blogger and the creator of the product I'll be reviewing today called "Blogging With John Chow".
But before I start dissecting this product, let me just fill you in with a brief history of John Chow's infamous blogging career.
UPDATE: Blogging With John Chow has been discontinued, the next best thing you can try if you want to make money online is Wealthy Affiliate.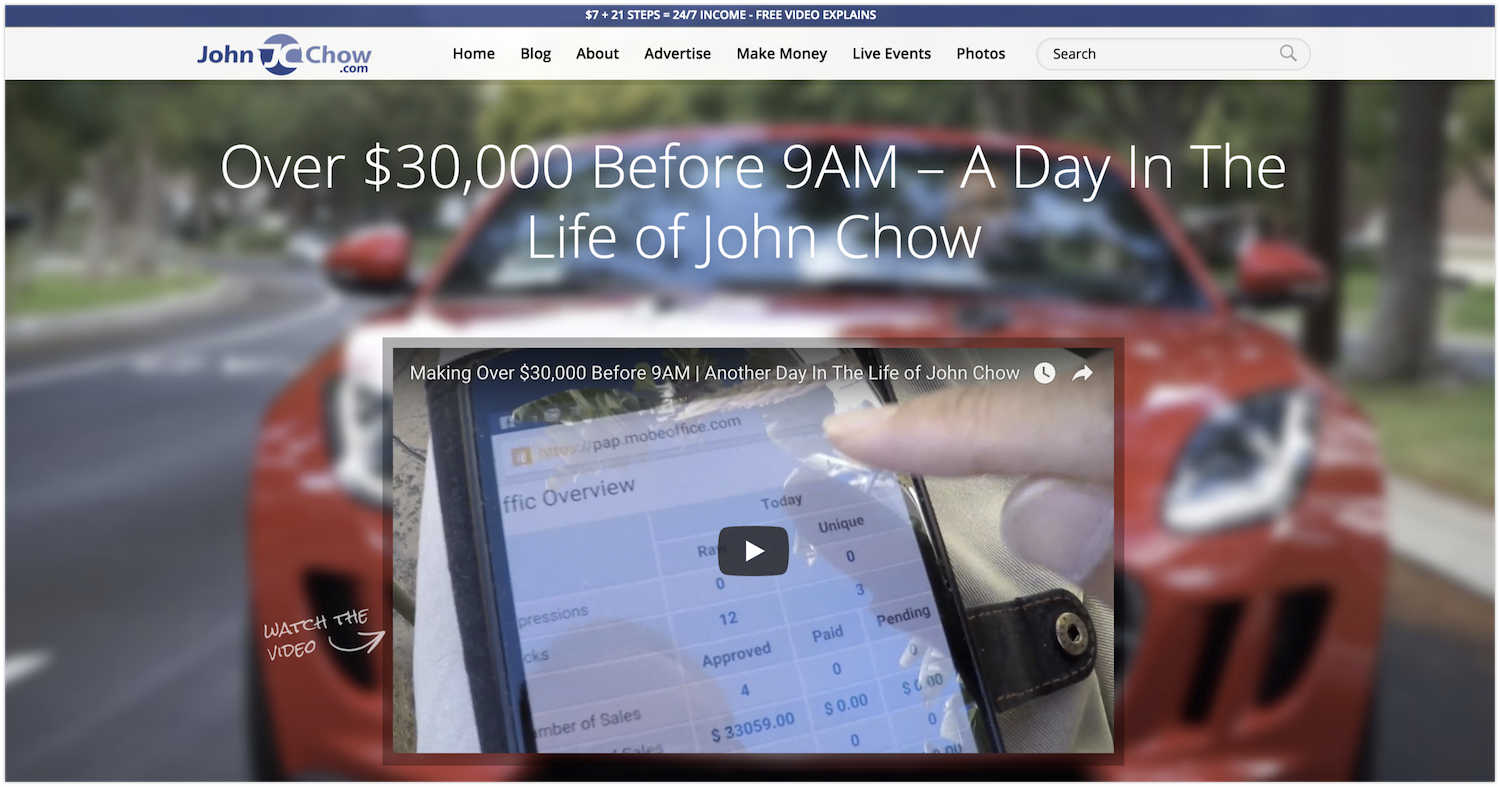 WANT TO KNOW HOW I MAKE MONEY WITH
AFFILIATE MARKETING?
(YOU ALSO GET A 10-DAY COURSE FOR FREE WHEN YOU SIGN UP)
After signing up, you will be redirected to the course page where you need to sign up again - no credit card required, just an email will do.
A Little History Of John Chow
John Chow is known as the man who makes money online, by telling people how much money he makes (online) – I didn't come up with that actually, it was all John's idea.
John Chow started blogging in early 2006 and in just two years time, his blog hit the jaw-dropping $40,000* per month mark. Now that's impressive!
He started his blog just as a personal blog to share his life with relatives all around the world, but seeing as he was into online marketing (and it was a big part of his life), he soon started talking about that on his blog as well.
One of the main things he used to talk about is how blogging can make serious money, but there was one problem – his blog wasn't making any money. A reader picked up on this and soon "challenged" John to make an example by monetizing his own blog.
John agreed to this challenge and since then, he has turned his blog into a continuous case study of how to make money blogging.
This "case study" has turned into one of the most successful blogs online.
He's an authority in the blogging world, wrote books on the subject, appeared in movies and also launched a blogging course called "Blogging With John Chow" – the same one I'll be reviewing for you here today.
*This program was released in 2012 and since then, John says he has tripled his income and now makes close to $100,000 a month. (More on this later) 
My Relationship with John Chow
I've been following John Chow for quite some time now and I have to admit; it's been a love/hate relationship so far.
There are times when I see John as a just another money-hungry guru, but sometimes I also see him as an inspirational blogger.
Having said that; for the past 6 months or so, I've been "loving" John, and I've been following him closely by subscribing to his blog's RSS feed, and I'm also subscribed to his email list.
Come to think of it, JohnChow.com is now one of my favourite blogs to read.
I'm a big fan of how "transparent" he is. He blogs about his income, his home, his food…. everything. All you need to know about John Chow is on his blog. He just gives so much of himself online and I'm a big fan of that.
Although I follow John for "blogging advice", I also like seeing how he lives the life of a pro blogger through videos like the "Driving With John Chow" series on YouTube.
Since John Chow has managed to win my trust, I've now decided to try out one of his programs and review it for you here. I'll be showing you what is inside, what it's all about and if it's worth investing in it.
Way down below, I'll also share with you how John Chow is suddenly making the $100,000+ I mentioned earlier, stick around.
My "Blogging With John Chow" Review
The Sales Page
Unfortunately, this was just another "one of those" sales pages. You know which ones I'm referring to. Lots of highlighters, lots of arrows and lots of hype.
If you've ever seen a sales page before, you know what I'm talking about. Anyways the sales page is not important here, let's talk about the program…
But Wait. There's Upsells
Before I could make my way to the training, I was hit with upsells. Lots of them!
As I said, I do sometimes think John is a bit of a "money hungry guru" and these annoying upsells have raised some red flags yet again.
The first offer was for a complete ready-made blog you can purchase.
The second was for something else.
The third was for another something.
No, I don't really pay attention to upsells. I know it's a way for them to increase revenue but please let me see the product first, let me make up my own mind.
You don't have to push me, if I see an offer is worthwhile, I'm going to take it.
Blogging With John Chow: Members' Area
Ahh! Here we are!
The training is spread over 9 modules and they are very easy to follow – things are looking better here.
As soon as you join, you're greeted by John Chow and you can start going through the modules immediately.
Here is how the members' area looks.

I'm going to talk about the training modules and what they're about.
There is a total of 9 and each module has about 2 to 4 lessons in them so I won't be going into deep. Otherwise, you're going to be here all night.
Module 1
This module walks you through the process of choosing your niche and also how to brand yourself.
Module 2
With this module, you'll learn all about WordPress, WP themes and plugins and how to get started with WordPress. I have to mention that John's method is quite confusing for starting with WordPress.
I much rather use the SiteRubix platform to launch WordPress sites.
Module 3
In module 3, you'll learn about the 7 habits of successful bloggers, how to schedule blog posts and some more on branding. John is really big on branding. I guess you can't argue that.
Module 4
CONTENT IS KING! This module is all about content! This time, John tells you about coming up with ideas for content, getting it ranked and also how to encourage interaction on your blog posts. I've definitely learned some great tips with this module.
Module 5
Things are starting to heat up now and with this module, you'll be learning all about email marketing. The idea of building an email list is a must for every blogger and John shares his secrets on how he managed to get over 100,000+ subscribers.
Module 6
This is the longest module and it covers what people want to know about the most: Blog monetisation. John walks you through all the business models you can take with a blog. (i.e Affiliate Marketing, paid ads, product creation etc…). It's a must-see for every aspiring blogger.
Module 7
Here you'll learn about ways you can drive traffic to your blog. Be it RSS feeds, social media, keywords, SEO etc…  There is also an important lesson on how to network with other bloggers.
Module 8
Module 8 is all about SEO. Proper search engine optimisation is key to getting search traffic (one of the most valuable kinds of traffic too) to your blog. John explains how to optimise your content and also all a newbie blogger needs to know about the different linking types.
Module 9
This is the last module in the training and here, you'll be learning all about Google Analytics and what to do with the data you get from there to improve your traffic stats.
The 30 Day Action Plan
Now that you've completed all the training in the modules. You're ready to start off work. As I always say: All the training in the world can't help you unless you take action on it.
John Chow has outlined a superb 30-day step-by-step program which promises you will have a blog up & running by the end of the month – even maybe earning your first $ in these next 30 days.
Here is what your to-do list would look like for the next 30 days if you decide to follow John Chow's training.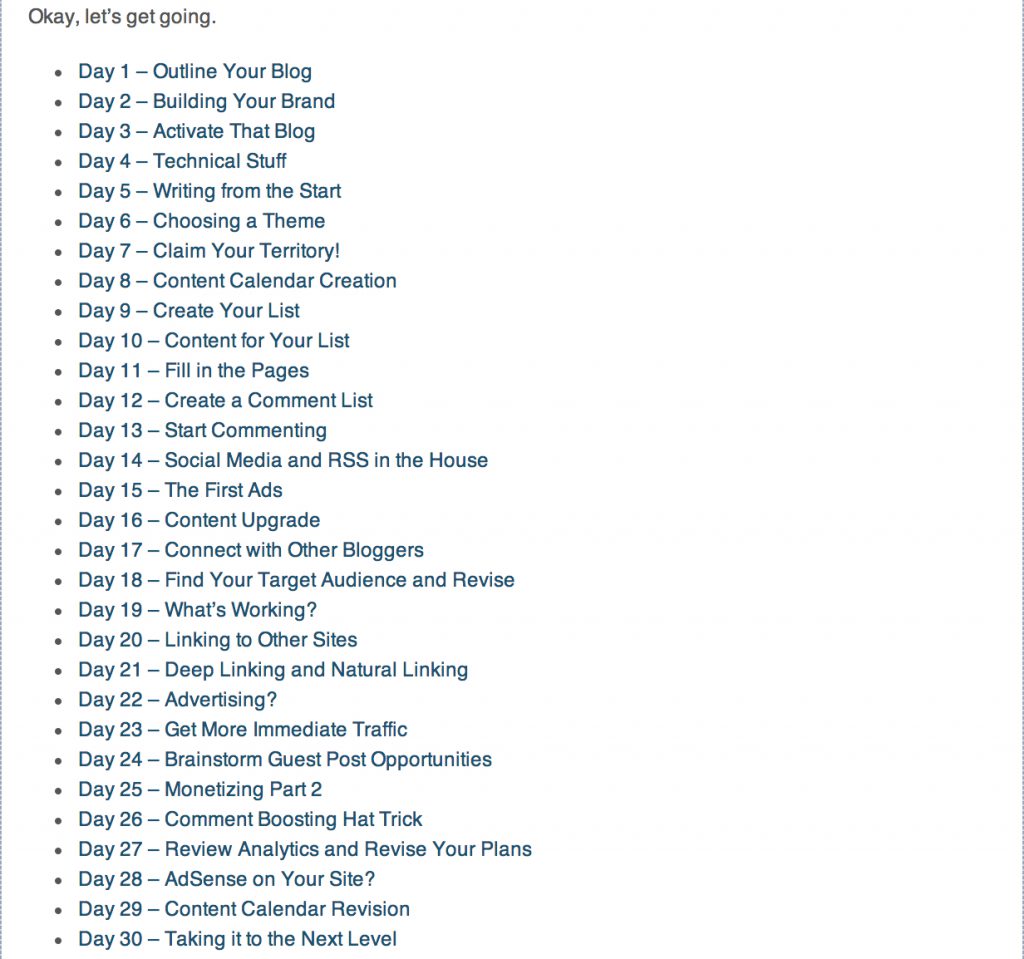 Now that we've discussed all that you'll be getting with "Blogging With John Chow", let me tell you what I like and what I don't like about this program.
What I Liked about BWJC
Easy to navigate:
The site is very easy to navigate. The next lesson is always linked at the bottom of the current lesson so once you're done with one, just one click will take you to the next one. Easy!
Very beginner friendly:
This training is all you need to know to set up a blog and monetise it. It's designed to help a newbie start blogging in the easiest way possible; There is definitely much more to blogging than this guide shows you, but as a "beginner's guide", I can't fault it.
The videos of John Chow:
It's nice to see John Chow at the beginning of every module explaining to you what the module is about. I think it's always beneficial to be able to see (and hear) from the man behind the product.
John Chow is very entertaining:
Speaking of John Chow; John is a lovable character. He's funny, witty and a real expert in this field. His videos are great and even his blogging is top-notch. This content will keep you entertained for weeks.
The actual training:
I was really surprised the training was this good. I knew John would not give "bad advice" but I didn't expect to see this much effort for a $47 product. There's hours worth of content on there to read and it's all great advice.
Main focus is on providing value:
This is something I am truly passionate about and that is providing value to your visitors. I'm glad John is also a firm believer in this and he'll make sure you understand this concept as well.
The 30-day action plan:
I love "action plans". I live my life by them. The 30-day action plan John provides is ideal for anybody that wants to start their own blog. It's easy, enjoyable and a breeze to follow.
What I Didn't Like
Is it an eBook?:
The training is written the same way a book is written. Most of the training is referred to as "Chapters" and John always refers to the training as "this book". I hate to think John used one of his books (which are much cheaper) and changed it into a training course.
Some outdated strategies:
This program was launched in 2012 and some of the training is really outdated. I'd love to see the training getting an update sometime soon, as the newbie that's going to read it is going to find out some of the things have changed in two years.
Upsells:
I've talked about this already but had to mention it again. I hate upsells!
No support:
Although John says he will answer back your emails, the support system for this product is basically non-existent. There is no place you can turn to and get a quick answer to an urgent question.
No community:
It seems like you're alone in the training. There is no sense of community. This might be a good thing for certain people but I've got used to the community at Wealthy Affiliate and I find it is comforting to be surrounded by people with the same goals as you.
Things I Learned From "Blogging With John Chow"
I'm no expert, but I'm not a complete newbie either. This training only provided me with little information that I didn't know already.
Here are some of the main takeaways that I've learned from "Blogging With John Chow".
Branding:
I know it's important but I've never given the science behind it much thought. John says it is one of the most important parts of turning your blog into a business – and I believe him. I'm going to apply some of his tactics to my own blog business and I'll let you know how that goes in a future post.
Google Follows People:
This is an interesting concept. One that I've never heard before.
Most people (including me) think that Google brings people, when in reality; people bring Google. Google follows and tracks what people do on your site, so if your site is pleasing to the people, it's going to be pleasing to Google.
I knew that creating content for the people was always important but I've never seen it being put that way.
This is definitely the key takeaway for me from John's training.
So How Did John Chow Triple His Income in 2018? 
As I said at the beginning of this post, John Chow now makes over $100,000+ a month from his blog. A $60,000+ jump from when he created 'Blogging With John Chow" back in 2012. Good for him, But how?
John has attributed this astronomical income growth to him selling high priced items. Most products he's selling now go for as high as $30,000!
The "business model" he's pushing now is to sell high ticket items and so far (apparently) it's working for him.
One thing that troubles me is that I don't know what this $30,000 product really is. Is it training? Is it a physical product? What?
Should You Buy "Blogging With John Chow"?
John has raised some of my alarm bells in the past with his products so I really went into this program expecting some get-it-out-there-quick training, but I'm surprised at the high quality of training there is in BWJC.
So yes, you CAN trust John Chow!
He has created a fantastic product. As a matter of fact: I love this product so much, I'm going to give it a 4-star rating out 5!
If you're a new blogger that wants to learn how to start a blog, then this product is perfect for you. It's inexpensive and it covers all the basics you need to know.
2019 UPDATE: Blogging With John Chow Has Been Discontinued!
WANT TO KNOW HOW I MAKE MONEY WITH
AFFILIATE MARKETING?
(YOU ALSO GET A 10-DAY COURSE FOR FREE WHEN YOU SIGN UP)
After signing up, you will be redirected to the course page where you need to sign up again - no credit card required, just an email will do.
Your next best option is Wealthy Affiliate. You can see my review of it here >> 
Got Any Questions? 
If you have any question regarding this program or any other thing related to blogging, make sure you leave a comment below or send me an email.
I'd also like to hear from you if you're ever bought a product from John Chow.
How was your experience with it?
Was it worth it?
Would you trust John Chow again?
Also, if you like this post, I am sure you liked my most recent one that ranks all the top online courses I've ever tried.
Till next time…