I have tried to stay away from doing online surveys in my pursuits of building an online business.
I have heard many things about them, some good, some awful but I have never got into the trenches of it myself mainly because I live outside of the US (and US companies only care about US customers).
Another reason was also because I never saw it as a "proper" way to really make passive income online.
In reality, with online surveys, you are still trading your time for money and that is what I wanted to get away from in the first place.
However, times have changed and although my extremely brief experience with online surveys nearly 6 years ago was not worthwhile, new companies and new platforms have emerged as a way to make an income online with surveys.
Today, I am doing my Opinion Outpost review, a popular name in the get-paid-for-opinions space.
I have my doubts, but I am willing to give it a go for the sake of this review I have for you today. So, let's see if you can really make money with the Opinion Outpost.

What Is The Opinion Outpost?
The Opinion Outpost is a website that helps connect advertisers to consumers through the form of online surveys.
Say you are a company which is looking to do some market research; instead of going out and finding a sample of people, you can negotiate a deal with Opinion Outpost and you will get access to the database of people registered with Opinion Outpost.
This is where you (the survey-ee comes in…)
As a new member of Opinion Outpost, you will be required to fill out a survey about yourself (more on this later). Once that data is collected, you are on the database and once a new company wants to run a few surveys and you hit the criteria, you will be asked to do the survey (and get paid).
How Much Money Will You Earn Per Survey?
You actually get paid in points, and the points are determined by how long the survey is, which company is it and which country you are from.
You will be told obviously how many posts you will one earning by completing the service and once you agree and finish the survey, you will get the points.
However, points earn you $0.10c each so if you have 100 points, you have $10.
How Many Surveys Can You Do In A Day?
You can do as many surveys as there are available for you on the day.
As I said, you will get surveys that match your criteria so it's very difficult to forecast how many surveys and how many points you would be earning with Opinion Outpost as I can't know which criteria you will fit into.
How To Get Paid From Opinion Outpost
There are many ways to cash out your Opinion Outpost earning (which is great) and they are also quick to pay out. Here are the current available methods of withdrawing your survey earnings:
Various Online Stores:
You can use your points to get vouchers for all your favourite online shopping stores. I am in the UK so this is what I have available for me. You might have something different, but this is what that should look like:
PayPal:
Want to get cash for your earnings? All you have to do is withdrawal your "money" to your PayPal account and you are good to go.
Amazon and iTunes:
You can also get an Amazon gift card or iTunes credit in return of your points.
Please note you need to have at least 50 points minimum in order to be able to cash them out, so be ready to do a lot of surveys before you can see some returns.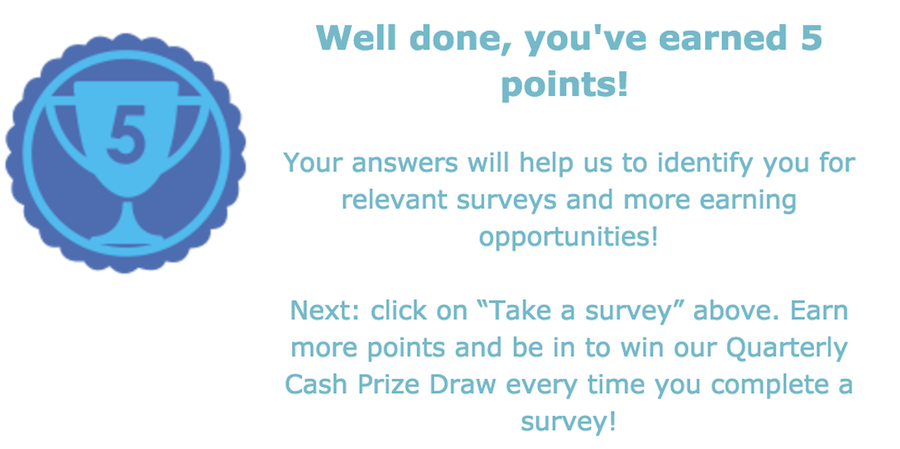 How To Join Opinion Outpost
Liking this Opinion Outpost review and want to get in one the online survey action?
All you have to do is to apply for membership here and you are good to go in no-time. But beware, you have to fill out your profile (as mentioned above) and complete their own survey to get as much data from you as possible.
Filling Out Your Personal Profile
This is a bit time consuming as it would take you around 15 to 30 minutes to complete this survey but it basically looks something like so: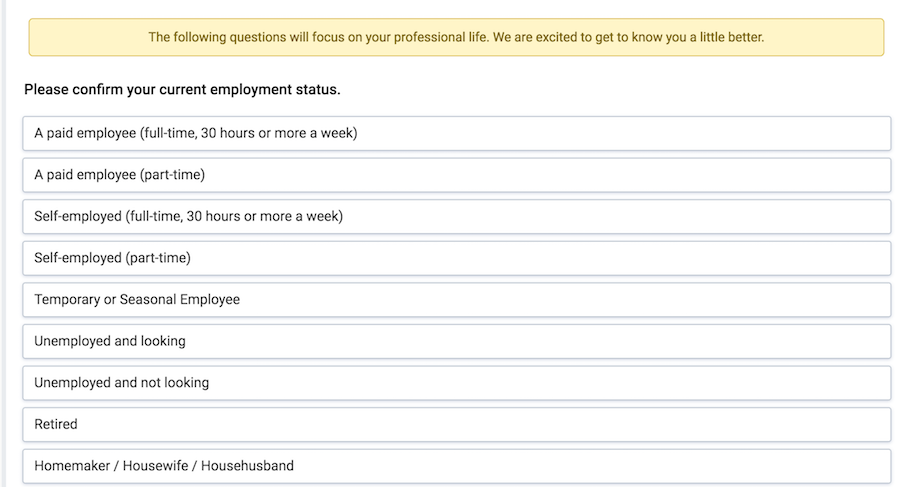 This, as I said already, is just so they can send you targeted and qualified surveys for you to complete. You should not be worried at all as they do not ask (too many) personal questions.
My Issues With Paid Online Surveys
As you can see from my review above, in theory; making money with online surveys is not only possible, but also fun and interesting.
However, I still feel a bit uncomfortable with them as they are just so limited to how much you can earn.
Yes you can spend hours doing online surveys and maybe you can make a decent living, but is it really a life to aspire to?
While yes you can earn a nice income with Opinion Outpost, it's going to take a lot of time and effort to just maybe make minimum wage.
While I do like the idea as an online business opportunity, it's not really a business is it? It can be taken away from you at any time and you are still at the end of the day, exchanging time for money.
Looking For A Better Way To Make Money Online?
The best ways that I have found to make money online, without trading buy time for money, are these two here:
(Both links would lead you to my guide on each one).
These two have allowed me to build a business where I am not at the mercy of hitting certain criteria for me to make money.
My online businesses which I have built with dropshipping and affiliate marketing now make me a great income each and every month without me having to do a lot of work.
Yes they did require a lot of work in the beginning, but the thing with those 2 business models is that the hard work is only when you are starting out. Once you have gotten the ball rolling, money will start coming in with less and less effort.
Thoughts On Opinion Outpost
If you are set on starting to do surveys online, then by all means go for it; Opinion Outpost is great for that and you can make some good money with it.
It's a legit platform that I have no doubt will pay you on time and fairly so I can't knock it.
However, if you want to start a real online business, take this free 10-day getting started course that I have for you here and I promise you, in the long term, you would have a much better pay off than doing surveys online!
Final Words
Thank you for reading my Opinion Outpost review. I hope this has provided you with enough information to make an educated decision on this.
If you have any questions, be sure to leave them down below in the comment section to your canals visit the Opinion Outpost website for more info on doing paid surveys.
Whatever approach you take for your online business, I wish you nothing but success!
Let me know if I can help in any way.