I've been making money with blogging for nearly a decade now and to this today, I'm still surprised at how it all works.
I can sit here, in my living room, write a blog post, hit publish and I know for a fact that if I do it enough times, I will have built an asset that will go on to make me money for the foreseeable future.
YES, that is quite unbelievable, and you right to be dubious but even if you don't believe it, it's still true. I've proven this many times over to myself and to my readers, most recently with the recent "profitable niche site case study" I've launched.
Today, I want to help those new bloggers coming into the scene and show them exactly how to write a blog post that makes money.
I'm sure you've seen blog income reports all over the internet claiming to make 5-digit profits a month from blogging, but they never tell you HOW.
This quick-guide below will not only show you how I do it (although there isn't just one right way to do it) but I will even throw in a free blogging course down below so you can learn more about how to start and grow a profitable blogging business.
If you're brand new to blogging – or you have a blog already that's running but haven't figured out how to make money with it yet – be sure to follow this checklist for your next post and you should be able to see how quickly a single blog post can eventually lead you to a few extra $$$ a month in the not-so-distant future.
Let's get started…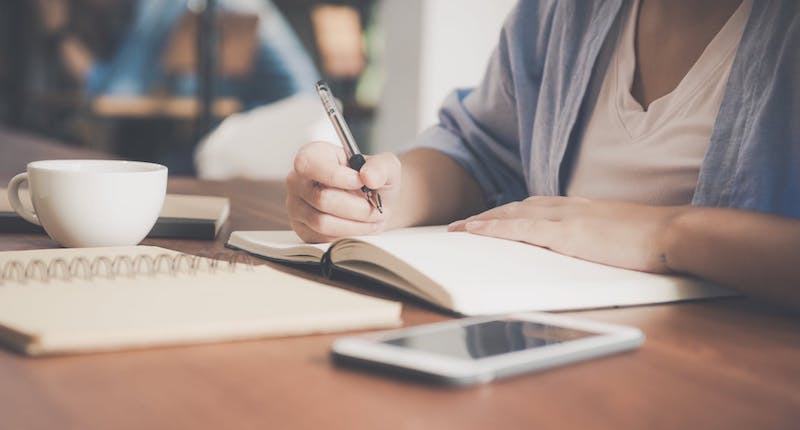 A Great Title (Targetting A Keyword)
A great blog post always starts with a great title. In fact, I would say it's the most important part of a blog post because when done right, a great title can do two things:
It can rank in Google for your desired keywords – and
It will attract people to click on it.
I'm not saying you should do this as well, but I've heard of big-shot bloggers who spent just as much time crafting a title as they do an entire blog post. Yes, titles are that important.
It's the first thing people see and if you do it right, you can bet people will want to click on it to read the rest of the blog post.
Please note I'm not saying go all clickbaity either (although it does work). I'm saying pick a title that suits what you want to talk about in this post, keep it simple and ideally, make the title a "keyword" your target reader would want to click on.
For example, the aim of this blog post you're reading was to attract new bloggers who are not quite sure how to make money. My chosen title may not be perfect, but it does say exactly what the post is all about and any new blogger who wants to start making money, will find it interesting.
Straight-To-The-Point Introduction
In the world of copywriting, we say that the title should at least get the reader to read the first line, the first line should entice the reader to read the third, and so on it goes.
Yes, how you start off a blog post is very important and you'd do well in spending some time crafting to suit your target audience because if the introduction disappoints, you can be sure most of your readers will click away.
That would be a shame, especially if the title was enough to get them to click through, but the introduction drove them away.
I would also advise you to make sure your introduction is as SEO-optimised as possible. If you're not sure what that means, you can check this guide on how to SEO a blog post from the top down.
A Search Snippet Answer (For Google)
The reason I'm bringing up SEO a lot is that to get readers (which will eventually lead to making money) people are going to need to be able to find your blog post.
I will talk more about how to get your post "out there" below, but one thing I'm experimenting with lately (although not with every blog post) is to try and get position zero in the search engines.
What is position zero? It's this: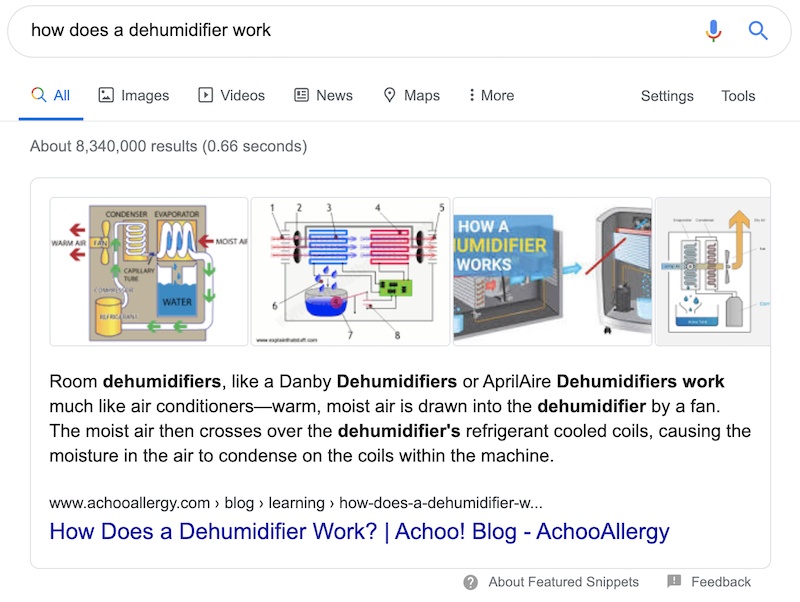 That little snippet gets the most clicks when people search for your keywords and to get this, you need to craft your blog post in a way where Google can quickly grab an answer and it will display it there (in the SERPS) automatically.
As I've said, I am still experimenting with this but one method I am trying (which is coming from the boys at Income School) is to have a 50-word answer for the main question  I am answering with my blog post.
Of course, if the post I'm writing is not a question-post, I can really do this but as I'm sure you've seen, list-posts also get search snippets featured at position zero: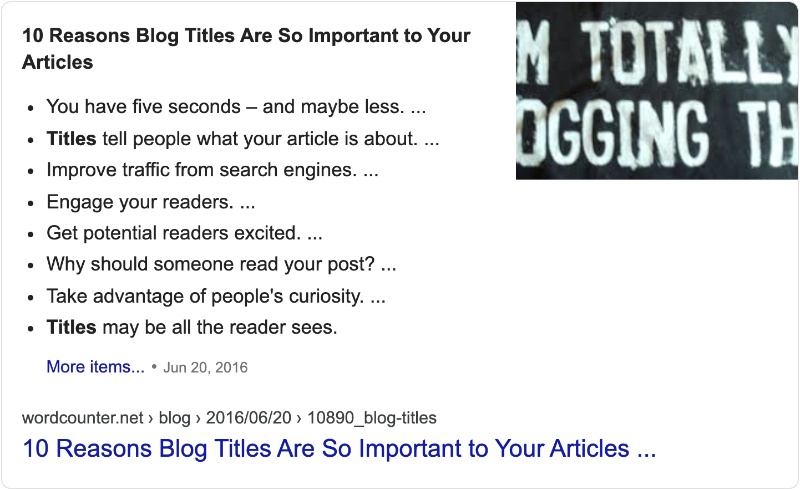 To learn how to get that very-clickable search snippet in Google, take a look at this video from the above-mention IncomeSchool YouTube channel here:
In-Depth Content That Answers Everything
Now comes the hard part. After you've taken the time to craft a great title, introduction, and a Google-friendly snippet, it's time to write the "meat" of the post, and it has to be great.
Now this, I have to clarify because when I say great, I don't mean "award-winning journalism", I mean the post has to deliver on the question it's trying to answer.
When you're creating content, go deep. No 400-word blog post has ever made money.
If you spend some time clicking random posts on Google's first page, you will soon see that the top-ranking blog posts all are in-depth guides that start from 1500+ words. Also, it's been found that even the most-shared posts on social media are also ones that go deep with the content.
Does your post answer the question?
Does your post offer valuable insights?
Does it offer a unique spin on things?
Does it show both sides of the argument?
These are all very important metrics, and I'm not the one saying it. The above is taken from Google's Search Engine moderator guidelines which leaked last year.
I know writing a 2000-word mega guide can seem daunting, but trust me – it's easier than it sounds and after you've done it a few times, you will see you're actually getting better and faster at it so don't stress this too much.
An Irresistible CTA
So far, I have been sharing with you how to write a great blog post, and how to get it ranked. Now, we're going to see how that same blog post can make you money.
Whenever you close off a blog post – any blog post – be sure to add a CTA (a call to action).
After your reader has finished reading, you want to make sure you give them the next step, which is – depending on what type of blog post it is – your way of making money.
You don't always have to sell a product in every blog post, but you can recommend other blog posts where you do have products for sale. You can even direct your readers to your email list, where you can then sell to your email list with an automated sequence.
There are many ways you can make money with a blog post *that gets traffic*. This could either be:
Selling products (as an affiliate).
Selling products you created.
Placing banners in your blog post that makes you money.
Your CTA is what will make you the money, and yes – you can see a perfect example of this down below.