Affiliate marketing is a beautiful thing. I can literally partner up with the biggest company ever created from the comfort of my own couch and use their immense power to create an income for myself.
Of course, I am talking about the Apple Affiliate program.
Few know this, but Apple actually offers 2 affiliate programs that you can promote and make money with, and those are the iTunes Affiliate Program and also the Apple.com Affiliate program.
The sad thing though is that both are incredibly confusing to understand with a lot of different commission tiers, guidelines and requirement so I will do my best to give you a short, concise answer to all your questions in this review
There are lots of opportunities and ways to make money with Apple if you have the right audience so if you're in the "tech" niche, be sure to consider joining these 2 affiliate programs.
Ready to become an Apple affiliate?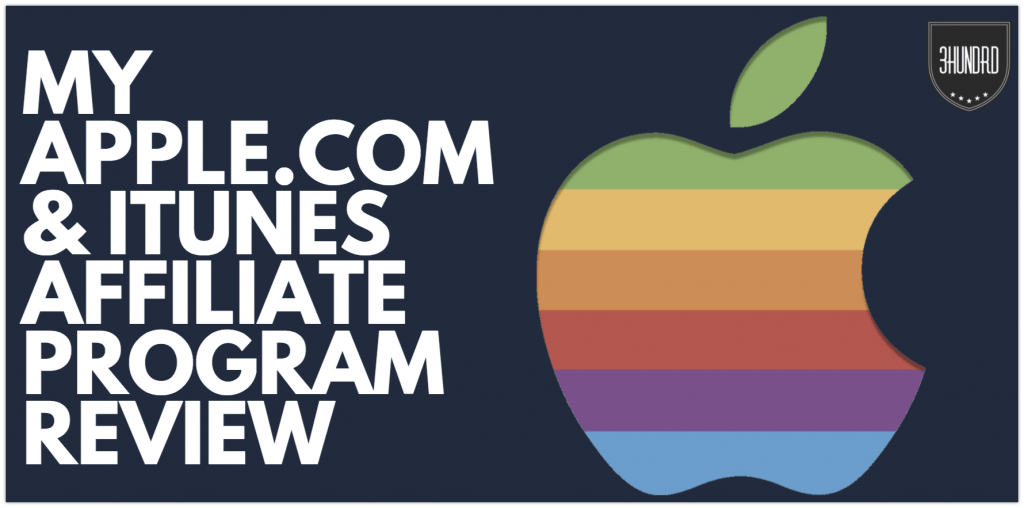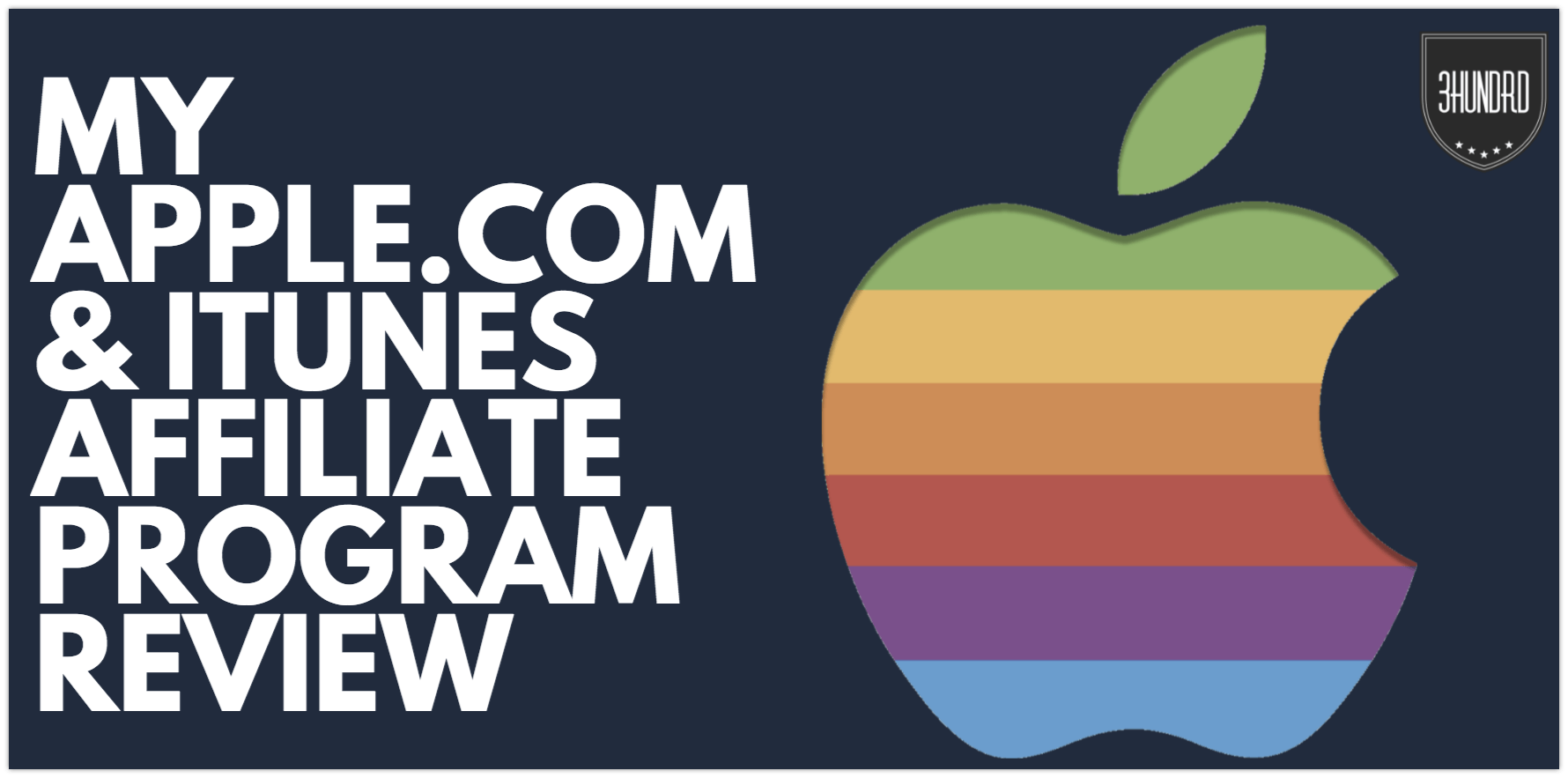 ---
---
The iTunes Affiliate Program
Now recently, Apple sent a shockwave through its community affiliate by cutting percentages down from 7% to 2.5% however, the cut does not reflect on all available items that you can sell.
The 65% drop from 7% to 2.5% was for iOS in App purchases and the iTunes Music collection.
The 7& commission still stands for Movies, TV, Mac Apps, Mac In-Apps and iBooks.
However, it's a different story for promoting Apple Music.
Apple Music Commission Rates
As a promoter of the Apple Music, which is kind of their own Spotify) you can earn 100% (up from 50%) of the first month's subscription.
The Apple Music feature goes for $9.99 so you will be earning around $5 for every new customer you refer to the service.
With the Apple Music plan, you also get a 30-day cookie which means that you can send a user today, and they have up to 30 days to go on a paid subscription. Once they do, you will get your commission (if it's in the 30-day window).
Yep, as you can see, the Apple affiliate programs are very confusing with many different commission structures for its many services, and as they put in their disclaimer, they are bound to change at any money at Apple's discretion.
What Else You Need To Know About the iTunes Affiliate Program?
Apple's Affiliate Program Payment Methods
There are two options for you here. you can either use iTunes gift cards as a payment or you can also get a bank transfer (sadly PayPal is not an option here).
You would need to provide your bank details and once the sales and commission are calculated and approved, you will receive your bank transfer.
Also, note that the payout threshold is either $5 for iTunes Store credit or $500 minimum for bank transfers.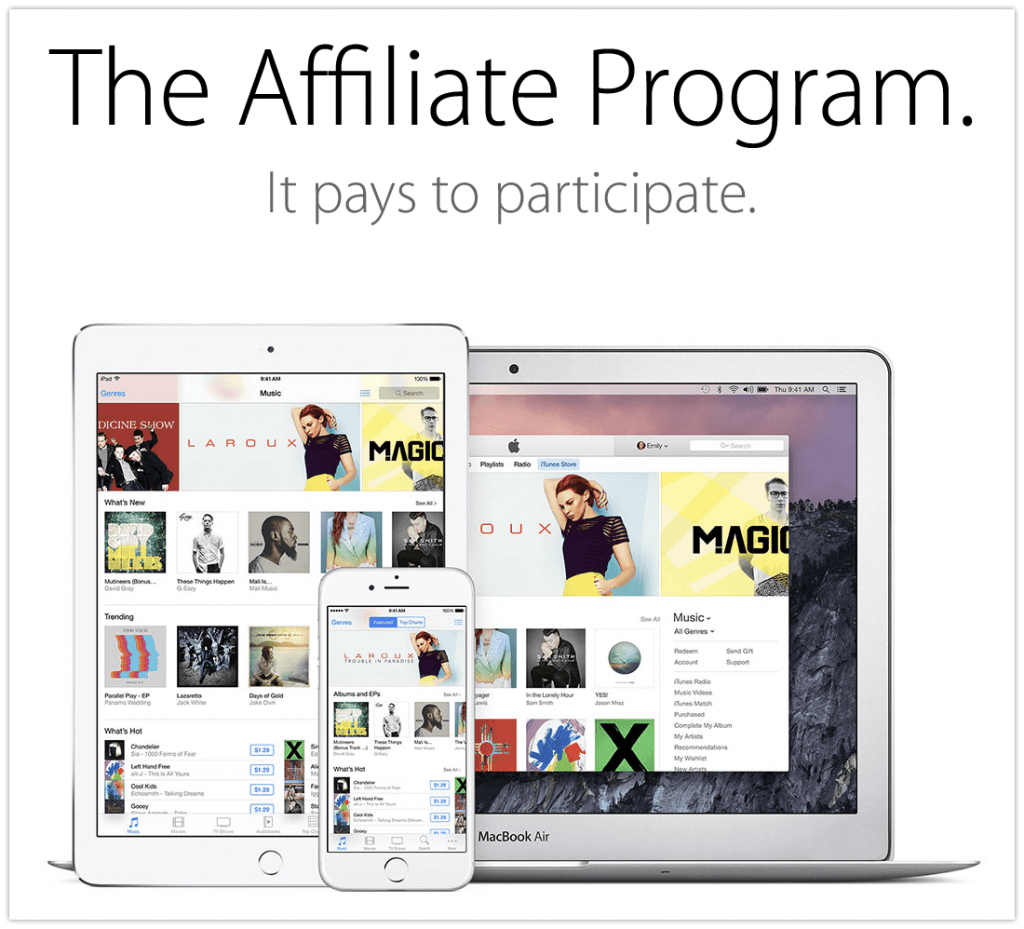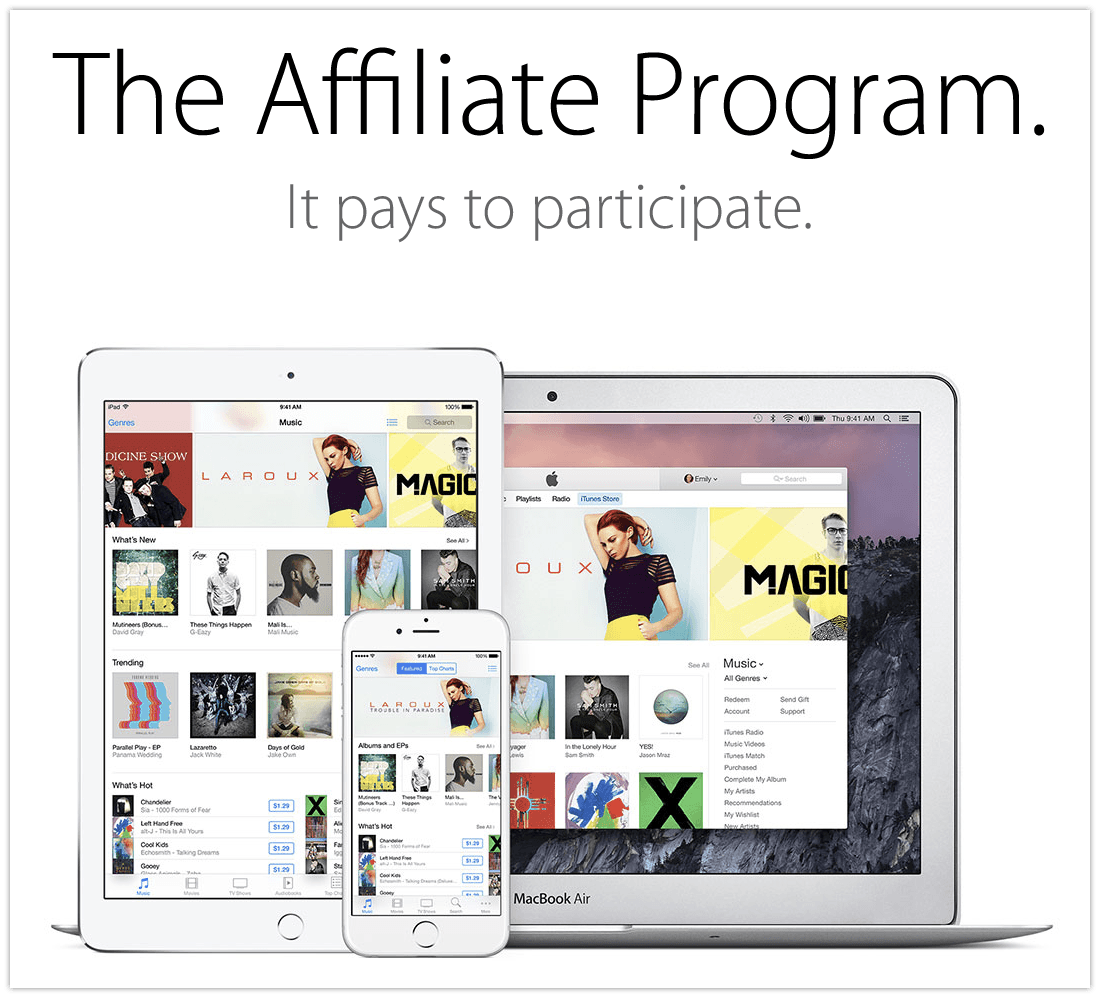 The Apple Affiliate Program
As previously stated, Apple also offers affiliates the option to promote any item from the Apple.com Online Store.
This is where you should be focusing as these are the big-ticket items that you can make a lot of money from.
Sadly, I can not yet give you the commission rates on Apple products as there is no information on it available online. I am currently in the process of having my applicated approved so I will update this review once I know (for sure) the offered rates.
However, don't get your hopes up too much a I am sure it's not a lot (my guess is somewhere around 5%) but don't forget that most of Apple's products are $1,000+ so if you can sell an iPhone a day, we're looking at $50 in affiliate commissions – easy.
For some reason, the Apple.com affiliate program is very "guarded" and it takes a lot of time to get approved so be ready for that if you decide to become an Apple.com affiliate.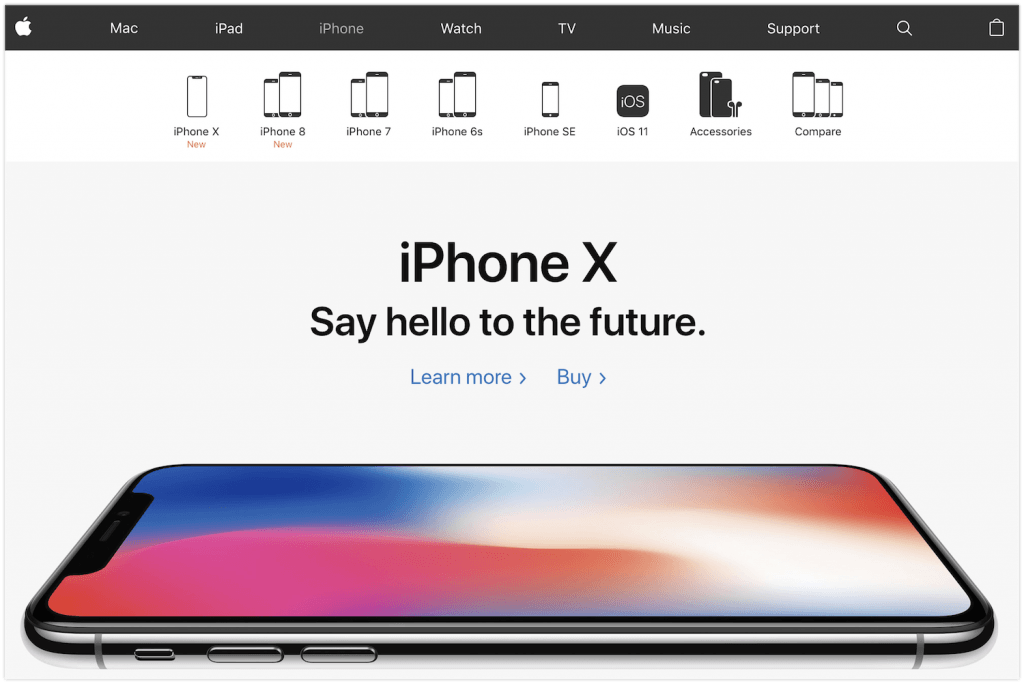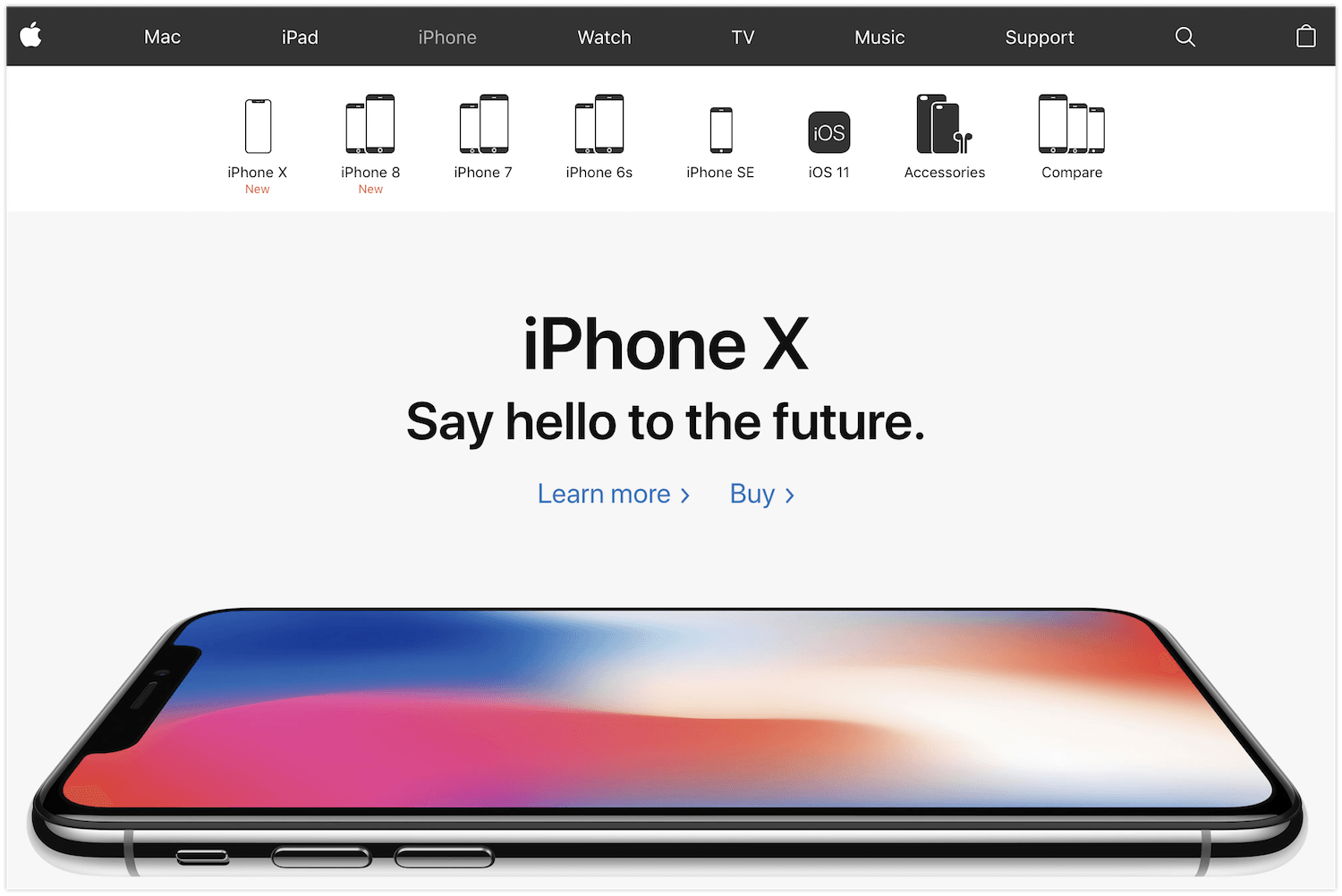 What You Need To Become An Apple.com Affiliate.
If you'll decide that you want to become an affiliate, just now that having a website in the tech industry is a must.
The applications are manually reviewed and if they see that your site, content or audience is not in any way shape or form related to the tech industry, then you will have a hard time getting approved.
How To Promote The Apple Affiliate Program
Using Apple Affiliate Links
As with every other affiliate program, your commission is tracked through the use of affiliate links so you need to first apply, and once approved, you will get your own collection of unique affiliate links you can promote.
Now as with everything, these are also a bit complicated as there are different guidelines for different products you want to promote.
Apple Music has its own guidelines, which are totally different than the Apple Podcast and so forth.
If you want to spend the time to read through every guidelines and requirement for each product, you can see all of them listed here.
The Use of Apple's Ad Banners


As an approved affiliate, you also get the full collection of available banners that you can use to promote Apple and the iTunes Store.
Thes would work great if you have a site that reviews movies or similar offers as I'm sure you would not have a problem converting with these banners.
Note To Remember:
Remember that many people who already have an Apple account, so be careful which products you want to promote as for some, Apple offers commissions for new "memberships", which I doubt anyone doesn't have and some, like the Apple Music, will still leave you eligible for payments if they already have an Apple account, but not an Apple Music account.
---
Thank you very much for reading my Apple Affiliate program review. I understand it's a bit all over the place but so is this affiliate program.
While I am currently in the process of becoming an affiliate for Apple to further make sense of it all and update this review with more information, I have to say that I will never promote Apple as an affiliate myself.
I'm a big "Apple Fanboy" but this is just too complicated and I think the low-end commission rates (even though for high-ticket items) will not be worth promoting for me.
If you have a tech-blog already, then I say go for it and join the affiliate program as you're surely missing out, but if you are just starting out in affiliate marketing, I would suggest looking at another affiliate programs that pay higher commissions.