Got an arts & crafts page or maybe a blog you're looking to monetize?
Below, I've curated (and reviewed) a list of affiliate programs you can join and promote consequently opening you up to new income opportunities, all the while giving your audience high-quality products they will love at great prices.
Without further introductions, here are…
10 Arts & Crafts Affiliate Programs (Reviewed Below)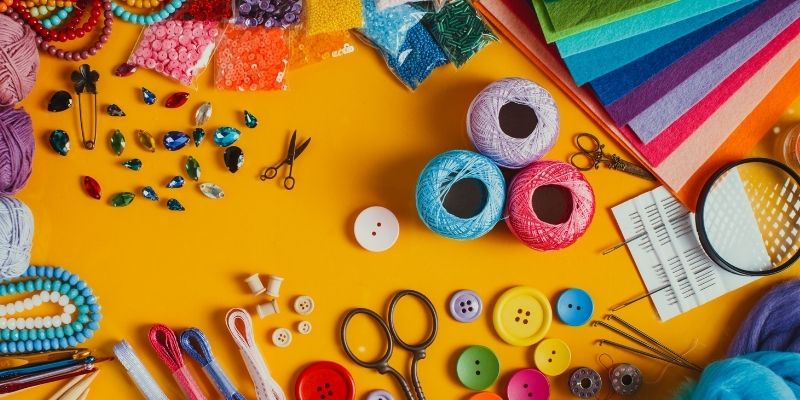 ---
---
Artistic Painting Studio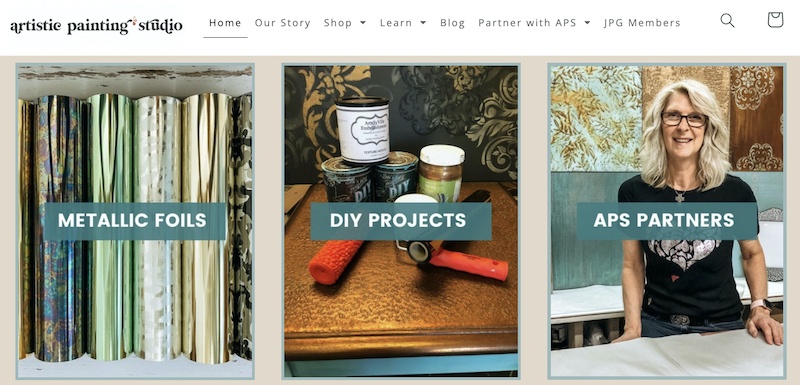 Artistic Painting Studio affiliate program is straightforward to join; simply fill out an application form and wait for the approval.
Once you become a member, you get access to benefits such as a variety of banners, text, and other special promotions that you can put up on your site, reporting tools to keep track of your commissions and payments, and access to customer service and technical support.
As an affiliate, you get to promote a vast range of products, including Fauxy Rollers, Stencilled Garden Stencil collection, APS foil, and Black and White Stencil collection.
The program is eligible for any site but especially for decorating and painting blogs and websites.
Commission rate: 10%
Affiliate cookie: 30 days.
Draw Store

Draw Store specializes in quality art and design supplies at affordable prices. The company offers 100% free shipping on all items and a 100% guarantee too.
By joining its affiliate company, you get custom coupons to share with your audience, personalized support from a dedicated affiliate team, and a chance to promote a vast range of products while making money at the same time.
Setting up an account is easy and free of charge. Accepted payment methods include PayPal, American Express, Google Pay, and Visa.
Commission rate: 10%
Affiliate cookie: 30 days.
Thermoweb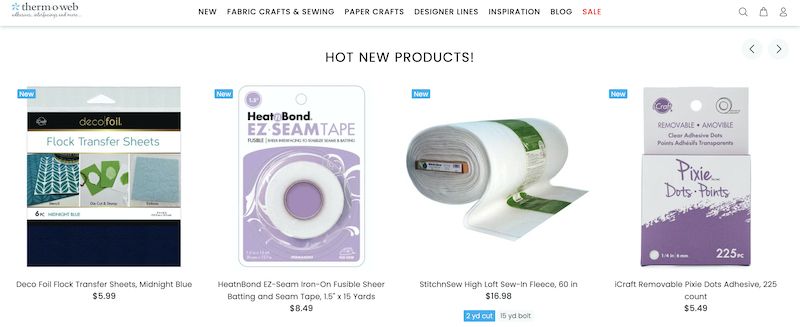 Thermoweb creates adhesive products for artists and crafters of all kinds; quilters, sewers, cardmakers, and more. ShareASale manages its affiliate program and equips members with logos, banners, and text links to make marketing easier.
Some of the products affiliates get to promote include Foam squares, Stamp stencil, Glitz Glitter Gel, and Icraft adhesive.
Perks of joining the program include assistance from a dedicated affiliate management team, monthly newsletters with information on promotions and contests, and incentive bonuses for high earning affiliates.
Registration is easy, and you can get started immediately once approved.
Commission rate: 15%
Affiliate cookie: 30 days.
Arteza

Arteza was founded by a group of creatives whose mission was to provide quality art supplies for every creative. Their product catalog is extensive and includes items such as real brush pens, fine liner pens, and watercolors.
These are some of the products that affiliates will be promoting once they join the affiliate program. Registration is fast and easy; you sign up at ShareASale, the affiliate network that manages the program.
The program's features include text, banner, and video links to promote products, over 200 items to choose from, and promotional coupon codes and special offers.
A dedicated support team is always available to address any issues.
Commission rate: 15%
Affiliate cookie: 30 days.
Hobby Lobby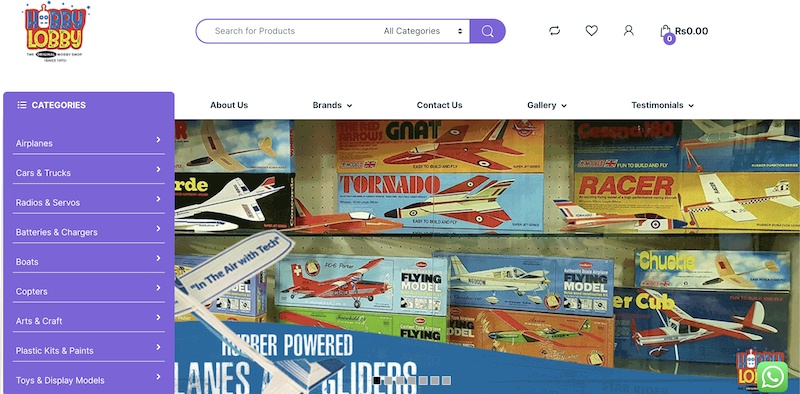 Hobby Lobby is a leading arts and crafts supply company based in Oklahoma. The company was founded in 1972 has grown to open over 800 stores all over the country.
Commission Junction hosts the company's affiliate program; members have to account for the site for them to be eligible for the program. By joining the partnership, bloggers and other creatives can earn money while getting brand recognition.
Hobby Lobby has over 8000 products in its catalog, and this attracts hundreds of customers from all over, bringing exposure to your brand and craft.
Commission Junction provides affiliates with customer support from a professional affiliate team to any queries or concerns.
Commission rate: 4%
Affiliate cookie: 3 days.
KidArtLit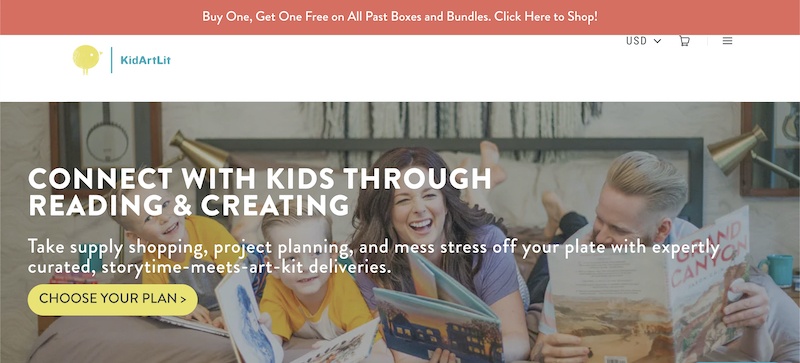 KidArtLit affiliate program captivating benefits such as access to customized banner and sidebar images, social sharing images, an opportunity to receive review boxes and special coupons, and seasonal promotional opportunities.
These features make partnering with KidArtLit extremely valuable. The company creates custom subscription boxes containing books and art kits for children between 3-8 years.
Refersion manages the affiliate program, and potential candidates have to form an account with the site to be eligible for the program.
Deliveries take three business days to arrive and are dispatched on the 15th of every month.
Commission rate: $7
Affiliate cookie: 60 days.
A Cherry on Top

A Cherry on Top Affiliate Program is an excellent pick for content creators, writers, or bloggers within the art niche.
Affiliates get access to competitive commission rates, creative banners, and graphics for marketing and an inventory with over 50,000 products.
ShareASale manages the program and reviews all applications. Registration involves creating an account with the affiliate network and reviewing the product agreement.
Once approved, you can get started earning; you earn a commission on every sale you make.
A Cherry on Top is a leading online retailer in art and craft supplies and offers a wide selection of products on their website.
Commission rate: 4%
Affiliate cookie: 30 days.
Art Discount

Art Discount is a UK based company that specializes in discounted art supplies.
Affiliates joining its Affiliate Program get to work with leading brand names such as Winsor and Newton, Daley Disney, and Derwent, among others.
Their product inventory is exceptionally vast and includes easels, canvas, oils, watercolors, and brushes.
Rakuten Marketing manages the affiliate program and takes care of administrative duties such as commission payments and application reviews.
Accepted means of payment include Google Pay, Visa, MasterCard, American Express, and PayPal.
Commission rate: 4%
Affiliate cookie: 14 days.
Blick Art Materials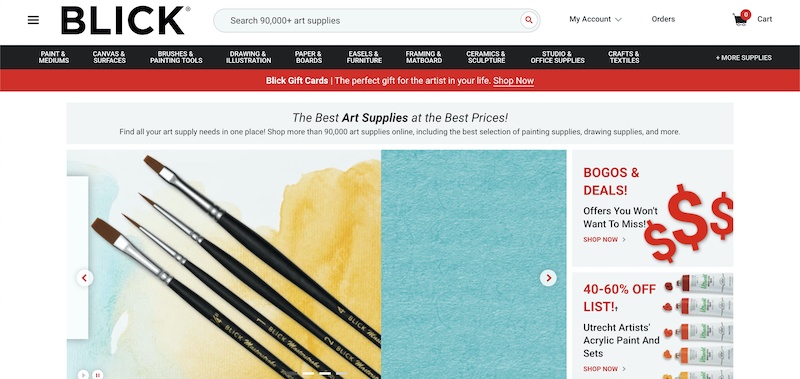 Blick Art Materials is another leading art and supply company. With over 70,000 products, the store provides affordable yet high-quality art supplies to art students, hobbyists, architects, and teachers.
Blick Art Materials also has an affiliate program that offers attractive commission rates; the average order size is $100, making it a great partnership to bloggers and content creators within the art niche.
ShareASale manages the affiliate program and equips affiliates with marketing tools such as logos, banners, and text links to promote products.
Commission rate: 10%
Affiliate cookie: 1 day.
Joggles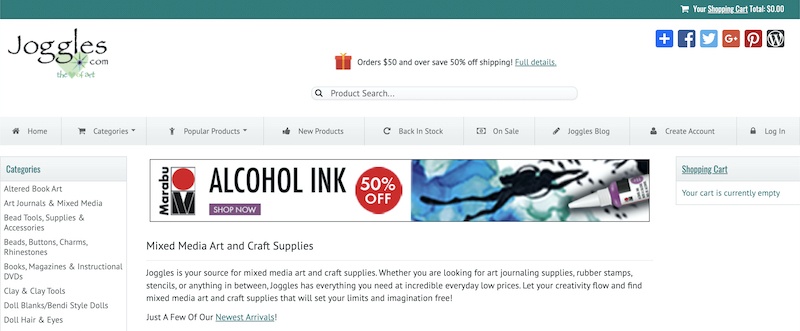 Joggles is your best source for mixed media art and crafts supplies. They have everything you need at affordable everyday prices. Affiliates get to promote items over 9000 products such as fabrics, paints, inks, and stencils.
ShareASale manages the company's affiliate program and ensures affiliates are paid on time. Payment options include Visa, MasterCard, Discover, and PayPal.
Shipping usually happens within the same day, and you save 50% when you spend at least $50.
Commission rate: 10%
Affiliate cookie: 30 days.
---
How To Make Money Selling Art Supplies As An Affiliate
Do you like the idea of being able to make money simply by sharing your passion for crafting with others?
If so, then you may want to consider starting a crafts affiliate website and monetizing it with the above-mentioned affiliate programs.
To end this off, I'm going to give you a quick step-by-step guide that'll show you what you need to know about starting and running a successful crafts affiliate website.
First and foremost, you need to choose a niche for your website.
This will be the main focus of your site and what you'll be promoting crafts-related products around.
Some examples of popular crafting niches include scrapbooking, knitting, jewelry making, quilting, etc.
Once you've chosen your niche, you need to…
Come up with a domain name and web hosting.
Domain names can be purchased for around $12/year at most registrars, while web hosting will typically cost you around $50-100/year, depending on the provider and features you choose.
Next, set up your website.
This can be done by registering a free domain with BlueHost and using their one-click setup for WordPress to create your site.
All is left to do from there is to choose a theme for it and start publishing.
Once you have your website set up, you have some content on there and some traffic, it's time to…
Start promoting crafts products as an affiliate.
To do this, simply join one or more of the programs I mentioned above and start adding links, banners, and other promotional materials to your site.
If you do it right, you should start seeing a growing stream of traffic and commissions in no time!
---
---
So there you have it – a mini-guide on how to start a crafts affiliate website.
If you'd like to get more "advanced" training, be sure to see how I build my own simple affiliate websites. It's free to read. No sign up required.