The automotive industry has been a moneymaker both offline and online and as with every other industry, the automotive/car businesses have been heavily investing into digital media.
& you're about to see how true that is in this list of the top automotive affiliate programs I've curated for you below.
If you're a content creator/blogger in the car niche, whether that be a YouTube channel or a simple car-related content website, here are some of the best affiliate programs you can partner up with to ramp up those affiliate commissions.
The 10 Automotive Affiliate Programs (Reviewed Below)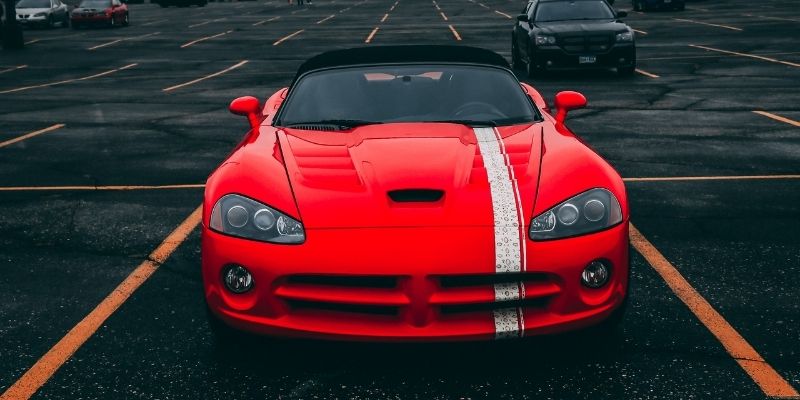 ---
---
carVertical

carVertical is a global online platform that allows people to check their vehicle's history by VIN, and in some cases – by license plate numbers. It is extremely useful to know a car's condition when buying a used car in terms of price negotiation and safety concerns.
Even a small amount of missing information from vehicle history can mean thousands of dollars in repairs down the road. carVertical aims to bring more transparency to the global automotive industry.
The carVertical Affiliate Program offers affiliates generous commission – you can earn from 25% of each sale value (which is from 4 EUR/sale). The commission rate increases accordingly with the number of sales an affiliate makes per month.
There's no cap on commissions – affiliates can earn unlimited commission. Some of the current carVertical top-performing affiliates earn as much as 10 000 EUR per month. The cookie duration is 90 days.
In addition, there is a sign-up bonus: 10 EUR. All carVertical affiliates are welcome to invite sub-affiliates and earn an additional 5% of the sub-affiliate's sale value. The more sub-affiliates an affiliate has, the more passive income can be generated.
You can access the carVertical affiliate program here.
Affiliate Commission: 25%
Cookie Lenght: 90 days
AutoBarn.net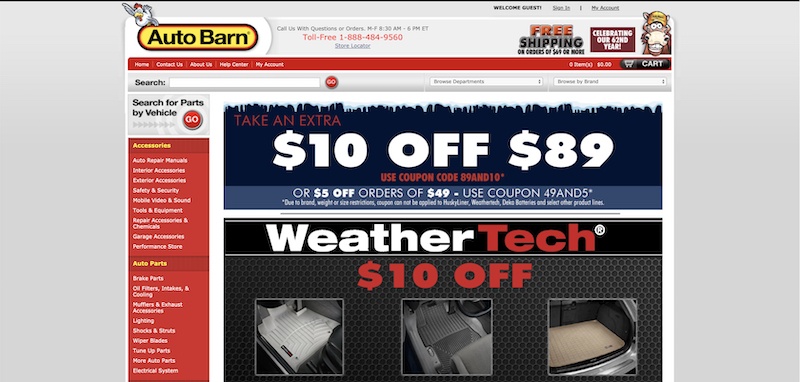 AutoBar.com is an automotive affiliate program that is spread across the geography of Canada, the United States, and a little bit beyond.
This automotive affiliate program is famous for showcasing a gregarious inventory of more than 100,000 branded auto parts, car care, and accessories as well.
Nowadays, customer service is regarded as the highest priority in user need base; due to that, AutoBarn.com gives customer service first priority.
The most interesting part of this automotive affiliate is that you do not have to tap and click to understand what they offer.
All you have to do is dial their toll-free number and have a chat with their sales associates who are extremely helpful. AutoBarn.com features 30 days satisfaction guarantee along with free shipping on orders that are above $69.
For top-performing affiliates, you will have an 8% commission with a cookie life of 45 days, which comes with unlimited occurrences.
Furthermore, the order size of this automotive affiliate is doable, with an average of $70 and an average conversion rate of 1.67%. This makes AutoBarn.com one of the best, if not the best automotive affiliate programs in today's market.
To get this automotive affiliate program, you will have to go through Commission Junction.
Affiliate Commission: 8%
Cookie Lenght: 45-days
Vivid Racing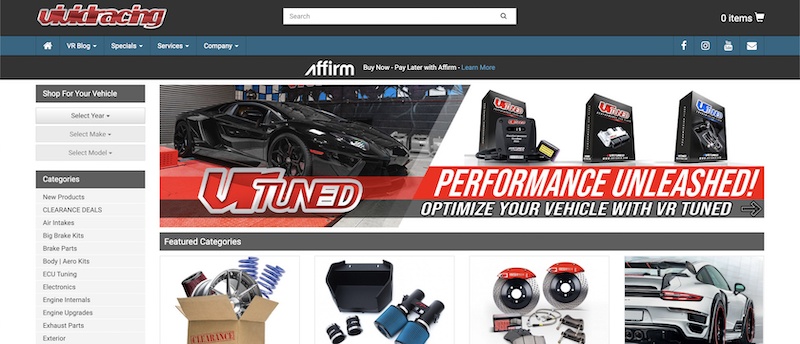 Vivid Racing is equipped with plenty of stuff to show other than its suave name. This is one of the most famous automotive affiliate companies among bloggers. Vivid Racing starts with an investment of $500 and $1500 loan.
This multi-million company has customers across the world and offers shipping of goods across the globe as well.
As the global shipping is escalating the brand's reach, this automotive affiliate program still provides 100% support to all its customers; they take their customers as their number one priority. Vivid Racing has approximately 500,000 products online.
As an affiliate for this company, you will have plenty of commission to cap since every purchase through you will give you 4% to 5% commissions.
The average order amount is roughly $500 to $1000 and a cookie life of 30 days. You can access the affiliate program via Commission Junction.
Affiliate Commission: 5%
Cookie Lenght: 30-days
AutoAnything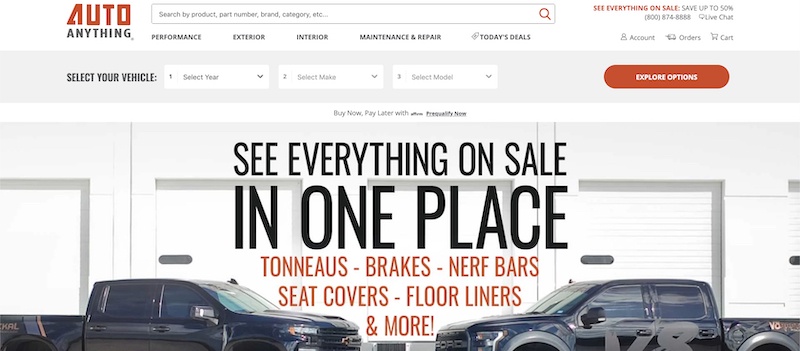 AutoAnything was found in 1979 and was known as one of the leading automotive products retailers in the United States.
As the name suggests, AutoAnything has literally anything and everything you need.
This automotive affiliate company has an unrelenting commitment towards its customers. Furthermore, you are assured quality in every purchase you make from AutoAnything. As a customer, you will be granted a low price guarantee, which is valid for a year allowing you to get the most out of it.
The deals in AutoAnything are not only perfect for affiliates but also for customers. This program does not feature any malice, and it does not feature any hidden handling fees.
Affiliates in this company have cracked up some incredible numbers of approximately $400 per month. The commission rate is 2% and 1-day cookie life. This automotive affiliate program is available on Commission Junction as well.
Affiliate Commission: 2%
Cookie Lenght: 1-day
BuyAutoParts.com

Whenever a client is looking for heavy replacement car parts such as AC compressors, suspension parts, turbocharges, whatnot, and steering racks, BuyAutoParts.com will be the best place to get them.
BuyAutoParts.com has been on operation for 25 years and has specialized in auto parts with more than 200,000 products available on their shelves. Furthermore, they have their own auto part catalog.
This makes the hunt for auto parts easier for a customer, as well as decreases conversions as well as confusion. As an affiliate for BuyAutoParts.com, you will be earning a 5% to 8% commission on every order.
Furthermore, they have a cookie life of 7 days. BuyAutoParts.com is equipped with an amazing and very talented marketing team, which makes everything easier for both the customer and an affiliate.
Affiliate Commission: 8%
Cookie Lenght: 7-days
Pep Boys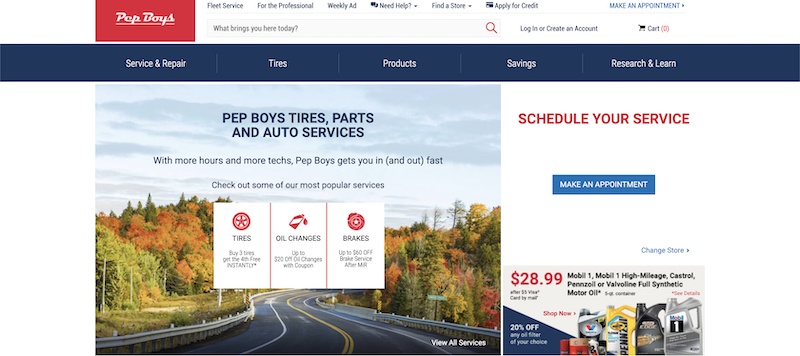 Since 1921 Pep Boys have been leading the United States automotive industry. Here customers have full access to plenty of excellent quality car parts, accessories, and tires.
They feature full-fledged auto maintenance services as well as repairs that are carried out technicians who are by ASE certified, hence making the scheduling services much more comfortable.
As an affiliate, you will earn a 5% commission when you sell products online. However, the bracket of commission ranges between 2% to 5% as tire sales earn a 2% commission. An increase in value increases commission.
For every service appointment booked, you will $2 as an affiliate and $3 for every completed service. Their cookie life is 30 days. Commission Junction manages the Pep Boys affiliate program.
Affiliate Commission: 5%
Cookie Lenght: 30-days
Autozone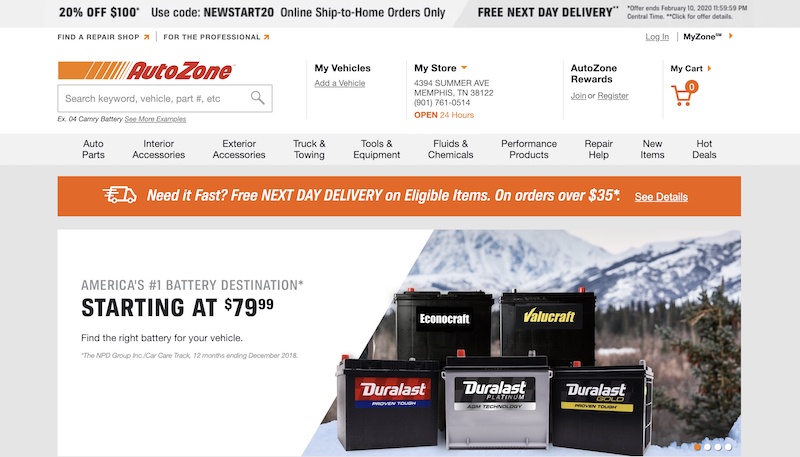 Autozone is well known for its top-notch distributors and retailers. This automotive company has specialized in car care, replacement parts of automotive, and accessories with more than 5,200 stores in the United States, Mexico, Puerto Rico, and Brazil.
You are guaranteed free shipping in every order that is above $100. Furthermore, Autozone is equipped with an array of catalog including brake pads, performance gear, shocks, interior accessories, and guides, among other essentials.
Performance incentive is as well available for grabs with a 3% commission. As an affiliate, you will be rewarded generously once you comply with the monthly performance incentive whenever your sale goes up.
Furthermore, there is an incredible commission on gift cards that are converted easily as well as a fantastic gift for a motorhead.
In Autozone, an average order is over $75, making commission a great deal.
With 45 days of cookie life, Autozone's new website layout is equipped with amazing features as well as functionalities, which make it easy to maneuver. Commission Junction manages the affiliate program of Autozone.
Affiliate Commission: 3%
Cookie Lenght: 45-days
Advance Auto Parts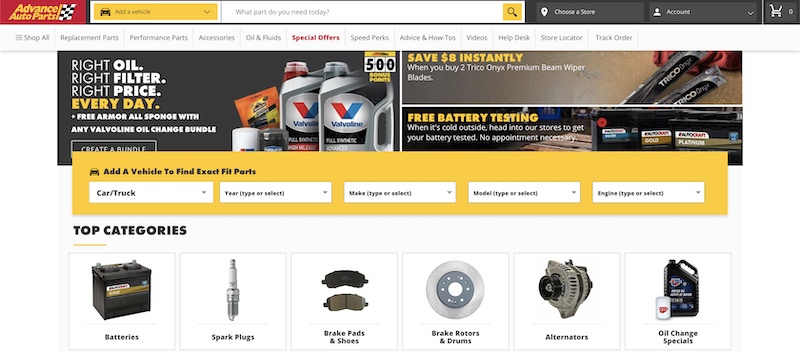 In auto part marketing, a loyal customer base will speak volumes regarding the company's performance. Advance Auto Parts is among the most successful company in this sort, having millions of loyal customer base and $5 billion earnings annually.
These auto parts feature more than 6,000 stores in 40 different States. Furthermore, Advance Auto Parts is among the most prominent auto parts retailers in the United States. They are equipped with all auto parts for every car, trucks, motorbikes as well as marine vessels as well.
Increasing sales order is relatively easy with Advance Auto Parts since they offer free shipping on orders that are over $75. Since it is lesser than most average order size makes capping more sales easier than usual.
As an affiliate, you will earn incredibly well with a commission rate of 4% and a cookie duration of over 30 days. You will as well find various creative, text links as well as banners, and a dedicated support team.
Affiliate Commission: 4%
Cookie Lenght: 30-days
Tire Rack

We all know that purchasing tires have never been easy; however, Tire Rack has made it much more comfortable. Tire Rack has been in operation since 1979 and has been the leader in this industry ever since.
They have specialized in wheels, tires, brakes, suspensions, and accessories along with a hefty chunk of car parts. With Tire Rack, you have assured an authentic product in every purchase you make.
The conversion rate of Tire Rack is incredible, with affiliates having a commission rate of 6% as well as an extended cookie time of 60 days.
The average order size is more than $400, meaning you will have a fantastic share when your customer has trust in you. To get you, Tire Rack, up and running, you can get the links from Commission Junction.
Affiliate Commission: 6%
Cookie Lenght: 60-days
Avis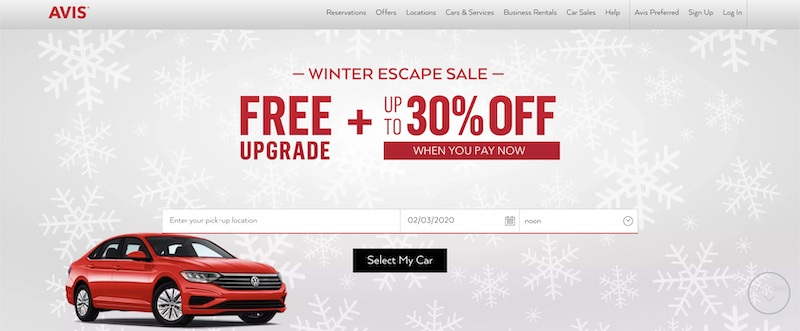 Avis features plenty of stuff to show for every individual with an automotive affiliate program. Furthermore, Avis is recognized as the best car rental company in the United States; it was found in 1946, and they have more than 2,000 points in the US.
When it comes to car rental industries, Avis is considered the best, and they have managed to maintain this title by offering a car rental experience that is stress-free.
Avis has a fantastic reputation; moreover, it features a 4% commission on every rental that is complete within the United States, excluding Alaska. If you feel like you have what it takes to be a high-performing affiliate, you will have a chance to negotiate for a higher commission rate.
Avis, however, features a short cookie life of 1 day. The affiliate program of Avis is managed by Commission Junction as well.
Affiliate Commission: 4%
Cookie Lenght: 1 day.
---
How To Get Started With Automotive Affiliate Marketing
Unless you already have a website, you may also be interested in learning how to start your own automotive content website so you can start promoting the above-mentioned affiliate programs.
A simple content website is a great way to share your passion for cars with the world, and as you may have realized, it can also be a very profitable business venture.
To end this article, article, I will briefly explain how to start an automotive content website from scratch.
I'll cover everything from choosing a domain name to setting up your website's design. If you're interested, keep reading.
First, you'll need to choose a domain name for your website.
This can be anything related to cars or the automotive industry. Once you've chosen a domain name, you'll need to find a web hosting service and register your domain name with them.
Once your domain name is registered, you'll need to set up your website.
This can be done by finding a web design company or by doing it yourself.
If you're unfamiliar with web design, I would recommend hiring a professional to help you get your website up and running but it's not necessary.
Just get yourself a free WordPress blog from BlueHost, install a theme (I recommend GeneratePress) and you're ready. Once your website is set up, you'll need to…
Start creating content for it.
This can be anything related to cars or the automotive industry. You can:
write & publish articles
create videos for YouTube and even for…
social networks such as Instagram or TikTok.
Once you've published enough content that your site is getting regular traffic, you should start seeing some traffic. Congratulations, you have found your audience, which is the final thing you need before you..
Monetize
When you see that traffic, start monetizing your website with advertising banners (such as Ezoic or Mediavine) or using the above-mentioned automotive affiliate programs.
And that's it!
I know that was short-and-quick but that's all there is to it.
If you're looking for a more detailed guide, I recommend you take a look at my guide where I explain how to build simple affiliate websites that make money.
---
---