The Automotive Industry has always been a huge moneymaker both offline and online as well.
As with every other industry, the automotive/car businesses of the world have been heavily investing in digital media and you're about to see how true that is in today's list of the top automotive affiliate programs I've carefully curated for you today.
If you're a content creator/blogger in the car niche, whether that be a YouTube channel or a good-ole-fashion niche website, here are some of the best affiliate programs you can partner up with to ramp up those affiliate commissions.
But first, let's take a quick overview look (before we go into detail about each affiliate program further down below).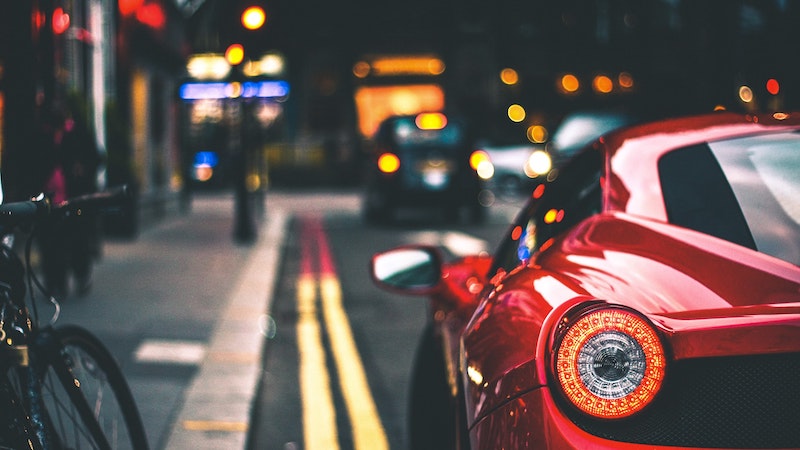 NB:
Want to see how I make money with affiliate marketing? My new book reveals my entire process, including my 4-step approach to building affiliate websites.
CLICK HERE to download my book for free
.
10 Great Automotive Affiliate Programs (Overview)
AutoBarn.net
Vivid Racing
AutoAnything
JC Whitney
BuyAutoParts.com
Pep Boys
Autozone
Advance Auto Parts
Tire Rack
Avis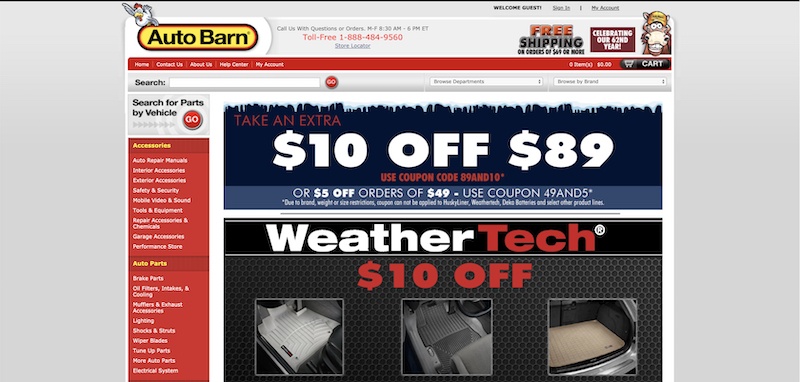 AutoBar.com is an automotive affiliate program that is spread across the geography of Canada, the United States, and a little bit beyond. This automotive affiliate program is famous for showcasing a gregarious inventory of more than 100,000 branded auto parts, car care, and accessories as well. Nowadays, customer service is regarded as the highest priority in user need base; due to that, AutoBarn.com gives customer service first priority.
The most interesting part of this automotive affiliate is that you do not have to tap and click to understand what they offer. All you have to do is dial their toll-free number and have a chat with their sales associates who are extremely helpful. AutoBarn.com features 30 days satisfaction guarantee along with free shipping on orders that are above $69.
For top-performing affiliates, you will have an 8% commission with a cookie life of 45 days, which comes with unlimited occurrences. Furthermore, the order size of this automotive affiliate is doable, with an average of $70 and an average conversion rate of 1.67%. This makes AutoBarn.com one of the best, if not the best automotive affiliate programs in today's market. To get this automotive affiliate program, you will have to go through Commission Junction.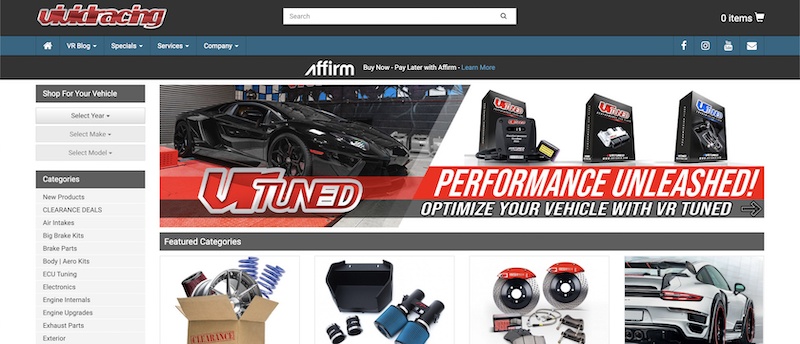 Vivid Racing is equipped with plenty of stuff to show other than its suave name. This is one of the most famous automotive affiliate companies among bloggers. Vivid Racing starts with an investment of $500 and $1500 loan.
This multi-million company has customers across the world and offers shipping of goods across the globe as well. As the global shipping is escalating the brand's reach, this automotive affiliate program still provides 100% support to all its customers; they take their customers as their number one priority. Vivid Racing has approximately 500,000 products online.
As an affiliate for this company, you will have plenty of commission to cap since every purchase through you will give you 4% to 5% sliver. The average order amount is roughly $500 to $1000 and a cookie life of 30 days. You can access the affiliate program via Commission Junction.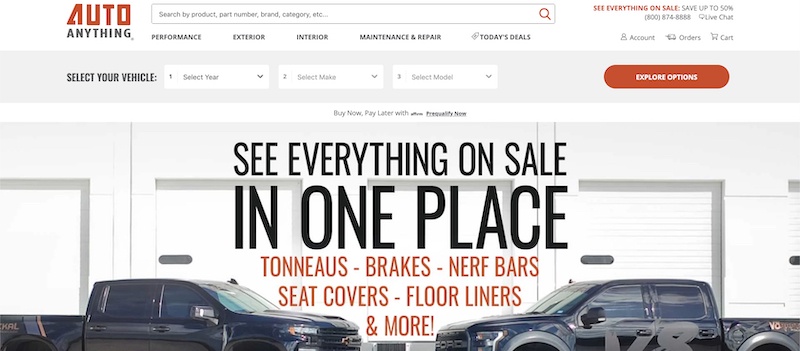 AutoAnything was found in 1979 and was known as one of the leading automotive products retailers in the United States. As the name suggests, AutoAnything has literally anything and everything you need. This automotive affiliate company has an unrelenting commitment towards its customers. Furthermore, you are assured quality in every purchase you make from AutoAnything. As a customer, you will be granted a low price guarantee, which is valid for a year allowing you to get the most out of it.
The deals in AutoAnything are not only perfect for affiliates but also for customers. This program does not feature any malice, and it does not feature any hidden handling fees. Affiliates in this company have cracked up some incredible numbers of approximately $400 per month. The commission rate is 2% and 1-day cookie life. This automotive affiliate program is available on Commission Junction as well.
JC Whitney (
Discountinued

)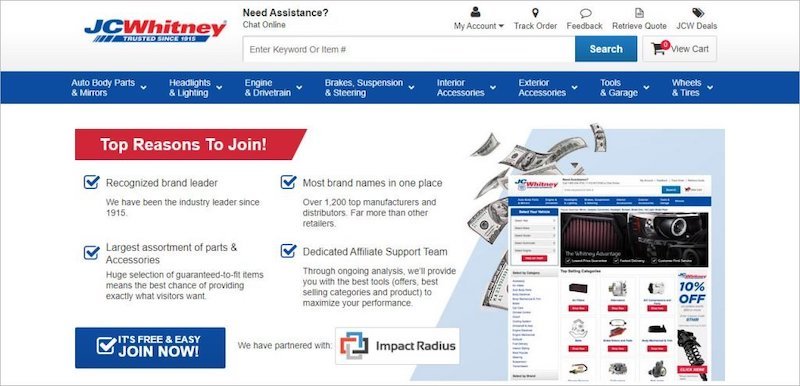 Nowadays, the auto part market is on fire, and JC Whitney is one of the most reliable automotive companies. JC Whitney is well for assisting their customer with auto parts for approximately 100 years; this creates a tag of trust for most individuals. With JC Whitney, you will be able to find some of the most complete car parts collections as well as accessories.
JC Whitney is recognized as the Amazon for auto parts, with its massive warehouse having more than 1.2 million car parts, which belongs to over 25 million different vehicles. Furthermore, they feature some of the most affordable prices in the market. Here customers are guaranteed quality at the most affordable rate with incredible fast delivery and 100% satisfactory policy. As an affiliate for JC Whitney, you are guaranteed an 8% commission and an incredible healthy cookie life of 30 days.

Whenever a client is looking for heavy replacement car parts such as AC compressors, suspension parts, turbocharges, whatnot, and steering racks, BuyAutoParts.com will be the best place to get them. BuyAutoParts.com has been on operation for 25 years and has specialized in auto parts with more than 200,000 products available on their shelves. Furthermore, they have their own auto part catalog.
This makes the hunt for auto parts easier for a customer, as well as decreases conversions as well as confusion. As an affiliate for BuyAutoParts.com, you will be earning a 5% to 8% commission on every order. Furthermore, they have a cookie life of 7 days. BuyAutoParts.com is equipped with an amazing and very talented marketing team, which makes everything easier for both the customer and an affiliate.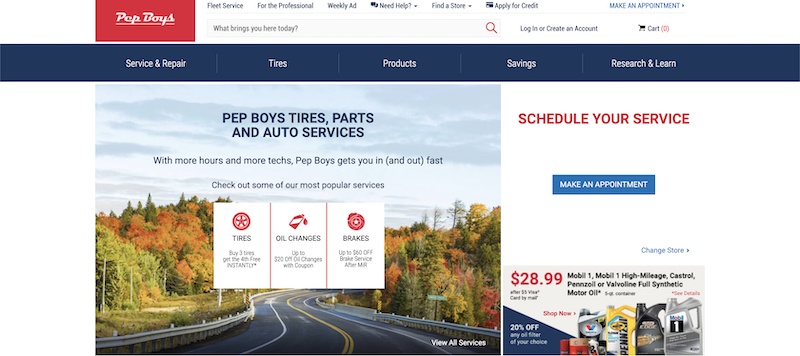 Since 1921 Pep Boys have been leading the United States automotive industry. Here customers have full access to plenty of excellent quality car parts, accessories, and tires. They feature full-fledged auto maintenance services as well as repairs that are carried out technicians who are by ASE certified, hence making the scheduling services much more comfortable.
As an affiliate, you will earn a 5% commi