Obesity and diabetes are on the rise. That's neither a "fun fact" nor a surprise by any measure.
While you can't convince the entire world to take better care of their health, you can provide solutions that will ease this growing problem.
Today, we're looking at some diabetes affiliate programs which provide help diabetes patients control and even minimize the risk associated with the disease.
10 Diabetes Affiliate Programs (Reviewed Below)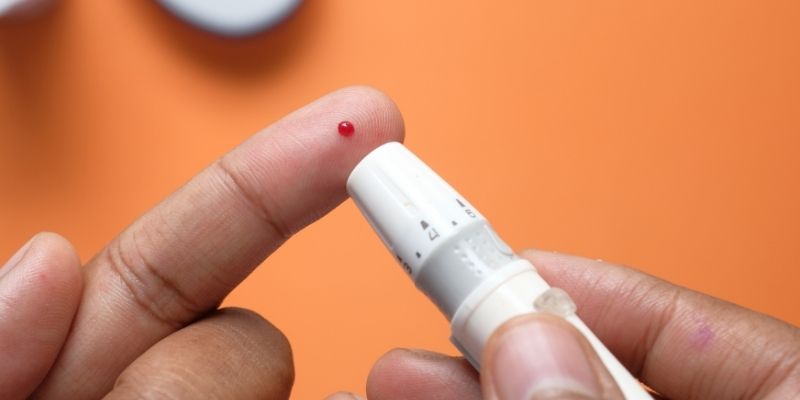 ---
---
Bens Diabetes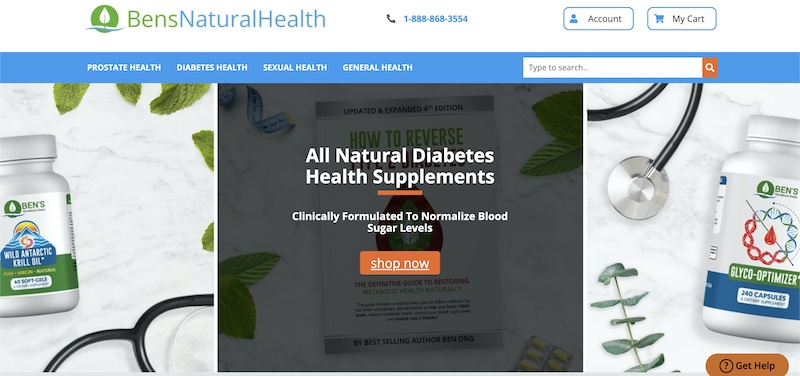 Bens Diabetes is a member of the Bens Natural Health brand. The company specializes in high-quality supplements and educational material on aging men's health problems such as diabetes, high blood pressure, and arthritis.
Clickbank manages its affiliate program and provides members with exclusive landing, graphics, and banners for product promotion and an affiliate dashboard where affiliates can check their sales and commission payouts in real-time.
Bens Diabetes has a book, How to Reverse Diabetes Fast, a scientifically backed guide to naturally reversing diabetes. The ebook currently retails at around $20.
Commission rate: 75%
Affiliate cookie: 90 days.
Silverts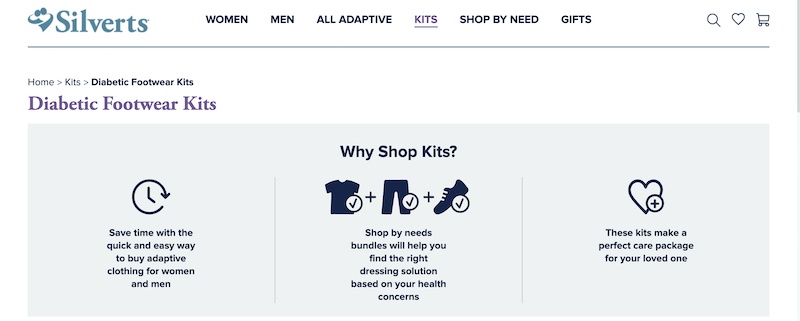 Silverts began as a small department store in 1930. Today the store has grown to integrate easy to wear fashion, adaptive clothing, and footwear. Their products are made for the elderly, seniors, and nursing homes.
The site even has a line catering specifically for diabetes patients. Affiliates apply for the store's affiliate program on its website. Members get marketing material, such as banners, logos, and tracking links.
Also, there's a help section on the website to offer assistance and useful suggestions. Other features include free shipping over $20 and discounts.
Commission rate: 10%
Affiliate cookie: lifetime.
Total Diabetes Supply

Total Diabetes Supply is an online platform that specializes in diabetes and medical supplies. It stocks brand name diabetes supplies at generous discounts of up to 60% off on retail prices.
These names include Accu-chek, OneTouch Ultra, and FreeStyle. ShareASale manages its affiliate program and offers perks such as dedicated affiliate management, an average order size of $70, and a 5% conversion rate.
Affiliates get access to professionally designed banners, text links, and tracking tools. Members get to promote diabetic socks, shoes, dietary supplements, and other medical supplies.
Commission rate: 4%
Affiliate cookie: 45 days.
DiaMetrix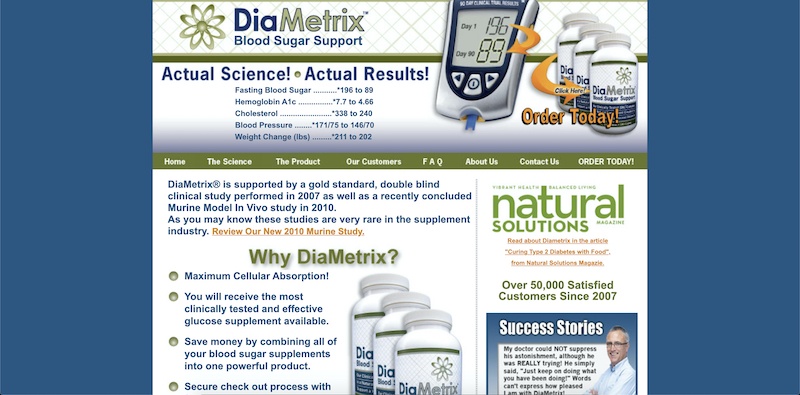 DiaMetrix is one of the most effective diabetic supplements in the market today. By joining its affiliate program, members get access to promotional material such as banners, graphics, and text links.
Registration is easy and absolutely free. Once you're approved, DiaMetrix supplies you with advanced third-party tracking so you can monitor all your clicks and sales with real-time reporting.
DiaMetrix is designed to remedy insulin resistance, the cause of diabetes Type 2. What's more, members can even create a custom banner and email ads to match their sites.
Commission rate: 15%
Affiliate cookie: 30 days.
Medical Supply Depot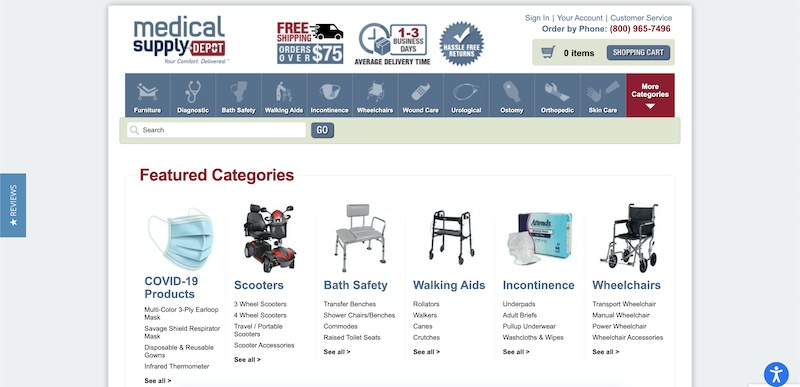 Medical Supply Depot is a leading medical supplier in the US.
The company has built its reputation on honesty, integrity, fair prices, and impeccable customer service. ShareASale manages its affiliate program and provides highlights such as a three-tiered commission structure, coupons, a data feed with over a thousand products, and high-quality banner and text links.
The most suitable candidates are those in the medical, health, or wellness niche.
The range of products affiliates will be promoting is targeted at primary seniors and anyone aged over 50 years. Products include pain management, respiratory care, diabetes care, skincare, and more.
Commission rate: 7.5-9.5%
Affiliate cookie: 45 days.
ADW Diabetes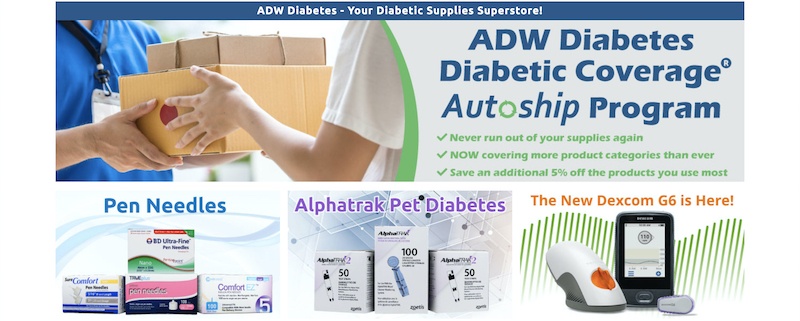 ADW Diabetes is an online source for discounted supplies for diabetic patients and even pets. The site has partnered with Commission Junction to provide a way for interested parties to earn passive income.
By joining ADW Diabetes, affiliates get benefits such as a dedicated affiliate management team, thousands of brand name products, real-time reporting and tracking, and monthly payouts.
The commissions are structured into three tiers, the highest being 10%. Also, members get other incentives such as fast service and even faster delivery, free shipping on all orders over $100.
ADW Diabetes prides itself on its safe and secure shopping experience where you are sure to get value for your money.
Commission rate: 6-10%
Affiliate cookie: 30 days.
Diabetic Warehouse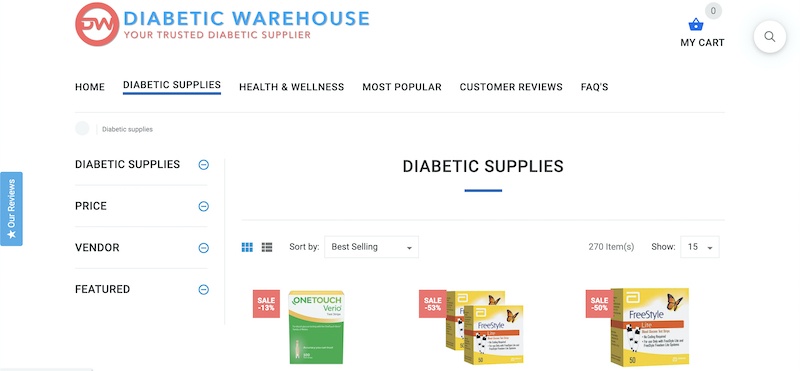 Diabetic Warehouse offers affordable diabetic supplies such as diabetes strip tests, glucose meters, lancets, and much more. The products come at significant discounts, as high as 60%.
Refersion lowers the site's affiliate program and provides benefits such as free banner creatives, a solid 4% conversion rate, and generous commissions. The program is best suited for bloggers, writers, and content creators focusing on health and wellness.
Registration is free and involves filling and submitting an online application with your details. It's very simple and won't take up too much of your time.
Commission rate: 10%
Affiliate cookie: 30 days.
Oracoat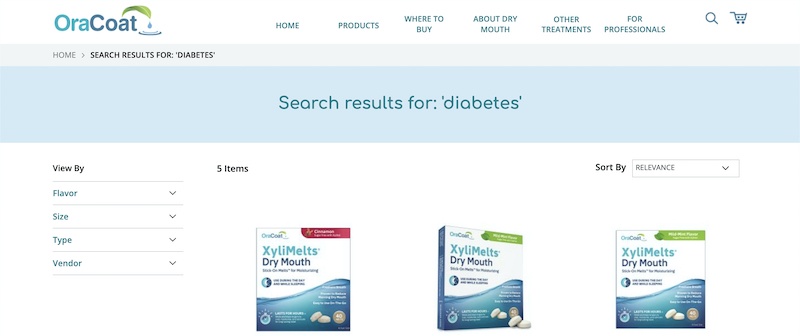 Oracoat's product, XyliMelts, is the best treatment for dry mouth, a common problem for diabetes people. XyliMelts stimulates saliva production, keeping the mouth moisturized.
The company also has an affiliate program with advantages such as monthly payments, reliable third-party tracking and reporting, and real-time reporting so members can monitor their sales and earnings.
Commissions are paid out monthly without fail on at least 25% on all sales. Getting started is quick and easy; sign up for the program, place your affiliate link on your site, and start collecting your earnings.
Commission rate: 25%
Affiliate cookie: 90 days.
Discount Medical Supplies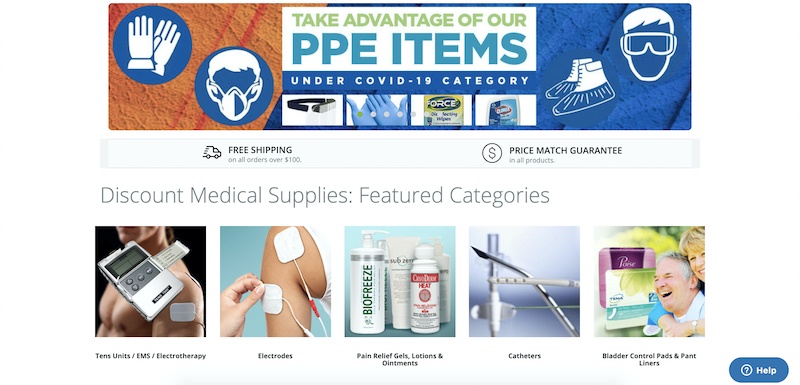 Discount Medical Supplies provides high-quality products at affordable prices. Categories included in the site's catalog include diabetic patient care, urological, wound care, and pain management.
Commission Junction manages its affiliate program and provides affiliates with 24/7 customer support via email and phone, educational resources, and maximum conversions.
Commission rate: 5%
Affiliate cookie: 45 days.
Diabetes Herbal Care (
Discontinued

)

Diabetes Herbal Care was formed with the intention of bringing patients who have diabetes and other life-threatening diseases a sure cure through the company's invigorating and holistic medicine.

Refersion powers the company's affiliate program and offers members perks such as generous commissions, prompt payments every 15 days; two times a month, through PayPal, and bonus rewards after successful sales.

Requirements for joining the program include an active blog or website and a PayPal account. The partnership has an average order value of $2000, making an extremely lucrative investment for potential candidates.

Commission rate: 35%

Affiliate cookie: 30 days.
---
Can You Make Money With Diabetes Affiliate Websites?
You can, but you have to be very careful with this niche.
Since this falls under the YMYL algorithm in Google, chances are you're going to have a hard time ranking for all your desired keywords.
My suggestion would be to take a look at my guide showing you how I build my own affiliate websites.
I can't guarantee my method will work in this niche, but I can tell you this method has worked for me 100% of the time.
Be sure to check it out to see what it takes to make money with affiliate marketing.