Welcome to my list of Fantasy affiliate programs.
I've been reviewing a lot of affiliate programs lately and I have to say;
Fantasy sports is one of the biggest, most profitable niches I have come across in my entire "life" online.
If you're in the gambling/fantasy sports niche – you've made the right choice.
If you're getting traffic already, then the battle is half won.
Next, you just need to find the perfect fantasy sports affiliate program to partner up with and make some money, and I believe I have found them all for you here.
Let's get started…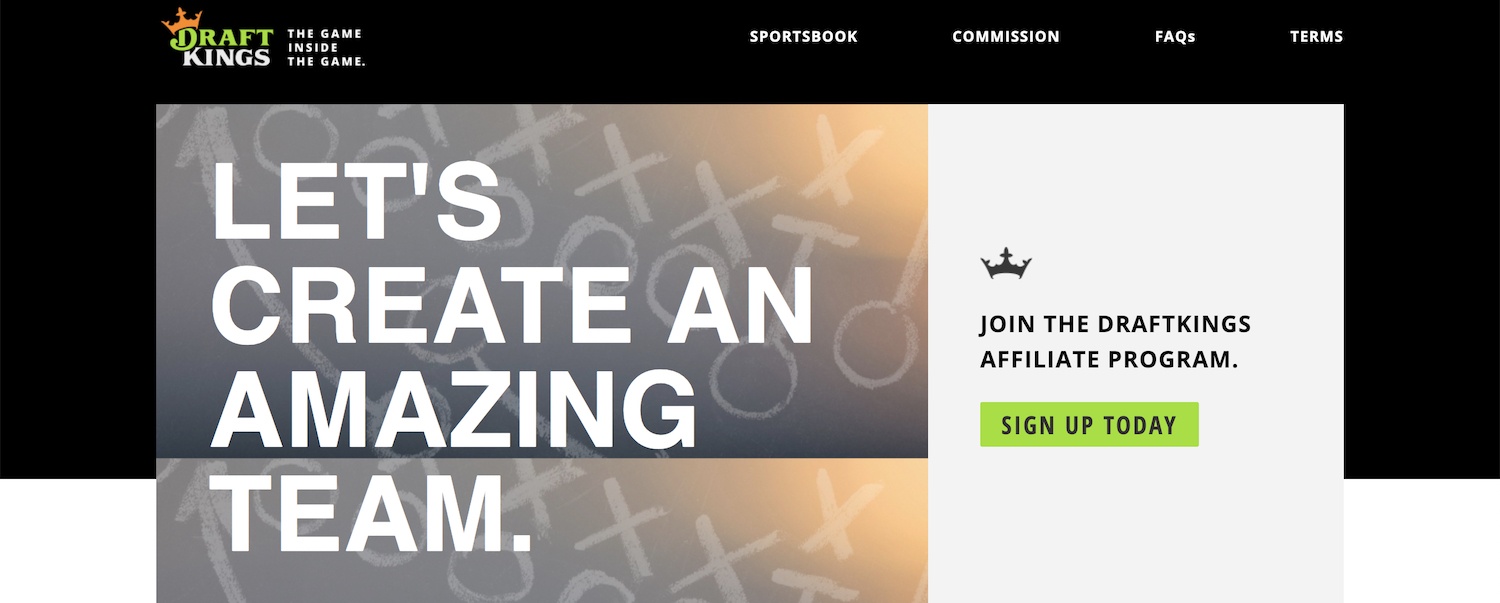 This is an innovative sports-tech and entertainment platform, and a leading provider of daily fantasy sports, that offers daily fantasy sports contests where the users earn money on individual players and team performances.
DraftKings has a large free and paid contests in major sports such as UEFA Champions League, Mixed Martial Arts (MMA), Canadian Football League, NFL, NBA, and etc.
Most of the fantasy sports of this platform are popular in America, Canada, the United Kingdom, Malta, Germany, and Ireland.
There were some concerns about its legality, but it is 100% legal in 41 U.S. states. Its officials work with government officials and lawmakers for consumer protection and smart regulation. Therefore, you as an affiliate partner and your followers are utterly safe.
Besides, the best thing is it is for all kinds of players.
You can promote this fantasy sports website to beginners as well as highly experienced players. They don't have to worry about their personal information too. It is safeguarded by Secure Socket Layer.
Program Highlights
40% commission for the first 30 days of each referral.
The funds are always protected and players have access to their money all the time.
Your information is secured by 'Secure Socket Layer'.
It actively monitors and investigates players routines and behaviors.
It is for both beginner and professional-level players.
Gambling Affiliation Affiliate Program

Gambling Affiliation is all about sportsbook, poker, casino, and horse racing.
The CEO of this company, Antoine Szczot, has changed it considerably in the past 10 years. It was his aim to make this platform a renowned and secure platform for fantasy sports players, and he was rather successful in it.
Today, it has turned into a leading stage that has more than 35,000 affiliates, who recruit thousands of players each month.
According to Antoine Szczot, in all these years, he was mainly focused on the areas of regulation, professionalism, and technology. Particularly, the regulation demands the most attention, as when a country regulates online gaming, it shakes everything.
Currently, this company is focusing more on bringing more services and benefits to its affiliate partner. Since they perceive they are the backbone of their business.
Program Highlights
The commission rate is 5% from the websites you refer to it.
There are 250 campaigns which are available through your account.
You can control everything from one account.
Campaigns are available with different kinds of deal, like CPA and Revenue Share.
They choose advertisers carefully to give your website maximum profit.
No Halftime Sports Affiliate Program

It is a fantasy sports betting app which hosts a multitude of challenges for many sports league. You can bet on your favorite superstars in fantasy matches to earn money.
Unlike many other fantasy sports, there are no drafts and no season long commitments. You can use this app and relish the games anytime you want.
In recent times, this company was encountering legal challenges. But it still thrived in almost all the states in the Union.
And, there are lots of reasons behind it.
For example, the simplicity of this platform is rather great. It rubs its shoulders with professional features, but keep the new players comfortable too. Setting up a challenge will be a piece of cake. They won't deal with any issues or complexity in the interface.
Apart from this, accepting challenges from friends or family members is also as easy as pie. All they need is to swipe left or right to decline or accept the challenge.
Program Highlights
For the first three months, the commission rate is 25%.
If the net revenue is above $5,000, the commission rate can be increased.
You have to fill out the form to become their affiliate partner.
The interface is user-friendly.
It also gives time-limited bonuses to its players, time and time again.
FanDuel Affiliate Program

If you are looking for a daily fantasy sports game, sign up for FanDuel.
You will find the real-world athletes on this stage where they decide which team wins. Due to their professionalism, it is like they bring the action right into their living room.
They have lots of options, from contest types and game styles, which they choose according to their gaming requirements and win real cash.
Believe it or not, on FanDuel, more than 2 million players have won the cash.
The great thing is if you are a beginner and don't know much about fantasy sports, it is possible to win cash without paying a cent.
This is immensely great for affiliate marketers as they can recommend it to their followers and compel them to learn about this sports genre.
Joining their affiliate program is free. You will receive banners, tracking links, videos, and much more which can assist in your marketing campaigns on a massive scale.
Program Highlights
The commission rate is rather high in the industry, nearly 35%.
They have great tools for tracking and promotions.
You can receive your commissions each month via PayPal and check.
They also have a multi-tiered commission structure.
It is for both new and highly-experienced players.
FantasyDraft Affiliate Program

It is a niche DFS site with a unique referral system for affiliate partners.
This fantasy sports website went from being a rookie website to a professional platform for experienced players in a very short time. They tried to dominate the fantasy sports market by working on players satisfaction and retention.
That's why it is known as a user-friendly platform for all players.
Experience-based structure of this website ensures that it is presenting a level playing field. Therefore, the beginners are isolated in the first stages from the professional players. They have a chance to be an expert before facing fierce competition.
Apart from this, it doesn't have a crowded lobby like its competitors. It can be a disadvantage for some people but it also draws those players who have a special preference for betting on specific leagues.
Program Highlights
You earn 10% as an affiliate partner if your referrals enter a paid contest.
It has a clutter-free interface, user-friendly for beginners.
You have the freedom to choose more players.
It restricts users from a few states to deposit money, therefore contact the customer support if you have specific questions in mind about state restriction.
There are two main withdrawal methods, PayPal and Check.
How To Get Started With Fantasy Sports Affiliate Marketing
The first thing you need to do to get started in this industry is to find your specific niche within the industry
(I teach you how to do that here)
Next, you are going to need a WordPress website (ideally).
You can get a free on from SiteRubix here, or you can invest around $100 and you will have your own domain and premium hosting with BlueHost.
Last but not least, you need to pick one of the Fantasy sports affiliate programs mentioned above and drive traffic to it.
There are many ways you can get traffic to your website (which you then divert to your chosen affiliate program), but the best traffic-source I have found is Google search traffic, i.e; SEO.
You can get a basic understanding of SEO in my free mega-guide.
Want Some Video Training?
WANT TO KNOW HOW I MAKE MONEY WITH
AFFILIATE MARKETING?
(YOU ALSO GET A 10-DAY COURSE FOR FREE WHEN YOU SIGN UP)
After signing up, you will be redirected to the course page where you need to sign up again - no credit card required, just an email will do.
I have a free video course which you can sign up for here.
It will teach you all you need to know about getting started with affiliate marketing, building your website, getting traffic and making money.
If you are interested in that, you can see my official review of that course here.
Final Words
Thank you for reading my roundup list of the best Fantasy sports affiliate programs.
I genuinely believe we are in the infancy stages of this niche and anybody who can get a foot in the door during these early days, will eventually benefit greatly in the future by aligning with the right affiliate program.
I'll leave you to it and good luck.
Talk soon.
Christian Lee.
PS: Don't forget to sign up for my email newsletter as well – you will get to see all my wins, failures and lessons in real time.
PSS: You may also want to check out my roundup list of the best casino affiliate programs.
NB:
Want to see how I make money online?
Here's my latest guide
showing you everything I do to earn money with simple, easy-to-build websites.