Welcome to my round-up list detailing the 5 best gardening affiliate programs that are available for "garden bloggers" far and wide.
When I was first starting out with affiliate marketing, this was going to be my niche since I had (and still do) have an interest in indoor gardening but eventually decided against it.
However, this does not mean the gardening niche is not a great niche. It is.
& as you will see from the commission rates being offered by below gardening affiliate programs, it can be a pretty profitable niche as well.
Whether you are brand new to affiliate marketing, the gardening niche or using affiliate programs;
Keep reading this post as I am about to show you all that you need to have and do to be able to take your "gardening blog" and turn it into a full-time business online.
Let's get started with my top 5 gardening affiliate programs…
WANT TO KNOW HOW I MAKE MONEY WITH
AFFILIATE MARKETING?
(YOU ALSO GET A 10-DAY COURSE FOR FREE WHEN YOU SIGN UP)
After signing up, you will be redirected to the course page where you need to sign up again - no credit card required, just an email will do.
FamilySurvivalGarden Affiliate Program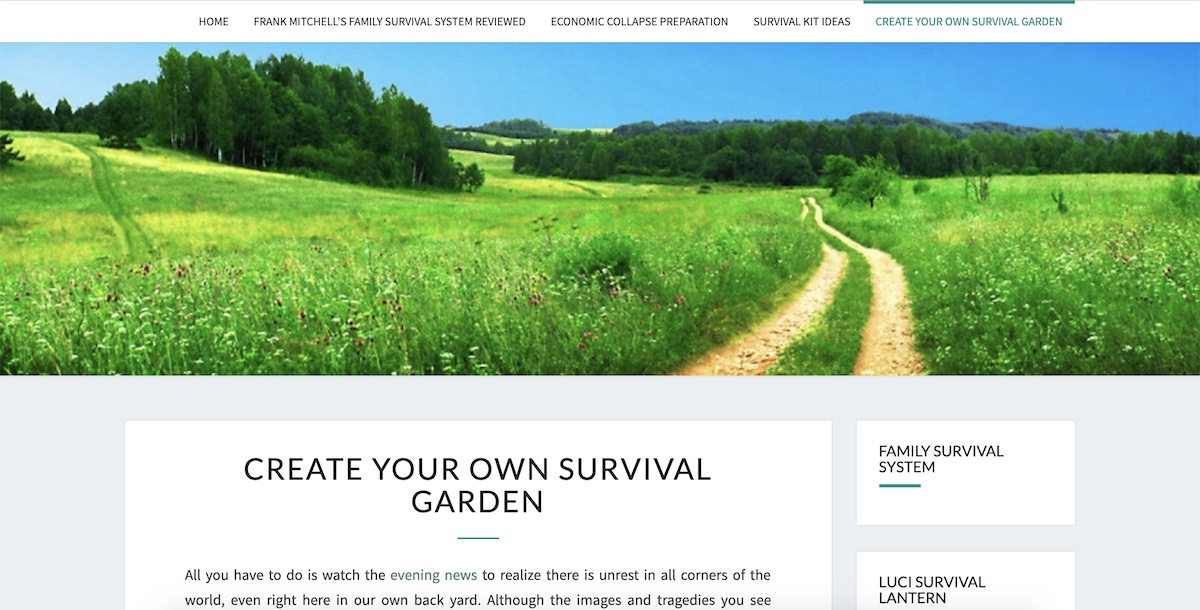 Want to have a survival garden for your family and avoid the foods that are threatening your health? Well, get the 'Family Survival Garden' system.
It teaches you about how to grow your own food and feed your family. Tons of exceptional information is packed in this course, which is recommended by the experts over and over again. They believe, on the whole, it is immensely instructive and useful.
We agree, there are many courses in the market that teach about growing your own survival garden, but the thing that makes Family Survival Garden unique is its methods are designed for long-term stability.
They are 100% practical and you can grow enough food in minimal space.
What's in it for affiliate marketers? If you are pondering this, 75% commission. And, this is just one aspect. Skip Tanner, the author of this course and the Vertical Gardening Guru, also provides incredible content. You can share that with your list to increase the conversion rate and build a stronger relationship.
Program Highlights
You earn 75% commission on all front-end sales.
This system is available through ClickBank only.
It is not just for gardening, you can promote it for all survival-related niches.
Skip Tanner provides content for marketing and promotion.
As an affiliate partner, you can win awesome prizes through contests.
SmilingGardener Affiliate Program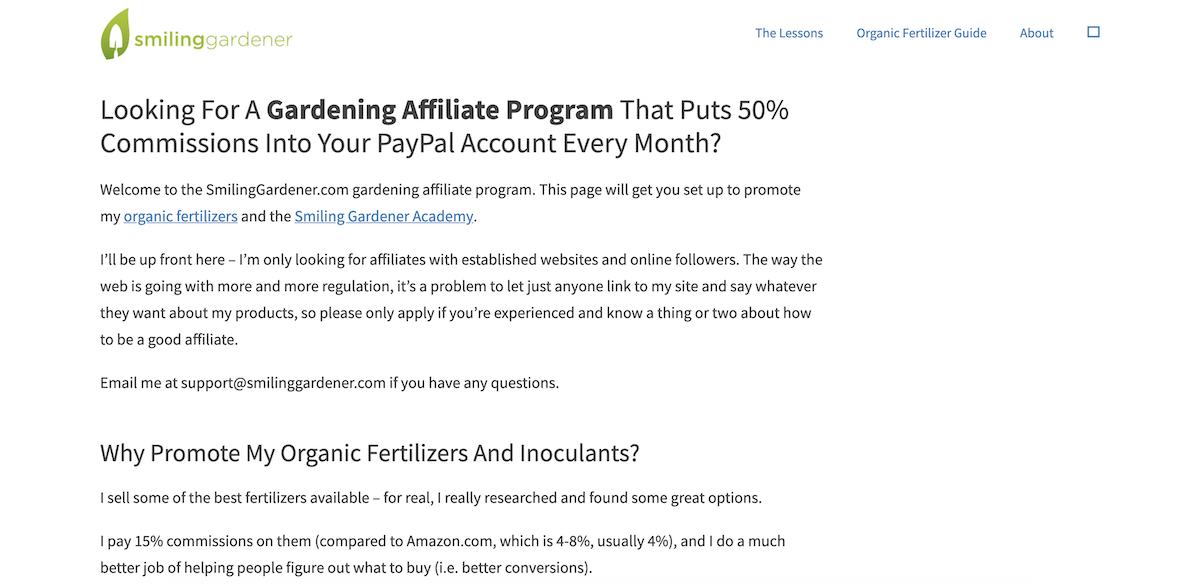 'Smiling Gardener' program is created by a professional organic gardener, Phil Nauta. He is immensely passionate about his methods and known as growing nutrient-dense food.
In order to acquire this program, you have to become a member of his academy.
Though it is an online course, you also receive step-by-step videos and new information each month. In a way, Phil keeps you updated and ensure that you are on the right track. Most of these famous methods shed light on how to balance the soil food web, how to control predators without chemical, and how to test the soil.
All of these things are essential if you want to learn gardening for survival.
You can promote this affiliate program as well and put 50% commission into your account each month. But this program is available for experienced marketers. However, if you are a novice and still want to try it, you can email the customer support team and ask details.
Program Highlights
Phil gives 50% commission to its affiliate partners.
Only experienced marketers can apply for affiliate membership.
You can monthly commissions too through Academy.
Your followers can receive 15 free gardening lessons.
This course is developed by a certified gardener, Phil Nauta.
Gardeners Affiliate Program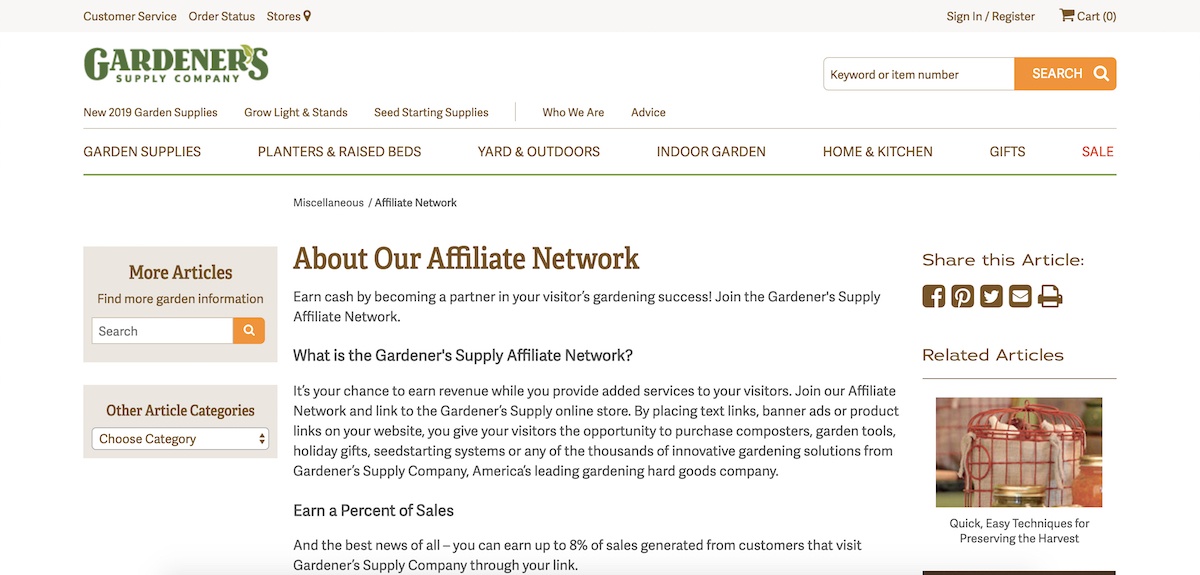 This is, in reality, a suppliers company founded by enthusiastic Vermont gardeners.
If we say this is the shopping for beginner and professional gardeners, it would be correct.
From seed-starting supplies to garden furniture, you will find everything in this store.
Besides, the best thing is your followers can get specific answers too on their website from the experts. It can keep them inspired and influence them to buy the products.
For example, they can ask questions like how to choose a planet for a new flower bed, or how to deal with tomato problems in specific seasons.
In a way, the information is exceptional and free, but they have to pay to buy the products.
All you need is to join the Gardener Supply Affiliate network and link to their online store. You will earn up to 8% of the sales generated by your customers.
Program Highlights
The commission rate is 8% for all supplies.
You can use text links, banner ads, and product links for promotion.
This affiliate program is partnered with the Linkshare network.
You can also receive personal support through the program manager.
The information on this website is free-of-charge.
SeedsNow Affiliate Program

Looking for seeds which are free from genetic engineering? Visit SeedsNow.
Usually, gardeners buy seeds from large corporations that are genetically engineered. They aren't good for health in the long run and can invite lots of issues.
But the seeds of SeedsNow are 100% open-pollinated. They aren't genetically modified or chemically altered. You and your loved ones are safe. From herbs to flowers seeds, fruits to vegetable seeds, if there is one platform that can send you quality seeds, it is Seeds Now.
All of their seeds are above the industry's standards and guaranteed to grow. Other than that, they have a long-term shelf life.
They have used a re-sealable moisture-proof pack for all their packages. It keeps the seeds cool and dry and keeps them viable for many months.
Program Highlights
SeedsNow gives a 25% commission rate for every conversion.
You can be paid weekly.
The method of payment is PayPal only.
It is pertinent to fill the registration form to become an affiliate partner.
The cookie duration of this program is 90 days.
TheShoestringGardener Affiliate Program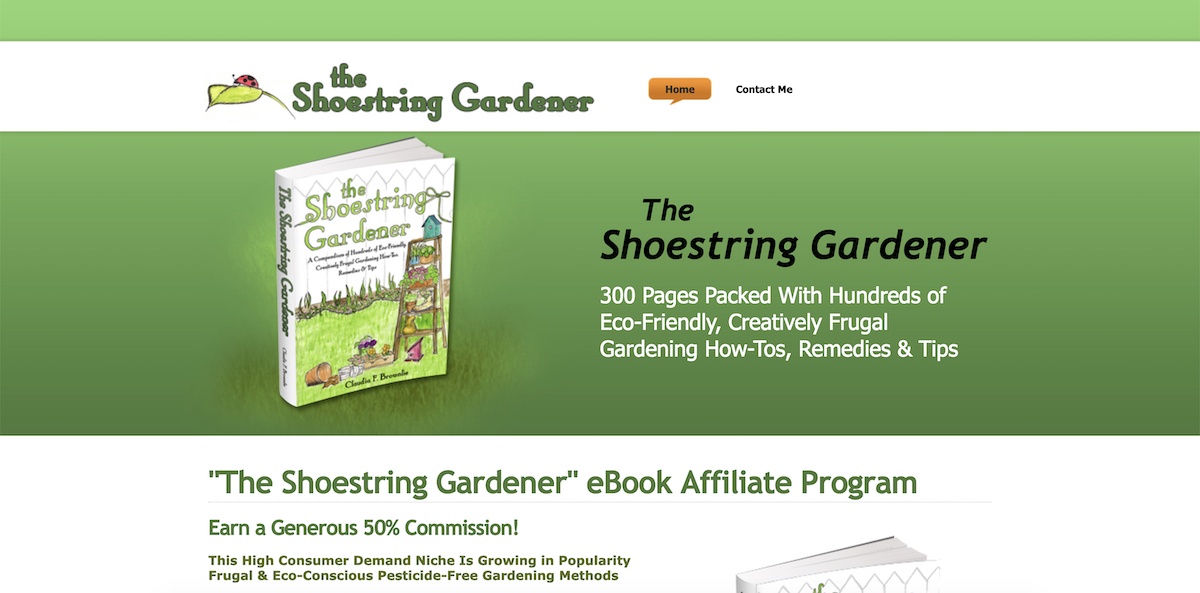 This is an eBook by Claudia F. Brownlie which gives answers for your baffling questions.
It has all the budget-friendly gardening tips that teach you how to deal with gardening obstacles, dilemmas, and headaches.
If you are targeting novice gardeners who don't perceive gardening or trying to learn it as a hobby, promote 'The Shoestring Gardener'. It will spark greater awareness and make them learn many new ways to approach gardening challenges.
For an affiliate marketer, the marketing opportunities are broad. They can earn a generous 50% commission. Furthermore, we are confident the conversion rate will be better than your expectations if you have super-targeted traffic.
Since it isn't just the written content. Claudia introduced professionally illustrated images in it too that assist in making people comprehend how the entire process works.
The conversion is without a doubt 50%, but please bear in mind this eBook is economical. Therefore, you will earn around $4.55 for each sale. This is a tad lower than other courses in the market. But it can turn more readers into buyers too.
Program Highlights
It gives a 50% commission rate to its partners.
You earn only $4.55 on each sale, as it is an economical eBook.
It is imperative to sign up for a ClickBank account.
This eBook is all about effective non-toxic methods of gardening.
You will receive commission checks once every two weeks.
How To Make Money In The Gardening Niche
If you are in the gardening niche online, the best way to go about using the above gardening affiliate programs is by creating content that your target audience would want to read that you can tie an offer into.
One of my favourite ways to do this is with doing product reviews and even though I've never worked in the gardening niche myself, I am sure there are plenty of products which you can review.
I have a great guide for you here that will show you how to make GREEN (pun intended) with doing product reviews.
Best Way To Start Your Online Gardening Business
WANT TO KNOW HOW I MAKE MONEY WITH
AFFILIATE MARKETING?
(YOU ALSO GET A 10-DAY COURSE FOR FREE WHEN YOU SIGN UP)
After signing up, you will be redirected to the course page where you need to sign up again - no credit card required, just an email will do.
If you're new to all of this and want to start your own (gardening) affiliate marketing business, then look no further than the free 10-day "Getting Started" course offered here.
It's the same course I have used to build myself an online business and I continue to use it to this day to continue growing my business.
For all beginners, this is the perfect course to follow because it's free, easy to understand and guaranteed to work.
I am sure you've heard this "pitch" many times before – but I promise you this is different so take a look at the Wealthy Affiliate course and see for yourself if it is worth the hype.
Closing Words
Thank you for reading my roundup list of the top 5 gardening affiliate programs you can make money within the gardening niche.
if you have any questions about these affiliate programs or anything related to affiliate marketing in general, be sure to let me know down in the comment section below.
Talk soon.
Christian Lee.
NB:
Want to see how I make money online?
Here's my latest guide
showing you everything I do to earn money with simple, easy-to-build websites.