Spend just 5 minutes on YouTube and you will find more business gurus wanting to sell you their "secret methods to millions" than you can ever watch.
As I'm sure you've realized, 99% of those gurus are clueless about building real-world business, but in the remaining 1%, you will find some legitimate heavy-hitters and business gurus you do want to listen to.
In my opinion, one of the few legitimate guys out there is Grant Cardone so, and it's with great pleasure that today I present you with my official (recently updated) Grant Cardone affiliate program review.
In this guide, I will do my best to explain what the Grant Cardone affiliate program is about and how you can best promote it to earn some high-ticket commissions on the high-ticket items Grant Cardone is known for.
Let's get started…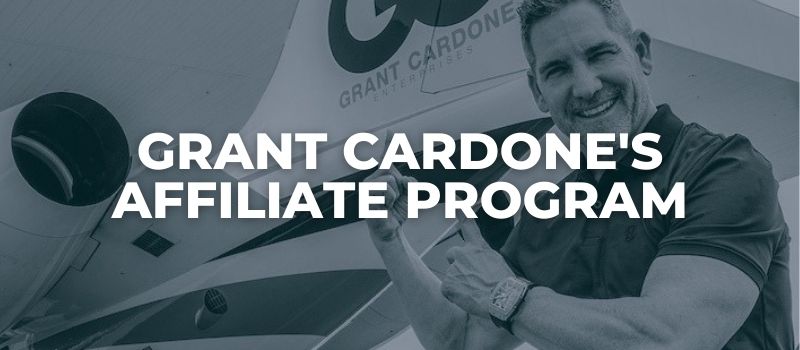 ---
---
Who Is Grant Cardone?
Grant Cardone is many things.
He's a best-selling author, badass business guru, YouTuber, soon-to-be-billionaire, and a real estate tycoon with a passion for selling marketing which is very, very rare.
As you can probably tell, I'm a big fan of Grant and I've been a fan ever since I stumbled on his "Grant Rants" videos on YouTube. I also regard his book "The 10X Rule" as one of the best business books anyone can read.
Since you're already looking to become an affiliate for Grant Cardone, I'm pretty sure you already know the guy is pretty legit so with that said, let's take a look at…
The Grant Cardone Affiliate Program (Explained)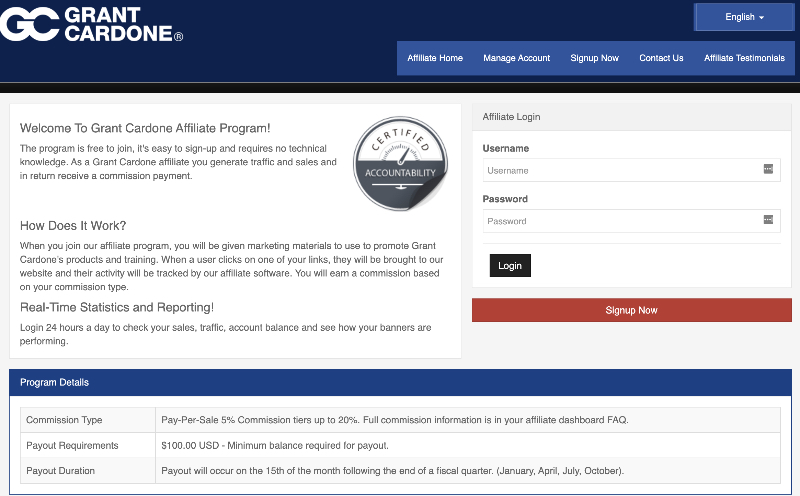 Commission Rate: 5% to 20% (more details soon)
Payout Methods: PayPal (minimum $100 required)
Payment Frequency: Every quarter (not a fan of this)
Sign Up Page (requires approval to join)
The Grant Cardone allows you to earn a commission on every product on the Grant Cardone Store. This includes:
Grant Cardone's 10X Collection
All of Grant Cardone's training programs
Grant Cardone 10X apparel (t-shirts, mugs, hats, etc)
Cardone University
and much more.
These products range from $0 (there are some free .pdfs you can download) to $12,995, which is Grant's Sales Training University.
All of these can be promoted by first grabbing the link from inside the affiliate program, and then sharing it online.
As I also mentioned, the commission rate is 5% on some products and it goes up to 20% for others. 
I have reached out to the affiliate support team for clarification as I'm still not sure which programs get which commission. I will be sure to update this review once I have more information.
How Much Money Can You Earn Promoting Grant Cardone Products?
How much you will earn promoting Grant Cardone's products is up to you, but as you can see, there are a lot of products (with multiple different price points) you can leverage to quickly build up a steady affiliate income.
There are even some products that will net you a recurring commission every month, and that is the monthly membership to Cardone University.
With affiliate marketing, the sky is the limit as to how much you can earn. Some earn nothing, others earn millions.
It's a matter of how good you are at promoting the products to their intended audience, which is what we'll talk about next.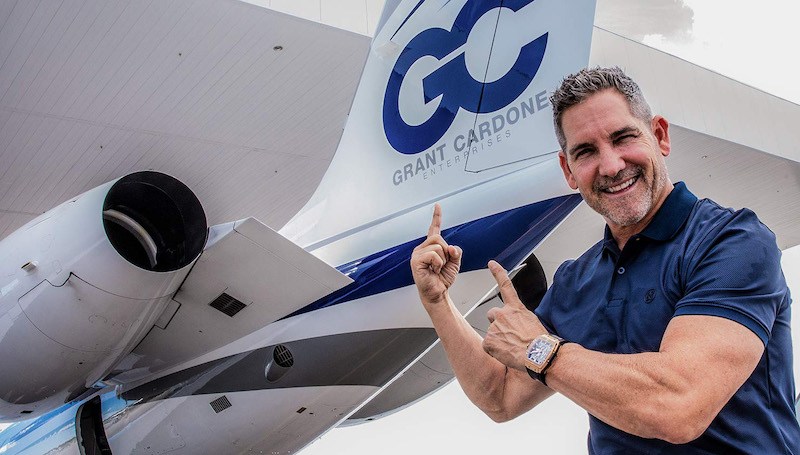 How To Promote Grant Cardone Products (As An Affiliate)
There are many ways you can promote an affiliate offer, but in my opinion, the best way to promote any affiliate offer is either through email marketing and/or through your own website.
If you'd like to start your website, you can do so by following the guide I've laid out for you here. It's as simple as it is cheap (just $100 a year is all you need to fund your affiliate business).
Once you have your own website, you are going to want to start building your email list, which is still one of the best ways to promote online (do not let others tell you otherwise).
Of course, since we're talking about Grant Cardoen here, you need to have an audience that falls somewhere in these categories:
Mindset/motivation
Real estate
Sales/marketing
Business opportunities
This is the audience Grant Cardone attracts and you'd do well in promoting Grant products to these people for the best chance at making this a successful venture.
One thing you can also do – especially if you've been through some of Grant's training programs is to publish in-depth reviews about them.
These reviews will be read by people looking to buy into these programs so the sale (and the commission) is pretty much guaranteed for you.
If you already have an audience in any of these niches, the hard part is already done for you but if you're starting brand new, be sure to read the following section of this review.
New To Affiliate Marketing? Read This…
If you're brand new to affiliate marketing and you'd like to learn how to go from a complete beginner to being able to consistently earn $$$ per month (whether that be with Grant Cardone or any other affiliate program);
You are going to need some training.
There's no point in trying to do this all by yourself, learning as you go along. That is a sure-fire way of failing and I know because I've been there once.
I worked for six months without any direction or instruction, and it's heart-breaking waking up one day and realize what you've been doing is all wrong.
If you'd like to make money with affiliate marketing, get some training. I know I'm repeating myself here, but trust me – this needs to be said more than once.
Luckily for you, I have a free affiliate marketing training course you can join right here. If you're interested, I will see you inside.