Can you make money with health supplement affiliate marketing?
You bet!
Today, I am going to share with you 11 high-paying, high-converting health supplement affiliate programs which you can join to start making money.
As you will see from this roundup, the health supplement niche is booming and if you'd like to become an affiliate in this industry, there's no better time to do it.
Down below I will also share with you a few tips and ideas on how I would get started in this niche, but before we do that, here's a quick summary of these…
11 Health Supplement Affiliate Programs (w/Commissions)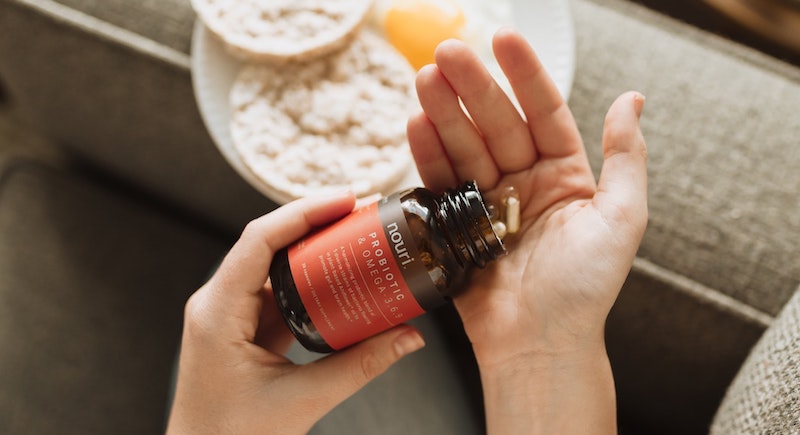 ---
---
ColonBroom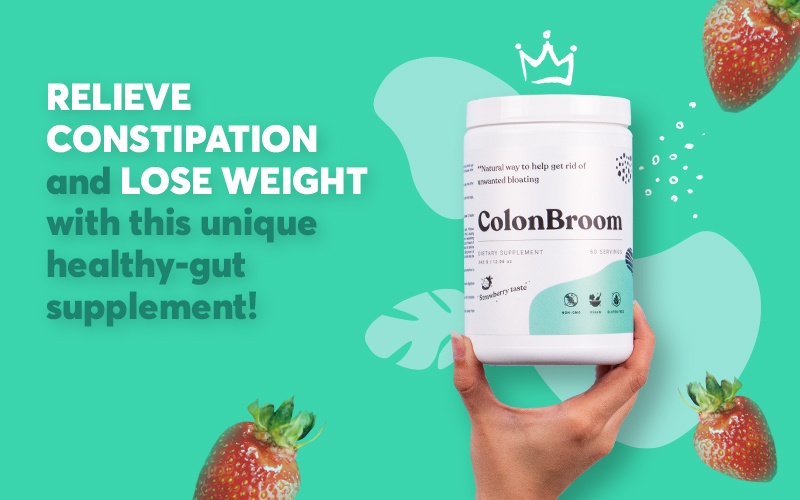 Thanks to modern breakthroughs in gastrointestinal science – they've created ColonBroom.
A solution for anyone that wants to renew their body and boost its immune responses and metabolic processes.
ColonBroom is a safe and effective way to relieve constipation, lose weight, and cleanse the body. The main ingredient is completely natural – it is Psyllium Husk fiber.
It is a type of fiber that absorbs water and becomes a viscous compound that benefits constipation, diarrhea, blood pressure, and weight loss.
ColonBroom's affiliate program is managed by HasOffers/Tune and they offer affiliates a $25 on a single sale (CPA).
Commision: from $25 (also possible to work on a revenue share basis).
Cookie: 14 days
Pro Health

Pro Health is a company that offers a range of supplements aimed at helping those with chronic illnesses live a healthy and productive lifestyle.
It was founded back in 1988 and they specialize in helping people that suffer from Myalgic Encephalomyelitis/ Chronic Fatigue Syndrome, Fibromyalgia, and Lyme Disease by offering world-class nutritional vitamins and supplements.
Additionally, they have the latest information on current research and treatment options for their customers to read on their website. Pro-Health has partnered with Commission Junction to manage their affiliate program and they provide their affiliates with unlimited support from their dedicated affiliate management team.
As an affiliate, you can earn up to 20% commission on bestselling products as well as receive monthly newsletters that include special offers, promotions, and new products to help you boost your sales.
Commission: 10% on all sales
20% on bestselling items
Cookie: 60 days
Pure TheraPro Rx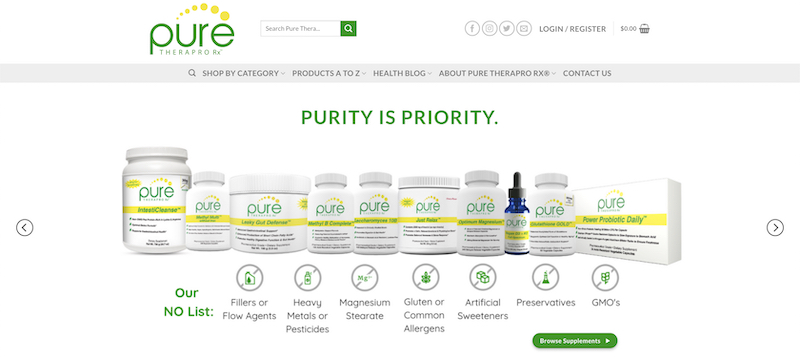 Pure TheraPro Rx is one of the leading retailers for pharmaceutical grade supplements in the US. They have an extensive range of high-quality vitamins and supplements for many health concerns at very affordable prices.
Pure TheraPro Rx is dedicated to educating readers that land on their blog section on healthy nutrition and how to choose the right supplements for their concerns as well as the effects the food we eat has on our body and which foods to avoid.
They have an in-house managed affiliate program and offer their affiliates a starting commission of 15% valid on their entire product catalogue.
Additionally, their affiliates receive helpful marketing tools and resources to help them promote their website and boost their sales as well as unlimited support from their dedicated affiliate management team.
Commission: starting at 15%
Cookie: 90 days
DeRose Health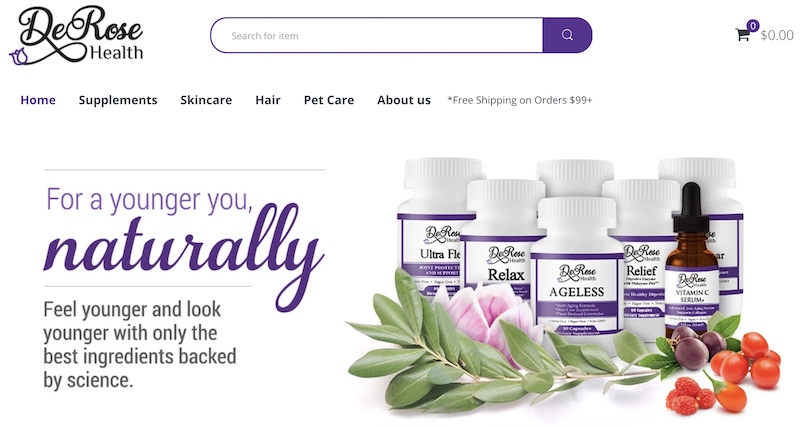 DeRose Health is a relatively new company founded in 2017 by a single woman that's on a mission to prevent skin ageing and other health issues with high-quality vitamins and supplements.
Today, DeRose Health offers a variety of supplements for various health concerns that are often the result of vitamin-deficiency as well as anti-stress and beauty supplements including Relax, Relief, Ageless, and more.
So, if you are passionate about health, wellness, or beauty, you can sign in for the DeRose Health affiliate program that is managed by Affiliatly and start promoting this high-quality supplement company on your websites, blogs, or social media accounts.
DeRose Health has a three-tier commission structure on gross sales where best-performing affiliates can earn up to 50% commission on their sales. Additionally, sub-affiliates that join DeRose Health affiliate program via your referral can earn you an extra 10% commission on all their sales.
Commission: 20% – 50%
Cookie: 90 days
EZC Pak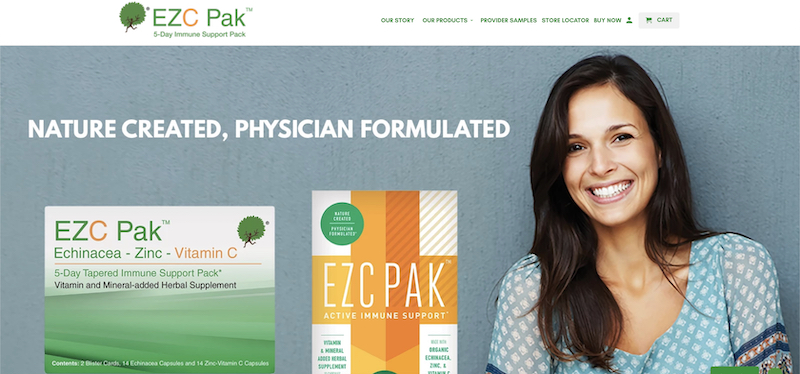 EZC Pak is a convenient 5-day tapered immune support pack designed to nutritionally support the immune system that was designed by Sarath Malepati, a physician based in California and a medical director of the PPC Group.
It is designed to boost the immune system and prevent "superbug" infections that aggressively attack the human colon resulting in millions of hospitalized people a year.
They have an in-house managed affiliate program that gives their affiliates the chance to promote their product via websites, blogs, and other social media accounts and earn commissions.
Their affiliates have access to custom affiliate resources such as unique links, banners, and coupon codes as well as an affiliate dashboard for monitoring their statistics and progress in real-time.
Affiliates earn 20% commission on sales as well as additional 5% commission on referrals from affiliates they recruit to join the EZC Pak affiliate program as well as $25 Amazon gift card after accomplishing the first 5 sales.
Commission: 20% on sales + 5% from affiliates that you recruit to join their program
Bonus: $25 Amazon Gift Card after accomplishing the first 5 sales
Cookie: 365 days
Rootine

Rootine Vitamins is the only company that incorporates your DNA, blood testing, and lifestyle factors such as diet and activity in order to design a truly specialized supplement tailored for your needs.
It was founded back in 2018 by founders Rachel Sanders and Dr. Daniel Wallerstorfer and they pride themselves with producing made-to-order vitamins by using vegetarian ingredients and a microbead technology that maximizes nutrient absorption by mimicking the digestion of food.
They have their affiliate program managed by ShareASale and they offer affiliates a 25% commission for all orders brought in through their websites, blogs, or social media accounts.
Commission: 25%
Cookie: 30 days
Tropical Oasis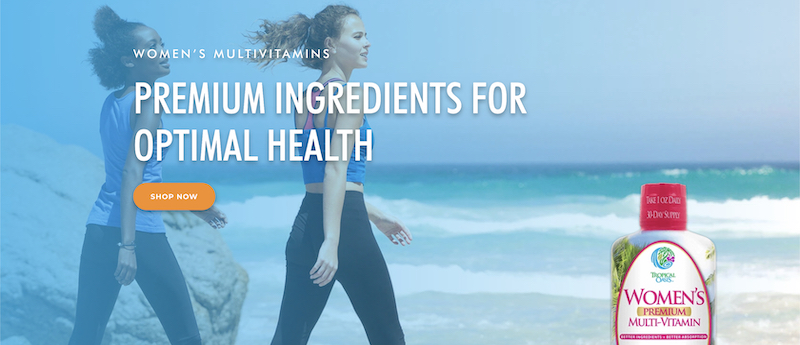 Tropical Oasis specializes in selling liquid vitamins, minerals, and supplements and pride themselves on creating the best tasting and most nutritious health products on today's market.
Here you can find all kinds of vitamins in liquid forms for adults, kids, pets, and even specialized vitamins for professional athletes. All their products are backed by 100% money-back guarantee and their average order value is $100 with a less than 2% return rate.
Their affiliate program is managed by ShareASale and they provide their affiliates with access to over 20 banner ads, text links, their data feed, and tracking tools.
Commission: 25%
Cookie: 30 days
Be Good Supplements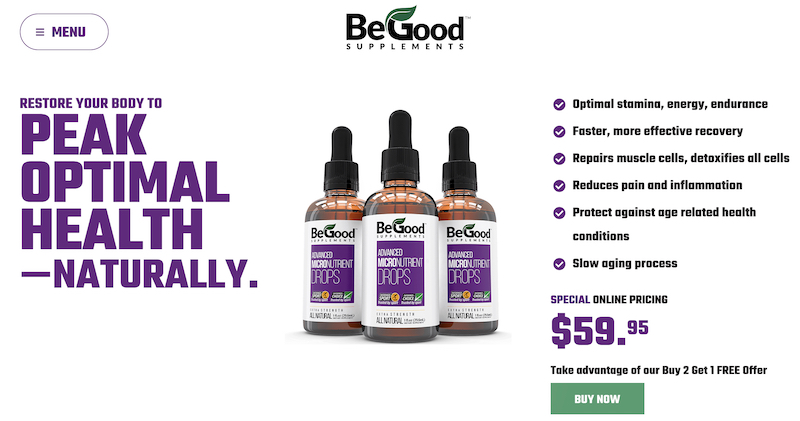 BeGood Supplements is a supplement company based in Canada and they are the country's leaders in natural sports nutrition. They produce advanced micronutrient drops made of highest quality minerals and potent micronutrients from one of the richest deposits on the planet.
Their advanced micronutrient drops include all of the minerals our bodies need to help enhance healing of muscle pain related to exercise, reduce inflammation in the body, improve muscle performance, as well as promote more restful sleep.
Their affiliate program is managed by ShareASale which allows affiliates to make a commission of $30 on a single bottle sale and $60 if their referral chooses the "buy 2 – get one free" sale.
They have a lifetime cookie window which means that BeGood Supplements is interested in forming a long-term relationship with their affiliates by offering residual commissions on repeat purchases.
Commission: $30 per bottle
Cookie: Lifetime
Simple Smart Science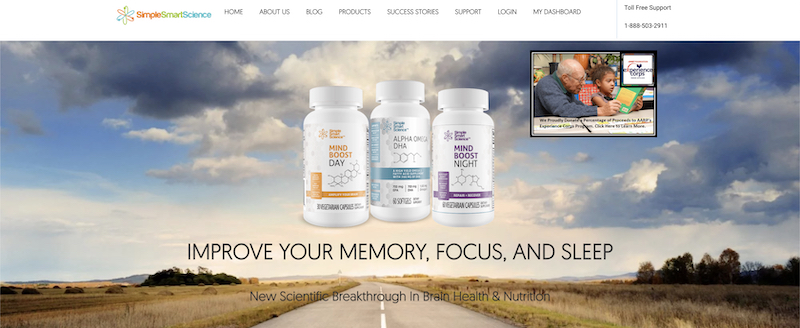 Simple Smart Science provides supplements that boost cognitive function by providing your brain with critical nootropics that increase the cerebral blood flow and activate choline.
They combine the latest research and clinical results in order to create cutting-edge supplements that help consumers improve performance in day-to-day tasks.
With dosages that are clinically proven to work at optimal results and ingredients from trusted sources, Simple Smart Science has become the leading manufacturer in their field.
They have an in-house managed affiliate product that offers their affiliates up to 30% commission for selling their product and an additional 30% when your referrals choose to get monthly shipments.
Additionally, their best-performing affiliates are entitled to free gifts and complementary products delivered to their doorstep. They also create custom funnels, copy, and marketing tools based on their affiliates needs in order to help drive more traffic to their website and boost sales.
Commission: 30% on each sale + additional 30% on monthly subscriptions
Best performing affiliates receive gifts and complementary products
Cookie: 90 days
Pure Prescriptions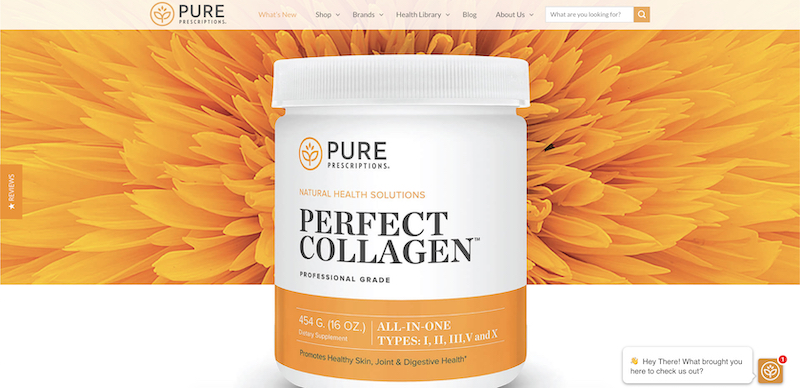 Pure Prescriptions is a family-owned and operated supplement company that was started back in 2001.
They handpick the high-quality ingredients for their selection of vitamins and provide various benefits to their consumers.
They have a full catalogue of supplement selection that can help with various health concerns such as high blood sugar, digestive health and hormone balance, cognitive enhancement and mood support, eye health, etc.
They have an affiliate program managed by Pepperjam where affiliates can sign up and receive a great selection of banner ads, text links, coupons, and custom ads to promote through their websites, blogs, or social media accounts.
Affiliates also have access to their data feed, tracking tools, as well as a list of keywords to help them promote their products and earn commissions.
Commission: 15%
Cookie: 30 days
Cerebral Success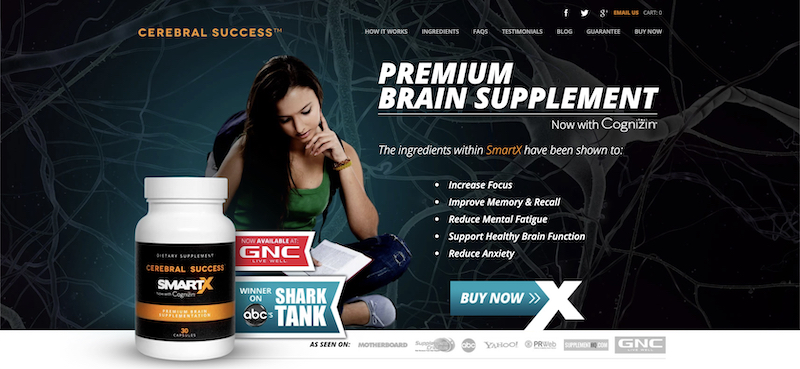 Cerebral Success is a supplement company recognized for its SmartX supplements that are designed to make you more efficient while doing everyday tasks.
The goal with this product is not only to increase mental energy and overall alertness like some nootropics or sugary, caffeinated energy drinks do, but to support the other important functions of your brain as well.
The supplements are packed with high-quality selected ingredients that are clinically studied and shown to increase focus, improve memory, and maintain brain health.
Cerebral Success offers its affiliates to earn 30% commission of all sales revenue generated. Affiliates are provided with their own affiliate dashboard where they can track real-time statistics, progress, and earnings as well as useful tools to help them generate more sales.
---
Is There Money To Be Made In The Health Supplement Niche?
Money, health and relationships are the biggest money-makers in affiliate marketing and for as long as humans stay human, I don't see that changing anytime soon.
According to GrandViewResearch.com, the health supplement industry is set to reach approximately $200 billion by 2025, which is staggering!
That is a lot of zeros and a lot of potential (and opportunity) for you to make money in the health-niche.
---
How To Make Money With Health Supplement Affiliate Marketing
After a quick keyword-research session, I can see that even though the market is pretty competitive (with some big players in the game), there are still a few keywords which will be relatively easy to rank for;
Which is why I would opt to go the "content + SEO" route with this niche.
Below are some of the keywords I have found: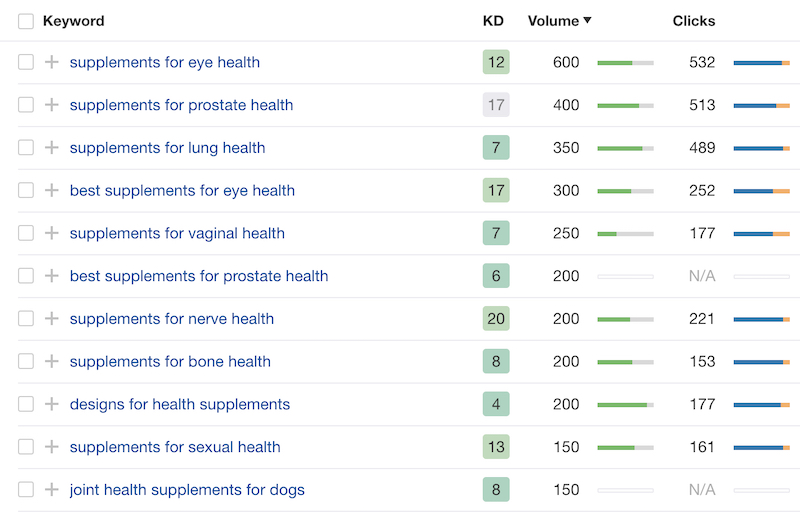 I would first pick a sub-niche (such as "supplements for bone health") and I would create a blog/website covering not only everything you need to know about bone health but also reviewing all the major supplement-companies on the market that offer products regarding bone health.
Reviews are easy-ish to rank for, and as long as you are getting targetted traffic to your website, you're bound to make money with this niche – considering the fact that there are some great affiliate commissions being offered above.
It will take time and no you won't get rich overnight, but there's still some potential and for anyone who knows what they are doing, can be a big money-maker.
While I am not in the health supplement niche myself, I'm pretty sure my method can work for this niche as well. So far, it has a 100% success rate. Be sure to check it out.