The fitness industry has always been one of the best, most lucrative industries both online and offline.
While I've published several lists of the best fitness-themes affiliate programs in the past, today I'm sharing with you 10 high-ticket fitness affiliate products you can promote as an affiliate.
Why high ticket? Well, I've been recently getting into high-ticket affiliate marketing and I plan on creating more round-up posts such as this one to make it easy for high-ticket affiliate marketers to find products to promote.
If you're in the fitness niche, I'm sure you're going to find plenty of high-paying, high-converting affiliate offers below.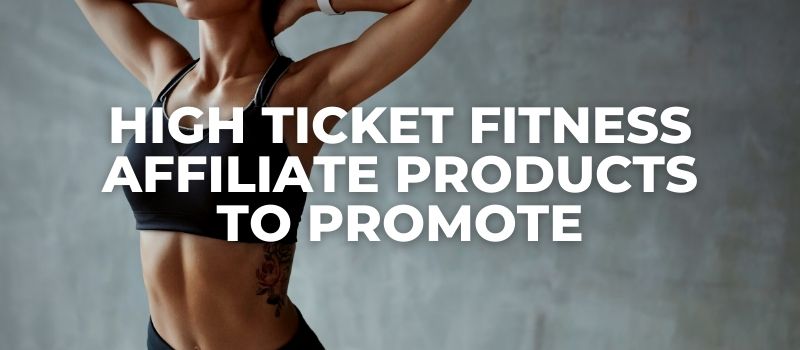 ---
---
International Sports Sciences Association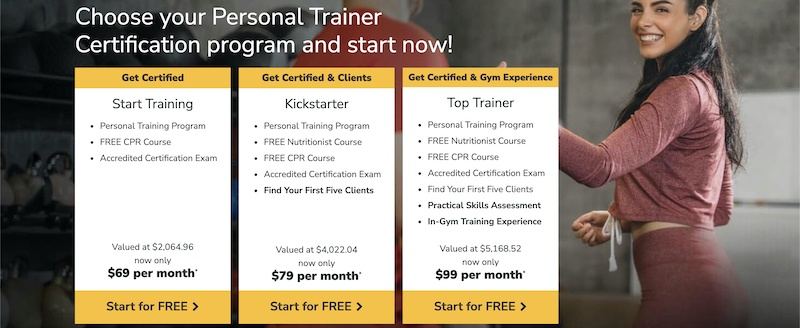 The International Sports Sciences Association was founded in 1988 by a team of leading fitness experts and exercise scientists.
Over the years, ISSA has taught over 400,000 students and trainers in 174 countries and is now recognized as the world leader in fitness education and certification.
The Academy acts as a teaching institution for personal trainers, athletic trainers, coaches, physicians, chiropractors, physical therapists, and professionals in every health care field.
If your audience is interested in a fitness career, you can earn $50 for every course sale. They also pay $10 for every lead – regardless of whether they convert into a sale.
Commission: 7.5%
Cookie Duration: 30 Days
Total Gym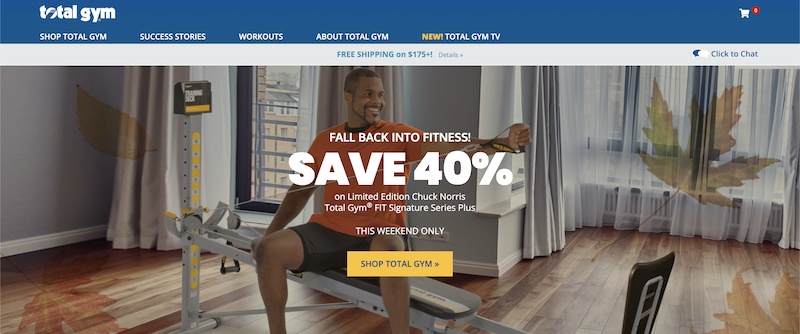 Total Gym is a company that sells high-end gym equipment, including exercise machines, spare parts, attachments, gym memberships, DVDs, and training plans.
Their highest-ticket items are the Total Gym machines which range in price from around $530 to $3,795 and are designed to be low-impact, light-weight but heavy-duty and provide a full gym workout from the comfort of the home.
The company has also closely collaborated with many celebrities over the years, and their products have been consistently endorsed by celebrities such as Christie Brinkley and Chuck Norris for the past 15 years.
Total Gym also has an affiliate program where the commission rates vary depending on the products. Affiliates earn commissions of 3% on DVDs, 5% on the core trainer, and 7.5% on full Total Gym machines.
Commission: 3 – 7.5% based on the product
Cookie: 45 days
Horizon Fitness

Horizon Fitness is a high-end brand that sells exercise machines such as treadmills, ellipticals, peak trainers, indoor cycles, and rowing machines.
The exercise machines range in price between $450 and $1300, depending on the technology, but their average order value is around $800.
The company also offers free shipping on US territory as well as a 30-day money-back guarantee on all its products.
Commission: 8%
Cookie Duration: 30 Days
Treadmill Factory

The Treadmill Factory is a Canadian-based company that manufactures and sells all sorts of gym equipment and accessories.
Starting from large machines such as racks, cages, trainers, upper and lower body machines, rigs, leverage machines, home gyms, down to weights, exercise balls, balance accessories, dumbbells, and martial art equipment, there is something here for everyone's taste and needs.
Given that the choice of products is quite extensive, the price range starts somewhere at a double-digit and goes all the way up to $10000, depending on the machine.
Therefore, you will not only have so many products to promote and sell to your audience, but you will also have a chance to earn excellent commission on these high ticket items.
Commission: 1% of Total Cart Items
Cookie Duration: 30 Days
Rep Fitness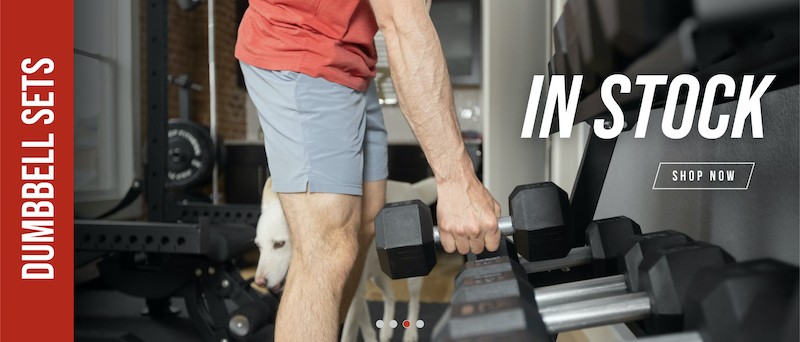 REP fitness is a US-based company that offers an extensive range of strength training and conditioning equipment.
Their products range from rowers, ellipticals, treadmills, weight benches, squat racks, kettlebells, and other interesting accessories such as ropes and balance equipment.
Their prices range from $200 up to $4000, depending on what you are looking at, meaning, you should have no issue finding products to promote and sell to your audience.
REP fitness offers a tiered commission; namely, affiliates have the opportunity to earn anywhere between 5% to 8%, depending on the type of equipment sold.
Commission: up to 8%
Cookie Duration: 30 Days
Lifespan Fitness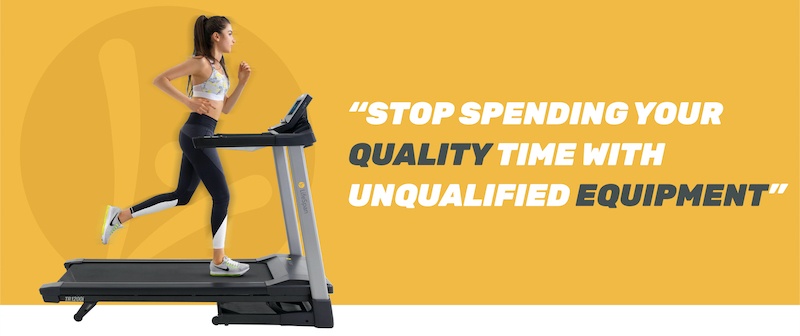 Lifespan Fitness is a European company that offers a variety of exercise machines for the home and office.
Some of their most popular products include rowing machines, stretching machines, ellipticals, treadmills, exercise bikes, and exercising accessories such as standing mats or Bluetooth adapters.
Some of their exercise machines even come with a full membership to Lifespan Fitness health and fitness software, called Club.
Lifespan Fitness also has a mobile app that's compatible with eight of their treadmills so that users can track steps, calories, distance, and the intensity of each workout.
Their treadmills range between $1300 to $5500, meaning you could get a very nice commission if you promote and sell them to your audience.
Commission: 6%
Cookie Duration: 90 Days
Garmin Watches

Garmin Watches is a direct competitor to Fitbit, and the company is known for creating beautiful and durable watches suitable for various outdoor and sports activities.
They have a beautiful selection of so many watches, ensuring that you will have many different designs to promote and sell to your audience and earn commissions.
Their prices are also reasonable ranging between $200 and $1000, which means that you can snag some pretty great commissions.
They currently offer an 8% commission on sales and have double the EPC, so you're likely to earn more by partnering with them.
Commission: 8%
Cookie Duration: Unknown
TRX Training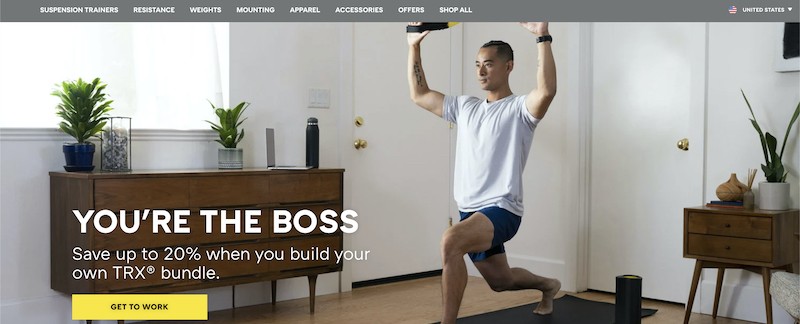 TRX Training is a US-based company that focuses on making high-quality training gear, such as suspension systems, bands, weights, apparel, and accessories.
Besides their physical goods, TRX Training also offers effective workout plans and education to transform full-body shape and health.
The company offers a five-year warranty, free access to the app for one year, and hassle-free returns, which are all things that you can promote to your audience and earn commissions for each sale you drive to their website.
Their products are reasonably priced, space-friendly, and effective enough to use in the military. The warranty and cool app could help convert shoppers, too.
Commission: Starting at 10%
Cookie Duration: 30 Days
Century Martial Arts

Century Martial Arts are known throughout the industry as the leader in quality martial art supplies.
The company manufactures and sells a wide variety of products from their own brand as well as other premier brands in the industry, and they have been in business for over 40 years, which means they are trustworthy and already have a loyal client base.
Century Martial Arts offers a huge variety of products, but their highest ticket items are definitely their punching bags that range anywhere from $200 up to $600.
As an affiliate, you can earn anywhere from 5% up to 15% commission by selling their products, depending on your influence in the fitness industry.
Also, by signing up for their affiliate program, you will have access to a regularly updated catalog of creative banners and text links to help you drive more sales to their site and earn higher commissions.
Commission: Starting at 5%
Cookie Duration: 30 Days
National Academy of Sports Medicine

The National Academy of Sports Medicine has been a global leader in providing evidence-based certifications and advanced specializations for fitness professionals.
In addition to its NCCA-accredited Certified Personal Trainer exam, the Academy also offers various other specializations in similar fields, including the Corrective Exercise Specialist, Fitness Nutrition Specialist, and Performance Enhancement Specialist.
This would be a great program to promote to someone who is already physically fit and wants to coach others.
As an affiliate, you will be earning $25 per sale plus a private commission and consumer offers while working alongside a dedicated team of professionals and highly experienced online marketers to help you succeed.
Commission: $25 + a private commission
Cookie Duration: 30 Days
---
How To Promote High Ticket (Fitness) Affiliate Products Online
Every affiliate business needs a website and if you want to have any success promoting high-ticket offers, creating a website with great content is your best next step forward.
If you're brand new to affiliate marketing, you may want to check out my free guide (no sign up required) where I share everything I do to consistently build simple affiliate websites that make money.