Want to know what scares the sh-t out of me? Relying on one affiliate program to pay my bills!
Below, I have for you 10 horror-themed affiliate programs you may want to check out to add some monstrous commissions to your monthly-earnings.
I'm sure these would be a good way to make some quick money pre-Halloween, but there also seems to be a growing fan base for horror entertainment which you can target and sell products to all year round. With that said, here are…
The Best Horror Affiliate Programs (w/Commissions)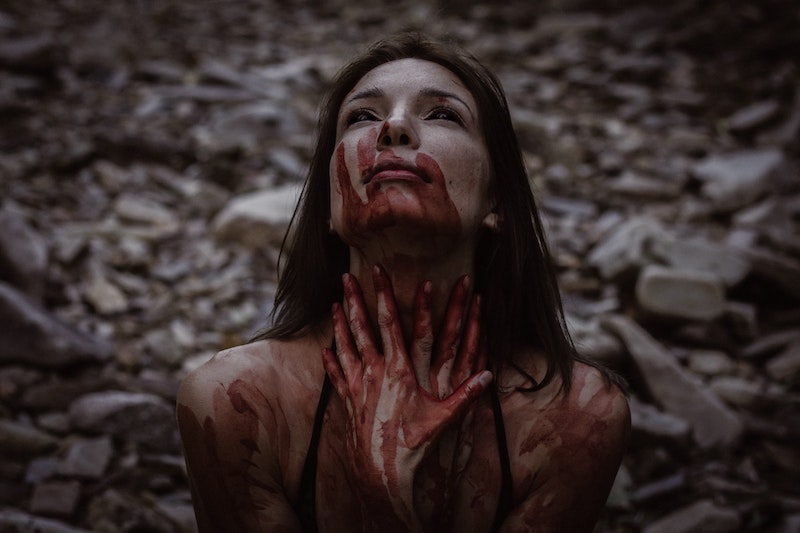 ---
---
HalloweenCostumes.com
Halloweencostumes.com is the largest Halloween costume seller on the internet. Their site is backed up by a McAfee certification, and they offer a dynamic line of products that include customers and other accessories. But what is more is the commission they pay to the affiliates, which ranges from 5 to 12%.
The products they sell fit different occasions like Valentine, st. Patricks, Christmas, Mardi Gras, Halloween, and many more. One notable thing about their products is that they don't sell the ordinary, everything is unique. They work with different affiliates managed by Avantlink, LinkConnector, ShareASale, and Commission Junction.
Commission: 12%
Cookies: They collect cookies but don't specify the period
Horrorpack
Horrorpack is where you get horror movies at one click; they make millions of shipments every month and won't disappoint on their affiliate program. They offer lots of DVD and Blu-ray plans for grabs. If you want your movie sent via mail, they have that option too.
The site offers more than 11 coupon codes to ensure you reap the maximum benefit on their affiliate program. If by any chance, you aren't satisfied with their movies, they have a reasonable cancellation policy. They are also active on their social media pages to ensure that they resolve customer queries promptly.
Commission: 100% or $5 per sale
Cookies: One day window period
Halloweenexpress.com
Here is another exclusive site that lets you earn commissions from the sale of Halloween costumes and other related merchandise.
HalloweenExpress.com provides lucrative offers that promise more than 7% for every completed sale. What is outstanding about the site is the updated inventory list that ensures the availability of all products displayed on their catalogs.
On shipping, they do it on the same day to ensure customer satisfaction. They sell their products globally, so if you are living in a far-flung country, you can enjoy their affiliate commissions managed by the Commission Junction. Another thing not to forget is the enhanced commissions available to super affiliates.
Commission: Minimum 7%
Cookies: 120 days
Fun.com
If you are a Halloween fanatic, fun.com is the best place to sell horror gifts while earning up to 12% per sale.
The site manages the sale of Arkham Horror, the hottest product in their inventory. Do not worry if you live outside the US (they reach more than 200 countries); they do timely shipping overseas, attaining a 99.9% success rate.
Their site is pretty safe(McAfee certified), and they have incredible customer service support. They also have the support of the Better Business Bureau. Daily, they update the inventory to enable you to pick favorite products to sell quickly.
For a better selling experience, they provide banner ads, and other creative customizations to ease your promotional work. Unlike other platforms that only accept US affiliates, this one is open to international members with interest. Another special attribute is the money-back guarantee in case you aren't satisfied.
Commission: 12%
Cookies: Period not specified
Horrorinc.com
The next site allows you to earn from horror as you learn more about different tops. HorrorInc.com selects top movies revolving around Cannibalism, Creatures, Zombies, Classics, Indie, Scary, and Slasher themes.
They work closely with TV personalities, media companies, phone manufacturers that help them push their niche to the masses.
They focus on Video on Demand, doing all that is possible to get quality content that quenches your horror thirst. Working with an online community helps the site owners improve content creation. Horrorinc also works with filmmakers to ensure you get the best.
Commission: Not Stated
Cookies: Not Stated
AMC Networks
Next on our review is the AMC Networks Affiliate Program that offers an unlimited movie experience at the most affordable prices. They focus on horror while paying you crazily for becoming an affiliate. To motivate you to start earning, they pay $8 to sign up and try the movies.
They have a creative section to help you select banner ads and text links that help in running promotional campaigns. For signing up, you also get a dashboard with all the tracking and reporting tools. A flat commission fee provides fair compensation for marketing their horror movies through its affiliate network.
Commission: $8 for sign up and $5 per sale
Cookies: 45 days
Movies Unlimited
Movies Unlimited is a site that pays a 5% commission for any customer who joins and buys their movies. Whenever you visit the site, you get one active coupon that earns you a discount.
For watching horror and cultic movies, you earn commissions ranging from 10 to 14 percent. If you ever encounter a problem, their customer service team is on standby to offer real-time support. Like the previous program, this, too, provides text links and banner ads for effective promotion.
Commission: 10-14% per sale
Cookies: 30 days
Fandango
Fandango is the home of horror movies, a place you can earn amazing rewards for purchasing videos through their store. They have a long list of films on their playlist where you can earn from as an affiliate. You get movies like Wretched, Scream, Jaws, Fantasy Island, Underwater; Evil is Trending, the list is endless.
There are several ways to earn from Fandango that include movie rentals, gift cards, purchases, and mobile tickets. For all these options, they pay a commission ranging from 3 to 5 percent. They will track cookies on your device for 14 days to ensure that you get the best movie recommendations based on your interest.
Each gift card will earn you 2 dollars which the base commission rate stands at $0.10 per ticket. Additionally, they have a creative library that is straightforward to use in promoting your affiliate work. With the library, you can access search widgets, RSS feeds, movie links, and banners.
Commission: 3-5%
Cookies: 14 days
Dealflix
Dealflix is a place where you can earn commissions from their affiliate network by selling movie tickets and snacks/refreshments while enjoying your time at the theater. The idea behind this concept is to help Dealflix fill seats in cinemas by slashing costs of snacks by over 60%
They pay affiliates commissions of around $2.50 per sale. The site tracks cookies for 30 days to ensure customers get a quality movie experience. To an affiliate, you get an additional $0.25 for a subsequent customer visit. Dealflix has made more than 8 million concessions and sold a similar number of movie tickets since its inception.
Commission: $2.50 per sale
Cookies: 30 days
Tubi TV
Tubi TV offers top-rated horror movies that you can earn commission by selling them through their affiliate network. They have the latest collections like Angels Fallen, The Voices, True Fiction, Ring Ring, The Evil Down the Street, and more. There is so much to pick from a pool of movies sold through the site.
The TV subscription competes with Netflix on quality but exceeds the latter on prices. They do not charge a dime for their live stream of shows and films. What is more interesting is that you can watch its movies without needing to sign up.
Commission: $0.27 CPA
Cookies: Not specified
---
Related Questions:
Is The Horror Niche Big Enough To Make Money?
As I said at the beginning of this guide, horror-themed items may be a bit seasonal with the peak being around Halloween time, but there also seems to be a growing demand for horror-entertainment and merchandise.
If you're clever with this, you can use the lack of competitors in this niche (because it's seasonal) to build a 365-day thriving affiliate business in the horror niche using any of the above-mentioned affiliate programs.
How To Get Started As An Affiliate?