One of the most prolific and widely recognized names in the affiliate marketing world is none other than the affiliate network known as JV Zoo.
In this detailed JVZoo review I have for you today, I will go through all you need to know about the network and also focus on the purpose of this articles, which is;
How to promote JVZoo products?
I for one have been leveraging the never-ending flow of JVZoo offers that they offer in order to promote, rank and earn commissions off the products listed on there.
I will share with you my ways of doing so further down below, but let's just first focus on what JVZoo really is and what it can do.


---
---
What Is JVZoo?
As previously stated, JVZoo is an affiliate network where product owners can list their digital service (mostly ebooks, training courses and online tools) in a variety of different niches and topics.
Now the bulk of the launches that happen on JVZoo are "make money online" products, however, that is not all there is to it (contrary to popular belief).
Here are some of the categories in which you can find products to review in the gigantic JVZoo marketplace:


As I said, the bulk of the offers are in the "make money" niche but other categories that are also growing in size and popularity with the JV affiliates are:
Cooking / Food:
Cooking and food affiliate programs are here to stay. For as long as people keep eating, people will keep buying up products that discuss food.
Green Solutions:
This is another massively growing niche and there's a lot of products here that you can promote to environmentally-conscious people.
Spirituality & Beliefs:
At the time of writing, there isn't much spirituality offers you can promote on JVZoo but I am sure that will change very soon. A strong niche online that most often gets overlooked is the Spirituality/belief niche.
People are religious, and you do not mess with people's religion. Finding the right product on JVZoo to promote to a "faith" audience will be a great way to start your journey into JVZoo.

JVZoo For Affiliate Marketers
While this article is mainly focused on learning how to start promoting JVZoo products, JVZoo is not only just for affiliates.
Somebody has to create these offers and so, once they do, they head on over to the network to find partners to help them promote them.
The "JV" stands for joint-venture, which is a fancy term for "affiliate marketers" – meaning I create the product, you sell it, we share the proceeds.
If you want to learn how to create and list a product with JVZoo, I'm afraid this post is not for you that you can see this other guide we have on how to create and launch your own products on JVZoo.
How To Become A JVZoo Affiliate
Joining JVZoo is very simple and no, you are not required to pay to join (many think you have to pay to join affiliate networks, this is wrong and you should never pay to join an affiliate program).
All you have to do to join JVZoo is to simply visit their website.
Click on the "Free Sign Up" Button and register. As expected, you are going to need to full out some details but once you do, you're officially a JVZoo member.
Now in the past, I believe there were 2 sign up forms that made you choose if you want to be an affiliate or a vendor (which means to sell your own products) but nowadays, one sign up is all you need and you get access to both areas of the JVZoo marketplace
Now that you're all signed up, let's take a look at the main purpose of this article and show you…..
How To Promote JVZoo Products Like A Pro
The first item on the agenda is to:
Pick Your Niche / Category
As I said, there are plenty of niches you can join and you are more than welcome to join them all but ideally, you see which products available in your chosen niche.
The second step is…
Have Your Website Up & Ready
While it may not be necessary to have a website. When it comes to promoting JVZoo products, or any other affiliate network for that matter, it's a must that you have your own website.
If you don't have it yet, then reading this guide is a bit premature as for now, instead of reading up on affiliate reviews, you should be building your website and getting traffic to it.
Now I a going to show you soon how to get traffic to your JVZoo offers, but it all revolves around having a website so if you do not have one yet, then go get a WordPress site and get it online.
For a great resource on how to build WordPress sites, see the Wealthy Affiliate training course.
The
BEST

Way To Promote JVZoo Offers On Your Website

I myself use only one method of promoting affiliate offers and that is through the use of online reviews.

There may be other ways, but I promise you, I'm 99.99% certain this is the way to go – if you have any other way, be sure to leave it in the comment section below.

Here is why I choose writing reviews as the best way to promote JVZoo products.
Launch Jacking
This may not sound ethical, but it is and there is nothing stopping you from using this method to get traffic and start earning commissions.
Basically, it goes like this.
When a new vendor is about to launch a product, there's obviously a lot of buzz going on around it and a lot of affiliates may already be promoting it.
This "buzz", which usually lasts around 1 to 2 weeks after the product is launched will drive people to find out more about the product, that is when they go to Google to look for reviews.
Your job as a JVZoo affiliate is to find these products that are currently in "launch phase" and write detailed and in-depth reviews about them.
Does this mean that you have to buy the product yourself? In most cases yes.
However, in the "make money" space, I know the niche so well that I can already know what the product is all about simply by seeing the sales page.
When I find a product that I want to promote, I simply write my review, index it into Google immediately and soon after, I'm usually on the first page.
Why are reviews so easy to rank for?
because new products tend to not have too much competition and since they are new, there won't be too much content written about them.
Now obviously, there is an exception but in most cases, this is how I promote JVZoo products.
If it's a product that I think is legit and can help my readers, then I simply add my affiliate link (from JVZoo) and sell the product.
if the product is not good enough, I mention that in the review and link to a better alternative.
Sound simple? It is. This method has been working for me for many years and you can say that I get most of my traffic and sales with this method I just shared with you.
What happens when the "buzz" fades away?
Now sadly, a lot of products get that initial buzz and die soon after that they fade away.
In some cases, you may come across a winner that keeps getting buzz and attention, thus people will still be looking for reviews on it months later and you will still be getting traffic and commissions long after the buzz has died down.
The "Top Sellers" section on JVZoo website is also a great way to find products that are both selling well and that have a lot of buzz around them.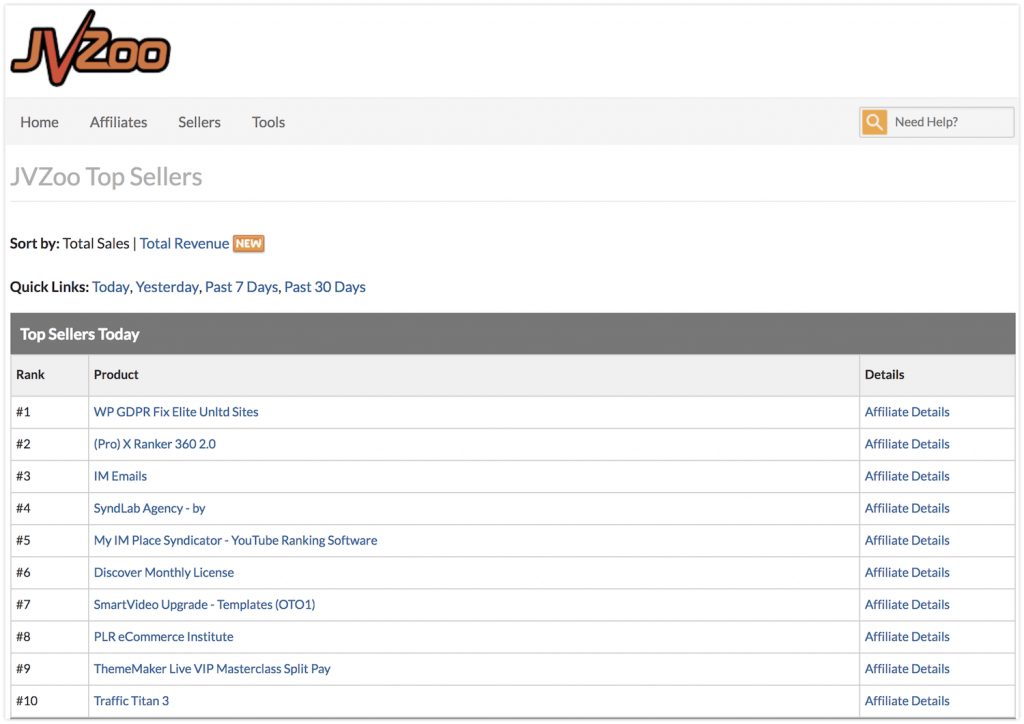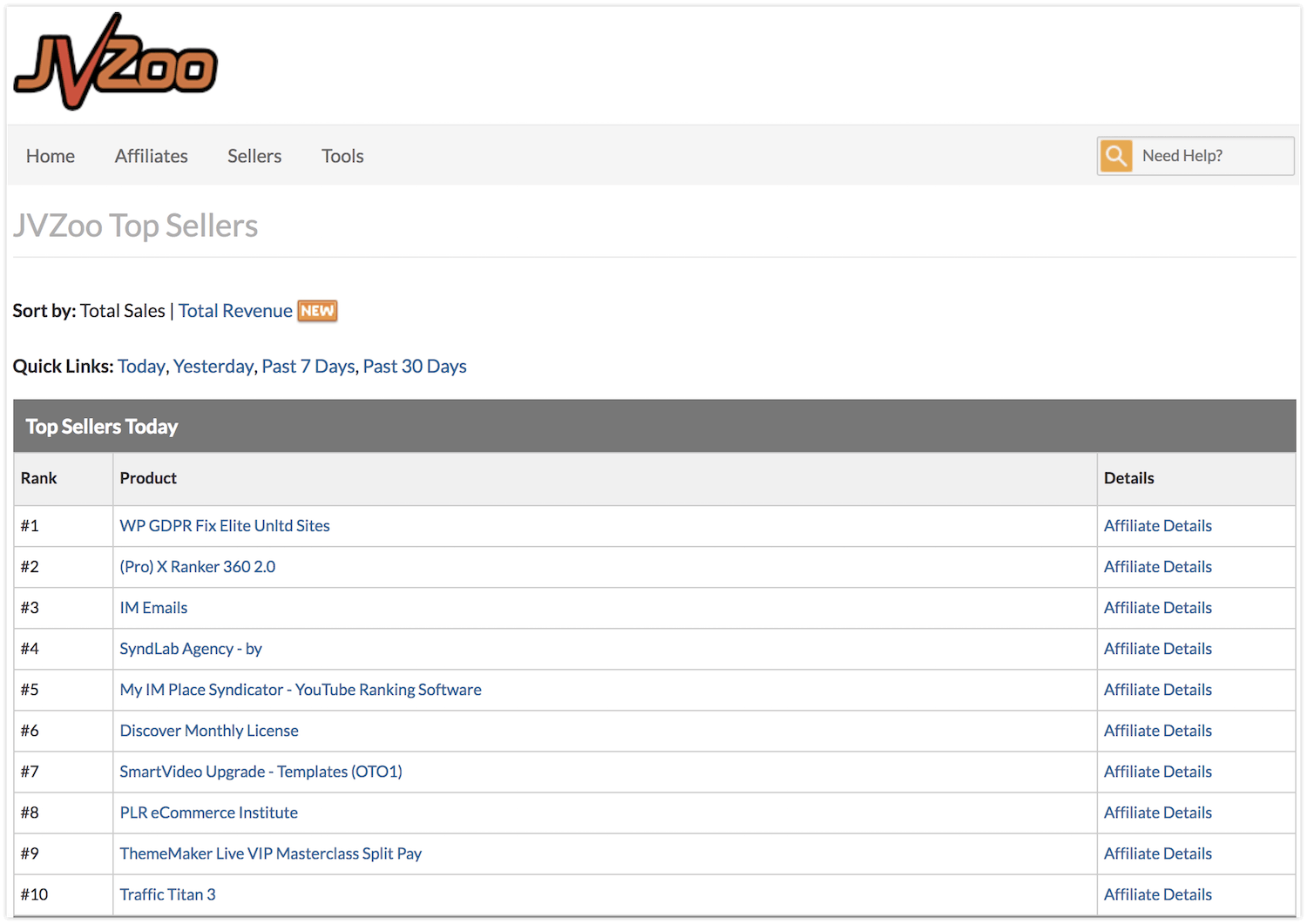 These change according to sales and some products can last for many weeks in the Top 10.
My suggestion if you want to make a habit of promoting JVZoo products is to watch this list closely, even every day and look for opportunities on products to write reviews on.
A great website that pulls of the methods I just talked to you about is JVZoo Reviews – a website that is dedicated to doing reviews on all the top selling products on the marketplace.
One last question I want to address is this…
Can You Promote JVZoo Products On Facebook?
I told you that you need to get a website, and I stand behind it but another way you can also promote JVZoo products is by the use of paid ads using Facebook.
Now I would be extremely careful with this approach as Facebook can't be trusted with affiliate links, but I have heard some stories that many manage to pull it off with the right audience targetting.
I never tried it and I never will, but I have to share with you all the information I know on how to promote JVZoo products.
How To Find Your JVZoo Affiliate ID
Now, In the last section, I told you that I use my affiliate link to promote products. This is normal with every affiliate program and the whole industry of affiliate marketing works with affiliate links.
These are special links you will use in order to alert the seller then you were the one that made the sale.
Now, most products will allow you to promote them without any approval but some (not all) will require an approval process.
This usually takes a few days or sometimes even just a few hours and I have never been disapproved so do not worry too much about that when it comes up.
How Often Does JVZoo Pay Out?
The payment process at JVZoo is where it can get a bit annoying and frustrating.
As a new JVZoo affiliate, you need to wait around 60 days for all funds to clear and be made eligible for withdrawal.
After a while, once you start getting the trust of the vendors and the marketplace, things go a bit quicker but it still takes a few weeks for the payment to process.
JVZoo Payment Method For Affiliates
luckily, and I say luckily because it's not so common for affiliate programs to do so, they offer PayPal as a payment option.
I love PayPal and all my business runs through there so it's great that they offer this withdrawal method. The other option is the old boring cheque-in-the-mail which takes ages to arrive and even more to clear from the bank.
My suggestion is to get a PayPal account if you don't have one already.
Is JVZoo Safe For Affiliates?
Although there is this minor problem with the payout process, you can rest assured that you will get paid. I have not yet heard of any problems from JVZoo affiliates and I never had a problem myself either.
If you do encounter any problems though, you can always contact the JVZoo customer support for a quick fix
Is JVZoo Legit?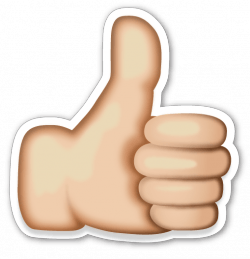 Yes, I fully recommend JVZoo as an affiliate network – I even listed in my other posts showing the best affiliate programs for beginners.
if you want to start using JVZoo, then you have my full blessings as there's a lot of ways you can make money with it.
JVZoo Alternatives

The internet is a big place and there are many affiliate programs just like JVZoo that offer similar services and ways to promote products.
One of the most common of them is ClickBank, another huge name in the affiliate marketing world.
I have not yet done my Clickbank review, but it's on the list.
The (New) JVZoo Academy


One last thing I want to leave you with is the JVZoo academy, a training course by JVZoo itself that will show you how to start using the platform for maximum benefits.
You can learn more about the JVZoo academy here >>
In Closing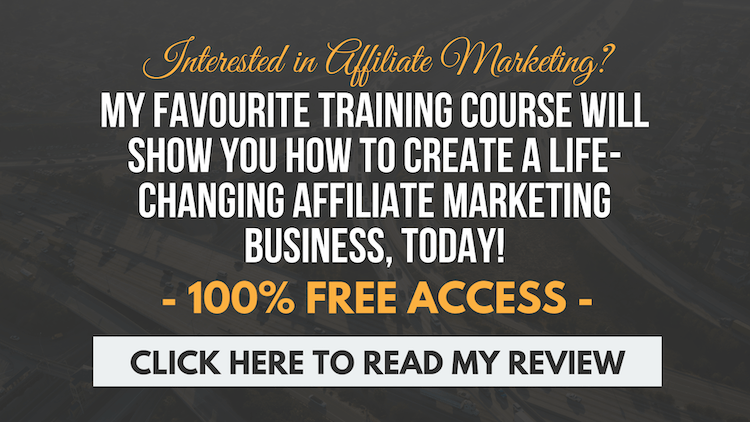 Thank you very much for reading this quick guide and "mini-review" on how to promote JVZoo products.
I really hope the method I described above will give you all the information you need to go out there and start crushing it with the many available products on the Marketplace.
For information on how to start an affiliate marketing business, be sure to join my training course and also hop on my newsletter – there is where I share all the ups and downs of my journey to my $10,000 a month goal.
Hope all is well.
Talk soon.