If you're looking to get into affiliate marketing, chances are you've come across the guru known as John Crestani.
John Crestani is an internet marketer showing others how to build six-figure incomes with various online businesses through his (successful) YouTube channel now with over 350k subscribers.
He's also behind various "make money online" courses, most notably the Super Affiliate System course.
Having been an affiliate marketer for 10 years – and having seen plenty of dubious gurus come and go – today I decided to dive into 10+ hours of research to try to figure out if John Crestani can be trusted.
There's a lot to unpack here so let's cap the introductions and get started with this…
TLDR: There's no doubt that John Crestani is up to some shady business with many of his costly products. On the other hand, some of his YouTube videos do offer some decent advice on how to make money using social media, etc.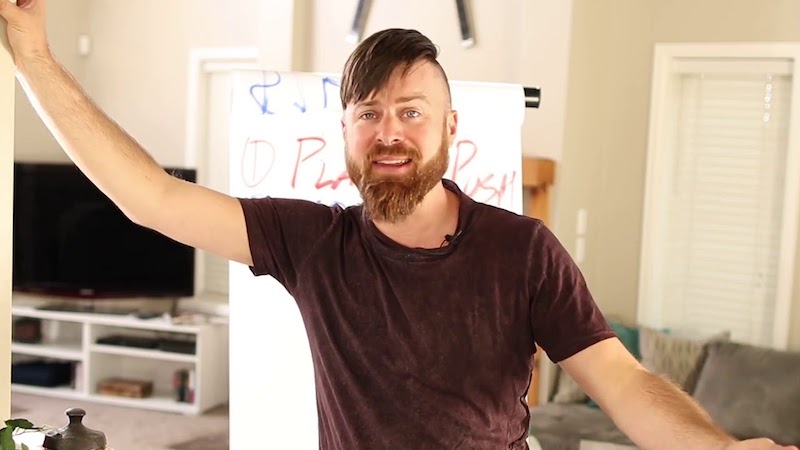 What Does John Crestani Do?
John Crestani's LinkedIn says that he is a growth hacker known for his contributions in helping companies reach more people and sell more products using the business model of affiliate marketing.
An online expert in all forms of paid advertising and a well-known affiliate marketer, John Crestani focuses on selling his courses where he teaches individuals how to earn a cut of the profit by selling products to their online audience.
John Crestani has been featured in prominent business magazines such as Forbes where he talks about how he made his fortune while in his 20s and the hardships he experienced along the way.
How Much is John Crestani Worth?
According to In-Business, John Crestani's net worth currently sits at $7.5 million thanks to his various online businesses and affiliate marketing courses.
So, let's talk about some of the services he has to offer to the world.
About John Crestani's Free Webinar Event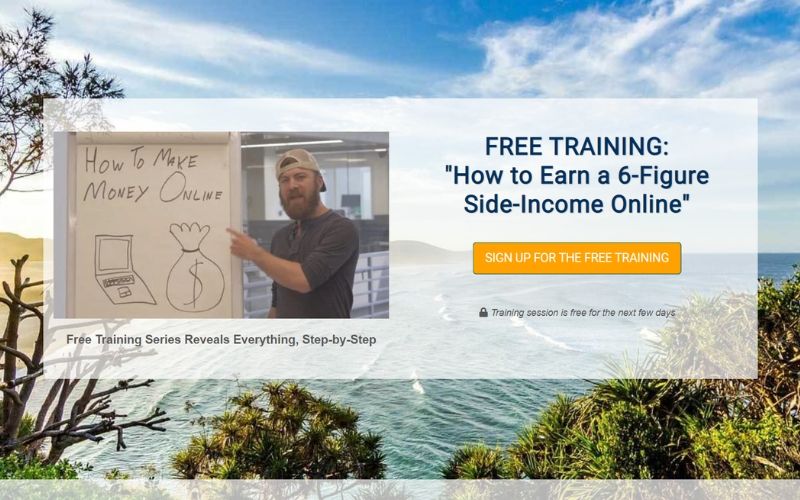 As I already mentioned above, John Crestani is very active on his YouTube channel and he usually posts new videos up to several times a week.
Therefore, you can find a link to his Free Webinar Event or Live training in the description box of each of his videos.
Now, once you sign up to this, you will receive an email with a link that will lead you to his "classroom" and this is where John Crestani immediately starts telling you to hurry up because you may "lose your seat" should you take too long to join.
Which is a bit strange, providing there is no actual physical classroom with a certain seat capacity. The webinar is an online event, so I don't think that hosting too many people is a problem. If anything, it's just better for him, right?
In this webinar, John Crestani tells you that he is going to teach you how to earn a 6-figure side income and the funny thing is that he opens the event by welcoming his students while sitting next to a table full of cash which, in all honesty, looks like a shady business rather than an online money-making scheme.
From there, John continues to talk about himself, his beginnings, his hardships in life, how he got to where he is, all while showing slideshows of how "lame" his corporate job used to look to his ranch and the holidays he's able to afford now and all that.
What follows next are testimonials of the success stories of his high-earning students before he finally tells us what he is going to show us in this webinar.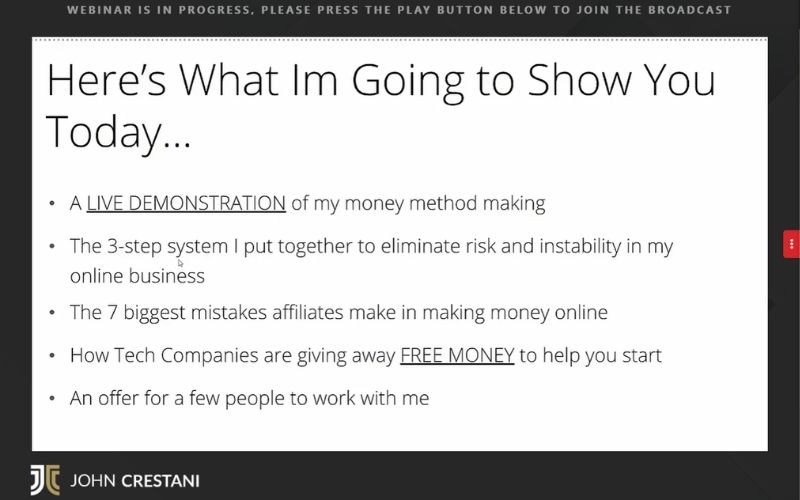 The live demonstration of his money method making is basically John Crestani counting the money in front of him on camera and talking about affiliate programs.
But the point that really ticked me off was "How Tech Companies are giving away FREE MONEY to help you start" which is completely crazy and something you definitely shouldn't fall for.
Nobody is going to give you free money to help you start, so be wary of that.
Now, obviously, the information he gives during this webinar is vague for which there is a perfectly good reason – he will try to upsell you to his paid courses by the end of it.
And that also brings us to the last point: the "offer for a few people to work with him".
The "offer" basically means that you will have to pay for his course, do it yourself, and then try to sell it to other people for a commission.
So, let's talk about the paid courses now, shall we?
What is "Internet Jetset"?
Internet Jetset is one of John Crestani's paid courses that focuses on training beginners on how to utilize Google SEO, Facebook social media marketing, and YouTube video marketing to grow their affiliate marketing business and get a feel of how affiliate marketing works.
Internet Jetset is a basic course and it consists of 12 different modules with the last module being a sales page for John's Super Affiliate System (which is the more advanced and super pricey course).
How Much Does "Internet Jetset" Cost?
The Internet Jetset course will cost you $47 per month and the reason why you're paying a monthly fee is that there is a weekly Live Webinar called JetsetLIVE where you might have a chance for John to personally answer your questions.
If you're lucky, that is.
Besides that, Internet Jetset has another main upsell, which is John's Xtreme Case Study Archive.
What is the "Xtreme Case Study Archive"?
Xtreme Case Study Archive is a one-time $187 upsell where you can get access to interviews with top internet marketers in the industry.
While you may say there is some value in this upsell, $187 is still a lot of money to listen to something you can otherwise find for free with a little research.
And because this doesn't seem to spark that much interest with any living soul, let's move on to the elephant in the room which is John's main course.
What is the "Super Affiliate System"?
As I already mentioned above, Super Affiliate is the main course John Crestani is focusing on given that all his sales funnels are catered towards this product.
The course focuses on utilizing paid traffic methods such as Facebook Ads, YouTube Ads, and Google Ads to help individuals grow their affiliate marketing business.
The core skills this course is supposed to teach you are:
Copywriting
Data analysis
Research
The course consists of 50+ hours of video training that gives you 20-40 minutes of daily content to go through during a period of 8 weeks.
How Much Does "Super Affiliate System Cost"?
Now here is where it gets quite interesting.
When you land on the Super Affiliate System sales page, you will immediately start being bombarded with information that this course usually costs $4000+ or $5000+; however, only for today, you will be able to get it for $997.
So the course essentially costs $997, but obviously, the creator is making you believe that you are amongst the lucky ones that landed on the page right on the day when there's this huge discount happening.
Don't let this fool you because urgency and scarcity tactics are incredibly useful and thus commonly used by sales representatives to increase their sales.
Ironically, this is something that you will learn in almost all affiliate marketing courses out there because, with urgency, potential clients are more likely to buy your goods because they feel like "time is running out".
Coincidentally, I've found my way on John's landing page several times in the span of several weeks and this "irresistible offer" is always there.
How Does "Super Affiliate System" Work?
So, as I already mentioned above, Super Affiliate System is an 8-week course that gives you 50+ hours of video training. Every day, you should spend around 20-40 minutes to go through the training.
The lessons are presented in video format and John Crestani narrates everything using screen recordings. The course is easy to follow and it is also available in several different languages.
It is possible to pause the videos, take a break to absorb a few things, and resume when you want. There are also some additional resources for complementing your unique strategy and the training is quite in-depth.
The course is structured in a way that gives you 4-5 lessons a week starting from setting up the essential elements for your business, strategy and planning, improving your marketing skills, how to set up paid ads, scaling and automating your business, as well as additional resources that include targeting data, affiliate networks, ad networks, etc.
Is the "Super Affiliate System" Legit?
The Super Affiliate System seems legit; however, it has its pros and cons regarding its content and several other things.
A few pros to consider are:
Lifetime access
Once you purchase the Super Affiliate System course, you will get lifetime access to it as well as free upgrades to all future upgrades.
Buy one get one free
In his free webinar, John Crestani points out that if you purchase the Super Affiliate System, you will get one additional login that you can share with a friend.
Multiple languages
The Super Affiliate System is subtitled in several languages, including English, Deutsche, Spanish, French, Portuguese, and Russian.
However, besides these pros, several other things make this course appear somewhat shady. Here's some of them:
Questionable/outdated student testimonials
Some of the testimonials that appear on John's course seem legit at first glance; however, the deeper you dig, the more questionable they become.
Additionally, some of them are quite old, going back to 2015, and this is meaningless when you consider how easier it was to make money with affiliate marketing back then than it is in 2020.
Take this video testimonial by John's student Carlos Valiente posted in 2015. The first thing Carlos says is that he started doing affiliate marketing about a year and a half before that.
Here's another video testimonial by his student John Walton who says he's been doing affiliate marketing since 2011 when affiliate marketing was a foreign topic for many people, yet John Crestani is still sharing these testimonials and telling old stories even almost 10 years later.
Also, for the record, I did a deep search in an attempt to find these people, and I didn't find anything on where they are and what they are currently doing in life, which is a little shady and makes me wonder if these testimonials are legit.
Exaggerated income promises/exaggerated success rate
As soon as you go on John's YouTube channel, you will immediately start noticing that he likes to make outrageous claims on how you can earn a lot of money online in a very short amount of time.
He even exaggerates to the point where he claims you can start earning $1000 per day within 30 days or that you can earn $100 after only 2 hours of starting affiliate marketing.
Affiliate marketing is a very profitable business. However, if you are starting from scratch, chances are that you won't have this success rate after only 2 hours of starting. His claims are very misleading.
Take a look at this screenshot from his promo webinar where John claims affiliate marketing businesses have a 90% success rate.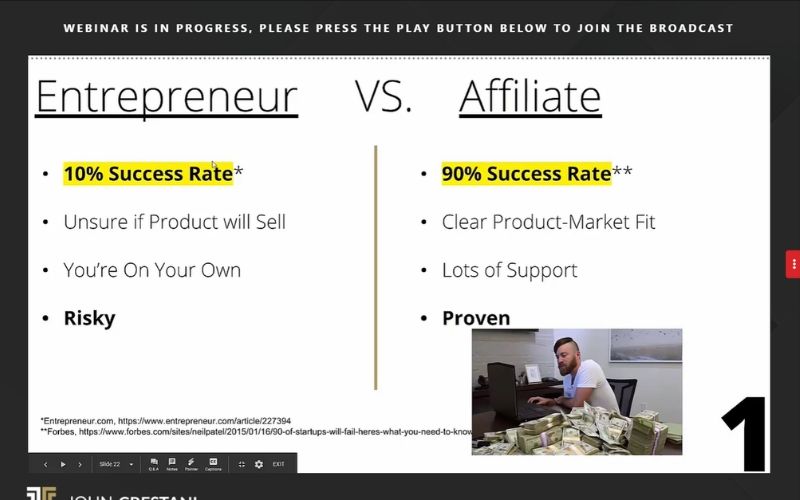 It is crucial to point out that this is completely untrue and here is an article on Entrepreneur that says such a stat is based on a discredited study and it's just an attempt to sucker people in.
Funny enough that John has an article by Entrepreneur and Forbes linked on the bottom left, which we don't even know what it is cause we cannot click on it, but it's left there to make this outrageous and misleading claim appear more legit.
So what is John doing here?
To put it bluntly, he's lying to you.
Fake scarcity
This is something I touched upon earlier in the article and it always ticks me off when I see it because it's simply a tactic that works to lure people into buying a product or a service thinking they were lucky enough to click on that site on that given day.
On the landing page of John's promo webinar it also states that the "training session is only free for the next few days" implying that if you don't sign up right now, you are likely to lose the opportunity to learn how to create a 6-figure online income.
So what does every normal person do? They obviously sign up now not wanting to lose the opportunity to learn how to make money.
Additionally, he always points out how his main course is worth $5000+ but "only for today" you will have it for $997. Which is a complete lie because the same price will be there even if you come back a few weeks or months later.
Unclear refund policy
It's unclear whether you can claim a refund after purchasing John's Super Affiliate System and some students report that they've had trouble getting a refund.
Two out of the three total reviews on TrustPilot are from students complaining that the company doesn't honor their refund policy.
But what's strange is that sometimes you will see a mention of a 30-day refund policy on their website while another time you might read that you have to complete certain goals within the course before you can be eligible for a refund.
Or you might stumble across the terms page on JohnCrestani.com, which states that the company doesn't offer refunds of any kind.
It's always a piece of different information, however, Coffeezilla did a 2-hour debate with John Crestani himself on his YouTube channel and John had something very interesting to say regarding refunds.
When asked by the moderator of the debate what he thinks about refunds, John said:
"So my opinion on refunds is that if you purchase a product and you make a decision you have to stick by your decision and refunds are not part of that. If you go to college and you are not happy with your university you don't go there and ask for your $100,000 back"
Therefore, you can take what you want from that.
Can You Earn Money Promoting the "Super Affiliate System"?
There is no way to know for sure whether you will earn money promoting the Super Affiliate System to your audience.
While doing my research for this review, I stumbled across several success stories of John's students who are earning commissions by promoting his course.
When you buy the Super Affiliate System, you will get access to a resources section filled with promotional materials for the course, which may help you make some sales.
However, there isn't a guarantee whether the provided resources will surely help you succeed with that and this student's struggle proves that resources won't do all the job for you.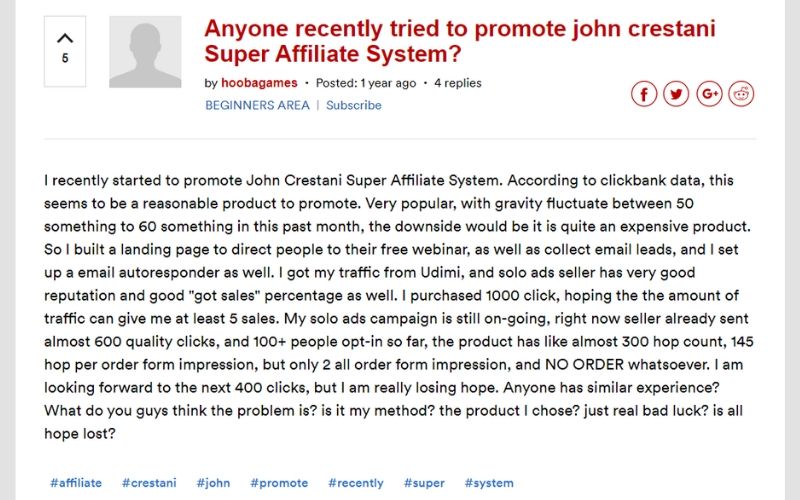 So – Is John Crestani a scam?
There's no doubt that John Crestani is up to some shady business with many of his costly products. On the other hand, some of his YouTube videos do offer some decent advice on how to make money by using social media, etc.
If you'd like to learn how to make money online, I suggest you look into this training first. It won't cost you thousands of dollars and I know it works because it's the same course that has kept me in business for the past 10 years.