As a Mediterranean, I can tell you Italian food is delicious not because of how complex the Italian nonnas prepared their dishes, but because of how simple they keep their sweet sun-kissed ingredients.
Italian food is genius simplicity, which is why I think it's admired by pretty much anyone with healthy/functional taste buds.
Today, we're bridging Italian recipes with affiliate marketing and the result is a delicious list of affiliate programs that not only will satisfy your hungry customers, but also line your pockets with green moolah.
So, if you're a food blogger or you maybe have an Italian cooking YouTibe show you\d like to monetize, here are…
The 10 Best Italian Food Affiliate Programs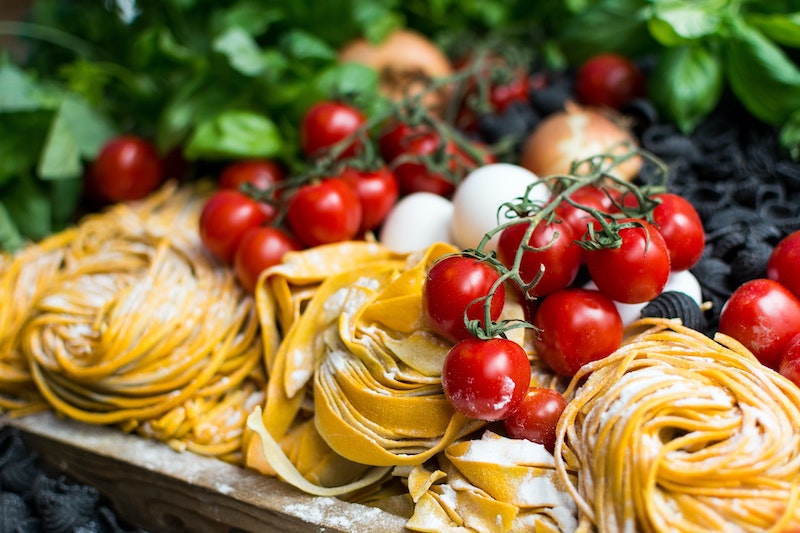 ---
---
Gourmet Food World
Gourmet Food World is an online boutique specializing in gourmet foods from different cuisines such as Iranian, Italian, and even Russian. It is your one-stop-shop for specialty products such as rare Italian truffles, Belgian Chocolates, and so much more.
Its affiliate program is available on AvastLink, where interested parties can apply. Gourmet Food World offers its affiliates ongoing affiliate support, monthly newsletters and promotions, free banners and images for product advertisement, and even a 10% discount code for signing up new customers.
Also, members are provided with affiliate tracking software so they can view their progress and earnings.
Commission rate: 10%
Affiliate cookie: 60 days.
Vital Choice
Vital Choice was founded in 2001 and was first established as a wild seafood supplier and quickly grew into a booming food and organic business. The retailer also offers online resources such as recipes and cooking tips.
From Italian cuisine to how to best cook salmon, Vital Choice has all that covered through its videos and recipes. Dozens of leading health and wellness experts endorse the retailer, making their affiliate program very lucrative.
Besides getting exposure from working with a recognized brand, affiliates also earn high commissions and a $15 payout once you get customers to sign up for the site's subscription boxes.
Commission rate: 4%
Affiliate cookie: 7 days.
Olma
Olma is a major producer of fine caviar, meat, and other quality foods, sourced from Russia, Italy. The company was established in 2001 and is currently based in Brooklyn.
ShareASale manages its affiliate program, handling all administrative duties such as member sign-ups, commission payments, and sales statistics.
Highlights of the program include frequent newsletters, a 24-hour return policy on damaged or unsatisfactory goods, access to promotional tools such as text links, banners, and even product images, and free shipping on all orders above or equal to $500.
Commission rate: 5%
Affiliate cookie: 15 days.
Italian Food Corner
Just as the name suggests, Italian Food Corner deals in Italian Food. The food delivery platform bridges the gap between Italian farmers and customers in Hong Kong.
By joining its affiliate program, members get paid for every sale: payments are calculated on a CPA (Cost per Action) basis. Commissions are paid out monthly, after reaching a minimum of 200HK$ ($25USD).
Registration is easy and absolutely free: simply fill out an application, after which you will get reviewed. Once accepted, you get a confirmational email, which will lead you to your affiliate dashboard.
What's more, members also get an affiliate expert to help them out in case of any difficulties.
Commission rate: 5%
Affiliate cookie: 6 months
Bella Italia
Bella Italia is an Italian restaurant; the establishment is passionate about preserving tradition. The restaurant prides itself in providing customers with Italy's authentic taste through its fantastic menu and excellent food.
What's more, Bella Italia has an affiliate program, one which food bloggers and lifestyle content creators can fully fit in and make use of. The program is a joint project between Bella Italia and La Gondola, an Italian goods retailer.
Affiliates can earn commissions as high as 10%. To join, fill out an application, and Bella Italia will handle the rest. Members promote products through banners and text links on their sites; there aren't any limitations on how many you can use.
The more publicity, the more the commissions.
Commission rate: up to 10%
Affiliate cookie: 30 days.
Nonna Box
Nonna Box is a box subscription service that features a different Italian region and six of its products every month. It's a great way to showcase the country's wealth while bringing the people together.
Its affiliate program can be found on ShareASale. Registration is easy and free, simply fill out an online application then wait to be reviewed.
Once approved, members get access to banners, text links, and graphics to promote products, real-time reporting to monitor sales and earnings, and affiliate support from a dedicated team.
Aside from products, customers can access recipes and other resources from the site's blog.
Commission rate: 8%
Affiliate cookie: 90 days.
Pasta Cheese
Pasta Cheese carries a wide variety of fine international gourmet foods and food products. From authentic Italian gourmet foods to pasta, cheeses, rice, and sauces. What's more, the meals are easy to order online.
When you become a Pasta Cheese affiliate, you get rewarded with special offers and incentives, updates and notices of future promotions and sales, and generous commissions.
Pepperjam manages the site's affiliate program and equips members with real-time reporting tools to ensure they monitor their sales and commissions. Besides, commissions are paid monthly, in full, and on time.
Commission rate: 11%
Affiliate cookie: 30 days.
Eating Europe Food Tours
Eating Europe Food Tours offers tourists and food enthusiasts the chance to experience local culture and cuisines through unique traveling experiences. The tours travel across 9 destinations with new ones being added every year.
The benefits of being an affiliate at Eating Europe's affiliate program are ongoing promotion and contests, dedicated in-house management, and access to custom creatives. Interested parties can send in their applications through ShareASale.
The affiliate network offers an amazing selection of tools and marketing materials. What's more, bookings and payments are all taken care of by ShareASale so affiliates only have to worry about promoting products and earning commissions.
Commission rate: 6%
Affiliate cookie: 30 days.
Cookly
Cookly was established with the mission to bring people together through food and culture. The site offers over 450 cooking classes in 46 destinations worldwide.
By partnering with Cookly, you earn high commissions; the average order size stands at $100. An affiliate partner is available anytime if members need assistance. Cookly is an exceptionally accomplished business, it was even crowned by CNN as the startup that puts food tourism on the map.
Commission rate: 10%
Affiliate cookie: 45 days.
Sur La Table
Sur La Table was first opened in 1972, by Shirley Collins. The brand's passion is making good and bringing people together.
The store specializes in kitchen products, gifts, and even cooking classes where you can learn to bake and cook all kinds of foods from different cuisines.
By becoming a part of the store's affiliate program, members can view reports, track conversions, and promote products through banners and links. Interested parties can join through Impact Radius, the third-party company in charge of the program.
Commission rate: 7%
Affiliate cookie: 30 days.
---
---
How To Start An Italian Food Cooking Blog (& Make Money)
Food blogs are booming right now, and for as long as people keep enjoying delicious food, I expect this trend to continue.
I've already written a pretty decent guide on how to start a food blog but since we're talking about affiliate marketing, I also recommend you check out my guide on how I build up my own affiliate websites.
It's free to read (no sign-up required) and you will learn the exact strategy I use to create, launch, and profit from simple affiliate websites that make me money every month.
You'd do well in checking them out before you leave.