Looking to grow an affiliate business?
Anything related to men's beauty and fashion is becoming extremely trendy lately, and there's plenty of money to be made.
Today, we're taking a look at some of the best male grooming affiliate programs you can promote to your audience to have them looking and smelling right, with a fresh cut and glorious facial hair.
If you're in the men's beauty niche, this affiliate round-up is for you. Here are…
10 Male Grooming Affiliate Programs (Reviewed Below)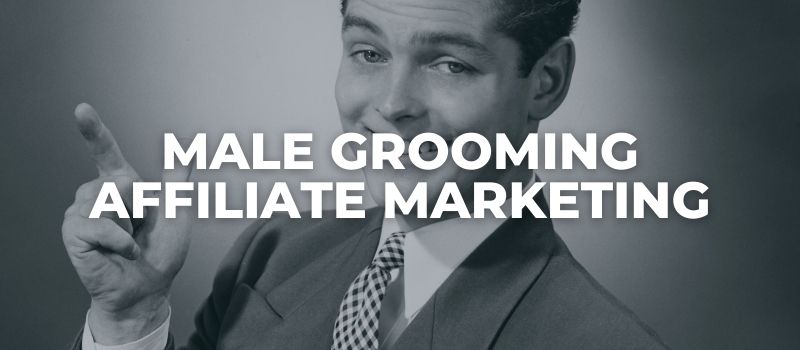 ---
---
Real Bearded Men
Real Bearded Men is a US-based company founded by a group of men with the goal of looking out for all the beards of the world.
The brand has a wide assortment of grooming products for beards, and, on their website, customers can shop for items such as beard oils, balms, combs, brushes, care kits, gift sets, and various accessories.
This store also carries mustache wax and essential oils, as well as some company-branded apparel like sweatshirts, hoodies, and hats.
Real Bearded Men have an affiliate program where affiliates can sign up and be paid through PayPal or gift cards.
The company also provides regular sales, coupons, and promotions that, as an affiliate, you can use to market the products, but, you can also request exclusive coupons.
Besides the base commission rate, as an affiliate, you can also make money from sub-affiliates who you refer to the Real Bearded Men program.
Commission: 15%
Cookie length: 30 days
Naked Armor Razor
Naked Armor Razor is a US-based company that specializes in handcrafted straight razors and wet shave supplies.
They sell straight razor kits, shavettes, scuttles, safety razors, and a selection of brushes, aftershaves, shaving creams, beard oils and balms, and complete beard grooming kits.
They have an in-house managed affiliate program that offers a 10% commission to affiliates who promote their products and send customers to their website.
This brand is great to promote on men's style or straight razor sites.
Naked Armor is also dedicated to offering the best straight razors and they have extensive articles and videos that will help every beginner learn the art of straight razor shaving.
Commission: 10%
Cookie length: 30 days
eShave
The eShave company has been in business since 1996.
They sell shaving brushes, razors, skincare, and shaving sets that men could enjoy every day. The products are well made, high-quality, and free of paraben, sulfates, SLES, and SLF.
They are also artistic in design using minimal packaging and are one of the first vegan lines with vegetable-based formulas.
eShave has an affiliate program managed by ShareASale where they offer a 10% commission to affiliates who sign up and drive sales to their website.
As an affiliate, you will also have access to exclusive offers and a professional and consistently updated selection of creative banners and text links.
Commission: 10%
Cookie length: 30 days
Beard Gains
Beard Gains is a company that sells beautifully designed and high-quality beard products for anyone who wants to maintain a well-groomed appearance.
Their product variety consists of beard balms, oils, growth vitamins, conditioners, beard mustache wax, combs with a beautiful and unique design, and beard kits.
They carry 100% organic beard products which are handmade and manufactured in the US and are also paraben-free, sulfate-free, and chemical-free.
In addition to the grooming products they also offer a selection of Beard Gains apparel.
Beard Gains has an in-house managed affiliate program that offers affiliates the chance to earn up to 25% by driving sales to their website.
Commission: up to 25%
Cookie length: Not listed
Grooming Lounge
Grooming Lounge is a one-stop shop for men's grooming products.
Besides carrying items from a number of upscale brands, Grooming Lounge stocks its own products, which it developed in men's spas and barbershops.
Some of their items include beard kits and tools such as safety razors, straight razors, razor blades, brushes, shaving creams and soaps, aftershave, kits consisting of various products, etc.
But besides shaving supplies, the company also offers more than that, including face and body cleansers, moisturizers, antiperspirants, colognes, fragrances, powders, hair products, and so much more.
Therefore, when you sign up to become their affiliate, you will certainly have many products to promote.
Grooming Lounge has an affiliate program is managed through Commission Junction, where they offer their affiliates a chance to earn a commission with each sale they forward to the website.
Commission: 5%
Cookie length: 10 days
Vintage Gentlemen
The Vintage Gentlemen is a brand that focuses on building a culture as much as selling grooming products.
The store carries a nice selection of grooming tools and supplies, ranging from straight and safety razors to beard oils, brushes, and balms.
Other products include leather goods, pipes and cigars, coffee, drink, knives, and outdoor gear, as well as accessories such as ties, socks, men's rings, and other gifts.
The Vintage Gentlemen has an affiliate program is managed by Refersion, where affiliates can sign up and promote their products to earn a commission but also get a sense of the lifestyle.
Commission: 10%
Cookie length: 60 days
TCM Lifestyle
Created by a group of passionate men in 2015, TCM offers an upscale, high-quality line of grooming products that cover the whole body from head to toe.
They want to cater to passionate men who work hard, play hard, and want to look good doing it.
TCM's product line includes body washes, soaps, skincare products, beard care tools and supplies, shaving products, haircare, and even scalp products.
They also offer bundles to save money and travel sizes for when you're on the go.
Their affiliate program boasts a competitive incentive structure, with some affiliates making thousands each month. Sign up and be approved to learn more.
Commission: 20%
Cookie length: 30 days
Detroit Barbers
Detroit Barbers is a brand and barbershop that offers legendary haircuts alongside high-end grooming products, tools, and supplies.
On their online store, you will be able to choose from their beard and mustache products such as oils and balms, shaving creams, aftershave lotions, skincare and haircare for men, alongside kits and gifts consisting of a personalized product variety.
They have an in-house managed affiliate program where affiliates can sign up and get the chance to earn up to 50% commission based on a tiered structure that prioritizes quality content and audience reach.
Commission: Up to 50% commission based on a tiered structure that prioritizes quality of content and audience reach.
Cookie length: 30 days
JC Grooming
JC Grooming is a beard grooming company that focuses on creating deeply nourishing products that are not only beneficial for the air but the skin too.
Their product range consists of carefully created butters, balms, and beard oils designed to bring nourishment into your beard, soften the hair, and get rid of dry, itchy, and flaky skin while keeping the beard hairs soft and smooth.
Besides their hair products, the company also sells grooming accessories such as high-quality wooden combs, alongside apparel and gifts.
JC Grooming also has an affiliate program that's based on their regular website sales.
As an affiliate, you will receive a set amount of money per referral based on a table system the company has developed.
They also offer tiered commission rates, so the more referrals you have, the more valuable they become.
And lastly, JC Grooming will also create a custom code for you to give your audience 10% off of any order. This is also how they will track your affiliate referrals throughout each period.
Commission: 10%
Cookie length: 30 days
Boomer & Co.
Boomer & Co. is a company that developed a line of men's grooming products that are all-natural.
On their online store, you can browse through several categories of products, including beard care, body care, shaving, grooming kits, apparel, and accessories, which include items such as wallets, watches, etc.
Boomer & Co. has an affiliate program through which they offer webmasters and content creators a chance to earn 5% commission on each sale they drive towards the website.
Commission: 5%
Cookie length: 30 days
---
How To Start Your Own Men's Fashion Affiliate Website
I've started many affiliate websites (in many different niches) since I began my career in affiliate marketing.
Men's fashion was never one of them, but you do not have to be in this niche to understand the potential that lies here.
As you can see from the above mention affiliate programs, there are some wonderful products with even better commissions being offered here and I believe anyone, with some effort, can build a thriving affiliate business in the male grooming niche.
One thing I learned over the years, is how to pick a niche and build it out to be a successful business. If you want to see how I do what I do, be sure to read my guide explaining how I make money by building simple affiliate websites.