I've been on the hunt for some high-ticket affiliate programs lately. One of the best niches I've found for this is the musical instruments niche and as you can imagine, there are some very good commissions to be had here.
Today, I want to share with you a list of the 10 best musical instruments affiliate programs that will see you tune-up your monthly affiliate commission payouts to heights you never even imagined.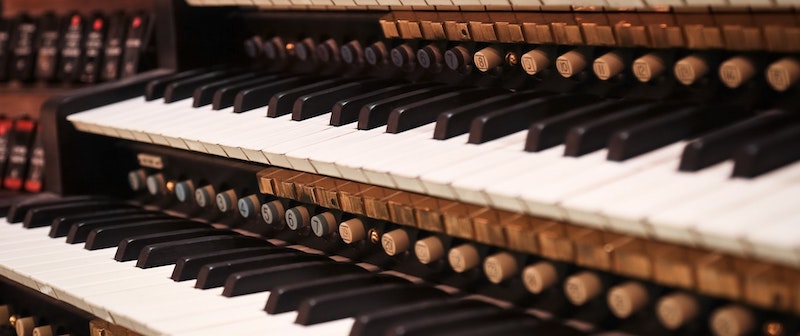 Before we get into the nitty-gritty detail about each affiliate program (and how to get started in the musical instruments niche) let's take a quick overview of:
The 10 Best Musical Instruments Affiliate Programs:
Guitar Centre
Thalia Capos
Master Class
Woodwind and Brasswind
Musician's Friend
AudiMute
Piano For All
SamAsh
Rocket Piano
World Music Supply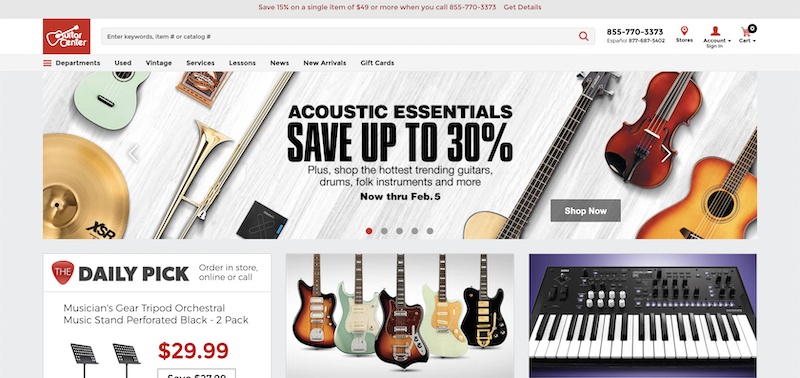 A guitar is one of the most loved musical instruments on our planet, and the Guitar Centre is known for offering the best guitars for more than 50 years. The Guitar Centre team has been designing fretboards for guitar enthusiasts within 260 stores within the US.
Guitar Centre has not only specialized in guitars but also drums, keyboards, amplifier ranges, DJ equipment, PA system and mics along with other essential recording hardware and software.
The best part is that the Guitar Centre is not only famous for its high-quality musical instruments but also their pocket-friendly rates. It is the most affordable musical instruments in the US when compared to all online stores.
There is nothing that inspires a musician more than having their favorite instrument at an affordable rate. When it comes to their affiliate program, Guitar Centre has an incredible high network earning score and three months EPC of $44.03. Furthermore, as an affiliate, you will receive a commission rate of 3% to 5% and a cookie life of 14 days.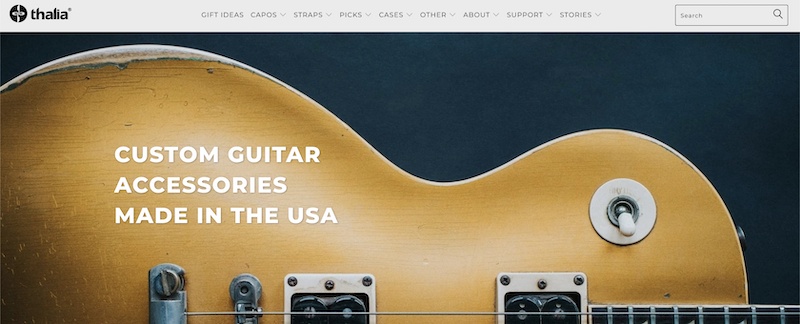 Thalia Capos is known for manufacturing an array of products for guitar enthusiasts, including redesigning a capo as it was imagined by Christopher Bradley, Daughter of the invention, and Thalia Bradley.
For those who are not aware of what a capo is, it's a thing in which guitarists strap to various positions located at the guitar's neck in order to make a different sound.
Capo is among the products designed by Thalia Capos. They have as well specialized in creating guitar picks, clothing as well as phone cases. What Thalia Capos offer is an array of products that are environmental slant, and they have some fantastic backstory, just like a hook.
Usually, a standard capo goes for $5; however, Thalia Capos retails for approximately $60 each. Thalia Capos has an incredible affiliate program that stands out from the rest. Their commission rate is 15% per sale, with an average order value of not less than $130. Furthermore, their cookie life is 90 days.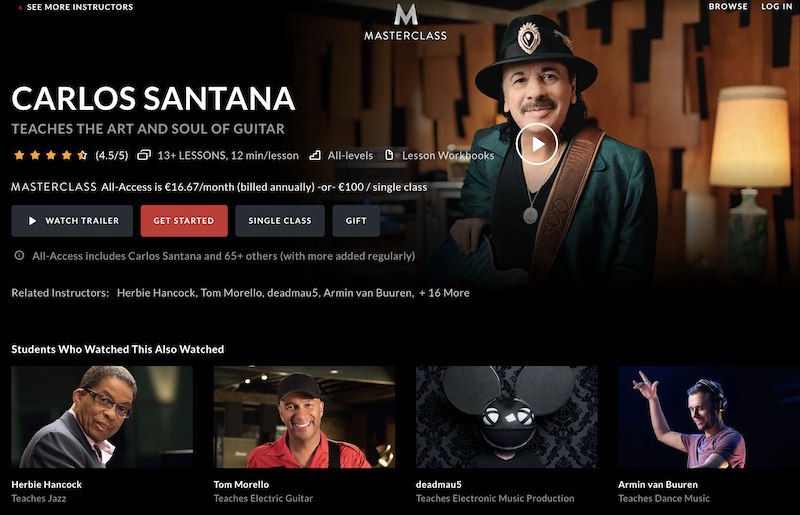 Master Class started operating since 2012; however, their advertisements became noticeable from 2015. Master Class business ideas are based on learning the desired skill from different celebrities' tutors.
Often these celebrities are picked randomly; however, they must be best in their field, meaning they must be the best artist, musician, writer, or event photographer.
Imagine learning guitar from Tom Morello, or learning jazz from Herby Hancock in the comfort of your home. This is what Master Class is all about. Each class goes for $90; nevertheless, shoppers are able to purchase a season pass that goes for $180, which is the average sale value order for Master Class.
As an affiliate, you will earn a commission rate of 25% of what your client will spend. Furthermore, this program rewards volume referrals. Their cookie duration is 30 days.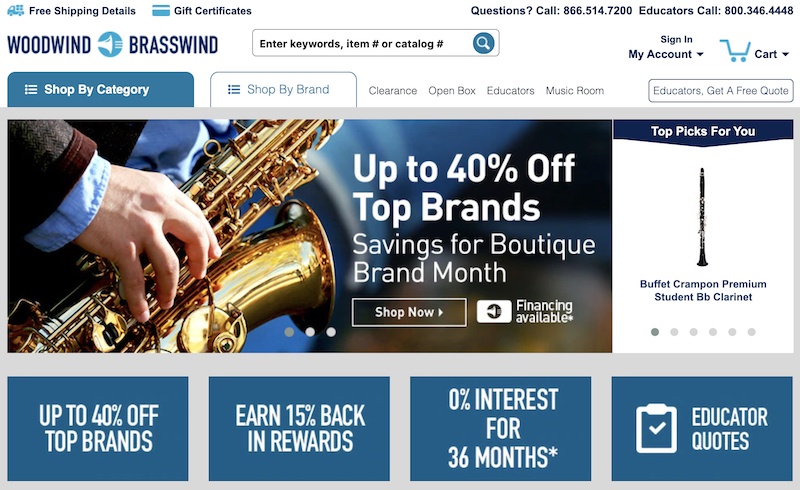 Woodwind and Brasswind is an incredible company that has a story of rags to riches. The company started in a barbershop South Bend, Indiana, 49 years ago. They had an idea of making woodwind musical instruments available for teachers, players as well as schools across the United States.
In the 1980s, they expanded and started designing brass instruments as well. Ever since then, they managed to add guitar, orchestral stringed instruments, speakers, percussion instruments as well as PA systems to their products.
Nowadays, Woodwind and Brasswind supply over 50,000 musical products to over 90 different countries across the globe.
They adapted the eCommerce system very early, which led to part of their success. When it comes to their affiliate program, they have an incredible EPC of $82.52 and a commission rate of 6%. Their affiliate program is managed by Commission Junction, and their cookie life is 14 days.
Musician's Friend features a fantastic history that will make you want to promote their products. Musician's Friend is the Apple or Microsoft of musical instruments.
Ron and DeAnna Eastman were husband and wife who borrowed their parents $5,000 and began operating their business in a garage suburban California for a few years. After a while, they upgraded to the dairy barn in Oregon, and from there, their business started growing.
Nowadays, their company Musician's Friends stocks over 85,000 unique products along with 1.7 million items. They have every type of musical instruments and musical accessories in their stores.
As a shopper, you are guaranteed 45 days return policy that is hassle-free; this is the best policy in the musical instrument industry. This makes selling the products much more comfortable.
Musician's Friend does not have an incredible EPC; however, their network earning performance is very strong on Commission Junction. As an affiliate, you will receive a commission rate of 4% per sale, and their cookie duration is 14 days.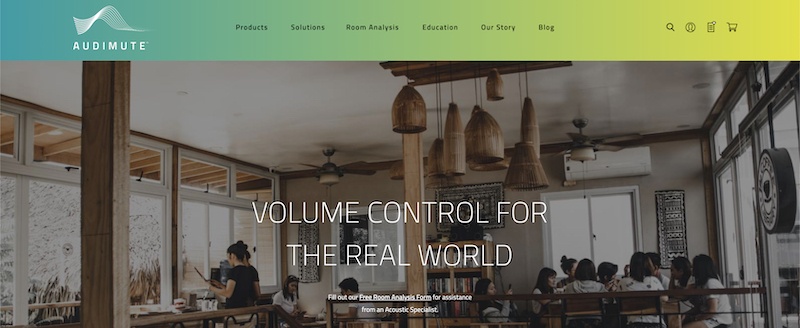 AudiMute was found by Mitch Zlotnik, who is a drummer. Most individuals who live next to a drummer or share a room with a drummer often wish for better soundproofing. This is what AudiMute is offering; they have specialized in providing well designed acoustic management products.
Often musicians would like to practice in rooms that are equipped with the best possible acoustics. This is why you will often find them practicing in the corner of a room or even a bathroom some times. Every other person would like that practice room to be well soundproofed, making this program a win-win situation for everyone.
The average order value for AudiMute is $900, and their commission rate for affiliates is 2.50% per sale, which is equivalent to $22.62 per sale. Furthermore, their cookie duration is 60 days.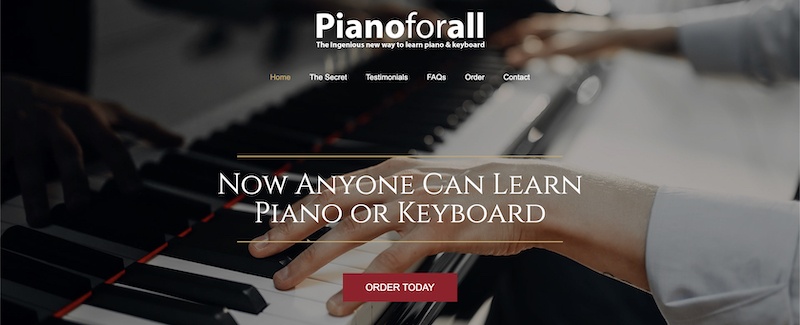 If you are looking for digital piano tuition, then Piano For All will be best for you. The program has helped more than 250,000 students across the globe. Usually, learning on how to play and read piano on a piece of sheet music takes long period and effort, which is something that most individual lacks.
You will be investing several years in learning how to play the piano proficiently.
However, Piano For All is a program that has come to change this narrative; with this program, you will be able to learn how to play the piano within a few weeks. Within a few months of practice, you will be able to play and sound like a pro. This program features ten eBooks, over 5000 audio lessons, and 200 videos.
Piano For All affiliate program is managed by ClickBank, and their commission rate for affiliates is $22.89. However, they do not feature any cookie duration in their program.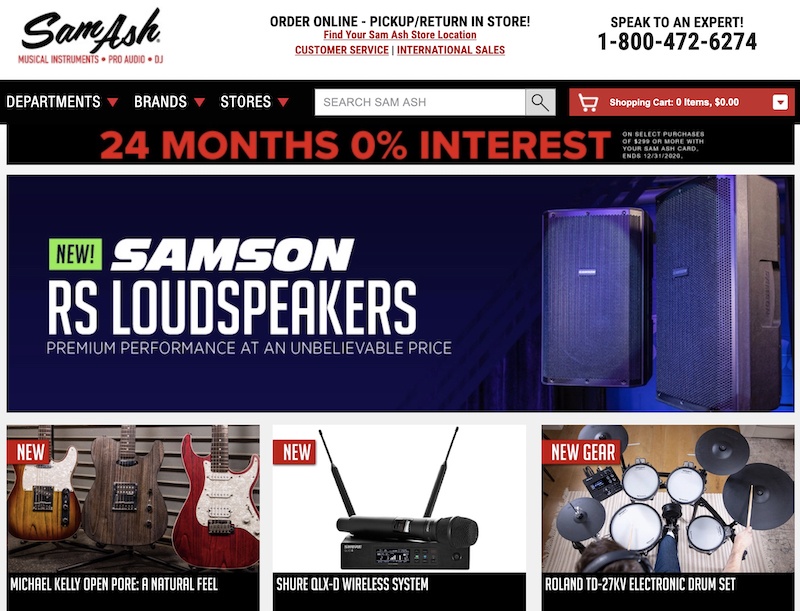 If you are looking for an online store that is well known for offering high-quality musical instruments at an affordable rate, then SamAsh will be perfect for you. This renowned online musical instrument store is equipped with an array of lovely musical instruments that any artist would fall for, and their rates are pocket-friendly.
Using this program is exceptionally safe, and their affiliate program is managed by Linkshare, which is the number one eCommerce marketing brand. As an affiliate, you will earn a commission rate of 10% per sale. SamAsh cookie duration is not available; however, their affiliate program is worth trying. Furthermore, their program is famous, which means selling it will be pretty much more comfortable.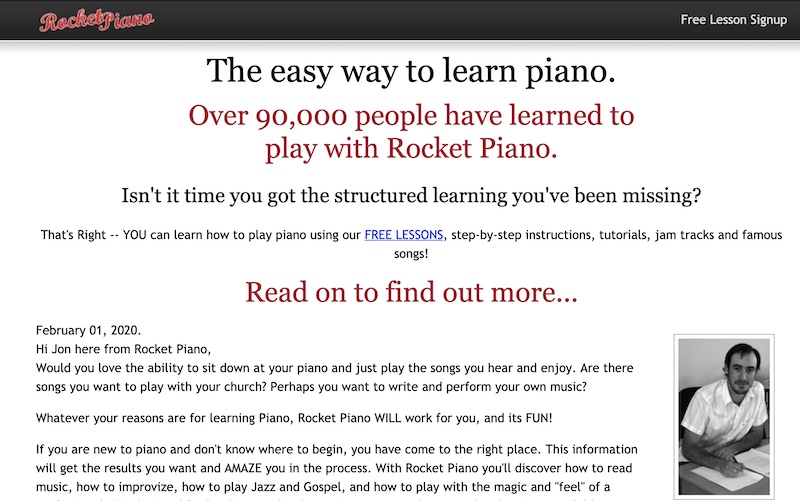 Rocket Piano has one of the best affiliate programs as they are ranked the 3rd most trusted affiliate program on the internet. This online piano tutorial is ideal for beginners who would like to learn how to play the piano correctly. The program is rated four stars, which is an incredible rate.
Rocket Piano features various forms of media, including video tutorials, audio files as well as written books. Furthermore, with this program, you will be able to open up for an array of musical styles providing you with more freedom to explore the world of music.
Their training games and exercises will help you familiarizes yourself with all essential notes hence improving your skills.
As an affiliate, you will earn a commission rate of 75% for each downloaded edition you sale which results in $39.95 per sale. When it comes to hard copy, you will earn a commission rate of 25% per sale as an affiliate. They have a cookie life of 90 days.

World Music Supply features a wide range of musical instruments that are ideal for promoting your website. They feature most of the popular styles and brands that will have your audience talking.
Their diversity in a number of musical instruments makes them stand out from most musical instruments' affiliate programs. World Music Supply musical instruments are by far worth promoting on your YouTube channel or blogs.
They have a fantastic commission rate for their affiliates, which is 5% per sale. However, their tracking cookie is not listed. Despite not having any cookie duration available, World Music Supply has an incredible affiliate program for individuals who would like to promote an array of different musical instruments.
How To Make Money Selling Musical Instruments (As An Affiliate)
As you can see, I've also included some affiliate programs that besides selling you a musical instrument, also show you how to play a specific instrument.
The reason for this is that I love adding courses and "educational material" in my offers as these tend to pay out a higher percentage commission rate so, if you have a music instruments blog, my suggestion would be to include some of these in the mix.
On the other hand, if you do not yet have a blog, a YouTube channel or any audience of any sort to promote the above-mentioned affiliate programs;
Be sure to join my #1 rated affiliate marketing training course here.
It's 100% free to get started, and it will give you everything you need to know, to turn your passion for music (and musical instruments) into a full-time online business.
This is the same course I've used to learn how to make money online and here I am running a full-time affiliate business.
I know affiliate marketing can be hard, and confusing to understand, but this course is laid out in a step-by-step/day-by-day format which will allow you to start from the beginning and keep working on your business till you earn your first affiliate commission.
I'll leave you with that for today.
Talk soon.
WANT TO KNOW HOW I MAKE MONEY WITH
AFFILIATE MARKETING?
(YOU ALSO GET A 10-DAY COURSE FOR FREE WHEN YOU SIGN UP)
After signing up, you will be redirected to the course page where you need to sign up again - no credit card required, just an email will do.
NB:
Want to see how I make money online?
Here's my latest guide
showing you everything I do to earn money with simple, easy-to-build websites.