Can you make money as an affiliate marketer in the pet niche? You bet!
Apart from money, relationships, and health, the pet niche is one of the biggest niches in the world, and as I'm sure you know;
Pet owners are willing to spend big bucks to make sure their pet is healthy, comfortable, and happy.
Today I am bringing you a list of twelve high-paying pet affiliate programs you can join to start making money selling great products to pet owners worldwide.
If you're a pet blogger, this list is for you! Here are…
12 Pet Affiliate Programs (Reviewed Below)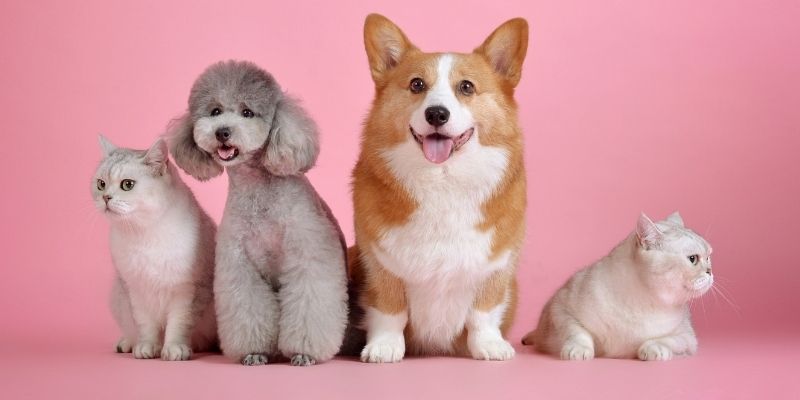 ---
---
DOGonIT

DOGonIT is a small company that specializes in making orthopedic beds for dogs of all sizes made from high-quality memory foam.
Their line of orthopedic gel memory foam pet beds are luxurious and technologically advanced to regulate the temperature and provide comfort for your four-legged friend.
The patented orthopedic memory foam is also eco-friendly, non-toxic, and can support up to 300 lbs.
DOGonIT doesn't have a lot of products that will allow them to build a blog around but could be a nice one to add for a general blog about dogs or a more focused blog that includes dog bedding.
They have an affiliate program managed by ShareASale and they offer a very competitive 35% commission for their affiliate partners.
Given that their products are quite pricey, it's safe to say that's a decent commission for each sold product.
Commission: 35%
Cookie: 90 days
Novis Pets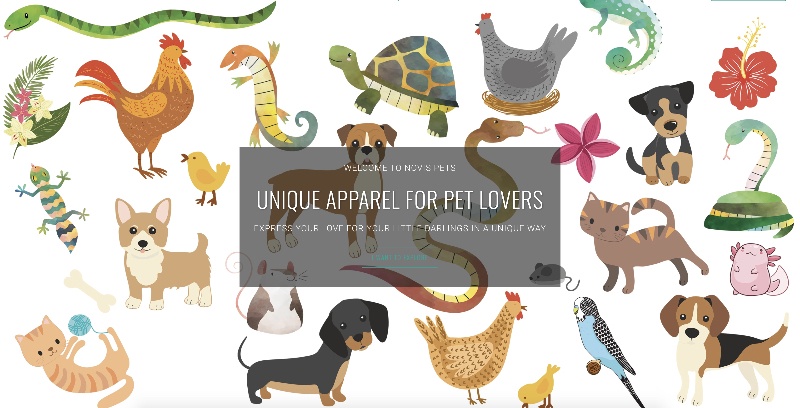 Novis Pets is a niche apparel, merch, and jewelry store aimed at pet owners who wish to express their love for their little darlings in a unique way.
Do you run a blog website, Facebook page, Youtube channel, Instagram account or other mass media resource which talks about (exotic) pets, such as reptiles, snakes, axolotls, parakeets, dogs, cats, foxes, chickens, rats, and many others?
Or maybe you simply have the ability to generate pet-oriented internet traffic? Then the Novis Pets affiliate program is right for you.
Through the Novis Pets affiliate program you will be able to earn a share of revenue each time a referral makes a purchase on the Novis Pets store, by driving highly targeted traffic to the Novis Pets website.
The Novis Pets affiliate program offers a 10% revenue share on the total order value (excluding shipping and taxes) from purchases made by referrals.
The pets inspired apparel products, mugs, and jewelry from Novis Pets are highly popular among pet owners, making it easy for you to earn money by taking advantage of the Novis Pets affiliate program.
So get off the fence, and join their affiliate program today!
For more information or to sign up, visit here.
Commission: 10%
Cookie: 60 days
CBD Choice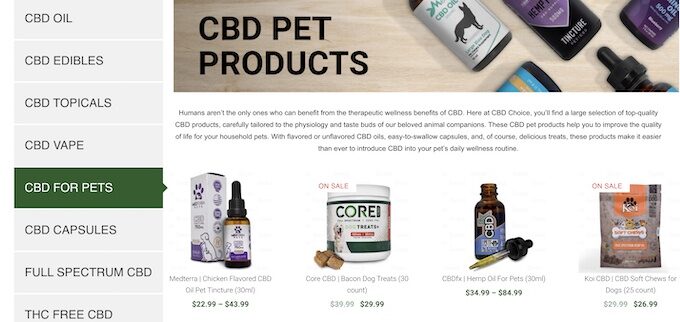 Pet owners everywhere have discovered the miraculous benefits of CBD oil for pets, and no company offers more than CBD Choice, the internet's leading supplier of all things CBD.
Through their uniquely rewarding affiliate program, you'll have the opportunity to profit from their vast selection of CBD-infused pet oils, pet treats, and pet capsules.
All pet products found at CBD Choice have been carefully vetted and third-party lab tested to ensure potency, safety, and efficacy. Only the best for our furry friends!
Plus, the CBD Choice Affiliate Program offers premade media kits that you can simply drag and drop into your sites. No extra work necessary, as these media kits come complete with banners, graphics, plug-ins, and more!
With a competitive 25% commission, 60-day cookies, and payouts every other Friday, the CBD Choice Affiliate Program is hard to beat.
CBD Choice stocks only the industry's leading brands, allowing you to capitalize on the growing brand recognition of the CBD craze. Plus, CBD pet products are all the rage! These best-selling items are guaranteed to bring you repeat customers, repeat payouts, and repeat satisfaction, time and time again.
Commission: 25%
Cookie: 60 days
Doggie Merch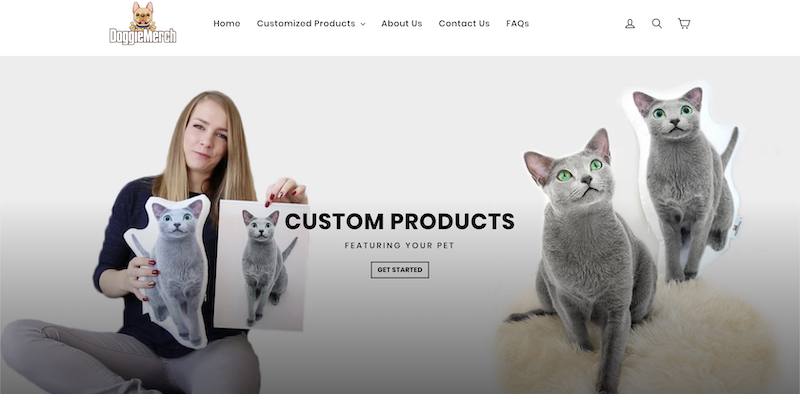 Doggie Merch is a company that specializes in customized pet products for pet owners. They sell anything from t-shirts, pet portraits, personalized pet lamps, etc.
Saying that there are many people who will readily pay for keepsakes of their pets is an understatement, therefore it is safe to say that this affiliate is great for any pet niche blog.
Doggie Merch has partnered with ShareASale to manage their affiliate program and affiliates can promote their products through websites, blogs, or social media accounts and earn a generous 30% commission from each sale.
Commission: 30%
Cookie: 90 days
Pet Cube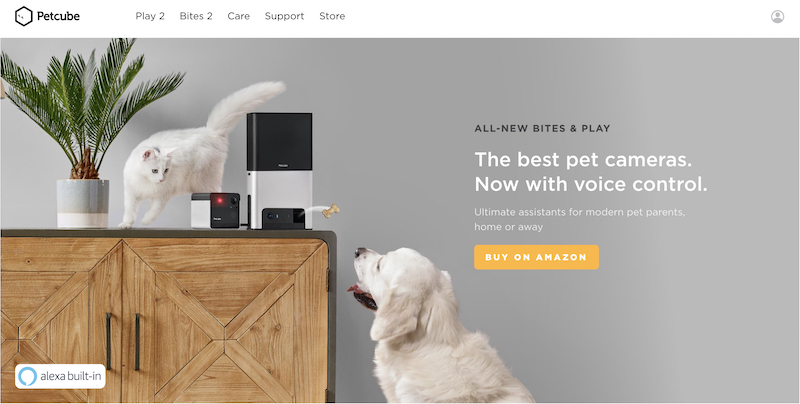 PetCube is leading the pack in the Connected Pet category and reimagining pet care by making the best-selling pet cameras and software that allow pet owners to connect to their pets while being outside of their homes.
Their products enable owners to see, talk, play, and treat their pets remotely from their smartphones while keeping them safe and healthy at all times.
Pet owners can get notified in real-time about potentially dangerous events, with audio recognition of barking and meowing as well as motion detectors with the ability to tell the difference between pets and people.
PetCube products are available in over 18 countries and sold in over 2,500 retail locations including Best Buy, Petco, Bed Bath and Beyond, and Amazon.
This is a growing segment of the pet product market and one that is definitely a good choice for affiliates to think about promoting.
Their affiliate program is managed by ShareASale and their affiliates can promote their products through websites, blogs, and social media accounts and earn commissions.
They offer a standard 10% commission for each sale and 5% for deals/coupon sites. They also offer performance incentives for all affiliates that can boost monthly commissions to 15%.
Commission: 15% introductory commission rate for the first month after you join their program
10% standard commission for each sale
My Dog Foo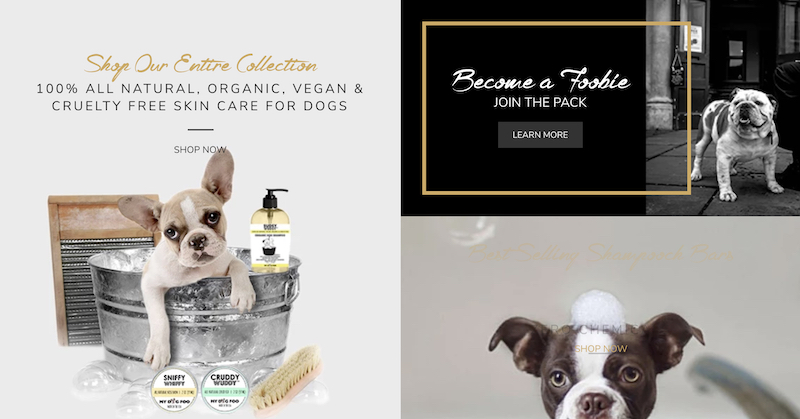 MyDogFoo was started back in 2013 and they offer a range of unique products with a personal touch on a subject every pet owner is very passionate about.
Everyone wants what's best for their pets, therefore MyDogFoo took care of that by introducing their handcrafted, 100% natural products for dog care.
They sell everything from balms to shampoo and soap bars, as well as full grooming kits to truly pamper your best friend with high-quality vegan and cruelty-free products.
They have an in-house managed affiliate program that is free to join in and allows affiliates to earn commissions by promoting and selling their products.
They offer a standard starting rate of 10% commission for each sale, however, high-volume affiliates are eligible for higher commission levels.
Additionally, affiliates are provided with a unique link they can share across their websites, blogs, and social media channels and offer their followers a discount on the entire order from MyDogFoo.
Commission: starting at 10%
Cookie: 15 days
Animal Den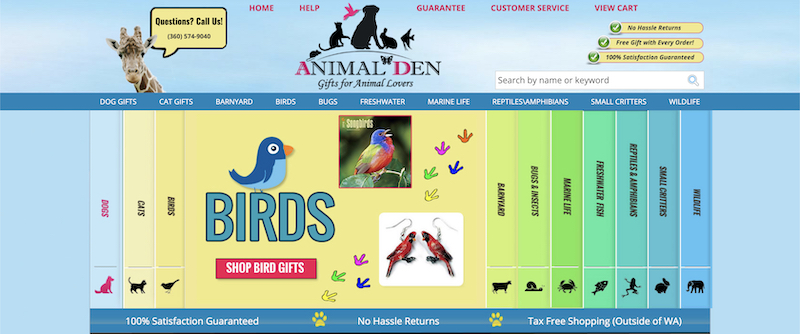 Animal Den is a gift site for animal and pet enthusiasts that offers a wide range of thousands of gift items relating to animals and pets.
They have everything from coasters, jewelry, shirts, mousepads, etc, and their products are covered by a 60-day satisfaction guarantee.
They have an affiliate program managed by Commission Junction where affiliates have access to banner ads, links, tracking tools, and unlimited team support to maximize their sales.
Affiliates earn 12-13% commissions on a tiered structure that rewards their hard work. You can get a 12% commission for gross sales up to $1,000 per month and 13% for gross sales that exceed $1,000 per month.
You can also create your own Animal Den store in a matter of minutes with the help of their Instant Page Creator.
Commission: 12-13%
Cookie: 45 days
CBReptile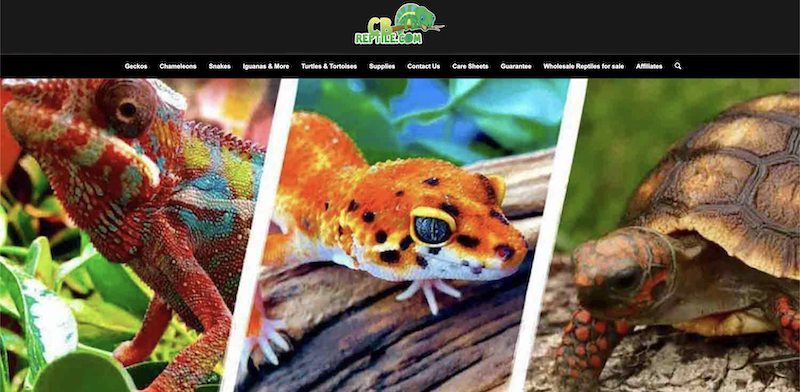 If you have a website, blog, or social media platform that is related to exotic pets and their care, CBReptile may be something you should look into.
On their website, you can find many different exotic pet breeds such as geckos, snakes, iguanas, and turtles that you can recommend to your followers and readers.
There is also a blog section packed with care sheets and in-depth information that educates interested people on the habitat, feeding, and taking good care of their exotic pets.
They also sell lighting, terrarium liners, misting systems, food and water dishes, and other needed supplies to ensure your pet is healthy, happy, and comfortable in its home.
CBReptile affiliates receive a 10% commission and their average sale is $265 which means you will be receiving an average commission of $26.50 per sale.
CBReptile offers their affiliates the option of obtaining a unique code for their websites or links to paste to their YouTube videos, Facebook feeds, Instagram stream, etc.
You will also have access to image ads that link to specific species or sections of their website.
Commission: 10%
Cookie: 45 days
Pet Plate

Pet Plate is a 100% human-quality dog food subscription service that has become huge in this industry.
All of their meals are made with USDA meat, fresh fruit and veggies, and a proprietary supplement blend designed by a veterinary nutritionist and cooked by a team of talented chefs to deliver a taste that dogs absolutely love.
Pet Plate meals are ready-to-eat in pre-portioned cups and delivered straight to the consumer's door, making it easy for pet owners to raise healthy and happy pups.
With subscription boxes becoming more and more popular, affiliates can earn good commissions from promoting this service on their websites, blogs, or social media platforms.
Pet Plate offers a $50 commission per sale for their affiliates through their ShareASale affiliate program.
Affiliates are given access to their affiliate dashboard where they can track traffic and sales as well as receive unique marketing tools to help boost their profit.
People are paying more and more attention to the diet of their furry friends, which makes this niche highly profitable.
Commission: %50 per sale
Cookie: 30 days
Pet Wellbeing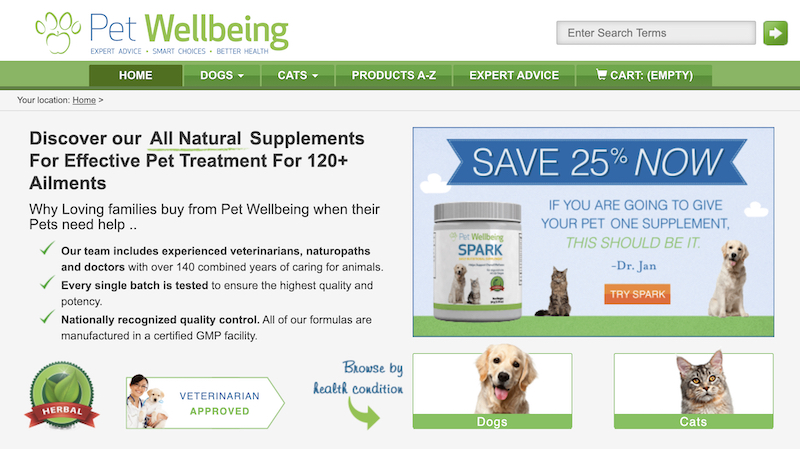 Pet Wellbeing was founded in 2001 and they practice a holistic approach to the pet supplement market catering for cats and dogs around the world.
They use only natural ingredients and the help of holistic veterinarians to develop their range of products that cover over 100 different conditions.
They also pride themselves on providing pet owners with good information and choice when it comes to finding the best treatments for their four-legged friends.
Pet Wellbeing has an affiliate program where affiliates can earn 10% commission on all sales and refer their followers to their website where they can expect caring experts to aid in their product selection, speedy delivery, and high-quality products.
Commission: 10%
Cookie: 60 days
Pet Care Supplies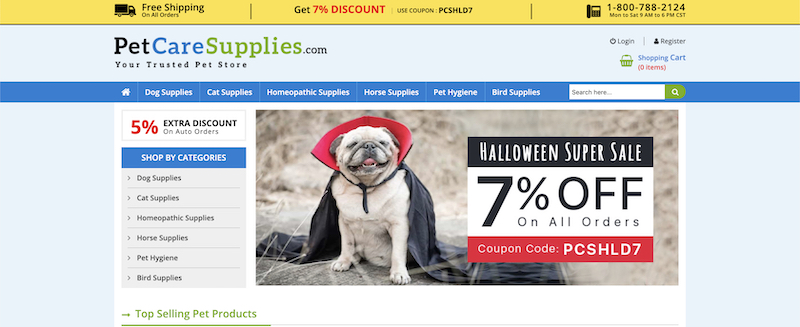 Pet Care Supplies is a top online seller of leading brands focused on pet health care products.
Products for cats and dogs include flea and tick treatments, nutritional supplements, dewormers, as well as treatments for the eyes, ears, and joints.
They sell popular products from trusted brands including Advantage, Frontline Plus, Capstar, and many more.
Since they are a large buyer with comparatively less infrastructure cost, they often pass large discounts onto their customers and offer a 100% money-back guarantee.
Affiliates receive a standard base commission of 10% with the potential to increase their earnings up to 13% for total sales amount that equal to or are greater than $5,000.
Pet Care Supplies uses Commission Junction to manage their affiliate program and they offer weekly sales and promotions through banner ads, text links, and discount links.
Commission: 10-13%
Cookie: 60 days
Revival Animal Health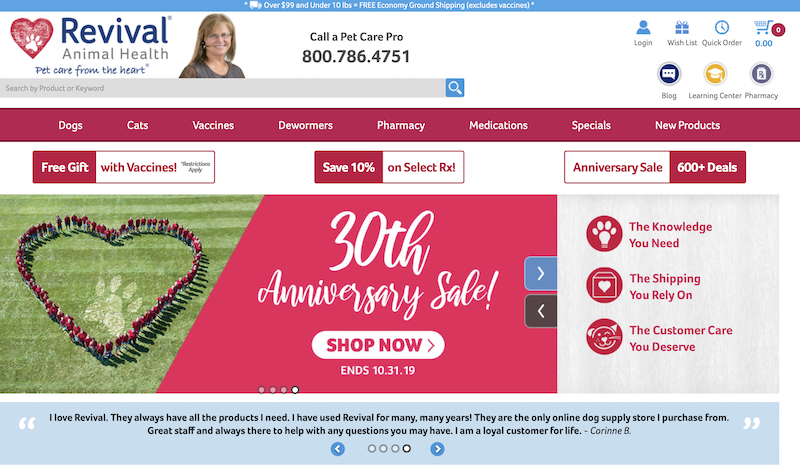 Revival Animal Health was first started by Dr. Roy Nelson back in 1989 as a small second business run out of his basement.
Since then, it has grown into a national pet health supply company that has two locations, a state-of-the-art warehouse, and over 60 employees.
They specialize in providing leading health care knowledge for your four-legged friends, superior customer service, and quality products like medications, supplements, and vaccines.
Their website offers a wide range of over 1,000 products that aid with different health concerns and conditions.
Their affiliate program is managed by Commission Junction where they offer regularly updated customer promotions, special offers, and free shipping on eligible orders of over $110.
Commission: 10%
Cookie: 45 days
---
How To Become A Successful Pet Affiliate Marketer
If you'd like to get started in the pet niche as an affiliate, one thing you should know is that you do need a website.
Having a website is a must for all affiliates so if you don't have one, get one.
The good news is, it's not nearly as complicated or "hard to do" as you're expecting it to be.
It's quite the opposite actually (if you know what you're doing).
I have a free guide showing you exactly what you need to build simple-yet-profitable affiliate websites that make money.
If you're brand new to affiliate marketing, I suggest you give it a read before you go.