Can you make money as an affiliate marketer in the pet niche?
You bet.
Apart from money, relationships, and health, the pet niche is one of the biggest niches in the world and as I'm sure you know already; pet owners are willing to spend big bucks to make sure their pet is healthy, comfortable and happy.
Today I am bringing you a list of 12 pet affiliate programs which you can use to start making money by selling great products to pet owners worldwide.
Down below, I will also share with you how I would go about building an affiliate business in this niche, but before we get to that, let me first share with you my 10 favourite pet-related affiliate programs.
Let's get started…
WANT TO SEE HOW I MAKE MONEY WITH
AFFILIATE MARKETING?
(YOU ALSO GET A 10-DAY COURSE FOR FREE WHEN YOU SIGN UP)
You will be redirected to the course page where you need to sign up again - no credit card required, just an email will do.
DOGonIT

NB:
Want to see how I make money with affiliate marketing? My new book reveals my entire process, including my 4-step approach to building affiliate websites.
CLICK HERE to download my book for free
.
DOGonIT is a small company that specializes in making orthopedic beds for dogs of all sizes made from high-quality memory foam.
Their line of orthopedic gel memory foam pet beds are luxurious and technologically advanced to regulate the temperature and provide comfort for your four-legged friend.
The patented orthopedic memory foam is also eco-friendly, non-toxic, and can support up to 300 lbs.
DOGonIT doesn't have a lot of products that will allow them to build a blog around but could be a nice one to add for a general blog about dogs or a more focused blog that includes dog bedding.
They have an affiliate program managed by ShareASale and they offer a very competitive 35% commission for their affiliate partners.
Given that their products are quite pricey, it's safe to say that's a decent commission for each sold product.
Commission: 35%
Cookie: 90 days
Novis Pets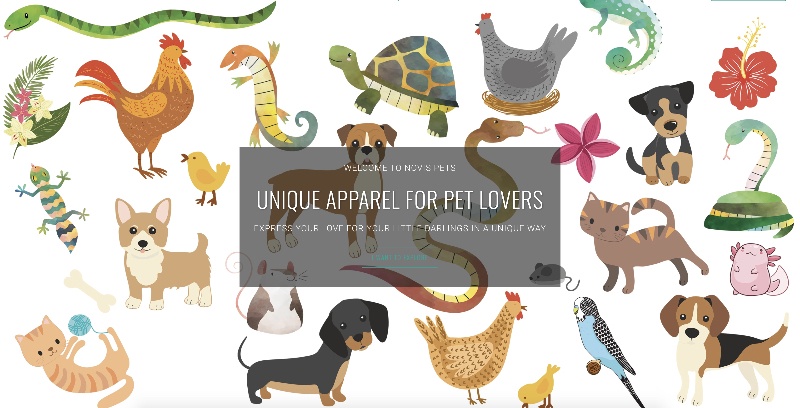 Novis Pets is a niche apparel, merch and jewelry store aimed at pet owners who wish to express their love for their little darlings in a unique way.
Do you run a blog website, Facebook page, Youtube channel, Instagram account or other mass media resource which talks about (exotic) pets, such as reptiles, snakes, axolotls, parakeets, dogs, cats, foxes, chickens, rats and many others?
Or maybe you simply have the ability to generate pet-oriented internet traffic? Then the Novis Pets affiliate program is right for you.
Through the Novis Pets affiliate program you will be able to earn a share of revenue each time a referral makes a purchase on the Novis Pets store, by driving highly targeted traffic to the Novis Pets website.
The Novis Pets affiliate program offers a 10% revenue share on the total order value (excluding shipping and taxes) from purchases made by referrals.
The pets inspired apparel products, mugs and jewerly from Novis Pets are highly popular among pet owners, making it easy for you to earn money by taking advantage of the Novis Pets affiliate program.
So get off the fence, and join their affiliate program today!
For more information or to sign up, visit here.
Commission: 10%
Cookie: 60 days
CBD Choice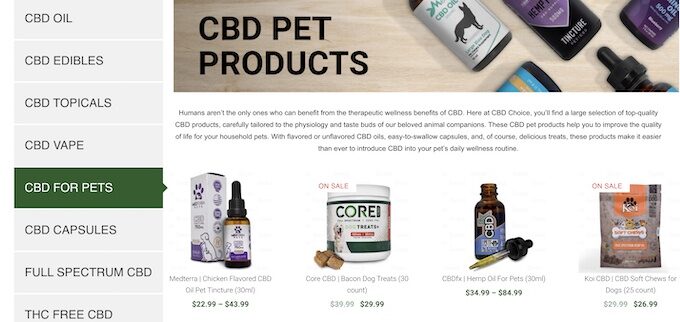 Pet owners everywhere have discovered the miraculous benefits of CBD oil for pets, and no company offers more than CBD Choice, the internet's leading supplier of all things CBD.
Through their uniquely rewarding affiliate program, you'll have the opportunity to profit from their vast selection of CBD-infused pet oils, pet treats, and pet capsules.
All pet products found at CBD Choice have been carefully vetted and third-party lab tested to ensure potency, safety, and efficacy. Only the best for our furry friends!
Plus, the CBD Choice Affiliate Program offers premade media kits that you can simply drag and drop into your sites. No extra work necessary, as these media kits come complete with banners, graphics, plug-ins, and more!
With a competitive 25% commission, 60-day cookies, and payouts every other Friday, the CBD Choice Affiliate Program is hard to beat.
CBD Choice stocks only the industry's leading brands, allowing you to capitalize on the growing brand recognition of the CBD craze. Plus, CBD pet products are all the rage! These best-selling items are guaranteed to bring you repeat customers, repeat payouts, and repeat satisfaction, time and time again.
Commission: 25%
Cookie: 60 days
Doggie Merch