As any plus-size person can tell you, finding the right clothes to fit you can be a challenge.
This is great because it opens up all the online businesses that are filling this gap in the market by providing plus-size only options.
As luck would have it, most plus-size online stores also come with a generous affiliate program, so with that said, today I wanted to curate for you this list of…
The 10 Best Plus Size Affiliate Programs (Reviewed Below)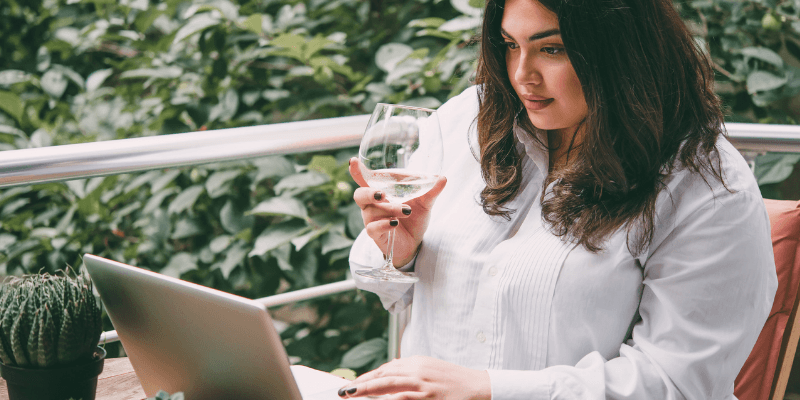 ---
---
Eloquii
Eloquii is devoted to changing how women dress through their fast fashion range of clothes, starting from sizes 14 to 28.
The best candidates for its affiliate program are creative, stylish, fashion-loving websites and blogs, and just generally content creators within the fashion, beauty, and design categories.
Benefits include daily product feeds, advertising and promotional banners and text links, and significant commission on all sales generated through your site.
What's more, it costs nothing to join. Interested parties can apply at Commission Junction, where the affiliate program is hosted. Applications usually take around 14 days to be processed.
Commission rate: 5%
Affiliate cookie: 45 days.
Hips and Curves
Hips and Curves caters to plus-sized women and offers a full range of lingerie and apparel, including corsets, bralettes, and more. It's always great seeing a brand solely dedicated to plus size women.
The online store has an affiliate program, available on ShareASale. Highlights include exclusive contests and promotions, regularly updated creative, and monthly sales incentives.
Aside from incentives and regular promotions, the Hips and Curves affiliate program also offers marketing tools such as banners, text links, deep linking, and even real-time reporting. Commissions are paid monthly through checks or wire transfers.
Commission rate: 8%
Affiliate cookie: 30 days.
COCOMY
Another brand that caters to plus size women is COCOMY. COCOMY is a global fashion brand offering apparel, swimwear, accessories, and lingerie for the plus-size woman from sizes 14 to 26.
Partnering with COCOMY will get you benefits such as fast and worldwide shipping for your customers, reasonable prices for more than 10000 products, daily product feeds, and access to promotional banners and text links.
Joining is easy, email the site and apply, then wait for approval. The associate program is simple, and 100% free to join. Accepted methods of payment include American Express, JCB, Visa, and MasterCard.
Commission rate: 12%
Affiliate cookie: 30 days.
Kiyonna
Kim Camarella-Khanbeigi started Kiyonna in 1996 after realizing that brands and malls didn't stock clothes for plus size women.
Today, Kiyonna can be found in over 100 stores nationwide and even internationally. Its affiliate program can be found in ShareASale, and the application process is straightforward.
Members are equipped with reporting tools, banners and links, and even images to promote products with. The product catalog is exceptionally vast, including tops, bottoms, dresses, swimwear, and even wedding dresses. Commissions are paid monthly, and there isn't a minimum amount payable.
Commission rate: 8%
Affiliate cookie: 60 days.
Curve Girl
Curve Girl's motto is " No size rule; no height rule= a Body Positive Company." The clothing company was made with the curvy woman in mind. Their range of products includes formal, casual, and party wear, swimwear, and pants.
ShareASale manages the website's affiliate program. The program's features include a 100% remake or refund guarantee, free shipping for orders above $50, and only $5 for below $50 within the US.
Methods of payment include PayPal, Visa, Amazon Payments, MasterCard, and Maestro.
Commission rate: 10%
Affiliate cookie: 30 days.
Daring Diva
Daring Diva is an Australian online store offering trendy and stylish clothes for plus size women. The clothing range includes dresses, tops, jumpsuits, and special occasion outfits.
Their apparel is chic and sexy and is best suited for ladies from sizes 14 to 28. Daring Diva's affiliate program included a catalog of over 300 items, standard and express shipping, international shipping, and various banners to promote products with.
The partnership is an excellent investment, especially for affiliates within the fashion and design niche. They not only earn an income but get exposure and build connections within the fashion industry.
Commission rate: 10%
Affiliate cookie: 90 days.
Lane Bryant
Lane Bryant has the largest product catalog among these plus-sized fashion brands. Categories include sweaters and hoodies, tops, swimwear, dresses, and jeans. The store also has an affiliate program where affiliates promote products on their sites and earn commissions from the referrals.
Product promotion works through the use of banners, text links, and images provided by Rakuten, the affiliate network that manages the program. Aside from the apparent commissions, members also get incentives such as coupons and special offers to attract more customers.
You can get deals on bras, jeans, dresses and more. The program also has points and a reward system that you earn anytime you spend any qualifying purchases.
Commission rate: 4%
Affiliate cookie: 14 days.
Universal Standard
Universal Standard isn't specifically a plus-size website, but it stocks a wide range of products ranging from size 0 to as high as 40. Categories include accessories such as scarves and boots, athleisure, basics, loungewear, outerwear, tops, and sweaters.
Affiliates get benefits such as a great commission rate, frequent newsletters with updates on product promotions, and real-time reporting tools.
Commissions are paid out every month without fail, thanks to ShareASale, the affiliate network in charge of the program.
Commission rate: 15%
Affiliate cookie: 30 days.
Destination XL
Destination XL offers every type of clothing imaginable for big and tall men. Their vast product catalog includes shirts, pants, activewear, nightwear, workwear, suits, and outerwear.
The site even has an accessories section fully stocked with slippers, belts, and socks, to name a few. Flexoffers manages the store's affiliate program and requires one to set up an account with them first before applying.
The process is easy, and registration is 100% free. Once approved, affiliates get access to banners, text links for product promotion and a fully updated and comprehensive product data feed.
Commission rate: 5%
Affiliate cookie: 30 days.
Ulla Popken
Ulla Popken is among the plus-size fashion leading brands, with over 30 years of experience in the industry. The store runs an affiliate program, which is managed by Commission Junction.
The partnership features include full access to coupons, discounts, banners, text links, and a regularly updated product catalog. The store also caters to men with their collection accommodating sizes L up to 7X.
Joining the program means you get to work with a recognized and leading international brand and access effective marketing materials. So, not only do you get a steady income source, but you also learn a few things about marketing too.
Commission rate: 8%
Affiliate cookie: 45 days.
---
How To Make Money With Plus Size Affiliate Marketing
If you'd like to get started promoting any of the above-mentioned plus size affiliate programs (and actually be successful), your best bet is to start your own affiliate website.
I have a guide for you that shows you how I build my own affiliate websites and if you're a complete beginner, you'd do well in checking it out.
It will show you everything you need to know and do to create for yourself a thriving online business selling plus-size offers to plus-size people. It's also free to read (no sign up required). Go check it out.