I don't need a new theme, but I guess I'll buy a new one anyway. I assume this is what "buying shoes" is for women.
As a webmaster, a new theme is just irresistible for me (and I am sure I'm not alone).
Today, I'm sharing with you a few affiliate programs from some of the best premium WordPress theme providers and while this is not an exhaustive list by any means, you can find some top-tier level commission rates below.
With such a vast range of themes available, this will be perfect for you to promote if you have an audience interested in learning how to start a blog/website so with that said, here are…
10 WordPress Themes With A Great Affiliate Programs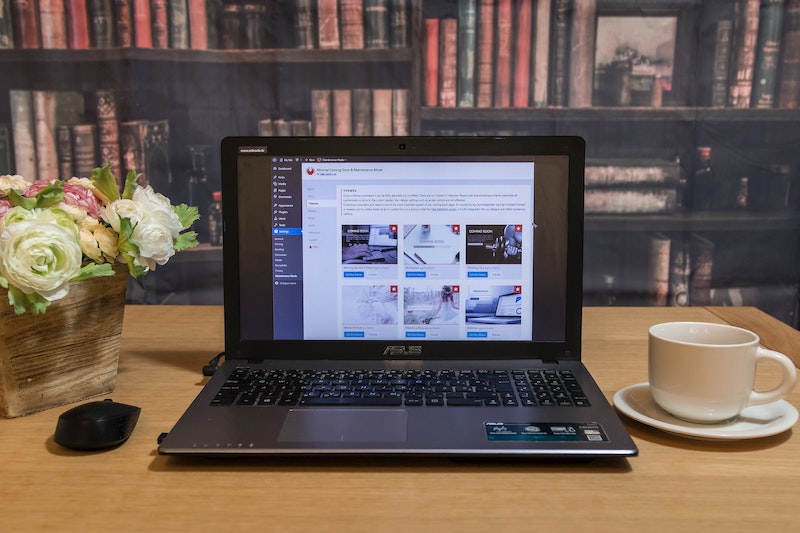 ---
---
ThemeIsle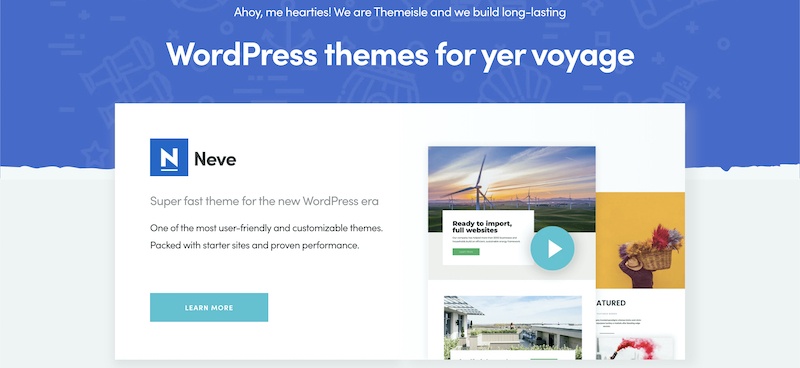 ThemeIsle is a WordPress theme that was launched in 2012 to make modern, efficient, and sufficiently developed themes available for everyone. It was initially created by a team of four members from Thailand.
Currently, ThemeIsle has over 40 free and premium themes. The diverse theme options are tailored for multiple industries targeting a specific niche. The platform is straightforward to use.
ThemeIsle runs an affiliate program via ShareASale, which offers a great commission of 55% on sales. In addition, they have a 365-day cookie policy and a monthly payment after you pass $100+ performance incentives.
Affiliates also have access to a support team available across different platforms.
Commission: 55%
Cookies: 365 days
MyThemeShop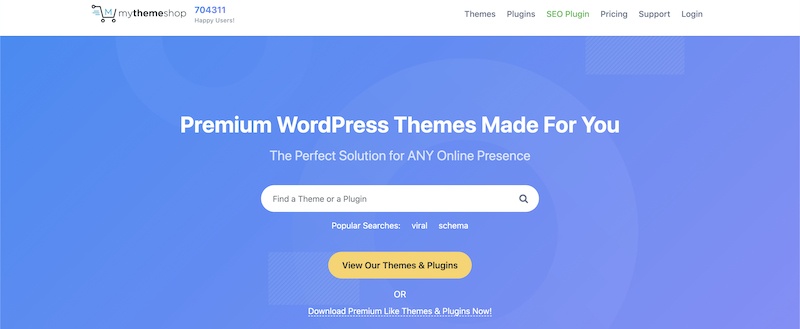 MyThemeShop is a WordPress theme specializing in producing a variety of themes and plugins. It is famously recognized for reducing a site loading time, search engine optimization, and increasing ad revenues.
MyThemeShop affiliate program offers a high commission of 55% per sale. Additionally, they have a two-tier lifetime 10% commission and a 60-day cookie return policy.
Affiliates have access to banners optimized to convert and a constant support team. There are no payout limits, and payments are made monthly.
Commission: 55% per sale and 10% on sub-referrals
Cookies: 60 days.
Elegant Themes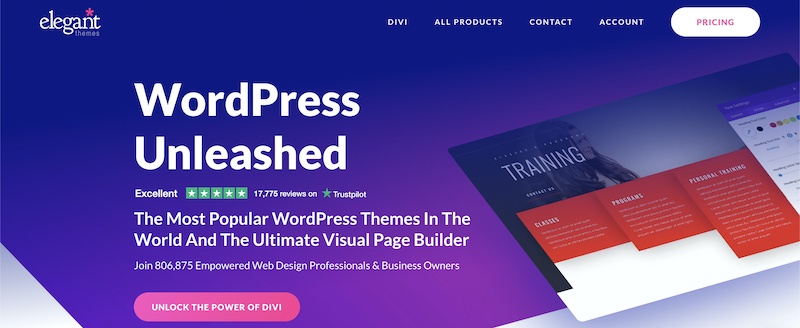 Elegant Themes has been in the market for over 10 years. They provide secure website building solutions suitable for inexperienced web designers and startup creators.
Elegant Themes currently provide over 87 WordPress themes and a couple of plugins. In 2013, it produced the popular Divi theme that has taken over the digital platform.
Their affiliate program offers 50% commission on all sales; for either new members or renewals. Affiliates are supplied with text links and banners to help them in conversion. All user activity is tracked by Elegant Themes affiliate software.
Commission: 50%
Cookies: Up to 3 months
iThemes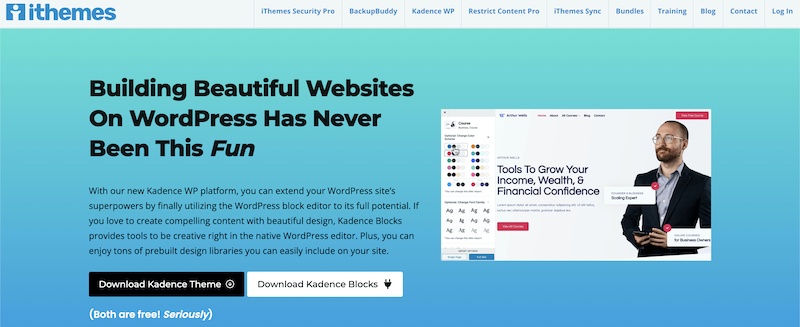 iThemes was founded in 2008 by Cory Miller in Oklahoma City with the sole aim of providing the tools necessary to build an excellent website. They were one of the earliest theme companies to emerge. At the time, WordPress was still in version 2.
iThemes contains numerous themes and plugins powered by Builder Framework. The company is well known for having leading WordPress security, backup, and maintenance plugins.
iThemes has an affiliate program via ImpactRadius that earns affiliates a 25% commission per sale. Sales are generated using affiliate links applicable for all iThemes products; WordPress plugins, themes, training, and product bundle.
Commission: 25%
Cookies: 90 days
Envato Marketplace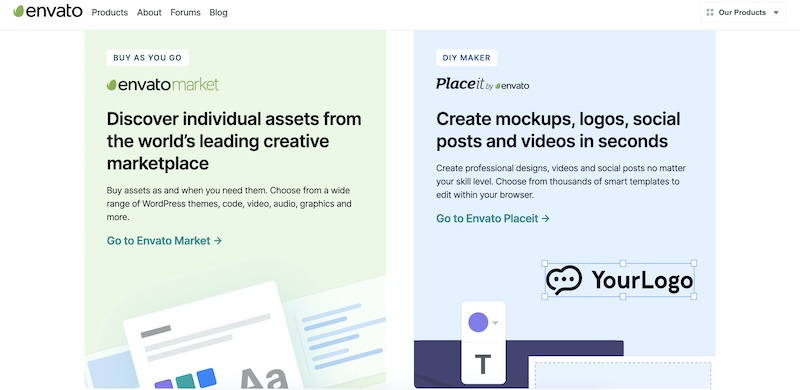 The Envato Marketplace is a collective marketplace for various WordPress and plugins.
It was founded in 2006 by three team players; Collis Ta'eed, Cyan Claire, and Jun Rung. Presently, it has a large community of about 1.5 million buyers and sellers, 8 million users, and 5 million items available for sale.
Envato Market affiliate program powered by ImpactRadius is available in their four theme sites; ThemeForest, CodeCanyon, VideoHive, AudioJungle, PhotoDune, and GraphicRiver. Affiliates earn a 30% commission per sale made via the Envato Market site.
Affiliates are provided with banners to help capture more sales.
Commission: 30%
Cookies: Up to 3 months
TemplateMonster

TemplateMonster is among the most popular platforms to purchase premium WordPress themes. It meets high-end professional standards for users looking to create quality sites.
They offer various themes suitable for different industries, i.e., sports, travel, design, topography, etc.
TemplateMonster affiliate program earns you a 30% commission for any user's initial purchase and an extra 10% recurring commission. In addition, affiliates are given access to banners crafted and videos for the numerous types of ready-made templates.
Payouts are made via WebMoney, PayPal, Swift, Skrill, Payoneer, and WireTransfer.
StudioPress Theme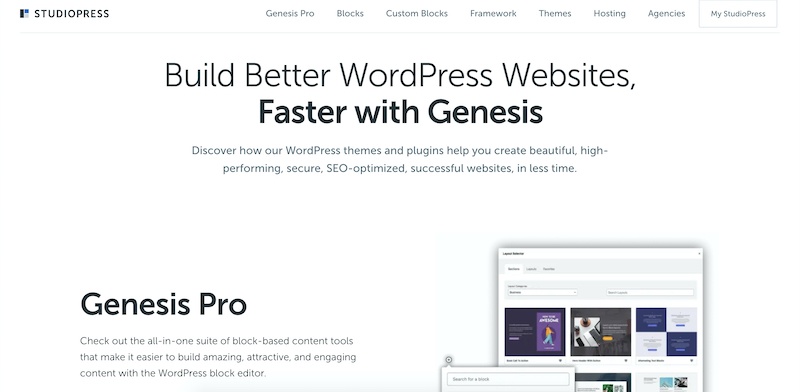 StudioPress has provided high-quality WordPress themes since 2010. They offer an all in one solution that cuts across security support, SEO, design, and performance optimization to help users build world-class WordPress sites.
They are famous for their Genesis framework, which is a powerful platform, especially for online businesses.
StudioPress affiliate program runs through ShareASale. The program has merged StudioPress and WP Engine Sales.
Affiliates earn 35% from StudioPress theme sales and $200 minimum commission for WP Engines. Also, they have a 60 and 180 days, respectively cookie policy. Affiliates are provided with pre-designed banners, landing pages, and exclusive access to branded assets.
Commission: 35% and $200 minimum
Cookies: 60-180 days
Themify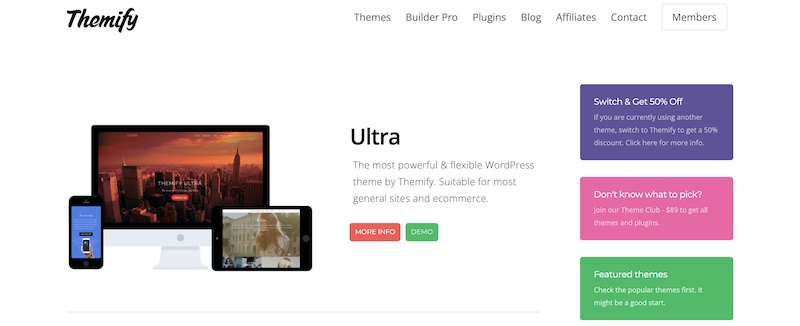 Themify is a powerful web builder for WordPress sites with over 50 different themes. It specializes in web designs encompassing an easy drag and drop interface. It adopts a standard design, thus making it well optimized, and SEO friendly.
Themify affiliate program offers a 40% commission on any sale of all products regardless of whether it is an initial purchase or renewal. They also have a 60-day cookie tracking policy. Payouts are made through PayPal.
Affiliates have access to company banners to scale up customer conversion rates.
Commission: 40%
Cookies: 60 days
TeslaThemes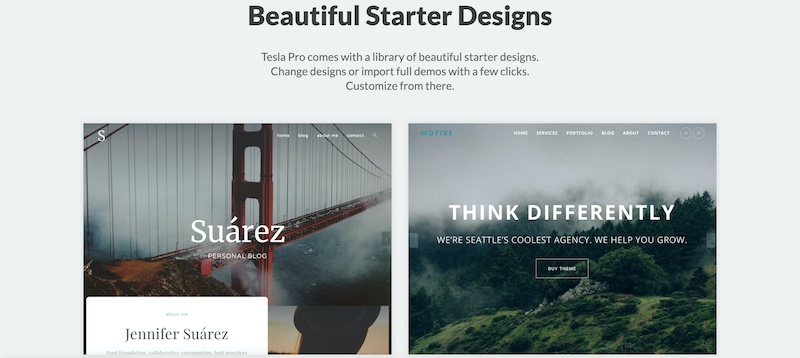 TeslaThemes was launched in 2013 to provide a quick and easy solution for website builders. The company has expanded and currently owns over 68 themes that are clear and concise with a simple user interface.
Their themes are all-rounded, serving different market niches from e-commerce to medicine.
TeslaTheme affiliates program earns you a flat 50% commission per sale. In addition, affiliates earn a 15% two-tier commission from any sale generated by an affiliate's recruits. They also have a 90 days cookies tracking policy.
Commission: 50%
Cookies: 90 days
Apollo13 Themes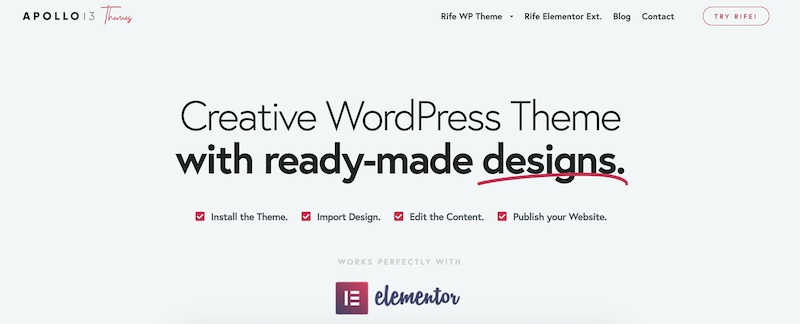 Apollo13 Themes are the creators of Rife, which is a world-class WordPress theme with creative pre-designed and ready for use. The theme is equipped with an importer design that enables users with little or no coding knowledge to create a website within minutes.
It uses a drag and drop interface that helps you import different designs with ease.
The theme has numerous efficient features; all the hard work is already done for you.
Apollo13 affiliate program earns you a 25% commission for their Rife theme. An affiliate receives a remunerated commission for every annual renewal a client makes. It also has a 90-day cookie policy. Payments are delivered through Paddle.
Commission: 25%
Cookies: 90 days
---
Related Questions:
Is it a good idea to promote premium WordPress themes?
You may be thinking this niche is super competitive and saturated, and you'd be right; in some cases, it is.
This is why I recommend you think outside the box a little bit to find ways you can promote to an audience that is currently not being served well.
If you can do that, you can quickly and easily carve out a slice of the pie for yourself which will be more than enough to earn a great income selling WordPress themes as an affiliate.
How to get started with affiliate marketing (& be successful)?
Affiliate marketing can be life-changing when done right. It gives you the freedoms many people work their whole lives for, however – it's not always easy to do.
This is why I recommend you at least get some basic training first before you start promoting affiliate programs. I have a free guide for you showing you how I build small affiliate websites that keep paying me for years.
You'd do well in checking that out to see what "an affiliate business" is all about.