Got a home decor blog you'd like to monetize with some ultra-niche products?
Today I have a great affiliate round-up for you and it's a collection of quilting companies and online retailers offering generous affiliate commissions you can tap into.
If you're looking for a great affiliate program, with great commissions on great products, here are…
10 Quilting Affiliate Programs (w/Commissions)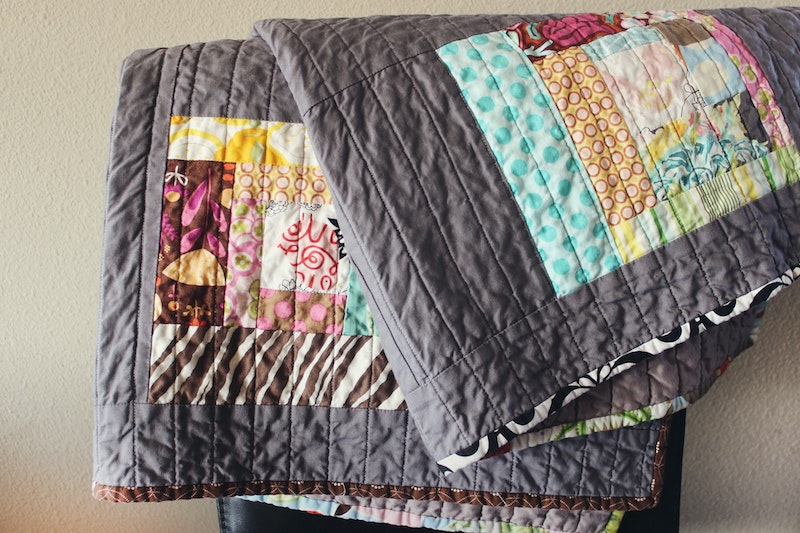 ---
---
Quilty Box
Quilty Box is a subscription service that provides quilters with the best quilting products at affordable prices.
The boxes come with premium fabric, supplies, three patterns, and a quilty box magazine; curated by top designers and artists worldwide. ShareASale manages the company's affiliate service and ensures commissions are paid on time.
The program comes with free 7-10 day shipping in the USA. There are four plans for clients to choose from, ranging from $44 to $ 48 a box. Affiliates get access to marketing tools such as text links, banners, and logos they can use on their sites.
Commission rate: 10%
Affiliate cookie: 30 days.
National Quilters Circle
National Quilters Circle is an online resource center that provides quilting instructions, ideas, and information. It's a community where people who are passionate about quilting come together and share ideas.
The site has been making instructional videos since 2010 and has become the go-to site for everything and anything quilting. ShareASale manages the N.Q.C' s affiliate program.
The partnership features include a 25% commission on new membership sign-ups, access to text links, logos, banners, and double commissions within the first 30 days of registration.
Commission rate: 6%
Affiliate cookie: 60 days.
Annie's Holiday Quilters Club
Annie's began in 1975 and became famous for its designs and creative supplies. The company has grown to include magazines, crochet and knitting, quilting, online videos, and digital content among the list of products it offers.
ShareASale operates its affiliate program and offers 50% off for the first shipment to all affiliates. A variety of text links and banners are at members' disposal.
Annie's also offers a monthly subscription kit where you get to learn skills like stitching, quilting, and even card making.
Commission rate: 15%
Affiliate cookie: 90 days.
Accuquilt
Accuquilt is a retail store based in Omaha, Nebraska, specializing in quilting materials and supplies. The store's website also offers educational resources to help guide new quilters and provide inspiration and quilting tips.
Its affiliate program has a point system where you earn 250 points, which is equivalent to a dollar anytime a client places an order using the link on your site.
Accuquilt has a strong presence in the quilting industry, making it a super beneficial partner to potential affiliates. The program also offers free ground shipping on orders totaling $150 or more.
Commission rate: 8%
Affiliate cookie: 60 days.
Sulky
Sulky has been providing high-quality products for over 27 years. The brand specializes in embroidery, quilting and decorative thread supplies, stabilizers, and even books.
By partnering with Sulky, you get access to features like free shipping on orders over $60, educational newsletters promoting new products, tutorials and projects, and free projects and designs.
As an affiliate, you are regularly updated on recent promotions and sales two to four times a month. Sulky is genuinely dedicated to both their and their partners' success.
The average ticket stands at $60, and by signing up, members get to promote one of the leading brands in the craft, quilting, and embroidery market.
Commission rate: 20%
Affiliate cookie: 30 days.
Fat Quarter Shop
Fat Quarter Shop deals exclusively in quilting, offering a large variety of products such as fabrics, patterns, quilt kits, and thread. ShareASale manages the store's affiliate program and takes care of operations such as commission payments and sales tracking.
The store was first established by Kimberly Jolly in 2003, initially as a side hustle but later grew to be a successful brand.
Partnering with the Fat Quarter Shop ensures your brand gets a wider reach and even helps you create a passive source of income. Independent affiliates who are solely focused on quilting can reach higher commissions, going as high as 6%.
Commission rate: 3%
Affiliate cookie: 7 days.
Interweave
Interweave is one of the United States' leading companies in art and craft. The company has diversified its portfolio to include magazine and book publishing, online shopping, and online education.
LinkShare runs interweave's affiliate program equipping members with marketing tools such as text links to optimize sales and commissions.
They have a return policy for magazines, where clients have 30 days from the time of purchase to report faulty or damaged items. A responsive customer support team is available during business hours for consultation.
Commission rate: 3%
Affiliate cookie: 30 days.
Sewing Machine Plus
Sewing Machine Plus, as the name suggests, specializes in sewing machines and other sewing supplies for activities such as quilting, embroidery, and knitting.
Partnering with the store provides benefits such as a 100% money-back guarantee on all items, a $20 bonus on your first sale, and access to product reviews.
Register for the program at ShareASale; it's quick and easy and doesn't cost a thing. The program is high paying with an average order value of $441.
Sewing Machine Plus has a dedicated support team at affiliates' disposal in case of any concerns or difficulties.
Commission rate: 10%
Affiliate cookie: 30 days.
Fashion Fabrics Club
Fashion Fabrics Club specializes in fabrics of all kinds; silk, cotton, linen, wool, blends, synthetics, and even prints and knits.
Their Affiliate Program operates under Commission Junction and makes an excellent pick for content creators under the arts and crafts niche.
The partnership features include free shipping on orders above $79, access to special discount codes, and creative tools such as text links and banners. Accepted methods of payment include Discover, Visa, and MasterCard.
All their fabrics come with a money-back guarantee to ensure quality always remains at 100%.
Commission rate: 12%
Affiliate cookie: 30 days.
Create for Less
The Create for Less affiliate program operates under ShareASale and offers perks such as access to a variety of banners, text, and other promotional tools, access to over 60,000 band name items, and incredible discounts.
It's quick and free to sign up, and you can start earning a commission as soon as your application is approved.
Successful affiliates get additional promotional incentives as rewards—more motivation to get you started with Create for Less.
Commission rate: 10%
Affiliate cookie: 45 days.
---
How To Start A Quilting Affiliate Website
Looking to get into affiliate marketing?
You're going to need a website.
If that sounds confusing and intimidating, don't sweat it; I have the perfect guide for you showing you how I build simple affiliate websites that pay me monthly.
It may not be the best/quickest method, but it's worked for me 100% of the time, and I'm sure it will work for you too.