Can you make money with real estate?
Yes, you can – it's what I plan to invest in in the near future.
Can you make money with real estate as an affiliate marketer?
That too is a BIG yes.
Today, I am sharing with you 10 real estate affiliate programs that you can look into if you are in the RE niche.
There's plenty of money to be made here (plenty of high-ticket offers) and the commission rates across the industry are pretty decent as well.
& if you're brand new to affiliate marketing and want to work in this niche, stay tuned as down below I will also share with you a few ways you can make money and how to get started within this niche.
Let's get started…
WANT TO SEE HOW I MAKE MONEY WITH
AFFILIATE MARKETING?
(YOU ALSO GET A 10-DAY COURSE FOR FREE WHEN YOU SIGN UP)
You will be redirected to the course page where you need to sign up again - no credit card required, just an email will do.
Zilpy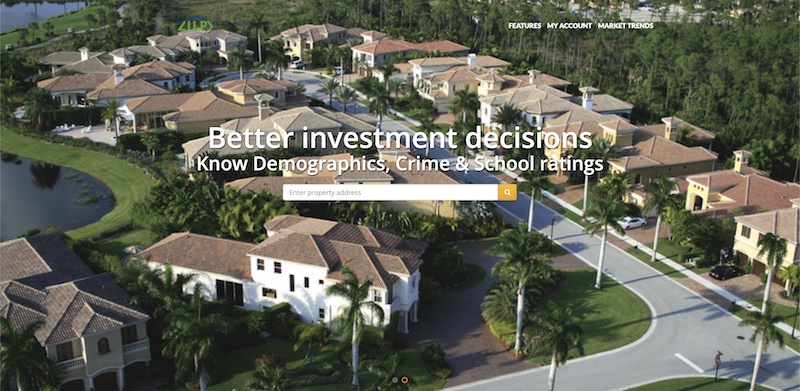 NB:
Want to see how I make money with affiliate marketing? My new book reveals my entire process, including my 4-step approach to building affiliate websites.
CLICK HERE to download my book for free
.
Zilpy has been one of the top places for real estate market analytics since 2008.
They use advanced data mining algorithms that allow tracking of crime rate, school ratings, and demographics, using similar neighbourhood comparable properties.
Basically, you will be able to see how the target property rent compares with the others in the neighbourhood, zip code, and the city.
Moreover, you will be able to access information such as how safe is the area, does it have great school, is it a walkable neighbourhood, etc…
You can find many opportunities to make money as a real estate affiliate by promoting to landlords, real estate investors, appraisers, and cash flow buyers by using Zilpy affiliate program.
It is free to join, and upon signing up you will receive a confirmation link where you can find your affiliate referral link to start promoting real estate deals and earn commission per each successful sale.
Commission: 30%
Cookie: 30 days
Average order: $30/month
Includes repeat sales
Real Estate Affiliates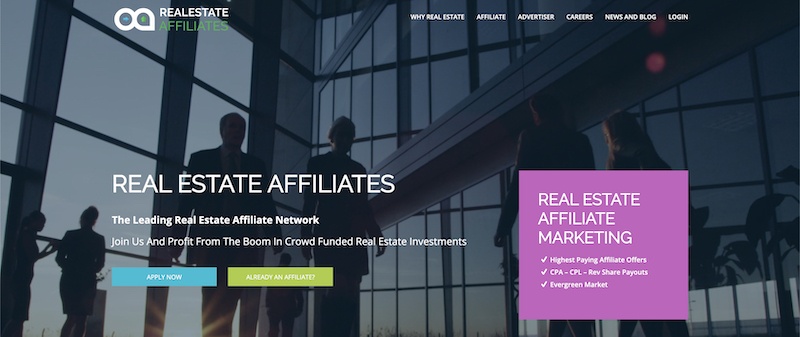 As the name suggests, Real Estate Affiliates is one of the number one real estate affiliate networks used by thousands of marketers and real estate brokers around the world to earn money by promoting their high-paying affiliate offers.
Their network is a great choice for all kinds of marketers, real estate agents, and publishers who are looking to profit from the growth in real estate crowdfunding.
There are three ways you can make money using their affiliate program:
Cost Per Action (CPA) – getting paid when sending traffic to their partner advertisers. This means that your referrals have to "complete an action" such as become a lead, sign up to their email list, purchase something, etc so you can get paid.
Cost Per Lead (CPL) – getting paid every time you send your referrals to their partner advertisers on a Cost Per Lead basis.
Revenue Share – receiving recurring commission for all transactions your referrals enter into with any of their partner advertisers.
After every 15 days, you will receive payment for your referrals via your chosen payment method either Wire transfer or PayPal.
Commission: 25%
Cookie: 60 days
Payouts are made twice a month
Real Estate Express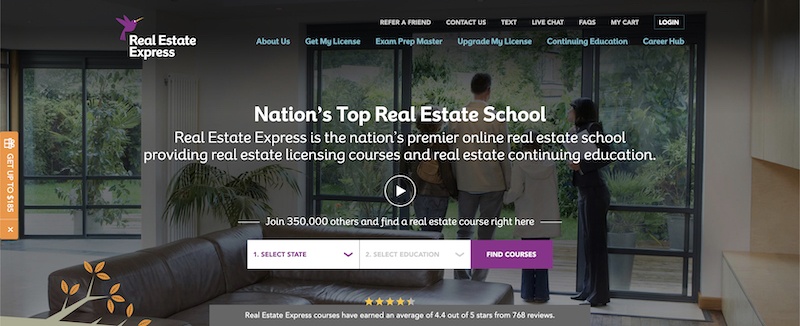 Real Estate Express is an industry leader in the real estate education industry.
They help thousands of people launch a successful real estate career each day. Along with pre-license real estate courses, they also offer post-license courses on their nationally accredited platform.
They have been perfecting their courses for over 20 years and have trained 200,000+ professionals in over 30 states.
Affiliates earn money by sharing Real Estate Express with their network. Once approved, you will have access to a selection of logos and banner ads to add to your website or blog, along with other marketing tools.
Their secure partner portal allows you to track your sales and earnings in real-time.
They maintain the courses and certificates and take care of all the technical matters, while all you have to do is promote their website.
Commission: 25%
Cookie: 100 days
Payouts are made twice a month