For nearly a decade now, I have been researching the many ways that are available for you to make money online.
It's with great pleasure that I announce that I still come across new incredible opportunities every single day and what we're talking about today, is one of the latest I've seen.
I'm talking about RedBubble, a "print on demand" service that allows you to sell your prints online on various merchandise. However, I won't go into how to make money with RedBubble selling items (you can see a guide about that here).
Instead, I am doing a review of the RedBubble affiliate program, which yes is available and yes, you can definitely make some money with.
Here's what we're talking about in this review:
What Is The RedBubble Affiliate Program?

---
---
RedBubble is a destination Print on Demand website where over 700,000 Artists, Illustrators, Photographers, Designers, and Graphic Designers sell their artwork printed on merchandise (much like Merch by Amazon).  
We researched RedBubble's most-sold gifts and merchandise and their most popular products are tee-shirts, stickers, mugs, shower curtains, books, and cellphone skins or cases.  
Artists can also place their designs on tote bags, laptop bags, cellphone covers, cushion covers, comforters, bathmats, shower curtains, dresses and other fashion items and accessories for both home or personal use.
It costs nothing to join RedBubble and have your art featured on any or all of these items.  RedBubble handles the creation, fulfillment, packaging and posting out of each item and they even handle returns or complaints, which they keep to a minimum by providing quality goods.
RedBubble Artists only need to upload their designs, place and resize them on each item in order to earn a commission when the item is sold. Mark-ups are set automatically at 20% but Artists can go in and choose their own markup on each item.  
It's a great way for artists to earn a passive income online because once a design is up and selling, they can earn a commission on their artwork for life.
We found the RedBubble Affiliate Program on a number of different platforms.
If you join directly on from their website, the official program is via ShareASale. (Awin) or Acceleration Partners.  However, we also discovered that Viglinks and Skimlinks offer further opportunities to become an Affiliate.
What Can Your Promote As An Affiliate?
You can create a custom link to any page on RedBubble, which gives you the option to promote all products on the RedBubble website.  
RedBubble also supplies you with a number of links and banners within the program to specific categories: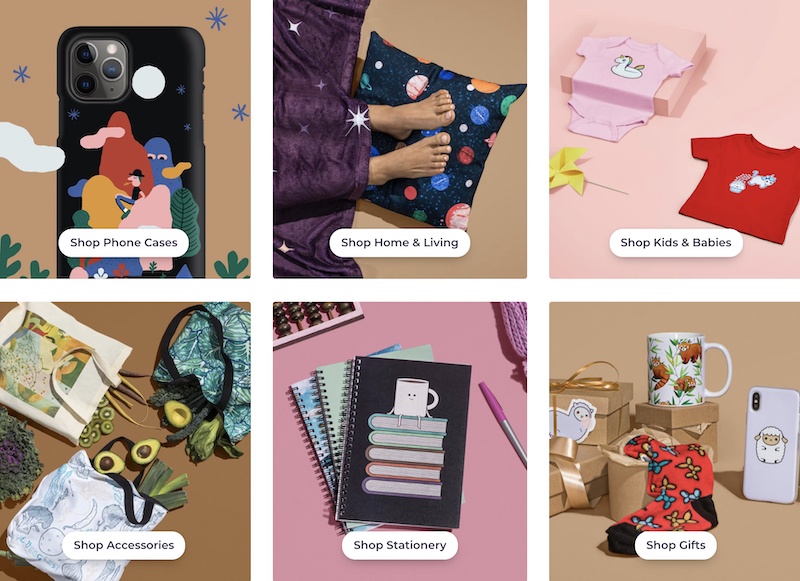 What Commission Do You Get With The RedBubble Affiliate Program
Via ShareASale/Awin/Acceleration Partners, you earn 10% commission and there may be further bonuses if you join via  – may Acceleration Partner.
If you join via Sovrn//Commerce (formerly known as Viglinks), the commission works differently. They take an average commission that is paid out by the company over 7 days. 
When we first checked in January 2020, the commission percentage was 16.36% and when we checked again on 5th February 2020, the commission was up to 17.25%.  
Skimlinks works the same way as Viglinks, but they don't allow you to access their commission rates until you are accepted into their program.   
Can You Make Money With This Affiliate Program?
Yes, you can definitely make money from this Affiliate Program because RedBubble is a destination website attracting massive traffic – almost 25 Million visitors a month, according to SimilarWeb.
RedBubble puts a lot of energy and effort into their SEO.  If you're looking for a specific product in a particular niche, you'll often find RedBubble products listed first in the search engines.
When you first join the Affiliate Program, RedBubble offers a $30 coupon to shop on RedBubble in return for a sponsored post of 150 words or more, featuring RedBubble artists and their work. 
There is one proviso.  Redbubble doesn't encourage self-promotion, so when Affiliates write this post it's best to feature the works of other Artists, not yourself.   
So it makes more sense to become an Affiliate before you've set up your own RedBubble shop, while you are still researching the market and finding your favorite Designers and their works.
Who Is This Affiliate Program Best For?
Good affiliate partners are considered to be those with niche websites focused on fashion, lifestyle, shopping, accessories, clothing, art, vintage, gifts, DIY, decor and home interiors.  
We believe you'll also do well if you're a RedBubble Artist yourself, as long as you stick to the rules and regulations set out by RedBubble for their Affiliates.
How To Join RedBubble As An Affiliate

Step 01: Join ShareASale: 
We joined via ShareASale and it took about a month to be accepted onto the program.  
However, we realized afterward that we may have caused the delay because we were waiting for an email from ShareASale to notify us that we had been accepted.  We discovered that ShareASale does not notify you by email of acceptance into their Affiliate Network.
So this is the process to follow. Join Shareasale first.  
Step 02: Log in to ShareASale:
Then check back frequently to see whether you've been accepted to ShareASale by logging into the ShareASale website. 
Don't wait for email approval.
Step 03:  Now Apply to Join RedBubble within ShareASale:
Once logged into ShareASale, click on Merchants, Search for Merchants and do a search for RedBubble.
Click Join Program. Remember to email RedBubble to let them know which websites you'll be using to promote their offer as this ensures you get a swift reply from your Account Manager at RedBubble. 
This part of the process moves very quickly.
We applied on a Friday afternoon and were accepted onto the Program the Tuesday after (within 2 working days).  So if you're already a member of ShareASale, you're looking at a few days to be accepted.
You can also join RedBubble via Skimlinks here.
---
How To Make Money With RedBubble (As An Affiliate)
If you're brand new to affiliate marketing, and you would like to start promoting RedBubble but have no idea where to start, fret not – these few "closing words" are for you.
I know affiliate marketing sounds easy, and it is BUT only if you know what you're doing!
I've struggled for years before making my first ever affiliate commission but once I popped my cherry, I finally understood what it takes to really make money with this business.
How did I get that first sale?
It's all thanks to Wealthy Affiliate's training course!
If you're brand new, I suggest you check out their training course as I learned everything I needed to know through them. Luckily for you, it's now free to join (which wasn't the case when I first joined).
In 10 days, you should have your very own affiliate website up and running and you can then use that website to start promoting RedBubble (or any other affiliate program you desire).
I'll see you on the inside!